Are We U.S Post Office Delivery Vehicle Accident Attorneys?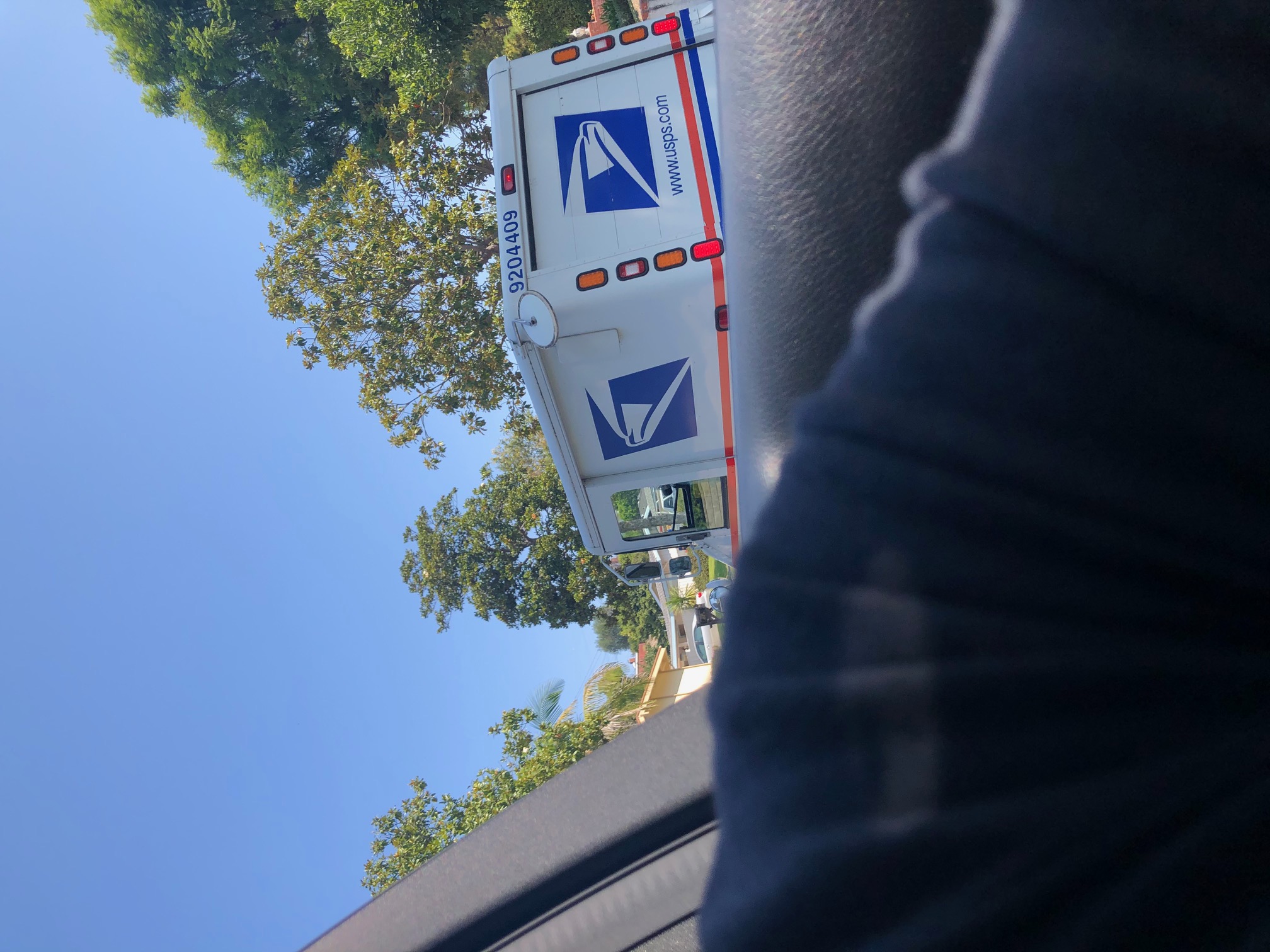 Yes, we handle U.S. Postal trucks, big rig, and Jeep accidents. So that means we assist people in dealing with the U.S. Postmaster General for motor vehicle accident lawsuit claims. To begin with, postal workers are notorious for having a sense of entitlement and driving sporadically around residential neighborhoods with reckless abandon. (Source).
Examples of a Postal Workers Gone "Postal."
"This is the 3rd time my mail Carrier has peeled out of my yard and ripped up my sod. I went to my local mail office I was told by the manager there is nothing they can do for me. This time the mail Carrier peeled out with speed ripping up my yard and did a u-turn to leave mud and dirt and grass in the street. Someone should be held accountable for this this is becoming ridiculous." "On January 12, 2018, I was heading home when this USPS truck decided to shift to my lane and hit me right on the quarter panel. The damage was really bad and their supervisor acknowledged that they were at fault! I'm waiting for a response from them, but nothing I tried contacting them and still nothing. I had to go fix my wheel damage myself and knowing I hardly worked during the holidays I'm so low on funds. Usps needs to be more responsible! I need my car fixed ASAP!"
A demonstrated above by an actual citizen, there is a need for experienced Post Office delivery truck mishaps and recklessness attorneys. USPS traffic accidents are so common that the Postmaster-General set up its own "Accident Reporting Process Audit Report" reporting system!
Recent National News Involving Postal Vehicle Tragedies.
As seen in the quote snippets above, USPS delivery collisions are far more common than most people might suspect. The US Post Office was founded by one of the framers of the Constitution, Ben Franklin, in 1775. He alone was appointed as its very first postmaster general. Modernly, the USPS maintains and operates the biggest fleet of quasi-private delivery vehicles in the world. As of the writing of this article, USPS had over, with more than 200,000 vehicles in active service for mail delivery purposes.
What Makes USPS Different Than Other Delivery Vehicle Companies?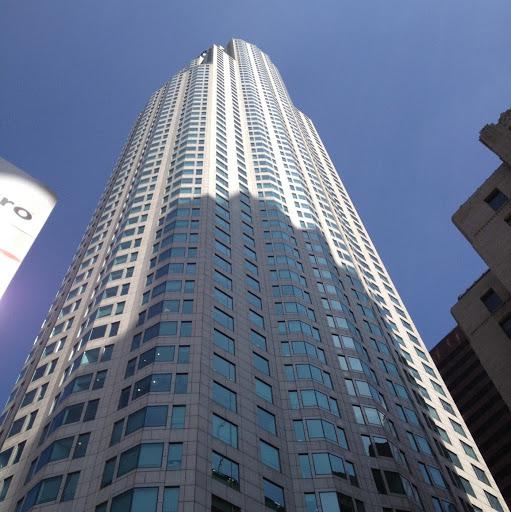 Well, for one, it is the only federally authorized organization to deliver most U.S. mail, which carries strong federal penalties if that mail gets tampered with, or wantonly destroyed. Another major difference between the USPS and a company like FedEx, or UPS, for example, is that USPS maintains an aging vehicle fleet wrought with mechanical and injury-related issues. As a matter of fact, reports indicate that over half of U.S. Post Office delivery vehicles are far too old to be on the roads. But since, like most of your government-subsidized agencies, the USPS always runs in the red, there is no money to buy a newer vehicle fleet.
Are Older USPS Vehicles Wrought With Failing Equipment Or Catch Fire?
Yes! Moreover, there are trucks and Jeeps in service right now with the USPS that are 30 or more years old. Because of this, many of these older delivery trucks are missing things like airbags and other safer features present in modern delivery vehicles. Because of the miles driven and the age of the drivetrain, even with regular maintenance, USPS vehicles are known to break down and even catch fire.
Still worse, due to the Jeep's right-hand drive, many drivers risk left side blind spot related collisions. So postal trucks, in particular, remain at risk for sideswipes and lane change collisions. Most of all, any impact with one of these older trucks places the driver at risk for a spontaneous fuel ignition and fire. When we think of most commercial accidents, tire retread blowouts come to mind.
An out of control USPS vehicle can lose control, killing bystanders, and USPS employees when this happens. And that flying object caused by a piece of exploding steel-belted radial tire can end up striking a pedestrian or another vehicle, killing, injuring, or blinding others.
What Are Some Common USPS Vehicle Equipment Failures?
Vehicle Engine Fires. The aging fleet of postal Jeeps and trucks traveling our roads has experienced a rash of engine fires. Below, we discuss USPS vehicle fires in more detail.
Bad brakes. Older brake systems, including "drum brakes," fail often. Despite constant repairs, wear and tear alone dictates that brake will fail, leading to wrongful death or some other severe personal injury.
Related mechanical defects.
Bad windshield wipers. Something as simple as a worn-out wiper blade can be a death sentence to road users. We must remember that letter carriers deliver mail during rain, sleet, or snow. Imagine trying to drive an older AMC Jeep with broken or failing wiper motors during a vicious downpour or windy rainstorm.
Broken headlamps or tail lights. Navigation of a Postal truck during darker hours requires operating headlamps. And spotting a vehicle from the rear in the evening requires the lead vehicle to maintain appropriately working tail light and brake lights. Even during daylight hours, due to the frequent stops, a USPS truck makes broken tail lights can mean getting rear-ended. Most of all, if other drivers traveling behind a USPS aren't aware the vehicle is stopping, lives are placed at risk in residential neighborhoods, with small children playing outside.
What Are Some Examples Of Postal Vehicle Fires?
Many of us have heard about the risks of USPS workers getting robbed at knife or gunpoint, especially during the Christmas season. But wait until we cover death and maiming due to a USPS vehicle fire. Below we discuss the horrific burns and suffering letter carriers confront whenever they get behind the wheel of a USPS vehicle.
And it's a sad, preventable mishap that must be addressed. And it's not just fires caused by mechanical failure. The USPS has been warning its drivers that the use of "MDD" chargers to cool and store drinks. The facts relate the many drivers have rigged four-way splitters from the aging vehicle's cigarette lighter outlets. (Source)
What Are Some Examples Of Postal Delivery Vehicle Fires And Their Causes?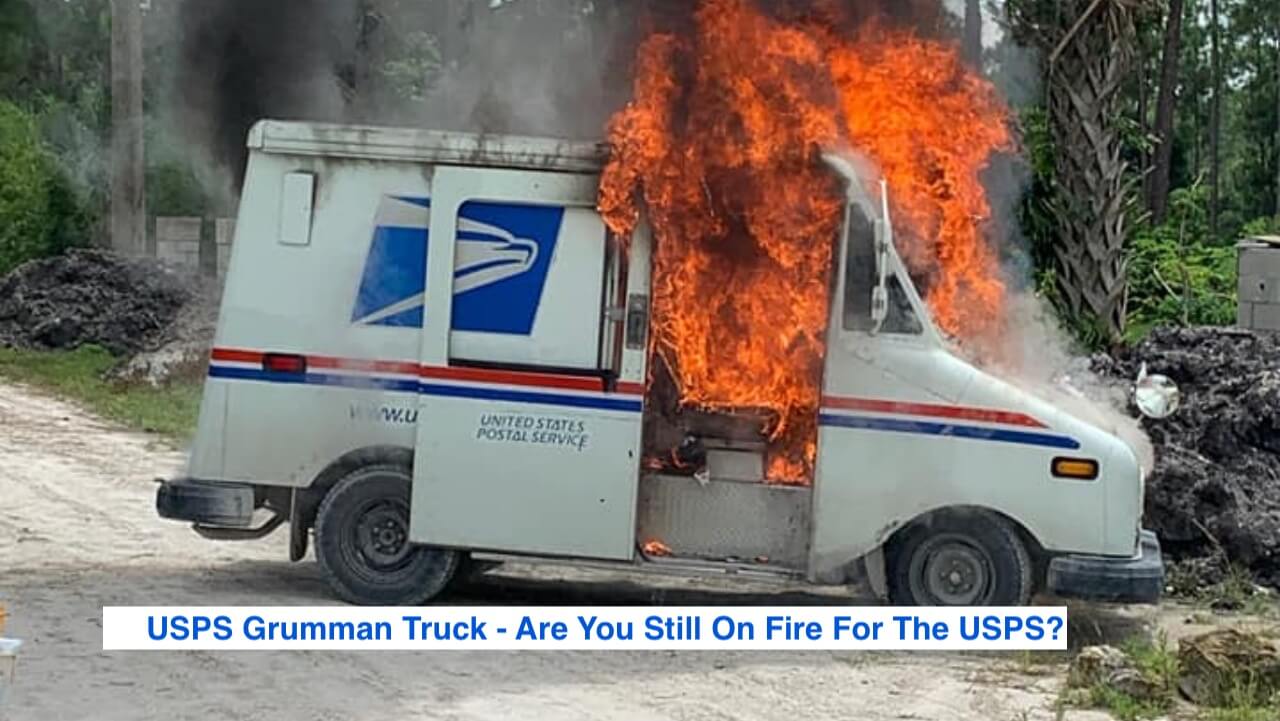 August 22, 2020 –
Loxahatchee, Florida.

A report on FaceBook claimed that a USPS mail
carrier noticed his Grumman LLV postal truck smoking, and then the vehicle ignited into flames. Lucky for the mailman, he made it out safe and survived. However, all that mail in his truck was apparently burned and destroyed.
There isn't much else to burn in the front area of those Grumman mail trucks, so the mail goes up, and the gas tank ignites in most cases like this
Florida Postal Truck Fire
. Have you ever seen a mail truck on fire in California? Put that in the comments. Our injury attorneys are creating a database of postal truck fires. Better yet, do you think it's fair that taxpayers have to subsidize this politically left-wing tax-subsidized, and failing institution?  Enquiring minds want to know.
---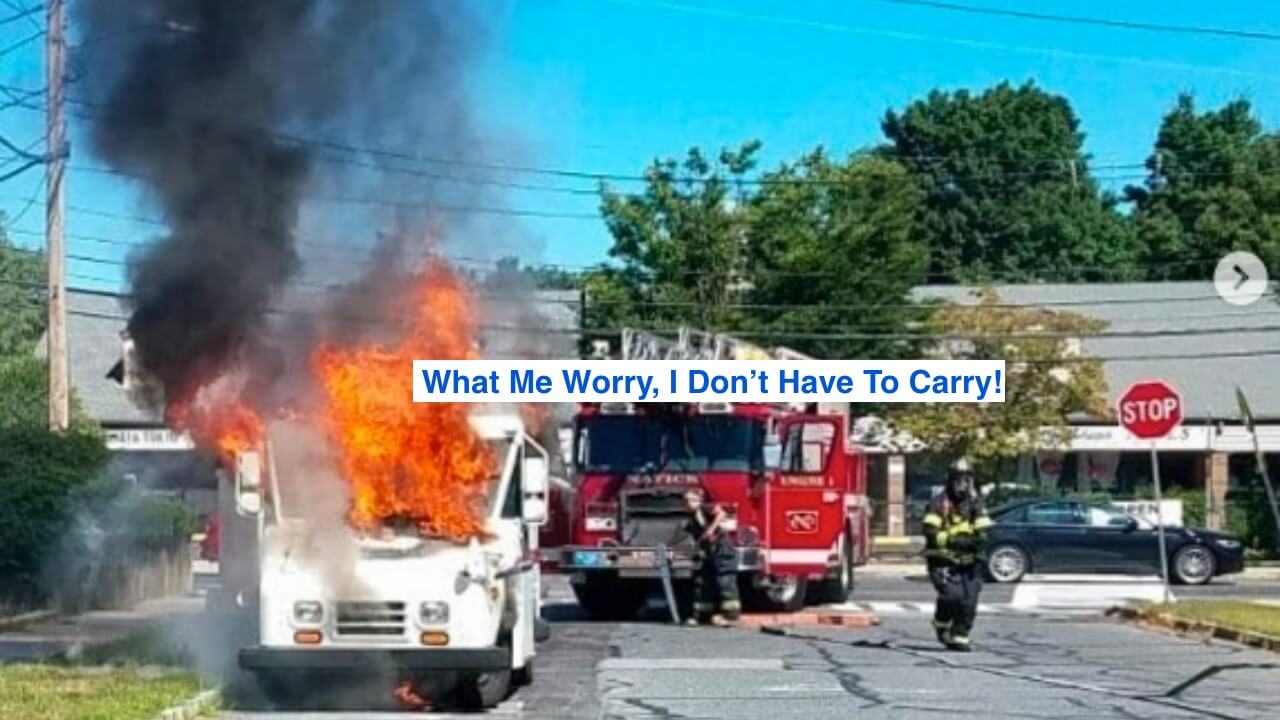 August 20, 2020 – This morning, members of @natick.fire responded to reports of a postal vehicle fire on Grant St. according to Postal Times. Upon arrival, the firemen found a US Postal Truck engulfed in flames and burning out of control. However, reports indicate that the fire was extinguished rapidly. And that most of the U.S. mail and other packages were reclaimed from the USPS vehicle according to first responders and the USPS after this Postal truck fire.
---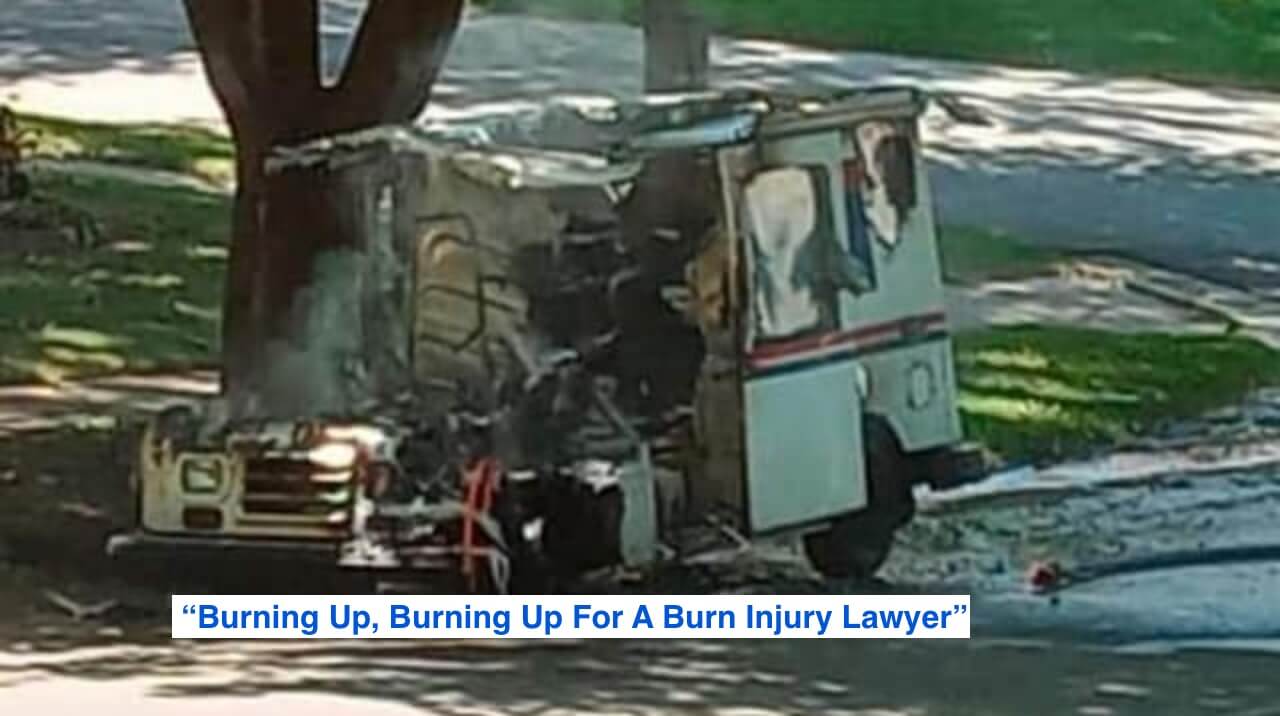 August 20, 2020 –  The USPS stated:
"On Friday, August 9, 2019, a tractor-trailer was involved in an accident that involved fire on Interstate 70 west of Columbia, MO.  The Inspection Service has proclaimed the volume on that truck to be a total loss.  The truck contained designating volumes to the following zip codes:  65301, 65305, 65323, 65324, 65325, 65326, 65327, 65329, 65332, 65333, 65334, 65335, 65336, 65337, 65338, 65345, 65348, 65350, 65351, 65354, 65355, 65360.  If you are missing mail from that time frame, contact the sender to have it resent." According to Chuck Allcorn, anyone missing mail from that date should check with his or her banking institution to see if deposits were made and if they have unpaid bills."

This is a reason that electronic banking is safer than mailing checks," said Allcorn. "A customer at Hawthorn can have deposits made and bills paid all electronically." There is no way to recover any mail from the truck involved in the fire so it is up to people living in those zip codes to check to see if their mail was involved. "If you were expecting a check, you should call your bank," concluded Allcorn. (Source).
---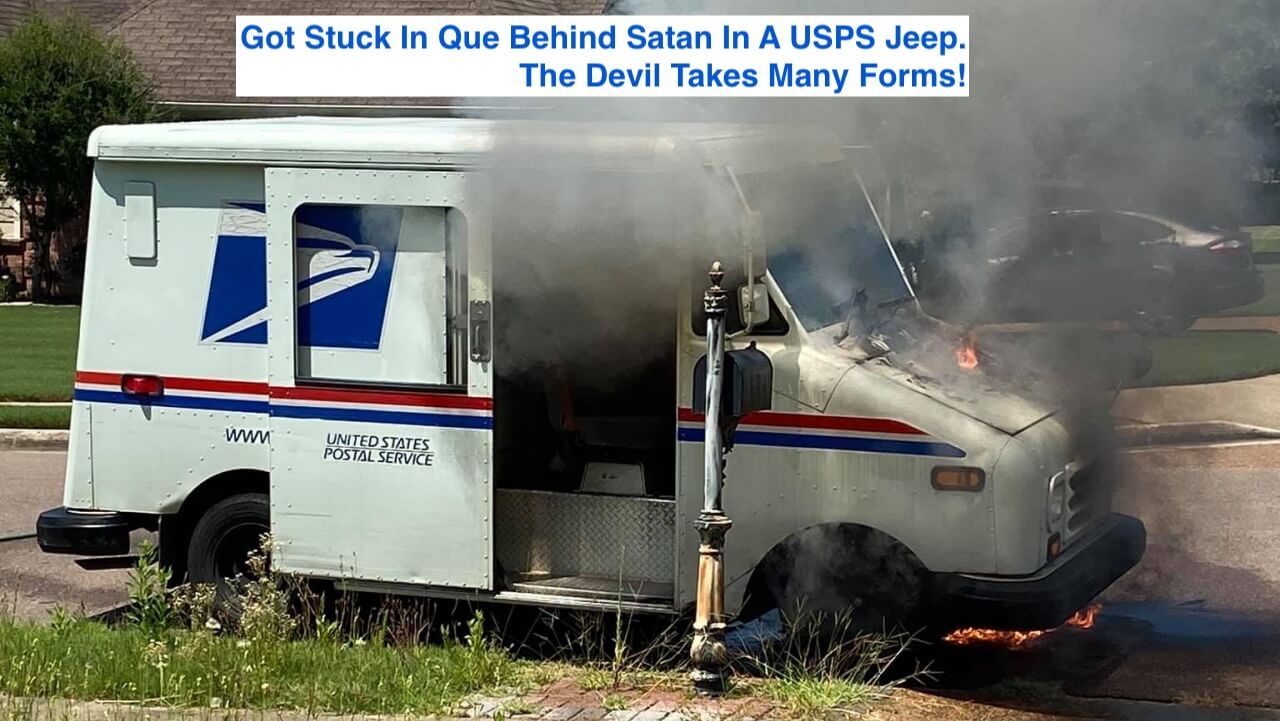 August 17, 2020 – A 
Mississippi Postal Truck fire
appears to have burned out most of the front section of this Postal Jeep. It seems it was an engine fire. But no other reports are detailing the cause of the fire, or if the Postal worker suffered burn injuries or not.
---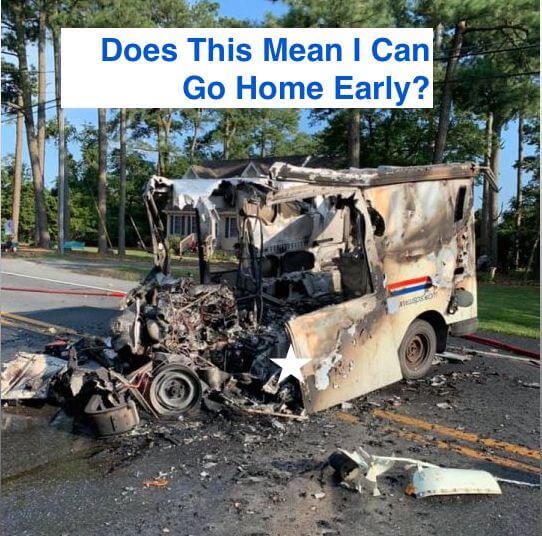 August 11, 2020 – LAUREL, Del.
– One person was airlifted to the hospital when a Jeep style mail truck smashed head-on into another vehicle, catching fire. The collision occurred at approximately 5:21 p.m. near the area of Prettyman Avenue and Horner Avenue in Laurel. Also, the Laurel Fire Department stated two bystanders helped save the victim from the mail delivery truck before fire and police arriving at the accident scene. 
Finally, the blaze was rapidly extinguished. But one individual was severely injured and was airlifted to Christiana Hospital. There are no other reports on the cause of the wreck of the condition of the individuals that collided after this
mail truck caught fire
.
---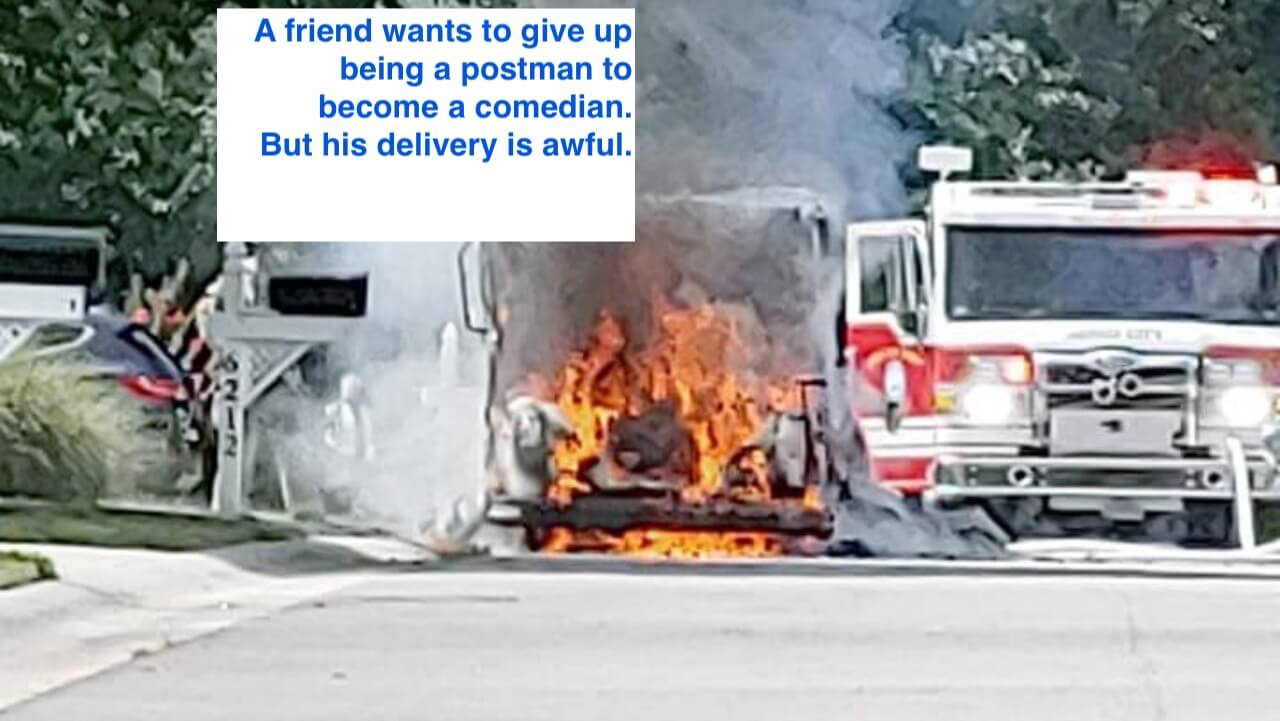 July 23, 2020 – WILLIAMSBURG, Va. A USPS postal carrier suffered no injuries after a USPS vehicle had caught fire during the morning hours of the route, in Williamsburg. The wreck took place inside of the 6200 block of Glenwilton Lane just before 10:30 a.m., according to emergency dispatchers. (Source).
---
 What Are Some Steps To Take After An Accident With A USPS Driver?
USPS mail carriers must strictly comply with both state and federal safety rules. Because the USPS remains a federal organization, the Department of Transportation ("DOT") has set forth specific guidelines for mail delivery personnel here. Like other private companies, the USPS mandates that its workers obey these regulations, as well as participate in driver training and understand essential vehicle maintenance.
After a USPS accident, USPS delivery drivers must:
Always keep in mind that postal workers are primarily operating older, constantly breaking down delivery vehicles. Due to the constant stop along their delivery routes, these drivers risk burning up the brakes and running over children darting into the street. Also, the workers themselves can become easily distracted due to the constant exiting and entering the vehicle and sorting of packages and letters. However, going after the mail people for money damages is a nightmare even for well-trained lawyers due to the government's relationship with the USPS.
But accidents with the USPS are unlike accidents with other commercial vehicles, which are already complex because the USPS is a government agency—because of this, filing a lawsuit to recover damages for an accident is not as simple as a suit against the driver or the USPS. Because the agency is an arm of the government, lawsuits must be filed against the United States to collect damages.
Most of all, these complex cases can't just be filed like a typical lawsuit. No, you are required to utilize the substantive and procedural rules outlined in the Federal Tort Claims Act. ("FTCA"). Because of this, you can't just hire any lawyer. 

How Do I File a Claim in Federal Court (FTCA Claim)?
As noted, an experienced legal counselor is a must for these types of cases. Only a lawyer who understands FTCA lawsuits against the government is capable of handling this matter. Moreover, this remains a person who comprehends the complexities, the nightmare paperwork, and the limited time deadlines you must follow if you want to recover damages. Damages are the legal term we lawyers use to describe the money you can get as a personal injury victim. Economic damages are what you spent or will spend on things like medical bills, physical therapy, property damage. Non-economic damages help pay for your pain and suffering.

So step one is to file a Form 95 with the USPS. In this document, you must state the nature of your claim and identify what is described as a "sum certain." After, you must deal with the USPS to try and settle the matter in claim. However, as noted, there are many pitfalls in the complex system of rules that are designed to protect these public servants, not you. After all, the government has sovereign immunity and has consented to be sued in some instances only.

In this example, the accident victim will be sovereign known as the U.S. Postal Service. The USPS will look at your administrative claim to decide whether to pay you or deny your demand for satisfaction. 

Here's how it works:
You must comply with the notice requirements under the FTCA (generally six months from the date of the injury) by serving your complaint on the appropriate party, in this case, the USPS/Postmaster General.
Your attorney will include the relevant facts leading to your physical and financial losses. As noted above, these are damages. Your request for damages must show that they were inevitable and unavoidable. It helps to include what you did to mitigate your damages. Don't get crazy; just include the basic meritorious facts for the USPS investigator your claim. Typically you will consist of evidence of hospital expenses, lost past, present, and future wages as well as pain and suffering. But without an expert injury lawyer, you will be at a significant disadvantage unless you have a talented lawyer like attorney Michael Ehline, Esq.
After the USPS receives and stamps your papers, they have up to six months to make a decision. Although there is a slight chance, they will find in your favor and pay you, that is usually not the case. Even with smoking-gun evidence, your claim will generally be rejected and given a letter explaining that you will not be paid. We lawyers call this a "letter to sue." In other words, now that you have exhausted your administrative remedy, you may now proceed to court and sue for damages and restitution.
Options for Settling your Federal Tort Claims Act Claim
The number one item discussed above is generally not going to happen. But if you can settle your case during the administrative claims process, you will not have to sue. Number two is simply to immediately file your case after you are greenlighted and proceed to federal court. Once you file the lawsuit, a federal attorney from the U.S. Department of Justice will be assigned to litigate the case against you.
Sometimes you will get lucky, and the DOJ lawyers will want to negotiate the settlement you were trying to obtain from the USPS.  However, most of the time, you will be put through an arduous discovery process and months, if not years, of back and forth. Most of the time, the federal judge will demand both parties to mediate and settle in the interests of the judicial economy. But you have to show the U.S. attorney that the risks of trial outweigh the benefit of a reasonable settlement.

What About Private Contractor For The USPS – How Do I Handle That?
Usually, the FTCA only applies to cases where you are suing a government agency. Because of this, private or "independent" contractors must normally be sued in regular court.

But if you can prove the USPS is vicariously liable as an employer, you can definitely sue the private party under the FTCA, since they are really USPS workers.  Typically the plaintiff must prove the USPS had control over the routes, schedules, and control over hours and such. Once you show sufficient supervisor control, you can sue the contractor under the FTCA.

And even if you do prove the above, you are still limited by the federal scheme. Most lawyers don't like the limitations associated with these USPS cases. So it's always better to have a case against a private commercial insurance company for a contractor, rather than a government agency under negligence law. Winning a case against the federal government could result in an award of millions of dollars, depending on your injuries. Because of this, the defendant's lawyer will work very hard to defeat you in court. Probably, the only way you can win is by hiring a superior personal injury lawyer in Los Angeles like Michael Ehline.
Call a Postal Vehicle Accident Lawyer Immediately.
No matter what type of entity you are suing, only a lawyer will be able to help you build the value of your case. Evidence gathering and difficult evidentiary negotiations should be left to expert witnesses and attorneys. Ehline Law Firm Personal Injury Attorneys, APLC makes it happen for all USPS victims from start to finish. And if we don't win your case, we promise we won't take a dime in attorney's fees. Since our firm only works on a contingency fee, we hold a stake in the claim along with you. We get a portion of the winnings, or our service is free of charge to you.

For over 15 years, our firm has dealt with these types of cases and won hundreds of millions of dollars. We have collected restitution and damages for our sickly and wounded clients. Moreover, during this time, we have assisted pedestrians and car accident victims in evaluating, estimating value, and winning their complex cases. Let us do the same for you. We have helped thousands of injury victims obtain fair restitution, and our highly skilled lawyers can do the same for you.

What do you have to lose but your case? No upfront fee, concierge service, compassion, and personable assistance. Get justice and strength by your side now by calling Ehline Law Firm Personal Injury Attorneys, APLC at (213) 596-9642.

Citations: