According to the Occupational Safety and Health Administration (OSHA), falls and scaffolding accidents, machinery, and inappropriate hazard communication are among the most common causes of injuries at construction sites.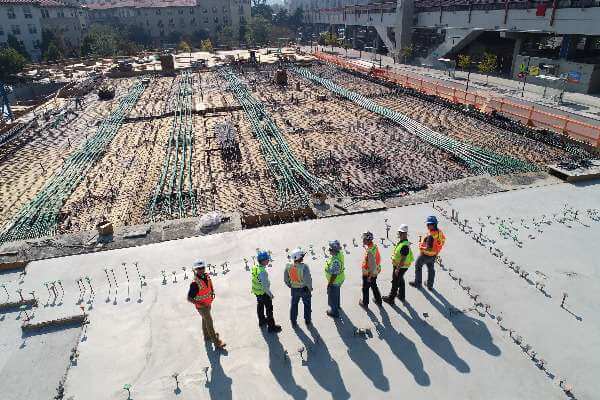 Who pays for your construction site accident?
Receive a Free Consultation Today!
The employees on these sites are usually the most vulnerable.
Ehline Law has the Answer.
If you are injured on the job, you may be eligible for workers' compensation benefits from your employer. If you or your employer were at fault for the accident that caused your injury, this might be your sole source of compensation. However, many worksite accidents are caused by the negligence of a third party, in which case you might file a personal injury claim for additional compensation.
Construction Site Accidents and Negligent Third Parties
Many diverse parties are often involved in a construction project, and any of them could contribute to unsafe conditions that could lead to an accident.
The following are examples of third parties who could be considered negligent:
Property Owner: Under California law, a property owner can be held liable for damage caused by willful acts or a lack of ordinary care in property management. If the owner is aware of a construction hazard but does nothing about it, they may be held partially responsible for the following accident.
Contractors and Subcontractors: Your employer is unlikely to be the only company on the construction site. Other contractors that do not adhere to safety requirements may endanger their staff and everyone else in the area.
Other Employees: An accident could also occur due to a single employee's carelessness or negligence, such as when they use machinery and equipment in an unsafe manner.
Manufacturers of Construction Vehicles, Tools, or Scaffolding: If faulty construction vehicles, tools, or frameworks are determined to cause an accident, the manufacturer or engineer of those defective products may be held accountable for any injuries that occur.
In the event of a construction site accident, personal injury claims may be made on the following grounds:
Negligence
The majority of personal injury cases are founded on someone else's negligence. A plaintiff must show the following to prove negligence in a construction accident case:
Overall, the defendant had a duty of care to the plaintiff; the defendant breached this duty through negligence, and the defendant's fault was a significant factor in causing harm or death.
Further, the defendant would be liable for the plaintiff's losses if the plaintiff could prove that the defendant was negligent in inducing the construction accident.
Premises Liability
An accident on a property owner's land can be held accountable. Property owners and occupiers incur a duty of care to others under "premises liability" laws to keep the property safe from dangerous situations. The amount of responsibility is determined by the property visitor type.
The plaintiff must show the following in a premises liability personal injury lawsuit:
The defendant owned, controlled, or occupied the property
The defendant was negligent in the use or maintenance of the property
The plaintiff was harmed
The defendant's negligence was a significant element in causing the plaintiff harm.
Visitors and consumers to stores and commercial buildings may be unaware they are walking through construction zones.
Construction zones should have warning signs or barriers to prevent individuals from walking into unsafe areas. Accidents in the construction industry could include the following:
Fall from an elevated area without a railing
Fall down temporary stairs
Slip and fall on a wet surface
A trip on loose flooring
Product Defects.
A poor or defective product can cause some construction accidents. According to product liability regulations, whoever creates, manufactures, or sells a defective product is solely responsible for any harm caused by it. Even if the creator, producer, or seller was not negligent, they are nonetheless accountable.
How to Prove Negligence in a Construction Accident Lawsuit
Civilians can file a construction accident case to claim workers' compensation benefits for the financial and non-economic losses they suffered because of the at-fault party's actions.
To be eligible for compensation, the civilian must provide proof of four critical facts:
The at-fault party owed the construction site a duty of care to keep it safe.
A negligent act or omission by the at-fault party violated the duty of care.
The civilian's injuries were directly caused by the at-fault party's breach of duty.
The civilian suffered losses for which they may be compensated through a lawsuit.
Assume a visitor to a construction site falls into a hole that an employee did not properly mark. Because companies are often held liable for their employees' acts while performing their job obligations, the visitor would most certainly file a case against the construction company. The employee's omission to properly mark the hole would be considered a breach of duty.
Video surveillance, medical records, and witness testimony are all evidence that the civilian can use to prove the cause and negligence of duty. However, without the resources and experience of a personal injury lawyer, proving a construction accident claim can be difficult.
Can I File a Lawsuit If I Was Injured on the Job in a Construction Site Accident?
Workers' compensation may cover injuries sustained on the job due to a construction mishap. The injured construction worker, however, may be eligible to file a personal injury case depending on who was injured and who was at fault for the accident.
Workers' compensation is insurance restricting a worker's legal rights. Injured construction workers may not be able to sue their employer, but they may be able to file a workers' compensation claim. This construction workers' compensation claim will cover medical expenditures and wage replacement for the injured worker.
Construction workers gain the benefit of not having to prove employer negligence in the event of a working accident. However, compensation may be limited, and the wounded worker may have to deal with a denial of their claim by their employer or insurance company.
Individuals harmed on the job may still be able to launch a personal injury claim against negligent third parties or an independent contractor. To find out if you are entitled to bring a compensation claim, contact a personal injury lawyer through Ehline Law.
Independent Contractors or Third-Party Negligence
Many people working on a construction site are considered independent contractors. Contractors who are hurt on the job may be eligible to bring a personal injury lawsuit against the person who caused the accident.
Injured workers may also bring a personal injury claim against any third-party defendants who are at fault for accidents on construction sites. This could be a landowner, a manufacturer of the equipment, or a contractor.
Can I File a Lawsuit If I Might Be at Fault in the Construction Accident?
Even if the accident victim was partially to blame, they could nonetheless pursue a case against others who contributed to the tragedy. The plaintiff can still obtain damages based on how much each party was at blame under California's "comparative fault" legislation.
When more than one party is found to be responsible for the plaintiff's injuries, the jury will assess what percentage of each party is to blame for the plaintiff's injuries. The sum of the percentages must equal 100 percent.
Further, the jury will decide the total amount of damages. The plaintiff might seek damages based on the level of fault by the defendants.
Construction Accidents and Injuries
Construction workers are at a higher risk of suffering life-altering catastrophic injuries due to the dangers they encounter on the job.
Our Los Angeles construction accident lawyers have assisted clients in recovering workers' compensation benefits for injuries sustained in construction accidents, including:
Fractures and broken bones
Spinal cord injury
Concussions
Burns
Traumatic brain injury
Paralysis
Quadriplegia
Paraplegia
Amputation
Wrongful death.
After an Accident on Construction Sites, What Should You Do?
Following a Los Angeles construction accident, the actions you make will have a substantial impact on any future legal claims you pursue. The following suggestions can help you stay safe and also get reasonable compensation for your construction accident injuries.
Consult a Doctor. Getting your injuries checked out as soon as possible is important for your health and safety. All of your external and internal injuries will be diagnosed and treated by a doctor. Your visit report will aid in proving that your injuries were caused by a construction accident.
Report the Accident. Remember that you only have one month to notify your employer about your injury. The sooner you report the accident, the more likely you will receive the compensation you are entitled to. An incident report prepared as a result of your construction accidents will be important evidence for your lawyer.
Keep a Record of Your Injuries. As your attorney prepares your case, details regarding your injuries and construction accident will be vital. Take photos, speak with witnesses, and jot down your accident memories.
Early Offers Should be Turned Down. Third parties who caused your injury may be fast to make a settlement offer. While the money may seem tempting, it will not be enough to compensate you for the full degree of your injuries. Negotiations should be postponed until you have spoken with an expert personal injury attorney.
Make an Appointment with a Lawyer. When you employ an experienced Los Angeles personal injury lawyer to handle your case, your chances of getting the most money out of your settlement increase dramatically.
Call a Lawyer – Construction Industry Accident
In California, you must notify your employer of your construction accident injury within 30 days of the incident. You must also submit a completed Workers' Compensation Claim Form (DWC 1) to your employer within one year of the date of the injury. If you're suing a third party for negligence, you usually have two years from the date of the injury to file your claim.
Contact a California construction accident attorney at Ehline Law firm for a free consultation if you don't believe that you're being fairly compensated for your injuries. An expert attorney can assist you in getting your claim on track to concentrate on your recovery.