24/7 Attorney Hotline?
After an accident, the idea is to strike while the iron is hot. Our best Torrance personal injury lawyer is standing by right now to help with your claim and offer you more information.
Free Confidential Consultation?
You don't need to worry about embarrassing yourself over being at fault or financially broke. Free case evaluations are just part of our service. We will listen to your side during your free case review and guide you over the next steps in your case and meeting any deadline. This will be a free consultation.
Experience?
Damage recovery is our forte. The personal injury specialists at Ehline Law Firm have a proven track record of success, with over 15 years of experience litigating negligence claims for injured clients across Greater Torrance. With representation and experience like this, you can heal while we work.
Contingency Fee Basis
All trauma victims receive a "no win, no fee" promise from our injury attorneys, eliminating the money argument claimants have for delaying swift action.
Don't Be Fooled By False Promises or Fee Reductions From Out of State Lawyers?
When you take the next step and think you will consult a renowned Torrance auto accident attorney, beware. No matter how mighty the lawyer is, if they are advertising or insinuating, they will save you 5% fewer attorney fees than the standard industry norm; make sure and read their disclaimer. Don't be shocked if an out-of-state lawyer or a company with a confusingly similar name to their law firm is making the promise. Keep reading. This may only be for cases handled in their state. Imagine you think you are getting 5% or 10% off your Attorney's fee, but instead, that's only for cases in Delaware, for example. But you are in California, and they are even taking a percentage of your lien reductions and trying to make money off case funding or offering it? Steer clear.
Also, see if they are charging a fee to assist you with lien reductions. Most honorable lawyers allow the client to keep that reduced amount. The industry standard fee is 33.33%, sometimes, it can be more, and in cases of minors, it can be less. Clients always have the right to contract, and under California law, you can FIRE YOUR LAWYER ANYTIME. If some out-of-state company says they will extend a 60-day "cancellation policy," that is nothing to be impressed with. Don't fall for gimmicks. There is always a catch. We are a Service Disabled Veteran Run Law Firm. We work based on an honest day's work for a fair day's pay.
Can Ehline Help Me Sue My Current Lawyer For Fraud or False Advertising To Get My Case?
Yes. Suppose you fall for marketing scams and think it's deceptive and misleading. In that case, you may have an unfair business practices claim under the California Business and Professions Code and other State and Federal Laws. California has been trying to clean up the image of PI lawyers since the Tom Girardi debacle. We could help you file false and misleading advertising claims if you were deceived into calling based upon any out-of-state lawyer trying to do business in California without following CA law. We may be able to help with a private attorney general's action for Attorney's fees. With Ehline Law, we make it happen!
Conveniently Located?
We make it easy for seriously injured clients with questions about their losses. Ehline Law group's famous injury lawyers help defend injury cases in nearby East Torrance, West Torrance, Northern, Central Valley, and Southern California areas. We're convenient to Beverly Hills, Pasadena, Glendale, Torrance, Ontario, Santa Ana, Santa Monica, and Long Beach. Call us today.
Basic Torrance Transportation and Infrastructure
The South Bay region of Los Angeles County experiences cool ocean breezes and is a quick bicycle ride to Redondo Beach Pier along the boardwalk. Torrance has suffered population loss like most of the state but remains a booming commerce hub for Korean and Chinese nationals. Torrance is also known as the "balanced city." Despite its low crime rate, Torrance has many driving distractions, a roundabout, glistening beaches, acres of parks and recreation areas, and more. Torrance houses at least 15,000 shops and retail centers, giving it 2nd highest sales volume per capita in LA county. Torrance also houses the World Headquarters of Toyota Motor Sales U.S.A., Inc. Torrance is also home to the National Headquarters of the American Honda Motor Company. All in all, over 145,000 residents call Torrance home.
Does ELFPI Torrance Have Resources?
You bet we do! Our staff's competency and compassion for clients have paid off. This wealth enables us to reinvest our vast financial resources and expertise. Sometimes we might work with costly specialists in their field to prove your claim. We can provide superior legal services this way because we are bankrolled.
Advance All Case Costs
In pursuit of public justice, we offer clients financial peace by advancing the enormous costs to service their lawsuits along the way to total victory.
Reputation and Experience?
We take swift, bold action on behalf of Torrance's injury victims. Our legal team's fame and experience came from challenging wealthy companies and their insured's hurt in many types of accidents as the plaintiff. Someone who knows our resolve is the City of Torrance.
Our Torrance injury attorneys have won significant settlements from this agency and others throughout the state. We have the experience to handle complex litigation with proven trauma case results. We'll listen and offer free advice.
Tough on Insurance Companies?
You must hold any liable party with a source of insurance funds responsible for paying their portion of the fault on your behalf. With our reputation for doggedly fighting insurance companies, injured California residents and visitors remain in good hands with our superb personal injury law field experience.
The plaintiff or their family will need someone with dogged determination, professionalism, and knowledge of Southern California insurance laws. Your future life may depend on who you name as your Torrance personal injury lawyers.
Our law firm will negotiate settlement negotiations with insurance companies and insurance adjusters.
Our law firm will negotiate in our quest to get clients maximum financial recovery for their pain, suffering, and economic loss claims. We do so in or out of the courtroom with professionalism and elan.
Our superb reputation as one of California's top-quality personal injury law firms was earned by helping each person we represent receive a maximum compensation outcome.
Favorable Claims Outcomes?
If you're a wounded party seeking a free consultation and legal representation in a personal injury case, call our 5-star trial lawyer today. More information to answer your questions is a phone call or email away.
It's simple to browse our injury attorney listings in your immediate location. You could search for a particular lawyer, or if you prefer, you or learn more by exploring the attorney profiles section in our navigation menu.
"The brilliant Ehline Law Firm team returned all calls and got us a great result from both insurance companies. Our serious accident was seamless, and they were the most responsive firm we dealt with. Michael proved to me he is the friendliest, smartest injury lawyer… Would I hire him again if I got injured? Absolutely!" – Abrams Tankersly
We include each lawyer's contact information, legal background, email, phone, and biographical data on this page to assist you. Some profiles link to other relevant information or recommendations.
Is It Worth Hiring A Torrance Personal Injury Lawyer?
Studies by U.S. experts demonstrate that accident victims receive far more personal injury financial compensation with help from an experienced personal injury lawyer. The insurance company will invariably pay much more for personal injury claims with a proper case evaluation.
When you do the math, after paying us your agreed fee, our local law offices will still net you a much larger payment yield for your severe injuries than going it alone as a plaintiff. Our civil law expert will make the necessary tabulations and try and settle the insurance claim to save you time and reimbursable costs like court filing fees and depositions in a personal injury lawsuit.
We use the best accounting methods to pay you the maximum compensation. When you contact our caring staff, we can explain more in a confidential, free initial consultation to get your bearings on your legal situation.
Can I Represent Myself Injury Case?
Of course, you're not required by law to hire an injury attorney to represent your Torrance personal injury claim. In most cases, California law does not require your injury lawsuit or related practice areas to be handled by a lawyer. And sometimes, it can be more expensive than your settlement warranted to pay Attorney's fees when you only face minor injuries.
The downside is that the insurance company claims adjuster will typically tender an unreasonable offer for your claim. In that case, many lawyers suggest self-representation in small claims court to recover the limited compensation over what you suffered and avoid litigation altogether. Some paralegals offer affordable legal services for pro per litigants involved in a small claims civil case.
In that injury case, you can file all the court paperwork and make the appearances yourself. But if you're in pain and need medical care, you dial our phone number to discuss your rights.
Caveat:
For those who decide to handle their injury claims on their own, don't blow the two years statute of limitations to sue.

Always make sure there is not a government defendant, as you have only six months to go after them.
How Do Our Personal Injury Attorneys Evaluate Cases?
Your injury firm will request and review applicable policies and request copies of your policy from your insurance agent. Your side must evaluate/develop quality evidence for damage evaluation and validation purposes. This is one way the lawyers at our law firm can rule out any concerns over available damages collection issues or even med-pay benefits. Call us for an appointment. Our aggressive, passionate lead counsel can go over the facts of the wreck or other situations with you.
During our meeting:
We can address your individual circumstances
Come up with a plan for dealing with everything.
Develop an extensive timeline of events
Form an attorney-client relationship.
After Hiring us, we can:
Pursue insurance settlement negotiations

Request copies of insurance policies, including a review of PIP, Uninsrist, Underinsured Motorist, or comp and collision payments covering injuries in auto accidents in personal injury claims.

Your lawyer will request witness examinations [depose the other driver that hit your car, store workers at Del Amo Mall, teachers who abused kids at Torrance USD, shop managers at Home Dept or Lowes who falsely imprisoned you, etc.] to help prove your type of damages.

We will request and review applicable reports and request copies of CHP or metro police reports, Caltrans traffic safety studies, etc.

Our law firm will initially demand the insurer accept legal liability for your damages from the accident and seek coverage on a case-by-case basis.

Work on fundamental discovery and litigation if it can't be settled successfully.
Note: Witnesses can move, die, or disappear as well as forget, so don't concentrate too much time searching for a lawyer or procrastinating to talk.
How Do Personal Injury Lawyers In Torrance, CA, Get Paid Their Contingency Fee?
Due to our decades of experience, size, and clout, our personal injury lawyers handle all PI cases on a contingency fee basis. We never charge any fees unless we recover settlement funds or a verdict on your behalf – there are never out-of-pocket fees with us.
Once we win, we charge our contracted percentage of your recovery for our legal services. We obtain compensation from your final settlement or jury verdict per our agreed-to fee-sharing agreement.
What Percentage Do Our Torrance Personal Injury Attorneys Get Paid From Your Case?
Most contingency fee agreements will pay your attorney fees based on a gross percentage recovery, between 33% and 40% of a settlement. But in case of a trial, the better trial lawyers will receive a fee of between 40% or even 50%.
We resolve most cases for a 33% fee of your gross award.
Example: What is a third of $100,000? 1/3 is .3333333, which is also 1/3; here, $100,000 translates into a commission or Attorney's fees of $33,333.33.
Also, no law prevents you from negotiating a reduced percentage or another form of trade or fee payment.
TIP: If your minor child is hurt, their legal caretaker stands as their "guardian ad litem." We typically reduce our attorneys' fees to protect the incompetent child's interests.
What Does An Experienced Torrance Personal injury Attorney Seek?
Most of all, your lawyers want to know if you went to the doctor! Medical care is vital. Physically visible injuries are not required for a personal injury claim. But proof you were injured and when is crucial to ensure you receive compensation for things like medical expenses or those involving lost wages from missing too much work.
We utilize many factors to professionally and meticulously evaluate your Torrance, CA, catastrophic injury case. Did the injury create compensatory damages, such as medical charges, including hospital bills, lost wages, or property damage?
Call our Torrance office location if you live or have employment in El Segundo, Redondo Beach, or anywhere else in the South Bay. We will fight to win you the most compensation possible for any and all damages you or a loved one sustained. Expect the best when you hire us.
Various Types of Torrance Cases We Represent
Personal injury can be a broad topic that has many different types of practice areas and legal requirements for a plaintiff.
Many different types of devastating injuries can occur in Torrance, California, including:
Ankle and wrist injury (From slips and falls, etc.)
Broken bones
Burns
Brain injury
Spinal cord injuries
Wrongful death.
A successful claim could be worth millions depending on how severe the accident was and what type of vehicles were involved. But some cases may be worth nothing, despite thinking you were entitled to something.
The longer you delay, the less valuable your claims become, and the more complex your story is to prove. Connect with a proven lawyer quickly to avoid such a debacle's additional pain and suffering.
How Do Accident Lawyers Calculate My Damages?
Prove liability: The first step is proving the plaintiff's liability burden to a judge or insurance company. Injured parties must show the defendant was negligent and at fault after they breached their duty to pay attention or act reasonably, causing exposure to situations leading to damage. Guidance, counsel, and advice from professionals at our office can help individuals prove these things that resulted in their injuries.
Damage Exposure To Plaintiffs
A damages calculator (personal injury lawyer) will accurately estimate your compensation based on past, present, and future legal damages for insurance adjusters or jury members. Damages can total $1 or 1 million dollars.
Pursuing maximum damages is the primary reason a claimant seeks the advantage of legal assistance with credentials. Everyone has that right to justice in California courts.
Damages In a Typical Torrance, CA Case?
After reviewing evidence, and determining party fault, receiving a good insurance company payout or jury verdict in court remains the next step.
Your damages result can include the following:
Economic damages: Your lawyer helps total your special damages like medical bills, personal items ruined (property damage), and lost wages.

General damages: Our accident attorneys hire experts and use other methods to value intangible losses. Sometimes punitive damages will issue. The severity of your injury is a considerable aspect affecting your non-economic pain and suffering extensive damages.

Demand Package: Our experts send an insurance settlement demand letter to the insurer, laying out financial goals.
TIP: Call a doctor right away. Don't make a critical error in judgment like delaying an assessment and medical treatment. Get to the hospital and hire a licensed specialist.
We can hire someone to gather all this evidence later and even advance the costs, so you are not out of pocket. That way, your lawyer can better calculate the dollar amounts you could obtain. These are significant decisions to start right.
How Much Is Fair Personal Injury Claim Compensation Worth?
Your decision in a Torrance personal injury law firm can significantly impact how much you put in your pocket. The value of a personal injury case differs depending on the damage the personal injuries can leave you down and out and permanently unemployed.
An average motor vehicle accident insurance settlement amount can range between $5,000 and $100,000! If you have severe injuries, we are in a stronger position to negotiate with the adjuster. But suppose the at-fault insurance company refuses our damages assessment and fails to settle. In that case, your legal team will start civil litigation in the Torrance Courthouse on Maple Street.
Are Damages Paid Up Front or Over Time In My Claim?
Some negotiated cases result in staggered amounts or as a single lump-sum payment. When spread out into periodic payments, structured settlement annuities can be tallied to meet your and your family members' needs.
Expected consequences of personal injuries
Let's look at what happens when you get injured. For example, what if you were run over by a Torrance bus or during a falling-down accident on a wheelchair van? What about a worker's compensation injury claim at the H&M store in the Torrance Fashion Center?
Negligence can lead to personal injuries that harm our lives in many divisive ways. Accidents can lead to personal injury and wrongful death with devastating and immediate consequences to your life partner and kids.
After getting hurt in Torrance, CA, you will face feelings of rage, stress, and anxiety. The medical bills, surgery, and physical therapy expenses can spiral out of control in a personal injury case.
You may even face temporary or long-lasting bodily injury, physical impairment, mental impairment, and property damage charges. Some injury victims will remain disabled, unable to return to the workforce in a meaningful capacity.
Types of Torrance Accidents We Handle?
A tremendous civil law professional has the education, skills, resources, and passion for helping in all negligence law practice areas, including:
Auto Accidents: For most injury victims, we help our people in auto accidents. (people with passenger car accidents, bicycle accidents, motorcycle accidents, and commercial vehicle auto accident claims).

Slip and Falls: Slip and fall, aka slip, trip, and fall, are common premises liability claims. We help people win any slip-and-fall personal injury claim.

*Elder Abuse Claims: Nursing homes are infamous for harming our seniors. We can help you. (*We don't handle medical malpractice cases.).
Torrance Personal Injury Claims We Handle?
Personal injuries can be expensive. Treatment can cost families a fortune.
We help with the following:
Dog bites: Dog bites, including animal attacks (even domestic cat attacks) at premises like a business, are an area of law our negligence attorneys practice regularly. Our reputation for giving small children and females extra attention over their deep puncture wounds and lacerations gives clients confidence and trust after suffering dog bites.

Burns: A severe burn injury can disfigure. And even with surgery, in the end, some cases see permanent harm to your body and senses.

Brain Injuries: We litigate CTE and other head injuries regularly.

Wrongful Death: Loss of life is a devastating outcome in a negligence claim. Survival actions and accidental killings may require help with estate planning, conservatorships, and more. Our negligence attorneys work in these areas of law, including severe injury and wrongful death lawsuits.
One of the best choices an injury victim can make when facing legal questions is to speak to a caring, skilled Torrance personal injury lawyer at Ehline Law Firm today. Let's discuss your case confidentially!
How Many People are Injured in Torrance Yearly?
Despite years of experience with statistics, the government doesn't know and is not effective at handling or determining these numbers. The number of accidents and injuries they provide can vary depending on factors such as population density, road conditions, and weather. Additionally, the number of accidents and injuries can fluctuate from year to year. It's essential for individuals to practice safe habits and for the community to work together to prevent accidents and injuries in Torrance, California.
Who Does My Torrance Accident Attorney Sue Seek Compensation?
Here is the info you or your loved one must know about the personal injury claims litigation process in Torrance, CA.
Potential defendants:
The State of California or the City of Torrance for a poor road or sidewalk maintenance issue (poor road conditions cause many vehicle crashes.)
An area like a retail store, private home, or restaurant property owners (Ex: Slip and fall accidents.)
Your boss, manager, or another employer in a worker's compensation matter
A rogue employee like a bouncer or a delivery truck driver who caused a car accident
Product manufacturers/product liability. (The dangerous products claims area requires many years of practice to determine the best route.).
The driver who caused a motor vehicle accident.
Dog owners for vicious dog attacks in Torrance.
The record shows that brain injury claims caused by a slip and fall accident mainly arise from tripping and falling cases, often against Torrance City during construction accidents.
But they can be anything from product liability cases, like a defective motorcycle part or exploding airbag injury during car accidents, pedestrian accidents, truck accidents, and other auto accidents. It's also important to contact the local authorities or the Torrance Police Department for accurate information about accident reports and fatalities. Motorcycle accident victims, in particular, will need insurance policy money immediately as they are incredibly vulnerable.
We will review any pictures, medical records, or other evidence free of charge. Our gracious and aggressive legal team makes insurance policy claims against any responsible parties under applicable negligence laws. You can phone us. Contact Ehline Law Firm at (424) 999-7246 24/7. Our best Attorney in Torrance is just a call away.
Different Statutes of Limitations In Torrance Personal Injury Claims
The Superior Court on Maple Street is the central place we file lawsuits in Torrance. Injured victims must file their case in Superior Court on Maple Street within the statutory deadline from their injury date. The California statute of limitations can differ according to your type of injury claim to avoid hearing ancient disputes. This can help victims avoid injustice along the way.
In most PI claims, the general time limit to sue is a two-year deadline. But some Torrance government entities have additional shares filing procedures shortening the plaintiff's time to sue outside the statute. Evidence of incompetency, imprisonment, or being offshore can extend the expected time to sue. Only experienced Torrance litigation attorneys know all the secrets.
Schedule A Free Consultation With a Top Rated Personal Injury Lawyer Located in Torrance, CA Today
Are you one of the victims seeking a swift, silent, and deadly injury attorney in Torrance? Most people put off hiring a California lawyer due to expense. We offer companionship and free consultations. We get the message even if someone is looking for basic information about California's laws or Torrance's municipal ordinances and code enforcement protocols. After you call us, a Torrance personal injury lawyer at the Ehline Law group team will promptly review your claims.
We'll take steps to explain all areas of the law and procedure at no cost to help you obtain what you deserve. Our Los Angeles personal injury firm's job is to protect the rights and success of accident victims and their family members. Our top-quality firm seeks to defend your rights today with extreme professionalism. Schedule a free consultation. Call us today at (424) 999-7246 or fill out our convenient online contact form. We make it happen and are happy to help you win! Hiring us for legal services means winning BIG!
---
Michael Ehline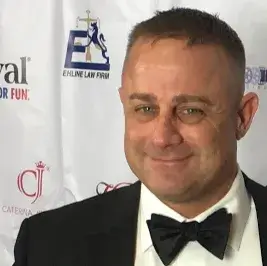 Michael is a managing partner at the nationwide Ehline Law Firm, Personal Injury Attorneys, APLC. He's an inactive Marine and became a lawyer in the California State Bar Law Office Study Program, later receiving his J.D. from UWLA School of Law. Michael has won some of the world's largest motorcycle accident settlements.
---
Recent Personal Injury News
Check out our most recent premises accidents in California and more, including the famous, infamous and everyday people wounded by at fault parties around the world.