Los Angeles Motorcycle Accident Attorneys
---
Call Today: (213) 596-9642
---
Motorcycle Lawyers Helping Motorcycle Accident Victims In Greater Los Angeles, CA.
A motorcycle is typically a motorized two-wheeled vehicle that is registered with the Department of Motor Vehicles to be ridden by a single rider. It usually affords no roll cage or other protections to its riders or passengers.
Quick Reference: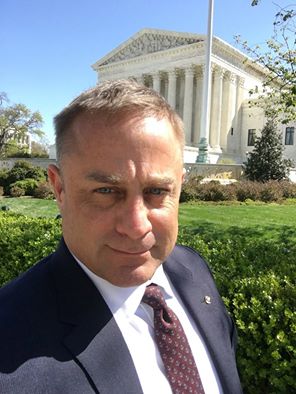 A motorcycle accident is often a deadly or life-changing event. Typically, the rider is struck and run off the road by another negligence motorist, but not always. From rider's bone to wrongful death, our Los Angeles motorcycle accident lawyers help riders hurt in bad collisions and spills on bikes. So this means that we are the injury law firm you call to seek money damages when you or someone you love has gone through a devastating motorcycle accident.
If you're a motorcycle enthusiast and have found yourself in an accident while riding around Los Angeles County, we highly encourage you to seek a no-obligation consultation with a licensed personal injury attorney.

The freedom of riding a motorcycle is a truly unique and exhilarating experience. We know from personal experience, and we too are often surprised to hear when a friend lays his bike down or gets into an accident. Unfortunately, it's almost a matter of when rather than if when it comes to motorcycle accidents. Numerous studies that poor visibility and bad judgment of other drivers in several thousand-pound, four-wheeled vehicles are significant causes of Los Angeles motorcycle accidents.
Some experts say it's an inverse visibility issue where the car and truck drivers see the negative space around motorcyclists instead of the actual riders. Sadly, this often leads to wrecks and crashes with motorcycle riders and often at high speeds. Mix in some wet or very cold weather and various road slicks, debris, and distractions such as mobile phones, and you truly have a recipe for disaster.

Once you've experienced a motorcycle accident, it's not time to give up. It is time to heal, and over time, you will heal. By seeking the proper, licensed, and insured personal injury law firm, you can begin to put your life back together. And in the meantime, your legal advocate can start the arduous process of seeking justice for your true life-changing crash.

We've had friends and clients experience all kinds of accidents on their motorbikes, from Harleys to Ninjas and three-wheelers, it's quite easy to spill, crash or wipe-out on these vehicles. From ladders, tools, and debris on the freeway to the mixture of rain and oil residue on the 405 and other freeways, this happens more often than we'd like to think or mention.

Injury Attorney Michael Ehline and his specialists have a tremendous amount of experience in handling motorcycle injury cases in the Los Angeles Courts. Call us at your convenience to set up a no-obligation consultation about your recent crash, and we will meet with you expeditiously.
Injury Attorney Michael Ehline is a Motorcycle Accident Expert.
Michael Ehline of EhlineLaw.com is recognized nationwide as the motorcycle rider's friend. Michael, as the Firm's head, is a rider too. He knows it is a rare accident that is more destructive than on a motorbike.
Michael also knows how many close calls he has had dealing with L.A. drivers. He can place himself in your shoes. So you can be supremely confident you have located elite lawyers who ride.
Regardless of your motivation in hiring us, you will have the personal relief of knowing you are getting elite, dedicated legal professionals. Our staff consists of agents who are looking out for the best interests of motorcycle accident victims.
The bottom line is, our tier-one litigators make the smart moves both in and out of court. Most of all, our "can do" attitude inspires confidence with wounded, wayward consumers, and fear with defendants and their insurers.
Getting Down to Brass Tacks - Motorcycle Injuries are in a Class All Their Own?
You heard, right. Motorcyclists are different than your average couch potato. Patriotic, freedom-loving Americans love the feeling of joy that riding brings to life. None would argue that thrill-seekers and alpha personality types are more likely to ride bikes.
But as will be discussed, the risks are significant when compared to a car with seatbelts and a roll cage. Also, the bias against riders can be hard to overcome in a court case. So in a personal injury case, motorcycle accident victims are in a class all their own.
What Makes Our Lead Motorcycle Attorney in L.A. Different?
Michael Ehline is our president and hardcore personal injury litigator. He is an honorably discharged U.S. Marine. And Michael understands more than most that motorcycles are an integral part of many people's lives. They are easy to store during deployments, cheap to buy and cheap on gas. You can make lane splits and get around quickly.
Michael has been in a motorcycle accident himself. So he knows the cards remain stacked against most fallen riders in most cases.
Ehline uses his superior skill and knowledge of motorcycle law and riding experience to overcome the obstacles you victim's face.
Because of this, fellow travelers can rest extremely confident that our Firm knows how to deal with the insurers and police. Also, Ehline Law Firm is abreast of the cutting edge medical procedures available.
But even more pertinent, we can often help you get that care. These are the first quick steps to protect your legal rights. Because we are aware of the pits and valleys of the law like the back of our hand, our professionals get down to bare brass tacks right away.
And it matters not whether you walked away or were "carried away" from the accident scene in an ambulance, we can help. We understand that you may have sustained a temporary or permanent loss of mobility. Perhaps you lost the use of an arm, wrist, leg, or another limb? It happens.
Either way, we will fight tooth and nail against unscrupulous insurance companies and other defendants. Most of all, this is key in these often complex cases. Rest assured, we know what you want. And we can deliver.
---
Licensed Personal Injury Lawyers Focused on Motorcyclist Accidents.
Millions Recovered in Motorcycle Accident Verdicts and Settlements.
Ehline Law Firm Attorneys Are Specialists In Motorcycle Accident Laws Offering Consultations.
We Are Recognized Nationally for Our Experience and Excellent Outcomes.
What is No Recovery No Fee?
What is the no recovery, no fee promise? Simple, it means if you get no monetary recovery, you don't pay us our attorney's fee. Our confidence in winning helps you deal with the uncertainty and frustration of a bad crash. Our robust, steadfast representation has earned us numerous awards and peer recognition in our industry. That is the no recovery, no fee promise.
Also, if you were thrown off your bike and hurt during an accidental collision or crash in Greater Los Angeles, there is no out of pocket cost to hire us.

What are Some Steps We Take to Help Protect Your Rights to Money Damages After These Accidents and Injuries?
We take many steps to help you get your life back on track. Money solves some of the problems you will face. Determining who is legally responsible for a traffic accident or casualty is the first step in getting paid. Also, there could be many defendants, not just one.
Beyond that, it depends upon the carelessness, among other factors, of the alleged wrongdoer(s). To learn the truth, we think getting to the incident scene, interviewing witnesses, and locking in testimony is a crucial step to take. So we go the extra mile and do this with due diligence.
We are in it to win it once you sign with us. And we stake our reputation, time, money, and paycheck on excellent outcomes, as you will see below!
What are Some Other Reasons You Will Choose Us as Your Champion?
You want your motorbike repaired as soon as possible.
You want a law firm local to Los Angeles County Courts.
You need someone to find evidentiary holes in biased police reports.
You deserve lawyers with thousands of successful cases from start to finish.
You want to hire an award-winning Super Lawyers Rising Star.
You want a former U.S. Marine running the Firm.
You want convenient locations statewide.
You Want lawyers with millions of dollars recovered.
You want a free initial consultation.
You want lawyers who advance costs.
You want lawyers who ride. WE RIDE!
If this list of expectations appeals to your needs, then keep reading. We think other features about us make us an even more attractive choice.
An Experienced Motorcycle Accident Lawyer in Los Angeles.
As noted above, our lead attorney is a rider. Michael Ehline also goes to the rallies, stays up on the latest bikes, and court rulings dealing with bikers, safety laws, etc.
Michael Ehline understands the needs of the military clients who ride. And he gets why they use bikes more than cars. But beyond that, Michael is a sympathetic, inactive United States Marine.
After all, it is for obvious reasons. And these reasons include ease of storage upon deployment (learn more about military motorcycle accidents here.).
After all, wearing your orange safety vest, full-faced helmet, heavy-duty biker boots, and riding chaps don't ensure a scot-free escape.
Plus, things like padded leather jackets and gloves offer little protection when stacked against a large car, truck, or bus slamming into a cyclist.
Riders get lucky if they escape a crash with mere:
Bruising.
Scrapes.
Black and blue marks.
Many enthusiasts trying to get from point A to point B safely are killed or wounded in motorcycle collisions every day. Because of this, we have an experienced staff of legal experts with resources oriented towards traffic accident victims.
These people exactly know what they need to do to increase the value of your case. Also, whether you were following safety protocol or not, we can still help. So why not let the apostles of motorcycle law at Ehline Law Firm help you too?
Heavy Traffic and L.A. Motorcyclists - What are the L.A. Statistics?
Take a look at Los Angeles motorcycle accident statistics. After you do, it is hard to imagine why you would purchase a motorcycle, let alone ride one.
Statistics show a chance of a smash-up is higher in the geographic area of L.A. [1. The Hurt Report 1981] Riders don't have a chance against the four-wheeled, steel beasts we call automobiles. In 2014, the California Office of Traffic Safety ("OTS") stated that motorcycle wrecks composed 1,773 of Los Angeles fatalities and death.
The OTS also says motorcycle deaths rose 153% from 1998 to 2007. So in just nine years, large numbers of riders died. (Read More.)
Today, bike deaths are twice as high as they were in 1997.
As the costs of gasoline go up, more and more commuters buy motorcycles due to their fuel efficiency alone.
Unfortunately, riding safely in L.A. traffic requires years of experience.
Motorcycles make up around 3% of the total vehicle numbers. But they account for 14% of commuter fatalities.
According to the Insurance Information Institute:
Four thousand nine hundred seventy-six people died in motorcycle crashes in 2015.
Up 8.3% over 2014's total of 4,594.
Another 88,000 motorcyclists were injured.
Down about 4.3% from 2014's total. (Read More Here.)
What are the Risks of Rider Deaths Compared to Similar Types of Passenger Car Deaths?
According to the United States Department of Transportation, the number of fatalities per vehicle mile traveled was 37 times higher for motorcycles than for cars. (Source.)
Per mile traveled, motorcyclists, are about 27 times more likely than passenger car occupants to die in a crash.
Motorcycle riders are five times more likely to be injured than car occupants.
Death or severe injury due to motorcycle use is no joke. Those who suffer a mere sore back, skinned knee, or whiplash are the lucky ones. The number of innocent lives taken each year is far too many. Also, the increase in rider and occupant injuries are particularly alarming.
Are Motorcycle Deaths Going Up?
Yes, they are! Although in some cases, drivers are out on the road less, the number of motorcycle deaths increased. Last, this is a matter of national concern for the 8.4 motorcycles on the road today. Each motorcyclist takes care of their vehicle and to has to keep themselves safe as well.
They Can't Always See You, So Riders Must Be Vigilant?
Other drivers are not always aware of two-wheel traffic. Blind spots and lack of experience often cause severe injury or death.
Drunk driving is also a perennial risk.
Distracted driving, in particular, is on the rise across the country.
Loud Pipes Save Lives.
What the Riding Risks in Los Angeles City Compared to Other Locations?
You probably guessed it. Yes, Los Angeles traffic is among the worst for riding accidents, especially during Rush Hour. So the very crammed traffic on the arteries, on-ramps, off-ramps, and turnpikes are all just a lousy motorcycle collision waiting to happen.
The density of vehicles traversing the road means there is a high likelihood you could be the next motorcycle crash victim. Whether an L.A. city motorcycle collision or Santa Monica bike accident, you will likely suffer harm.
The City of Los Angeles could even be a defendant in your case. The city could be responsible for the jam or unsafe traffic condition that led to your accident. (Learn more about government claims here.)
And your doctors and hospital care providers need payment too. But while you heal, what about your injury claim? Under our tort law system, courts will force the wrongdoer to pay up. Do the above describe your circumstances? If so, make sure you have a lawyer on call. Read more about our committed, responsive team below.
Yes. We can help you get paid for your injuries and loss of use of your bike.
Using our motorcycle lawyers as your mouthpiece, as opposed to trying to handle this yourself, or hiring an incompetent ambulance chaser, can keep you sane and out of jail.
Yes. Hiring us means you don't "lose it" or do something you later regret like "self-help."
An angry biker might try and handle this the old fashioned way and take the law into their own hands with threats and violence. Don't do it. Let us be your straight sword, shield, and referee.
Also, this avoids self-help, like the days of the wild west. In a civilized society, the evil-doer should pay for his transgressions in money damages. Let us work with qualified experts to investigate your case and learn the finer points of the fact pattern in your case.
This is how to increase the overall monetary value of your case anyways. Revenge gets you jail, Ehline gets you money. Our injury law firm has vast legal knowledge of the anatomy of motorcycle incidents.
What Types of Two Wheel Vehicles Face the Greatest Risks?
Before going further, let's learn a few things about why these vehicles are so injury-prone.
A motorcycle (also called a motorbike, bike, or cycle) is a two three or four wheeled[not in citation given] motor vehicle. Motorcycle design varies greatly to suit a range of different purposes: long distance travel, commuting, cruising, sport including racing, and off-road riding. Motorcycling is riding a motorcycle and related social activity such as joining a motorcycle club and attending motorcycle rallies.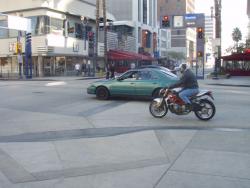 There are many types of motorcycles, including superbikes, classic bikes. (Source.) Some bikes get equipped with competition cams and all manner of racing equipment. So some are going to be riskier to ride than others. Although motorcycle technology is making bikes safer to operate, bicycles are still more dangerous than most small cars.
"Motorcyclists are a bigger and bigger percentage of deaths each year,"... (Source).
Cars, especially during rush hour, don't always pay attention. Motorcycles are usually two-wheeled vehicles like a Ducati, Harley Davidson, or BMW that will often eject the rider in a high, or even low-speed crash.
And this poses a different risk than a four or three-wheeled conveyance. We realize that most rider injuries happen near the biker's residence, and occur at intersections with only seconds for a rider to react. But there is no substitute for good health. So be aware and cautious that the chances of getting hurt increase a lot when riding in L.A.
What About Left Hand Turn Crashes?
Typically, this happens when a passenger car makes a left-hand turn in front of an oncoming bike. Sadly, this can force the biker into a head-on crash. Often, the side of a vehicle faces the rider. So the rider will T-bone the motor car. And this will launch the rider into the air. (Read more here.)
Is Riding Gear and Technology Helpful to Obviate Injuries?
Also, with motorcycles as with most two-wheelers, no rider protection exists beyond the essential gear like boots, gloves, leathers, a helmet, and reflective items. Even waterproof body armor won't stop prevent a full-face helmet from filling with water after a slide-out in the rain.
No enclosure or roll cage protects the biker's eyes, mouth, or body that exists as part of the vehicle's nomenclature. More robust frames and EMS have helped improve safety. But no silver bullet exists. No matter how safe you drive, the surface streets are filled with peril.
What Are More of The Many Risks of Riding Bikes?
When a person rides, they take their lives into their own hands. Small things like cold tires or brakes can mean the difference between life and death.
Driver distraction and inattentiveness of others are responsible for most motorcycle wrecks and fatalities. In any event, a poor rider can quickly get stuck in the blind spot of one or more other cars on the road. (Source.) Close calls are standard for bikers. But they are generally not the rider's fault. Even pads and helmets do little to protect riders in freak accidents.
Rider experience is also a key factor. (Read more.)
However, most accidents take place within five months of owning a newer bike, irrespective of how long a biker has been riding.
The mischief arising out of these collisions isn't the same as that suffered in an enclosed passenger car. After all, cars have seatbelts and airbags.
Bodily injuries can vary from:
Ruptured discs.
Road rash.
Severe brain injury.
Loss of life.
Because we have a vast knowledge of tort laws, we can help guide you through the legal quagmire. Most of our clients complained that other attorneys either didn't have the time or the desire to explain the ropes. But we take extra care to teach victims their rights, duties, and obligations.
Who Is At Fault to Pay for Your Accident?
In freeway and highway traffic accidents, state traffic laws, like the California Vehicle Code, [2. C.A. Veh. Code] provide the rules of the road. Also, violating these rules and then causing a collision could create a rebut-able presumption of negligence – aka negligence per se – and ultimate liability.
But in many situations, car operators could be liable for a mischance traffic accident. And this is true even if they were driving at or below the posted speed limit. Of particular interest, they can still be at fault.
And this is true even if they were obeying the traffic laws of the state. As discussed above, the government can also be named as a defendant in some cases.
What is Meant by Safe Speed?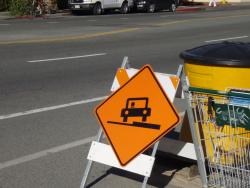 "Safe" speed and not the posted speed is what a responsible driver must follow as his or her guide. In other words, common sense must be used when riding. Examples would include a rider noticing a roadway defect, or a visibility impairment from foggy conditions, or cases where the sun is in the rider's eyes.
Most of all, these road conditions would require extra care and caution when traveling the freeways and streets. Sometimes in cases of rain, sleet, or hail, riders may need to pull over to the curb when safe. But other times, they may simply need to cruise slower. If not, the cyclist could cause a smash up or serious spill onto the roadway.
For example, bikers can get clipped by another vehicle in the low visibility conditions, and find themselves catapulted into a curb or fence.
Other times they fly through the air and land on a vehicle or other inanimate object. So, as you can imagine, people get badly hurt.
Thus, you need broad info on dealing with the insurance company. And you need to understand the idea behind indemnification. But the first thing you must do is lawyer up!
How Do Motorcycle Lawyers Gather Evidence?
First, with the right motorcycle attorney, you know they will collect all the information about your insurance claims, and this will also include things such as those exorbitant medical bills and medical records; and it will also include lost wages. Other things might be a part of your case that is not obvious to a non-motorcycle litigation expert like:
Your performance at work?
Changes it may have caused at home?
Planned events that you are not able to participate in because of your injuries?
There may also be witnesses who will testify about the change in your life since the accident both at home and at work?
Has the accident caused a change in your sex life or other marital relations?
Understanding And Explaining The Evidence?
Medical records are a large part of building a case. And reading these documents and understanding them helps a jury understand. Only a hard, experienced legal counselor will be able to present the case. But they will be able to present it in such a way that there is a clear understanding of the injuries.
Others describe our team as relentless. This aggressive representation is commonly seen by both our clients and our opponents in the courtroom. We seek every last strategy to get our customers back on their feet– both figuratively and literally. Our team seeks compensation for all injuries, current, and future. We deliver on the cost of rehabilitation and treatment. Thus, Ehline Law recovers lost wages and helps clients sign up for essential programs.
Want to Know Your Motorcycle Rider Legal Rights?
Angelinos, whether they are a rebellious 1% er, black and white, independent, or motorcycle enthusiast, should be aware of their legal rights. As a service to you, Ehline will walk you through this arduous process, while guiding you every step of the way.
This promise includes advice about representation for mishaps on trail bikes and even mopeds. Whether you have injured yourself while riding operating a chopper, Vespa, or scooter, don't guess the value of your case! Don't deal with an antagonistic liability insurance company's adjusters.
Never speak to the other party's lawyers, while not with legal counsel.
Focus on regaining your excellent health, and let us focus on getting you justice. Ehline will help you understand the entire motorcycle accident insurance claims and legal process from start to finish.
Want a Motorcycle Lawyer's Legal Advice Now?
At Ehline Law Firm, our staff of seasoned motorcycle lawyers in Los Angeles offers free phone consultations to injured tort victims. As discussed, we litigate surface street and roadway spills throughout the L.A. Basin. But valuing damages claims are just part of what we do.
As noted above, we have recovered gigantic sums of money for tragically harmed individuals. Since operators of other vehicles have a duty to look out for cyclists, they are liable for negligence if the distraction is the proximate cause of the damages or death. So if you or someone you know was in a bad motorcycle wreck, we should be able to confidently and gingerly handle your essential claim.
After all, the odds remain stacked against the biker. The local Ehline Law Firm can help even those odds. But now you have a chance to get paid back your lost wages, ambulance, health care costs and possibly even losses on contracts you could have perfomed. Also, these damages can include money for mental and physical pain and suffering.
So the choice is clear. Hire an average advocate for underwhelming results? No! You want to hire a Marine with a "do or die" mentality. Ehline is the ONLY choice for learning about your unique case. Call for a free consult 24 hours a day. How does that sound?
Featured Client Testimonial - Car Accident Review - John F
Most of all, my latest accident was an unforgettable experience. Sadly, my residual knee and ankle pain and need for a future surgery are constantly making me recall those terrible events of that auto v. motorcycle accident that contributed to my disability as a U.S. Marine combat veteran. I am emotionally scarred. The bottom line is that I was riding my motorcycle, obeying traffic signals, and minding my own business. As I was driving straight, I heard a loud impact, and was thrown from my motorcycle. When I regained consciousnesses, I discovered that I had been involved in a horrific car accident that was not my fault. I was lucky to be walking on crutches, let alone surviving this mishap. The other driver apparently blew a red light and sideswiped me, causing me to lose control of my motorcycle, tossing me like a rag doll into the air. My helmet likely saved me from even worse brain injuries than I had already sustained. But my head gear was totally destroyed, and my bike ended up being a total loss. Right away I knew I had a terrible knee injury and broken ankle. Also, I was rattled and left totally and disoriented immediately after the accident. But then the adrenaline from my head concussion and my body hitting hard asphalt started to wear off in the hours and days afterwards. And this is when I started to notice short term and long term memory loss. But it gets worse, there was radiating pain in my neck and shoulder area, as well as lower back pain and stiffness. As my vertigo and headaches got worse, my headaches ankle and knee pain got worse. So at the end of the day, I ended up with friction burns, broken bones, a spinal cord injury, lacerations, and an exacerbated brain injury. And things kept getting worse day to day. Being a Marine, it didn't take me long to realize that I did not want a run of the mill civilian personal injury lawyer. I was calling around off of Google, Yelp! and billboard ads, just trying to find a guy I related to. To be honest, I just felt that a lot of these lawyers had big holes in their game. Luckily, I spoke with some fellow Marines who had legal problems and they referred me to Michael at Ehline Law Firm Personal Injury Attorneys, APLC in Los Angeles, CA. I was seriously injured and unable to meet initially, so Michael opened a claim right over the phone and got started. He was a typical Marine infantryman. He is exactly who I wanted on a case. Michael was responsive, personable and trustworthy. I immediately knew I had hired a trigger puller and he did not disappoint me, not even for a minute. He even met me in Redondo Beach for our initial client meeting and bought me dinner and a beer. It was there that he further explained the case handling process, reminisced about the Corps., and laughed a bit about old times. I further realized what my role and his role would be in my case after that. I felt totally at ease by his do or die attitude. By this time he was able to update me on my case's status. He made sure I was attending physical therapy and doing my part to gather evidence and reduce my losses. Ultimately, my orthopedic surgeon could do no more for me. I needed to pay my doctors for things like MRI's, CT Scans, etc. With a bulging disc, chronic pain and debilitating knee injury, there was not much I could do anymore to earn money. So my day to day routines like walking a dog, doing dishes, going to work, etc., were all altered significantly. Not being able to drive was also problematic. And even after all my medical treatment, I feel that am still not at 100%. As an aside, I know things would be far worse if Ehline and his supportive staff hadn't led me through getting medical care on liens, etc. Obviously, hiring Ehline was the pivotal point in me getting the best care, legally and hospital-wise. Ehline helped me navigate my case and to place me at ease during this arduous process. Ehline dealt with all the red tape and shielded me from the insurance adjusters who treated me like a second class citizen and patronized me. Using this law firm as my sword and shield was the best choice I made since I was discharged from the Marines. I know that Michael and his wonderful team got me the maximum settlement under the law and this is what I deserved! I am now friends with Michael and am considering studying law under him on the California State Bar Law Office Study Program. When one door closes another one opens. I hope I never need Ehline for a car crash again. But I know I will tell Marine and Navy vets where to go when they need legal help.Thank you Ehline Law Firm for your leadership, guidance and friendship! Semper Fidelis. - John F. 5 / 5