[Content Updated Feb 5, 2021]
"The wrongful death of a loved one is the most difficult time mortified surviving family members will experience. Victims with no lawyer are grieving, impaired with clouded judgment; so how will they receive maximum compensation when dazed and confused like this from a fatal accident? Somehow the survivor must hire the best Los Angeles wrongful death attorneys, or risk losing more than a loved one's familial bonds."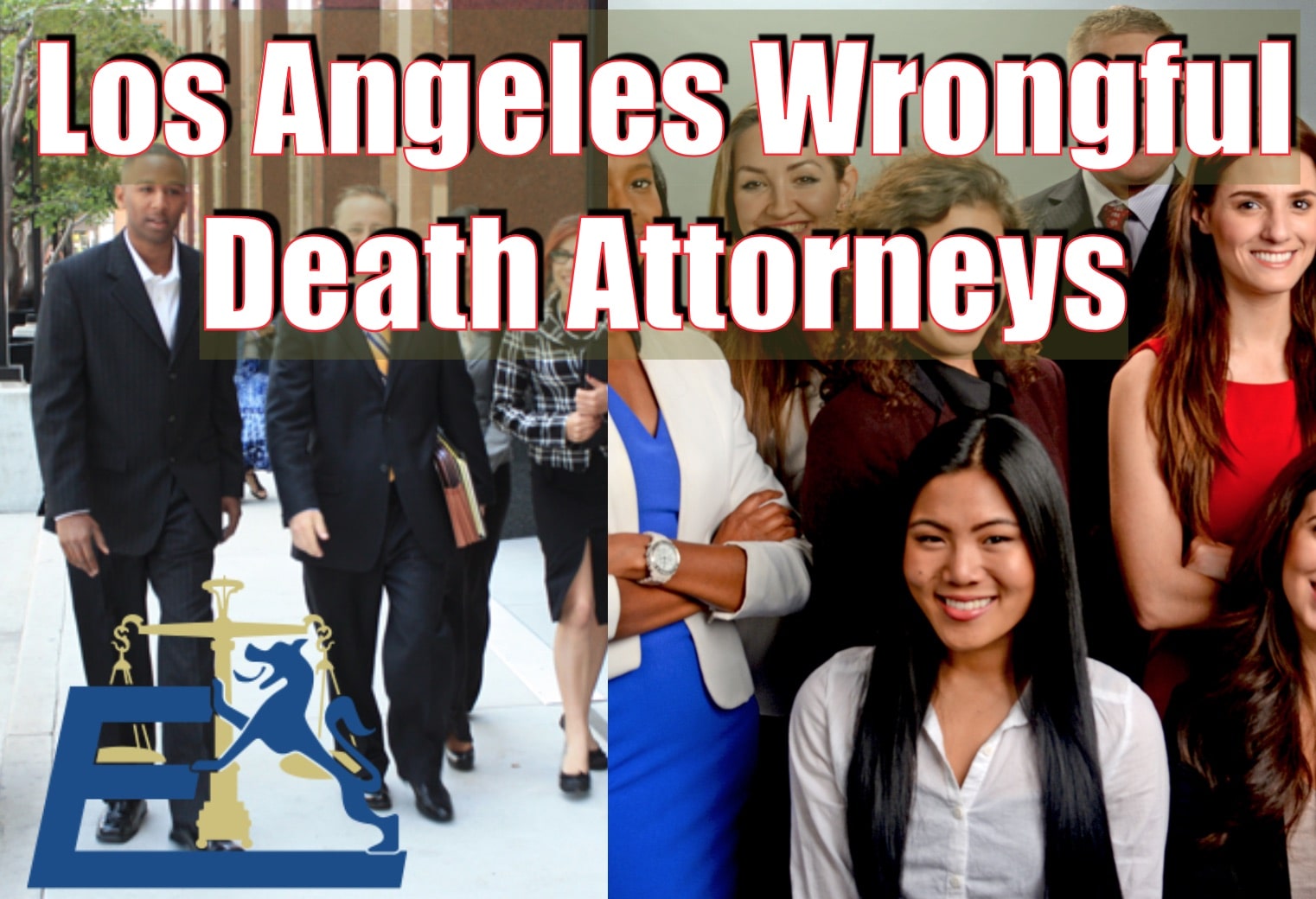 The domestic partner and other loved ones' decedent left behind during this sad occasion may be unaware of their significant legal rights to compensation, so these severely impacted survivors of psychological personal injuries now face burdensome and ominous financial losses.
For family members to survive wrongful death, you must do your homework because you must discover whose negligence caused or contributed to their loved one's permanent cessation of biological functions. If so, your injury attorney may be able to seek insurance settlement compensation. Your lawyer will instigate this procedure, mailing a wrongful death claim or filing a wrongful death lawsuit.
The responsible party lacks the capability to raise your loved one from their grave, but a successful insurance claim settlement provides justice, helping you maintain your lifestyle. Ehline Law Firm's experienced Los Angeles wrongful death attorneys help guide you through the wrongful death case legal process when you elect to pursue maximum compensation amounts.
Accidents Commonly Causing A Wrongful Death
With few exceptions, a careless person's negligence or recklessness causing death will justify the pursuit of a wrongful death claim.
Here are some common causes of Los Angeles wrongful death.
Auto accidents – including a car accident, truck, Uber-Eats delivery vehicle, bicycle, bus, pedestrian, or motorcycle accident.

Work accidents leading to death will including fire, explosion, toxic chemicals, knives, power tools, harvesting machines, farm equipment, heavy machinery, or fatal physical overexertion.
Defective product accidents – including a faulty, failing, malfunctioning accelerator, burned-out disc brakes, or airbags that explode.
Other fatal injuries – from an accident causing death include malnutrition, asphyxia, disease, suicide, homicide, drowning, severe burns, intense heat or cold, drug intoxication, electrocution, starvation, dehydration, radiation toxicity, and even a bombing from domestic warfare.
What Is The California Wrongful Death Lawsuit Legal Process?
State or federal laws will generally decide how, when, where, or what specific family members can file their wrongful death lawsuit against the responsible parties.
Statutes and laws governing wrongful death include the California Code of Civil Procedure, California Civil Code, CACI Jury Instructions, and California Government Code.
Where:
Usually, the city where the defendant resides, works, or place where they caused your loved one's death. (read more).
CAVEAT: when suing a defendant for a cruise line or under certain insurance policies for wrongful death, other laws or a contract decide the forum state and even the Los Angeles County jurisdiction where a close family member can file a wrongful death case.
Time To Sue:
California's wrongful death statute of limitations will generally allow a survivor a two-year lawsuit filing period following the decedent's death date, unless a shortened time was mandated by contract (see above) or because you are claiming against a government defendant.
Victims receiving helpful legal advice and assistance from the best injury lawyer in Los Angeles will generally receive a greater amount of compensation when compared with a victim unrepresented by legal counsel.
Who Can Sue:
Decedent's family members can pursue damages claims against responsible parties who caused a loved one's death. Any survivor eligible to receive the decedent's estate during intestate succession may also file a California wrongful death case.
Wrongful death plaintiffs. Parties entitled to sue for wrongful death include the decedent's surviving spouse, domestic partner, putative spouse, blood child, stepchild. Decedent's adopted children or enumerated parties identified by testamentary documents are all potential wrongful death lawsuit plaintiffs.
When you prove no listed survivor exists, the decedent's parents and siblings, like a close brother and sister, become the next plaintiffs statutorily authorized to sue.

How To Sue And Win Against "Responsible Parties"
For you to receive just wrongful death lawsuit compensation amounts, a preponderance of admissible evidence must prove the plaintiff's burden that the accused defendant breached their duty of reasonable care to the decedent, killing your loved one and causing your pain.
What Is The Wrongful Death Evidence Gathering Process?
Once their client retains them, an experienced wrongful death attorney will immediately deal with the evidence gathering process. As we begin accident investigations and receive testimony about the substance surrounding the fatality, our legal experts will develop a picture telling your story, starting with the parties liable to pay your wrongful death compensation amounts.
Our team will interview witnesses, and we will obtain statements, fetch police reports, secure accident scene video recordings, retrieve medical documents. Our case investigators will seek to locate vital evidence. As we begin investigations and receive testimony about the fatality's substance, our legal experts will develop a picture telling your story, starting with the parties liable to pay. Our helpful staff of secretaries and paralegals will help litigate or try your case in front of a court or jury.
Compensation For The Death Of A Close Family Member
Numerous types of fatal personal injury damages exist in a Los Angeles, California wrongful death claim.
Wrongful death damages calculation amounts are figured on a case by case basis, with the facts of each claim guiding the division of any verdict or settlement amount among the wrongful death plaintiffs. Decedent's

surviving family members

may only receive compensation for their own direct sorrow, pain, and torment suffered as a result of the wrongful death of their

loved one's financial support, emotional support, and guidance. Parties with the most legal standing will be slated to receive a greater share of compensation.
A survivor's action

may be filed to compensate the deceased's estate. The administrator will sue to recover the decedent's costs associated with the

deceased's loss of biological function and major trauma, causing the deceased's personal injury or illness leading to organ failure, predation, and death. The estate's representative can seek compensation to pay for the decedent's memorial charges, burial fees, or funeral expenses.
Negligent Infliction of Emotional Distress Damages. Sometimes the survivor will see or perceive actions while they occur, negligently killing the decedent. In these cases, the plaintiff will be entitled to additional emotional damages awarded under the theory of negligent infliction of emotional distress.
Direct reimbursement damages for surviving family members include:
Plaintiff's medical bills

,

psychological/physiological care, and counseling costs associated with the negligent killing
Lost Financial Support – Economic losses including loss of anticipated past, present, and future earnings the breadwinner's income would have provided the plaintiff's household
Household or homemaker contribution costs associated with losing a life partner caring for your children, yard, honey-do-lists, emergency repairs, nursing care, and other direct support lost after a fatal injury
Non-economic damages – Loss of consortium, love, companionship, emotional support, and guidance
Lost prospect of a better education
Lost future inheritance
Punitive Damages – Designed to make a public example of the killer's recklessness or intentional conduct.
Our compassionate, charismatic personal injury attorneys will offer you solace and superior legal representation so we can help you heal from your inconceivable suffering.
Fatal Accident Insurance Settlement Negotiations Process

Shady insurance companies have a reputation for turning the tragic loss of a loved one into a decisive gain for their shareholders. Insurance adjusters are notorious for doing everything they can to underpay fatal accident claims involving represented, especially unrepresented, wrongful death victims. The negotiator will sweet talk you, and they will con you to sleep on your legal rights. If they achieve their pernicious goal, your chances of hiring a top-notch wrongful death lawyer for your fatal accident case will become gravely diminished.
Since they hobbled your case, they will present a lowball settlement offer. Your strong emotions, suffering, and weak vulnerabilities associated with your loved one's death will leave you incapacitated and tempted to accept the unfair offer. You must receive immediate personal injury attorney help near you, or you will risk receiving less than your negligent fatality claim's full value. We'll negotiate with the insurance company as your legal representative, and we will shield you, communicating our settlement demands, allowing you to focus on personal growth.

Get Help From A Los Angeles Wrongful Death Attorney
The incomprehensible torment, loss, and suffering associated with bereaving a close family member can lead to health problems, bankruptcy, and destitution. Seeking financial justice from the insurance company representing the at-fault-party won't raise anybody from the dead, but it will sure help achieve the decedent's long-term goal of financially protecting their surviving loved ones.
Your superior, award-winning legal team at Ehline Firm will assist you and your family during this delicate period of personal depletion and self-reflection. Our law group's top-notch managing partner and caring staff will pursue and secure comprehensive compensation from all parties liable for causing the wrongful death of your loved one. We promise to provide you with the best legal representation during this distressing event in your life.
We also help personal injury victims in Orange County cities like Newport Beach, San Diego cities like Ocean Beach, and Los Angeles cities like Beverly Hills and Long Beach, servicing Southern California. Contact a Los Angeles wrongful death lawyer at our law offices 24/7 for a free consultation and case review at (213) 596-9642, or fill out our handy online contact us form today.