If we don't win, you don't pay.
Speak to the Attorney.
Born to serve.
633 W 5th Street #2890
Los Angeles, CA 90071
(213) 596-9642.
Date Modified: August 28, 2023
Our Woodland Hills injury attorneys have developed the ability to help injured and suffering victims normalize their lives, earning millions for them throughout the San Fernando Valley, including Sherman Oaks, Canoga Park, and other Southern California residents, in the process.
Our Woodland Hills Personal Injury Attorneys have won clients over $150 million to date
Top-Notch Woodland Hills Personal Injury Lawyers For Your Legal Issue
Professional approach to protect client goals & legal rights by your side
Representing injury cases through mediation, arbitration, and trial in the San Fernando Valley, Canoga Park area, including Sherman Oaks, CA.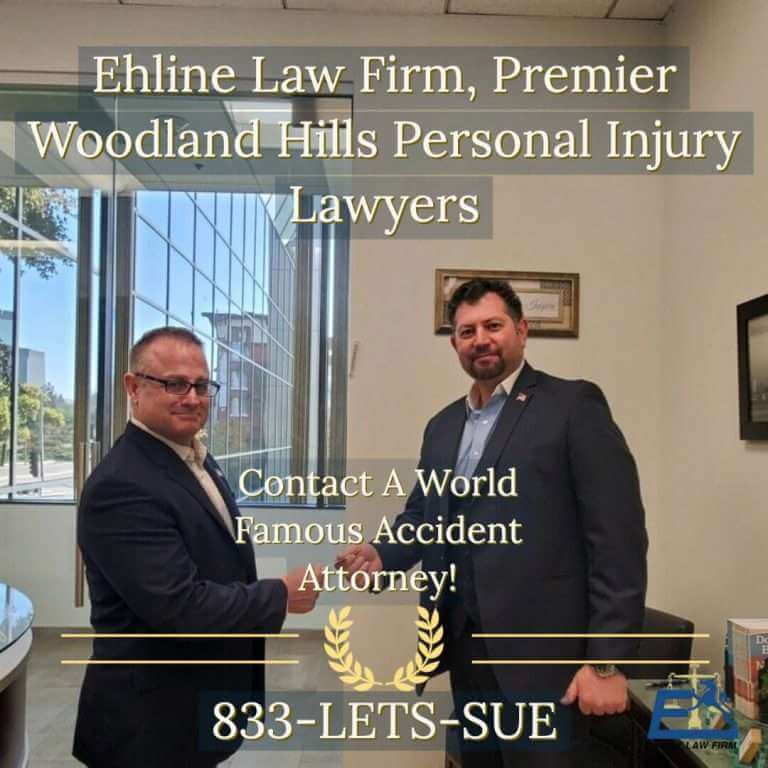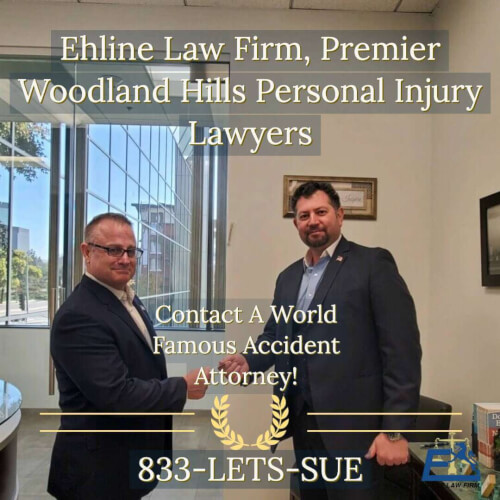 Families can lose everything if they suffer the loss or disability of a loved one without help from an experienced Woodland Hills personal injury lawyer representing injury victims in civil cases who have already recovered millions of dollars in cases involving varying circumstances.
This remains especially true in wrongful death cases seeking injury recovery damages in the conservative Woodland Hills area. (Ex: Complications with life insurance law and liability insurance adjusters not taking responsibility for personal property and related practice areas, spurring needless civil litigation, etc.)
Our client testimonials and peer reviews are a mere sampling of the vast extent of our charisma, drive, and years of experience dealing with and fighting insurance companies and litigating personal injury cases. Our top team has the desire and proven track record of assisting you or your loved one in making the right selection 24 hours a day, even if you need help selecting a criminal defense attorney after an auto accident driving under the influence case, for example.
Let us hear about your injury case!
Our experienced personal injury attorney team is open for business 24 hours a day, giving free legal advice about dealing with insurance claims adjusters and winning personal injury cases for those we aggressively represent. We built our name and claim to fame because we boldly and aggressively represent clients who are injury victims with serious injuries on a contingency basis term.
You enter into a risk-free relationship to obtain justice based upon trust and our vast years of experience making it happen for accident victims. We keep you in the loop and find the best method to solve your case and fit your needs. We will make it happen for you, even if it means making claims against multiple parties and hundreds of phone calls and texts back and forth. Put our decades of experience at your feet today by contacting our Woodland Hills personal injury law firm.
Local Injury Law Experts
Our local Woodland Hills, CA, law offices have recovered significant financial results for thousands of injured clients. Our serious injury lawyers in Woodland Hills get the best possible settlement for an automobile accident or fall injury, or we go to trial if it serves your best interests. Our focus is on you and your loved one till the final outcome. We go the extra mile where some other Woodland Hills carpetbagger attorney may settle insurance claims for far less. Call our compassionate staff and personal injury attorneys today. Learn more about our proven track record and office, and explore your options in your best interest before making a selection for your Woodland Hills legal advocate.
We also handle legal malpractice and appeals. Call (747) 330-1783 or email woodlandhills@ehlinelaw.com 24 hours a day, seven days a week.
Don't hesitate to call before witnesses and evidence disappears. It is recommended by most legal experts that you wait on any attempt to open a claim with any insurance company unless you follow the basics below, taking the legal process to heart. Read on to discover more about what makes our Woodland Hills, CA, law offices different for parents, homemakers, employees, and others. Even if you think you don't have a major case, expect to develop problems when you stabilize and the adrenaline wears off.
Why Choose Ehline's Experienced Woodland Hills Personal Injury Lawyer?
If anything, statistics prove clients get more money with legal representation using experienced personal injury attorneys. At least, that's the idea. But hiring the right personal injury attorney in a bustling place like Woodland Hills can be a mind-numbing, health-altering process.
With scorched earth insurers and mediocre attorneys, no guarantee exists anyone will achieve success or great case results following an accident.
Anyone hiring our great trial attorneys will have more respect from parties and courts. Our philosophy and characteristics remain committed to your best interests.
A Woodland Hills personal injury lawyer will travel to your home, hospital, or offices
We can Uber you to our nearby location
Build a compelling case
24/7 Attorney Hotline?
After an accident, the idea is to strike while the iron is hot. Our best Woodland Hills personal injury lawyer is standing by right now to help with your claim and offer you more information.
Free Confidential Consultation?
You don't need to worry about embarrassing yourself over being at fault or financially broke. Free case evaluations are just part of our service. Our attentive personal injury lawyers will listen to your side during your free case review and guide you over the next steps in your case and meeting any deadline. This will be a free consultation.
Experience?
Damages recovery is our forte. The personal injury lawyer and specialists at Ehline Law Firm have a proven track record of success with over 15 years of experience litigating negligence claims for injured clients all across Greater Los Angeles. With representation and experience like this, you can heal while we work.
Contingency Fee Basis
All trauma victims receive a "no win, no fee" promise from our personal injury attorneys, eliminating the money argument claimants have for delaying swift action in your Woodland Hills personal injury claim.
Conveniently Located?
We make it easy for clients with questions about their losses. Ehline Law Group's famous injury lawyers help defend injury cases in nearby East Los Angeles, West Los Angeles, Northern, Central Valley, and Southern California areas. We're convenient to Beverly Hills, Pasadena, Glendale, Torrance, Ontario, Santa Ana, Santa Monica, and Long Beach. Call us today.
Resources?
Our staff's competency and compassion for clients have paid off. This wealth enables us to reinvest our vast financial resources and expertise. Sometimes, we might work with costly specialists in their field to prove your claim. We can provide superior legal services this way because we are bankrolled for any Woodland Hills contingency fee case.
Advance All Case Costs
In pursuit of justice, we offer clients financial peace by advancing the enormous costs to service their lawsuits along the way.
Reputation and Experience? We take swift action. Our legal team's fame and experience came from challenging wealthy companies and their insured hurt as the plaintiff in many types of accidents. Someone who knows our resolve is the City of Woodland Hills.
6200 Canoga Ave Suite 202-b
Woodland Hills, CA 91367
Get Directions
(747) 330-1783
Our Woodland Hills personal injury attorneys have won significant settlements from this agency and others throughout the state. We have the experience necessary to handle complex litigation with proven trauma case results. Our personal injury lawyers will listen to and offer free advice with candor and openness.
Tough on Insurance Companies?
You must hold any liable party with a source of insurance funds responsible for paying their portion of fault on your behalf. With our reputation for doggedly fighting insurance companies, injured California residents and visitors remain in good hands with our superb personal injury law field experience.
The plaintiff or their family will need someone with dogged determination, professionalism, and knowledge of Southern California insurance laws. Your future life may depend on who you name as your Woodland Hills personal injury lawyers.
Our law firm will negotiate settlement negotiations with insurance companies, insurance adjusters, or another responsible defendant.
Our personal injury lawyers get clients maximum financial recovery for their pain, suffering, and economic loss claims in an injury case. We do so in or out of the courtroom with professionalism and elan.
Our superb reputation as one of California's top-quality personal injury law firms was earned by helping each person we represent receive a just financial outcome.
Favorable Claims Outcomes?
Our California personal injury law firm maintains a STORIED history of winning millions of dollars on behalf of Woodland Hills, CA, tort victims. Our personal injury lawyer team has earned clients over $150 million in high-quality verdicts and settlements in personal injury claims.
Types of Personal Injury Lawyer Awards and Accolades
Our lead Southern California personal injury lawyer has been recognized, awarded, and decorated by his peers and the national press.
Michael Ehline is a complete "Gold" member of the Martindale-Hubbell peer organization.
Starting in 2006, the Multi-Million Dollar Advocate Prize award was earned yearly by our best personal injury lawyer, Michael Ehline.
CNN national news 2009 interviewed attorney Michael Ehline as a featured guest speaker. (discussed dog bite law).
In 2010, CBS Television Distribution producers hosted attorney Ehline to speak on their hit TV show "swift justice," where Nancy Grace interviewed Mr. Ehline for his bodily injury law expertise.
In 2013, the National Trial Lawyers Association award was granted to Michael Ehline, forever establishing him as a Top 100 Trial Lawyer.
The Los Angeles Times Litigator Award was presented to Ehline Law Firm in 2015.
Our law office manager has made the Leatherneck Magazine list of elite businesses inside the USMC community.
Multiple Super Lawyers Rising Star Awards.
Our law office itself is the subject of many articles and news stories.
News & Client Recognition:
Our Woodland Hills personal injury lawyers have earned multiple consumer awards and 5-star reviews from membership rating organizations like AVVO, Yelp!, PI Warriors International Inc, and others.
Michael Ehline has been a Los Angeles Circle of Legal Trust member since 2012, an organization dedicated to trusting attorney-client relationships.
Our team meets client goals of obtaining the most significant possible recovery, or we receive no attorney's fee. Where other attorneys are impatient, we splurge with our time to give you the confidence you deserve in a legal representative acting on your behalf.
If you're a party seeking a free consultation and legal representation for physical injuries and mental harm, call our 5-star trial lawyer to discuss your legal issue today.
More information to answer your questions is a phone call or email away. Our results-oriented legal team remains ready to take your case to the California Court of Appeal of the federal Ninth Circuit Court of Appeals to win your case. We are available 24/7 throughout the LA area.
It's simple to browse our personal injury attorney listings in your immediate location. You could search for a particular lawyer if a friend referred you or learn more by exploring the attorney profiles section in our navigation menu.
We include each lawyer's contact information, legal background, email, phone, and biographical data to assist you. Some profiles link to other relevant information or recommendations.
Woodland Hills, California Personal Injury Laws 101
Do you have personal injury matters to discuss? Hire a tort law specialist who provides superior legal representation. We help people in pain, negligently injured by a human, corporation, government agency, or other entity.
When a defendant's carelessness harms a victim, an experienced personal injury attorney seeks compensation from the insurance company.
We secure the victim's financial costs for emotional damages and bodily injuries. With few exceptions, you must choose a decorated attorney with years of experience handling accidental mishaps.
Is It Worth Hiring A Woodland Hills Personal Injury Lawyer?
Studies by U.S. experts prove that accident victims receive far more personal injury financial compensation with an attorney. The insurance company will invariably pay much more for accident cases with a proper case evaluation.
When you do the math, after paying us your agreed fee, our local law offices will still net you a much larger payment yield for your severe injuries than going it alone as a plaintiff.
Our civil law expert will make the necessary tabulations. We take care to use the best accounting methods to pay you the maximum compensation.
Can I Represent Myself In A Personal Injury Case?
The law does not require you to hire an injury attorney to represent your Woodland Hills personal injury claim. Engaging our lawyer to file your personal injury lawsuit can sometimes be more expensive than your settlement with more minor injuries.
The insurance company adjuster will tender an unreasonable offer for your claim. Your lawyer may suggest self-representation in small claims court to receive maximum compensation and avoid litigation.
In that injury case, you can file all the court paperwork and make the appearances yourself. But if you're in pain and need medical care, you dial our phone number to discuss your rights.
How Do Our Personal Injury Attorneys Evaluate Cases?
Your injury firm will request and review applicable policies and request copies of your policy from your insurance agent.
Your side must evaluate/develop quality evidence for damage evaluation and validation purposes. This is one way our firm can rule out any concerns over available coverage types or something like med-pay benefits. Were you injured in a place of business or a public place?
Your personal injury attorney in Woodland Hills will request copies of other policies, including a review of PIP, Uninsured Motorist, Underinsured Motorist, or comp and collision payments covering injuries in auto accidents in personal injury claims.
Your lawyer will request witness examinations to help prove your type of damages.
We will request and review applicable reports and request copies of CHP or metro police reports, Caltrans traffic safety studies, etc.
Our law firm will initially demand the insurer accept legal liability for your damages from the accident and seek coverage on a case-by-case basis.
How Do Personal Injury Lawyers In Woodland Hills, CA, Get Paid Their Contingency Fee?
Due to our large size and clout, our personal injury lawyers handle all PI cases on a contingency fee basis. We never charge any fees unless we secure compensation on your behalf – there are never out-of-pocket fees with us.
Once we win, we charge our contracted percentage of your recovery for our legal services. We obtain compensation from your final settlement or jury verdict per our agreed-to fee-sharing agreement.
What Percentage Do Our Woodland Hills Personal Injury Attorneys Get Paid From Your Case?
Most contingency fee agreements will pay your attorney fees based on a gross percentage recovery, between 33% and 40% of a settlement. But in case of a trial, the better trial lawyers will receive a fee of between 40% or even 50%.
We resolve most cases for a 33% fee of your gross award.
Example: What is a third of $100,000? 1/3 is .3333333, which is also 1/3, or here, $100,000 translates into a commission of $33,333.33.
Also, no law prevents you from negotiating a reduced percentage or another form of trade or fee payment.
TIP: If your minor child is hurt, their legal caretaker is their "guardian ad litem." We typically reduce our attorneys' fees to protect the incompetent child's interests.
What Does An Experienced Woodland Hills Personal Injury Attorney Look For?
Medical care is vital. Physically visible injuries are not required for a personal injury claim. Whether you seek compensation for your exorbitant medical expenses, lost earnings, or mental pain and suffering, your Woodland Hills personal injury attorney will need to ensure you receive compensation. We utilize many factors to evaluate an insurance claim in any catastrophic injury case.
Did the injury create compensatory damages, such as medical charges, including hospital bills, lost wages, or property damage?
Various Types of Cases We Represent in Woodland Hills, CA
Personal injury can be a broad topic with many different legal requirements for the plaintiff. Here are some of the ways a person can be injured in Woodland Hills, CA.
Many different types of injuries can also occur, including broken bones, burns, brain injury, and negligent killings, depending on how severe the accident was and what type of vehicles were involved.
How Do Accident Lawyers Calculate My Damages?
Prove liability: The first step is proving the plaintiff's liability burden to a judge or insurance company. Injured parties must show the defendant was negligent and at fault after they breached their duty to pay attention or act reasonably, causing exposure to situations leading to damage. Guidance, counsel, and advice from professionals at our office can help individuals prove these things.
Damage Exposure To Plaintiffs
A damages calculator (personal injury lawyer)will accurately estimate your compensation based on past, present, and future legal damages for insurance adjusters or jury members. Damages can total $1 or 1 million dollars.
The pursuit of maximum damages is the primary reason a claimant seeks the advantage of legal assistance with credentials. Everyone has that right to justice in California courts.
Damages In a Typical Woodland Hills, CA Case?
After reviewing evidence, and determining party fault, receiving a favorable insurance company payout or jury verdict in court remains the next step.
Your damages result could include the following:
Economic damages: Your lawyer totals up your special damages like medical bills, personal items ruined (property damage), and lost wages.
General Damages: Our accident attorneys hire experts and use other methods to value intangible losses. Sometimes punitive damages will issue. The severity of your injury is a huge aspect affecting your non-economic pain and suffering damages values.
Demand Package: Next, our experts send an insurance settlement demand letter to the insurer, laying out financial goals.
How Much Is My Case Worth?
Your decision to hire the ultimate personal injury law firm can significantly impact how much you put in your pocket. The value of a personal injury case differs depending on your damages. The injuries can leave you down and out and permanently unemployed.
An average motor vehicle accident insurance settlement amount can range between $5,000 and $100,000! We are in a stronger position to negotiate with the adjuster if you have severe injuries. But your legal team will begin litigation if the at-fault insurance company refuses our damages assessment and fails to settle.
How Are Damages Paid In My Personal Injury Claim?
Fair compensation for the accident victim can be paid in staggered amounts or as a single lump-sum payment when spread out into periodic payments. Structured settlement annuities can be tailored to meet your and your family members' needs.
A top professional injury law firm should specialize in litigating fatalities and catastrophic injuries in accident cases like:
Auto Accident: Most injury victims we help are people in auto accidents. (people with passenger car accidents, bicycle accidents, California motorcycle accidents, and commercial vehicle auto accident claims).
Slip and Fall: Slip and fall, aka slip, trip, and fall, are common premises liability claims. We help people win any slip-and-fall personal injury claim.
Elder Abuse: Nursing homes are infamous for neglecting our seniors. We can help you. (We don't handle medical malpractice, however)
Woodland Hills Personal Injury Cases We Take?
Personal injuries can be expensive. Treatment can cost families a fortune.
We help individuals get paid for any personal injury claims arising from:
One of the best choices an injury victim can make when facing legal questions is to speak to a caring, skilled Woodland Hills personal injury lawyer at Ehline Law Firm today. Let's discuss your case confidentially!
Victims: People who can seek compensation from insurance companies are generally the decedent's surviving spouse, domestic civil partner, or children. They may collect from life insurance companies, auto insurance companies, and government agencies not covered by insurance companies. Victims may also file a suit in court seeking compensatory damages.
Causes: Premises liability cases, defective products liability cases, government entity claims, vehicle accidents, cruise ship accidents, and maritime claims.
Damages Under California Law: The survivor seeks to recover compensation money for loss of love, consortium, earnings, and future income from the careless killer.
Your attorney's professionalism, charisma, and tact matter. Getting free legal advice at no cost or risk is a brilliant idea to ensure you are protected.
Who Does My Accident Attorney Sue And When?
Here is the info you or your loved one must know about the personal injury claims litigation process in Woodland Hills, CA.
Potential defendants:
The State of California for a poor road or sidewalk maintenance issue (poor road conditions cause many vehicle crashes.)
An area like a retail store, private home, or restaurant property owners (Ex: Slip and fall accidents can impose blame on a land owner.)
Your bosses in a worker's compensation matter
A rogue employee like a bouncer or a delivery driver
Product manufacturers/product liability (The dangerous products claims area requires many years of practice.)
The driver who caused a car accident
Dog owners.
The record shows that brain injury claims caused by a slip and fall accident mainly arise from tripping and falling cases, often against Woodlands Hills during construction accidents. Many stressed-out past clients referred us to severe injury cases involving friends and family due to our proven track record in creating confidence and victory.
But they can be anything from product liability cases, like a defective motorcycle part or exploding airbag injury during car accidents, pedestrian accidents, truck accidents, and other auto accidents. Motorcycle accident victims, in particular, will need insurance policy money immediately.
We will review any pictures, medical records, or other evidence free of charge. We'll make insurance policy claims against any responsible parties under applicable negligence laws. If you wish to retain us, you can phone us anytime. Contact Ehline Law Firm at (747) 330-1783 24/7. Our best attorney is just a call away to receive your confidential communication.
California Statute of Limitations In Different Personal Injury Cases
Injured victims must file their case or lawsuit within the statutory or contractually agreed time frame (deadline) from their injury date. California's limitations can differ according to your type of injury claim to avoid hearing ancient disputes and avoid injustice along the way.
The general time limit to sue is a two-year deadline in most PI claims. But some Woodland Hills, CA cruise lines and government entities have additional shares filing procedures shortening the plaintiff's amount of time to sue outside the statute.
Evidence of incompetency, imprisonment, or being offshore can also extend the expected time to sue. Only experienced attorneys know all the secrets. We strive to deliver fast, attentive service to get your case filed and protect your rights to monetary compensation.
Get A Free Consultation From Personal Injury Attorneys in Woodland Hills Today
Most people put off hiring personal injury attorneys due to the imagined expense of retention. We offer free consultations, even if someone seeks basic information about California's laws. Please don't make the mistake of seeking justice without attention from a trained professional at our firm.
Our job is to answer any questions you may have. We can help resolve legal issues and protect your rights in a bad accident. If you suffered moderate to severe injuries during an accident, Ehline Law Firm is the one you call. We're considered one of the top law offices in the country.
After you call us, a Woodland Hills personal injury lawyer at the Ehline Law group team will promptly review your claims, research, and determine any claims you are legally entitled to pursue. Our business is taking steps to explain all areas of the law and procedure at no cost so you can feel safe to retain us. We want to hear from you.
Are we seeking an attorney in Woodland Hills for things like broken bones, pain, and suffering? Our top-quality firm is ready to help defend your rights today with extreme professionalism. Schedule a free consultation. Call us today at (747) 330-1783 or use our convenient online contact form. Our personal injury firm's job is to protect the rights and success of accident victims and their family members to pursue compensation. Thank you for visiting our website!
"The brilliant Ehline Law Firm team returned all calls and got us a great result from both insurance companies. Our serious accident was seamless, and they were the most responsive firm we dealt with. Michael proved to me he is the friendliest, smartest injury lawyer in Los Angeles. Would I hire him again if I got injured? Absolutely!" – Abrams Tankersly of Los Angeles, CA.
We Proudly Serve Woodland Hills Personal Injury Clients
Michael Ehline is an inactive U.S. Marine and world-famous legal historian. Michael helped draft the Cruise Ship Safety Act and has won some of U.S. history's largest motorcycle accident settlements. Together with his legal team, Michael and the Ehline Law Firm collect damages on behalf of clients.
We pride ourselves on being available to answer your most pressing and difficult questions 24/7. We are proud sponsors of the Paul Ehline Memorial Motorcycle Ride and a Service Disabled Veteran Operated Business. (SDVOB.) We are ready to fight.