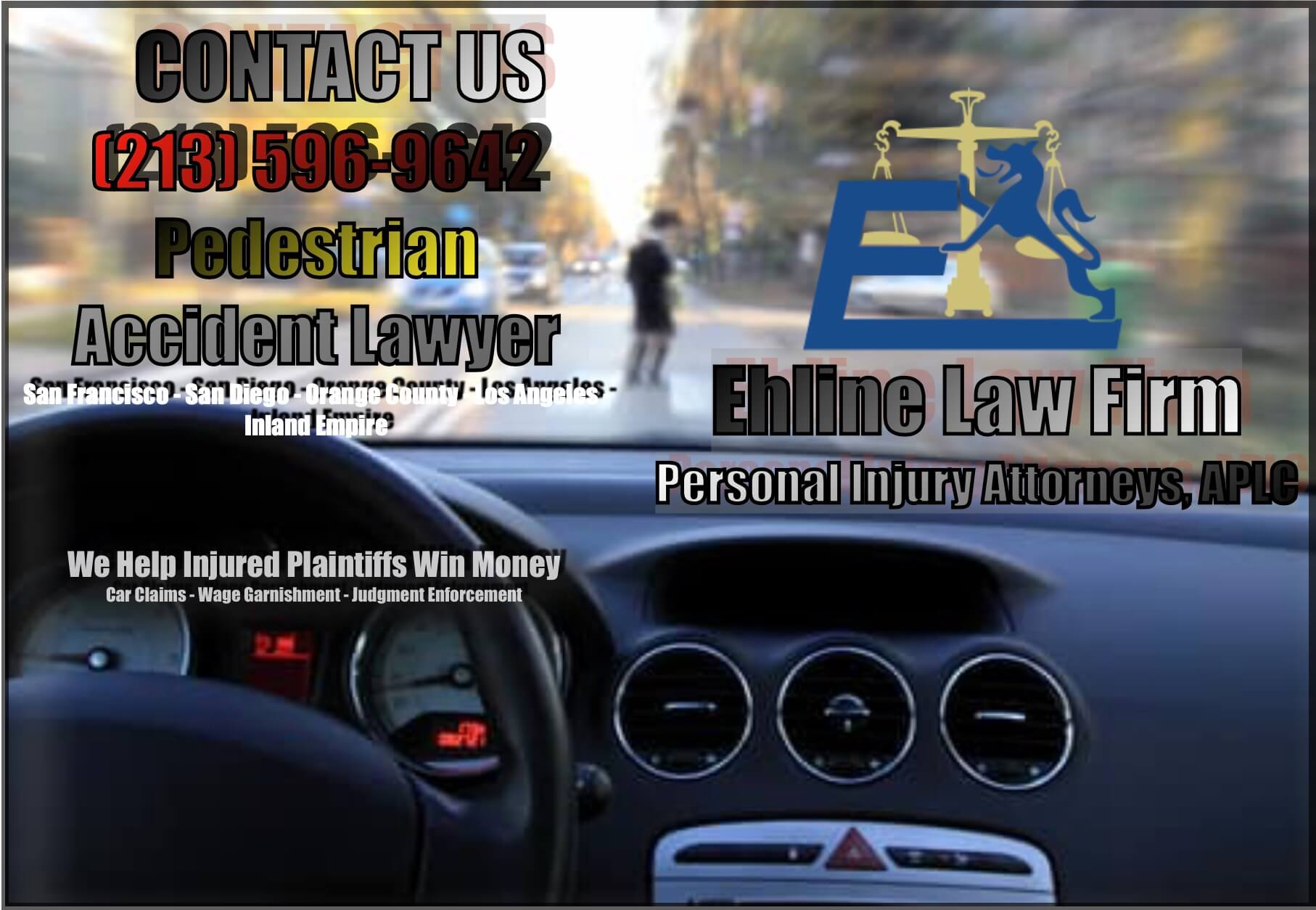 Our veteran, Los Angeles personal injury attorney helps pedestrian accident victims with all personal injury claims occurring while walking or running near a residential or commercial road, pathway, pavement, sidewalk, or auto-free-zone.
Since our managing partner, attorney Michael Ehline received his law license from the California State Bar in May of 2005, he and the pedestrian accident-injury attorneys at Ehline Law Firm have provided expert legal advice and even better legal representation to victims suffering from serious injuries, recovering over $100 Million and multiple awards in the process.
Pedestrians traveling afoot may suffer a severe tripping and falling injury, or these victims may be killed or maimed by things like flying or falling objects. Our superior injury attorneys won't rest until wounded pedestrians receive the full compensation they are owed under the law. We take pride in making the negligent defendant pay for the accident victim's severe suffering, physical, and financial damages.
Most of all, we will help guide your pedestrian-accident claim throughout the insurance settlement negotiation process, using our unrivaled compassionate professionalism, listening to and addressing the important concerns of clients. Our experts also have vast financial resources, so we will not hesitate to sue a careless product manufacturer or big insurance carrier liable for your bodily injuries.
A pedestrian is a "person going on foot," or someone engaged in walking, jogging, running, hiking, sitting, or lying down on the pavement. 
Anyone in California propelling a "human-powered" vehicle other than a bicycle, like riding scooters, sailboarding, shoes with tiny wheels, skateboarding, roller skating, or a person riding a self-propelled wheelchair, are included as "pedestrians." Many sidewalk safety experts, journalists, and personal injury lawyers assert that LA is the pedestrian accident capital of the world.
[Content Updated Feb 5, 2021]
Who Are The Most At-Risk For Serious Injuries From A Pedestrian Accident?
Moms pushing baby strollers
Children under 18 years old 
The Blind
Elders
Los Angeles Pedestrian Accident Attorneys
Although each administration has made serious efforts to reduce pedestrian accidents, yearly from 2014 to 2018, the County and City of Los Angeles in Southern California have led the United States in deaths, averaging 237 pedestrian fatalities per annum.
There are two main types of pedestrian accidents: 
Traffic Accidents, Including Dangerous Condition of Public Property
Non-Traffic Accidents, Including Dangerous Condition of Public Property
Vehicle accidents cause the most serious pedestrian injuries in L.A. 
A car striking a pedestrian, even at low-speeds, will cause catastrophic harm, whereas car passengers wearing seatbelts at similar speeds may escape suffering severe crash injuries.

Statistics show that 1 in 10 pedestrians died in surface street accidents during the 2002-2013 time period, making up over 35% of reported roadway death calculations on L.A.'s narrow, long-drawn-out streets and close-by freeway onramps.
Below we cover more accident statistics and facts about severe injuries to pedestrians.
What Are The Top Seven Most Common Causes Of A Los Angeles Pedestrian Accident?
First of all, pedestrians have the right to use sidewalks without worrying about being struck by a car negligently operated by a dangerous, speeding, or distracted driver.
Here are the main causes of pedestrian rights violations in the City of Angels.
DUI or drug use
Distracted drivers
Aggressive drivers
Hit-and-run
Speeding
A faulty pathway signaling device 
Unsafe Crossing Pathways/Intersections 
Los Angeles County suffered 123,552 car accidents during the 2018-2019 period, according to the California Office of Traffic Safety (OTS) and California Statewide Integrated Traffic Records System (SWITRS) numerical data sets. 
Of the reported statistical research related to the term "pedestrian accident" collated by our legal team:
11,414, or 9.2% of collisions involved cars, motorcycles, and bicycles hitting a pedestrian. 
By far, the ordinary automobile responsible for the most, causing 9,771 collisions with a pedestrian, or 7.91% of all car accidents in L.A.
A negligent, reckless motor vehicle operator will typically cause most accidents involving a pedestrian at or near a sidewalk, bus stop, avenue, bench, or an off-street parking lot. They must be held liable for their negligence.
1. DUI/DWI Under The Influence Pedestrian Accidents
The crime of driving after drinking alcohol (DUI) or prescription or non-prescription narcotic drugs (DWI) causes many pedestrian accidents from reduced reaction times associated with slower brain sensory functions. 
The compiled SWITRS research data denotes that DUI/DWI bicyclists and automobilists caused 6,368, or 5.18% of wrecks reported Countywide from 2018-2019. 
A DUI defendant will face civil lawsuits:
Criminal fines, 
Penalty assessments,
Restitution orders.
DUI first offenders with wobbler plea bargain agreements may face low-end punishments like:
Cal-Trans Trash Pick-Up.
Defendant's punishments for causing a pedestrian's death or causing severe damage to their person or property can include:
Mandatory Mothers Against Drunk Driving (MADD) meetings,
Alcoholics Anonymous (AA),
Confinement for days, years, or life,
Potential capital punishment. 
Read More →
2. Distracted Driver Pedestrian Accidents 
We hear it all the time, the driver never saw the child playing in the street, or the old lady crossing the street. Pedestrian accidents are mostly caused by driver inattentiveness. Data shows that children riding as passengers in your car presents similar distraction risks to texting, or chatting with someone on your smartphone, with infants considered eight times as distracting as driving with only adult passengers. 
An automobilist also may not be paying attention to their surrounding after they become distracted by: 
Sending an email to someone,    
Eating fast food while driving,    
Talking to someone on their cellphone,    
Looking towards a different direction than the pedestrians' location while turning a vehicle,  
Gridlock frustration.
Old and experienced drivers and new vehicle operators may ignore their surroundings, failing to realize there is a park or school nearby with small children debarking from or climbing on to a school bus.
Improper turning during distracted driving caused 14,109 pedestrian car-accidents from 2018-2019, making up a staggering 11.48% of cases.
3. Pedestrian Accidents Caused By Extreme, Aggressive Rage
Los Angeles remains the road rage capital of the world despite AAA attempting to reduce enraged, aggressive behavior. Extreme aggressive driving might cause an altercation, assault, or crash resulting in serious physical injuries or a shooting death of a targeted pedestrian. Journalists coined the term "road rage" because many people in cars can suffer a flared temper, causing them to lash out.
An aggressive person might angrily display poor behavior, make rude gestures, physical threats, hurl verbal insults, intimidating others to release their frustration. Our motivated, happy team of lawyers will help you hold the person who caused your injuries liable to pay you back for your troubles.
Read More →
4. Claims Against Drivers Hitting A Pedestrian And Fleeing
California hit-and-run driver figures show that Los Angeles is the home to approximately 20,000 annually reported collisions.
California Vehicle Code Section, 2001-2002, requires a driver who crashes into another car, pedestrian, or fixed object to stop their vehicle at the crash scene, exchange identifying information, and render any victims basic assistance. If not, the motor vehicle operator faces a felony or misdemeanor conviction.
California's reported statistical data figures indicate that a whopping one-third of hit-and-run cases were related to using drugs or alcohol.
Most L.A. hit-and-runs happen around dawn or nightfall. 
Our Los Angeles pedestrian accident lawyer will seek a finding of civil "negligence per se" liability, or "presumed negligence," against the defendant breaking this law. Adjusters facing a finding of presumed negligence must focus their attention on evaluating your reasonable medical bills. The insurance adjuster must pay the pedestrian reimbursement for their lost income, pecuniary losses, permanent suffering from organ impairment, or bodily function. 
When the fleeing driver causing your severe, punishing injuries is a fugitive, we will seek payments from your own health insurance company, homeowner's insurance company, other defendants, and sources like your uninsured motorist insurance policy (UM).
Read More →
5. Pedestrian Involved In A Speeding Related Car Accident
Drivers ignoring speed limit signs and their speedometers place everyone at risk for a tragic accident.
The researchers at the Transportation Injury Mapping System (TIMS) reported that:
Unsafe speed was a factor in 35,842 L.A. wrecks, amounting to 29.16% of all Countywide crashes from 2014-2019.
An aggravating factor deciding whether a bystander passes away or survives with a minor injury or lifetime disability depends mainly on how fast the defendant was driving during the initial impact. 
The federal U.S. study data shows that:
A vehicle trekking at a speed of 20 mph during an impact should give an average struck pedestrian a 90% statistical probability of surviving, 
But vehicle travel speeds of 40 mph during the impact only allow pedestrians a mere 20% chance of surviving the collision.
Throw in a large municipal bus or commercial delivery truck with greater braking distances and weight, and we can see how someone driving too fast in any populated city can cause a pedestrian accident. This increase is why it remains so vital to hire the best Los Angeles pedestrian accident attorneys right away. Ehline Law Firm will take immediate steps to identify the defendants, their employers, and any vehicle manufacturers potentially liable for your severe injury or death of a close family member.
In addition to caution signs, the California Vehicle Code mandates drivers to:
Proceed slowly when operating their vehicles near a school zone, residential street, junction artery, or a park. 
Many drivers fail to notice the speed limit signs or don't pay attention to their speed rate at all. At the end of the day, children, senior citizens, and others get run over, seriously injured, or killed in large numbers. Our lawyers aggressively assist clients wounded from a speed-related accident to protect their legal rights.
Read More →
Our Experienced Los Angeles Pedestrian Accident Lawyers Help Pedestrians Injured While Crossing Streets
Like other large cosmopolitan cities and towns, many cross-walk accidents occur at busy intersections. A signalized or unsignalized cross-walk is a designated location for pedestrians to cross a street purposely built to herd pedestrians in a place regularly seen by a motorist, usually at a road's intersection.
Traffic calming uses street designs, physical crossing pathway intersections near a school, shopping mall, the commercial or residential area, and other measures to combat unsafe speeds and other dangerous driving behaviors by motor-vehicles, pedestrians, and cyclists by encouraging safer, more responsible driving, potentially reducing traffic flow.

For example, some urban planners and traffic engineers narrowed roads, created refuge islands, or raised surfaces like speed humps to reduce vehicle speeds, making it safer for pedestrians to use a designated crosswalk. 
City Collision Data:
City supervisors studied traffic collision data and pinpointed their most dangerous streets for pedestrians and cyclists, starting work in 2017 to improve 40 of the most dangerous corridors and broad thoroughfares like Chinatown's North Broadway, 3rd St in Koreatown, and Sepulveda Blvd in the San Fernando Valley.
The DOT reported that over 65% of accidents involving people walking on foot occurred on only 6% of our City streets from 2009-2013 (Source). According to the CHP, there were 16,413 intersections and marked crosswalk accidents from 2018-2019. But with some of these wrecks, the fault lies with government defendants, not just negligent autoists. 
The leading causes of pedestrian accidents are:
A Driver's Violation of a Statute, or a pedestrian disregarding traffic laws – (What you must know is that complying or failing to comply with the law does not pardon you from civil tort liability).
The City or County's Negligent Traffic Control Light Maintenance Or Repair.
1. California Vehicle Code Violations At Crosswalks
Pedestrians generally have the legal right-of-way when crossing roads and pedestrians have the absolute right-of-way when traversing sidewalks.
According to the CHP:
40.13% of LA traffic tickets are issued to drivers failing to yield the right of way to a pedestrian at a marked or unmarked crossway (See CVC Section 21950), accounting for 4,580 all citations issued from 2018-2019.
Everyone, including pedestrians, must remain alert, exercising due care when sharing highways. Even when a driver has a green light, they must "exercise due caution" and look out for someone jaywalking. 
After all, it remains foreseeable that a pedestrian or infant could dart off the curb and jaywalk across the street. No one is allowed to obstruct roads, even when they retain the right of way. As a result, pedestrians are often cited for standing, lying, playing, running, or working in a roadway, according to CHP reports.
Additionally, many pedestrians violate CVC Sections, including:
Read More →
2. Faulty Highway Artery Signals – Government Liability
Los Angeles recently changed the timing of 67 signals to give the walk indication a few more seconds before motorists receive a green light called the "leading pedestrian interval." Whether or not this helps reduce drivers hitting pedestrians in street crossings, we already know that cities failing to maintain or repair a signal light's phasing properly will place more significant numbers of pedestrians at risk of a controlled exchange accident. But suing the government requires help from a superior injury attorney near you. Ehline Law Firm provides you that help when you need it most.
Read More →
What Are The Most Dangerous Los Angeles Pedestrian Crossing Intersections?
According to studies mentioned in the Los Angeles Times and elsewhere, some crossings remain far more dangerous to people on foot than others. 
Virtually every L.A. road accident occurs at less than 1% of the city's total intersections, including:
Alameda St & Cesar Chavez Blvd
Hollywood Blvd & Highland Ave
Normandie Ave & Wilshire Blvd
43rd Place & Figueroa St
43rd Place & Central Ave
31st St & Vermont Ave
31st St & Figueroa St
29th St & Hoover St
The most treacherous intersections are in the downtown and Hollywood areas with high populations and confusing streets to navigate. Some iconic boulevards like Santa Monica, Sunset, and Hollywood are also extremely dangerous for pedestrians, possibly because of an increase in loitering tourists.
What Are The Most Dangerous Periods For Pedestrians Traveling Los Angeles?
Darkness – Lack of visibility is a huge problem, and worse at night with low lighting. 38% of pedestrian deaths of people below 16 years old took place between 3 p.m. and 7 p.m. (Source.)
Holidays – New Years Day remains among the most dangerous times of the year to drive. But few people realize there are more pedestrian deaths happening each New Year

 

than trick-treating on Halloween.
Fridays, Saturdays, and Sundays – 49% of pedestrian fatalities happened during the weekends.
What Steps Has Greater L.A. Taken To Reduce Pedestrian Fatalities? "Vision Zero"
While the City has attempted to reduce pedestrian injuries and deaths, in the end, drivers must be alert for pedestrians, particularly in congested pedestrian danger zones. LA City started the Vision Zero initiative in August 2015, asserting it would lower highway fatalities by 20% upon 2017's completion.
 Instead, the initiative failed miserably, with accidents surging more than 80% after two years. In 2017, the City made 1,120 changes to its streets and intersections, modifying hundreds of crosswalks, adding four criss-cross multi-directional street crossings paths, along with 144 digital passage signs designed to telegraph vehicle speeds to approaching drivers. 
Steps Since 2017 The LADOT Has Taken To Improve Safety For Pedestrians:

828 High-Visibility, Marked Crosswalks
32 Updated Trafic Signals 
12 Speed Feedback Signs
87 Curb Extensions 
18 Refuge Islands 
In 2017, L.A. County promoted its own "Vision Zero Action Plan," with work beginning in 2020. The goal is increased safety through engineering, education, and code enforcement. 
The County Vision Zero action plan will improve unincorporated County roadways with:
"Road diets" designed to funnel, reduce and slow available driving lanes 
Midway stopping areas at long crossings
Light beacons to illuminate coss-walks
Travel circles and roundabouts
High visibility crossings
Increased road lighting
Curb extensions
Left turn arrows
2. What Are Some Causes Of Non-Vehicle Related Pedestrian Accidents?
Even auto-free zones are not safe from pedestrian accidents. Although cars may be prohibited, pedestrianization does not prevent severe injuries from these problems. Most cities contain paved, misleveled sidewalks riddled with gaps, ridges, and defects causing a pedestrian to sustain very serious slipping or falling injuries. Pedestrians being bitten by an unleashed or leashed dog are also part of the problem. Our excellent lawyers work skillfully gathering the evidence needed to win your case against the City, State, or County, and anyone else who caused your sidewalk related injuries.
What Are The Most Common Bodily Injuries We See As Los Angeles Pedestrian Accident Lawyers?
Pedestrians on foot get hit in the head by big rig truck retreads flying loose along the roadways and by other projectiles. Severe loss of ambulation affecting your 'inverted pendulum' gait, preventing your body from vaulting over the stiff limb or limbs with each step remains familiar with pedestrians run over in car-pedestrian accidents. 
SWITRS reported 11,934 pedestrians were severely and visibly injured in car accidents from 2018-2019, accounting for 6.62% of citywide car crash victims. 
Catastrophic severe injuries inflicted during pedestrian accidents commonly include: Having your foot run over by a car, suffering puncture wounds, lacerations, deep penetrating sores, soft tissue injuries with radiating pain, spinal cord fractures, and bulges, instantaneous wrongful death, road rash, friction burns, permanent brain damage, closed head injury, comatose, sucking chest wound, dislocated shoulders, amputations, and paralysis.
Other severe injuries can include a fractured, busted or broken:
kneecap
Clavicle
Elbow
Skull
Ankles
Arms
Pedestrians might fully recover, or their very serious injuries may lead to a tragic traumatic brain injury or a permanent, disabling condition like quadriplegia or paraplegia.
Pedestrian Wrongful Death Claims
A pedestrian killed in a wrongful death accident will leave behind close relatives with wrongful death claims against parties responsible. The survivors can sue these defendants for their suffering and loss caused by the negligent accident. 
The statistics are grim.
From 2012 to 2016, people on foot suffered in 8% of collisions in L.A. but represented 44% of the deaths, the Transportation Department said.
From 2014 to 2018, LA County has led the nation in pedestrian deaths, averaging 237 pedestrian fatalities a year. 
According to a 2016 Governor's Highway Safety Association (GHSA) study, US pedestrian fatalities

 

increased by 16%. 
Statewide 2017 data suggests pedestrian fatalities equate to 2.43 deaths per 100,000 residents.
Coronavirus According to the newest data, scares, deactivating cross-walk push signals, and increased gridlock stopping times failed to stop pedestrian deaths from rising in 2020.
Rest assured, as you and the family go through the funeral and begin to heal from the grief and trauma; our superb law group will be fighting to get you fair compensation. 
What 8 Steps Must I Take After My Pedestrian Accident?
Documenting everything can prevent the fault from falsely being attributed to you.
If you you are physically able, you must:
Exchange ID
Record estimated vehicle impact speeds
Call 9-1-1, file a police report

 

Photograph signs, vehicles, license plate numbers, witnesses, and the crash scene
Gather witness statements, names, addresses, contact numbers
Document vehicle makes and models (Think: hit-and-run driver.)
Ride in an ambulance to an ER
Call Ehline Law Firm.
TIP: Waiting to receive medical treatment will cause the insurance company to refuse a reasonable settlement offer, hurting your insurance settlement, as the insurance adjuster won't care that adrenaline had masked your pain symptoms.
What 6 Steps Will The Best Pedestrian Accident Attorneys Follow To Win Your Insurance Claim
Fact-finding, investigating, evidence gathering
Compile your insurance company settlement demand package
Negotiate a fair settlement offer with the defendant's insurer
If your initial settlement offer is too low, our trial lawyers will file your civil lawsuit
Mediate or Arbitrate
Jury trial.
How Much Money Can I Get For My Pedestrian Accident Case?
You can't value your compensation amounts by using your calculator.  How much money you'll receive from a defendant depends on whether the defendant breached their duty not to run you over, causing injuries and the nature of those injuries that would typically arise in such a case, making defendants accountable to pay your lifetime damages.
Without medical care proof and other evidence, proving the plaintiff's burden, pegging liability on the defendant may prove elusive. Failing to seek prompt medical attention can create arguments as to when and how you were hurt.
Even with the preponderance of the evidence, you must assure coverage money exists, and that will require help from a sharp, savvy personal injury lawyer.  
Pure Comparative Negligence System – Northern, Central, and Southern California utilize a pure comparative negligence system, meaning a decision-maker may reduce your compensation award based upon your proportion of fault.
Some

Parties

Who

May

Be

Liable

For

Your

Pedestrian

Accident.
Many potential liable parties exist like someone's parents, delivery companies, government agencies, greedy corporations. (CalTrans, DOT, etc.)
CAVEAT: Statutes of Limitations And Government Agency Defendants. Victims normally will have six months under the Government Code to file their pedestrian injury claim. Beware this is a far shorter period than the time granted under the regular two-year statute of limitation in an ordinary personal injury claim.
What Are My Pedestrian Accident Compensatory Damages?
Legal damages include special compensation for your economic losses and general compensation for emotional losses like past, present, and future:
Pain, suffering, mental stress, lost love, and affection
Medical bills
Dental expenses
Lost wages, contracts, and salary
Job retraining, etc
When an injury permanently changes a person's life, the value of their non-economic damages alone may reach millions of dollars or more.
*Wrongful Death Damages. The shocked survivor may be eligible to recover money paying their immense mental pain, suffering, or strife caused by losing their loved one's comfort, consortium, society. Victims can also recover lost money damages caused by the death of their sole breadwinner or homemaker. And authorized representatives can bring a decedent survivor's action for the dead person's pain and obligations.
Who Can I Hire To Help With My Los Angeles Pedestrian Accident Claim?
Whatever your loss from a pedestrian accident, don't try to deal with insurance companies on your own. Our experienced Los Angeles pedestrian accident lawyers are confident in our office's ability to find where the fault lies and make it right. Request your free consultation today and talk with a listening pedestrian accident attorney in Los Angeles with a proven track record for obtaining accident victims maximum compensation for their catastrophic injuries. Dial (213) 596-9642 directly to consult with the best trial lawyers near you today, or enter your contact information into our online contact form.