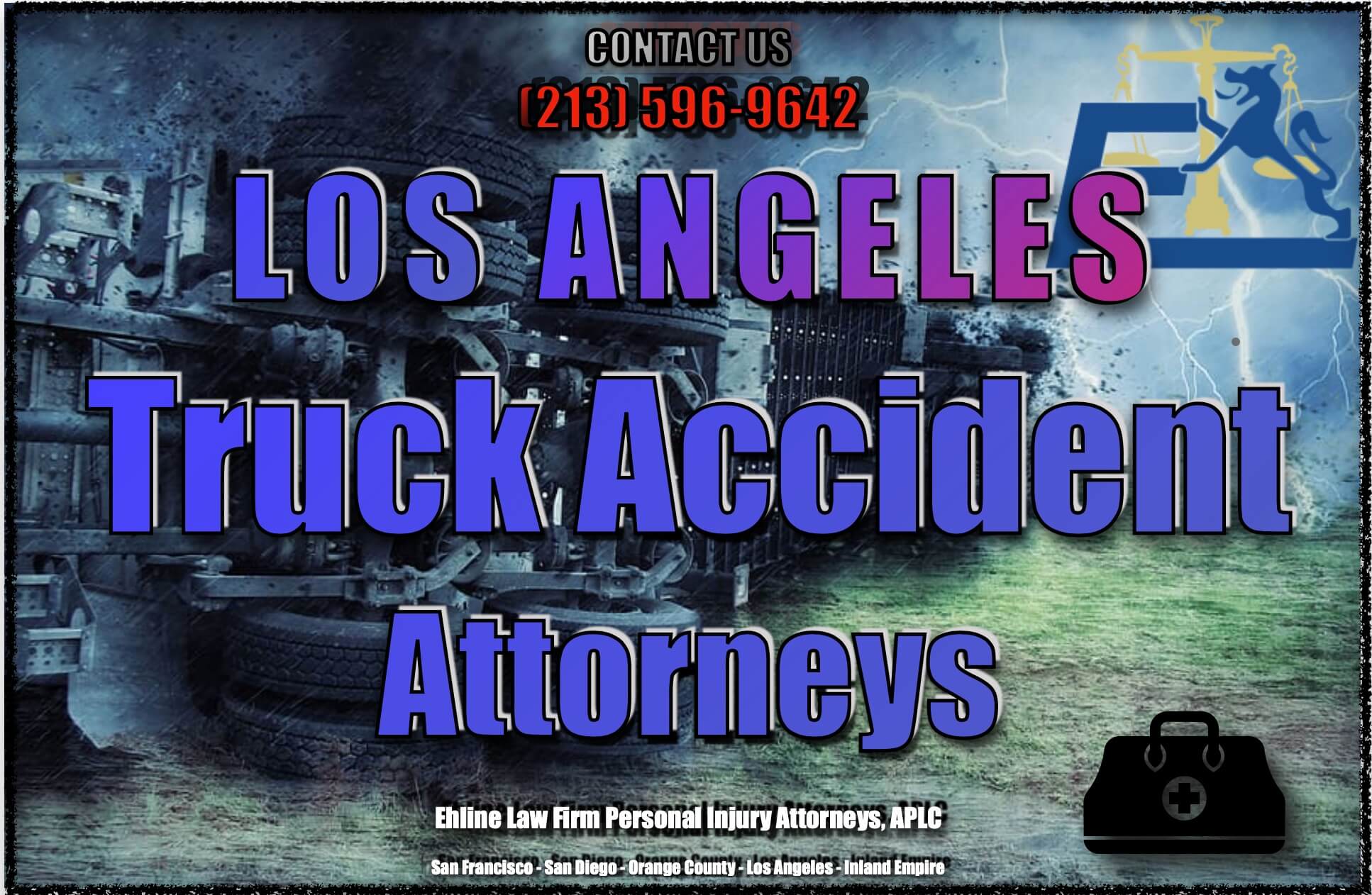 [Updated Feb 22, 2021] – Suppose you or your close loved ones suffered severe injuries or familial death due to a big-rig or large truck accident. Our experienced Los Angeles truck accident attorneys at Ehline Law Firm stand ready to assist in that case. We help victims suffering from significant severe rig crash accidents in need of assertive legal representation.
We hold negligent parties economically accountable, including trucking companies, truckers, truck manufacturers, and shippers. This method is how we secure full and fair compensation for serious injury victims. We have 30 plus years of impressive, combined legal experience in severe injury cases. The aggressive, charismatic Michael Ehline, an inactive U.S. Marine warrior, runs our personal injury law offices. His devotion serves severely injured clients, with his esprit de-corps used to fight for and achieve an overwhelming, decisive financial outcome.
Since we hung out our shingle in 2005, our superior law firm's staff have helped thousands of catastrophic injury survivors and their families recover incredible compensation amounts for their severe injuries and wrongful death claims. Our award-winning personal injury attorneys have pursued and won deserving trucking accident victims over $100 Million in successful, jaw-dropping verdicts and settlements.
Back To Top
California and federal laws require tractor-trailers to carry commercial freighter liability insurance policies with significant coverage amounts. But you don't automatically receive a fair damages award settlement. Truck accident victims without legal representation know insurers will fight liability to avoid paying claims. A lawyered-up commercial trucking business or the truck driver will feel no pressure, so they will refuse to make unrepresented victims rapid and fair payments.
At A 24 Hour Location Near You!
Our legal representatives maintain over 15 office locations. We meet clients throughout Northern, Central, and Southern California, including those residing and traveling through the Inland Empire, Bakersfield, Hemet, Moreno Valley, and Barstow areas 24/7.
Los Angeles, California Truck Accident Law Firm Resources
Back To Top
Why Do Clients With Truck Accident Claims Select The Sympathetic, Helpful Ehline Law Firm?
We pursue defendants owning or controlling injury-causing trucks with a gross vehicle weight of 10,000 pounds or more, known as big rigs.
We maintain over 15 convenient meeting locations for your convenience, operating from law offices in Orange, San Bernardino, Riverside, Sacramento, Kern, and San Francisco County.
Our 24-hour injury attorneys will come to your location, saving you hours of traffic driving inconvenience to receive your high-quality legal representative interview.
Our reliable truck accident attorneys in Los Angeles remain dedicated to the client's goal of obtaining breathtaking, epic compensation awards to ensure meeting your financial needs.
Our legal team refuses to be threatened by the actions of shameful insurance companies. We will hold profit-driven carriers to account. We will grant no quarter fighting uncaring and aggressive defense lawyers.
We will secure seriously injured traffic accident victims' undeniable justice.
Our injury lawyers in Los Angeles engage tort cases on a contingency fee basis, meaning we charge accident victims nothing upfront for legal services. We will only receive our attorney's-fee settlement proceeds payment after we catapult your win.
Back To Top
How Will Our Los Angeles Truck Accident Attorney Win Your Case?
We Will Build Your Truck Crash Case, Meticulously Investigating Your Personal Injury Claims
Our truck accident case success stems from our meticulous investigation of what caused your smaller vehicle crash or collision with a pedestrian.
Back To Top
After you suffer a commercial truck accident, our expert injury attorneys will listen to your side and review all the supporting evidence. Next, our investigators will look at facts pinning down the trucker's fault, advance your costs and order copies of medical records and police reports and take witness statements. Last, our top attorney will identify indirectly involved third-party defendants who contributed to your small vehicle accident or injuries.
The defendant who failed to perform proper vehicle maintenance, inspections, supervise independent contractors, and large truck driver employees may be at fault. The defendant may be negligent per se based on evidence defendant failed to obey federal and state truck safety regulations. Our aggressive Los Angeles car crash lawyers will use our superior legal skills, strategies, and tactics. We will build you a rock-solid case against all parties responsible for your newfound pain, suffering, and monetary losses.
Our Injury Law Firm Will Handle All Trucking Company And Insurance Company Negotiations
Most successful Los Angeles truck accident claims fissle down to the trucking company's liability since the shipping business will have better liability insurance coverage than the trucker. As a result, most plaintiff's lawyers will prefer holding the shipper or receiver vicariously liable for your losses. We will use the principles of vicarious liability theory to force trucking companies to pay for negligently causing your accident. All defendants, including the freight/trucking company and their insurer, will be hellbent on their trucking accident liability escape and avoidance goal.
These large, greedy corporations often maintain the gargantuan commercial vehicle and self-insurance coverage, often including:
Umbrella coverage,
Medical insurance,
Primary,
Pro-rata,
Excess.
Back To Top
Menacing parties may bear vast, concerted legal resources, saving shareholder profits. Their legal representatives will try to intimidate and provoke flawed rookie lawyers because they will be weaker. The defendant's actions, expenses, and bankroll will become matched and mirrored by Ehline Law's influential truck accident lawyers.
Our fierce, successful Los Angeles truck accident attorneys will handle insurance company negotiations with Lloyd's of London and other greedy companies. We always refuse to settle for lower amounts equaling less than your case's actual worth. We think clients prefer receiving legendary compensation from those responsible, don't you?
Common Third-Party Defendants Liable For A California Truck Accident Injury
Truck drivers, including some government defendants like CalTrans workers, may also be additionally insured first-party defendants covered by work comp or even life insurance.
State actors: including city-state and county road workers, government agencies. Private agencies. (Ex: the City of Los Angeles failed to repair a roadway defect such as a pothole or oversized road construction equipment collision).
Private parties: including the trucker's employer, defective vehicle, and vehicle parts makers like Peterbilt tractor units presenting dangers including faulty brakes, blown tire retreads, or tire carving, collapsed tautliner pointing to maintenance or manufacturing liability. Suppose a forklift driver loaded or tied down the semi-trailer's cargo wrong at the docking bay, or a commercial trucking company ground controller was on the clock during their careless accident-causing act. In that case, their employer is on the hook.
Back To Top
Common Truck Types In Los Angeles Truck Collisions:
Many heavy truck types are involved in LA collisions, including:
Refrigerated trucks
Mobile crane trucks
Log carrier rigs
Ballast Tractors
Dump trucks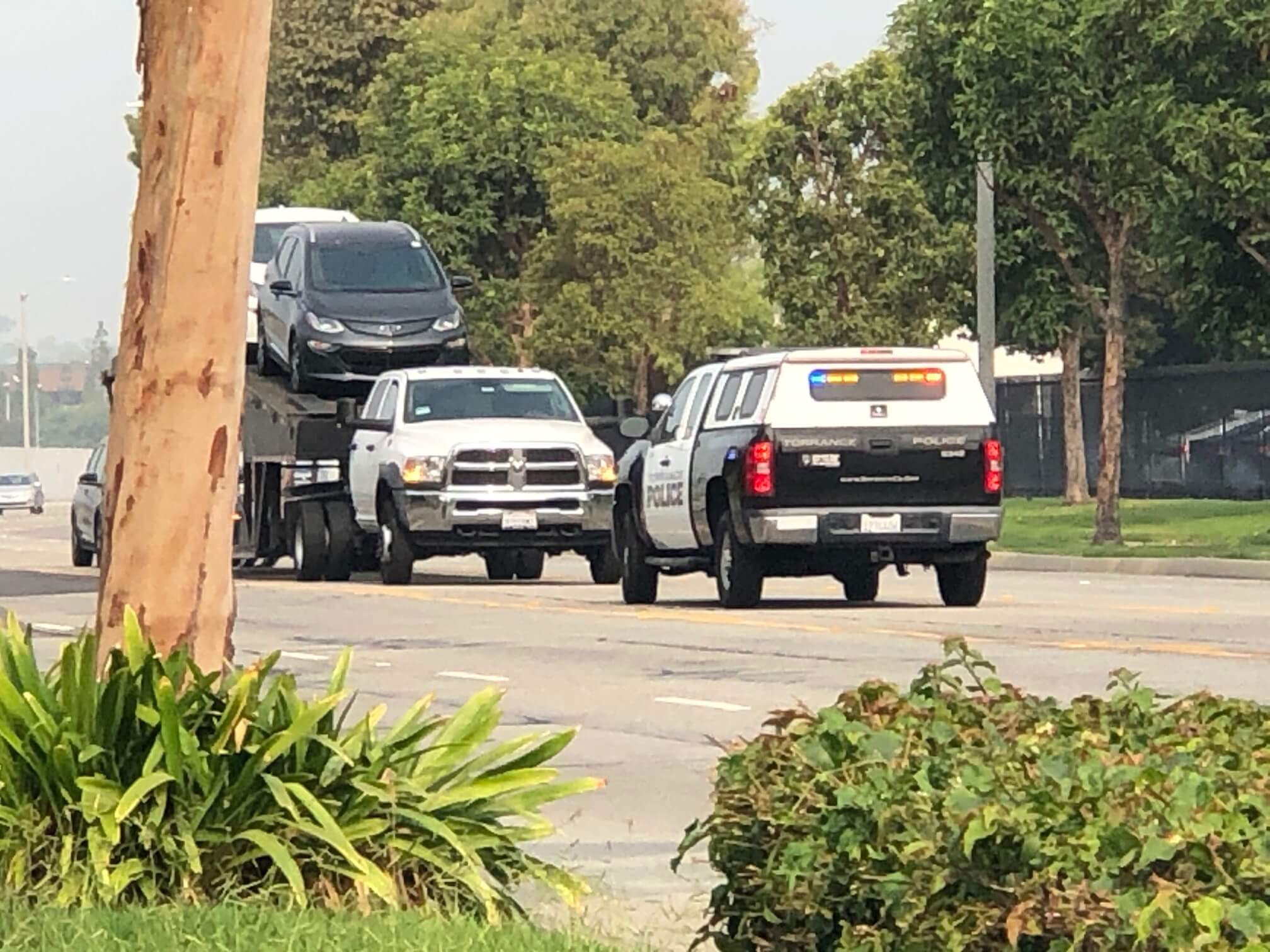 Back To Top
What Are Some Common Causes of Trucking Accidents?
Distracted Driving: Distracted driver negligence causes most sizeable commercial truck accidents, including drunk driving or speeding, to meet unrealistic delivery deadlines in their four-by-eights.
Exhaustion/Overexertion: An employer forcing a truck driver to spend long road hours driving with few breaks will cause many careless driving mistakes during traffic congestion, rushing to meet important shipping deadlines. But these truck operators suffer

driver fatigue

and sometimes fall asleep at the wheel.
Improper Loading: Shippers failing to weigh down cargo or adhere to tonnage restrictions properly increase cargo dislodgement risks during travel, causing a semi-truck to jackknife, placing others at risk. (Source).
Failing to Follow Industry Regulations: California's trucking industry in specific sees heavy regulations under local municipal, state, and federal law. Trucking regulations seek to promote commercial fleet traffic safety, applying to drivers, safeguarding road damage, road users, and residential zone nuisances from noisy big rig

Jake Brakes. Back To Top

Related Civil Fault Under Negligence Per Se: Trucking companies will be held vicariously liable for the trucker's failure to follow safety regulations, which is negligence per se, often leading to catastrophic injuries and death.
Trucks Need Way More Time To Slow Down!
At almost 100,000 pounds fully laden, a fishtailing semi requires an increased stopping distance than a small car. On a winding freeway like the Interstate 110 in the 90711 zip code, a single truck could easily careen into a bus, motorcycle, or bystander. And this remains true even with the advantages of Jake Braking.
Back To Top
Specific Top Heavy Hauler Issues
The tractor trailer's sheer gigantic size, length, and width make it top-heavy, similar to an SUV. Even when unladen, rigs may remain unstable driving roads, spilling their payloads, including farm animals, new cars, produce, dangerous or toxic payloads, and other commerce.
Blind-Spots
Truck drivers face restricted vision from blind spots, even using safety cameras, warning lights, and buzzers, especially to their rear, right trailer areas during right-hand intersection turn.
NOTE: "Tires" was the most frequently coded vehicle-related crash factor for trucks versus passenger vehicles in fatal crashes, at 1% by the Federal Motor Vehicle Safety Administration. (FMCSA). It is easy to see how a truck's spilled payload from blowing a carved or retreated tire can create secondary road hazard risks to small vehicles.
U.S. Big Rig Truck Collision Statistics
Q: How Many U.S. Injuries and Deaths?
Injury: Possible, suspected, minor to severe 151,000 annually.
Fatalities: Averaging 4,844 fatalities from 2016-2018. (Source)
Nationwide, from 2015 to 2018:
The number of large trucks in fatal crashes weighing 10,001 to 14,000 pounds increased 330%, from 144 to 619.
The number of medium/heavy pickup trucks in fatal crashes increased 201%, from 133 to 400.
The number of large trucks with no issuing authority in fatal crashes increased 147%, from 295 to 730. (Source: FMCSA).
Back To Top
California Truck Crash Injury And Fatality Statistics
Q: How Many CA Injuries and Deaths?
Back To Top
When you drive across the Golden State's populated highways, you will surely notice large diesel tractor-trailer delivery vehicles abounding. California truckers are heavily in demand, with a whole generation of significant rig drivers slowly retiring. Commercial trucks carry heavy amounts of cargo, transporting hazardous materials, including flammable and explosive liquids, poisonous gases, toxic chemicals.
NOTE: Truckers with less experience are flooding our freeways and interstates, adding to an already risky, dangerous occupation, exposing motorists and bystanders to severe injury or death.
Compare Los Angeles County To California's TOTAL Trucking Fatalities/Bodily Injuries
Los Angeles County maintains the distinction of being the California county where people die most in truck wrecks. Ehline Law Firm statisticians researched SWITRS traffic accident data for Los Angeles County for the three years of 2016-2019. Here are the results, including tow away crashes.
Injuries: Annually, 3,672 individuals suffer injuries in Los Angeles countywide truck accidents.
Death: Our Los Angeles traffic study found an average of 100 people will die annually in LA County truck crashes.
What Are The Relevant Los Angeles County Trucking Collision Statistics From 2016-2019?
Los Angeles County saw 249,788 traffic collisions total, including locations like Long Beach and Los Angeles's ports, the two busiest in the United States and Port of Hueneme. Metrorail and Metrolink systems link the LA neighborhood metropolis with buses, taxis, and ridesharing pickups. Los Angeles International Airport (LAX) is the region's principal international airport and is one of the world's busiest. Los Angeles and LAX, in particular, are swarming with commercial trucks, taxis, Ubers, and buses crashing daily as trucks move in and out of docking bays.
Q: How Many Truck LA County Collisions Were There?
Truck Accidents: 8,193 took place.

Q: How Many County Truck Collision Victims From 8,193 Accidents? (11,260 Total Injuries and deaths).
Of the above numbers, the primary victims were small vehicle operators, totaling 7,999 drivers, or 71% of all large truck accident victims in LA County.
Injured: There were 11,017 injury victims.
Killed: 243 people were killed.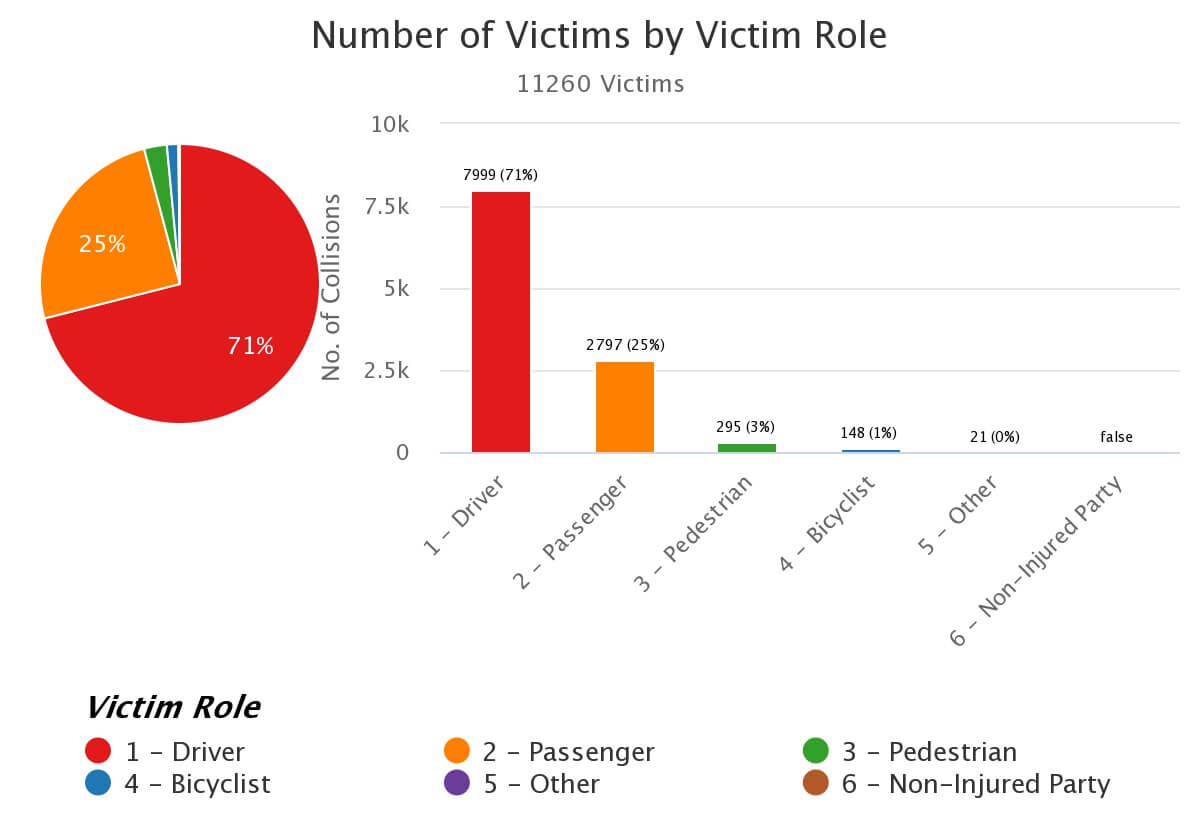 Q: What Was the Victims' Role?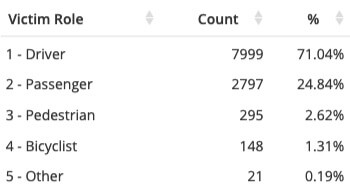 Back To Top
Q: How Many Small Vehicle v. Truck Wrecks?
Auto Collisions: 4,591 four-wheeled vehicles (passenger wagons, etc.) accidents totaled 56% of truck crashes.
Q: How Many Motorcycle-Truck Wrecks?
Q: How Many Pedestrian-Truck Mishaps?
Ped Collisions: 278 people walking were struck by trucks, totaling 3.4% of truck collisions.
Q: How Many Bicycle-Truck Collisions?
Compare City of Los Angeles Truck Accident-Injury-Death Numbers To LA County (2016-2019)
Q: How Many County Automotive Collisions?
The City of Los Angeles megalopolis' 119,476 TOTAL motor vehicle traffic accidents during our study period gives it the distinction of being home to just under half of LA County's 249,788 traffic collisions, with the other 130,312 crashes happening countywide.
Q: How Many LA City Truck Collisions?
Total Collisions:

LA City saw 2,812 collisions with 5,381 truck accidents taking place countywide.
Back To Top
Q: How Many Truck Crash Victims?
Injured:

The City saw 3,984 injuries, including deaths.
Killed: The City was home to 59 total reported deaths.
Q: Who Are The Top 5 City Of LA Truck Accident Victims?
Automobiles saw 2,496 collisions with light vehicles and large trucks and created 3,619 total trucking accident victims.
Automobile Driver: Saw 2,626 drivers suffering injuries.
Automobile Passengers:

Saw 990 injured victims.
Ped Collisions:

143 pedestrians suffered a vehicle collision. One hundred fifty-two pedestrians suffered injuries, coroners seeing 15 dead.
Motorcycle Collisions:

107 bikers were in collisions. One hundred seven cyclists were injured, coroners seeing 11 deaths, making 118 victims total.
Bike Collisions: 68 collisions caused 63 injuries, including five deaths.
Other: The "other" classification made up four victims.
Total Killed: 29 people were killed.
As you can see, LA City accounts for almost 50% of Countywide automobile crashes, and nearly 25% of trucking accidents, including around 25% of trucking-related deaths, with the remainder occurring in South LA, including the West-Side, Central, Western, South Bay, and adjacent locales.
Los Angeles County Truck Related Accident Causes, Victims, and Contributing Factors
You can suffer injuries from an airbag ignition, and you may be stricken with injuries when airbags don't ignite.
Air Bag Not Deployed:

Was a cause of 5,656 injuries, totaling 50.23% of contributing accident factors.
Air Bag Deployed:

Was a cause of 3,409 injuries, totaling 30.28% of contributing factors.
Top 4 Los Angeles Truck Collisions By California Vehicle Code (CVC) Violation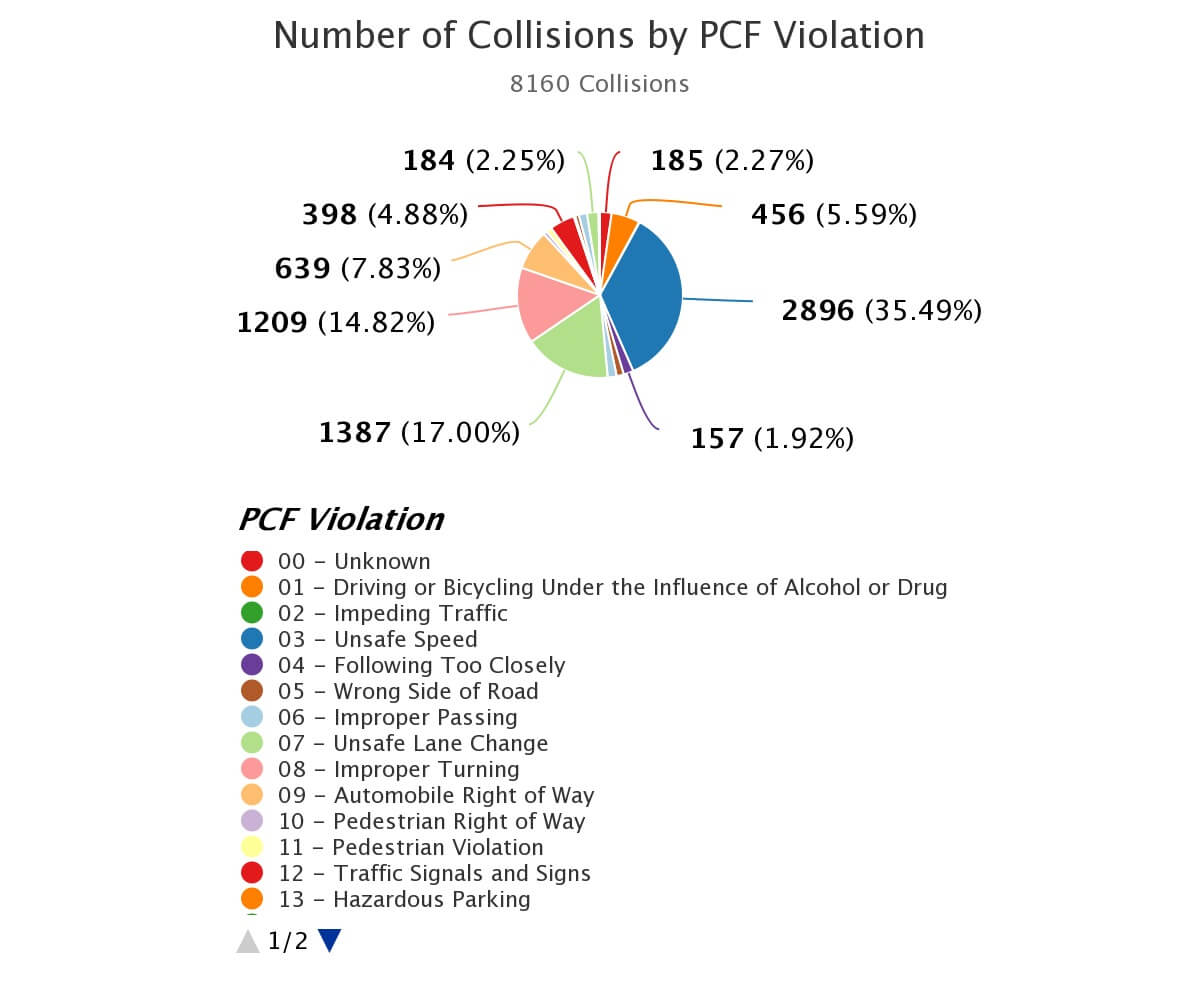 CVC §22350 (Unsafe Speed): 2,896 collisions were speed-related, amounting to 35.49% of truck collisions. Unsafe speed can mean "speeding." But this section generally references driving with due diligence during an adverse road, weather, or traffic condition.
CVC §22100 et. seq. (Improper Turning): 1,209 nasty turn collisions took place, equaling 14.82% of truck crashes.
CVC § 22107, 21658 et. seq. (Unsafe Lane Change):

1,387 crashes took place, equaling 17% of accident-related vehicle code violations.
CVC §21800 et. seq. (Failure to Yield Right of Way): 639 collisions happened, amounting to 7.83% of statutory traffic violations.
Back To Top
What Are The Top 4 Pedestrian Violations Causing Los Angeles Truck Accidents
Two hundred seventy-eight pedestrian accident victims were partially or fully at fault, totaling 3.4% of Los Angeles countywide trucking wrecks.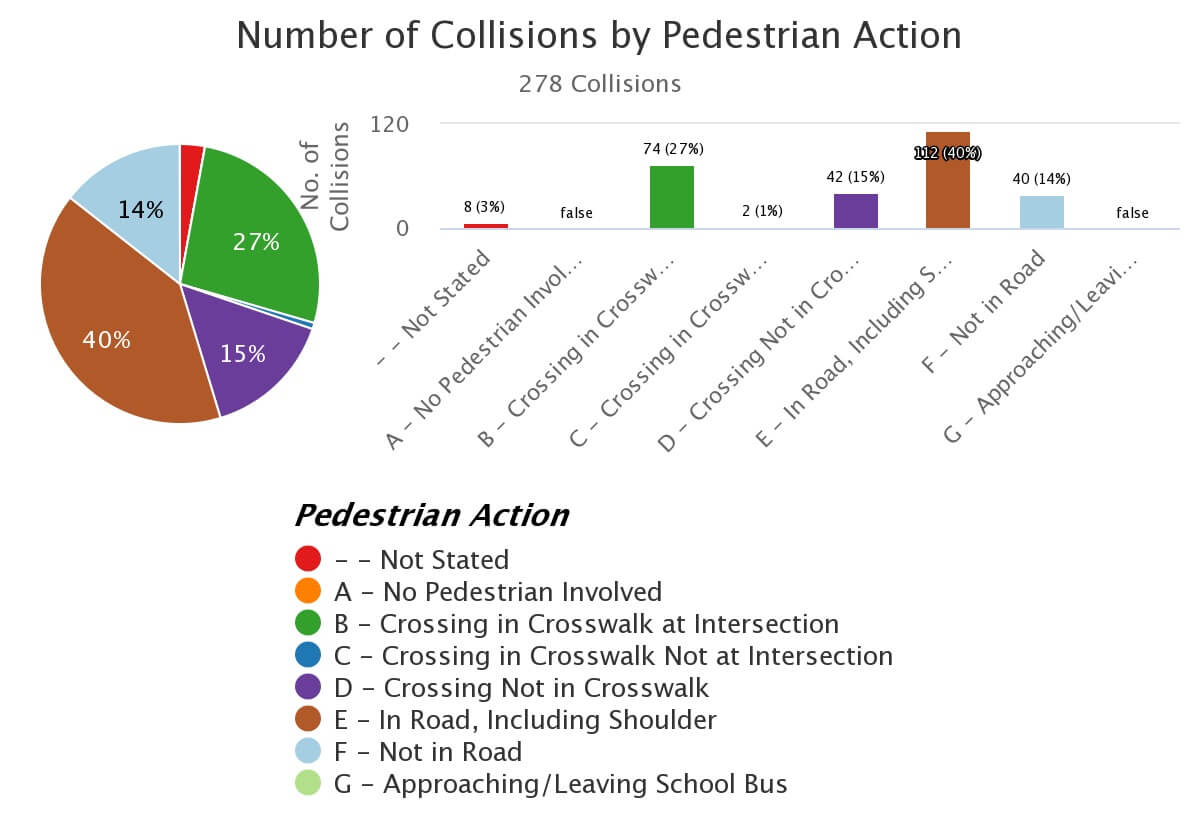 CVC §21954 (Marked/Unmarked Crosswalks): 49 pedestrians in a marked or marked crosswalk failed to yield to oncoming trucks, totaling 17.63% of carryall crashes.
CVC §21456 (Failure to Yield/Traffic Lights): 8 pedestrians failed to obey crosswalk right-of-way signals to trucks already in an intersection, or these lawbreakers failed to finish crossing before the "countdown" ending. (2.88%).
CVC §21956 (Safe Roadway Walking): 8 pedestrians failed to walk close to the edge of the roadway with no sidewalk, or they failed to walk on the left-hand edge of the roadway outside of a business or residential district when the street crossing was impossible. (2.88%).
CVC §23152 (DUI/DWI/Unclear): Police took one

trucker

into custody for causing a pedestrian accident while driving under the influence of alcohol (BAC 0.08+) or drugs, totaling 0.36% of LA pedestrian accidents.
Back To Top
Greater Los Angeles Truck Accidents
Cities like Beverly Hills, Santa Monica, or Long Beach see their fair share of truck wreck injuries, including medical bills and property damages claims. But other less powerful and less influential Greater Los Angeles areas, including San Bernardino, Riverside, Santa Barbara, and Orange Counties, see their fair share of lousy truck accidents.
Common Truck Accident Injuries
If you compare similar smaller vehicle crashes, victims will more likely suffer severe injuries or die from an 18-wheeler or tractor-trailer accident. Large truck collisions generally cause catastrophic injuries, including a coma or wrongful death action. Heavy hauler payload spills can cause victims to suffer disfigurement and paralysis-related injuries. A semi-truck accident injury victim might get burned alive, while other victims may receive minor injuries like scrapes, cuts, or bruises.
Common truck accident bodily injuries include:
Mild Traumatic brain injuries (MTBI),
Traumatic brain injuries (TBI),
Broken bones/fractures,
Wrongful death claims,
Internal bleeding,
Neck injuries,
Back injuries,
Comatose.
Back To Top
If you or your close family member received severe injuries after a Los Angeles big rig truck accident, consult with an experienced, veteran long haul truck accident lawyer. Your delay in receiving legal representation makes it harder for you to protect your monetary compensation rights.
What Can California Truck Accident Victims Receive For Compensation?
Our personal injury attorneys hear the same question over and over from new clients during their initial free consultation, which is: "How much is my personal injury case worth?" No silver bullet exists for determining the value of your unique situation.
Our goal is obtaining victims' full and fair insurance settlement amounts, reimbursing them for their several losses based upon the evidence and unique truck accident case facts.
Lawyers will evaluate the available financial compensation types, basing settlement demands upon the damages available under our tort laws. Plaintiffs will calculate their special economic damages, including non-economic general damages, sometimes including punitive damages. Otherwise, our personal injury attorneys in Los Angeles have zero fear of filing a lawsuit.
Special Damages Recoverable In A Trucking Accident
Lost past, present, and future medical expenses, and therapy costs,
Lost past, present, and future wages, including lost contracts,
Personal property damage (broken laptop computer, etc.),
Vehicle property damages, including diminished value,
Life-altering disability care and job retraining costs,
Out-of-pocket costs, including car rental charges.
Back To Top
General Damages Recoverable in Truck Accident Cases
You can seek past, present, and future pain and suffering damages.
Punitive Damages?
Courts sometimes award extraordinary damages so that they can punish bad, cringe-worthy conduct. This is how courts seek prevention of similar extreme recklessness, grossly negligent, or intentional behavior. Punitive damages are generally not covered by insurance and paid out of pocket.
Our clients are encouraged to discover general accident case value amounts during their free Los Angeles truck accident lawyer consultation.
Distinguishing A Smaller Vehicle Car Accident From A Truck Accident Claim
As noted, truck accident cases are often catastrophic. Because of this, truck crash victims will often receive larger compensation award amounts than those paid out to car accident lawyers for less severe, small passenger car claims. The court will instruct the trier of fact to consider your injuries and loved one's life-altering wrongful death so that they can calculate money damages.
Our heartwarming, experienced Los Angeles truck accident lawyers from Ehline Law Firm will assist you in assigning party liability. Our superlative legal team will act to assure you never blow your time.
What Is The Trucking Accident Injury Statute of Limitations in California?
Generally, under California law, truck accident victims will have two years from the semi-truck accident date caused injuries to file an injury claim with the civil courts. Most non-personal injury attorneys, including paralegals and legal clerks, are not well-versed in tort law, so they fail to understand why truck accident victims must act rapidly to protect their truck accident claim.
Back To Top
Suppose your lawyer discovers a third-party defendant had a contract with you shortening your time to sue, or a government agent played a role causing your injury or loved one's death. In that case, your claims and lawsuit filing deadlines or "statute of limitations" (SOL) procedures will differ. (Learn more about the SOL)
You must take swift action after suffering a semi-truck accident. If your wrongful death lawyer fails to timely file your court lawsuit or survival action, your case becomes moot, causing the court to dispose of your stale claim forever. You should seek legal guidance from a top-notch Los Angeles truck accident attorney as soon as you can.
Danger Kids Crossing
The "Danger Sector" is that area where driving near a tractor-trailer in the spot where the driver cannot see your vehicle. Mostly, without cameras, this is a large blind spot, which the mirrors do not cover, and a place where you do not want to stay for any amount of time. And these are located on the back and sides of big rigs. And this is called the "Danger Sector" for passenger vehicles. Often, the truck driver has to change lanes because of another vehicle or road construction. But sometimes, they will not see the passenger vehicle in this blind spot.
Back To Top
You Must Speak With a Truck Accident Lawyer in Los Angeles For Your Free Case Evaluation Today
As we discussed, our Los Angeles tractor-trailer crash lawyers handle personal injury claims on a contingency fee basis. So you don't pay us our attorney's fee unless we win compensation for your case. Our serious and catastrophic injury lawyers are ready to help provide you a free consultation to receive legal advice if you were involved or injured in a motorcycle-truck, bicycle-truck, or car-truck accident.
We serve clients victimized by semi-truck wrecks from any of our over 15 convenient law office locations in Northern, Central, or So Cal. You mustn't hesitate to contact us. Our local, charismatic, attentive Los Angeles truck accident lawyers will come to your home, office, or hospital to discuss your essential matter, 24 hours a day, seven days per week. You can receive a nearby truck injury attorney consult today. You can contact our team online or call (213) 596-9642 phone number.
Trucker Lawyer Client Review: 5/5 ★ ★ ★ ★ ★
Mike and his team of Los Angeles truck accident attorneys made the challenging legal process easy to understand. I received caring treatment, was professionally attended to, and won stunning financial compensation. I would recommend Ehline Law Firm over another LLP without reservation.
– David E.
Back To Top
Citations:
FARS, GES, CRSS, FMCSA, & MCMIS. (2018). Large Truck And Bus Crash Facts 2016 (2018 ed., FMCSA-RRA-17-016, pp. 1-117) (US, USDOT, Federal Motor Carrier Safety Administration Analysis Division). Washington, DC: DOT Analysis Division.
Jarossi, L., Hershberger, D., & Woodrooffe, J. (2012). Trucks Involved In Fatal Accidents Codebook 2010 (2012 ed., Vol. 1, Version October 22, 2012, pp. 1-151) (US, Center for National Truck and Bus Statistics, University of Michigan Transportation Research Institute). Ann Arbor, MI: CENTER FOR NATIONAL TRUCK AND BUS STATISTICS.