If we don't win, you don't pay.
Speak to the Attorney.
Born to serve.
633 W 5th Street #2890
Los Angeles, CA 90071
(213) 596-9642.
Date Modified: September 12, 2023
As per information from the National Highway Traffic Safety Administration (NHTSA), at least 315 individuals passed away in California due to wheel truck accidents. Thousands more suffer injuries and financial devastation over the loss of their breadwinner. Getting injured in an accident involving a wheel truck or semi-18-wheeler can dramatically alter your life for the worse. This is even more so when no fault of your own caused it. If you have gotten in an 18-wheeler accident, call Los Angeles truck accident lawyer Michael Ehline today.
Michael knows how to help client accident victims obtain the compensation they are entitled to receive by making negligent trucking companies par for the damages they caused. Truck fleet businesses are obligated by law to operate their commercial trucks safely and in a prudent manner as common carriers for hire.
Sadly, serious trucking accidents continue to happen throughout California. That's why victims call Ehline after suffering a trucking accident related injury or death.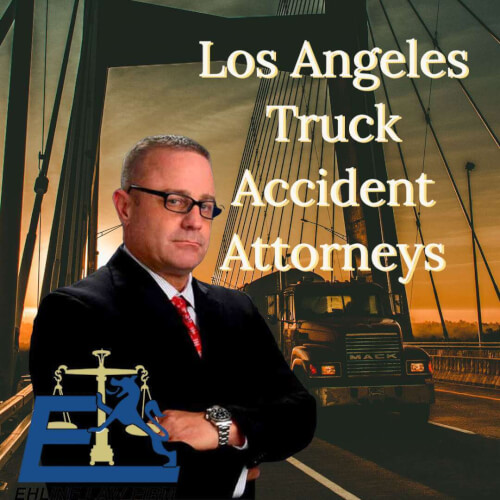 Injured in A Truck Crash?
If so, you must hire competent trial lawyers to get justice or a reasonable settlement after a Los Angeles truck accident that wasn't your fault.
At Ehline Law, our best Los Angeles truck accident attorneys help various victims or close loved ones who've suffered financial harm and pain after truck accidents in California.
We provide quality representation against the trucking company and others to United States consumers and families injured by large semi-trucks.
The trucking company and their truck driver may have significant insurance coverage for your injuries.
You can battle with commercial insurance companies, adjusters, and their investigators. But insurers for the truck company generally won't make a reasonable settlement offer to fully compensate you or a close loved one for total damages or expenses.
Established in 2005, the legal team at our law offices has been in the business of helping consumers and families recover compensation from the trucking company.
Our personal injury law firm has a proven track record for securing significant financial outcomes for clients with truck accident injury cases.
Our most qualified Los Angeles truck accident lawyer takes action for truck accident victims. In road accidents, our car accident attorneys settle and litigate crashes with the trucking company and others over 18-wheelers and smaller tractor-trailers. Including our lead attorney, we have over 30 combined years of legal experience devoted to compassionately serving clients.
Why Select Ehline Law Firm Personal Injury Attorneys, APLC, for Your Big Rig Truck Accident?
We have recovered over $150 Million in Compensation In Settlements and Court Verdicts Since 2005.
OVER 3000+ CLIENTS
CONTINGENCY FEE BASIS (You will be charged nothing for our legal services. You owe us nothing unless our truck accident lawyers win your case).

CLIENTS TRUST US!
WE HAVE OVER 15 CALIFORNIA LOCATIONS!
24-HOUR PERSONAL INJURY LAWYER
CLIENT-FOCUSED 360° CONCIERGE SERVICE
PLUS 5-STAR-HOSPITALITY
Our firm is committed to securing justice with the highest compensation possible in all truck accident cases. We won't be intimidated by large corporations or aggressive actions by legal insurance defense teams. We will give you personal attention, meeting your individual needs, and directing your course until the case results positively.
Award Winning United States Personal Injury Law Firm
Are you or anyone else, like a family member seeking an attorney-client relationship after suffering a semi-truck collision in LA? Are you tired of arguing with insurance companies over the causes of truck accidents and how they make injuries worse?
Our multiple award-winning Super Lawyers in Southern California are experts in transportation practice areas. We can answer any questions about Los Angeles truck accidents during the free consultation. Your first step is to contact us to discuss the facts and nature of your loss with a dominating Los Angeles truck accident attorney at (213) 596-9642.
Why Hiring A Los Angeles Truck Accident Lawyer Remains Important
As noted, after a big rig trucking accident, the trucking company's primary goal is to avoid liability or risk of exposing its assets. But a commercial truck can be 30 times the weight of a typical passenger car. And despite carrying a higher level of insurance coverage (millions of dollars) than a typical passenger car, most trucking companies will never accept fault.
These Fortune 500 corporations will use their significant legal resources to honor their responsibility to shareholders (money/profits). When the facts show a breach of duty by someone liable, we put our services to work on your behalf.
Our top-notch trial lawyers will take the next step in protecting our client's interests. Our experienced truck accident attorneys have matching resources victims can put to good use, lessening your financial impact.
Your lawyer can build a strong case against the trucking company or liable truck drivers. We have the skills to help you prove legal liability elements using a combination of aggressive legal strategies and tactics.
We Don't Let Trucking Companies Settle For Less
None of our Los Angeles attorneys will let you settle for less than your case during insurance negotiations than your case is worth. Our meticulous Los Angeles, CA lawyers will fight to recover maximum compensation from all at-fault violations.
The trial lawyers at our local office will take action to pursue all responsible commercial trucking companies and liable individual truckers. We'll get you the best result for every one of your serious injury claims. It all starts with a free consultation with a member of our team.
What Are Some Common Causes Of Truck Accidents In LA?
Large semi-trucks and heavy truck traffic are a deadly combination. These conditions can lead to an auto accident, serious, catastrophic injuries, or a wrongful death claim.
Here are some typical negligence factors causing trucking industry accidents or a death claim:
Truck driver fatigue (falling asleep behind the wheel after being forced to work beyond legal limits to meet unrealistic delivery deadlines)
Failing to load or properly tie or strap down cargo freight material and goods, causing loads to shift or become dislodged during transit
Truck manufacturer negligence for creating a defect, faulty equipment, parts, or failure to warn of vehicle defects may cause a truck to jackknife
Trucking companies refusing to comply with weight restrictions
The truck driver failed to notice motorcycles or cars in blind spots resulting in fatalities
Truck driver error from lack of experience behind the wheel
Stop-and-go traffic on the highway or freeway, including road conditions on a surface street
Unsafe tire shaving/carving and retread practices
Drunk driving (alcohol or drug use by the truck driver)
Poor truck maintenance
Hit-and-run accidents
Defective brakes
Sideswipes
Blind spots
Poor roads
The above examples are just some truck and truck driving accident causation types. Our truck accident attorneys can be vital resources for getting a maximum compensation settlement from negligent drivers, no matter the reason. Some people injured in truck accidents have options to file an accident claim with insurance or sue the trucker and their bosses.
Truck drivers are professionals bound by state, local, and federal safety regulations to keep everyone safe. Sadly, data suggests that over-regulation has caused many truckers to ignore other traffic laws. Hence, truck drivers may work off the clock without adequate sleep, making them easily distracted or unalert when navigating the freeway or state highways.
For example, when a truck driver fails to follow road rules or comply with trucking regulations, car accidents happen, harming individuals and creating horrific societal challenges and costs.
Bad Trucking Is Negligence?
Poorly driving a vehicle of such great size and weight can cause an accident. This poor driving is called negligence.
But to file a truck accident lawsuit for this negligence, your trial lawyers will spend thousands of dollars out of pocket to provide this service.
Other Issues With Truck Accidents?
Our best Los Angeles truck accident attorney provides consultations and assistance for any driver or passenger injured in a car accident with a truck. This truck accident lawyer can assist in most on- or off-the-road collisions. Our truck accident lawyers also help easement accidents on private property, including parking lots, docking/loading bays, or business warehouse collisions.
Commercial trucking accidents carry steep consequences for passenger vehicle occupants and commercial transportation companies. Los Angeles, commercial truck accidents, can result in a wrongful death claim, vehicle and cargo damage, and natural environment pollution.
Ehline Law Los Angeles understands the importance of holding negligent parties accountable for violating safety regulations with this kind of impact. You came to the right place for assistance from a Los Angeles truck accident lawyer after your unfortunate losses.
Receive a Free Consultation
Parties Involved in a Los Angeles Truck Accident Can Schedule An Appointment Today For A Free Consultation with one of our top Los Angeles truck accident attorneys. Provide the information below about any type of collision case in our contact form.
Please message us with comments from anywhere in the State of California. Describe your case with detailed information about any negligent parties involved. * All Fields Required. Please include your first name, last name, email address, and phone number. This field is for validation purposes and should be left unchanged. Compatible with internet explorer, Firefox, and Google Chrome. No attorney-client relationship exists until the lawyer says so.
What Are Some Common Truck Accident Injuries We Take
As our lead Los Angeles lawyer just discussed, various reasons can lead to large truck accidents, devastating those in smaller vehicles. A passenger vehicle colliding with other vehicles will likely have a much different outcome than a cargo truck crash.
If you compare similar minor crashes with passenger vehicles, deaths and severe injuries from a long-haul 18-wheeler or tractor-trailer accident increase. You may have suffered truck accident injuries like brain injuries, broken bones, and intense pain or memory loss.
Common long-haul trucking accident injuries our skilled professionals take include:
Heavy hauler payload spills can cause victims to suffer disfigurement and paralysis-related injuries. A semi-truck accident injury victim might get burned alive, while others may endure minor injuries. (Ex: scrapes, cuts, or bruises.).
If you or a loved one got injured in a Los Angeles, CA crash, consult an experienced commercial truck accident attorney. These professionals can protect the rights of the wounded truck accident victim in truck accident cases. Do you need a fearless Los Angeles wrongful death lawyer for your unfortunate matter? Our superior Los Angeles truck accident attorneys can help.
Trucking Companies And Others Liable To Pay Compensation to Truck Accident Victims
Your truck accident lawyer has one goal: getting money from whoever has deep pockets. Truck companies in Los Angeles and their truck drivers are typically the at-fault parties responsible for preventing large truck accidents.
Those in the trucking industry should make use of tailgate safety programs to avoid negligence. These parties should establish policies and procedures, like performing regular inspections of trucks, hiring adequately trained employees, and following federal regulations. Sadly, obeying laws and avoiding lawsuit verdicts or losses isn't always the goal of the transport company.
If not, they will generally be vicariously liable to pay those who file a negligence claim. Our lawyers in Los Angeles will hold these parties accountable to pay total and fair compensation. The at-fault party, including an independent contractor and negligent employees, may be liable to pay for any property damage or bodily injuries.
The trucking company would be liable for a car accident caused by a truck driver, cargo loader, ground controller, or other trucking company employee. So if you suffered an accident with a big rig, it's always wise to go after the company after a truck crash rather than just the driver.
At Ehline law firm, we have also handled truck accident claims in Los Angeles with third-party defendants. Third parties like employers may not be directly involved in the collision but still face liability for accidents caused by a truck crash and lack of proper safety protocols.
Defective Parts And Truck Accidents?
One typical example is a heavy truck manufacturer that produces defective vehicle parts. For instance, a defect in braking systems could point to liability for the truck manufacturer.
Other defendants could include the City of Los Angeles or another motor vehicle driver. An experienced Los Angeles truck accident attorney from our office can help you determine fault and assign liability for any disputed question placing your safety at risk for a truck crash.
What Is The California State Statute of Limitations For Truck Accidents?
Regarding your Los Angeles, California, truck accident claim, time is never a luxury. Under California law, an accident victim typically has a two-year time limit from the big rig truck accident date to file a negligence claim with the civil courts unless an exception applies.
The California statute of limitations may expire before you have a chance to file a suit against the truck company. Because of this, California Superior courts might dismiss your claim.
Do not waste any time following a big rig accident. You or your close loved one should contact a truck accident attorney in Los Angeles today. We also maintain locations in Northern California and the Central Valley.
What Types of Compensation Damages Can Truck Accident Victims Recover?
How much your truck accident case is worth depends upon many factors, including witness statements identified in the police report and medical bills and stress mentioned by your doctor in hospital records. Our truck accident lawyers in Los Angeles will examine everything.
Many potential financial compensation types are available to you or a loved one from people who cause a big rig truck accident.
An award of damages could cover a wide range of losses in your accident case, and it starts when our office staff speaks to potential clients the first time about their vehicle accident.
When you discuss your case with our top-notch Southern California truck crash lawyers, before we file a damages claim, we will explain your right to recover:
Trucking Accident Special Damages
All lost past, present, and future medical expenses, and therapy care and treatment costs
All lost past, present, and future wages, including lost contracts and earning capacity
Personal property damage (broken laptop computer, etc.)
Vehicle property damages, including diminished value
Life-altering disability care attention and job retraining costs
Out-of-pocket costs, including car rental, charges our clients may incur.
General Damages (Non-Economic Damages)
Our Los Angeles truck accident lawyers can seek past, present, and future pain and suffering damages for most truck accidents.
Punitive Damages?
Courts sometimes award extraordinary damages so that they can punish bad, cringe-worthy conduct. Courts seek to prevent similar extreme recklessness, gross negligence, or intentional behavior using this award. Punitive damages are generally not covered by insurance companies and get paid out of pocket to the plaintiff by the trucking companies or truck drivers for causing the truck accident.
Our clients are encouraged to discover general truck accident case value amounts during their initial free consultation.
For the most part, severe and catastrophic Los Angeles truck accident cases will receive greater compensation than minor claims. A judge or jury may award more for wrongful death or life-altering or catastrophic personal injuries.
Our truck accident attorneys are not afraid to take insurance company claims to court if we believe it will better compensate the client.
Tips For Dealing With Legal Issues In The Aftermath Of A Trucking Accident in Los Angeles, CA?
The number one thing you must never do after a Los Angeles truck accident is tell your side of the story until hiring a legal advocate like one of our Los Angeles truck accident lawyers. Before we file a claim, our lead personal injury lawyer from our office will want to have as much supporting information and evidence as possible before starting an investigation.
Some of the most important evidence can be obtained immediately after the crash. You should call 9-1-1 to get a police report. To the best of your ability, you should try to take photographs of the damage and the crash scene.
After the collision, the truck accident victim should document any trucks and the names of any drivers, including their phone numbers or email address.
You should also try and gather witness contact information. Recover as much information as possible about the truck driver and trucking company, including insurance company information. Any Los Angeles truck accident lawyer you hire will need this vital evidence.
"In spite of pre-existing medical condition, the attorney at Ehline were still able to win me the compensation necessary to treat all my re-ignited injuries. After my crash, I was able to recover my out-of-pocket medical bills, including thousands of dollars for my pain and suffering and missed work. I have recommended Ehline without reservation to my friends several times, and I hear good things from them too." – John W.
Read More Client Testimonials
Schedule A Free Case Evaluation From Truck Accident Lawyers in Los Angeles Today
Our trial lawyers take all tractor-trailer crash cases in the local community on a contingency basis. Our superior Los Angeles truck accident attorney charges clients no fees unless we successfully obtain compensation for plaintiffs or their family members.
We also help truck drivers injured at work with any truck accident litigation. Don't hesitate to get in touch with our superb Los Angeles truck accident attorneys today to request a free consultation with an experienced personal injury attorney in Northern or Southern California.
Dial our phone number at (213) 596-9642. You can discuss your legal rights to set up a truck accident injury claim with our most experienced truck accident attorney 24/7. We will start our damages recovery investigation process immediately.
Michael Ehline is an inactive U.S. Marine and world-famous legal historian. Michael helped draft the Cruise Ship Safety Act and has won some of U.S. history's largest motorcycle accident settlements. Together with his legal team, Michael and the Ehline Law Firm collect damages on behalf of clients.
We pride ourselves on being available to answer your most pressing and difficult questions 24/7. We are proud sponsors of the Paul Ehline Memorial Motorcycle Ride and a Service Disabled Veteran Operated Business. (SDVOB.) We are ready to fight.