If we don't win, you don't pay.
Speak to the Attorney.
Born to serve.
633 W 5th Street #2890
Los Angeles, CA 90071
(213) 596-9642.
2323 S. Voss Rd, Suite 244
Houston, TX 77057
(832) 592-1260.
Date Modified: June 15, 2023
Legal Support for Dog Attack Victims Across Los Angeles, California
A dog attack can lead to unbearable pain and suffering, necessitating costly medical expenses. Bites can lead to irreparable scars and disfigurement. People, children, in particular, can suffer permanent psychological trauma when dog bites occur from being attacked.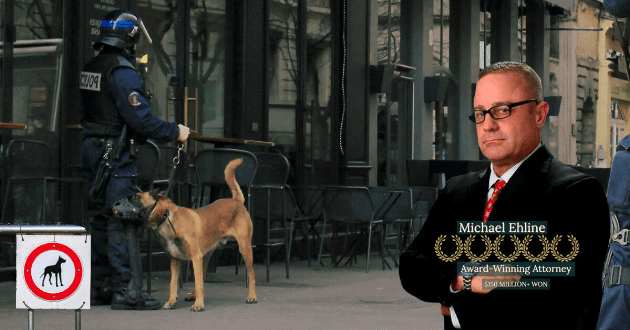 They can also develop permanent anxiety around dogs, leading to future dog attacks against the victim.
At Ehline Law Firm, our enthusiastic, professional Los Angeles dog bite attorneys have a burning desire to help dog bite injury victims. Our law group helps bitten clients with minor and permanent injuries obtain full and fair financial compensation from canine owners and others. Our charismatic, personable team can help any dog bite injury victim get their life moving in the right direction after a Southern California dog attack.
Why Do Dog Bite Victims Select Ehline Law?
Our Los Angeles dog bite lawyers have proudly represented clients with dog bite injuries since 2005.
We have won over $150 million in landmark verdicts and settlements.
We will be relentless and ruthless in our pursuit to secure a decisive legal victory on behalf of injured victims.
Our dog bite attorneys in Los Angeles offer a no-win, no-fee promise. If we don't secure compensation on a contingency fee basis, you owe nothing to us for handling your dog bite attack.
How We're Able To Help a Angeles Dog Bite Victim?
No dog bite claim is a slam dunk win, regardless of California's strict liability laws. You'll likely need representation from a veteran dog bite attorney in Los Angeles if you suffered serious dog bites. Deplorable insurance companies have a reputation for deliberately mishandling dog bite claims to avoid paying the full debt owed in many California dog bite cases.
Experienced dog bite lawyers can help you or your loved ones receive full and fair compensation for dog bite cases by:
Providing a free consultation up front for dog bites to discuss your case
Carefully responding to your important law-related questions
Thoroughly Investigating your dog bite case
Determining who is legally responsible
Filing a government or insurance claim against the dog's owner or controller
Handling insurance claims negotiations
Filing a dog bite lawsuit on your behalf when requisite
No fee unless we win.
A Los Angeles dog bite lawyer can certify you receive every little thing necessary to win during the insurance claims process. We can assure you obtain a proper case workup from a team of world-renowned medical care doctors, nurses, physical therapists, and others on a lien basis. We will rapidly provide confident answers to each legal question you may have after the attack occurred.
Your job is to seek medical attention, heal and get back on your feet. Our business is to build a solid legal claim, decisively establishing each element against dog owners and at-fault parties on your behalf.
Understanding California Dog Bite Law
Like it or not, making a dog owner liable to pay for your injuries is no walk in the park. Although California dog bite laws use a strict liability law system, dog owners are not always legally responsible.
California is a strict liability state. So the dog owner can be found liable for bodily injuries and property damage without proving negligence, even if the dog owner never suspected the dog would bite someone.
The difference here is that in other states, if the dog owner knew the dog had bitten someone in the past, only then can the victim establish liability. (one bite rule theory of negligence.).
One bite rule states: Negligence speaks to a reasonably prudent dog owner's act or failure to act leading to a dog attack. States using the one-bite rules standard say the pet's owner only faces liability when the canine shows a history of violently attacking people. If so, the dog owner faces liability for failing to stop another dog bite.
Strict Liability:
Under California's dog bite strict liability statute, the animal's owner or controller can be held liable even with no proof the pet was a past danger. Under California Civil Code Section 3342, dogs are basically presumed dangerous. Hence, the owner or controller of any dog is liable for the damages sustained by the victim, whether or not the attack occurs in public spaces or while lawfully in a private place, even on the dog owner's property, while leashed up. Being vicious or rabid previously is irrelevant. Unless a rare exception applies, in many cases, the owner or controller of the dog is responsible for covering the costs of your injuries.
Tip: Many victims attacked in a public place by a dog that works for law enforcement (police dog) or engaged in military work will be prevented by tort immunity from suing.
Summary: You get paid for some dog bites but not other dog bites.
Who Can Be Held Responsible for Dog Bite Injuries?
In California, most dog bite plaintiffs can receive a verdict or settlement directly from the master of the beast that caused property damage, physical injuries, or death. If a non-exempt pet owner kept the animal or controlled the dog, including a friend, family member, or pet sitter, they might be solely or jointly liable with the dog's owner.
California defines a dog "owner" as anyone caring for or penning the animal, including a dog kennel. Proof of dog ownership will vary from owner to caretaker. However, evidence of purchase, AKC registration, tags worn by these animals, or microchips registered to families can suffice. Other ways to prove control include veterinary records, homeowners' or liability insurance, etc. Anyone exercising custody, care, or control over the dangerous dog during the attack can face liability for the traumatic experience and injuries.
Special Problem. Minor Owned Animal: If a minor or child (someone under 18 years old) was the owner of the dog, their legal parents or guardians could face vicarious liability (joint responsibility) for your bills and other related injury claims.
What About Negligent Property Owners? A California landlord may also be liable for a biting event if they knew or should have known their tenant harbored a dangerous, vicious dog. They may be liable because they failed to act /warn against reasonably foreseeable aggressive behavior signs.
If you wish to learn more, our Los Angeles County dog bite attorneys have the knowledge and skill to evaluate your claim and answer questions. Make your risk-free phone call today to discuss any dog attack cases under California law. Call us at (213) 596-9642 and learn more about the guarantee of satisfaction.
Who Pays the Dog Bite Victim?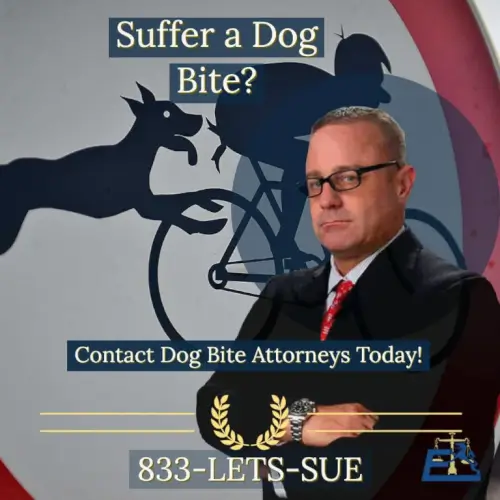 Home Attacks:
A major excuse the victim of a dog attack will give for failing to exercise their legal options against a homeowner after a bite occurs is ostracism. The dog owner is often a friend or blood relative who could suffer financial hardship due to the lawsuit. But generally speaking, their property insurance company covers your personal injury since an animal is considered chattel property.
Automobile Attacks: If a pooch occupies an automobile and bites a small child or another victim, the car owner's auto insurance will typically cover the personal injury. Sometimes dog attacks are excluded from coverage for dangerous breeds like Pit Bulls, Rottweilers, or other breeds. In that case, no insurance exists, and the liable defendant must come out of pocket individually.
Defenses are limited:
Trespassing remains among the most common defenses to keep a defendant from being held financially responsible for a dog bite lawsuit. However, keeping a rabid animal exhibiting former viciousness will bar the defense.
Partially responsible: California insurers will often argue the plaintiff cajoled or teased the dog, provoking it to attack, barring or reducing the victim's financial recovery based upon their comparative fault.
Our capable, attentive team will explain everything when we discuss your incident when you speak with us.
Some Dog Bite Statistics?
Many surviving family members have suffered serious injuries and emotional trauma. Others have died in the emergency room, during reconstructive surgery, or during the incident.
According to the CDC:
Since 2016 the reported number of dogs in the United States = 78 million.
The total number of dog bites = is 4.5 million.
The total amount paid by insurance companies for being bitten by a dog = $530 Million.
One out of five bites causes an infection.
Children ages 5 through 9 make up most cases of dog attacks.
Common Reasons for Dog Bites
Unlike a car accidents, dog attacks are avoidable. Several factors may exist for a dog trying to bite someone. But a household pet with no history of viciousness could snap without warning, especially around little kids playing in their environment. Dogs perceive fear or looking directly into their eyes as a challenge to their dominance. Of course, by instinct, these descendants of wolves will give their lives to protect their master or stomp the ground where their pack resides. California dog owners must prevent foreseeable dog attacks and seek out dangers to prevent aggression against you or your loved one. If not, we protect your legal rights for damages suffered with no hidden fees.
Some of the most common causes of Los Angeles dog attacks are:
Pet owners or caretakers' inability to keep their dangerous animals under control
Interrupting a dog eating or drinking from its bowl or while it's nursing its pups
Dog owners violating local municipal and California State leash laws
A child or other person touching or petting a dog unknown to them
Cajoling, teasing, or hurting a dog (never provoke a dog.)
Trespassing on public or private property with dogs
An unleashed dog on the loose.
Do your best to prevent a dog bite injury by staying away from stray or unfamiliar dogs. If you are aware a family member or friend keeps a dog, ensure the owner is on-site to supervise the dog or that the animal gets locked away in a safe location before you or your children enter the premises.
Never make direct eye contact with the animal if you fear an impending attack. Try and keep your body pointed toward the dog, slightly sideways. Never turn your back or run away. Don't yell, use a loud voice, clap hands, throw rocks, etc. The calmer and more in control you appear, the less of a threat you pose to the animal's instincts. Creating this psychological and physical barrier can help diffuse the dog's instinct to attack you or a loved one.
Mental Anguish & Physical Injuries From Dog Bites?
Dog attacks can result in serious injuries like death, including torn or bloody clothing and permanent emotional scarring. These pernicious, deadly attacks can negatively affect the victim for their remaining lifetime. Many dogs lock down when they bite and keep clamped down as they tear the victim apart, leaving many permanently scarred.
Their saw-like canine teeth shred human flesh because the dog's jaw is like a vice grip, clamping down, cutting to the bone.
Even paws and claws can scratch and batter a person, leading to:
Bruises, scrapes, cuts, and deep body laceration wounds
Pierced and broken bones, including puncture wounds
Permanent bodily disfigurement, adhesions, scars
Torn ligaments, muscles, and joints
Blood diseases and infections
Amputation and Degloving
Permanent nerve damage
Wrongful death
Facial lacerations
Disembowelment.
Being attacked by a dog or pack of dogs causes lifetime emotional injuries, especially with small children. Victims can experience nightmares and fear around dogs leading to distress. This lifelong anguish may be diagnosed as a permanent phobia of dogs that a dog may bite. A healthcare professional will often classify bite victims with post-traumatic stress disorder. (PTSD.) An experienced Los Angeles dog bite lawyer can monitor your situation to get you the best care possible.
Steps After a Dog Bite in Los Angeles
If you suffer a dog bite injury in Los Angeles, take the following steps to protect yourself physically and financially:
Slow your breathing, and focus on finding protective shelter.
Get immediate medical care for your injuries.
When safe, obtain and write down the dog owner's name, address, phone, and email address.
Obtain the witness information of those who saw the dog attacking you. (Did the dog's owner repeatedly allow their dog to roam free in the neighborhood?)
Telephone local police and/or Los Angeles animal control agents and file a report over the dog bite.
Write down your memories and any problems, emotional or physically, in a daily journal so you don't forget details when called later to tell your side.
Document your Los Angeles dog bite injuries with medical bills, records of lost wages, and out-of-pocket expenses for things like deductibles and pain medication.
Make a claim with the dog owner's insurance company in a timely manner. (Hire a lawyer for this!)
Never give any insurance company a recorded statement till you speak to a lawyer.
Get a free consultation from our best Los Angeles dog bite lawyer before agreeing to a settlement with the insurance adjuster.
The at-fault parties must be held accountable. After an LA dog bite, these tips are the tested, proven steps to preventing an infection like Rabies and holding the dog's owner responsible for hurting your bottom line.
Statute of Limitations For California Dog Bite Cases
Generally, the statute of limitations in California to file a dog bite lawsuit is two years from the date a dog bit you unless an exception applies. If you fail to file your complaint in time, the judge throws the case out immediately.
Exceptions include:
Minors have two years to sue once they turn 18.
Victims suing the government must make a claim within six months of being injured before they can sue.
There are exceptions under contract and work comp laws shortening or lengthening the time to sue.
The best thing dog bite victims can do is call a trained Los Angeles dog bite lawyer to sort everything out.
What's the Average Pay Out for Your Dog Bite?
At Ehline Law Firm Personal Injury Attorneys, APLC, we represent clients, including mail carriers. We know that no money can heal every problem attendant with serious injuries caused by dog attacks. But after forming an attorney-client relationship, things will get better after the attack, with most dog bites. Our most experienced personal injury lawyer knows that securing full and fair financial compensation will strengthen your troubled emotional state.
For example, the dog bite victim will be able to pay for reasonable and necessary medical attention like ambulance bills, hospital emergency care, plastique surgery, psychical therapy, and psychological anguish counseling. Our personal injury law firm can also help you compensate for losses, including lost wages / earnings. This can be a big relief after a dog attack.
Here are some other damages dog bite victims may be eligible to recover compensation for after establishing controller or dog owner liability:
Emotional and physical pain and suffering, including that caused by scarring, facial disfigurement, etc.
Lost wages and missed income-earning opportunities
Property damage repair and replacement expenses
Medical treatment (past, present, and future)
Permanent Disability and Death benefits
Lost quality of life or enjoyment thereof
Loss of consortium
Punitive damages.
How much your dog bite attack case is worth will depend on many things, especially your medical bills and records. These official documents help document the cause, nature, and severity of injuries for the dog attack victims and are used with future testimony in court. Medical expenses are considered "special damages," and pain and suffering are considered "general damages."
How much the insurance company will pay for a dog bite case is typically centered first on medical bills. They assume receiving immediate medical attention and receiving treatment or surgeries shows more emotional distress and inconvenience. So medical records are vital to winning an extensive settlement or verdict.
The foolproof way to find out how much your dog bite case is worth is by receiving a risk-free consultation with dog bite lawyers in Los Angeles. But you must do this before negotiating with insurance companies, including your insurance provider.
What Is The Price of an Experienced Dog Bite Attorney?
It is rational to be worried about the cost of retaining Los Angeles dog bite lawyers for legal services after a dog attack or bite. You'll probably be facing hefty medical costs and expenses resulting from your injuries. To help keep your costs down, Ehline Law Firm Personal Injury Attorneys, APLC, performs under a contingency fee basis. Under this fee arrangement, clients never pay out of pocket to obtain maximum compensation.
If our experienced attorney fails to secure financial compensation at trial or in a fair settlement, you pay us nothing – guaranteed. Our lawyer receives a percentage of a settlement, verdict, or a jury award if we win: not an hourly charge. This allows hurt victims to receive help from Los Angeles dog bite lawyers who must win their case. We have successfully settled or won verdicts amounting to $150 Million.
Schedule a Free Consultation With a Dog Bite Attorney in Los Angeles, CA
Such viciousness caused during a dog attack can be an emotionally and physically difficult time. At Ehline Law Firm, we can help you find closure, a fair legal process, and just compensation from the at fault parties for your dog bite injury. We pursue the full value of your claim while you rest, heal and get back on your feet. Start your journey to justice with a risk-free, no-obligation legal consultation. Talk to us at (213) 596-9642, or use our online website contact form today to receive a hassle-free case review.
Dog Bite
Michael Ehline is an inactive U.S. Marine and world-famous legal historian. Michael helped draft the Cruise Ship Safety Act and has won some of U.S. history's largest motorcycle accident settlements. Together with his legal team, Michael and the Ehline Law Firm collect damages on behalf of clients.
We pride ourselves on being available to answer your most pressing and difficult questions 24/7. We are proud sponsors of the Paul Ehline Memorial Motorcycle Ride and a Service Disabled Veteran Operated Business. (SDVOB.) We are ready to fight.