Posted on Slip and Fall Blog / Blog / Slip and Fall at a Store Tips
We go the extra mile to ensure they get their lives back on track.
Steps to Take to Ensure Financial Security
The outcome of your personal injury case depends on the steps you take right after the accident. Here are some of the important steps you can take to ensure your financial security.
Seek Medical Attention
According to the CDC, there are more than 3 million fall injuries among older citizens in the United States, and over 800,000 patients are treated for hip or head injuries resulting from a fall. If you are involved in a fall accident, it is crucial that you seek medical attention immediately. If you are in pain and cannot move around, call 911 for medical assistance or ask anyone around to help you reach emergency services.
Sometimes, you may not feel pain immediately after an accident, and injuries may not be that evident. In such situations, it is still important to follow up with a doctor as injuries and pain may take some time to manifest later.
Report the Accident
Once you call for medical services, report the fall to the store manager or the owner by making an incident report about any dangerous conditions. Get the person in charge's contact number and insurance information. Avoid providing excessive information about the accident or signing any documents before speaking to an experienced personal injury attorney. Try to snap a picture of any incident reports before the property owner takes them from you after signing them, etc.
Gather Evidence and Keep Medical Records
Make sure to take pictures of the accident site and the area around it with your phone's camera. Photographs are essential in helping attorneys determine the conditions of the accident. If you cannot move, ask somebody like your lawyer to help you photograph the falling accident scene or any injured people at the business harmed by the hazards.
If anybody is around when you fell down, make sure to get their contact information. Witness statements can strengthen a personal injury case when filing claims against the store's insurance company. Witnesses could include other customers, the store manager, and employees.
You also need to collect accident reports, medical reports, and bills. Keeping detailed notes on your doctor's appointments and the pain you're feeling can also bolster your legal claim.
Who Is Liable for Slip and Fall Accidents?
In California, premises liability requires a store employee or various building owners to demonstrate reasonable care towards their occupants and guests while ensuring their safety to prevent fall cases.
Accident victims can pursue a personal injury case against the building owner if they have proof of negligence. However, to pursue the case, the following elements must exist:
The defendant owns the building or property.

The defendant was negligent in their duty to provide reasonable care to the plaintiff.

The plaintiff received injuries.

The injuries were due to the negligence of the defendant.
These four elements must exist to make a legitimate claim under California premises liability law. Suppose the plaintiff can prove that the store owner did not demonstrate reasonable care in ensuring the plaintiff's safety. In that case, the store may be liable for lost wages, medical bills, pain and suffering, and other damages.
Slip and Fall Lawsuit and Statute of Limitations
If you're filing a lawsuit for a personal injury in California, you must do it within 2 years following the date of the accident. After two years, you lose the legal right to sue the negligent party. Two years may sound like a lot of time, but you must start the legal process early as it can take time to collect evidence and for a law firm to negotiate a fair settlement with the negligent party's insurance company.
Clients are Our Number One Priority
Depending on the severity of the injuries, they can affect your job status, mental state, physical well-being, and even those around you. Sometimes, you may feel like you're in a sinking dark hole with no hope for fair compensation. However, our legal team at Ehline Law is here to recover the compensation and hold those responsible for your loss accountable.
Get a Free Case Evaluation From a Slip and Fall Accident Attorney
Our personal injury attorneys work on a contingency fee basis, which means that we may take your case with no out-of-pocket expense when you seek compensation. If you're severely injured and financially distraught, our team can also help you seek medical care by locating a lien doctor for your fall injury. Contact us now for more information on how we can help you with your injury claim.
It is not fair that you should deal with the consequences of an accident caused by someone else. Do you want to form an attorney-client relationship with our charismatic, award-winning legal team? If the injuries from a fall occurred due to someone else's negligence, contact us at (213) 596-9642 for a free case review with our slip and fall attorney.
---
Michael Ehline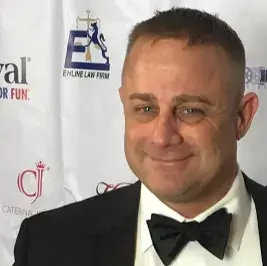 Michael is a managing partner at the nationwide Ehline Law Firm, Personal Injury Attorneys, APLC. He's an inactive Marine and became a lawyer on the California State Bar Law Office Study Program, later receiving his J.D. from UWLA School of Law. Michael has won some of the world's largest motorcycle accident settlements.
---
Recent Personal Injury News
Check out our most recent slip and fall blog posts from celebrities crashing cars to everyday people falling on liquids and slippery substances.