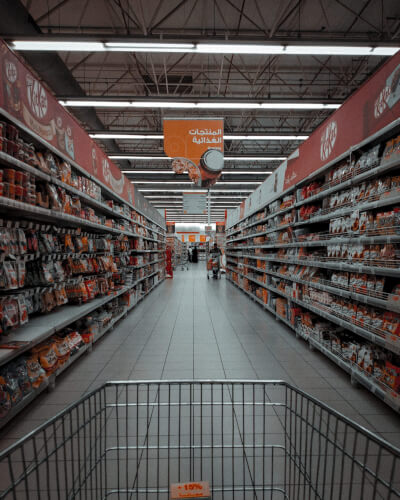 The birth of shopping carts ushered in mass consumption, enabling retail stores, grocery stores, and other major stores to expand their selections and manufacturers to focus more on branding in the 20th century. However, these ubiquitous, unloved contraptions do not get the maintenance required, resulting in mechanical failure.
We've all had our fair share of defective shopping carts at a mall or grocer. Whether the wheels are jammed or the carts are veering off to one side, thankfully, such issues are immediately identified, and many of us look for another trolley. Some defects or problems may arise while using the cart resulting in a shopping car accident, leaving the person injured.
Ehline Law firm and our California sudden stop shopping cart accident lawyers understand the complications of shopping cart accidents and help injured victims with their claims. Contact us to learn more about your rights following an accident.
How Can a Shopping Cart Cause You Harm
It's easy to prevent any accident from happening by avoiding the use of a defective product. However, at times the product can fail during use causing serious injuries to the user.
These shopping cart incidents include wheels suddenly stopping or popping off, bringing the cart to an immediate stop. Sudden jerks can cause immediate leg injuries or cause the user to fall and hurt themselves.
Vulnerable Group Susceptible to Shopping Cart Injuries
Although sudden shopping cart accidents can affect anyone, the elderly and young children are the most vulnerable due to their brittle bones and sensitive skin, exposing them to all sorts of injuries.
The Consumer Product Safety Commission assessed the shopping cart injuries to children below the age of 5 between 2008 and 2012 and reported that the emergency department treated around 107,300 children for injuries associated with shopping carts in the United States.
According to the National Electronic Injury Surveillance System (NEISS), 21,600 children younger than five suffer shopping cart-related injuries annually.
The NEISS database 2013 reveals shopping cart injuries to the following body parts among children younger than five years:
Head/face – 85%
Arm/hand – 7%
Leg/foot – 4%
Other/unknown – 2%
Torso – 1%.
Common Types of Sudden Stop Shopping Cart Injuries
Depending on how you fall or where you bump into a shopping cart that suddenly stops, you can experience all sorts of injuries, including:
Internal organ injury
Face and head injuries
Neck injuries
Back injuries
Hip injuries
Spinal cord injuries
Traumatic brain injuries
Contusion
Laceration
Fractures and broken bones
Concussion
Hematoma
Avulsion.
Regardless of the type of injuries, injured victims may require medical treatment. In some instances, recovery could be partial, meaning injured victims may have to live with their injuries for the rest of their lives.
Sudden Shopping Cart Accident and Premise Liability: Who Is Responsible for My Injuries?
Under California premise liability, property owners have a duty of care towards their consumers and must ensure reasonable care to maintain a safe environment for all their customers.
The property owner must ensure that their premises, inside the building and outside, including the parking lot and, in some cases sidewalk, is free of hazards and safe for customers.
To ensure that the store is free of any potential hazards, the shop owner has the duty to conduct regular inspections before any innocent party suffers injuries from a preventable accident.
Inspections should also cover shopping carts as they are made from metal and other intricate components that can rust or break down due to wear and tear.
Failure to inspect and maintain shopping carts regularly exposes consumers to safety risks, representing a significant hazard for shoppers. It also means a breach of the property owner's duty of care toward its customers.
Whenever a party breaches their duty of care, they can be held liable for any injuries or harm suffered due to their negligence.
Can You Sue for a Sudden Stop Shopping Cart Accident?
If you suffered injuries in a store due to a defective shopping cart, you might be able to hold the store owner responsible for the damages. You may also be eligible for compensation for your injuries.
To pursue compensation and hold the negligent store owner responsible for your injuries, you can start the process by filing a shopping cart injury claim. The store's insurance company will assess your case and decide whether they want to release your claim or reject it.
If you're going solo without the assistance of a skilled personal injury attorney, you may face many challenges.
Insurance companies will either try to settle by offering a minimal amount for your troubles or reject the case. But don't worry, that's not the end, as you can then consider filing a lawsuit.
It's best to have an attorney with trial experience handling legal matters on your behalf immediately after an accident to increase your chances of recovery. In cases where the insurer is unwilling to settle, your attorney can consider taking them to court.
The types of compensation you can recover include economic and non-economic damages.
Economic damages include all those calculable expenses directly arising from the accident, including medical expenses, hospital costs, rehabilitation and therapy, transportation costs to a medical center, property damage, etc.
Non-economic damages refer to subjective or non-pecuniary harms, making it challenging to prove and assign a dollar value. These include pain and suffering, emotional trauma, loss of quality of life, inconvenience, loss of society and companionship, and loss of consortium.
California Statute of Limitations: Is There a Time Limit for Seeking Legal Action Following an Accident?
Although you may have the right to sue following an accident, you could lose those rights if you fail to pursue claims within an appropriate time.
Under the California statute of limitations, injured victims have two years following the date of injury or when they should've known about it to file a claim against the property owner and seek compensation. Failing to do so will result in losing their right to legal action.
Although the Statute of Limitations is pretty strict on the deadline, certain exceptions can extend the window period, and these include:
If the plaintiff was a minor prior
If the plaintiff is serving a prison sentence
If the plaintiff is mentally incapable.
Some Shopping Carts Have an Automatic Braking System, Which Can Affect Liability
Some manufacturers are equipping shopping carts with an automatic braking system that activates when the shopper moves the carts into the store.
The braking activates if the shopper tries to leave the store without going through the checkout counter, preventing a possible theft.
However, these electronic systems can sometimes malfunction and cause the cart to stop suddenly, resulting in serious injuries to the shopper. If that happens, the case becomes a bit more complicated.
Electronic failures are a potential hazard that store owners cannot identify even during their inspections, which means they may not be liable for your injuries.
But, you can pursue claims under product liability against the negligent shopping cart manufacturer that has the responsibility to ensure that their products are safe for use before the sale.
However, suppose the failing locking mechanism is frequent, and the store owner was aware of it. In that case, you could also pursue claims under premises liability against the owner for knowing about the shopping cart failure and not taking reasonable steps to address it.
An experienced attorney will better assess your case after conducting an investigation and identifying the relevant party(s) responsible for your injuries.
What Should You Do Following a Shopping Cart Accident?
When an accident occurs, the evidence and witness memories at the shopping cart incident site are fresh, which can bolster your case. The steps you decide to take following your accident will help affect the outcome of your claim or lawsuit.
Here are the steps you should follow after a sudden stop shopping cart accident:
Call shop employees for assistance.
Let the employees see you on the floor and help you get up.
Take note of the date and time of the accident
Take pictures of the accident site and the shopping cart and its wheels.
File an accident report and request the manager for copies.
Take down the manager's name and contact details.
Look around for witnesses to get your witness statement. Make sure to note down their name and contact information.
If there is any CCTV camera in the store, request the footage from the manager.
Immediately seek medical attention (contact emergency services if your injuries are severe). Gather the medical records and keep the bills with you safe.
Seek legal assistance immediately.
Schedule a Free Consultation with Ehline Law Personal Injury Attorney
Ehline Law is a leading California personal injury law firm with more than 15 locations across the state. Whether premises or product liability, our attorneys have more than a decade of experience handling injury claims and recovered over $150 million in successful verdicts and settlements.
If you or your family suffered harm from a sudden stop shopping cart accident, contact us at (833) LETS-SUE for a free consultation with our skilled personal injury lawyer, as you may qualify for compensation.
Our attorneys harbor a strong attorney-client relationship, offering free legal services and a zero-fee guarantee unless they recover compensation for you, meaning no upfront legal fees for taking on your injury case.
We have helped successfully pursue over 3,000 personal injury claims and have the experience to hold the store liable for your injuries. A serious injury can change your life, and depending on the severity, it can affect your finances, relationships, daily routine, and physical and mental health.
In some personal injury cases, injured victims spiral into depression and other mental issues, wreaking havoc on their life. Let our California sudden stop shopping cart injury lawyers stand by your side and help you escape a dark place by fighting for your rights and a successful claim outcome.
Contact us now or visit our Los Angeles office to seek legal assistance.