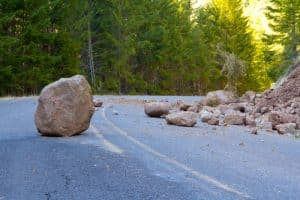 I am a professional web developer and marketer, and this is my livelihood. So naturally, I learned online about the Ehline Law Firm. This firm was easy to find, since it ranked well in organic search. But when I learned the owner, Mr. Ehline, is a Marine and became a personal lawyer with no law school, I knew I wanted this lawyer for me. Long and short, I had a nice life as a developer, and had attended many Joomla and other conferences. I had even won free tickets for a SiteGround team event. But low and behold, I was in a terrible accident when I fell over 40 feet off a cliff accident in the Sierra Mountain Range.

Briefly after exiting my car and walking about 7 to 10 feet to the side of the freeway improvement to stretch my legs, little did I know that I walked right off a cliff face.

I suffered numerous injuries from hitting the ground and then composed myself, as best I could and I climbed up the mountain's edge over 300 feet diagonally and ended up on the freeway several hundred yards behind where my car was parked. It was my "do or die" mentality from having been an Eagle Scout and tough Texan that drove me onwards and upwards, despite my near fatal accident. Finally, I was rescued by medics and firefighters, but barely alive.

Needless to say, I have permanent damages to my body and soul. It is obvious to say, I needed more than just legal counsel.

My previous lawyer was good at law, and a matter of fact kind of person. But Ehline was holistic with his approach in helping me. Mike wanted me to focus on rebuilding my mind after the traumatic event. He even helped me with a Paleo diet, and with a workout routine to help strengthen damaged joints and tendons. Although I will never be pain free, I have adapted my mind, due to the martial arts training Ehline helped with. I say that attorney Mike and I have adopted a similar culture. Him being a Marine, and me being a Scout meant we could easily meld.

In short, as a client, I recognized Ehline's stellar service and his firm's culture of highly intelligent go-getters. This instilled the confidence in me to continue working in my field of expertise, since I knew there was an excellent team behind me that genuinely cared about me.

Ehline Law Firm Personal Injury Attorneys, APLC is the best accident law firm in the world.

This is because you're not just a file, you're also their friend.

Thank you Ehline for all the gentle, kind and caring support. Your awesome group of staff inspired me, and helped me make the most of my personal injury settlement.