Posted on Insurance Law Blog / Blog / How Do I Establish An ERISA Disability Claim Under CRPS?
Our Los Angeles headquartered insurance law disability lawyers have the right experience in handling complex regional pain syndrome cases in California and understand the implications of chronic pain syndrome on an individual from physical, to emotional, financial and more.
If you have complex regional pain syndrome and your insurance company is creating obstacles for disability claims and disability benefits, contact our California disability lawyer now and we will help you fight back.
What Is Complex Regional Pain Syndrome?
Complex regional pain syndrome is a disorder that is often misunderstood due to its complexity. An accident or an injury can trigger complex regional pain syndrome disorder resulting in intense pain that requires ongoing physical therapy to ease the suffering.
Since there is no cure for complex regional pain syndrome, it is also called "suicide disorder." The pain is almost unbearable and those with such a syndrome end up taking their own lives just to find relief. It is a rare and the most painful condition, which is why there are often disputes among the policyholder and their own insurance company for a disability claim.
Symptoms of Complex Regional Pain Syndrome
Common symptoms might include:
Changes in nail and hair growth
Burning pain
Extreme sensitivity to touch
Stiffness and swelling
Deterioration in motor abilities
Changes in skin color or texture
Changes in skin temperature
Being sweaty
Since the disorder can start with even minor injuries, it is best to take note of the symptoms that come with such disorders. The pain can start from a tingle and goes all the way to excruciating pain. You may experience swelling, sweating, sensitivity to touch, and a burning sensation. Tissue discoloration is also common with CRPS. The skin near the impact can fluctuate in temperatures and also colors (white to red to blue).
The accident can impact a nerve triggering this disorder and areas around this nerve have throbbing pain to the point where patients are willing to have their legs or arms amputated just to get a bit of relief. This is why the suicide rate among patients with this disorder is high.
Does Liability Insurance Cover Chronic Pain or Complex Regional Pain Syndrome?
An insurance company will cover chronic pain or pain management under their insurance policy, however, you should read the insurance policy before signing it.
An insurance company will mention a plethora of things in their policy for claims but when it comes to making disability claims, insurance companies will back out. Take an example of a personal injury claim. An individual in a car accident ends up having disabilities due to the negligence of the other driver. However, when it comes to filing claims to get disability benefits, an insurance company will require solid evidence showing that the accident was the main cause of the disability. The same goes for chronic pain or complex regional pain syndrome.
To date, there is no cure for the disorder and even doctors don't know why such a disorder takes place. What is clear is that an injury or an accident is what triggers the disorder.
Long-term disability insurance does cover chronic pain or pain management but proving that the pain is due to an accident by a negligent driver can be difficult.
If you're looking to get disability insurance benefits from your long-term disability insurance company for CPRS, you should reach out to an expert disability lawyer who has experience in proving claims by backing them with substantial evidence.
Having a strong team including medical experts can help you establish the existence of CPRS and the cause that led to triggering this painful disorder. You can claim damages like lost wages, medical bills, pain and suffering compensation, and more from disability insurance companies.
Establishing Long Term Disability Benefits Under ERISA
ERISA or Employee Retirement Income Security Act are laws on employee benefits and social security disability benefits in the private industry. Insurance companies prefer ERISA to California law as there are several hurdles an insured faces when filing for disability claims under ERISA.
For example, under the common law, an individual must prove that the condition comes under the insurance policy and provide solid evidence of the accident causing CRPS. However, under ERISA, an individual must prove that the denial of the claim was arbitrary and capricious.
Even if the insurance company believes that there is cause for CRPS, it is the limitations and the restrictions of the diagnoses that can eventually lead to claims denial. CRPS is a very difficult medical condition to prove under common law and to argue over it in ERISA becomes even more challenging.
When dealing with cases in ERISA, an individual should have all their documentation complete. The individual must prove and attach supporting evidence for CRPS and also the resulting disability from it. Going under medical care by doctors who have experience with patients having CRPS can lead to a solid medical report for supporting documents.
An insurance company can contest the treatment records as part of the evidence for CRPS and this is why you need a great medical team to look after you after an accident or an injury. Having inexperienced medical professionals will put a dent in your case leading to no compensation.
Contact a California Disability Lawyer for CRPS Claims
If you or your loved ones were in an accident and now have CRPS due to someone else's negligence, reach out to an expert disability lawyer in California. Ehline Law has substantial experience in dealing with insurance companies and long-term disability cases resulting in millions in compensation.
Our attorneys work on a no win no fee basis meaning that we don't charge until we bring in the money. Our 5 star client reviews on Yelp! and other review websites don't life. We are the firm to make your CRPS claim stick!
Contact us at (213) 596-9642 and get a free consultation with our expert attorneys today! Feel free to use our online contact form. We will protect your rights, ensure complete documentation and evidence and get you the compensation you deserve on a contingency basis.
---
Michael Ehline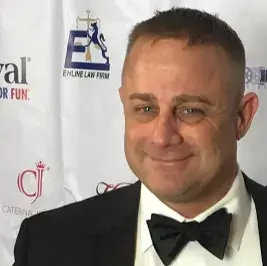 Michael is a managing partner at the nationwide Ehline Law Firm, Personal Injury Attorneys, APLC. He's an inactive Marine and became a lawyer on the California State Bar Law Office Study Program, later receiving his J.D. from UWLA School of Law. Michael has won some of the world's largest motorcycle accident settlements.
---
Recent Personal Injury News 
Check out our most recent premises liability accident blog posts from elevators crushing hands to everyday people getting run over, rear ended or otherwise colliding.