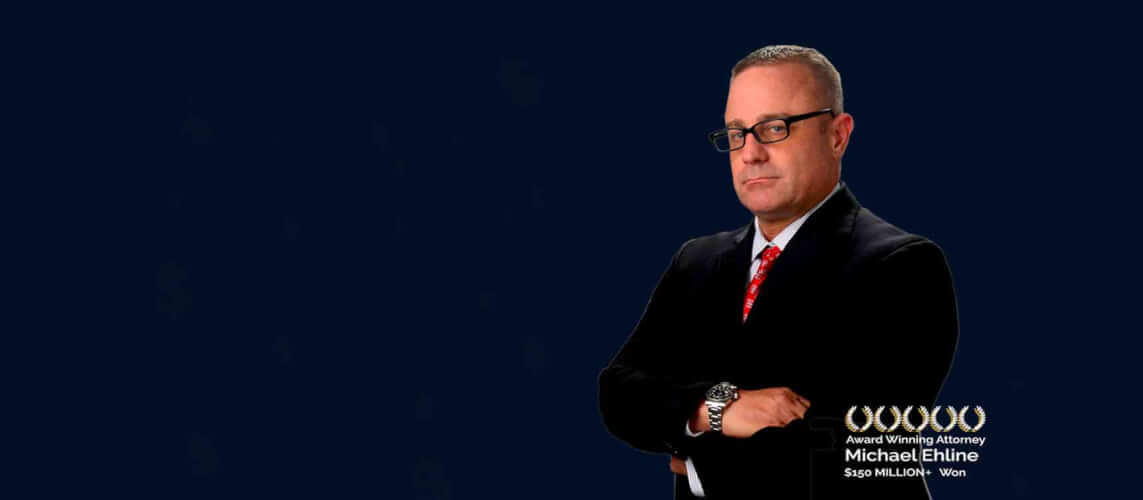 A serious injury can impact your life more than you'd think. From constant visits to hospitals, paying medical expenses, and the insurance companies calling your phone wanting to know every little detail about the injury, it can get unbearable for most.
In such situations, the financial burden is the one that affects the lives of the injured more than any other consequence of a serious injury.
Disability benefits can be a huge sigh of relief in times like this. Suppose you've been injured and have disability insurance. In that case, you can file for a disability claim to get some benefits for medical treatment and daily living expenses.
However, insurers like to make this process difficult and time-consuming, whereby the insured eventually gets a lowball settlement or no money. Our top insurance lawyer will cover the important stuff to know.
Get Assistance When Filing a Disability Claim
If you've been in an accident and can not work due to your injury, contact Ehline Law today, and our attorneys will help protect your rights and fight to get you the compensation you deserve.
Types of Disability Benefits You Can Claim
Disability insurance has different types of coverage; the kind of claims you can make depends on the insurance policy you purchased. Usually, there are two types of coverage, short-term and long-term, and in many cases, people have both of these coverage.
Facing disability can result in lost wages, and short-term coverage covers the loss in income for no more than a year. On the other hand, long-term disability coverage replaces the income from one year until retirement, depending on the severity of the injury. You can not get short-term coverage if you have long-term disability coverage and vice versa.
Having both coverages is a great way of securing yourself, and you can draw on the benefits of different types of coverage when facing a disability. For example, if you have a brain injury and cannot work, you can claim income for the one year where the long-term coverage does not apply, and then after a year, you can get approval for the long-term coverage too.
File Claims with State Disability Insurance Online Application
In California, the Employment Development Department offers state disability insurance to workers under an organization with deductions from their paychecks. The state disability insurance, or SDI, provides partial wage replacement to all those workers who are unable to continue their work due to a disability.
If you're under this program, you can easily file a claim online. To apply online, head to their website and create an online account. You would then need to follow the steps below.
Collect Information like Social Security, Id Card, and More
The online form will require the following information. Hence it would help if you collected this before registering for an online account.
Social Security number
Identification card
Current employer details
Last date you went to work.
The form will require you to disclose more information about your wages if you have received them or expect to receive them soon.
File Claim Online
Once you've collected all the necessary information, head to SDI online and log into the account, you created. You will see an option labeled "New Claim." Click on that and then click on disability insurance and follow the instructions on the screen.
You will have to complete the form with details, and once you're done, you need to submit the claimant's statement. You will get a receipt number that you can use to get a medical certificate.
Get Medical Certificate
Once you submit your claims, head over to your medical provider and give them the receipt number to help locates claims on SDI online. The doctor will then send in your medical certificate and report through their online portal.
Do note that you need to file claims within 48 days of the injury, and failure to do so will result in disqualification, so the doctor must submit the medical certificate within 30 days of the claim application.
How to File a Disability Claim with the Insurer?
This is for all those who don't have state insurance but private disability insurance. You do not need a disability attorney to file a disability claim; however, having one can help you avoid any mistakes in your application and expedite the claims process. So, how do you file a claim?
Filing claims is relatively easy. Fill out the necessary paperwork and give details about your injury. You would also need to provide more information on your salary, living expenses, and how the damage does not allow you to work.
You are getting your medical provider to write you a report on how the injury affects your ability to work, and the treatment plan can be a tremendous supporting document to the claim. Once you're done with the paperwork and compiled all the documents, file claims with your insurance company and wait for the insurer to get back to you. In many cases, an initial claims application is often rejected, and you may have to file for an appeal.
Claims Denial: File for an Appeal
If your disability benefits are denied, you can file for an appeal. Insurance companies like to put profits above their customers, so don't get shocked if you've got disabled and they reject your claims.
There are many reasons why an insurer will reject claims. Working with us, our attorneys will request a copy of your claims and review the documents. We will also help you provide additional resources the insurance company needs to process the claim.
An insurance company may still deny claims but don't worry; we are not afraid to take them to court as our expert attorneys have experience handling cases to trial and winning. Insurers often avoid courts as the process can be long and expensive, making room for negotiations where we can use our experience to help you get the claims you deserve.
Are You or Your Family Members Facing Disability?
If you or your loved one's injuries have resulted in a severe disability, contact us at (213) 596-9642 and get a free consultation with a legal expert today.
Ehline Law is a rising personal injury law firm with an exceptional reputation. We have had more than 3,000 successful clients, and our attorneys have helped recover more than $150 million in compensation.
Let our Los Angeles insurance law attorneys protect your rights, support your case, and negotiate a healthy settlement. Call us or simply visit any of our legal branches across California for more details!