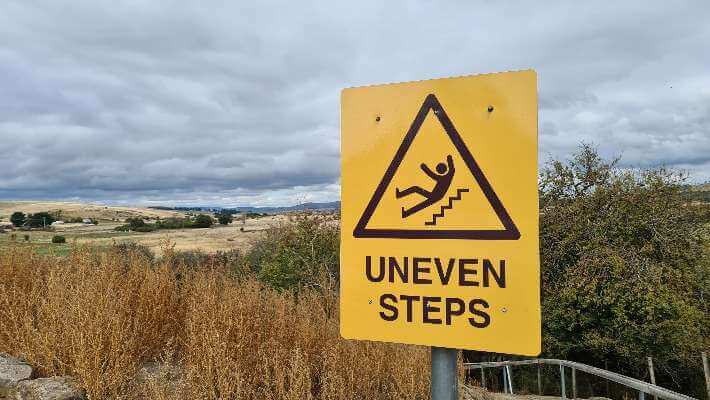 Suffer a fall injury?
Medical bills in the United States from fall injuries amount to $34 billion annually, and you shouldn't be the one suffering from the consequences of a slip and fall accident that was not your fault.
If you suffered injuries from an accident that was not your fault, you might be entitled to compensation.
Ehline Law and our personal injury attorneys have helped over 3,000 injured victims receive more than $150 million in compensation. You're not alone in this, and we stand by your side to protect your rights.
Slip and Fall Accident Statistics
According to the CDC, there are more than 9 million emergency room visits annually in the United States due to slip and fall injuries, and 20% of these falls result in severe injuries. Slip and fall accidents are the second leading cause of unintentional death in the country.
Severe injuries can take a lot of time to recover from, requiring intensive medical care, therapy, and more. In the worst-case scenario, the accident victim may face permanent disabilities or even die from their injuries. 95% of hip fractures in the country are due to a fall, putting individuals on bed rest without any income.
Older people and workers are more at risk of fatal injuries from slip and fall accidents. Of the 9 million emergency room visits annually due to fall injuries, 3 million of those are senior citizens. More than 54 million people are aged 65 and older in the United States, and around 33% of those experience a single fall each year.
At a nursing home, falls are a hazard, with more than half of the residents falling each year, double that of senior citizens living in their homes with very serious head injuries!
Understanding Common Slip and Fall Injuries
Here are some of the most common types of injuries one can experience after a slip and fall accident.
Broken Bones
There is a 5% chance of broken bones from a slip and fall accident. Broken bones occur when the pressure on the bone is more significant than what it can withstand, resulting in fractures or broken bones, and the stressful force is most likely to impact the hip, wrist, and ankle during a fall accident.
Younger people may not experience broken bones as much as older individuals because, as you age, your bones become brittle. Fortunately, this does not affect the legal process. Even if you're old, you have the right to recover financially for any injuries you suffer, despite your health and physical condition.
Traumatic Brain Injuries
A traumatic brain injury, or TBI, can occur when there is an impact on the brain from external forces, regardless of whether you hit your head while falling down, as even a jolting motion can shake the brain and cause serious injuries.
More About a Traumatic Brain Injury
Since these types of injuries are not visible, this characteristic makes them deadly injuries if left unchecked. A TBI stemming from a premises liability claim can become complicated, causing permanent disabilities and even death. TBI treatment involves extensive therapy and working with a brain specialist for recovery. Pain from the injury can last for months, affecting a patient's quality of life.
Spinal Cord Injury
Spinal cord injuries can ruin your life and remain common injuries in fall cases. The nerves surrounding the spinal cord and the spine are extremely fragile, and a fall accident can result in direct trauma to the spinal cord and negatively affect the nerves. These nerves are responsible for sending and receiving signals to different body parts.
More serious injuries can cause loss of muscle movement, sense of touch, and also sexual reflexes. Just like a TBI, spinal cord injuries require extensive medical care and treatment, which can cost millions of dollars over a patient's lifetime.
Shoulder Dislocation
As you fall, there is a risk that you might land on your shoulder, and the impact could dislocate it, which can be extremely painful and require shoulder surgery, with the pain lasting for a while, even after the surgery.
A shoulder pull can also result in soft tissue injuries. A soft tissue injury can make it difficult and painful for the victim to move their shoulder.
Sprained Ankles or Wrists
Another fall injury includes a sprained ankle or wrist because, naturally, when a person falls, they try to break their fall or protect themselves by using their hands. A fall can cause the ligaments in an ankle or wrist to twist, resulting in sprains, and since there is very little blood flow to the ligaments, the healing process can take considerably longer.
A sprain may not look like a serious injury, but it does create significant problems for a victim. You may not be able to walk, cook, or even button your own shirt. If most of your work involves typing on a computer, sprained wrists can put you off work for some time, resulting in lost income.
Cuts and Bruises
A fall accident can also result in cuts and bruises. Disfigurement can affect an individual's mental state, especially if they're already going through mental problems that can lead to social anxiety, making it difficult for the victim to fit into society.
Head Injuries
Even an apparently minor head injury can cause fatalities. Falling on the head is extremely dangerous as it can cause internal bleeding, fractures, and more. Severe head injuries could also include traumatic brain injuries.
A head injury can have a lasting effect over a long time and can also lead to chronic pain. Even a minor head injury could turn into a life-threatening intracranial hematoma. Head injuries produce a wide range of ailments, often with only minor symptoms.
What to Do After a Fall Accident
Here are some of the steps you should follow after a fall accident to ensure maximum chances of recovering compensation:
Call 9-1-1 for immediate medical care and medical attention.
Take pictures of the accident scene.
Exchange contact and information details with the relevant party.
Jot down the contact numbers of any witnesses.
Receive help for your medical emergency. (prompt medical intervention is key.)
Contact a personal injury attorney to obtain financial compensation.
Contact a Premier Personal Injury Law Firm Today
Ehline Law is a leading personal injury law firm in California that understands the ins and outs of personal injury lawsuits. We have the resources and expertise to provide you with the best legal representation in California, maybe even your life. Contact us at (213) 596-9642 for a free legal consultation to discuss your potential personal injury claim.