Few folks realize how potentially dangerous malls can be, even though millions of people shop in shopping malls nationwide every day.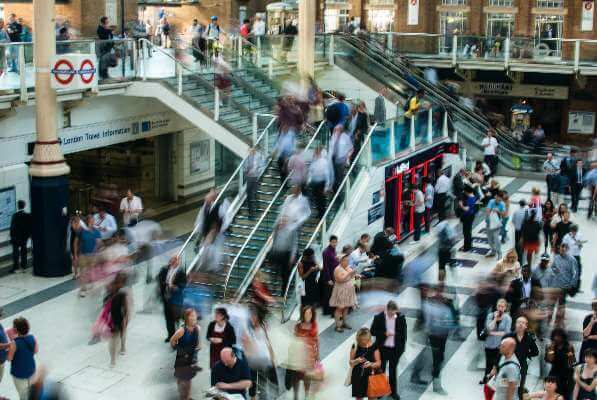 Want to sue a retail outlet?
Receive a Free Consultation Today!
Accident hazards are often posed in crowded areas, and shopping centers are no exception. The mall owner may be liable if you have been injured in an accident at a shopping mall.
Mall owners must, by law, protect those who visit their property from injury, just like any property holder. Below, Michael Ehline will share some of his secrets to winning millions against negligent building owners and landlords for premises liability claims.
It would be best if you used the right lawyer to investigate your case, and here at Ehline Law Firm, we are professionals at what we do.
Call Ehline Law if You Think You Can Sue
If you have been injured in a retail store, it may be time to contact us to find out how the law can help you. We will fight to protect our clients and remain compassionate throughout the entire process. You will get the compensation you deserve when working with our attorneys.
Private Property and Shopping Mall Accidents in Los Angeles
There are multiple shopping malls across the country, and all are required by state laws to be insured to be legal. While thousands of people will safely shop at these malls daily, occasionally, some accidents result in serious injuries.
Various hazards that retail store patrons face when visiting the shops include but are not limited to:
Parking lot and parking garage accidents
Accidents from a fallen object
Slip and fall accidents
Elevator and escalator accidents.
Depending on the nature of these accidents, there can be severe injuries such as spinal cord injuries, paralysis, brain injuries, lacerations, scars, or broken bones. Hiring an attorney for this type of legal issue is recommended if you want to sue or open a lawsuit against a retail store.
Please remember that time is of the essence, so let one of our lawyers work immediately to secure the evidence required to prove your case and the settlement you deserve.
If a loved one has been killed or you have been injured in an accident in a shopping mall location, contact Ehline law firm to schedule a free case evaluation to discuss your claim. Our lawyers can scrupulously analyze the circumstances of the accident and provide their honest opinion regarding the lawsuit.
Ehline firm has an office in Los Angeles but serves the greater surrounding area. You will be happy to know that we recover the attorney's expenses through the insurance company and work on a contingency arrangement.
The Property Owner May Not Act Like They Care – But They Do
If you fall at Victoria's Secret, for example, the chances are the manager will fawn all over you after the fact. It may seem like they care, but the manager is just trying to keep the business formation and store out of trouble.
The manager may want you to fill out an accident report and tell them every detail about what happened, but be careful what you say to them; a reasonable consideration is contacting an attorney first.
If there is even the slightest bit of fault, the company could use it against you. It would be best if you remembered that the store wants to avoid paying people for slip, trip, and fall claims, and they will make every effort not to do so.
The Shop's Insurance Company and Attorney Cares About It, Not You
Companies such as Victoria's Secret carry insurance to cover injured customers when employees are careless. If you are hurt in a slip-and-fall accident at Victoria's Secret, you will deal with an insurance company representative soon.
While these consultants seem genuinely concerned and polite about covering your losses, remember that their goal is not your well-being. Instead, they only care about how to lower what Victoria's Secret and the insurance company have to pay.
It's difficult to understand why companies would act this way to someone who was hurt while spending money in one of their shops but trusts us; they will do everything to pay the least amount possible.
Injuries in a retail store are our practice area at Ehline law firm. We understand contractual rent obligations and can hold business owners liable by federal law to get you the compensation you deserve for your injuries.
A Recorded Statement Cannot Help You, But It Can Hinder Your Case.
Insurance company consultants often ask that you provide a recorded statement concerning your accident. They will tell you that doing so will move the claims process and is necessary. In some instances, the insurance business may claim that the company has a right to obtain your side of the story before processing the claim.
However, this is far from the truth. Before a lawsuit is filed, you have no pressure to give a recorded statement to anyone, and doing so without a lawyer can damage your case or evidence. One of the primary reasons the insurance company wants your information is that it can try and use something you say against you.
The insurer doesn't care about your side of the story unless the statement says something that makes Victoris' Secret look better. Never provide a recorded or written argument before talking to a lawyer.
See a Doctor
Slip and falls often cause serious injuries that generally mean medical or hospital visits. You may have experienced spinal cord injuries, lacerations, dislocations, traumatic brain injuries, and broken bones, so seeing a health professional is the first thing you should do after recording the incident.
People can also experience minor injuries that resolve independently without medical treatment, such as bumps, bruises, scrapes, cuts, neck pain, and back pain.
However, an example is that sometimes injuries are worse than they appear at first and can worsen over time. Hence state laws allow people to open a claim one year after a slip and fall accident at any retail store.
After a fall, a shop employee may try to downplay your injury or claim to make it seem like you are okay. However, if you want to see a general practitioner or don't go, the store can try to use that as proof that you were not injured.
Head to the ER or urgent care facility and protect yourself if you feel pain after a slip and fall.
Talk to a Lawyer, Even If You Think the Accident Was Partially Your Fault
If you have a legal issue regarding a slip-and-fault accident that was partially your fault, you may hesitate to talk to an attorney, as you may believe that you don't have a valid claim. The store you fell in may also keep telling you that the fall was your fault, so you should consider calling a lawyer.
These stores won't tell you that most state laws allow people to get partial payments for their injuries, even if they had something to do with the accident. For example, if you are 10% at fault for the accident, it is known as comparative fault. If you were texting with a friend when it occurred and awarded $90,000, you will receive $81,000 ($90,000 – $9,000 = $81,000).
It is important to note that getting partially paid is better than not getting paid, so always chat with an attorney before attempting to use or open claims against a retail shop. Ehline attorneys understand the laws surrounding injuries at a shopping mall and will help the plaintiff search for evidence to present to the courts.
With the medical records on hand, Ehline Law Firm can help clients sue a specific location for damages and get the compensation they deserve.
A Multidisciplinary Team That Understands the Federal Law
Our experienced lawyers know how to handle litigation, employment and labor, real estate, intellectual property, and corporate matters. We can help you with landlord-tenant disputes, protection of trade secrets, construction, litigation, and class action defenses.
Ehline Law Firm can also assist with taxation and bankruptcy matters to offer our retail store clients a single source, dependable, and responsive service.
Recover Attorney's Fees
The best thing about this practice is that you can sue to recover attorney fees. Most lawyers work on a contingency basis and only charge the client if the case is successful.
If a plaintiff wants to open a lawsuit against a guilty party or private company, Ehline Law Firm can use federal law to hold that entity accountable. No matter what city you stay in, you will need an attorney with knowledge and experience to represent you in court.
Once the tenants of the stores have been held liable and your circumstances discussed with legal counsel, you will receive the settlement you deserve.
Conclusion
Your search for an attorney to help you sue for an injury at a retail store is over. Ehline Law Firm is here to help you understand your rights and the law surrounding slip and fall injuries.
If you are a plaintiff who has suffered life-altering injuries, you must speak to one of our lawyers to proceed with the ligation. We can help you make the most of your case and present the evidence to the court.