Parenting is a huge responsibility that can hardly be executed without injuries; it can be a car accident that might lead to wrongful death or just accidental injuries. I am Los Angeles, California-based personal injury lawyer, Michael Ehline.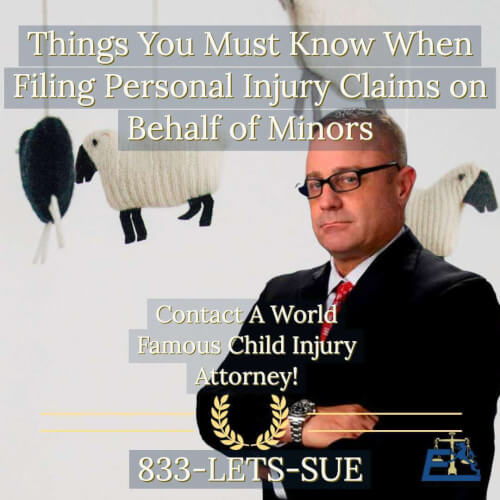 Below I will discuss how parents and guardians can protect a child's legal rights after stuffing an injury or death of a loved one. I will also discuss what to do when a minor injures you or a loved one and the art of getting compensation from their liable guardian or parent.
These afflictions can be a big hit on you as a parent. This form of tragedy can lead to your child experiencing pain. In-home nursing care and possibly a special needs trust could be in the cards.
The funds to pay for the injury may have to come from another source. The limitations when a person suffers wrong at the hands of a child account for an area of law, leaving many people scratching their heads.
If you expected it to be a simple he said, she said, your search for answers can become frustrating when pursuing compensation or trying to negotiate a resolution.
You and your family can browse websites for general information purposes to learn about the legal process. But for your individual case, bad accidents would require you to receive legal advice from an experienced attorney working for a reputable law firm. There, parents or the victims can discuss a settlement agreement.
Clients will learn from the lawyer that sometimes the parent's insurance company will refuse to cover the child's injury, let alone the parent's lost wages, till the child reaches the majority.
As you will see, a judge will have to sign off and approve most settlements or judgment payments on behalf of minors when filed as a lawsuit.
The justice system requires the court to determine whether or not the rights of any young plaintiff are protected by the guardian ad litem appointed by the court. And this is not always a straightforward process.
An injured child can recover:
Medical bills that involve injuries they suffer from the accident
Time spent taking care of young children while undergoing medical treatment, leaving the parent or guardian dealing with lost wages and lost vacation pay.
A permanent injury can also lead to disability, which can lead to emotional trauma and psychological rehabilitation costs.
A child deserves compensation for personal injury from the at-fault party. But a youngling cannot file a personal injury claim or class action lawsuit on their behalf because, generally, minors are deemed incompetent under the law – that is, below 18 years. (This designation will vary from state to state). So who can file for these personal injury cases and still protect the best interests of injured children, either unemancipated or below the age of majority? We can help create and foster a winning environment. Message us today.
Can Parents File a Personal Injury Claim on Behalf of Their Children?
Yes, a parent or legal guardian can sue on behalf of a bit of person injured in an accident. The adult might be afraid of court costs, thereby not filing a lawsuit or seeking legal help for their child's legal rights.
At Ehline Law Firm, we are your personal injury attorney with a proven track record assisting injury victims. We believe in an "attorney-client relationship," which is why we offer a free consultation.
What Happens at a Minor's Compromise Hearing?
A Minor's Compromise is when an adult signs on behalf of a child to receive money because the law classifies a child as a minor.
The law doesn't allow the child to sign for him or herself until they become an adult. But if the child has a claim of injuries caused by accident, you or the child's guardian (if you are separated, the parent who is the custodian of the child) can sign on behalf of the child. Once approved, the minor may not be fully compensated until they reach the age of 18 or the majority.
Statutes leave much of this future distribution and understanding of how the bank will handle the release to be prepared by the attorneys and agreed upon in writing called an "order," signed off by the court, called a "minors compromise." The idea is to ensure the rights of the minor are protected, and important funds are only distributed based upon special needs to avoid financial abuse.
Any questions are answered before the parties enter into the agreements, and the petitions are entered into the record. You cannot simply apply for a win, lose or draw, let alone bring a lawsuit on behalf of a minor without some legal assistance.
Additionally, as discussed, you must provide legal documentation to exercise the right to act on the child's behalf and if court action or power is to be allowed or considered to proceed in your situation. So what exactly happens during this hearing?
Is a Minor Liable for Damages?
A child does not understand the standard of an adult's carefulness; therefore, a child is not liable for damages. But parents can be held responsible as legal guardians. For decades to come, what they do today affects the child for life.
For instance, if a subject child fails to heed instructions, thereby injuring someone, the child's age can be a determination for a lawsuit. A child below seven years old may not understand the state of damage he has caused, but if the damage is caused by the parent's negligence, then personal injury lawsuits can be served the parent.
The court treats child injury claims and cases differently from those involving adults. Your child is a minor; thereby, you need to act as a guardian ad litem since the little child cannot independently decide settlements in the eye of the law. A guardian ad litem means guardian for the lawsuit, meaning you act in the child's legal capacity.
What Evidence Is Needed for a Personal Injury Claim?
Evidence is needed for an injury claim to get settlement funds. Physical pieces of evidence are often enough to show (something that can be seen, felt, or touched) – unlike a detailed description of the accident caused. For instance, a dent in a car showing where it was hit, torn clothing, broken bicycle, and even physical injuries.
What if a child caused a vehicular collision by negligent driving a motorcycle or throwing a rock at a passing bicycle, truck, bus, or train? In many instances, injuries can heal, and property can be repaired, modified by time or weather over its useful life. Because of this, viewing more information may be required and be vital to continue or prove your case later. You will always have an advantage with a skilled advocate fighting by your side.
How Photos Can Help a Child Personal Injury Case?
Photos can help in getting settlement proceeds in most states courts on a minor's behalf. Since preserving a piece of physical evidence might be difficult in some instances. The court would need picture evidence.
So take the pictures at different angles as much as possible. You can as well do a video to back the claim. Do well to print the images with dates and imprints showing the time and date of the accident, including the make and model of any vehicle, including its damage site or impact points.
How Can Police Reports Help in a Vehicle Accident Case?
A police report is a clear statement of an accident, and it records the parties involved. This would be the go-to report for what happened. It would be best if you did not hesitate to ask for a copy of the police report or phone a lawyer to help you get it released immediately.
Evidence of Your Injuries?
Don't fall for anything the insurance company says. Medical records showing the extent of your injury can not be overemphasized. A medical record will make the extent of compensation you deserve clear, judging from the nature of harm and expenses covered by you after your injured child suffers a slip and fall and cracks their head open, for example.
What Information Must Be Included in the Petition for a Compromise of a Minor's Claim?
Petitioning to decide compensation minor child will collect requires a parent or representative to provide documents to participate, including:
Name, date of birth, age, and sex of the minor
Relationship of the petitioner or trustee (the guardian ad litem)
The description of the claim, including date, time, people involved, place it occurred, etc
Petitioner has to agree that settlement is final and binding
A detailed description of the extent of injuries and recovery. This includes doctor's reports with a diagnosis of the injuries and a report about the minor child's current condition
Description of the amount of settlement asked for
Disclosure of all medical expenses during medical care
Disclosure of any requested attorney's fees and court costs
Disclosure of how the settlement would be processed for the personal injury case.
Deciding who gets what isn't always up to the parties, and the judges have been known to force the plaintiff's lawyer to cut their costs or eat them on behalf of the child or the agent protecting the assets of the eligible minor. The adult will carry the burden of proving costs for treated therapy, suffering, and losses affecting the lives of the victims. Significantly, the nature and extent of what will happen during litigation and compromise will depend on how you control and navigate your claims.
Our partners and staff can help you and your family navigate everything, assuring your child, relative, or the child's victim receives the maximum compensation under the law. Consider talking to us before you make any crucial decisions or sign a contract with a less experienced lawyer you heard on the radio. Getting the largest payment for a severe incident requires bold, aggressive, and competent lawyers willing to take risks and fund your case expenses out of their pocket.
The total amount you will be paid almost always hinges on the lawyers you hire to represent your case. The way they talk, their expertise, and finesse can cost you or inspire your fight. If you want to schedule a free consultation with a superior attorney, make an appointment. Start the process today by dialing (833) LETS-SUE! You can also submit your information online for a free consultation using our convenient website contact form 24/7.
No Award for Sleeping on Your Child's Rights?
Typically, no parent or caretaker intended to hurt a person or their legal case. But sleeping on your child's rights may leave the minor unable to pursue their claim later, even though usually, a period of two years (Statute of limitations) will be the maximum time for an adult to sue. True, a minor is entitled to have this time to sue extended to settle or sue.
But waiting may constitute a crushing blow to the child. Witnesses can die, and memories can fade. Gathering evidence right now, today, is crucial to a win against the persons responsible. Don't let something you read on the internet decide your fate; speak to an honest attorney and address the incident now!
Why You Should Work with Ehline Law Firm
To prove your burden, service, and win a minor's claim in a California court, you need an attorney. Court approval in a case like this is no walk in the park. You will be seeking money for bodily injury, property damage, and possibly wrongful death.
We have brilliant attorneys who can help you recover settlements and reach an agreement on behalf of a minor in your custody or against a child's parents, adult, next friend, etc.
We are experienced, and we offer free case reviews and a free case evaluation and advice on actions to take in your best interest. Reach out to us today to book an appointment. We will come to you, or send a car to pick you up and deliver you to our office's suite. Call us at (213) 596-9642. Let us answer your essential questions today