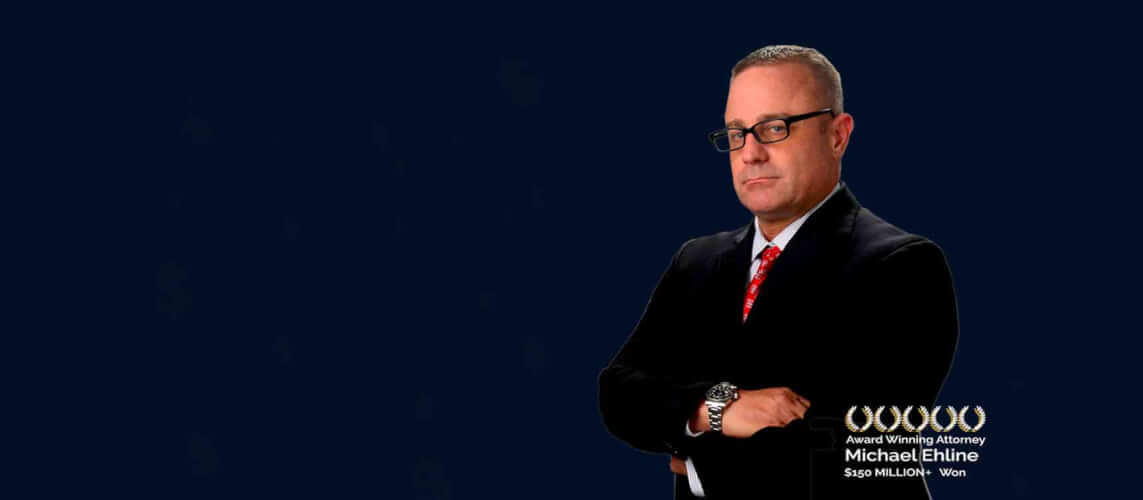 State Farm is a big insurance company in the US. The company helps each State Farm customer with their properties, like home & car insurance, in addition to protecting valuables.
While State Farm's tagline emphasizes customer service as a priority, it is a business, and businesses focus on making a profit for their owners and shareholders.
Because of this, they might avoid paying you a fair settlement for the pain and suffering damages you deserve following an accident.
Don't Fight the Insurance Company Without Ehline Law
If you are in an accident, don't deal with insurers after the fact without Ehline Law Firm attorneys, as otherwise, you could be fraught with a settlement offer that is less than what you deserve.
That is why it is crucial that you reach out to our dedicated legal team of attorneys at Ehline Law Firm before you start settlement negotiations with the insurance company. We will handle your personal injury claim so that no one will take advantage of you.
A Personal Injury Lawyer Can File an Insurance Claim with State Farm and Other Insurance Companies
With all intentions to fleece helpless clients like you, insurance companies use all available resources to investigate (and sometimes deny) your claims. That is why it is vital to have legal representation with a legal team that can deal with large insurers and could anticipate delays or roadblocks they may put up.
These kinds of traumatic events leave many of these accident victims with considerable damages, from medical bills to pain and suffering to lost wages and future medical expenses either through your own insurance company or through the insurance provider of another person. A reasonable attorney will help you get maximum compensation either way.
When you get hurt in a car crash, you may need to file a claim for compensation with State Farm if it insures the at-fault driver or you have personal coverage through the carrier. Call us at Ehline Law Firm to claim your free consultation now at (213) 596-9642.
What Happens After You File a Claim?
After you file a claim, it goes to a State Farm claims adjuster, whose job is to settle with as little as possible. If you try to settle your claim yourself, you will never get enough to cover past medical bills, lost wages, and so on.
If you are contemplating filing a claim with a State Farm insurance company, contact the State Farm claims attorneys at Ehine Law for legal assistance.
Reaching a Settlement Offer
You must seek medical attention after the accident happens and have a fair understanding of the magnitude and costs of your injuries, and then we will use the information to arrive at a settlement figure to compensate for your losses adequately. An attorney could conduct aggressive negotiations with State Farm insurance adjusters to reach a fair settlement, or if a settlement is not possible, pursue a legal remedy in court.
An auto accident can be a motor vehicle collision, car accident, or car crash, which occurs when a vehicle collides with another vehicle, pedestrian, animal, road debris, or other stationary obstruction, such as a tree, pole, or building.
Auto accidents often result in injury, disability, wrongful death, property damage, and financial costs to society and the individuals involved.
Auto accidents can happen at any time to anyone. It would be best if you made plans for such unexpected situations. This serves as a form of assurance, giving people a glimpse of hope.
Reasons Why State Farm Deny a Car Accident Claim
State Farm must handle your insurance claim fairly. They are under a legal obligation to act in good faith under state law, and State Farm has a legal obligation to handle all insurance claims (first-party claim and third-party claim) using good faith settlement practices.
State farm or other insurance companies will deny claims if it clashes with any insurance policy limit. They typically state their policies before you enter the insurance agreement.
You need a valid driver's license and some form of financial responsibility to drive legally. State Farm insurance could deny your claim if you had a car accident while driving illegally or breaking the law.
Signs That State Farm Representatives May Deny Your Claim
Some of the signs that State Farm may deny your claim include the following:
The failure to investigate your claim
Unreasonable delays
Unreasonable requests or demands for documentation
Lack of useful communication
Misrepresentation or omission of material facts
Misrepresentation of the insurance policy
Unreasonable underpaying of the claim
Absurd denials of coverage.
According to the American Association for Justice, several accusations against State Farm insurance show that the company may have unfair practices. For example, the company mishandled several homeowners' insurance claims related to the devastation left by Hurricane Katrina in 2005.
State Farm argued and forced many insurance carriers to alter damage reports, so the company could cheat its customers and pay less than the claims were actually worth.
What Is the Average State Farm Car Accident Settlement?
Most State Farm car accidents settle for under $15,000. We have helped several clients win more than $50,000 as fair compensation for personal injury claims against the other driver. Do not fall into this trap. Partner with a professional attorney to represent you whether you were rear-ended at a stop sign or dealing with a State Farm policy limit denial.
There is no financial risk in working with an experienced attorney at Ehline Law Firm. We offer completely free consultations. Our lead Los Angeles personal injury lawyer will listen to your side of the story and determine whether you have a legitimate claim. Establish a client-attorney relationship with an expert attorney today.
In addition, you can get maximum compensation, and we will not collect any legal fees from you unless we successfully recover a settlement or award on your behalf. We'll file a lawsuit on your behalf if litigation is necessary and head to a jury trial.
"Get a free case evaluation by reaching out to our team ASAP!" – Mike Ehline.
Are you a car accident victim suffering herniated discs when someone ran a red light? Even if you think you have some liability, if you got injured and are State Farm Insured, contact our contingency fee attorneys.
If you want the full extent of fair treatment when making an insurance claim with any insurance company, call any of our offices. On the other hand, you can request that we come to you anywhere you are in the United States.
Call us now at (213) 596-9642. You can use our Contact Us page to reach us. The contact form sends information directly to a professional Ehline lawyer. We are available 24 hours a day, seven days a week, so call us today or contact us online. Know your rights, and get the compensation you deserve!