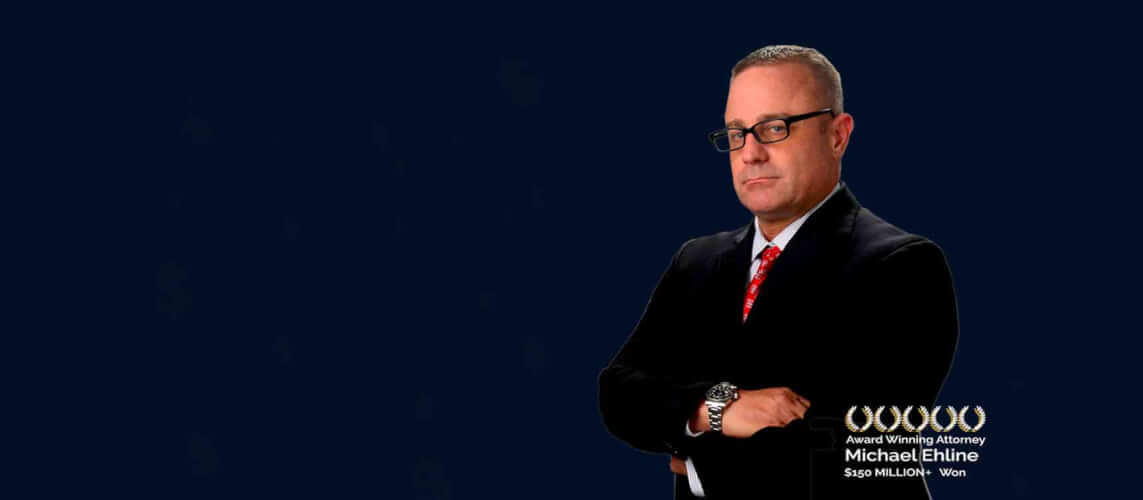 Twenty percent of all accidents reported in retail stores are fall injury accidents. Such accidents during the holiday season can cause serious fall incidents for inattentive victims, with at least some or all of the fault on the negligence of store owners.
Defendants and victims who are not careful can face paying for hip fractures, mild traumatic head injuries, serious spinal cord injuries, and even wrongful death claims. These are just a few personal injury claims a fall injury victim faces after suffering fall accidents on someone else's property while filling up their shopping bags with gifts.
Fall Injuries Increase From Overcrowding?
The so-called fall injury holiday season danger is significantly heightened during the holiday season due to overcrowding in stores and frantic customers racing around the store looking for gifts from Del Amo Mall, South Coast Plaza, or Fashion Island, CA, for example.
I am Los Angeles slip and fall injury attorney Michael Ehline. I am an expert in serious injury claims. My law offices offer individuals free legal advice for injuries due to dangerous conditions on a shopkeeper's premises.
Do you wish to take legal action for yourself or a close loved one for injuries suffered while shopping over the holidays against retail outlets that failed to keep their premises safe for shoppers?
Tis The Season To Avoid Hazards?
Our dangerous condition lawyers have seen the U.S. Centers for Disease Control and Prevention statistics. It's not just holiday shopping. But the holiday lends itself to falling incidents and even assaults.
During the holidays, many people slip and fall for one or more of the common reasons for holiday slip and fall accidents:
Falling from a ladder (For example, people or retailers decorating homes and businesses).
Slipping, tumbling, and tripping over loose toys, ornaments, decorations, or an elderly person's shoe caught in a clothing hangar, etc., in aisles or walkways. These remain very common during the festive season.
Parking lots (ice, snow, hailstones, oil, trash debris, grease, poor lighting, poor water drainage, and inadequate security personnel to protect against assailants, including California's infamous smash-and-grab criminals).
According to the U.S. Centers for Disease Control and Prevention, 20% of falls will lead to serious head injury or broken bones.
Other Common Fall Injuries Causing Damages
Can you think of more injuries from falls that might occur while shopping during the holiday season? What about injuries while visiting friends and family this winter?
Contact us in the comments. Tell us how failure to keep premises safe can maim or kill loved ones involved in future holiday or recreational business activities.
Be Aware of the Floor While Shopping or Engaging in Distracted Activities
It's the holiday season, which means families and friends, holiday decorations, gift exchanges, and…slip and fall incidents. Signage displays draw your eye up from the ground. Hidden liquid spills or greasy rainwater on the floor can complicate the hectic holiday period for employees and vulnerable people in dark parking lots.
According to the CDC, approximately 17,465 persons were treated for decorating-related falls during three holiday seasons after analyzing data from The National Electronic Injury Surveillance System-All Injury Program (NEISS-AIP).
43% of these injuries resulted from ladder falls, with men being 40% more likely to suffer one. When they trip and fall, many purchasers are injured in department stores, malls, and parking lots.
Beware, Parking Lots Are Known Dangers to Vulnerable People and NOT Just for FALLING!
Remember that mall and shopping center parking lots are popular targets for vehicle theft and rape/robberies. Always park in a well-lit area if possible, and if you're able to, park near where you're going.
Parking your car next to vehicles with camper shells or automobiles with excessively tinted windows is a bad idea. If parking at a mall or shopping center, leave your vehicle near the entrance.
It's nearest your point of ingress and egress. Always double-check that all of your windows are closed, and the doors are locked before leaving your vehicle.
If you live in a free state that recognizes the right of individual citizens to keep and bear small arms, consider carrying a small handgun, assuming you are well-regulated in your firearms training and acting in self-defense at the time of the attack.
Falling May Be Embarrassing, But It's Probably Not Your Fault
While embarrassment is the most common outcome, usually, it was the negligent landlord's failure to conduct reasonable inspections that could fill the hospital during Christmas or the not-so-high holy day of Hannaukah.
Some people suffer more dire consequences, including head trauma, broken bones, and fatalities. A slip-and-fall attorney from Ehline Law Firm can help you sort everything out and review the evidence for free. Just use our convenient online contact form, and we'll do the rest.
Here are some common hazards for the holiday customer or visitor:
Food courts where spilled drinks or food spread about to cause slippery floors
Clothing aisles with clear hangars used to hang clothes or things used to decorate catching shoes
Mall entry doorways, especially during wet or snowy times
Wet weather (Including icy parking lots, driveways, and sidewalks
Escalators
Indoor Christmas trees and other decorations may pose a tripping hazard, especially for small children to navigate.
Suppose you are seriously injured on someone else's property and cannot work during your recovery. In that case, you can hold the responsible party for slip and fall accidents they caused or contributed to.
You can make them pay for reasonable expenses, including medical bills not paid by insurance and lost earnings if unable to work.
Victims may also receive compensation for intangible losses such as pain and suffering. However, these lawsuits are more complex than most people realize, and plaintiffs must satisfy several legal requirements to prevail.
A Smart Way To Avoid Holiday Shopping Injuries?
Although COVID-19 has lessened the chances of huge crowds gathering in-store on the Nationally known "Black Friday," the potential of many shoppers collecting in-store is still a factor.
In California, we have the added safety problem of repeat offenders being released by local police to commit smash-and-grab robberies. If you plan to do your Christmas shopping in-store, be sure to do so safely. It seems to stay home and use Amazon delivery remains your safest route these days.
Proving Fault In Your Holiday Slip, Trip, or Fall Case?
When a consumer is hurt in a fall, determining who is to blame might be difficult, depending on the circumstances. Assume someone falls down an escalator and gets injured in the back.
If the fall was caused by an escalator that broke down, the shopping center might be responsible for not keeping the equipment in good repair. Alternatively, if the escalator were faulty, the manufacturer would be liable. An outside firm hired to maintain the escalator also might be at fault.
In certain situations, the victim might be able to pursue legal action against several parties. This is why it's critical to talk with a knowledgeable slip and fall lawyer as soon as possible after an accident to maximize your financial compensation.
Understanding the "Open and Obvious" Defense In Dangerous Condition Cases
The defense attorney, the insurance company, hired to defend the defendant, will invariably argue the danger was known to you. Therefore, it was an "open and obvious" condition, your fault, game over, the verdict for the defendant.
At best, they will argue California's pure comparative negligence doctrine to offset their degree of fault based upon your degree of guilt. True, this doctrine helps cut through a fault in a shopping mall or store owner's negligence claim.
But the doctrine emphasizes whether or not the person visiting the premises was an average person of ordinary intelligence, aware of the risk upon casual inspection, etc.
Unfortunately, the majority of hazardous situations fulfill these standards.
However, there are several exceptions to the rule, including ones for situations that are "unreasonably hazardous," such as a greasy area from an oil leak in the middle of a poorly lit parking lot, and ones that are "essentially unavoidable," such as an entryway into an office with no floor-mat on a marble floor with a little coefficient of friction.
Proving Negligence Against Responsible Parties
While California law requires property owners to use "reasonable care" when maintaining their premises, plaintiffs must also prove negligence on the part of the owner. This means demonstrating the property owner knew – or should have known – about the hazard and failed to remedy the situation for visitors.
Comparative Fault
Under California's pure negligence rules, the victim's role in a slip and fall accident also affects the settlement amount. Did the person fall slip because they were drunk, intoxicated, or texting someone? Were "they" applying makeup, walking in high heels without experience, or walking inside a shopping mall from a wet, greasy parking lot into a puddle? If so, the amount of compensation may be reduced accordingly.
Here's an example: a plaintiff won $100,000 after slipping and falling on a greasy sidewalk and breaking an ankle. However, the person was assigned 20% of the blame as they were distracted by talking on their smartphone in an icy parking lot. (Think Lake Arrowhead, Big Bear Lake, Mammoth Mountain, and Norcal.)
Therefore, instead of receiving the entire settlement amount, the victim received 80% of the total (after attorney fees).
What Should I Do After Falling While Holiday Shopping?
Here are the steps to take if you are injured in a fall on someone else's property:
Seek medical attention immediately by calling an ambulance or going to the nearest emergency room
Take photos of the scene, including any hazards that caused your fall
Photograph your injuries if possible
Get contact information from witnesses
Call an attorney with a proven track record for winning slip-and-fall cases
Do not sign insurance papers or talk to an adjuster before consulting with a slip-and-fall accident lawyer
Follow up with your physician as soon as possible after the accident, regardless of whether you received emergency treatment.
RECAP: After you've been treated for your injuries, it's important to consult with a personal injury attorney to determine if you have a case. Many people assume that holiday slips and falls are unfortunate accidents, but they are often preventable and may be attributed to someone else's negligence. Contact an experienced slip.
Owners Must Take Precations To Avoid Injuries to Patrons and Employees
The proprietors of a mall or any business located within it are obligated to take necessary precautions to maintain the safety of their premises. They must conduct regular inspections and remove anything that may cause someone to fall down the aisle or pathway.
Suppose an individual or entity breaches that duty of care and fails to remove accumulations of water, ice, or other substances that create a slippery surface. A customer is injured in a slip and fall. In that case, that customer and even visiting workers might easily have a viable negligence claim if things weren't cleaned up in a timely fashion, or at least roped off, with caution or warning signs, etc.
Out of Towner or Traveling from Another State / County? NO PROBLEM!
Are you a resident or visiting from out of town, hospitalized with a severe injury, or surviving a wrongful death, stranded in California? The Ehline Law Firm takes every slip-and-fall accident and negligent security claim seriously.
We treat our clients like family, and we know what it takes to win the compensation you deserve. We can sign you up remotely from the safety of your home or hospital bed, 24 hours a day, seven days per week. Find the answer to your problem by calling us. If we enter the retainer agreement, we will receive no legal fees unless we obtain a settlement or judgment on your behalf.
Schedule a Free Consultation With a California Holiday Slip, Trip, and Fall Injury Law Firm 24/7
Slip and fall law is complicated. Finding the right accident attorney can increase your financial settlement result. Forming an attorney-client relationship with a firm that doesn't understand personal injury law can ruin your chances of reaching a fair payout.
Determining liability when a shopper is injured in a fall or attack can be complicated. That's why thousands of people were happy they contacted our law firm first to discuss their case! Pick up your phone for a free, no-obligation remote consultation personal injury lawyer.
Right from the safety of your home, you can receive a hassle-free, no-risk consultation from a Los Angeles-based contingency fee attorney. Start your free case review process today by visiting www.ehlinelaw.com or calling (833) LETS-SUE.