The CDC has been mandated to handle domestic and international health, security, and safety hazards. Its functions include:
Identifying and combating new and developing health hazards, such as the spread of COVID-19 

Responding to the leading causes of disabilities and death

Promoting good health practices and healthy communities

Growing the public health team
To do this, the organization uses more than 200 specialized facilities across the country to conduct scientific analysis on emerging and persistent threats. Additionally, it frequently serves as the primary US agency for providing the public with vital health data.
It isn't surprising, then, that people around the world trusted the data and resources that the CDC provided during the COVID-19 pandemic.
COVID-19 Probable Deaths Overcalculated
According to a number of resources, the CDC altered the death data from COVID-19 in June, a further admission that undermines its trustworthiness. The organization admitted that it had overestimated the number of deaths caused by the coronavirus disease by over 72,000.
Discrepancies Caused By "Coding Logic Error"
Moreover, The Daily Wire claimed that 26 states, encompassing all age groups, were revised. Estimates of 72,277 additional COVID-19 mortalities were attributed to a CDC "coding logic error."
Currently, the Centers for Disease Control and Prevention believes that COVID-19 caused approximately 969,000 deaths. The modifications result in a 7.5 percent drop in the number of deaths that are currently being reported.
It is unknown if the total number of probable deaths caused by COVID-19 will face any additional adjustments
This Amendment in Probable Cases and Deaths Was Made in August Last Year
The CDC revised the COVID death figures months back. According to Mairead Elordi of The Daily Wire, the information on COVID fatalities was updated back in August after they uncovered a statistical error.
However, reporting of the adjustment only took place in the prior week, months after the adjustment was made.
Pediatric Death Data Was Affected the Most
Interestingly enough, the amendments had the most significant impact on the portrayal of pediatric deaths. The estimation of COVID childhood deaths nationwide has decreased to 1,341 due to the substantial reduction in the pediatric probable death count.
Children made up approximately 19% of all reported cases, although only about 0.25 percent of those cases led to a fatality, according to Elordi.
It's odd that the CDC's blunders typically intensify rather than lessen the threat levels posed by COVID-19.
March Adjustment
There have been several revisions since this one and the CDC acknowledged that false statistics were used in March to increase public concern about pediatric COVID fatalities.
The reported deaths for COVID individuals under the age of 18 dropped by an astounding 24 percent following the correction in March
All the CDC website had to say about the overestimation of the number of fatalities in people under the age of 18 due to this severe disease is also a "coding logic error."
Investigations Took Place After Latina Supreme Court Justice Sonia Sotomayor's False Reporting
A responsive agency would later analyze all of its reports immediately after discovering this serious error. However, significant factual errors are still emerging months later.
The March pediatric adjustment happened when Latina Supreme Court Justice Sonia Sotomayor ran with the CDC's exaggerated claims.
When Sotomayor incorrectly stated that 100,000 children had been hospitalized because of COVID-19, many of whom were on ventilators, during a hearing in January, she contributed her own misinformation to the COVID discrepancies.
Vaccinations and Booster Doses Also Subject to Sudden Changes
Even the CDC's vaccine guidelines have also been subjected to abrupt changes. To reduce the number of cases of the possible life-threatening side effect of myocarditis, they increased the interval between doses of the COVID-19 vaccination applied at a federal level to eight weeks in February.
A responsible organization would act considerably more firmly than that in response to a new vaccine.
CDC Criticized for Inflating the Number of Probable Cases
As we've already seen, the CDC is a human services provider, which means that it is an organization dedicated to meeting the needs of the people by supplying knowledge and resources for the prevention of disease.
In light of this, it was criticized for its lack of transparency in February. Critics challenged the CDC's decision to share so little of the data it gathered.
However, the organization asserted that spreading knowledge would simply fuel misinformation. Experts pointed out that the opposite was true and questioned what the organization was trying to cover up.
Many people believed that the CDC was manipulating the COVID-19 statistics and the CDC's own admissions demonstrate that the critics were, in fact, correct.
The Discrepancies May Be Worse Than the CDC Has Let On
It is logical to assume that the discrepancies are much worse than the CDC admits if it had been off by tens of thousands.
The organization attempted to justify itself by blaming its data discrepancies on a coding logic error on inept bureaucratic procedures. It's a simple justification for how the CDC manipulated and misled the people.
Currently, the CDC's primary focus appears to be on limiting and preventing the disclosure of information about its errors and misconduct concerning COVID-19 data
Consequences of the CDC's Incorrect COVID-19 Data
The truth is that the CDC's misrepresentation of COVID-19 cases had a number of negative consequences for Americans.
Undue Panic
Citizens relied on the Centers for Disease Control and Prevention COVID numbers to determine the severity of the pandemic, and by reporting inflated data, it caused undue panic.
People Are Still Confused About Changes to COVID-19 Probable Cases
Errors are inevitable because humans are fallible and make mistakes when reporting data. It is important to explain what went wrong and discuss the preventative measures employed to prevent a reoccurrence when these errors occur.
However, this was not done, and people are still left confused about the number of probable cases and deaths that can be attributed to COVID-19.
The CDC Manipulated People
This overestimation of COVID-19 numbers created unnecessary panic and stress at a time when people relied on this data to determine the severity and spread of COVID-19. They trusted the CDC's human services and took the relevant precautions.
Study Shows That Americans Increased Their Health Coverage
Many Americans increased their health coverage during the COVID-19 pandemic in response to growing cases and deaths. In fact, a recent analysis of national trends in Medicaid services released in the prior week grew by 16.7 million people or 23.4 percent since the start of the COVID-19 pandemic.
This means that Americans may have been spending money on healthcare unnecessarily, prompted by the alarming growth in COVID-19 death data.
Vaccinations
Additionally, the number of fully vaccinated people increased in response to the erroneous number of new cases. This means that the number of people who experienced adverse side effects as a result of vaccination also increased.
Need Legal Representation?
If you or your loved one has been a victim of negligence or intentional harm, you may be eligible to receive compensation. We can't assure you will be able to sue the CDC or the pharmaceutical companies who provide them with agency heads, we can help you obtain compensation to cover your testing, medical expenses, lost wages, and more in other types of cases.
For example, if a drug maker conceals or hides evidence its drugs have more side effects than disclosed, it is possible to sue them for making bad drugs, etc. The only way you will know is by getting a free consultation with a personal injury lawyer, and forming an attorney-client relationship.
We offer free consultations 24/7, so why not call us today at (213) 596-9642, or by using our online contact us form. To book a free case review, give us a call today at (833) LETS-SUE!
---
Michael Ehline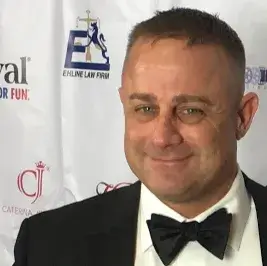 Michael is a managing partner at the nationwide Ehline Law Firm, Personal Injury Attorneys, APLC. He's an inactive Marine and became a lawyer in the California State Bar Law Office Study Program, later receiving his J.D. from UWLA School of Law. Michael has won some of the world's largest motorcycle accident settlements.
---
Recent Personal Injury News
Check out our most recent auto defects, accidents and more, including the famous, infamous and everyday people wounded by at fault parties around the world.