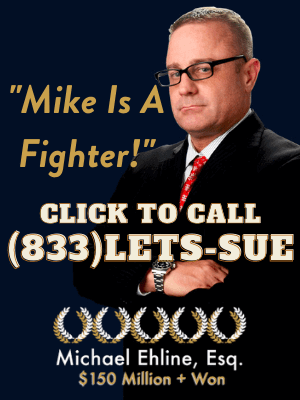 Car insurance coverage is a must to drive on the road in California legally. Still, many often confuse themselves with so many different insurances available that they don't even know what to get.
And what are some of the requirements for getting car insurance? If you get into a car crash, whose insurer is responsible for compensation?
Here at Ehline Law, the insurance injury attorneys at our injury law firm have put together relevant information regarding car insurance to help you get rid of your confusion. In stark and high contrast to our competitors, we have a do-or-die mentality to help get injured vehicle owners back on their feet, even with minimal coverage limits. For further information, car accident victims and their family members can contact us and get in touch with our property damage and bodily injury attorneys.
California Is a Fault State
Unlike many other states, where both parties' auto insurance companies compensate for the loss, California is a different story, as it is a fault state. A fault state is where the at-fault driver and their insurance company are liable for any damages to the other driver.
What If You're Partially at Fault?
This is where things get a bit interesting. Although California is a fault state, it is also a comparative negligence state, which means that one can partially recover damages even while being at fault partly. The law dictates that the percentage of negligence or fault determines the compensation.
An insurance company will fight for its policyholder. It will seek the lowest percentage of fault but still have to pay out according to the percentage of fault up to the maximum financial responsibility under their auto insurance coverage.
Minimum Liability Coverage from Auto Insurance Companies in California
It would help if you carried liability insurance in California to drive a vehicle, and that is about it. You also need to meet the minimum policy requirements for different types of accidents under your auto insurance.
According to California law, the minimum California car insurance policy requirements are as follows:
Property damage – $5,000
Injury or death (1 person) – $15,000
Injury or death (more than one person) – $30,000.
The insurer is responsible for covering the lost wages, medical bills, and costs of repair for vehicles when a car accident occurs. This is the type of liability car insurance coverage you will find with many insurance companies in the state for basic collision coverage on behalf of a car crash victim.
Some auto insurance companies offer more excellent auto liability insurance than the $5,000, $15,000, and $30,000 minimum insurance policy requirements. However, liability insurance coverage can push premiums up; the higher the coverage, the more you must pay the insurance company. So that pretty much sums up California's car insurance laws.
Other Types of Liability Insurance Coverages
A typical basic liability insurance coverage will cover the other party and their vehicle up to policy limits. However, there are insurance policies where you can cover the driver, the passenger, and even your own vehicle in the case of an auto accident.
Other types of auto insurance coverages include additional property damage liability coverage and even an umbrella policy. Individuals can opt for comprehensive insurance for property damage or get uninsured motorist coverage and underinsured motorist coverage for any injuries. But as noted, you must carry proof of minimum insurance to drive a motor vehicle in California if you cause an accident.
My Auto Insurance Company Coverage?
There is a general confusion about what auto insurance covers. Since California is a fault state, the responsible party and their insurance coverage must give liability coverage to the innocent party in the form of compensation.
After a car accident, auto insurance will typically cover medical bills, property damage, or any other innocent party losses including car passengers. Responsible parties for the accident don't receive any auto insurance company compensation.
Consequences of Driving Without Insurance
---
Since driving motor vehicles in California is illegal without insurance, the consequences may be severe depending on the situation. Individuals can not register their vehicle at the California DMV without auto insurance. Without holding the right insurance, the California DMV has the right to cancel your vehicle registration, which in most cases, happens.
If you're caught driving without insurance in California, you risk losing your vehicle. Authorities will immediately impound your vehicle and also strip you of your license. Such incidents affect one's record and can also push premiums up if you're not careful.
How Can I Protect Myself from Accidents?
If you don't have any health insurance, it is best to get either of the two:
Med Pay
Underinsured motorist coverage.
Med Pay Coverage
You can add Med Pay coverage to your auto insurance policy to further protect yourself in the case of car accidents. Med Pay coverage is a great insurance plan that pays drivers' and passengers' medical bills or funeral costs regardless of who was at fault.
If you have Med Pay coverage, you can claim for damages in the following situations:
You are a pedestrian and get hit by a vehicle
If you're a passenger in someone else's vehicle and get injured
If you're riding public transportation and get injured.
You can easily get Med Pay coverage from $1,000 to $25,000, but large insurance companies offer an even more extensive range for this type of plan. The best thing about Med Pay plans is that many treatments that are not available in health insurance are open to the policyholders of Med Pay plans.
Uninsured Motorist Coverage
This insurance policy covers damages to you and the passenger during a car accident due to another party's negligence. It is the type of insurance you want if you're ever in an accident with an at-fault party with a meager policy limit.
Usually, auto insurers incorporate this type of coverage in their insurance plans; however, make sure to ask before getting an insurance plan. If you don't want this type of coverage, you can quickly opt out of it by signing a waiver stating that you had a choice to get uninsured motorist coverage but did not get it.
Contact a Lawyer If You've Had an Accident
Different laws and rules apply during a car accident, and it can get hectic trying to understand different situations. For detailed information on car accident rules in California or for compensation for your loss, contact us at (213) 596-9642. Our expert attorneys will help you make a claim and protect your rights while getting you the compensation that you truly deserve.