Suffering a traffic accident in Santa Monica, CA, can be a stressful and sometimes tragic event for you or a loved one, such as being run over on Third Street Promenade. Typically, if there are injuries or bad property damage, someone at the accident scene will call 9-1-1, and the Santa Monica Police Department will be dispatched to create a police report.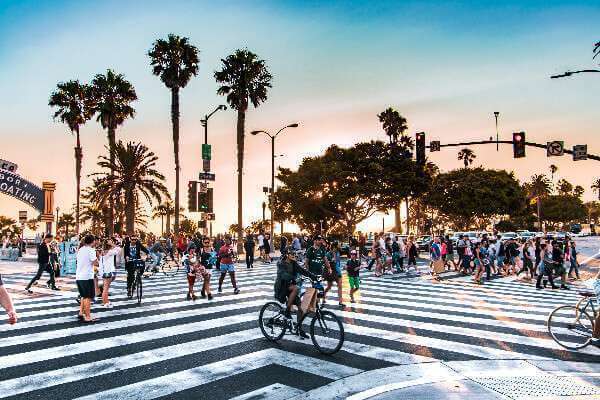 Depending on the jurisdiction or agency, it could be called a traffic collision report, a traffic accident report, or a variation. Below we will cover how to request and obtain copies from the PD records unit involving any road accident, including property losses. So the Los Angeles Police Department uses its form, and the CHP uses theirs.
Having a report number and an actual hard copy of the report is an important part of starting a personal injury claim in Los Angeles, CA. After an accident in Santa Monica, CA, getting a copy of every document related to your accident, including your Santa Monica accident report, is important.
Obtain a Copy or Go Unrepresented?
Your legal representative may not even want to sign up to handle your case unless he knows what happened based on a review of the Santa Monica accident report and ancillary documents. Witnesses may have spelled it all out for the cop and placed the other driver at fault. Or they could say you ran a red light, and maybe they learn it's caught on tape. Are you getting this so far?
Unlike Los Angeles (LAPD), the waiting period for a victim or civil defendant to obtain Santa Monica, California Police Reports is usually less, making settling a disputed liability insurance claim easier. We will explain what a traffic collision report is, how to get one and obtain a copy, and why it can make a difference in compensation our clients receive for many Los Angeles County car accident claims.
In sum, the details and information in the report can make up an essential part of your case. Speak to a lawyer if you are having trouble getting a complete copy. A minor or active criminal investigation could make it hard to get a complete version for some drivers.
What is a Santa Monica Police Department Accident Report?
The Santa Monica police officer hailed to the crash scene typically creates an official report about the car accident. It will contain important information. The officer will document evidence and ascertain who was responsible for the accidents they investigated.
The officer or his team will determine the amount of damage to public and private property, as well as any witness information, and possibly even take photos demonstrating fault, like skid marks. The officer or officers may even search for debris and signs of alcohol or drugs as a potential culprit. The lead officer who makes the report will typically provide the parties with the other driver's insurance contact and other vital information like vehicle registration names, etc.
This aids in reporting insurance claims swiftly, as police reports are not made public until the responding officers finalize everything back at the station. You or your lawyer can give this information to your insurance company as both sides argue over property damages and liability and who pays who.
If you must leave the accident scene for a valid reason, ensure someone at the location obtains this vital information on your behalf. If you can't get help, contact the Santa Monica Police Department as soon as possible to get it and check for errors or omissions. Get this handled right away.
How to Get a Copy of a Santa Monica Police Report
Getting a copy of your Santa Monica car accident report is easy, and there are several ways you can get it in your hands with a check or money order.
Three Ways to Request a Santa Monica Police Report by Option:
In-Person
Online
U.S. Mail.
In Person
You can request and pick up a copy of your Santa Monica PD accident report in person at the Santa Monica Public Safety Facility to order an accident report. Once asked, the City of Santa Monica has ten (1) days to respond under California Government Code Section 6256. Its response must explain if the documents exist and why or not they can be obtained. Make sure to include as much information as possible when seeing accident reports.
You can print their form out online in advance or fill it out in the format used at the station house. Remember to bring a valid form of personal identification, including but not limited to your passport, social security card, or validated driver's license.
Fees: Local Record Check = $26.54 + $0.20 cents per page, per copy
Online
You can order a copy of an accident report that has already been filed by going online as follows:
Create an online account through the Santa Monica Office of the City Clerk website to swiftly access the Public Records Request Center here.
After signing in to your new account, follow the steps: (1) Create a Public Records Request. (2) Select "Police" under the field indicating the "Division and Department" field. (3) Enter as much information as possible (date, time, place, police report incident number, etc.).
Fees: Local Record Check = $26.54 + $0.20 cents per page, per copy
By Mail
Download, print out, and complete the report request form so it can be released. Make sure to include as much detail as you can, especially the report number, if any exists. It is downloadable on the Santa Monica Police Department website. Address your envelope to the Santa Monica Police Department, and make sure to include a self-addressed stamped envelope along with the check or money order fee you submit. The custodian of records will mail you your report back to the location written on the envelope you or your lawyers provided, typically within ten days.
Mail your completed Request Form, as well as your check or money order to the following address:
Santa Monica Police Department
Attn: Records
333 Olympic Drive, Santa Monica, CA 90401
Fees: Local Record Check = $26.54 + $0.20 cents per page, per copy.
Once you complete the ordering process, a report will be mailed to your mailing address in approximately ten (10) business days. For more information, you are encouraged to contact the "Records Unit" at (310) 458-8431 during regular business hours.
Helpful Tips: You must use the mail to request reports involving juveniles, criminal arrests, or fatalities. Next, reports requested that originated on or before February 1st, 2016, must be mail-ordered.
Last, a car accident lawyer can request a copy of your car accident police report upon your written stipulation. But a legal professional often needs more time to obtain your Traffic Collision Investigation Report. Because of this, it often makes sense for you to request the report on your own immediately.
If you have any questions about getting a copy of your Santa Monica accident report, contact an experienced car accident attorney to obtain a free consultation over your claims.
Contact a Top Car Accident Attorney To Discuss Your Traffic Collision Report Today
We know how stressful and confusing the events immediately following an auto accident can be. At Ehline Law Firm Personal Injury Attorneys, APLC, our main task is to advocate effectively on your behalf and hold your hand throughout the arduous legal process. If you were injured in an auto accident in Santa Monica, contact Ehline Law today to obtain success in the form of money damages.
Our experienced, swift, and compassionate personal injury lawyers are prepared to assist you with obtaining Santa Monica Police reports and pursuing all liable, involved parties for causing your traffic collision, serious injuries, or fatalities in your family. People can find out more risk-free with an online request by email 24/7 and a prompt return call. Schedule an appointment with a virtuous, intelligent Los Angeles personal injury attorney today at (213) 596-9642 to get the service you need and the help you deserve in your best interest.
More Santa Monica, CA Practice Areas