Ehline Law Firm Los Angeles injury lawyers, APLC / Podcasts
The A to Z Personal Injury Podcast
Law Office Study Program
Welcome to the introductory episode of the Law Office Study Program Podcast hosted by Mike Ehline with guest Floyd Mitchell. Here, L.A. personal injury lawyer, Michael Ehline covers the basics of law study in the State of California.
Podcast Topics:
Reading for the Law
Studying the Law in California
Interning under a judge or lawyer
Educational requirements of the Law Study Program in CA
Benefits of tutoring, bar prep and who to hire as a tutor
The spirit and discipline required for a winning student
And more…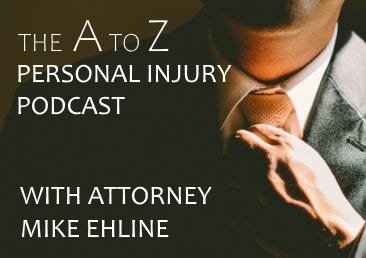 All About Bicycle Accidents
Attorney Michael Ehline gives a brief explanation of bicycle accident cases and how the Ehline Law Firm can help. Victims approach us daily after being run over by cars, buses and trucks. Even after a bad motorcycle wreck, we are here to help the downtrodden, as explained in this excellent podcast. Enjoy our special message from our top notch lawyers.
Podcast Topics:
Bicycle Injuries
What is a 'Safety Bicycle'
Dangers of Riding a Bicycle in Los Angeles
Benefits of consulting an attorney after a bicycle accident
And more…
How Do I Get to Ehline Law from West Hollywood?
West Hollywood actually did not start off as being West Hollywood, but a town called Sherman. Sherman was founded in 1886 by the entrepreneur Moses Hazeltine Sherman. He bought this piece of land with the purpose of connecting Santa Monica and Los Angeles via Pacific and Pasadena railway. Years later, Moses Sherman had developed a small town right beside the rail yard and took on the name of its owner.
As the cinema scene gained more popularity in Hollywood, Sherman experienced a population growth. More and more movie stars and others involved with the film industry flocked here as Sherman's borders expanded closer to the city of Hollywood. In 1925, the citizens of Sherman decided to change their name to West Hollywood to highlight its close proximity to its famed counterpart.
The small town fought many times to not become annexed into Los Angeles City. Due to their geographical location, West Hollywood wasn't under the jurisdiction of the Los Angeles Police Department, but was under the authority of the Los Angeles County Sheriff Department which had different laws.
Is Gambling Legal in West Hollywood?
Under Los Angeles County law, West Hollywood was allowed to gamble. This was the start of the casino and nightclub life that West Hollywood's "Sunset Strip" is so famous for today.
When Did it Become Incorporated?
During the late seventies and early eighties, the neighboring city of Los Angeles had a series of events that led to West Hollywood declaring themselves as their own city in 1984.
Rent Control and Anti Gay Sentiment?
The county of Los Angeles was passing legislation involving an increase in rent. This increase in rent was having a negative impact upon the residents of West Hollywood and the city wanted to protect them from losing their homes. During this period, the city of Los Angeles also had passed certain legislation that was anti-gay.
But ultimately, members of the LGBTQ community fled the city to West Hollywood where they could seek refuge from police brutality. In addition, Russian immigrants settled here to escape the Soviet Union. Together, the community of LGBTQ, Russians, and elderly people of West Hollywood voted their town into an official city.
What About Personal Injury Claims in West Hollywood? Is it Safe?
Non Fatal Brain Injuries:
According to the Office of Statewide Health Planning and Development, inpatient discharge data shows that Los Angeles County had 8,471 non fatal brain injuries. These are common injuries in car, motorcycle and bike accidents. And West Hollywood data shows it has some of the most dangerous traffic that exists in Hollywood and the surrounding suburbs. (See also).
Are Males More at Risk for Bicycle Accident Injuries in West Hollywood?
It appears that during year 2017, 158 males were hurt or maimed in LA bicycle accidents. During the same period, 21 females were harmed while riding. (Source: CDPH Vital Statistics Death Statistical Master Files).
Efforts at Traffic Safety?
Since 1999, the City of West Hollywood has made efforts at damages traffic accident mitigation. For example, they they have operated the Photo Safety Program. The ides behind this is to reduce red-light running and vehicle/pedestrian collisions from red-light violations. (Source; See also Navbug, See also City Data.)
Who Helps Citizens With Accidents in West Hollywood?
Business Hours:
Located near the Viper Room, and Whiskey a Go Go, our serious injury law firm is open weekdays from 9:00 am till 5:00 pm Monday through Friday. But always call for an appointment. Most lawyers cannot take walk in traffic. We are often in depositions, or in court. Although the front desk is available to accept mail and answer basic questions, legal advice cannot be dispensed without an appointment. So to make it easy, simply pick up the phone and dial (424) 666-3944.
That way we can arrange a way for you to speak with a real lawyer about your potential legal matters. In some cases, we can arrange transportation for handicapped or economically harmed people to and from our offices. Also, we can even send a lawyer to your home, hospital or workplace locale.
---
Driving Directions:
We are located in West Hollywood near "Sunset Blvd." Also, we are just a few miles from the Roxy Theatre and Ramada Plaza West Hollywood Hotel. We are on Holloway Ave, inside the Dordick law Building. This building is located in between Palm and Hancock Avenues. Also, we are within blocks of Soho House.
So this is a convenient, central location to many personal injury victims residing or passing through this wonderful town. Also, we offer military and law enforcement discounts.
Driving Directions
Take Sunset Plaza Dr toward Viewsite Dr.
Next, turn left to stay on Sunset Plaza Dr.
Then make a quick right onto Sunset Blvd.
Go right onto Sherbourne Dr.
Then cruise left onto Shoreham Dr.
Continue left onto Horn Ave.
Then go onto Holloway Dr and arrive at
Ehline Law Firm Personal Injury Attorneys, APLC
8752 Holloway Dr Suite 304, West Hollywood, CA 90069.
Or, visit our office in Los Angeles:
633 W 5th St #2890 Los Angeles, CA 90071
(213) 596-9642