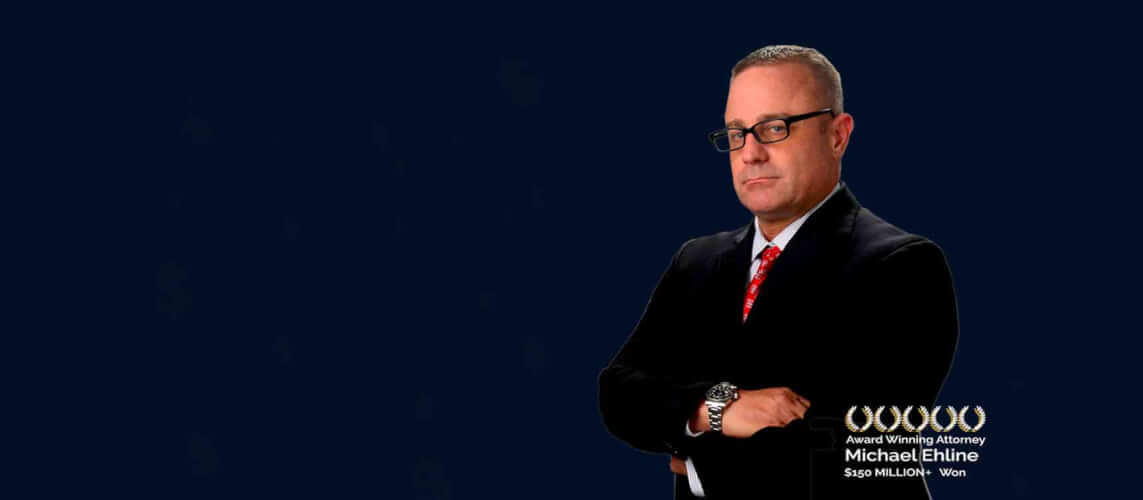 Information regarding spinal cord injuries (SCI), from their types and levels to their effects and complications to possible treatment procedures, is widely available but not easy to find. Every level of the cervical spinal cord that remains unharmed increases the person's chances of a better recovery.
If you or your loved one sustained this catastrophic injury, our remarkable Los Angeles personal injury attorney, Michael Ehline, can provide all the necessary knowledge. There isn't another lawyer with the same experience in this area.
Can People With Spinal Cord Injuries Recover?
Get in touch with us and receive immediate help and information regarding a spinal cord injury that affects the C4 nerves, how different they are from other spinal cord injuries, and how people with spinal cord injuries recover.
What Is a C4 Spinal Cord Injury?
According to the National Spinal Cord Injury Statistical Center research, the most common SCI types are cervical and thoracic injuries. Thoracic damage is inferior to cervical one but still has severe consequences.
A cervical level of injury is the most severe type of SCI. The severity and level of damage incurred on the spinal cord significantly influence the chance of paralysis.
C4 SCIs occur near the midpoint of the cervical spinal cord, including the top portion of the spine and seven vertebrae in the nape.
What Are the Types of C4 Spinal Cord Injuries?
There are two types of SCI, incomplete spinal cord injury and complete spinal cord injury:
Incomplete C4 Spinal Cord Injury
Incomplete injuries are those that result in partial damage to the spinal cord. The motor functions and amount of feeling maintained depend on the severity of the damage.
An incomplete injury can be mild, causing slight muscle weakness, moderate, presenting chronic pain, or significantly severe, nearly indistinguishable from complete SCIs.
Complete C4 Spinal Cord Injury
A complete injury causes permanent damage to the area affected. Tetraplegia (paralysis of all four limbs and torso, also called quadriplegia) and paraplegia are possible results of this level of injury due to the proximity to the brain.
What Are the Symptoms of C4 Spinal Cord Injuries?
The complications from an SCI vary depending on its level and type.
People with spinal cord injuries that affect the C4 vertebrae can experience some or all of the following issues:
Limited motion range below the injury
Tetraplegia – loss of sensation and function in the body, arms, and legs
Loss of function in abdominal and intercostal muscles
It may affect the ability to speak
May be able to retain some head and neck movement control and sensation
Circulatory problems, such as changes in blood pressure and clots
Patients suffering from a C4 spinal cord injury may need 24-hour personal care to help with daily tasks, including dressing, bathing, and eating.
Certain patients may require a ventilator for breathing assistance, as this injury affects the functions of the diaphragm. Pressure sores may also develop in a patient with prolonged inactivity.
How Does a C4 Spinal Cord Injury Differ from the Others?
The lower the injury occurs, the better the chances of recovery. People with C1-C4 injuries have more complications than others with C5-C7 or lower SCIs. Each level controls different body functions as part of the central nervous system.
A C4 vertebrae nerve injury has considerably different effects and outcomes than a C5 nerve injury and those further below.
What Is the C4 Spinal Cord Injury Recovery and Treatment Procedure?
All SCIs are different. People with the same level of injury may have differing complications, experiences, and recovery procedures. The recovery success of a C4 SCI victim mainly depends on the medical care received immediately following the accident.
In particular, emergency personnel should prioritize stabilizing the patient's spinal cord and neck. Surgery may be crucial to help reduce muscle inflammation and swelling and treat other secondary sources of damage.
It's necessary to implement a personalized approach to rehabilitation. Physical therapy and occupational therapy are some rehab interventions that can let patients manage C4 incomplete injury complications.
People with complete paralysis may require a caregiver to help with daily activities like eating, toileting, and grooming. Orthotic devices may also be necessary to maintain better musculoskeletal alignment. Surgery is essential in cases of severe spasticity to denervate overactive muscles.
Can People Who Have Suffered Spinal Cord Injuries Walk Again?
It depends on the level and severity of the spinal cord damage. C4 SCIs often paralyze their victims below the nape. These people should concentrate on the potential recovery of their arm functions.
Lumbar and sacral spinal cord damage may primarily leave the victim's arms and upper trunk unaffected. In this case, rehabilitation therapy may improve endurance and strengthen muscles, as walking may be possible with assistive devices.
People with incomplete spinal injuries have a better chance of walking again and regaining sensory functions through rehabilitation recovery than those with complete SCIs. Still, the chances of regaining standard motor control are significantly low.
Contact Ehline Personal Injury Law Firm and Get a Free Consultation
If you or your loved one have recently suffered a C4 spinal cord injury, get in touch with our Los Angeles personal injury attorneys and receive exceptional and unrivaled legal services. We can immediately get you in contact with a reputable doctor to provide you with excellent medical advice.
We can also deal with the insurance company in your stead and help you recover your medical expenses, including pain and suffering damages and lost wages. If your situation leaves you unable to come to us, we can come to your side at any moment, whether at your home, office, or hospital.
Receive a wealth of helpful information from our charismatic and compassionate Los Angeles spinal cord injury attorney today by calling (213) 596-9642. We have over 15 years of experience to back us up and have won numerous related cases!
<