Former U.S. Marine Trial Lawyer and Car Crash Law Firm. We Fight For Internal Bleeding Victims In Greater LA. So you've suffered a car accident with inner bleeding. What now? These wounds are associated with fatal consequences. Top internal injury attorneys created this page to provide you with a legal framework of advocacy which historically has led to the successful recovery of several million dollars in verdicts and settlements for motor vehicle accident victims. These include victims suffering external weakness and common internal injuries.
Since symptoms don't always alert you to serious health danger, this guide covers steps and tips to help navigate the challenges of internal injuries. Michael Ehline created this guide to remind us to call 9-1-1 for the treatment we deserve in an emergency, especially for car accident injuries on busy roads. It remains one of the worse conditions and must be treated quickly and properly.
What is An Internal Bleeding Injury?
Internal bleeding is medically known as a "hemorrhage." In a nutshell, this occurs when blood loss leaks from one or more vessels to other organs. But unlike a cut or laceration that visibly bleeds and clots externally, these internal injuries show pooled damaged vessel blood clots underneath skin tissue.
Usually, in a car accident, you will notice bruises on your face, elbows, and legs. Your spine, torn muscles, head, and extremities flail around and strike complex objects inside vehicles. Sometimes you must seek medical treatment to discover whether you suffered internal injuries in extreme-reaching areas. (Ex: liver or lung, cutting off oxygen).
Bus passengers get hit by flying luggage during a car crash and lose consciousness. Complications caused by some types of bruises won't always heal. Ehline Law is an award-winning personal injury law firm in the United States headquartered in Los Angeles. Satisfied clients know our superior injury attorneys have over a decade of experience winning and maximizing damages compensation awards.
Ehline Law firm's lawyers serve people injured in accidents involving a passenger car, motorcycle, dog bite, bicycle, cruise ship, wrongful death, and physical injuries caused by a defendant's negligence.
Why Choose the Author's Expertise, Authority, and Trust, Michael Ehline?
Our highly skilled and awarded personal injury lawyer Michael Ehline knows legal claims. When a car accident victim retains us after a free consultation, we'll focus on holding liable people responsible for your car accident injuries, etc. Victims who seek compensation when they sustain internal injuries to a body part caused by auto accidents or other mechanisms may contact us 24/7 by phone.
We'll teach you how to make liable parties pay for related internal injury with blunt force trauma or brain strikes. Our expert negligence attorneys will teach you to pursue a successful claim for damages. All internal injury victims deserve a sense of confidence and self-reliance.
Awards and Recognition
We have hundreds of positive online reviews from our clients. Michael is the recipient of many Super Lawyers Rising Star Awards. Also, the Los Angeles Daily Journal, California Lawyer, Newsweek, Forbes, Cruise Addicts, and Hollywood Weekly Magazine featured our law firm. We've practiced personal injury law for over 15 years with significant asset recovery on file.
Millions Recovered
In the process, my aggressive staff and I have passionately helped severely injured clients win over $100 million in verdicts and settlements for car, truck, bus, motorcycle, and other accident claims all over California.
The information below helps car accident victims who suffered internal injuries. (Ex: a broken rib, horrible bruising, lividness, or other internal organ damage) Patients deserve to be fully compensated for internal injuries caused by wrongdoers.
Symptoms of Internal Injuries
Visible bruising or blood in urine caused by blunt trauma remain a visible symptom all can see. Internal injuries caused by car accidents may not surface until you undergo extensive diagnostic testing to check for ruptured vessels and initiate treatment.
Internal cavities at risk include:
Abdomen rupture (abdominal soreness at the right shoulder of the abdominal wall and right side suggests liver damage and abdominal aorta aneurysm from a wreck or bad fall.)
Retroperitoneal Space
Loins/thigh area
Chest cavity
Pelvis.
Car Accidents and Internal Bleeding
Many internal injuries sustained arise immediately from slipping and falling or dog bites. Ruptured circulatory vessels and deep puncture wounds are not super common in fender benders. We don't always think of internal injuries from motor vehicle accidents unless it's a high-speed car crash. Were you hit by a big truck instead of a more minor, lighter electric car wreck or motorcycle crash?
Testing shows even in a low-speed crash, drivers and passengers aren't the best judges of organ damage or life-threatening complications they may suffer. Helping shock victims fight is our law firm's forte. Most victims were happy when they settled during negotiation or at a secure mediation.
Many internal injuries sustained arise immediately from slipping and falling or dog bites. Ruptured circulatory vessels and deep puncture wounds are not super common in fender benders. We don't always think of internal injuries from motor vehicle accidents unless it's a high-speed car crash. Were you hit by a big truck instead of a smaller, lighter electric car wreck or motorcycle crash?
Testing shows even in a low-speed crash, drivers and passengers aren't the best judges of organ damage or life-threatening complications they may suffer. Helping shock victims fight is our law firm's forte. Most victims were happy when they settled during negotiation or at a secure mediation.
Importance Of Calling An Ambulance?
A person with bleeding organs after a decelerating trauma accident. When you've sustained internal injuries, avoiding life-threatening, serious complications means you must receive immediate medical attention. (Ex: a car accident can cause shock, a ruptured spleen, fluid on the lungs, organ failure, traumatic brain injury, broken ribs, other symptoms of internal bleeding, etc.).
Most emergency medical technicians ("EMTs") will know right away, even with no outward symptoms, if the bleed rate and location require prompt contingency surgery and medical evacuation.
For transportation, a trained medic will eventually stabilize the decelerating trauma wound victim's artery, legs, arms, neck, etc..
Remember, this professional medic might have treated hundreds or more injuries caused by car accidents alone, not to mention other blunt trauma cases. You can prevent hemorrhagic shock and fatality with emergency medical assistance. Only leading, medically trained personnel can diagnose the extent of the severity of the bleeding in your blood vessels.
CAVEAT: When African Americans Sustain Internal Injuries?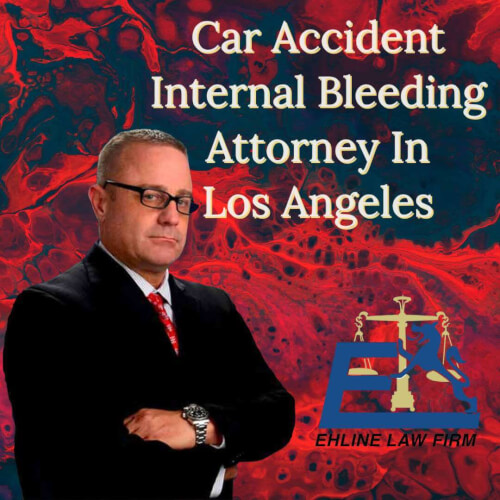 This remains the less visible yet scary injury that kills more African Americans. This population group will suffer from genetic sickle cell anemia issues.
Eggshell Skull and Sickle Cell Anemia?
When we think of discrimination, auto accidents are colorblind as an equal opportunity employer of misery. Car accidents can be dangerous for anyone. But for some black people, a straightforward low-speed bumper strike can kill anemic occupants.
Superficial bruising. That hurts some more than others is covered under the eggshell skull rule. Here, the negligent party must pay the additional amounts to cover anemic victims. Insurance adjusters need to be educated when their loved ones face this problem.
Car Accident Injuries, Hemorrhaging, and Getting Paid
A car crash caused by someone else's negligence can happen immediately in the blink of an eye. For some severe injury victims, some accidents may seem scarier than others. Traffic accidents can be small, resulting in whiplash or merely broken ribs. But car crashes cause permanent, visible injuries and take people's lives.
Seriously injured victims who survive horrific accidents will face arrays of stunning new challenges. Your loved one might become disabled and remain unable to live as before the car accident caused injuries. Internal fluid loss is one of the ultimate injuries.
You can receive permanent internal organ or brain damage and become disabled or paralyzed. A low-impact fender bender can reactivate old wounds or prevent a pre-existing condition that triggers uncontrollable bleeding, kidney damage, or lasting brain damage. Human bodies accelerate and decelerate as one object rarely. Generally, the severity of occupant injuries in motoring accidents depends on travel speed, the angle of the collision, and other parts involving biomechanics in many cases.
But broken bones or whiplash aren't just involved. Medical bills and lost wages are impossible to recover fully during insurance company compensation negotiations without the right accident attorneys.
Hiring The Right Law Firm
A contingency fee basis law firm is best suited for helping victims fight in such a case. Complications and shock are lessened when we prove your claims aren't false to insurance companies.
Even A Light Crash Causes Internal Bleeding?
A high-speed car accident often results in trauma, internal injury, and external bleeding to a person. However, even small bumps causing light abdominal pain can create a type of abdominal aorta rupture, a ruptured spleen. (See also pneumothorax, closed head wounds, or punctured cranium.).
So getting car accident lawyers and a doctor's immediate help is highly recommended when the victims show no outer injury signs. Emergency responders can identify many common symptoms and dangerous types of internal injuries you can't. Don't place yourself in medical jeopardy when these types of internal injuries occur.
What are the Main Symptoms of Deadly Clots?
There are many common symptoms. Keep in mind it's best not to self-diagnose. Tests and evaluations will examine concerns and make you aware of the infection, a clot, or a lung collapse.
You could have kidney damage or another medical emergency like a compressed spine. A free case review from our law firm can hold those who cause internal bleeding liable for compensation for death or serious injuries.
Here are the expected impacts that could result in internal bleeding:
Trauma From Blunt Force?
Anytime a blunt object hits someone with force, the affected body organ can become compressed. Excessive pressure causes internal organ bleed, including an abdominal aorta aneurysm.
Examples include:
It was hit in the head by a flying chunk of rubber tread that exploded into your traffic lane from a blown big rig truck's retreaded tire.
Internal injuries from false arrest or an arrest that exceeded force use. (Ex: handcuffs were so tight that the bleeding victim had nerve damage to their wrists, etc.).
Civil rights violations and assaults cause other types of internal bleeding injuries. In short, this is a severe type of internal bleeding that needs immediate medical attention.
Impacts Due To Sudden Stops?
When a vehicle has an accident, it comes to a stop all of a sudden. But human bodies do not have excellent resistance to such sudden stops. Sometimes these quick stops cause the brain to smash the cranial walls with pressure, floating inside the skull.
Internal injuries in the head or brain are considered severe damage causing brain swelling. Any internal injuries must be addressed promptly to avoid sustaining permanent injuries or death.
Penetrating Trauma: A deep puncture wound remains a possibility. Sometimes, an object in the car, like a shifter or steering wheel, can break off during a painful, violent motor vehicle collision. Because of this violence, sometimes at freeway speeds, coupled with a manufacturing defect, broken, sharp, spearlike pieces of the vehicle's interior can act like lances or spears against drivers and passengers during a forward trajectory or side impact. Some objects might cause a typically fatal puncture wound as bodies accelerate. Car parts can deeply penetrate the lungs, spleen, stomach, belly, or other body parts with or without airbags. A broken-off piece of a freshly crashed motorcycle or some rioter's brick can easily lead to hemorrhaging complaints from organ perforation, rib punctures, or brain damage, leaving victims needing surgery. (A BLM protester's flying object can break your safety glass, tear and penetrate your body with momentum similar to a vehicle collision.).
Injury Caused By Medication?
People take a lot of medicines and potent drugs for a variety of reasons, some with substantial side effects. One side effect potentially includes internal bleeding inside the organs.
Such side effects of medication can arise when the doctor improperly diagnoses the patient with the wrong condition after a car accident. When patients end up with lousy medicine, they're left with a medical malpractice claim and far less compensation.
How Would You Know Internal Bleeding Has Occurred?
An internal injury accident victim shows several signs. Outward symptoms warning of a medical emergency are not always present.
The most common signs include:
Clammy skin can be a sign of internal bleeding, especially when coupled with sudden blood pressure drops. Your pulse will increase to a high degree or fluctuate.
Sometimes the victim's skin shows evidence blood vessels reached the skin's outermost layers. (Fractured ribs or abdominal area wounds can prevent oxygen from circulating)
Feelings of dizziness upon standing up.
Bleeding from the nose and ears warn injured victims of a major organ damage condition early on.
Internal bleeding may exist if your body looks inflamed, and light touch hurts the wounded area.
Whatever causes internal bleeding can spread. Other bodily organs, including the brain and eyes, can be harmed by ruptured blood vessels. Extensive medical care creates large medical bills if a car accident causes broken ribs, ruptured spleen, or damaged liver or kidneys.
If you or a loved one has internal bleeding, the brain effects would include the following:
One side of the body might start to feel weak and numb
Noticeable slur while speaking
Tiredness and lethargy
Nauseating sensation
Vomiting
Fainting
Coma.
A lung collapse can be fatal and cause much confusion if you don't seek medical attention and incur medical costs early on. Permanent brain damage may occur anytime the air is sucked into the chest after a car wreck.
Some other symptoms include:
The person will notice floating objects in the vision while looking at things.
The person might completely lose their eyesight.
The vision is blurred, smoky, or hazy.
First Aid – How Will You Medically Treat Internal Bleeding?
First, if you have noticed any of the signs, an emergency evacuation to the emergency room allows ER doctors and general physicians to fix the problem during the first few weeks. These leading physicians may suggest combining diet, exercise, prescription pills, and tablets to cope with discomfort or infection.
And any ruptures, punctures, and compressions give you ample and immediate reasons to undergo surgical repair to heal, even if you think it's unnecessary for your safety. You must protect your legal compensation rights as an accident victim.
Above, we covered car accidents and blood vessel damage, including potential complications such as sickle cell anemia, causes, stabilization, tips, and treatment.
Day in the Life Videos, Pictures, and Journaling
Evidence is the most critical component of personal injury cases. Once the plaintiff proves that the defendant's breach of duty was the cause of the plaintiff's harm, this "liability" phase ends. Now the "damages" personal injury lawsuit comes. This is where we ask the jury for money.
You get to ask for reimbursement of past medical charges and other expenses. You can also seek pain and suffering for your hassle and trauma over your average life expectancy. (Ex: adaptive devices, x-ray, ct-scan charges, ongoing care, future medical help.
Generally, there are two types of damages:
Economic losses and other particular income resulting in financial damages like your bills from unpaid sick time. These include lost wages and covering time missed from work. And time and a future reduction in income earnings caused by the dangerous accident are figured in.
General losses for emotional distress damages, physical pain, suffering, and consortium loss.
Punitive Damages. People falsely assume these are normal.
Gathering proof of economic loss is relatively easy. Subpoenaing your bills and getting expert witness testimony for a jury or insurance adjuster remains straightforward. A more nuanced and almost theatrical approach remains necessary to enhance the empathy of jurors.
Documenting Injuries
That is the best and more proven method of convincing an inconvenienced jury to see you as an ordinary person who gets out of bed every day just like you. Our great trial lawyers have won clients vast amounts of money for past, present, and future pain, suffering, and medical treatment. But no windfall guarantee exists in every case.
You can show inconveniences when you show the jury and adjuster your daily life videos, images, and a written journal over time. We, lawyers, call this pain and suffering, and it's a massive part of your case.
TIP: Document how you are affected by your injuries daily, from hour to hour — Anemics and others with immunodeficiency disorders can have drastically more significant pain and suffering than a similarly situated person with ruptured blood vessel-caused internal bleeding.
A perfectly healthy insurance worker or juror who has never experienced a ruptured blood vessel may not understand how this occurs. So victim's journaling and documentation help. Now they can proffer slideshows and PowerPoint presentations of before and after pictures, newspaper clippings of achievements, etc.
Most of all, this tangible proof helps place a dollar amount on the claim covering intangible fear victims faced, looking death in the eyes. This allows jurors to see you suffer during the healing process. This helps patients who are less responsive than before heal from a TBI.
To recap, your most effective method for overcoming ambiguity will be documenting how the car accident hurt your body and sanity.
What Are Some Examples of What a Day in the Life Journal or Other Content Should Contain?
Journal your appointments, times, places, and conversations with doctors and hospital employees.
Document drive time to appointments, including additional hours spent getting physical therapy, picking up prescriptions, and other related inconveniences.
Keep a journal section documenting "1 through 10" pain levels throughout the day. (e.g., on a scale of one through ten, with ten being the worst agony, what is an example of your pain level right now?)
Make notes about activities you must pay someone else to do, like washing dishes, yard work, etc. Another example includes paying for an Uber, Lyft, or a rental car while your car or motorcycle is repaired or replaced. Or maybe you permanently need a special van for a wheelchair. Document all of this! And make notes work deficiencies like typing.
Make notes about missed graduations, weddings, and birthdays of your kids, grandkids, and other family members. Include copies of invitations and proof that you didn't just make up all of this stuff.
Document times you couldn't sleep due to worrying about your house payment or feeding your kids now that you're disabled. Talk about the chronic fear of your face as your delicate and guarded condition worsens. Chronic pain and anxiety harmed your relationships and led to divorce or suicide in your family, all before your case was eventually settled.
You must realize that healing remains a time for reflection and putting your needs before receiving total compensation. Lawyers can help with legal representation for circulatory system injuries, internal and hidden, requiring surgery. Please don't delay speaking to our legal expert about a just settlement.
Contact An LA-Based Car Accident Internal Bleeding Lawyer Today
Are you interested in forming an attorney-client relationship with our law firm? If you live in Los Angeles, California, schedule a free consultation with Ehline Law Firm's injury lawyers. We're committed and professional and remain genuinely kind and caring. At the same time, our services inspire and determine confidence in the outcome.
Call our phone number toll-free at (213) 596-9642 for services to prove your case. Use our website contact form today for secure, prompt service 24/7, reaching most people areas across California immediately. (Do not include personal or sensitive information concerns as you fill out the hire form.).
Main Los Angeles Location
633 W 5th Street #2890 Los Angeles, CA 90071 (213) 596-9642.