If we don't win, you don't pay.
Speak to the Attorney.
Born to serve.
633 W 5th Street #2890
Los Angeles, CA 90071
(213) 596-9642.
Date Modified: June 15, 2023
This is the Ultimate Guide to Compensation for Quadriplegia in CA. Were you permanently disabled in a Los Angeles car accident and need a top-rated Los Angeles personal injury lawyer? Below, our compassionate, award-winning attorney, with over a decade of experience, will break things down for injury victims and their loved ones.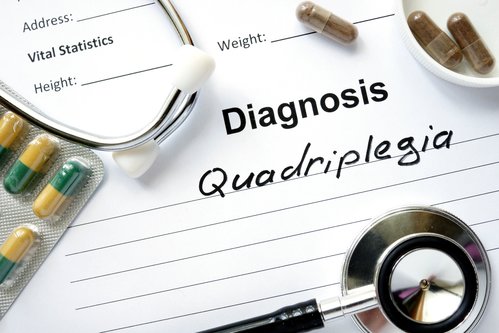 Get a Free Consultation with Ehline Law
Sports injuries and other negligently caused harm emanating from California are injuries no family wants to face. We will discuss Tetraplegia injuries in this post, how our lawyers for quadriplegia injuries handle insurance and government claims, and how to obtain economic damages for back injuries in a quadriplegia injury case. We will use a standard negligence legal approach to help you recover injury-related compensation for all upper and lower extremities or lower body harm.
In most cases, those involved in each personal injury case causing quadriplegia deserve financial compensation to recover lost wages and any other recoverable damages. It doesn't matter if we deal with car accidents or sports injuries; Ehline Law focuses on improving our clients' lives suffering any sports injuries, such as back injury claims, blood clots, or loss of bowel control complications in Los Angeles CA.
In contrast to wrongful death, a typical Los Angeles quadriplegia injury is a total loss. This claim requires ongoing nursing care, physical rehabilitation for life, as well as psychiatric counseling if you want justice. These quadriplegia cases are some of the priciest and most complex tort cases against negligent parties affecting their four limbs and daily living.
Victims' families will need a top-notch Los Angeles quadriplegia injury attorney to gather proof and put together a compelling argument to restore their everyday lives. Additional and heavy obligations are placed on survivors of quadriplegia victims, including long-term pain brought on by these severe spinal cord injuries, years of physical treatment, medical care, and other concerns of paralysis victims.
Our Los Angeles office will fight by your side. Our resources and representation ensure you'll get the proper medical attention, legal assistance, and compensation you deserve.
Tetraplegia Injuries Are:
The victim may become fully paralyzed, unlike with paraplegia injuries. Quadriplegia caused by another person's negligence during a car accident creates extreme physical and emotional stress and significant financial hardship for the surviving families. There are other reasons for back injuries; the final consequence is an expensive, painful condition.
Victims must pay for the following:
Nurses
Special medicine
Loss of employment
Specialist visits, including other items.
Victims must not tackle their case independently; they must first hire a top-notch quadriplegia injury attorney who assists clients like you in obtaining compensation for situations involving paralysis from the neck with zero sensation or movement capabilities.
How Quadriplegia Pain Affects Families And Society
A caring family member sitting by the paralyzed person's side will significantly help. Wives, spouses, parents, and kids are still crucial to rehabilitation, but they are also under much stress when a primary breadwinner dies.
Your ability to make payments on your debts and maintain your standard of living may run out. Victims who are disabled are often left destitute, face homelessness and prejudice, and experience despair and PTSD.
What Are the Differences Between Quadriplegia and Paraplegia?
Quadriplegia is a spinal injury that causes a person to lose all motor function from the neck down. In contrast, paraplegia often leaves your hands free and immobilizes only your legs.
A parent or kid who develops quadriplegia due to a serious accident will experience education, career, and business losses, estrangement from their families and society, and spiraling life spiral out of control.
What Serious Tetraplegia Spine Injuries Can Ehline Law Firm Help with?
Our company's area of expertise is handling:
Neurological damage to the spine, including partial and total paralysis.
We have experience gathering all the data related to the incident that resulted in the quadriplegia injury and structuring it for court.
We confer with investigators, surgeons, and accident reconstructionists as we spend hours developing arguments for juries and judges.
Tetraplegia patients like you can benefit from our assistance by receiving treatment and providing testimony:
Neuropsychiatrist
High-Level planner
Essentially, for you to have the best possible chance of winning, we are prepared to pay the fees to hire these experts. Our company has the expertise and foresight to present these arguments to a jury and secure the highest settlement amount. Former marine Michael Ehline, our primary attorney, understands the agony of those with these conditions. Let our team handle this for you.
How Does Your Quadriplegia Disability Relate to Negligence?
Negligence or carelessness on the part of a person continues to be a pivotal contributor to quadriplegia, including:
Motor vehicle accidents on PCH and motorcycle accidents
Slips, trips, falls
Workplace negligence
Roadway defects
Defective products
Medical malpractice
Acute infection.
In addition to the individual who initially injured you or your loved one, your doctor could also be held liable for torts if they incorrectly diagnose your hematomas or any other professionally discoverable condition, such as an infection or compressed spine. Only qualified quadriplegia injury lawyers, like our law offices, know the winning strategies to use in quadriplegia injury cases to secure you an award of the maximum compensation.
Which Negligence Can Lead to Quadriplegia Situations?
About half of the spinal cord injuries in the United States are caused by auto accidents; the worst of these can result in paralysis injuries.
Products that might cause injuries include faulty chairs or lap belts paralyzing users. Each year, quadriplegia injuries affect 6,500 persons in America. Also, 130,000 people live with quadriplegia, which stresses victims and their loved ones tremendously.
What Are Some Examples of Real Victims and Causation?
Many people with paralysis are now or have previously been essential members of society. Even the most skilled quadriplegia injury lawyers were powerless to restore these victims' use of their arms or legs. The actor who played Superman, Christopher Reeve, suffered a spinal cord injury when his horse tossed him while chasing steeples.
Stephen Hawking, a physicist, was paralyzed by the spinal condition "amyotrophic lateral sclerosis," which also caused his untimely death. Mark Zupan, a well-known wheelchair rugby player from the United States, was severely injured in a vehicle accident and became a quadriplegic.
What Are Some More News Examples of Greater Los Angeles Spinal Cord Injuries?
On January 4, 2001, while Leon Bostick was working out at Gold's Gym Venice, weights fell and shattered his neck, leaving him permanently disabled and subject to a sizable compensation for bad faith. The PV School District is holding a hearing to determine if a paraplegic girl may enroll.
In one instance, a quadriplegic individual got stuck on a ride at Disneyland. Another incident involved a young woman who was injured in a car accident. None of them or their loved ones could resume their usual lives even after hiring a spinal cord injury lawyer.
What About Involuntary Function Issues?
Quadriplegia injuries frequently result in involuntary body functions, including:
Respiratory issues
Digestive issues
Continuous coughing
The excretion of body waste becomes difficult, involuntary, or even impossible.
What About Getting Paid for Groundbreaking Medical Treatments in the Future?
Potential therapies are being developed that may benefit people with a paralysis injury, such as:
Robotic Body Suits
Stem Cells
These spinal cord treatments are, sadly, years distant. Dealing with current pain and paralysis will need great care to guide you through this terrible time after suffering a quadriplegia injury. However, a vital spinal cord injury attorney might be able to demonstrate that you are entitled to compensation for future physical therapy and medical expenses.
What About Receiving Money for Inability to Perform Everyday Tasks Due to the Spinal Cord Injury?
The bottom line is that, in most situations, your mouth is still your only fully functional body part, and those with this condition need help with clothing, feeding, and washing them for years. Few people who are not disabled can ever really understand the pain and suffering these quadriplegia injury victims experience.
Does Choosing a Top-Notch Los Angeles Personal Injury Attorney Improve Your Chances for Financial Recovery?
Yes. Absolutely! These catastrophic injury situations fall on the end of the spectrum. Quadriplegia victims often experience irreversible nerve damage, making recovery from their injuries unlikely for decades after suffering a quadriplegia injury.
People living with paralysis must consult with a personal injury lawyer. In the circumstances requiring paralysis, a Los Angeles quadriplegia attorney to assist will be essential in covering your supported living and medical care.
Set Up a Free Consultation with Top Los Angeles Quadriplegia Lawyers Right Away
One of the worst conditions a person can have is quadriplegia. There isn't much worse than being confined to a stationary position with no complete control over your body. You are aware that the moment has come to establish an attorney-client relationship. Therefore, give a Los Angeles quadriplegia lawyer at the Ehline Law Firm a call. Get a free, no-obligation consultation. We will handle your personal injury lawsuit on a contingency basis, as there is no risk to you if we accept your case.
Re-create your life right away following the devastating consequences of sports injuries, car accidents, or any cases involving a paralyzed person. Plan a free consultation with our legal team. We have recovered millions to help cover medical bills and other medical costs, lost wages, and more. Get a free consultation by dialing (213) 596-9642 today!
Michael Ehline is an inactive U.S. Marine and world-famous legal historian. Michael helped draft the Cruise Ship Safety Act and has won some of U.S. history's largest motorcycle accident settlements. Together with his legal team, Michael and the Ehline Law Firm collect damages on behalf of clients.
We pride ourselves on being available to answer your most pressing and difficult questions 24/7. We are proud sponsors of the Paul Ehline Memorial Motorcycle Ride and a Service Disabled Veteran Operated Business. (SDVOB.) We are ready to fight.