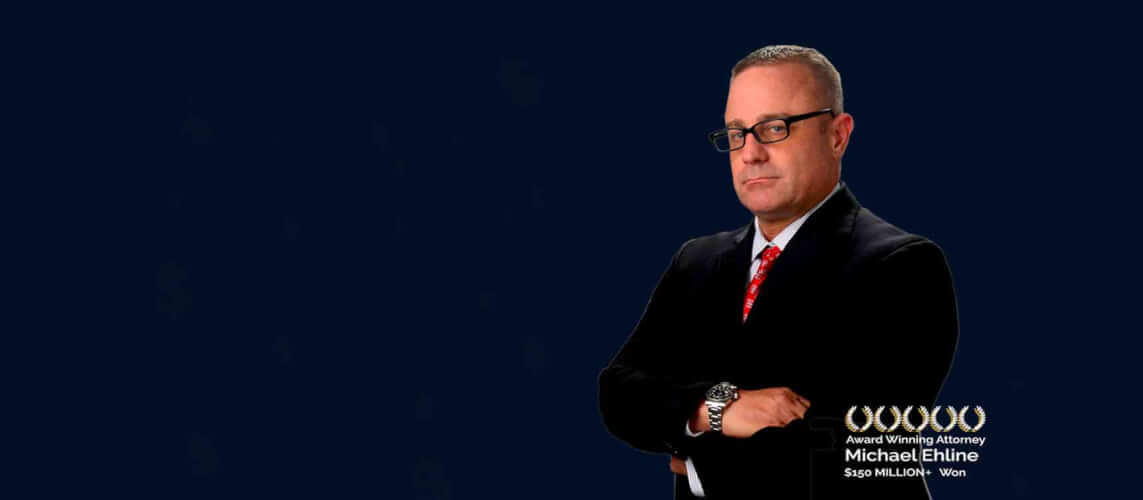 An electric current from a live wire can kill a human being, and each year in the United States, more than 1,000 people die of serious burns from an electric shock. Upon contact with a live wire or lightning, the electric current enters the body and flows through the body as it exits from one end resulting in electrical burns and, in many cases, thermal burns.
I am Los Angeles burn injury lawyer Michael Ehline. I am lead counsel for Ehline Law Firm Personal Injury Attorneys, APLC.
I am an expert in electrical burns and a former licensed C47 contractor with special knowledge and skill in California building codes and electrical laws.
What Is an Electrical Shock?
The violent response from an electrical flow through the body is what experts refer to as an electrical shock. There are two types of electrical injury a victim may receive; primary and secondary.
Primary electrical injuries include burned skin, tissue damage, and other internal injuries from the flow of electricity. In contrast, secondary electrical injury refers to indirect damage from the current, like falling, as the shock can be enough to throw a human around.
Electrocution occurs when an individual dies when in contact with an electric current. The electric source could be from lightning strikes, stun guns, exposed wire extension cords touching metal objects, and anything else not at the negative ground.
All the damage from associated burns and nerve damage can take ten days or more to develop. Often, the burn damage is relegated to the area where the electricity passes through or leaves the body. In some cases, blood vessels may be damaged or destroyed as the electricity passes through your body.
How Much Current from an Electric Shock Is Dangerous to Humans?
Humans are great conductors of electric currents due to the tissues and blood cells, and the amount of current that flows through the human body determines the damage. The electric current heat the tissues and stimulates the muscles, which can result in many different injuries ranging from a fall to a cardiac arrest.
Let's look at the milliamperes (mA) needed for the following estimated effects of 60 Hz AC currents:
One mA – Does not cause any injuries
16 mA – Enough to hold and let go by a person (visible injuries)
20 mA – Respiratory muscles paralysis
2 A – Cardiac standstill with internal damage to the organs
20 A – Tripping of fuse breaker.
A relatively meager amount of electricity can cause physical damage to a current electrical victim considering 20 A can trip a fuse breaker.
Skin Resistance and Electrical Injuries
The skin provides the highest resistance to an electrical current in the human body, and dry, damaged skin (calloused hand) has even higher resistance. However, underneath the skin, the cells and blood offer the least resistance due to their wet nature and are great conductors of electricity.
High-voltage electricity can break skin resistance, causing cuts and allowing the current to pass through a person, and more current passes through if there are fluctuations in the voltage.
Coming into contact with water can also break skin resistance delivering a nasty electrical shock that can kill or maim an individual with burn injuries in extreme situations.
Large and fluctuating voltages can cause electroporation and cell membrane damage, which can happen if coming into contact with an electric cord or electrical outlets.
Does Electricity Stay in the Body?
Although electrons are present in the body, they are harmless unless these electrons get charged. When coming into contact with a live wire, the electricity flows through the body charging these electrons that start to move incredibly fast, resulting in internal injuries.
Electricity does not stay in the body but passes through, charging the electrons that cause damage to the victim. Electricity travels at the speed of light, so there is no way for it to stay in a body but travel through it, exiting from any point.
When Should You Call for Help?
You should contact a family medicine doctor or call a local emergency number immediately if you start to feel the symptoms of an electric shock.
There are many different symptoms of an electric shock, but those that warrant a quick call to local medical professionals are as follows:
Fever
Increased swelling and blistering
Breathing difficulties
Change of color in urine
Weak muscles
Pus draining
If you're unsure whether or not you need medical treatment, contact the local emergency number, which will provide medical advice based on your situation or symptoms. (tingling sensation, numbness, loss of consciousness, weakness, infection, loss of motor function, heart arrhythmias, or loss of use of limbs.).
You'll be treated fairly and with compassion during our free consultation to discuss our legal services and identify any parties with liability to pay your medical bills, pain, suffering, and other emergency hospital expenses. Don't delay, as you could blow the statute of limitations for a civil case.
Contact Ehline Law for Your Electrical Injury Today
Get a free consultation with our expert Los Angeles personal injury attorneys today for a case evaluation. For example, our Healthwise logo of the Griffin protecting justice says it all. When victims seek legal aid after severe nerve damage, burns, scalds, or other injuries occur, burn victims can count on us.
If you've got electrical injuries that were not your fault, you may be eligible for compensation for your losses. Contact us at (213) 596-9642 before the danger, and warning signs become more severe.