If we don't win, you don't pay.
Speak to the Attorney.
Born to serve.
633 W 5th Street #2890
Los Angeles, CA 90071
(213) 596-9642.
Date Modified: June 11, 2023
Welcome to the Los Angeles injury lawyers at the Ehline Law Firm. You found your way to our page on electrical shocks personal injury law.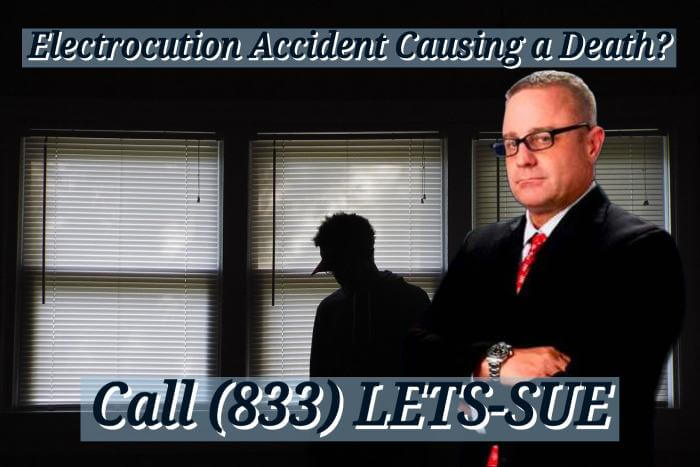 Consult with Fatal Electrocution Injury Lawyers
As one of California's busiest cities, Los Angeles is, first and foremost, full of risks for citizens, employees, and tourists. Electrical and fatal accidents are real risks due to the area's outdated infrastructure, bad roads, and problematic underground transformer vaults.
I'm Michael Ehline, a Southern California accident attorney. We'll go through my expertise in electrical shock injuries in more detail below, along with my law firm's numerous credentials. The unique hazards and victims of electric shock in Los Angeles will be covered next. We'll also talk about how someone else's negligence can result in a fatal electric shock.
Then, presuming that someone else was to blame for the electricity injury or death, we will consider the various legal remedies regarding financial compensation and who is obligated to pay for medical bills, lost wages, and legal claims.
Before we discuss that, let's first learn about our trial lawyers' background and experience with electrical shock victims and their surviving family members in Los Angeles.
Why Choose Ehline Law to Handle Your Wrongful Death Lawsuit?
In summary, excitement is what makes the difference. We treat everyone with decency and respect, much like our U.S. Marines do. Thus, we continue to show everlasting dedication to our clientele. Our legal professionals also work quickly.
We're all sick of phoning lawyers just to be let down by how unprofessional and nasty they seem on the phone, right? After nearly losing his life in a passenger car accident on the 55 Freeway as a teenager, our president, Michael Ehline, shared these sentiments.
The attorneys he dealt with were ignorant of people's difficulties in the "real world." First, Michael Ehline, our principal attorney, read law in law practice before passing the bar exam. According to his account, he began his career in personal injury litigation as a paralegal. What other qualities does Ehline possess to make him a better choice for your legal counsel?
On behalf of a deceased person's estate, an experienced lawyer from our office can seek compensation for economic and non-economic damages (medical expenses, pain, and suffering, including the fear of impending death, mental agony, physical discomfort, emotional distress while still living, etc.) Schedule a free legal consultation today!
Michael Ehline Is Knowledgeable About Complex Electrical Injuries and Laws
Ehline held a C-47 contractor license. Mike was raised in the Los Angeles and Orange County construction industry by his B-1-licensed father. Michael, therefore, possesses comprehensive knowledge of electrical codes and electrocution accidents.
Additionally, as a personal injury lawyer, he is familiar with state and local building laws.
Severities and Risks of an Electric Shock Injury
Electrocution injuries can range from minor to deadly. We are aware that Los Angeles has many old transformers and aging electrical infrastructure, even though there are no statistics on electrocutions and deaths specific to L.A.
Reports of catastrophic explosions, fatal injuries, and deadly currents harming and killing customers, workers, and construction site visitors are all over the news channels.
What is known is that, on average, people who live, work, or commute through Los Angeles continue to have a higher risk of electrical workplace accidents than people in the rest of the country—additionally, alarming figures on electric shock injuries nationwide.
The fact that workplace electrocution and cardiac arrest are now the fourth most common cause of occupational injuries and wrongful death lawsuits nationwide should worry construction workers in Southern California in particular.
Around 350 fatalities yearly are caused by outdated, improperly maintained power lines, misaligned electrical equipment, fractured wires, and even unground wires in the construction industry alone. However, even then, L.A. City and County have wholly ignored our above-ground and subsurface electricity lines.
Investigating Recent Electrocution Wrongful Death Lawsuits in L.A
According to CBS News Los Angeles, the decedent's survivors in a Valley Village Electrocution sued the L.A. DWP for wrongful death. Furthermore, their loved ones "died by electrocution after an accident in Valley Village last year." Therefore, the survivors sued the Los Angeles Department of Water and Power in that case.
The DWP should be sued because they are in charge of maintaining the water and electrical lines in Los Angeles. After all, it is claimed that two female pedestrians died due to water and power mixing.
As a result, the government was named as a civil defendant in the case above. The DWP was accused of improper care and poorly managing water and electricity. In contrast to a construction accident that occurred on a private job site, this case is unique. Because the actors are typically secret, additional concerns with an insurance company and legal action exist.
Additionally, the statutes of limitations issues are very different when using a non-governmental organization.
KEY: Finding Important Witnesses
It's crucial to identify onlookers and early EMT personnel right away. Ideally, the LAPD or Airport Police would record all the witnesses' names, addresses, and phone numbers for you. All of them are components of the puzzle. They can all provide information on who did what and when.
In a perfect world, your personal injury attorneys could request the police report and dispatch a private eye or law clerk to interview onlookers for evidence. The attorney will then write declarations and transcribe them. Then, the attorney or his apprentice will visit these witnesses and ask them to sign these affidavits under penalty of perjury.
What If Emergency Personnel Failed to Compile Witness Information?
No plan survives the first contact, which means that once you are engaged in battle, nothing happens according to plan. Therefore, occasionally, we have to play detective and pull a Perry Mason.
As a result, as part of our investigation, we would look up the first responders' names and try to speak with them. We would attempt to startle their memory of important information, such as recognizing the characteristics of people present at the scene. To try and speak with the person who reported the incident, we would order 9-1-1 transcripts.
More Hints and More Clues
Obtaining evidence is crucial to creating a wrongful death action analysis against responsible parties. Therefore, returning to the electrocution site may be part of our deep dive. We will carry out our particular inquiry there with our engineers and accident recon personnel.
For example, we can approach individuals who might reside or work in the area to ask if they have heard or seen anything. Someone might have already voiced their displeasure at a loud, zapping, annoying frying noise.
Could That Zapping Sound Be Proof?
You better believe it. Perhaps it was background noise or something a resident, like a retired construction worker, would be familiar with from personal experience. Maybe the dog of the local jogger was startled, and the local recalled the strange axial and radial vibration emanating from the windings of a defective transformer.
Perhaps someone inhaled the ozone and nitrogen dioxide that we often associate with a lightning strike during a storm? This is all proof that Los Angeles County or City knew there was a risk but did nothing to make it safe.
This evidence would be secured IMMEDIATELY by a competent attorney. An impersonal attorney can dismiss your wrongful death or electrical injury case out of hand over the phone. We know this since we have accepted numerous electrocution cases that another office turned down or the client fired the attorney. Nevertheless, even though we were late, our team managed to beat a lousy attorney.
As with sales, becoming a catastrophic loss investigator requires you to search the streets. Being a gumshoe lawyer requires thick rhinoceros skin since there is a lot of rejection.
Anatomy of a Wrongful Death Electrical Shock
Electrical injuries may result when a victim's body is included in a circuit. They become imprisoned in a small electrical arc. As a result, this covers incidents like a lightning strike or an arc welder injury. Such kinds of dangerous working conditions are common in the construction sector.
These often happen when a high-voltage power line comes into contact with an electrical conductor or an electrically conductive object. However, it can also occur if a child bites a conductive low-voltage energy source. Therefore, even a D.C. power wire bite could result in wrongful death claims or permanent nerve damage through an electric current.
What Are the Different Categories for Injuries Related to Electricity?
Flash Burns
Flash burns are a known result of an electrical arc. People nearby may suffer significantly since it has the potential to produce a flash of intense heat.
Thermal contact burns, for instance, can occur from contact with hot surfaces or even overheated electric conductors. Thus, this might refer to a conduit or other electrically-charged objects in your workplace, home, or nearby. Each of these severe injuries is capable of happening simultaneously.
Secondary Electrocution Injury
An electrocution injury might be direct or secondary. It might, for instance, be a muscle reaction brought on by an electric shock. Consequently, the tissue reaction in this incident might result in bruises, fractures, and broken bones. The electricity could also damage your nerves. Additionally, this could lead to a wrongful death claim.
Schedule a Free Consultation with Electrocution Wrongful Death Attorneys Today
Ultimately, you will require a monetary settlement to compensate the victims' pain or loss and their grieving relatives. Michael Ehline and his colleagues are prepared to assist, whether you were hurt in an electrocution accident or lost a loved one due to an electrocution injury.
Call a compassionate attorney at Ehline Law Firm immediately at (213) 596-9642 to discuss your California wrongful death cases with a free consultation. If you'd like a quicker response, you can also use the contact form on our website. We're known for having an excellent attorney-client relationship.
Michael Ehline is an inactive U.S. Marine and world-famous legal historian. Michael helped draft the Cruise Ship Safety Act and has won some of U.S. history's largest motorcycle accident settlements. Together with his legal team, Michael and the Ehline Law Firm collect damages on behalf of clients.
We pride ourselves on being available to answer your most pressing and difficult questions 24/7. We are proud sponsors of the Paul Ehline Memorial Motorcycle Ride and a Service Disabled Veteran Operated Business. (SDVOB.) We are ready to fight.