Can I Become A Lawyer Without Attending College or Law School By Reading For The Law?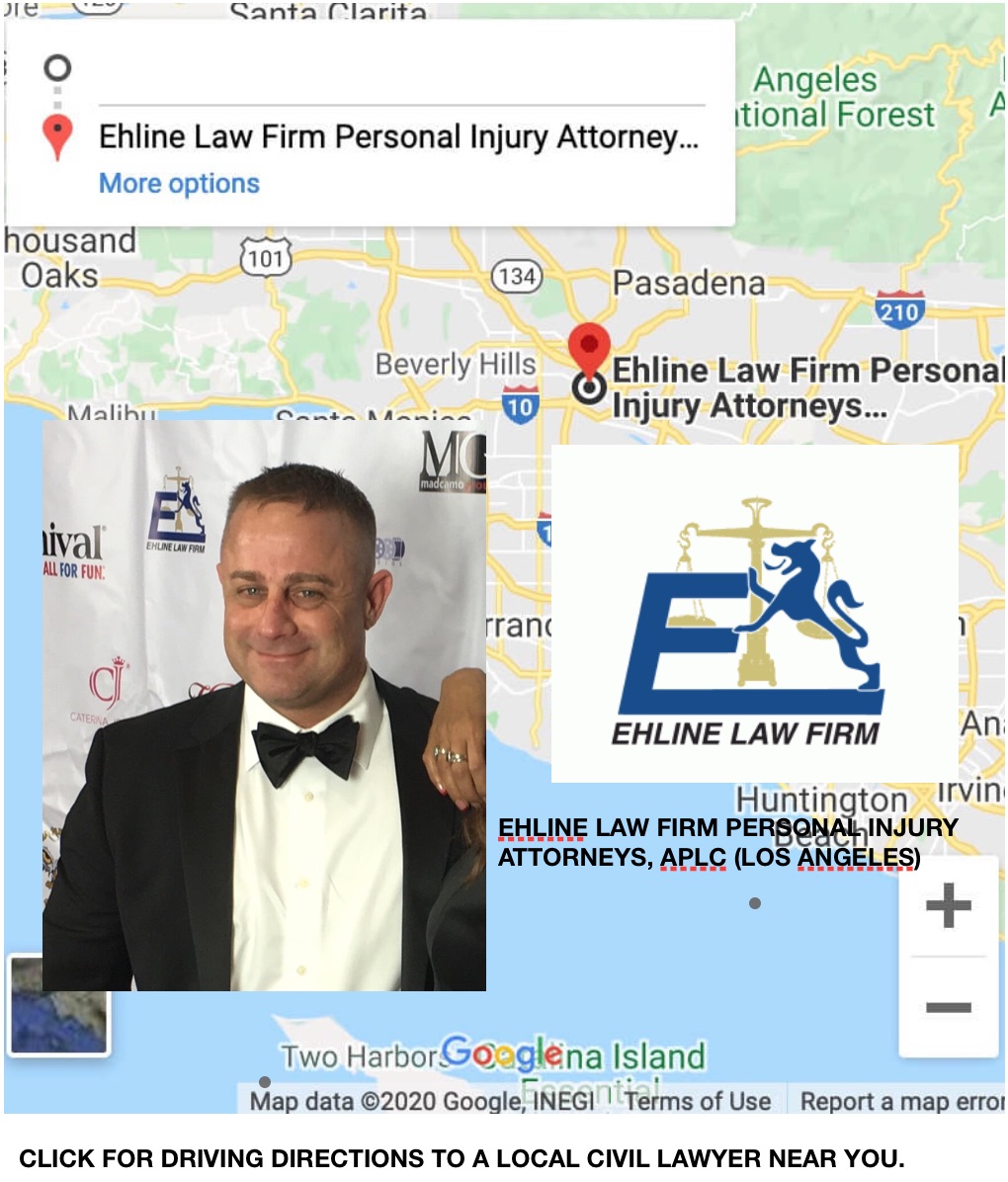 Yes, aspiring lawyers can become a lawyer and practice law without a law school JD. Yes, you can do it, because I did it. No, you don't need law school or a college degree to become a lawyer in several states, including California. I am Los Angeles personal injury attorney Michael Ehline. I became a lawyer with no undergrad or law degree by reading law under several supervising attorneys on my four-year journey to becoming a California lawyer.
---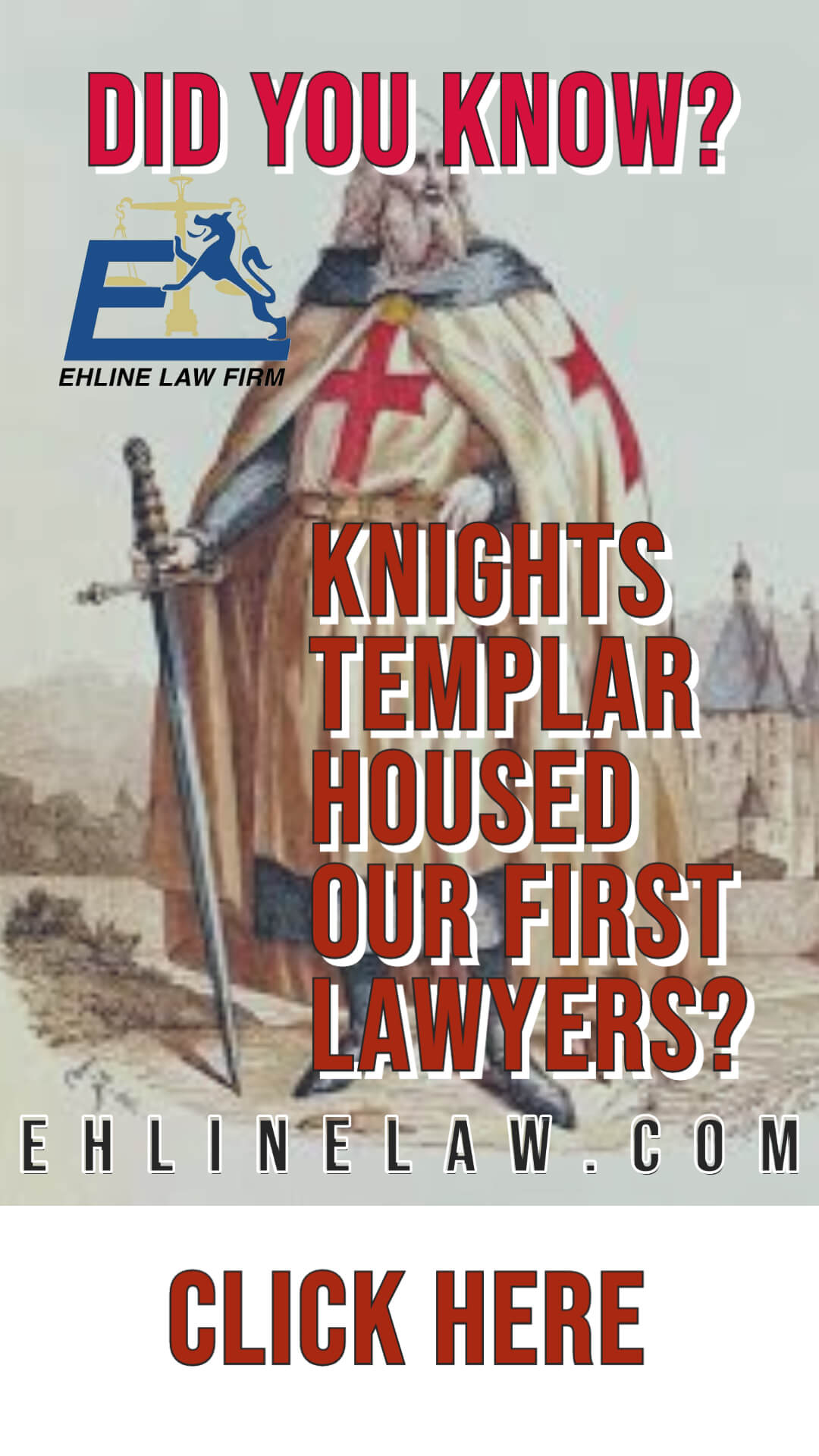 I passed the Baby Bar Exam and General Bar Exam before obtaining any higher degree. You heard right! (Hear the podcast now.) Can you pass the bar without going to law school? You can become a practicing attorney and never consider setting foot in a law school in California, as well as a few other American states. Here is the concise history of Do It Yourself Law (DIY-Law) all the way back to the Mediavel Knights Templar lodged near London, to the few surviving states in North America.
True, reading law no longer remains the prototypical path of most modern attorneys, but it has its benefits for free thinkers. And I loved researching the true story of becoming a lawyer with no law school academy and cataloging it for posterity's sake. Enjoy!
---
The definitive common law history of reading law in the U.S.A. covers:
---
Modernly, attending law school and securing your Juris Doctorate (JD) or law degree from an ABA or state-accredited law school will be a prerequisite before practicing law in most U.S. states. The UK, including its commonwealth, has a similar path. Although I studied law under the California State Bar Law Office Study Program guidelines, a handful of states have their versions of legal apprenticeships. Some people think there are advantages to attending a traditional, costly law school if they can manage to survive during legal studies and its enormous, crushing student debt. No matter what, either way, there is no such thing as a quick law degree.
---
Tired of Scrolling?
Table of Contents:
---
However, a few people, including me, have become lawyers with no law school degree or college by shadowing mentor lawyers or judges, gaining real-world, practical legal experience. I have been recognized as the pre-eminent expert on American common law apprenticeships by peers and professionals. I will use my expert knowledge as a legal researcher, historian, and law office study professor to carefully unravel the various ways pupils became lawyers with no law school under our inherited common law system.
In General, What Do Legal Apprentices Do That Law Students Don't?
those who can do and those who can't teach. Although this euphemism won't always prove true, modern law students miss out on the legal education that comes through practical application. True, many legal apprentices paid their fee and volunteered time to work with masters.
Pupils reading law under judges, civil or criminal lawyers, will generally receive valuable, practical, and collegial experience including:
Attending court (trials, hearings, arguments, cross-examinations, direct exams, etc.)
Attending depositions (*Certified law students in CA can also take depositions)
*Conducting trials (*Certified law students in CA can conduct trials in certain cases)
Visiting jails and prisons for prisoner interviews. (I did this)
Learning the word processor, state and local procedural rules (most law grads cant create a proper footer, let alone a pleading caption)
Learning the rules of evidence (by continuously propounding and responding to discovery).
Learning law and motion (by meeting and conferring, and filing motions to compel and for sanctions, fighting or propounding motions for summary judgment/adjudication, dealing with appeals, writs, conservatorship, and perhaps sweeping out the office and organizing some files).
Attending important events (like judicial retirements and peer groups such as Circle of Legal Trust or Personal Injury Warriors International).
---
Pupils will develop valuable relationships with court personnel, including deputies, marshalls, clerks, CHP officers, and witnesses. Lawyers will be interested and usually shrug it off, saying "good luck." To many, you are a token, a novelty, not to be taken seriously. To others, like Justice Hastings was to me, you are the torchbearer of legal tradition. "Everyone is interested in the person becoming a lawyer with no law school."
What Are Some Other Direct Attorney Supervision Benefits?
You will be honoring those greater men and women who came before you.
You will receive a mentor, so you will not be independently studying only.
You can study under several law practitioner types, including criminal prosecution, civil law, civil rights law, appeals, writs, personal injury law, real estate law, and everything in between.
You disciplined students will control your schedules to a large degree while held hostage by it, others.
You will save money by not paying for a traditional law degree and/or undergrad, depending upon your state. The high cost of a traditional legal education, which most students finance with student loans, can be offset with law school scholarships. Sadly, many law students graduate with crushing debt, limiting volunteerism, and more noble career options.
Other potential benefits include studying law in your local legal community instead of attending law school, which is the rural area lawyer shortage. Lawyers with local legal apprentice programs may keep ambitious local students in their community, attending to local needs.
$$ Your supervisor will likely hire you to do paralegal work with your new, layered on litigation skills and real-life experience.
Some certified apprenticeships receive grants and federal/state money in exchange for an employment contract or clerkship. I have not researched this extensively concerning law office study programs, but you may get paid to learn sometimes.
---
I know from personal experience that a properly-trained legal apprentice will receive more real-world experience than law school-educated graduates. Even if a law grad has some clinical studies or summer clerk positions interning or externing, few ever receive basic litigation training. Still, fewer law grads will attend court regularly or mingle among lawyers almost daily for four-plus years. Most law students spend time in classes, taking notes. Ask yourself this. How long do I have to go to law school? Three years? Four years? It can take a little less time, but you'll never make the same connections you will by accompanying your tutor.
Modern professors teach a lot of great stuff, but they can't teach litigation, and they don't teach local rules or how to create a proper pleading template. Students definitely won't know what a civil case cover sheet is or isn't. Just attending court and learning courtroom politics regularly means you will have confidence once you pass the bar exam. Reading for the law gives anyone ambitious a leg up.
If You Don't Enjoy Reading, Reading Law Is Probably Not For You
If you're a legal historian or prospective enrollee into a tutelage program under a supervising attorney, there is one commonality you will see present in most successful jurists, a love of "reading."
---
Reading Law To Become A Lawyer With No Law School Becomes Fun When You Love Reading
Like anything in life, you can never write well if you don't read, comprehend, and [hopefully] orate well. The earliest people akin to "lawyers" were probably ancient Athenian orators. (Source). Students had no TV or smartphones. To receive information, reading was everything. Great readers became great writers; great writers became even greater orators. With no TV or radio, public speaking, often with a loud, convincing voice, was a big deal to the general public. Great orators became great leaders. This truth reigns true modernly, with most elected lawmakers and judges being former trial lawyers themselves.
Case In Point, Abraham Lincoln
Since my ultimate research on becoming a lawyer with no law degree or undergrad deals with American common law, let's start with the Lincoln lawyer, Honest Abe, our 16th U.S. president. Lincoln had no educational supervision, tutor, or master. Abe was primarily self-educated, receiving about 12 months total lifetime basic education lessons from itinerant educators when possible. From my research, he appears to be the only law reader meeting the definition of impoverished, with uneducated kin—[Citation needed]. No law school he could attend existed, no Inns of Court existed, making Lincoln entirely self-educated in law.
Abe had going for him like during the colonial era; we needed lawyers, especially out west. The western states were in dire need of frontier lawyers. Mealy mouthed college boys couldn't handle westward travel, and eastern city judges were keen on letting self or less-educated settlers with the constitution pass their oral bar-headed west! Ilinois was known as a state whose own judges would swear lawyers in after a short study period.
Lincoln, Like Most Law Readers, Clerks and Apprentices, Enjoyed Reading Literature
Lincoln loved reading and giving speeches! His love for reading lasted till his death at the hands of an assassin in 1865. Witnesses from his day, including close family members, neighbors, and friends, recalled he regularly read the classics, including Blackstone's Commentaries on the Laws of England, the King James Bible, Aesop's Fables, John Bunyan's The Pilgrim's Progress, Common Sense by Thomas Paine, Daniel Defoe's Robinson Crusoe, and The Autobiography of Benjamin Franklin. (Source).
---
The Task of Becoming a Lawyer With No Formal Legal Education Requires the Discipline Of A Knight's Templar, Warrior Monk
Reading requires discipline. Problem-solving requires discipline. If you don't have that warrior-monk-like discipline to sit still, silently evaluating tasks and solutions, you will never pass the problem-solving speed exam known as the State Bar.
TIP: Don't Confuse Monk-Like Studies And Self Learning With Laziness
Lincoln's family asserted his reading, not to mention his proclivity for whittling wood into shapes, made him seem lazy. (His "reading, scribbling, writing, ciphering, writing poetry, etc.") My First Year Law Student's Exam tutor, and California State Bar Examination tutor, Paul Pfau, often said, "tell your family, tell your friends, 'I must be selfish with my time, so I can study and master the herculean task of becoming a lawyer."' My friends don't take up lawyering if you don't love reading and the problem-solving that comes with interpretation and writing styles.
---
TIP: Never Surrender
The Knights Templar took an oath never to surrender, including chastity and poverty. The modern English Inns can see Their Holy Order's subtle influence on English courts and the very "bar" passed to practice law. To become a lawyer without law school, you too must take your own oath because it ain't no walk in the park. If you are married, a single mom, or poor, you must explain to your family the journey they will be taking with you as you ready yourself before the bar. I have provided the ancient history up till now. My tip for you? If anything, join the Marines and learn success through merit. Work ethic and determination are everything when becoming a lawyer with no law degree or undergrad.
What Are The Secrets Of Becoming A Lawyer Without Law School?
There are no secrets. My story is about becoming a North American lawyer with no college degree or law degree on the California State Bar Law Office Study Program (Sometimes LOSP). This is the definitive history of legal education through reading law, including law office study, clerking, and independent study, starting with some history and background.
GENESIS: North American common law evolved from English common law, each colony originally bringing trained lawyers from England, eventually choosing their court officer selection process, including selecting attorneys within the colonies/states.
Modern Written Bar Exam v. Older Oral Bar Exams
Most people attending law school become lawyers upon graduating. But they cannot practice law and become an "attorney" until they pass the standardized, written bar exam. Apprenticeship programs, including clerkships and reading for the law, have been touted as the fastest way to become an attorney, but most were oral before a court till recent times.
---
What Is A Lawyer?
For this article's purposes, the generic word "lawyer" can be a person who practices law and includes other legal practitioners, including British solicitors or chartered legal executives. Lawyers can only be called "barristers" if they were "called to the Bar." Ultimately, barristers can practice and advocate in higher and lower courts. Solicitors were and still are, relegated to litigation and lower court advocacy.
After passing the bar, these now barristers left law students and solicitors behind, outside the court's symbolic "well." Over time, these barrister "attorneys" became advocacy specialists, representing clients or courtroom process and procedures. Sometimes clients would hire a barrister and a solicitor. Eventually, it became compulsory for the solicitor to choose and engage the client's barrister for courtroom advocacy.
Modern Attorney Defined
Whereas a licensed lawyer can provide legal advice in most common law jurisdictions, only an attorney can simultaneously provide legal advice, services and advocate client legal matters. In the U.S., attorneys can practice law in all U.S. courts and the state court they are licensed, with exceptions for pro hac vice matters.
---
TIMELINE OF BECOMING A LAWYER WITHOUT LAW SCHOOL
Law schools were not even a thought. Clergy were the closest thing England had to lawyers by the time of Alfred the Great. Lay people or "commoners" were generally not law practitioners. Hence, there was no "common law" yet. Commoners, descended from Germanic barbarians, often resorted to trial by battle, self-help, and blood feuds to resolve legal disputes.
There was no such animal as a wrongful death lawsuit, for example. Ultimately these heathen leaders received educations from church institutions, including law and history. Eventually, commoners practiced law using rules modified from former Canon law religious courts and the shire's royal laws.
527-565 – The Roman Emperor Justinian prohibited any clergyman from pleading in lay courts, whatever the nature of the cause: unless it was one in which he had a personal interest or his Church or monastery parish was involved. . Besides, clergy were typically the only people who could read, write or conduct record keeping for local public officials. The king's scribes were often religious monks, for example.
557 A.D. – Middle Ages Ecclesiastical Legal Advocacy
In Western Europe, in the main, the Justinian interdict was ignored (See ). The clergyman became an indispensable person in all matters about the orderly transaction of public business because of his education, whether in the chanceries or the courts.
First Lawyers Had No Law School?
True, no law schools existed until well after the Church created our modern university system. Few people other than clergy educated in guilds or schools practiced law. Hence, same as today, educated lawyers monopolized legal jobs. Due to the Papal Bulls against owning a bible, let alone read, the church controlled thought similar to how modern [politicized] social media has taken over modern "news" reporting/censoring.
---
People called  called cleric lawyers:
Proctors: If a party to action appeared by a proctor, the proctor represented the party.
Advocatus: But if the party had the assistance of an advocate, the party had to make a personal appearance in court, supported, aided, counseled, and advised by the advocate on all matters of law and procedure.
Hence, the ecclesiastical proctor remained similar to early mediaeval attornatus' (see below), whereas advocates had similarities to a mediaeval pleader, forespeka, vorsprecher narrator. However, advocates could argue and not just repeat statements.
Mediaeval Proctor
The ecclesiastical proctor was a kind of "officer" appointed by the court or by the client to represent a party empowered him to appear its behalf and manage its cause.Under certain conditions, the same person could act both as a proctor and advocate in the same case for the same client.
Mediaeval Advocate
Contrary To English Shire Courts, Parties In Religious Courts Were Allowed Their Advocates Any party appearing in an ecclesiastical court, whether as plaintiff or defendant, could appear either in person or by counsel, professional or not. In some instances, the court might insist on the appearance of counsel for the party. The professional duties of an ecclesiastical advocate loosely resembled the Roman Imperial period advocate.
In mediaeval society, clergymen were practically the only people who possessed some of that general education and learning, which is necessary to present or plead a case intelligently and convincingly. But subsequently, a difference arose as to the propriety of clerics practicing law, the custom varying depending upon who was in charge.
---
Did Proctors Or Advocates Attend Law School?
No. There were no law schools. And they probably had no undergrad requirements. We do know when proctors were commissioned candidates, and they had to pass through an apprenticeship.
Moral Character Rules – Genesis
Our secular moral character requirements are inherited from sixth-century ethics rules and standards. A cursory inspection of the Corpus Juris Civils of Justinian, especially of the Codex, shows the massive extent to which lawyers' ecclesiastical regulations were dependent on Roman law. (Cf. Chroust. The Legal Profession in Ancient Imperial Rome, 30 NOTRE DAME LAW. 521, 579 (1955)).
There existed several provisions and rules as to the supervision and discipline of proctors. They were to display restrained and dignified conduct in the presence of the court, refraining from "loud speech and babbling, and behave themselves quietly and modestly." (Could not buy the litigation, acquire an interest in the case, demand an excessive fee, or betray their client's confidence to their party in opposite).
1230: One title is based on the Decretals of Pope Gregory IX, published around 1230, which include Pope Gregory the Great of 596's regulation, one from Pope Alexander III (1159-1181), one by Pope Clement III (1187-1191), four by Pope Innocent III (1198-1216), and two of Pope Honorius I (1216-1227). Six more were issued by Pope Gregory IX (1227-1241).
Circa 1298: Pope Boniface VIII's Sixth Book of the Decretals followed Roman law, modified or expanded by Papal Decretals (decrees), Church Councils, or bishop/court created local statutes.
Compare Early Germanic Secular Courts – Rarely Recognized Another's Right To Advocate
In a nutshell, Germanic peoples and their early Anglo-Saxon ancestors had no use for what we now call lawyers. These were warrior societies. "…every man ought to fight his own battles, using his hands or tongue as the occasion required." (Id at 539). They looked down upon accusers refusing to litigate, arbitrate and face death for making accusations during their parliamentary courts, called the "Thing" or "Althing." During the arbitration, the accused and accuser might engage in trial by battle, the surviving victor being innocent of all charges. It appears that ancient courts relied upon a lawman to recite the law.
But this person did not advocate and was typically someone belonging to the king's court. Modern scholars believe many German tribes were outlaws who either fled Scandinavia or were banished. (Source) (See also). The 5th and 6th Century German invasions of Western Europe saw the end of the once highly developed, prosperous Roman legal profession. (See Chroust, The Legal Profession in Ancient Imperial Rome, 30 NOTRE DAME LAW. 521 (1955); Chroust, The Legal Profession in Ancient Republican Rome, 30 NOTRE DAME LAW. 97 (1954); Chroust, Legal Education in Ancient Rome, 7 J. LEGAL ED. 509 (1955)). These tribes, including the earlier-ancient Romans before them, had no attorney-client advocacy system, mainly because no concept of legal "agency" existed. (acting on another's behalf in law).
---
Early Orators In Legal Causes Were The Closest We Had To Secular Lawyers?
The Rise of The Vorsprecher
Germanic tribes allowed an accused, their professional orator, or Vorsprecher, to speak "their words" during court.(Vorsprecher, forespreca, furisprecho, redesman rechtsprecher, spruchman, rechtsager, asega, eosago, sagibaro, talman, prolocutor, or plain "mouth-piece"). A Vorsprecher was not trained in the law, nor was he allowed to advocate. He was to appear [often as a professional orator] to narrate their version of the facts.
But some Germanic kings vested others acting in their own interests with the right of representation by an advocate. It seems German tribes insultingly called these legal pleaders "criers." (Latin: Clamatores). But anyone could be your Vorsprecher, even the judge deciding the case against you. No legal training was required because no advocacy was allowed unless you were the king's Vorsprecher. (Vorsprecher's were great orators and storytellers, often becoming great leaders).
---
Distinguish Vorsprecher With Scandinavian "Lagman"
At first, lawspeakers/lagmen represented the people, and their duties and authority were connected to the assemblies (things). For most of the last thousand years, however, they were part of the king's administration. A lawspeaker or lawman (Swedish: Lagman, Old Swedish: laghmaþer or Laghman, Danish: lovsigemand, Norwegian: Lagman, Icelandic: lög(sögu)maður, Faroese: løgmaður, Finnish: laamanni, Greenlandic: inatsitinuk) is a unique Scandinavian legal office. It has its basis in a common Germanic oral tradition, where wise people were asked to recite the law. The lawman's function evolved into a legal office.
---
Germanic Tribes Become Anglo-Saxons Settling Britania
During this period, around the 5th century, Voumllkerwanderung tribes, including those formerly residing in Germany's Angles and Saxony, settled part of Brittain, ultimately becoming Anglo-Saxons. (But other tribes mixed, including Goths, Ostrogoths, Visigoths, Lombards, Suebi, Frisii, and Franks).
---
Lack of Stable Laws = Social Instability
However, Nordic people's preferring poetry and oral histories over a more superior written system of stable laws with professional clerks, courts, and advocates weren't progressing society forward. Ancient England was far from being a unified society under such an unstable, Spartan-like system.
"It is an old axiom that a true legal profession – a class of trained and professionally acting experts who are conscious of their expertness and, hence, of their peculiar status within a given society – cannot possibly be found until there exists something like a fairly distinct and stable body of laws, a somewhat settled jurisdiction with regular courts handled by experts, and a fairly consistent legal procedure." (Anton-Hermann Chroust, Legal Profession during the Middle Ages: The Emergence of the English Lawyer Before 1400, 31 Notre Dame L. Rev. 537 (1956).)
---
Ultimately, as laymen were admitted to the bar, these "commoners" practiced what is modernly "common law."
813 AD – Council of Mainz
Clerics and monastics were again prohibited from actively participating in a secular lawsuit, except when involving Church or a Church interest or defending orphans or widows.
871 AD – Enter Alfred The Great
Ultimately, especially after the accession of Alfred the Great (Viking slayer) (871), the realm developed established rules similar to traditions inherited from wandering Germanic tribes. The Doom Book, Dōmbōc, Code of Alfred, or Legal Code of Ælfred the Great was the code of laws ("dooms" were laws or judgments) compiled by Alfred the Great. Alfred codified three previous Saxon codes:
Alfred prefixed the Ten Commandments of Moses. He even incorporated Mosaic Code rules of life into a Christian code of ethics. The History Channel smash hit mini-series, Vikings loosely bases some true history about Alfred's desire to learn history and benevolence during Ragnar's conquests. For example, some crimes were monetarily compensable concerning victim restitution. But there were still no lawyers, as we call them today.
---
1066 AD – Enter William the Norman Conquerer
After the successful King William's 1066 Norman invasion of Britania, things dramatically changed for legal professionals. Our American common law system can be seen as a fusion between:
Barbaric Germanic traditions,
Franco-Nordic laws (Norman Conquest)
Laypersons entering legal practice/advocacy after the 13th century.
William, I brought efficient legal administration at speeds only dreamed of by King Alfred. He was heavily reliant upon court clerks and chroniclers, establishing the first English Census. We must remember that the Normans were French-speaking descendants of Danish-Norwegian Vikings, raiding and settling France's western coast. These barbarians ultimately absorbed Christianity, with its more refined Holy Roman clerical and legal systems.
---
Fusion of Anglo-Saxon-Norman-Papal-Law
But Norman custom was not simply transplanted into England; upon its arrival, an emerging new body of rules based on local conditions materialized. Elements of King Alfred's burgeoning Anglo-Saxon system surviving the "Invasion" included the jury, ordeals (trials by testing physical strength or by "battle"), and outlawry (banishing a person beyond the protection of the law or exiling them).
Commoners were not allowed to practice law, as they were not clergy. The king's roving secular courts had not yet conflicted as they would in later papal power struggles.
---
Normans maintained the use of writs (orders mandating someone to appear at a court; see also, The development of a centralized judiciary). We must always remember that priestly study was among the highest status education one could receive. Only men of God could read, and the church prohibited the private ownership of Bibles. Ecclesiastical law and papal canons needed interpreting. Even the Holy Templar Knights (Knights with banks, lands, titles, and money needing management and legal protection) maintained their own priestly house counsel, as it were.
---
No English Common Law Existed?
True. England had no professional, commoner lawyers or judges; instead, literate clergymen administered, some familiar with Roman law and the canon law. During this period, the Christian church developed the universities of the 12th century. Before the Reformation, mediaeval Roman Canon law had original jurisdiction over most English legal matters. Civil Canon law was basically copied from Rome's Civil law, influencing modem English ecclesiastical and common law. America's first corporate universities, including Harvard, adopted this religious heritage, emblazoning its first two official seals with "Christo et Ecclesiae" ("For Christ and Church") (1650 and 1692).
---
Canon law was applied to English church courts, with revived Roman law seeing less influence in England, despite Norman's government dominance. England and its colonies during the 12th-13th centuries saw ecclesiastical law taught mostly by the clergy. Even the king's early central courts had no professional advocates. The proceedings were informal, and parties (or their speakers) presented their own cases before their king, noble, or clergy.
Until the thirteenth century, and far into it, the clergy remained the prominent legal practitioners in the ecclesiastical courts and lay courts. As a matter of fact, clergymen predominated lay courts so much that a word was coined: Nullus clericus nisi causidicus (no clergyman was not also a legal practitioner). It would not be till much later that British Canonical law was subsumed into the Chancery court.
The First English Law Clerk Was A King?
Probably. Norman princes were educated in all manner, including by professorial monks. The Anglo-Saxon Born Norman king, Henry I, was called Beauclerk because he was well educated, fluent in Latin reading and writing, with knowledge of Anglo-Saxon Domesday Book laws, nature, and history. Beauclerk was a fan of the last Anglo-Saxon King, Edward the Confessor. (1042-1066). Edward's mother, a Norman, and was born around 1003, or 1005. Edward was recorded as a "witness" overseeing the two charters of 1005. In the early 1030s, Edward witnessed four charters in Normandy, later signing two of them as king of England.
1100: (The Charter of Liberties, also called the Coronation Charter, was Henry I's written proclamation to bind the King to certain laws regarding the treatment of nobles, church officials, and individuals. (Magna Carta forerunner).
1140 – James Brundage has explained: "[by 1140], no one in Western Europe was a professional lawyer or canonist."
---
Henry II (1154–1189); Rise Of The "Common" "Law Attornatus" and Servientes or Serjeants
Henry II's royal officials roamed the country, inquiring about administering justice. Church and state were separate during his reign, each having its own law and court systems. This led to centuries of rivalry over jurisdiction, especially since church courts' pre-Reformation appeals could be taken to Rome. And all the "lawyers" of the day were religious employees.
---
Attornatus Defined
The term attornatus, or attorney, probably is early German. (Anglo-Saxon) Freemen of each shire were regularly summoned to the Torn by the shire reeve (modernly, sheriff). Any man incapable of personally attending the torn could send their friend or close family member relative to represent the missing person "at the torn." Their "attorney" substitute now represented the attorney party. Other theories exist the word is French atournee or atourner, with Godofredus labeling this an 11th Century Latinized "loan word." Gradually this became a person prepared or equipped to act in substitution of parties during legal proceedings.
---
Attornatus Distinguished From Forespeka
The attornatus, forensically speaking, remains clearly distinguishable from the forespeka or Vorsprecher. "If you appear by attorney, he represents you, but when you have the assistance of an advocate [scil., a leader], you are present, and he supports your cause by his learning, ingenuity, and zeal. Appearance by attorney is one thing, but admitting advocates to plead the cause of another is a totally different proceeding." (Serjeant's Case 5; Lord Brougham explains attorney-pleader (forespeka) differences.).
1150 – A small but increasing number of the clergy became experts in canon law. But the clergy gradually withdrew or became barred from practicing law in lay courts. Laypeople had begun replacing clergy legal practitioners.
---
1161-1185: The First Temple, or Inns of Court
No one knows the Inns of Court's exact origins. But believe it or not, the Knights Templar liked lawyers. Originally, their lawyers lived with them in their castles. Ultimately they became Inns, where all lawyers in England received legal apprenticeships. (Fun fact: Ancient Serjeant = Modern Sergeant = Servant)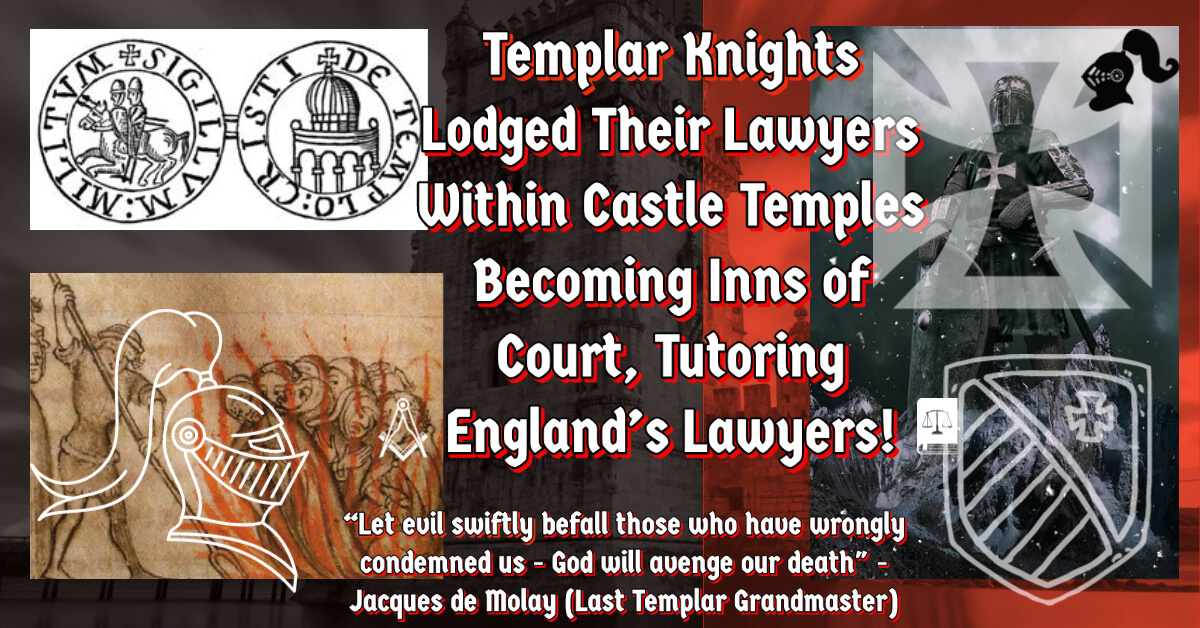 Almost all the Judges taught there and returned to attend readings. And the inns weren't aloof as to the developments of the common law. But their primary function was to "preserve and elaborate the settled learning concerning real actions and real property, and it was in that sense that the law schools made tough law." The Inns showed us the law was not a creature of statute only. They showed us a human influencers' body, refining the legal profession, producing future legislators and judges.
---
The Honourable Societies – The Inner and Outer Temples were sandwiched between the remnants of Roman ruins called "the Liberty of the City," just outside London's protective walls. "This gate opens not immediately into the City itself, but into the Liberty or Freedom thereof." (Queen Anne, 1708).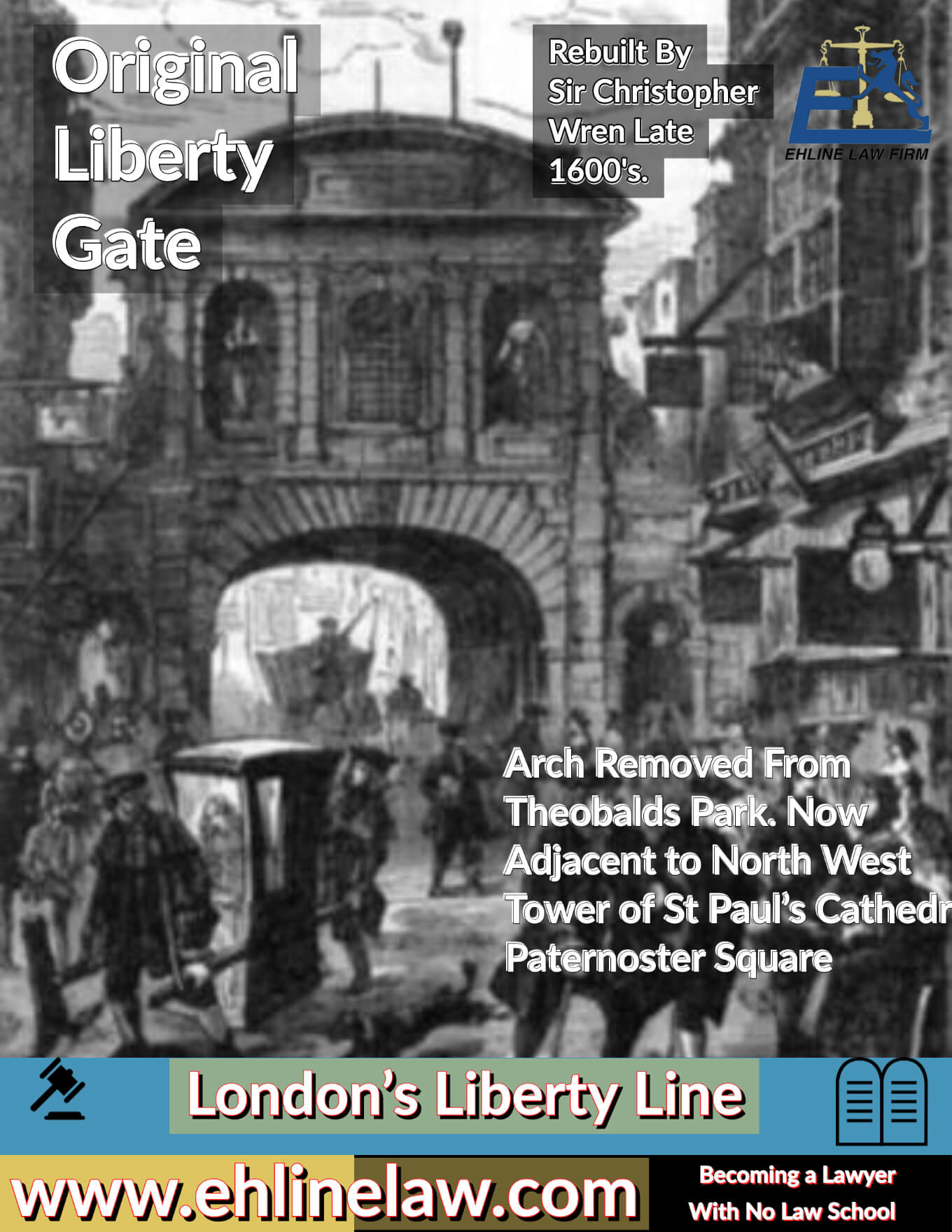 The Templars considered it an honor to remain posted outside the "protective walls" of London's secular society.
The Temple's construction and remodel phases can be dated between 1161 and 1185, named for the warrior monks of the iconic Order of The Knight's Templars. Templars originally lodged its lawyers and allies, the Knights Hospitalers, within Temple walls. The Temple is where knights launched holy crusades when England's Kings and Rome's Pope were were religious allies.
Rank Structure Of The Temple Inns
The masters became known as benchers while the students were classified into three categories:
Readers: Experienced teaching assistants/students, known as readers, were employed in instruction in somewhat the same manner as contemporary law school professors.
Inner Barrister: New students, whose course of instruction was largely lecture
and observation were denominated, inner barristers.
Outer Barrister: outer barristers, was perhaps the equivalent of today's second-year law
school class and their studies were dominated by participation in the "moot."
Possible Origins Of  Legal Term, "Bar"
Temple Bar. Evolved from the so-called "Liberty line," or "First-Barrier" (A chain gate draped between the Temple and London's gates.). Ultimately, the bar came to mean one thing for "legal London," and another for the courts. (This is where we traced the legal terms "Barrister," and "passing the bar," or first barrier to practicing law) Modernly, each Temple's dining hall still has a long wooden bar dividing the governors (benchers) from their apprentices. For non-lawyers, since 1351, the Temple Bar is mentioned historically as the location victorious kings would pass beneath its arches. This may have something to do with holy crusades being launched from this location.

"The Liberty line was marked by a chain gate which became known as the Temple Bar, now a stone gateway of the same name. Along with London Bridge, the gateway became a prime public location used to display the heads of traitors and rebels as a warning to others. Below the gateway was a well-used pillory." – Duhaime's Law Dictionary, "Inns of Court Definition."
Call to the Bar or Call to Bar referenced the wooden barrier separating the public and "Apprentice at the Law" from the judge's bench. Barristers, like attorneys today, stood or sat behind the bar while speaking to and facing the judge, staging their legal briefs, papers and pleadings there. (We lawyers must seek admission from the court before passing the bar to approach the bench (See the Temple influence? Ex: "Your honor, may I approach?")
Bar in Middle Ages: Bar also referenced the king's summons, calling a legally qualified man to address the King's Bench's legal issues.

"Bar" Modern Use: Ultimately, in common law countries, this term interchangeably came to mean passing a bar exam and being admitted to practice law as a barrister, or attorney, with solicitors passing a different but similar examination. Modernly, some scholars claim that the word bar was derived from the old English/European custom separating court business between a public viewing area. At least one Wikipedia editor thinks "The origin of the term bar is from the barring furniture dividing a mediaeval European courtroom." But they provided no citation in support.
See Image of the Bar!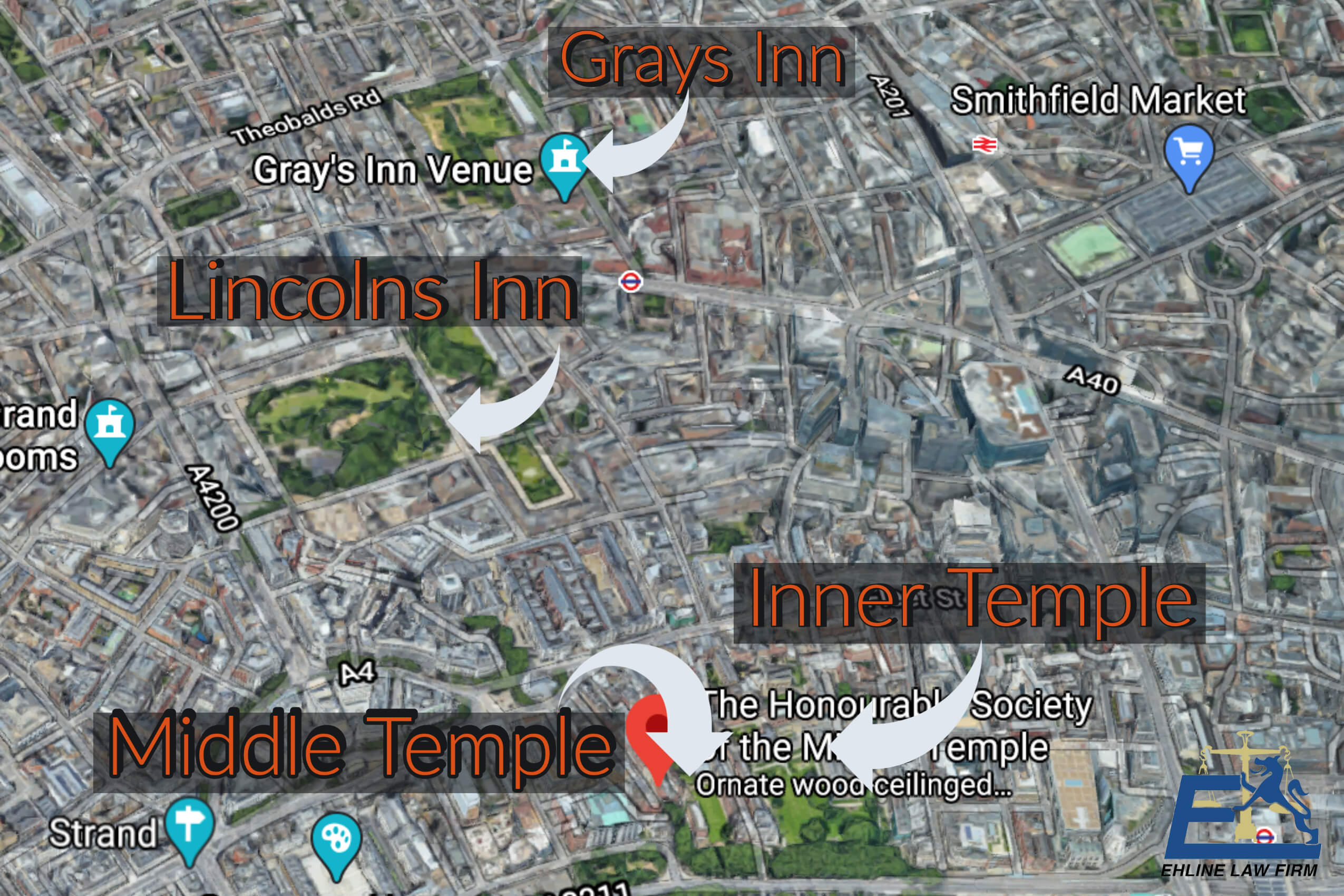 England's Four Inns of Court
Due to the different types of legal education required, four Inns of Court evolved to train Barristers, responsible for teaching and nurturing law students for their unique legal skillsets as follows:
Ultimately, this Temple Inn evolved into two "Temples," as follows:
The Honourable Society of The Inner Temple,
The Honourable Society of The Middle Temple
Next on our list of Inns of Court are:
3. The Honourable Society of Lincoln's Inn: not to be confused with Abraham Lincoln, remains the largest Inn, with official records showing its existence since at least 1422.
4. The Honourable Society of Gray's Inn: traces its roots to 1569, but law student studies likely never happened there until the later fourteenth century.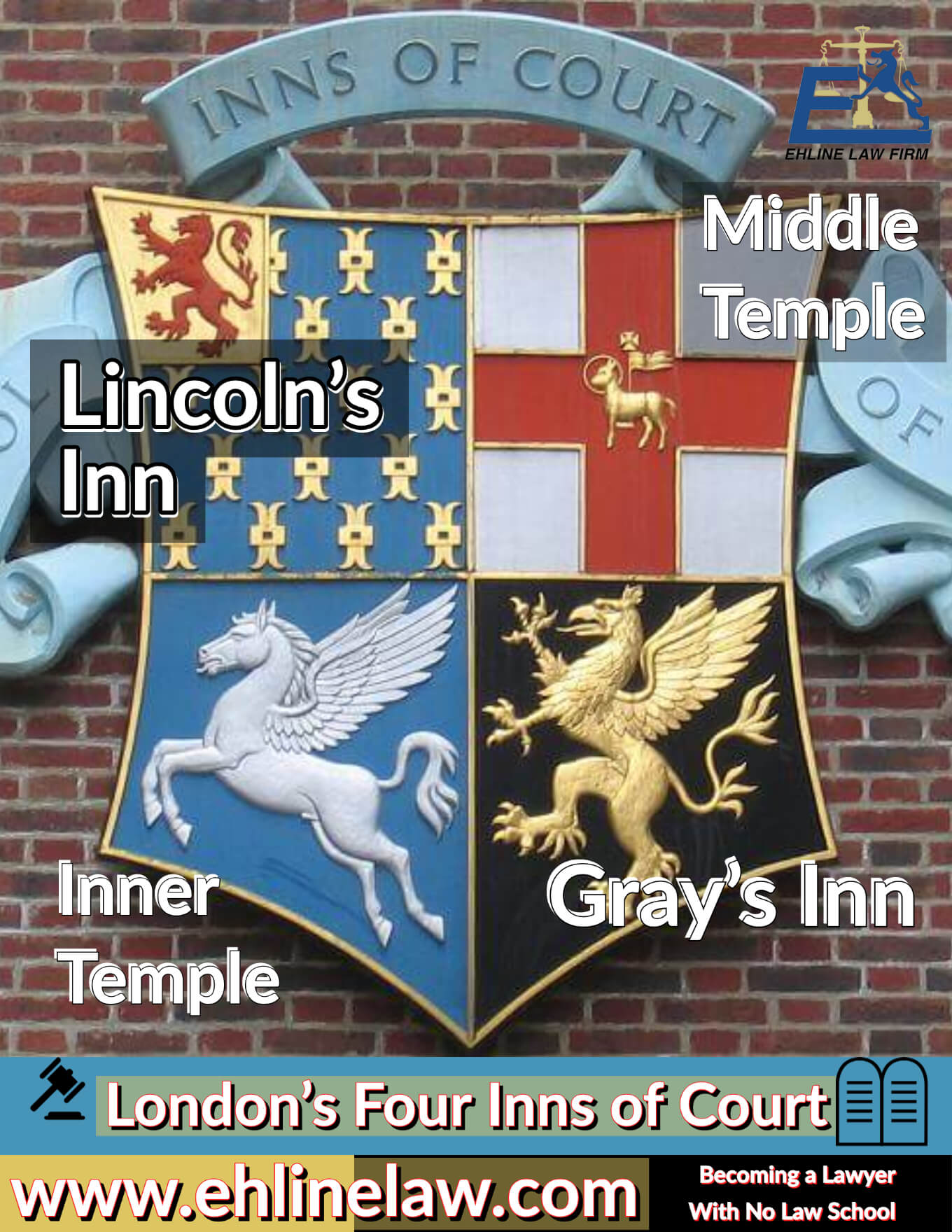 Brief Legal Education History Of the Inns of Chancery
There were two types of Inns, Inns of Court and Inns of Chancery, attached to an Inn of Court "like Maids of Honour to a Princess." These Inns were responsible for training solicitors. There were other equitable courts we will not cover here. This study limits itself to the evolution away from apprenticeships and the remnants left behind in those few hold-out states. At their height, there were eight or ten Inns of Chancery.
Inns Of Court Legal Education
Evolution Of Law Practice Admissions From Guilds to Inns
As the namesake suggests, inns were various structures housing various law students who would live and earn their keep as apprentices, laboring under their legal masters, reading for the law, and eventually working as barristers solicitors (previous Court of Chancery lawyers).
Inns remained unincorporated bodies, run by senior members called "masters of the bench" or "benchers." When law students had been "called" to enter the profession by fellow Inn members, they would receive recognition and authorization to legally practice law and plead at the bar in England's higher courts.
What Was The "Moot"
The best method of legal education for Inns members was attending court. When the court was in session, the Inns were crowded with the judges, lawyers, and students. When courts were not hearing cases, law readers gave lectures and conducted Bolts within the same courthouses, a special moot court.
Since case reports were rare, moots and open court helped students understand current legal questions, as they were argued by admitted and skilled litigators with student input. After moot courts, a collegial and pedagogical discussion between the above parties ensued . "the mooters presented the judges with a slice of bread and a mug of beer. . . ." 
At night, generally, Inns students engaged in educational exercises. 
By the eighteenth century, the readings and moots had declined, students being left mainly to their own devices. England's only requirement for bar admissions by benchers of the Inns was proof that they had kept twelve terms eating the mandatory number of meals.
Another method to gain bar entry was proof a student had clerked with established barristers. But barristers had no formal time commitment to supervise law students in the barrister's chambers. With no standard tests, apprenticeship quality was never subject to objective, standardized evaluations.
Origins of the Crib and "Crib-Notes"?
Although student-barristers were expected to read certain standard works, such as Littleton, Coke, Glanville, and Bracton, Lord Mansfield set aside a portion received most barrister legal education in the courts. Lord Mansfield set aside a portion of the courtroom for student use to accommodate student needs, called the "crib." Incidentally, the modern phrase "crib notes" likely arose from his teaching method.
The New Non-Clergy Law Student
The UK's new legal system presented many opportunities for non-clergy and other men of the cloth to read for and practice law during the 14th century.
1164: During this period, we see Inns of Court coming into its own. Religious officials became absolutely disqualified by Papal Bull from law practice in lay courts.
1178: King Henry II appointed two clerics and three laymen to a "permanent and central court." From this time on, it was not unusual that laymen on the Bench should preside over their ecclesiastical brethren.
1179: Third Lateran Council [Citation needed]
1190 to 1230: A crucial shift began with some men practicing canon law as legal professionals.
1215:  Fourth Lateran Council admonished clergy to never appear for a secular lawsuit, except in cases affecting themselves or on behalf of the poor and the distressed.
1215: Magna Charta agreed upon by king Henry II.
1216-1272 – Henry III: By now, despite the Papal admonishments, most royal justices, including royal clerks or officials, were technically clergymen. But beginning under Henry III would recruit his lawyers would recruit lawyers from the royal Bench's Bar.
1217: Law of the Forest (introduced as policy in 1217 and confirmed by Edward III in 1225).
1217-1218: The Pope, frustrated with King Henry I and II, prohibited England's clergy from practicing law in secular English Common Law courts. "neither clerics nor monastics are to appear as advocati in a secular court, unless in their own causes or in those of the poor." (Later incorporated in the so-called Constitutions of Cardinal Otho in 1237).
1225: Law of Forest confirmed.
1232: Two French councils in 1231 had mandated that lawyers had to swear an oath of admission before practicing before the bishop's courts in their regions. A London papal legate created a similar oath in 1237.
1234: Ultimately, in 1234 AD, Henry III banned legal education "within the City" of London, prompting a mass legal educator exodus, including clergy and law students leaving the protective "Liberty" of the City's walls. (He couldn't just ban priest law teachers, as he could set of a Holy War against England) The warrior Templar monks (See above), still vassals of the Pope, granted these legal disciples respite alongside their own legal counsel then training as Templar lawyers, renting space as it were, to these displaced jurists.
1236: The great barons of Normandy were permitted to appoint an attornatus, provided they 'had secured a royal license…"
1237: Constitutions of Cardinal Otho affirms restrictions on religious officials participating in secular courts.
Clerical legal representatives were on the decline in England, as was Rome-based Christianity.
1270-1300 – Rise Of The Full Attornatus
By now, we see two classes of attorney rise:
Full Attornatus: The full attornatus helped courtiers, nobles, clergy, people living far away, or those engaged in protracted causes. Because certain people (sick, infirm, far away) could not always appear personally, the attornatus became a class of pros and, like servientes or serjeants, were becoming "full-time lawyers." But unlike public deputies of the day, these new representatives were educated.
Attornatus Regis:  The King's attorney. (See below)
1272-1307 – Edward I: The English Bench and Bar's secularization continued, ushering in a class of professional legal practitioners in general. By Edward's death, most English lawyers practicing law in royal courts were professional laymen. Edward also instituted the first Moral Character Law.
1275: France's professionalization trend saw a proposal at the Second Council of Lyon in 1275 that all ecclesiastical courts must institute an oath of admission influential in many European courts, including England.
1275 – First Statute of Westminster: England's civil courts joined the trend towards professionalization. (Statute was enacted punishing professional lawyers guilty of deceit). (no sheriff shall suffer "barretors to maintain quarrels in their shires, neither stewards of great Lords, nor others, unless he be attorney for his Lord, to make suit or give judgment in the counties …" The non admitted attornatus was considered a deputy, not respected as the Crown's particular attornatus, merely acting as their lord's deputy at the Bar or Bench.
1278: The King's attornatus or attornati, called attornatus Regis (King's attorney), sued the Bishop of Exeter. After that, Attornatus Regis began assuming serviens Regis roles. But the King's attorney still needed the "King's commission." (or Chancellor's commission).
1280: the mayor's court of the city of London promulgated regulations concerning admission procedures, including administering an oath.
---
Over time, the legal profession in England was divided into two functions; as follows: 
Forespeaker (advocatus or prolocutor): A person stood beside a litigant and spoke as if they were him.
Attornotus or procurator: A representative who acted on behalf of someone in his absence, bound to represent that person.
1307-1327: Edward II complained his Barons of the Exchequer admitted attorneys in other courts. This period saw the extraordinary growth of a professional attorney class. The Crown regularly granted permission to appoint special and general attornati, either by statute or by writ. The attornati also received remuneration from clients.
1308: Parliament banishes Lord Gaveston, [previously banished by Edward I's father] (Earl of Cornwall, and likely Edward II's homosexual lover) from the realm under pain of Papal ex-communication.
1309: Edward II convinces the Pope to drop annulment risks against Gaveston, and Lord Gaveston returns to England from Ireland.
1309: Gaveston's arrogance remains such an affront to the Lords, barons, bishops that many in parliament won't attend sessions with Gaveston present. The king ordered Gaveston to stay away, and parliamentarians appeared, illegally, wearing full battle regalia, armed, demanding the appointment of Ordainers. Their goal was to prevent the king from acting against their interests again.
1311: Ordinances of 1311 are accepted by Edward II under duress, forced upon him by Papal clergy, including rebellious Baron's and Lords, called Lord Ordainers. (Attempting to end arbitrary royal government action, including confiscatory taxes, etc.)
1312: Lord Gaveston is captured and executed when two Welshmen beheaded him on behalf of Parliamentarians and their allies, [now preparing for war against the Crown] his body left behind.
---
1312: The End Of Templar Influence Over English Legal Education. Most of us are aware of motion pictures like Tom Hank's, based on Dan Brown's best-selling book, Davinci Code. As in real life, the King of France, going bankrupt from Holy Crusade debts, conspired with the new Pope to destroy the Knights Templar. France's king attempted to confiscate Templar's wealth. The Church turned its allied Orders living in England against the Templars. The English King was also deeply in debt to the Templars. So he saw no problems when the Order of Saint John's Knight's Hospitalers defeated the Temple Inns Templar crusaders in 1312, displacing their former landlords. But their Order honored the rental/lease agreement of the resident lawyers and law students apprenticing there.
1322: The Statute of York, 1322 undoes the Ordinances of 1311 and prohibits lawmaking attornati and inferior officers of the royal courts (clerks) from interfering with royal prerogative.
---
1344: Inns of Chancery, Clifford's Inn is said to come into existence.
1349: Marks the era England/Papacy began severing secular disputes from Papal courts and clerics in earnest.
1349: Thavie's Inn of Chancery was founded, and for several centuries, Chancery Inn education was the first step towards equity practitioners becoming a barrister. A student would first join one of the Inns of Chancery, where he was taught moots and rote learning by Readers sent from the Inn of Court to which his Inn was attached. These readers presided over the moots and engage in class discussions. At the end of each Inn's legal term, gifted students would be transferred to the parent Inn of Court for stage II.
1392: The House of Commons suggested that no clerk attached to Royal courts should be admitted as counsel or attornatus to other parties. (conflict of interest). (Attorneys are also no longer held liable for their client's wrongful deeds).
1402: In the year 1402, the Commons complained that many instances of legal malpractice had occurred.
1413: Statute was enacted protecting law practitioners as a class, restricting legal practice. (No Under-Sheriff, Sheriffs Clerk, Sheriff's Bailiff or Receiver, may act as an attorney in royal courts while holding office – Titles of Nobility).
1439: The attorney was fined forty shillings for failing to pay for his law license. (No person should regularly practice law unless duly admitted by the Mayor and Aldermen).
1461: Approximately 100 students engaged in Inns of Chancery studies. Inns of Chancery also served as accommodation and offices by solicitors.
---
1512-1517: Fifth Lateran Council.
1517: Luther nailed his 1517 smash hit Ninety-five Theses to the door of a local Dioces, with copies being made widely available. With the invention of the Guttenberg printing press, copies of the Holy Bible, banned from public view by the Church, would become widely available. No longer maintaining a biblical text stranglehold, the Catholic Church was confronted by renegade, heretic German monk Martin Luther.
1521: Edict of Worms officially bans Holy Roman Empire citizens from agreeing with or spreading Luther's "blasphemy."
1535: The Protestant Reformation became a huge powerplay for Europe's monarchs and Hapsburg Empire loyalists. The political separation of the Church of England from Roman influence brought England alongside this new movement. Henry VIII establishes the Anglican Church, tired of the Pope's spiritual control over English courts and people. The king effectively breaks England away from the Papacy after its final insult in refusing to annul his marriage to Catherine of Aragon.
---
1539: Ultimately, the British Crown evicted the Knights Hospitallers and Order of Saint John from this guilded property between 1539-1540.
1562: The Statute Against Forgery prohibits attorney punishment for pleading his client's forged deed if he was not a party to the forgery. ("immunity" of attornatus is older).
1608: King James I enacts Inns of the Court Charter. (Law students, teachers/governors have rights to stay and train at Inns of Court).
Date: The English Reformation sped up under King Edward the VI. But then, for a short period, Queen Mary I and King Philip Catholicism were back. But The Act of Supremacy 1558 renewed the schism, with the Elizabethan Settlement earning Britain its sovereignty from Rome.
1620: Senior English judges ruled that all four inns would maintain equal order of precedence. The English legal craft of learning the law from the 16th century forward would primarily involve legal apprentices volunteering, or paying a fee, attending court with their masters, living and working among either their head barrister, "professors" until the cessation of apprenticeship training, swearing their lawyer's oath.
---
1642: After the First English Civil War in 1642, teaching Chancery students to be barristers at the Inns ended. Chancery Inns were now a dedicated association for solicitors used as offices and accommodations. England's war of independence hurt the legal profession. This is where we see barrister Inns of Court seven or more years of legal training all but disappearing as a rule.
---
The Decline of Inns Chancery-Importance In English Law Legal Studies
By the 15th century, these Inns of Chancery had already morphed into preparatory schools for the Inns of Court, after the Inns of Court began charging higher acceptance fees to students trained in independent Chancery Inns. Experienced solicitors made Inns sort of a warm marketing network, similar to CAALA or ABOTA today. Still, many Inns fell in and out of allegiance with the Inns of Court, with some claiming independence through the eighteenth century.
NOTE: American Inns, similar to English Inns, are akin to social clubs, offering mentoring and guidance rather than supervising law study. I, too, was a member of the Benjamin Arranda III pupilage group of Redondo Beach, California.
NOTE: Like today's law schools, only very wealthy or well-off students could pay the exorbitant price of an Inns of Court legal education, with King James requiring "a gentleman by descent" as a pre-condition to entry.
1673: These Temple's residents, by now mainly Middle and Inner Temple pupils and law mentors, ultimately purchased the defeated Templar's land and structures in 1673 for a £78 payment.
---
1729: These legal training methods slowly fell into decline after the latter 16th century, with many students now reading books made possible in part by Luther's popularizing of the printing press. With Inns training being replaced by Blackstone and Sir Francis Bacon's writings, the mid 17th century saw little formalized English legal education until the solicitor's apprenticeship program in 1729.
1739 and 1825: The foundation of the Society of Gentlemen Practisers and Law Society of England and Wales in 1739 and 1825, respectively, were professional bodies established for professional solicitors but gradually dissolved and sold over time.
---
1755: First Law School Professor in England?
When someone read law in the colonies and later states, this lawyer was likely revered. Sir William Blackstone was admitted to the Middle Temple in November 1741, ultimately rising to England's first law lecturer, titled "Vinerian Professor of English Law." After that, he was elected to the English Parliament in 1761, later appointed Justice of the Court of King's Bench on 16 February 1770. He was elevated as Justice of the Common Pleas soon afterward on June 25, where he remained until his death, on 14 February 1780. Blackstone conducted lectures on English law at Oxford in the 1750s. But English Law was officially recognized as a university-taught subject
Importance Of North American Lawyers Modernly?
Lawyers became powerful local and colony-wide leaders by 1700 in the American colonies. They grew increasingly powerful in the colonial era as experts in the English common law adopted by all the colonies. By the 21st century, over one million practitioners in the United States held law degrees. Many others served the legal system as justices of the peace, paralegals, marshalls, and other aides.
---
"Reading the Law" – Lincoln Law School Method 101?
Reading law evolved primarily from English common law and history. There was no such thing as a "law degree." Historically, law schools never existed, so legal apprentices clerked for judges or lawyers to secure entry into the legal profession for centuries. Back then, legal apprentice law students in American and England would typically read from Blackstone's Commentaries on the Laws of England to learn legal philosophy, the Laws of Nature, and Nature's God, typically through the Inns of Court or Chancery.
The greatest legal scholars, philosophers, and lawyers throughout history received no formal educational training in a college or law school. Reading for the law came into its own in the American colonies, particularly during the period leading up to the American Revolution, Post Revolution, and our second war with England circa 1812. Like our modern California State Bar Law Office Study Program (LOSP), reading the law in early America typically consisted of a lengthy internship under veteran lawyers or judge mentors.
In the ancient periods till now, far from students just reading scholarly works, apprentices attended court, sat in on depositions, helped with billing, housekeeping matters, calendaring, basically as a squire, sometimes seven years or more. Legal apprentices and even tutelage groups within English Inns of Court (discussed below) would study independently. Apprentices also assisted their jurist guides until they too could approach and "pass the bar." Historically, Canada once followed a similar system. Lawyers of that bygone era would laugh today if they heard students were not attending Inns of Court, clerking, and sweeping law office floors after hours.
---
Oral Bar Examination By Judge or Judges
After the candidate graduated from apprenticing, he received an oral examination, or proof of good moral character, typically by state supreme court or similarly situated judges. (Source). The oral and written "Bar Exam" came along hundreds of years later.
MODERNLY: Oral judge bar exams are ended in the U.S.
Modern Evolution of "Reading"
To this very day, English law students are said to be "reading" their studies.
---
The Divergence From English Common Law Legal Studies To North American Legal Studies
Reading law was optimally done under lawyer supervision. But in frontier areas, self-study often remained the only legal career path entry method. As noted and discussed more later, each state and local jurisdiction had differing approaches in how their lawyers would read for the law. However, each approach to becoming a lay lawyer found its genesis under English Common Law.
But troubles here began around 1763, with several united States starting to throw off England's powerful, central government in or about 1785, having formalized their loose confederation previously, July 4, 1776. Each of the 13 colony's representatives favored more liberty for English subjects, demanding that the Crown's individual rights had formerly verified to its Barons were universal. These dissatisfied colonists threw off the King's charters and titles, establishing "…New Guards for their future security…," replacing King George as the protector of their now sovereign realms.
Since each state was sovereign, it derived its just power from our Creator and the consent of those affected by the laws any elected official would pass. Since our rights come from a higher power, each state's primary job would be making its own laws, always mindful of protecting freedoms, rather than restrict them, favoring "dangerous liberty of peaceful slavery." ("Malo periculosam, libertatem quam quietam servitutem." – Thomas Jefferson)
In a nutshell, the rebellious colonists believed they were the true standard-bearers of the Magna Charta, its forebearers, and its progeny. Patriot Thomas Paine's book, Common Sense, proved an architecture of the "Unanimous Declaration." It was natural for these rebels to closely follow the British legal education system as closely as possible, improving as needed to avoid insults similar to those visited by extinct Chancery courts. But most states would base their bar admission system in varying degrees upon that existing pre-rebellion.
---
1872 – England Standardizes Their Legal Education – First Law Schools Were Universities
Ultimately, traditional Inns of Court duties were mostly turned over to university law schools in the 18th-19th Century. Teaching standardized law first would be the University of Oxford Faculty of Law, now the University of Oxford with an 800-year plus history. For a time, however, universities focused on religious academia, whereas Inns focused on real-world practice. We yanks must remember, the Norman kings and Crown's courts spoke French!
For example:
"'The universities deferred to Latin, the Inns of the Court first to law French and by about 1650, to English.
Cecil Headlam writes:
"In the reign of Henry VI (1461-1470), the four Inns of Court contained 200 persons each and the ten Inns of Chancery 100 each."' (Source).
There is no real date pinpointing England's first bar examination or admission. By 1872, a structured bar examination became a prerequisite to practicing law in Britania. England still gives the Inns the sole right to call trained students to the bar during a graduation ceremony known as 'Call Day.'
Prospective students must still join an Inn, and like our California State Bar, Inns head up law student disciplinary functions via a Joint Council of the Inns of Court.
NOTE: By the treaty creating Great Britain, lawyers in Scotland are divided into two groups: solicitors and advocates, maintaining their older, Roman Civil Law system.
1873-1875: A New Kind of Legal Education
Ultimately, in the 1873 and 1875 Supreme Court of Judicature Acts would dissolve the snobbier, more elite English and Welch Courts of Chancery entirely, creating their modern, unified High Court of Justice. However, the Brits decided to maintain a Chancery Division succeeding British Courts of Chancery as an equitable judicial body, lessening the importance of studying this devolving law.
Modernly, both Brittain and our states have fused Chancery Courts' equity into England's common law principles. Before this, the royal bench was practically monopolized by the clergy. The new policy of promoting men from the Bar stimulated lay professionals' growth and a gradual secularization of the English legal profession.
---
In selecting his new justices from among practitioners, Henry III:
Could use ecclesiastical or canon lawyers. (mostly clergymen)
Resort to using commoner lawyers already now practicing before his royal courts, mostly laymen.
He could fall back on the ecclesiastical or canon lawyers, who were mostly clergymen or resort to the common law lawyers, who had been practicing before the royal courts and were predominantly laymen. The clergy, distrusted by the king, had already been fleeing lay practice. Henry III began using lay lawyers, that is, common law practitioners.
---
Historical North American Legal Training Compared With English Legal Studies
Naturally, beginning after 1776, things would change. English-American rebels had created their new Republic apart from its motherland. As a separate legal entity, the newly "united States of America" was no longer tied to England. The study of law in the several former colonies would evolve into varying models and pupilage methodologies. The Revolution's dramatic effect on America's fledgling legal profession was rapid and dramatic.
The rebels' divergence from the progenitor English bar to the American bar saw a mass exodus of loyalist lawyers, including judges, returning to mother England. The few lawyers remaining in the states had no Inns of the Court system or standardized legal training like England, where colonists had imported their lawyers from. Naturally, most revolutionaries, suspect lawyers already, saw the legal community as suspect, potentially bringing back central controls and seizing their powderhouses.
Even though revolutionaries weren't thrilled with lawyers or their former King's interpretations of English Common Law, almost half the signers of the Unanimous Declaration of Independence were, in fact, attorneys. And lawyers would make over half Constitutional Convention's membership years later. As we noted above, the colonists were mostly proud English. Newfound state institutions would closely follow English law in their courts.
It appears many founders hoped their system would restore ancient, pre-existing rights of Englishmen and other natural laws respecting liberty and freedom from certain government interference. (Learn more about Natural Law Here).
---
Evolution Of North American Legal Education
Before the mid-1800s, there were no standardized bar exams per se. Instead of this grand exam that you are studying for, future lawyers-to-be would gain their experience and credentials through apprenticeships, self-studying, and oral exams.
Reading The Law
Although American jurisdictions slowly developed their own law schools, post-Revolution legal studies were conducted by "reading for the law," mostly under the tutelage of a trained lawyer. Like its namesake coined in England, reading the law means reading law from a book. Most people entered the legal profession through an apprenticeship, often under a family member. These apprenticeships required a period of attorney-supervised law office study.
As discussed, a court or panel of judges would evaluate the candidate's moral and educational qualifications, lowering them if the student was headed towards America's western frontier areas.
---
Did Racism Play A Role In Eliminating Traditional Law Reading To Gaining Bar Entry?
There is no direct evidence that every state eliminated Law Reader programs to keep blacks from bar admissions. I can't find the exact date reading law was abolished in most states. To be fair to the race-baiters, anecdotal evidence exists that one state, South Carolina, kept blacks out of the legal profession there back in 1957. ("Reading law" was "eliminated" in South Carolina in 1957, shortly after a black applicant used this method."; Richardson, 540 F.2d 63 at 746; Alfred D. Moore III, Turning the Tide of Segregation: The Legacy of the Law School at the South Carolina State College, J. OF BLACKS IN HIGHER EDUC. (Sept. 7, 2017)). Either way, during this period, black people composed roughly 6% of the entire population. But the bar candidate would still have to pass the by then ABA-accredited bar exam or be "waived-in."
---
1763 – The First Recorded American Bar Exams
The North American bar exam evolved from the Inns of Court, first administered orally, by judges, and then in writing, scored by bar examiners. Because the colonies received their lawyers almost exclusively from England, many faced formally trained lawyer shortages. America had no Inns of Court apprenticeship system in place. Remarkably, we lawyers entering the bar may have been called barristers had we more formally instituted an Inns system like Britania's early on.
The first recorded united States bar exam occurred in 1763 in Delaware while still a colony. Similar to the English model, an oral examination took place before a judge. Other colonies soon borrowed this idea as a method of weeding out bad lawyers. This exam would culminate years studying under a lawyer or judge (reading the law). By 1860, all but two states had established oral bar examinations. Since there was no such thing as "law school," the bar did not require graduation from law school as a condition of admission.
---
Historical Exemptions From Taking the Oral Bar Exam?
Examinations were generally oral, with some applicants waived in through exemptions based upon proof they had been a judicial clerk for a period of time. By the end of the civil war, all that was in all but a few states was to vote and have good moral character. Later, after academia took over the law, some waived students graduating from a few law schools in a few states.
*End of Diploma Privilege
*In 1921, the American Bar Association formally expressed a preference for required written bar examinations in place of diploma privilege, automatically exempting law school graduates from taking the Bar exam. Most states followed suit by 1948. Although 13 law schools in 9 remaining states retained diploma privilege, after 1980, only the states of Mississippi, Montana, South Dakota, West Virginia, and Wisconsin recognized "diploma privilege." But since this article, Wisconsin remains the last holdout with exceptions.
The First Written Bar Exam Was In Massachusetts
Most legal scholars recognize 1885 as officially marking America's first written bar exam. In Massachusetts, the test consisted of an essay exam only, with no Multistate Bar Exam (MBE) existing in that state until February 1972. (Created by the National Conference of Bar Examiners (NCBE).)
---
When Did Other States Abolish Oral Bar Exams?
From 1890 to 1920, several states had done away with oral examinations to enter the Bar. Written bar examinations became the universal standard, culminating in modern-day ABA-style lawyer bar examinations. Wisconsin eliminated theirs in 2015, discussed above.
Early American Attempts At A Quasi-Law School
During the mid-1700s, New York passed legislation mandating all state legal apprentices take and pass a state-administered bar examination. New York reaffirmed the need for an apprenticeship position first, requiring law clerks to study 7 years before taking the bar exam and practicing law.
First Law Schools In The United States?
We had lawyers before United States law schools, just not that many. America led the process of making law study and lawyering a profession rather than an academic discipline. There was a battle over who was first, but in our new society, where everyone gets a trophy, two law schools get to be first. Law schools were set up to aid in traditional law office study.
---
Judges Didn't Care About A Law Degree Till The 19th Century?
Either way, no court would swear a person in who had attended law school alone until the later 19th century. A court may have had the option to waive you in. Local courts are mostly required to study under a lawyer, including proof you read the law for the prescribed periods. Waivers most were granted for country lawyers headed west. Practical, hands-on legal education was the norm. (Not the novelty of academia with its endless discussions, often resolving nothing).
---
In colonial America, as in Britain in that day, law schools did not exist until Litchfield Law School was founded in 1773 by soon to be Chief Justice of the Connecticut Supreme Court, Tapping Reeve. However, Reeve, who read for the law himself, did not institute a Law Student's Aptitude Test (LSAT). The new states started transitioning from England's imported Inns members early on.
---
University System: William And Mary College – 1779
Thomas Jefferson saw the need for colonial legal reorganization and started with his Virginian alma mater, William and Mary College. Hence, in 1779, their Board of Visitors agreed to form a professorship of Law and Police. Along with the University of Pennsylvania, a "Chair in Law" was established to lecture, aid, but not replace existing law office study programs. "After decades of disagreement, William & Mary is now acknowledged as the first university-affiliated law school, and Litchfield as the first proprietary (independent) law school.") (Source).
---
1779 – Virginia's First University Law Professor
On December 28, 1779, the Board named Judge George Wythe, Jefferson's mentor America's first law professor. Years later, the first American law degree was earned in 1793.
Law Schools Did Not Catch On In Greater USA Till After Abe Lincoln?
Although the USA saw a few law schools established, our country would not see law schools begin to replace traditional law study until the later nineteenth century, well after the civil war. (See ABA discussion below)
---
Here Is A Comprehensive List of Famous American Citizens who Apprenticed Reading Law
Other famous lawyers besides Abraham Lincoln and Clarence Darrow became lawyers with no JD degree. For example, John Marshall, Chief Justice of the Supreme Court; Benjamin N. Cardozo, Justice of the Supreme Court; and even Strom Thurmond, U.S. Senator, and South Carolina Governor, didn't possess law degrees. In popular culture, the most famous case of a person with no law degree taking and passing the bar exam is the true story of fraudster "Franke Abagnale, Jr."
Leonardo DiCaprio played this character in the movie "Catch Me If You Can." Those familiar will recall that Frank Abagnale forged transcripts from Harvard. He fraudulently took and passed the Louisiana Bar exam using the self-taught approach. He isn't the only famous case of a person illegally practicing law. The USA and Canada see their fair share.
Here are some more. This article is mainly about becoming a real lawyer without law school, not a fake one. In fact, Benjamin Curtis, appointed in 1851, was the first Supreme Court justice with a JD from an American law school. Some of the more famous Americans became lawyers, some with no education or undergrad, most with no law degree, or receiving their law degree later, but legally after obtaining knowledge and skill.
---
We will break down lawyers who read law into 4 categories:
Lawyers with zero known parochial education who became lawyers with no law school,
Lawyers with some higher education who read law with no law school,
Lawyers with an undergrad who read law and passed the bar,
Lawyers who attended law school and also read law.
---
1. Americans Who Passed the Bar With No Basic Education Or Law School
Q: Can you be a judge without a law degree?
ANSWER: Yes, you can, and several Supreme Court and state court justices have done just that.
Q: Do you need a law degree to be president of the United States?
ANSWER: Nope. Check out our below list of famous Americans who became judges, lawyers, and even U.S. presidents, sometimes with zero basic school education.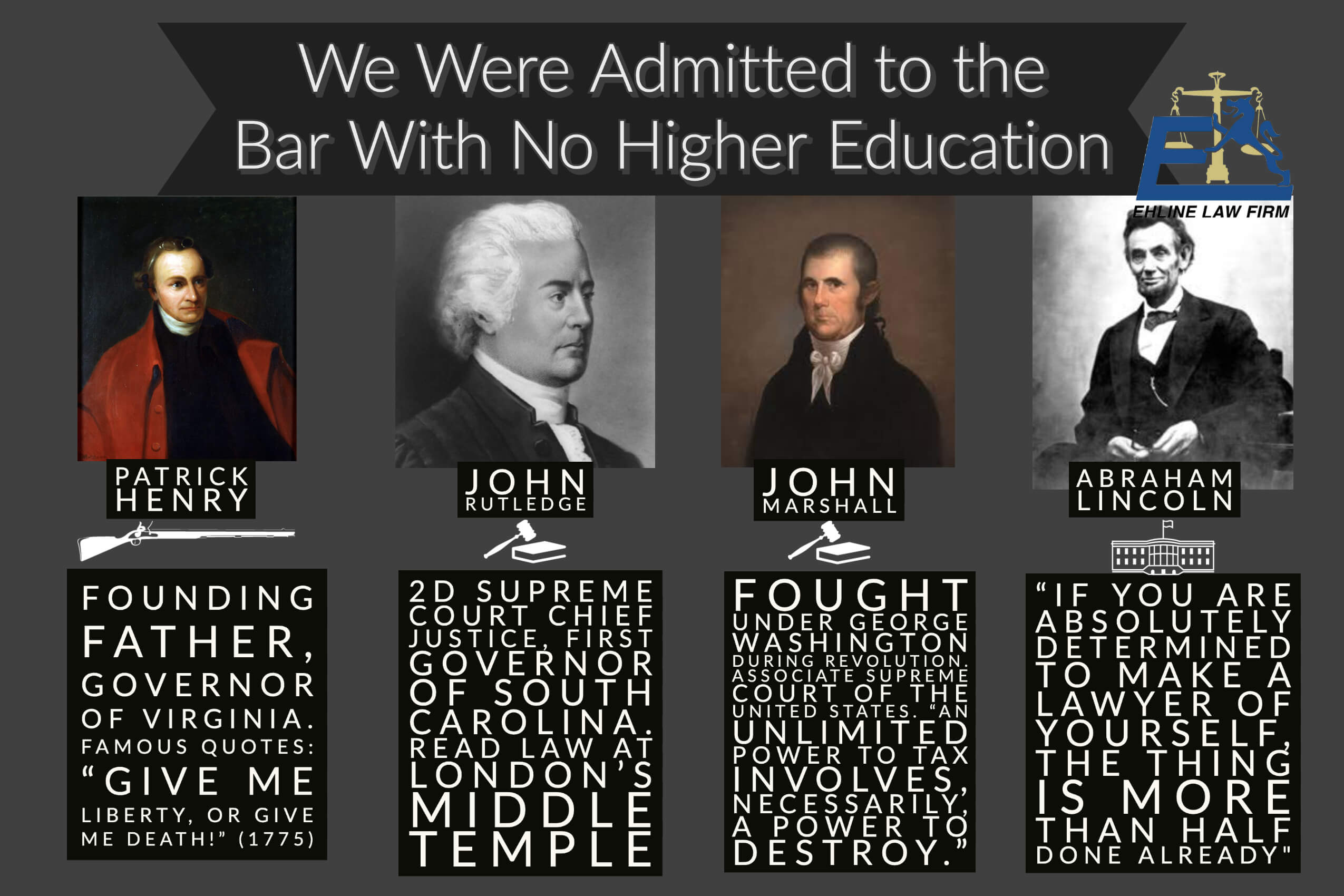 Patrick Henry: (1736-1799) [No Parochial Education – No Law School]
---
Birthplace: Hanover County, Virginia Colony.
Legal Education: Reading for the law (Self-taught approach, studying law possibly a month or less)
Law License: April 1760, Williamsburg VA, after oral examination by "Board of Examiners."
Highest Social Status Achieved: Founding Father, Governor of Virginia.
Famous Quotes: "Give me liberty, or give me death!" (1775).
John Rutledge: (1739-1800) [No Parochial Education – No Law School]
>SECOND CHIEF JUSTICE OF U.S. SUPREME COURT

Birthplace: Charleston, South Carolina.
Legal Education: Circa 1751 [Need citation] Rutledge began to read law under home tutelage by attorney James Parsons.
Legal Education: 1754, Middle Temple records show that 15-year-old John Rutledge was admitted to London's Middle Temple. (See attached screenshots of Middle Temple Records).
Law License: 1760, called to the English bar, soon sailing back to Charleston upon swearing his oath.
Law License: 1761, John Rutledge was admitted to the South Carolina Bar.
Highest Social Statuses Achieved: Elder brother of Founding Father Edward Rutledge, he chaired the 1787 committee drafting the Constitution. He became Associate Justice of the Supreme Court and second Chief Justice. He also served as the first President of South Carolina and later as its first governor after signing the Declaration of Independence.
Famous Quotes: "So long as we may have an independent Judiciary, the great interests of the people will be safe."
---
*John Marshall: (1755-1835) [No Parochial Education – No Law School]
Birthplace: Germantown, Virginia.
Legal Education: Circa 1780, Marshall was on leave from the army when he received several lectures at William & Mary from George Wythe, reading for the law under his tutelage.
Law License: 1780, he was admitted to the Virginia State Bar.
Highest Social Statuses Achieved: Fought under George Washington during American Revolution. Associate Supreme Court of the United States, United States (1801-1835), Supreme court, United States (1801-1835)
Famous Quotes: "An unlimited power to tax involves, necessarily, a power to destroy."
*Author of Marbury v. Madison (1803).
*Abraham Lincoln: (1809-1865) [No Parochial Education – No Law School]
Birthplace: Sinking Spring Farm, Hodgenville, Kentucky locale.
Legal Education: 1834, John T. Stuart, a Springfield attorney, encouraged Abraham Lincoln to study law, loaning him law books.
Abe Lincoln Did Not Attend Law School Or Read Law Under a Judge or Lawyer? No. In rural America, students often read the law alone, including Abe Lincoln. When our prized president, Honest Abraham Lincoln, became a lawyer, he was required to "obtain certificate procured from the court of an Illinois county certifying to the applicant's good moral character." This meant that an Illinois county court had to stamp their seal, certifying his good, moral character. How that was proved to a court may seem ambiguous today. But back then, our court traditions dictated that good character was shown in part by proving you knew the law and meant to keep it well. (Source).
Typically witnesses, including legal peers, would attest, and a court would allow you to "pass into the bar." Later, when asked by a young man about becoming a lawyer with no law school, Lincoln retorted: "If you are absolutely determined to make a lawyer of yourself, the thing is more than half done already,"
"It is a small matter whether you read with anyone or not; I did not read with anyone . . . always bear in mind that your own resolution to succeed is more important than any other one thing." – Abraham Lincoln – 1855 letter. (Source). This American practice evolved primarily through necessity because few trained lawyers existed in several states.
Law License: 1836, Honest Abe was admitted to the Illinois bar, and he relocated to remote Springfield, practicing law under the supervision of John T. Stuart. Lincoln was aggressive, stating he handled "every kind of business that could come before a prairie lawyer."
Famous Quotes: "Tact: the ability to describe others as they see themselves."
*Famous for freeing slaves, suspending the right of Habeus Corpus, instituting martial law, and installing unelected Southern state judges and state representatives to pass laws restricting state's rights in the confederated southern united States. Assassinated by stage-actor John Wilkes Boothe.
---
2. Lawyers With Some Education Who Read Law With No Law School
James Monroe (1758-1831) [No Undergrad – No Law School]
Birthplace: Monroe Hall, Virginia, British America.
Legal Education: In 1780, after fighting in our war, he resigned from his army commission and started reading the law under the then governor of Virginia Thomas Jefferson. (He did not study law when he attended College of William and Mary in 1776).
Law License: 1782, he was admitted to the Virginia bar.
Highest Social Status Achieved: Founding Father, U.S president No. 5.
Famous Quotes: "To what, then, do we owe these blessings? It is known to all that we derive them from the excellence of our institutions. Ought we not, then, to adopt every measure which may be necessary to perpetuate them?"
---
Andrew Jackson: (1767-1845) [No Undergrad – No Law School]
Birthplace: Monroe Hall, Virginia, British America.
Legal Education: [Citation needed] As a teen, Jackson read law under several prominent lawyers' tutelage.
Law License: 1787, he was admitted to the North Carolina bar, practicing law in Nashville, Tennessee.
Highest Social Status Achieved: U.S president No. 7.
Famous Quotes: "In England the judges should have independence to protect the people against the crown. Here the judges should not be independent of the people but be appointed for not more than seven years. The people would always re-elect the good judges."
*William Wirt: (1772-1834) [No Undergrad – No Law School]
Birthplace: Bladensburg, Maryland.
Legal Education: Circa 1790 [Citation needed] Benjamin Edwards (NOT A LAWYER, but soon to be a Congress member from Maryland) believed Wirt to be gifted intellectually and scholastically, causing him to invite Wirt to live with the Edwards family. There, upon Wirt's humble acceptance, Ninian, and his two nephews, along with Wirt, received tutelage, using Edward's extensive library. Wirt resided there twenty months, learning the classics, history, better writing, and reading for the law on his own, then moving to Virginia upon completing his studies.
Law License: 1792, admitted to Virginia State Bar.
Highest Social Status Achieved: Attorney General of the United States (AG). (1817-1829).
Famous Quotes: "Seize the moment of excited curiosity on any subject to solve your doubts; for if you let it pass, the desire may never return, and you may remain in ignorance."
*Credited for thrusting prestige and power into the AG public servant position.
---
*Martin Van Buren: (1782-1862) [No Undergrad- No Law School]
Birthplace: Village of Kinderhook, New York.
Legal Education: 1796, he began his seven-year clerkship law under attorney Peter Silvester and son Francis' law offices. ("…sweeping floors or running errands by day and studying law at night," as a favor to Van Buren's father). (See also Miller Center).
Law License: 1803, admitted to NY bar.
Highest Social Status Achieved: U.S president No. 8.
Famous Quotes: "As to the presidency, the two happiest days of my life were those of my entrance upon the office and my surrender of it." (Van Buren's Words).
*Noteworthy fact: He was the first citizen-president under United States Constitution. Not a colonist or British subject. (Souce, History.Com)
---
Millard Fillmore (1800-1874) [No Undergrad – No Law School]
Birthplace: Village of Kinderhook, New York.
Legal Education: circa 1818, he began his clerkship law under judge Walter Wood and went on to study law under him. (Filmore's father arranged for his son to read law under Judge Walter Wood of Cayuga County Court).
Legal Education: In 1822, he fell out with the judge and was engaged as a law clerk at a Buffalo law office.
Law License: 1823, admitted to the bar in the Erie County Court of Common Pleas.
Law License: 1827, admitted in Buffalo NY Bar as attorney of the Supreme Court (not to be confused with U.S. Federal Supreme Court.
Highest Social Status Achieved: U.S president No. 13. (1850-1853).
Famous Quotes: "Nations, like individuals in a state of nature, are equal and independent, possessing certain rights and owing certain duties to each other."
---
*Stephen Grover Cleveland: (1837-1908) [No Undergrad – No Law School]
Birthplace: Caldwell, Essex County, New Jersey.
Legal Education: Took a clerkship in Buffalo, New York, under his uncle, Lewis F. Allen, and apparently read law under Rogers & Bowen law firm's tutelage.
Law License: 1859, admitted to New York bar, joining the firm he studied under with no law degree.
Highest Social Status Achieved: U.S president No. 22 and 24. (1885-1889 and from 1893-1897)
Famous Quotes: "Communism is a hateful thing and a menace to peace and organized government."
*He was the only president in American history to serve two non-consecutive terms in office.
Charles Curtis: (1860-1936) [No Undergrad – No Law School]
Birthplace: North Topeka, Kansas Territory.
Legal Education: After graduating high school, he read law, paying bills by working as a law firm's custodian, and by driving a "hack."
Law License: 1881, admitted to Kansas bar. He also opened his own firm and practiced criminal law.
Highest Social Status Achieved: U.S vice president No. 31. (1949-1953).
Famous Quotes: "There are only two ways to be quite unprejudiced and impartial. One is to be completely ignorant. The other is to be completely indifferent. Bias and prejudice are attitudes to be kept in hand, not attitudes to be avoided."
---
Stephen Douglas (1813-1861) [No Undergrad – No Law School]
Birthplace: Brandon, Vermont.
Legal Education: 1833 [Citation Needed] After studying law under Hubbell Law Firm's tutelage for six months, Douglas realized he could be sworn into the bar in the court of a frontier state faster. After traveling west, spending a winter reading law in Jacksonville, Illinois, Douglas went before the court to examine bar entry competency.
Law License: 1834 was admitted to the Illinois bar.
Highest Social Status Achieved: United States Senate (1847-1861), and the representatives' house (1843-1846).
Famous Quotes: "My friends, I have detained you about as long as I desire to do, and I have only to say let us discard all this quibbling about this man and the other man-this race and that race, and the other race being inferior, and therefore they must be placed in an inferior position, discarding our standard that we have left us. Let us discard all these things and unite as one people throughout this land until we shall once more stand up declaring that all men are created equal."
*Clarence Darrow: (1857-1938) [No Undergrad – No Law School]
Birthplace: Farmdale, Ohio.
Legal Education: 1877, Clarence Darrow read law in a law office after studying for a short stent at Allegheny College and University of Michigan Law School. Then he read law for a stent and enrolled at the Ann Arbor Law Department for another twelve months. Ultimately, Darrow ended formal education to read law, and he never received a law degree. He said later he was trying to save money apprenticing, reading the law on his own.
Law License: 1878, Clarence Darrow was admitted to the Ohio bar.
Highest Social Status Achieved: He was the Leopold and Loeb case lawyer, Massie Trial, Ossian Sweet. A supporter of eugenics, euthanasia, agnostic in religion, shaped and altered social norms in public education, religion, human rights, and about anything else. (Read more).
Famous Quotes: "True patriotism hates injustice in its own land more than anywhere else."
* Scopes "Monkey" Trial attorney. (1925).
*Joseph Story: (1779-1845) [No Undergrad – No Law School]
Birthplace: Marblehead, Massachusetts.
Legal Education: 1798, although Story took academic legal education courses at Harvard after attending Marblehead Academy, he studied under a legal apprenticeship. Law school and law degrees at Marblehead did not occur until 1817.
Law License: 1801, Story was admitted to the Massachusetts bar.
Famous Quotes: "[Citation needed]"
*He was made famous for The Amistad case and his 1833 work, magisterial Commentaries on the United States Constitution. (a cornerstone of early American jurisprudence). He was the youngest justice ever appointed to the Court.
James O. Eastland: (1904-1986) [No Undergrad – No Law School]
Birthplace: Scott County, Missississippi. (Doddsville, in the Mississippi Delta)
Legal Education: 1926, Eastland studied law at his father's law offices, passing the bar examination during his senior year at the University of Alabama in 1927; he dropped out on his father's advice and was successfully elected Scott County, Mississippi Legislature. Eastland also attended the University of Mississippi (1922-1924) and Vanderbilt University (1925-1926).
Law License: 1927, he was admitted to the Missississippi bar.
Famous Quotes: "What explanation is there except that some Communist influence is working within the Court?"
James F. Byrnes: (1882-1972) [The Last Justice With No College Undergrad Or Law School]
Birthplace: Charleston, South Carolina.
Legal Education: 1900, Byrnes's cousin, Governor Miles B. McSweeney, appointed him as a clerk for Judge Robert Aldrich of Aiken after seventh grade. He is the most recent justice without an undergrad or a law degree appointed to the Supreme Court. He received tutelage, reading law under several prominent judges, making him a force of nature.
Law License: 1903, he was admitted to the South Carolina bar. In 1908, he was appointed solicitor for the second circuit of South Carolina, serving until 1910.
Highest Social Status Achieved: 104th Governor of South Carolina. (1951-1955). Associate Justice of the U.S. Supreme Court. (1941-1942). Secretary of State (1940-1945), and he was also United States Solicitor General and United States Attorney General. U.S. Congress, where he served from (1911-1925). U.S. Senate (1931-1941). He served in top positions of each federal branch, and he even remained active in state government.
Famous Quotes: "Too many people are thinking of security instead of opportunity. They seem more afraid of life than death."
*Marilla Marks (Young) Ricker: (1840-1920) [No Undergrad – No Law School]
Birthplace: New Durham, New Hampshire.
Legal Education: Circa 1876, she read law four years under attorneys Albert G. Riddle and Arthur B. Williams, after returning to Washington, D.C., from Europe. She received her early education from Colby Academy (an all-girls college) in New London, New Hampshire.
Law License: 1882, she was admitted to the bar of the District of Columbia, placing first in her bar examination call out of eighteen men. [Citating needed].
Law License: 1890, she opened the New Hampshire bar to women when she was admitted to their bar.
Law Licence: 1891, she was admitted to the Supreme Court of the United States bar.
Famous Quotes: "Give me then the man who is not a Christian, and who has no religion, for if the man who loves his wife and children, who give to them the strength of his arm, the thought of his brain, the warmth of his head, has not religion, the world is better off without it, for these are the highest and holiest things which man can do." "there is no gender in brain, and it is time to do away with the silly notion that there is." [Emphasis].
*She paved the way for women's rights and irreligion.
Frank Billings Kellogg: (1856-1937) [No Undergrad – No Law School]
Birthplace: Potsdam, New York.
Legal Education: 1865, after moving to Minnesota, Kellogg read law, apparently by himself.
.Law License: 1877, Kellogg was admitted to the Minnesota bar, and in 1908, he was appointed solicitor for the second circuit of South Carolina, where he stayed until 1910.
Highest Social Status Achieved: U.S. Senate (1917-1923). Nobel Peace Prize in 1929.
Famous Quotes: "It is not to be expected that human nature will change in a day."
Thomas Clarke Rye: (1863-1953) [No Undergrad – No Law School]
Birthplace: Camden, Tennessee.
Legal Education: [Citation needed] He was educated at county schools and began reading law under his uncle, Colonel Tom Morris.
Law License: 1884, he was admitted to the Tennessee bar.
Highest Social Status Achieved: Governor of Tennessee (1915-1919).
Famous Quotes: "[citation needed]."
Granville Pearl Aikman: (1858-1923) [No Undergrad – No Law School]
Birthplace: London, Kentucky.
Legal Education: 1881, Aikman began reading law in the offices of Sluss & Hatten in Wichita, Kansas, after he received a basic education, attending local schools. He had simultaneously read law under his uncle, Colonel Tom Morris. He went on to obtain a teaching certificate. He used money he earned tutoring students for four years to help his surviving family and cover his future education.
Law License: 1881, he was admitted to the Kansas bar.
Law License: 1884, he was admitted to the Tennessee bar. [Citation needed]
Famous Quotes: "[Citation needed]."
*He appointed the first female bailiff in the history of the United States. He also empaneled the first jury all-female jury in Kansas's history (and only number two in the United States).
*Edmund Pendleton: (1721-1803) [No Undergrad – No Law School]
Birthplace: Caroline County, Virginia.
Legal Education: Circa 1773 [Citation needed], when Edmund was 14 years old, he received an apprenticeship, clerking under Benjamin Robinson of the Caroline County Court. Soon he took to politics, books, and reading law.
Law License: 1741, Edmund Pendleton was admitted to the Virginia bar. Pendleton tutored trained many young lawyers, including his nephews John Penn (signer of the Unanimous Declaration) and John Taylor (later U.S. Senator).
Highest Social Status Achieved: Pendleton attended the First Continental Congress as one of Virginia's delegates besides George Washington and Patrick Henry. He led both conventions, with Virginia declaring independence (1776) and later adopting the U.S. Constitution (1788). He also achieved the position of First Chief Justice, Supreme Court of Virginia
Famous Quotes: "Avarice seems to have so pervaded our vital principles as to battle all hopes of a remedy but for peace and plenty."
*Served as English Colonial lawyer and lawyer in the newly united States of America.
---
*Francis Scott Key: (1779-1843) [Undergrad – No Law School]
Birthplace: Frederick, Maryland.
Legal Education: 1796, he graduated from St. John's College, Annapolis, Maryland, in 1796 and read law under his uncle Philip Barton Key who was loyal to the British Crown during the War of Independence…Key's father, John Ross Key, was a lawyer, a commissioned officer in the Continental Army, and a judge of English descent.
Law License: 1801, he was admitted to the Maryland bar.
Highest Social Status Achieved: United States Attorney for the District of Columbia (1833–1841).
Famous Quotes: "Nothing but Christianity will give you the victory. Until a man believes in his heart that Jesus Christ is his Lord and Master… his course through life will be neither safe nor pleasant. My only regret is that I was so long blinded by my pleasures, my vices, and pursuits, and the examples of others that I was kept fr…om seeing, admiring, and adoring the marvelous light of the gospel."
*Key is famous for composing the American national anthem, "The Star-Spangled Banner."
3. Lawyers With An Undergrad Who Read Law And Passed The Bar
John Adams: (1735-1826) [Undergrad – No Law School]
Birthplace: Braintree County, Massachusetts Colony.
Legal Education: Reading for the law (Self-taught) Arts undergrad from Harvard.
Law License: 1758, passed the Braintree Court's bar after his oral examination.
Highest Social Status Achieved: Founding Father, U.S president No.2.
Famous Quotes: "Remember, democracy never lasts long. It soon wastes, exhausts, and murders itself. There never was a democracy yet that did not commit suicide."
---
Thomas Jefferson ( 1743-1826) [Undergrad – No Law School]
Birthplace: Albemarle County, Virginia Colony.
Legal Education: Over two years reading law under the tutelage of George Wythe (Judge).
Law License: 1765, admitted to the Virginia bar.
Highest Social Status Achieved: Founding Father (Main author, Declaration of Independence), U.S president No. 3.
Famous Quotes: "I predict future happiness for Americans if they can prevent the government from wasting the labors of the people under the pretense of taking care of them."
*John Jay: (1745-1829) [Undergrad – No Law School]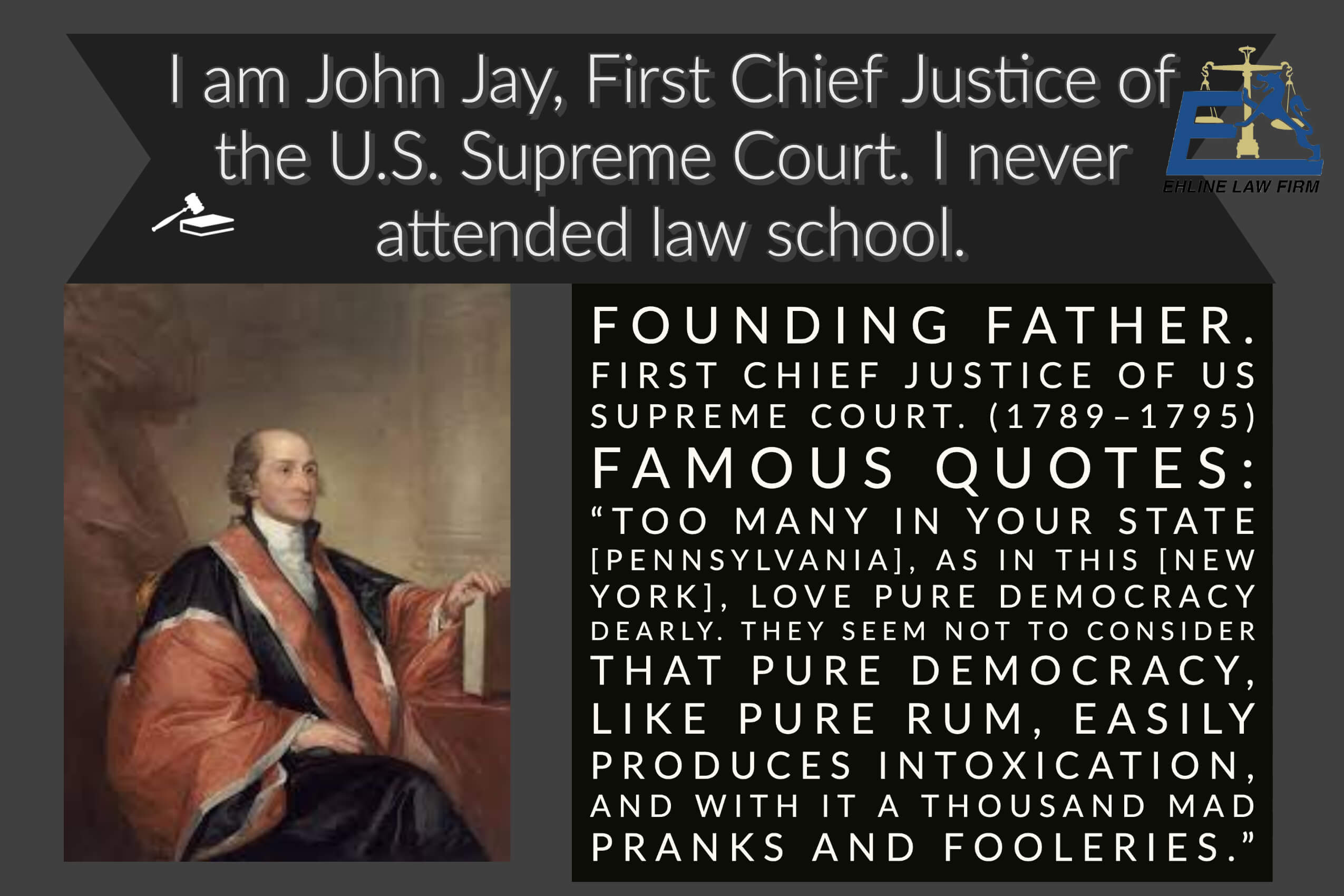 Birthplace: New York City, New York.
Legal Education: 1764, began clerkship, reading law under the tutelage of attorney Benjamin Kissam.
Law License: 1768, he admitted to the New York bar, later working under lawyer Robert Livingston.
Highest Social Statuses Achieved: Founding Father. First Chief Justice of US Supreme Court. (1789–1795)
Famous Quotes: "Too many in your state [Pennsylvania], as in this [New York], love pure democracy dearly. They seem not to consider that pure democracy, like pure rum, easily produces intoxication, and with it a thousand mad pranks and fooleries."
*In addition to being our First Chief Justice, his parents were not British citizens but French Huguenot refugees.
*James Abram Garfield: (1831-1881) [Undergrad – No Law School]
Birthplace: Orange Township, Ohio.
Legal Education: Circa 1857, James began to study, reading for the law privately, disliking private learning institutions, despite his incredibly high formal education level and professorship.
Law License: 1860, admitted to Ohio bar.
Highest Social Status Achieved: U.S president No. 20. [assassinated September 1881, four months into the first term]
Famous Quotes: "He who controls the money supply of a nation controls the nation." (Garfield hated private central banks like the Bank of England, with its FIAT currency).
*He holds the distinction of being the only sitting member of the United States House of Representatives elected directly to the presidency.
---
Calvin Coolidge: (1872-1933) [Undergrad – No Law School]
Birthplace: Plymouth Notch, Vermont.
Legal Education: 1895-1897, after college, Coolidge read law in a Northampton, Massachusetts law firm, Hammond and Field.
Law License: 1897, admitted to Mass bar, opening a law office in Northampton.
Highest Social Status Achieved: U.S president No. 30. (1923-1929).
Famous Quotes: "No person was ever honored for what he received. Honor has been the reward for what he gave."
Alben William Barkley: (1877-1956) [Undergrad – No Law School]
Birthplace: Lowes, Kentucky.
Legal Education: Circa 1898, after being unable to continue college, he studied law independently.
Law License: 1901, admitted to Kentucky bar, opening a law office in Northampton.
Highest Social Status Achieved: U.S vice president No. 35. (1949-1953).
Famous Quotes: "I would rather be a servant in the House of the Lord than to sit in the seats of the mighty."
---
Roger B. Taney: (1777-1864) [Undergrad – No Law School]
Birthplace: Calvert County, Maryland.
Legal Education: Circa 1795, after Taney received his formal education at Dickinson College, he began reading law, studying law independently.
Law License: 1799, admitted to Maryland bar.
Famous Quotes: "Every intelligent person whose life has been passed in a slaveholding State, and who has carefully observed the character and capacity of the African race, will see that a general and sudden emancipation would be absolute ruin to the Negroes, as well as to the white population."
Daniel Webster: (1782-1852) [Undergrad – No Law School]
Birthplace: Salisbury, New Hampshire.
Legal Education: 1797 [?] [Citation Needed] He began studying law in a law office. Webster was an expert public speaker, prompting him to teach and read law in Boston under prominent Salisbury lawyer Thomas W. Thompson's tutelage. Webster studied general education under clergy, in the ancient English tradition, attending Phillips Exeter Academy at age 14, entering Darthmough college at 15, graduating in 1797.
Law License: 1805, admitted to Massachusetts bar, practicing law in Boscawen, New Hampshire. Webster practiced law while serving in the House of Representatives, arguing his first case before the Supreme Court of the United States in early 1814, despite US officials being barred from bearing titles of nobility, including "Esquire."
Highest Social Statuses Achieved: Son of American Revolutionary war soldier. He did two tours, serving as 14th and 19th United States Secretary of State (1841-1843 and 1850-1852) and US Senator from Mass. (1845-1850). He was also a U.S. House representative for New Hampshire and Mass.
Famous Quotes: "Whatever makes men good Christians, makes them good citizens."
---
*Salmon P. Chase: (1808-1873) [Undergrad – No Law School]
Birthplace: Cornish, New Hampshire.
Legal Education: Circa 1826-29 [Citation Needed] He worked in Washington, D.C., reading law under U.S. Attorney General William Wirt, often attending US Supreme Court, learning from the greats. Previously, after his father passed away in 1817, Chase moved to Ohio in 1820 to receive tutelage, first living with a judge, ultimately moving in with his uncle Philander Chase, an Episcopalian bishop. Chase attended Cincinnati College beginning in 1822, ultimately graduating from Dartmouth College in 1826.
Law License: 1829 was admitted to the Washington DC bar. "When, after two years of study, Chase applied for the bar, his examination by the judges went well until he was asked about the length of his legal training. When he admitted it was not the required three years, the presiding judge instructed him he would need to study another year. Chase pleaded with the court. "'Please your honors, . . . I have made arrangements to go to the Western country and practice law" there. After a brief conference, the judges decided to swear him in as a member of the bar."' (Case Western Reserve Law Review, Volume 63, Issue 3-2013 – The Remarkable but Forgotten Career of Salmon P. Chase p. 658 para. 5).
Law License: 1830 was admitted to Ohio bar, practicing law in Cincinnati beginning 1830. (Source).
Highest Social Statuses Achieved: Chief Justice of the U.S. Supreme Court, U.S. senator, 1849–1855, 1861; governor of Ohio, 1856–1860; secretary of the Treasury, 1861–1864. (Source).
Famous Quotes: "The law of the Creator, which invests every human being with an inalienable title to freedom, cannot be repealed by any interior law which asserts that man is property."
*Chase is one of a handful of U.S. politicians achieving serving in all three branches of the U.S. federal government.
Mahlon R. Pitney IV: (1858-1924) [Undergrad – No Law School]
Birthplace: Morristown, New Jersey.
Legal Education: 1879, after Pitney attended the College of New Jersey, now Princeton University, with classmate Woodrow Wilson, he read law under his father's tutelage in a law office.
Law License: 1882, admitted to the New Jersey bar, establishing his private practice in Dover.
Famous Quotes: "THE CONSTITUTION … IMPOSES UPON THE STATES NO OBLIGATION TO CONFER UPON THOSE WITHIN THEIR JURISDICTION EITHER THE RIGHT OF FREE SPEECH OR THE RIGHT OF SILENCE."
George Shiras Jr.: (1832-1924) [Undergrad – No Law School]
Birthplace: Pittsburgh, Pennsylvania.
Legal Education:1854, Shiras finished his training by reading law in a law office, leaving Yale Law School before earning a law degree. He attended Ohio University and graduated from Yale College, Phi Beta Kappa, in 1853.
Law License: 1855? [Citation needed] He practiced law in Dubuque, Iowa, from 1855 to 1858, and in Pittsburgh, Pennsylvania, from 1858 to 1892.
Famous Quotes: "[Citation Needed]
Pierce Butler: (1866-1939) [Undergrad – No Law School]
Birthplace: Waterford, Dakota County, Minnesota. (modern Northfield, Minnesota).
Legal Education: 1887, after Butler graduated from Carleton College, he read for the law.
Law License: 1888, he was admitted to the Minnesota state bar.
Famous Quotes: "The two great evils to be avoided are cabal at home, and influence from abroad."
*J. Strom Thurmond: (1902-2003) [Undergrad – No Law School]
Birthplace: Edgefield, South Carolina.
Legal Education: 1929, he began reading the law on his own after graduating from Clemson Agricultural College of South Carolina (now Clemson University) in 1923.
Law License: 1930, he was admitted to the South Carolina bar.
Highest Social Status Achieved: Highly decorated WWII colonel, attaining the rank of major general, president pro tempore of the United States Senate 2001, United States Senator from South Carolina 1956-2003.
Famous Quotes: "Mr. Gore, I knew Harry Truman, … I ran against Harry Truman. And Mr. Gore, you are no Harry Truman."
*After Thurmond's death, reports surfaced he had a 22-year-old mixed breed daughter with the 16-year-old African American maid employed by his family.
John Hessin Clarke: (1857-1945) [Undergrad – No Law School]
Birthplace: New Lisbon, Ohio.
Legal Education: 1887, Clarke did not attend law school but studied the law under his father, a judge, clerking as a legal apprentice, passing the bar exam [Need citation "cum laude"] in 1878. Previously, he received his undergrad from Western Reserve College and graduated from Phi Beta Kappa in 1877. Clark previously attended New Lisbon High School.
Law License: 1878, he was admitted to the Ohio bar.
Famous Quotes: "Resort to science has rendered modern war so destructive of life and property that it presents a new problem to mankind, such, that unless our civilization shall find some means of making an end to war, war will make an end to our civilization."
---
Thomas Riley Marshall: (1854-1925) [Undergrad – No Law School]
Birthplace: North Manchester, Indiana.
Legal Education: 1873, because he was sued for and won a libel case while he tutored at Wabash, he had become interested in studying law, so he started seeking a supervising mentor to teach him. Marshall read law in Columbia City at the law office of Walter Olds (future Indiana Supreme Court member) for more than a year. At that time, the only way to become a lawyer in Indiana was to apprentice under an Indiana bar association member. Before this, he received a classical education from Wabash College in Crawfordsville.
.Law License: 1875, he was admitted to the Indiana bar.
Famous Quotes: "Once there were two brothers. One ran away to sea; the other was elected vice president of the United States. And nothing was heard of either of them again."
Charles Daniel Drake: (1811-1892) [Undergrad – No Law School]
Birthplace: Cincinnati, Ohio.
Legal Education: Circa 1830, Drake read law with Benjamin Drake in Cincinnati after Drake served in the U.S. Navy as a midshipman beginning 1827. Previously, in 1824 he attended Partridge's Military Academy in Middletown, Connecticut, and he graduated in 1825. Drake did possess an undergrad, attending St. Joseph's College in Bardstown, Kentucky, in 1823.
Law License: 1833, he was admitted to the Cincinnati bar.
Law License: 1834, he was admitted to the Missouri bar. [Citation needed]
Highest Social Status Achieved: United States Senator from Missouri and Chief Justice of the Court of Claims.
Famous Quotes: "[Citation needed]"
*He was a delegate and Vice President overseeing the Missouri constitutional convention in 1865.
*Tapping Reeve: (1744-1823) [Undergrad – No Law School]
Birthplace: Brookhaven, Long Island, New York.
Legal Education: In 1771, Reeve left his post as tutor at Princeton to read law traditionally in Judge Jesse Root's office in Hartford, Conn. In a year, he was admitted to the bar, and he moved to the remote village of Litchfield, Conn. Fifteen-year-old Reeve graduated top in his class at Princeton (then College of New Jersey) and tutored for attendees from 1767 to 1770.
Law License: 1772, Reeve was admitted to the Connecticut bar.
Highest Social Status Achieved: Patriot, a friend of Thomas Jefferson, a supporter of the Revolution. However, in December 1776, the Connecticut Assembly called upon him to travel the state to drum up volunteers for the Continental Army. He then accepted a commission as an officer and accompanied his recruits as far as New York before returning to his ailing wife. After 16 years on the state supreme court, Reeve was elevated in 1814 to chief justice. In 1814, Reeve was appointed Chief Justice of the Supreme Court of Connecticut.
Famous Quotes: "[Citation needed]."
*In 1784, he opened the Litchfield Law School, considered by most historians to be the first law school in the United States.
4. Lawyers Who Attended Some Law School And Read Law
George Smith Houston: (1811-1879) [No Undergrad – Some Law School]
Birthplace: Williamson County, Tennessee.
Legal Education: [Need citation]. Houston worked on his family farm, reading law under Judge George Coalter.
Legal Education: [Need citation]. He left the judge and studied law at a school in Harrodsburg, Kentucky, where he graduated from law school.
Law License: 1863, admitted to Kansas bar. He opened a firm and practiced law in Newcastle.
Highest Social Statuses Achieved: He was a congressman and senator for Alabama and was 24th Governor of Alabama from 1874-1878. United States House of Representatives (1840- ). Alabama House of Representatives. (1831- )
Famous Quotes: [Citation Needed].
---
Chester Alan Arthur: (1829-1886) [Undergrad – Some Law School]
Birthplace: Fairfield, Vermont.
Legal Education: 1853, read law under the tutelage of his friend, abolitionist lawyer, Erastus D. Culver. However, he did attend some law school at State and National Law School in Ballston Spa, New York, before relocating to Culver's law offices.
Law License: 1854, admitted to New York bar, joining Culver's firm, becoming a law partner with no law degree.
Highest Social Status Achieved: U.S president No. 21. (1881-1885).
Famous Quotes: "The extravagant expenditure of public money is an evil not to be measured by the value of that money to the people who are taxed for it."
Thomas Woodrow Wilson (1856-1924) [Undergrad – Some Law School]
Birthplace: Staunton, Virginia.
Legal Education: Attended some classes at the University of Virginia School of Law, but he fell ill, forcing his withdrawal.
Legal Education: Wilson read law, residing with his parents, living in Wilmington, North Carolina.
Law License: 1882, admitted to Georgia bar, hanging out his shingle for a time, then entering political academia.
Highest Social Status Achieved: U.S president No. 28. (1913-1921).
Famous Quotes: "Liberty has never come from Government. Liberty has always come from the subjects of it. The history of liberty is a history of limitations of governmental power, not the increase of it."
*Apparently, he had had dyslexia since birth, learning to read at age 10.
George Gray (1840-1925) [Undergrad – Some Law School]
Birthplace: New Castle, New Castle County, Delaware.
Legal Education: Circa 1859. Attended Harvard Law School, then stopped
Legal Education: Circa 1863 He read reading law at his father's prestigious law practice. (Learn more).
Law License: 1863, admitted to Kansas bar. He also opened his own firm and practiced law in Newcastle.
Highest Social Statuses Achieved: United States Senator from Delaware and the United States Circuit Judge of the United States Court of Appeals for the Third Circuit and the United States Circuit Courts for the Third Circuit (1899-1914). Attorney General of the State of Delaware, 1879-1885, U.S. Senator from Delaware, 1885-1899, Member, Permanent Court of Arbitration, The Hague, 1900-1925.
Famous Quotes: [Perhaps found in Crosslin, Michael Paul. "The Diplomacy of George Gray." Ph.D. dissertation, Oklahoma State University, 1980].
---
Joseph Rucker Lamar (1857-1916) [Undergrad – Some Law School]
Birthplace: Elbert County, Georgia.
Legal Education: Circa 1877, after completing his undergrad at Bethany College, he studied law at Washington and Lee University in Lexington, Virginia. He soon abandoned academic instruction, instead choosing to learn by doing. He returned to Georgia, reading law under the tutelage of prominent Augusta attorney Henry Clay Foster.
Law License: 1878, admitted to the Georgia bar (only 20 years old).
Famous Quotes: "[Citation needed]"
*William Henry Moody: (1853-1917) [Undergrad – Some Law School]
Birthplace: Newbury, Massachusetts
Legal Education: 1876, Moody attended the Newbury, Salem, and Danvers schools, graduating from Phillips Academy in 1872 and Harvard University, Phi Beta Kappa in 1876. Dropped out of Harvard Law School after four months, reading law under Richard Henry Dana, Jr.
Law License: 1878, he was admitted to the Massachusetts bar.
Famous Quotes: "It is always well to get near to men of genius."
*Held office in all three branches of the U.S. Government.
*Edward Douglass White Jr.: (1845-1921) [Law School Grad + Read Law]
Birthplace: Thibodauxville, Lafourche Parish, south Louisiana.
Legal Education: Circa 1863 began law studies privately, studying law at the University of Louisiana (now Tulane University) in New Orleans.
Law License: 1868, he was admitted to the Lousiana state bar, a Roman Civil Law colony.
Highest Social Status Achieved: Chief and Associate Justice, Supreme Court of the United States. (1894-1921).
Famous Quotes: "It is always well to get near to men of genius."
*He is best known for formulating the Rule of Reason standard of antitrust law.
*Benjamin N. Cardozo: (1870-1938) [Undergrad – Some Law School]
Birthplace: New York City.
Legal Education: Cardozo read law under his father in a law office after he dropped out of Columbia law school in 1889. Undergrad obtained from Columbia University. Cardozo received his early private education from my hero, Horatio Alger, who wrote about achievement through hard work and merit.
Law License: 1891, admitted to New York bar.
Highest Social Status Achieved: Associate Justice, Supreme Court of the United States. (1931-1938).
Famous Quotes: "In the end, the great truth will have been learned that the quest is greater than what is sought, the effort finer that the prize (or rather, that the effort is the prize), the victory cheap and hollow were it not for the rigor of the game." [You can see Alger's influence in that quote!]
*Jew number two on Supreme Court. His opinion in Palsgraf v. Long Island Railroad Co. (1928) made American negligence law easier to understand and prosecute.
*George Alexander Sutherland: (1862-1942) [Undergrad – Some Law School]
Birthplace: Stony Stratford, Buckinghamshire, England.
Legal Education: 1882, Sutherland left the University of Michigan Law School before earning his law degree, reading for the law privately. Sutherland Brigham Young Academy in 1879, after saving enough to attend.
Law License: 1883, he was admitted to the Michigan bar.
Famous Quotes: "If the provisions of the Constitution be not upheld when they pinch as well as when they comfort, they may as well be abandoned."
*English-born U.S. jurist and politician.
Robert Houghwout Jackson: (1892-1954) Last SCOTUS Justice Attending Law School With No Law Degree [Undergrad – Some Law School]
Birthplace: Spring Creek Township, Warren County, Pennsylvania.
Legal Education: 1912, after finishing a year at Albany Law School, Jackson returned to Jamestown to read law under an established lawyer. Jackson used this combination to gain early admission when local courts expected a customary three to four law office study years.
Law License: 1913, he was admitted to the New York bar and joined a law practice in Jamestown.
Highest Social Status Achieved: Associate Justice of the U.S. Supreme Court. (1941-1954). United States Solicitor General and United States Attorney General is the only person to have held all three offices.
Famous Quotes: "Any lawyer worth his salt will tell the suspect, in no uncertain terms, to make no statement to the police under any circumstances."
*Jackson was also notable for his work as Chief United States Prosecutor at the Nuremberg trials of Nazi war criminals following World War II. Jackson's reputation for writing remains unparalleled on the Supreme Court. He was true to our founder's ideals of due process and wished to protect Americans from overreaching federal agencies.
Robert G. Storey: (1893-1981) [[Citation Needed] No Law School]
Birthplace: Greenville, Texas.
Legal Education: [Citation needed] Never attended law school. [Author: I could find nothing about his legal education]
Law License: [Citation needed] Texas?
Highest Social Status Achieved: Storey served in both World Wars. In 1945-1946 Storey acted as executive trial counsel to Justice Robert H. Jackson of the U.S. Supreme Court, seeking to execute high-ranking Nazi officials. Storey was also president of the Dallas Bar in 1934. He received many honors.
Famous Quotes: "[Citation needed]"
Generally, as students learned the law, they became collegial with judges, earning respect along their journey. These legal students would meet with court clerks, Sheriff's, and officers for years before being sworn in. These pupils typically earned group recognition before "Passing" into their Bar! Modernly, law students get little if any of the above and get stuck with gigantic student loan debt.
Solo Law Reading Was Made Famous By Abe Lincoln and Rare
Anciently and during the colonial era, solo law reading was never widely used as a bar entry method. Reading for the law with no supervisor other than books seems to have been made famous in the states due to our need for lawyers, as ours mostly came from England. There was no such thing as a modern classroom either. Apprentices received legal educations through apprenticing. While we simultaneously grew westward, we badly needed prairie lawyers and had no Inns of Court, reliant on existing lawyers and judges for lawyer training, including independent study.
---
Standing in the Local Community Was A Big Deal
One major aspect of bar entry was the apprentice learning tact and judicial temperament. Judges would evaluate a candidate's standing in their community and often interview mentoring attorneys and fellow lawyers who had worked with the bar candidate. The point is, professionals in the Bar were best suited to decide the moral character, not just legal ability. Both matter!
America's 1800's Transition To Law Degrees From Law Office Study Programs Begins
In the early 1800s, colleges began offering law degrees as an alternative to the apprenticeship program. Learning the profession of law, as in England, was becoming a matter for academia. Classic works understanding legal history were slowly replaced by lectures teaching substantive law, more focused on rote memorization in conformity with a written bar exam (oral bar exams by court judges slowly phased out).
Colleges focused on ecclesiastics, and scholastics including the arts, philosophy, and so so on. Teachers provided zero practical applications, and virtually no efforts were made to help students pass the Bar exam. For example, Abraham Lincoln was a judge's legal apprentice, reading for the law by himself.
1878-Enter The American Bar Association
The American Bar Association (ABA) was formed in 1878 by 100 lawyers hailing from 21 states. In 1925, African-American attorneys created ABA rival, the National Bar Association. Black lawyers did so because the legal force known as the ABA would not allow blacks to become ABA members. (Today, the National Bar Association has 60,000 members and 84 chapters).
Arguments Over ABA Selective Discrimination
Modernly, some older ABA members assert the ABA's "experience-based" dues are age discriminatory. Basically, they argue, the ABA punishes success by making elders pay higher dues because they have been in practice longer. These elderly victims argue these discriminatory rates have zero economic justification since the median new lawyer starting pay in 2019 was $155,000 per annum. The ABA's own Model Rule 8.4(g) clearly bars age discrimination as professional misconduct for practicing lawyers. Using William's arguments, since these are mostly, probably white males, they should pay more as a form of reparations, for which they can never be forgiven, right?
The ABA's Rage Against Reading Law

As we already know, until the middle 1800s, pupils generally learned law using a combination of independent study and apprenticeship. We already know the ABA doesn't like competition in legal education. But when the ABA called for a "national, uniform code of ethics," that was a good thing, in my opinion. But their pressure on the states to make it harder for the poor to practice law is palpable.
For example, as recently as 2015, Wyoming ended its version of the law office study program:
---
"This matter came before the Court on its own motion following action taken by the Wyoming State Legislature. During the 2015 legislative session, the Legislature removed from Wyo.Stat.Ann. § 33-5-105 the "law office study" method of qualifying for admission to the Wyoming State Bar. Given that statutory amendment, this Court finds that related provisions should be removed from Rule 9 of the Rules Governing the Wyoming State Bar and the Authorized Practice of Law. It is, therefore, ORDERED." [Emphasis] (See In the Matter of Amendments to Rule 9 of the Rules Governing the Wyoming State Bar and the Authorized Practice of Law PDF).
---
ABA's old ethics seem far away from mine. In 1912, three black lawyers "accidentally" received memberships into the ABA. After a lot of hooplas, they got to keep their bar memberships. In response, the ABA amended their application, seeking racial proof of applicants and their genders. It was not until 1943 that the ABA declared these factors moot. (Geraldine R. Segal, Blacks in the Law: Philadelphia and the Nation (1983) 118, 17-18).
Since that time, the ABA has pushed hard for states to abolish their clerkships and law study programs. Furthermore, the ABA has a stranglehold over state judges, by FIAT, having taken away a court's right to examine bar competency themselves. Now, if you didn't attend an ABA-accredited school, you would not be waived into another state's bar either. Wow! The National Conference of Bar Examiners (NCBE) makes up most component student testing examinations.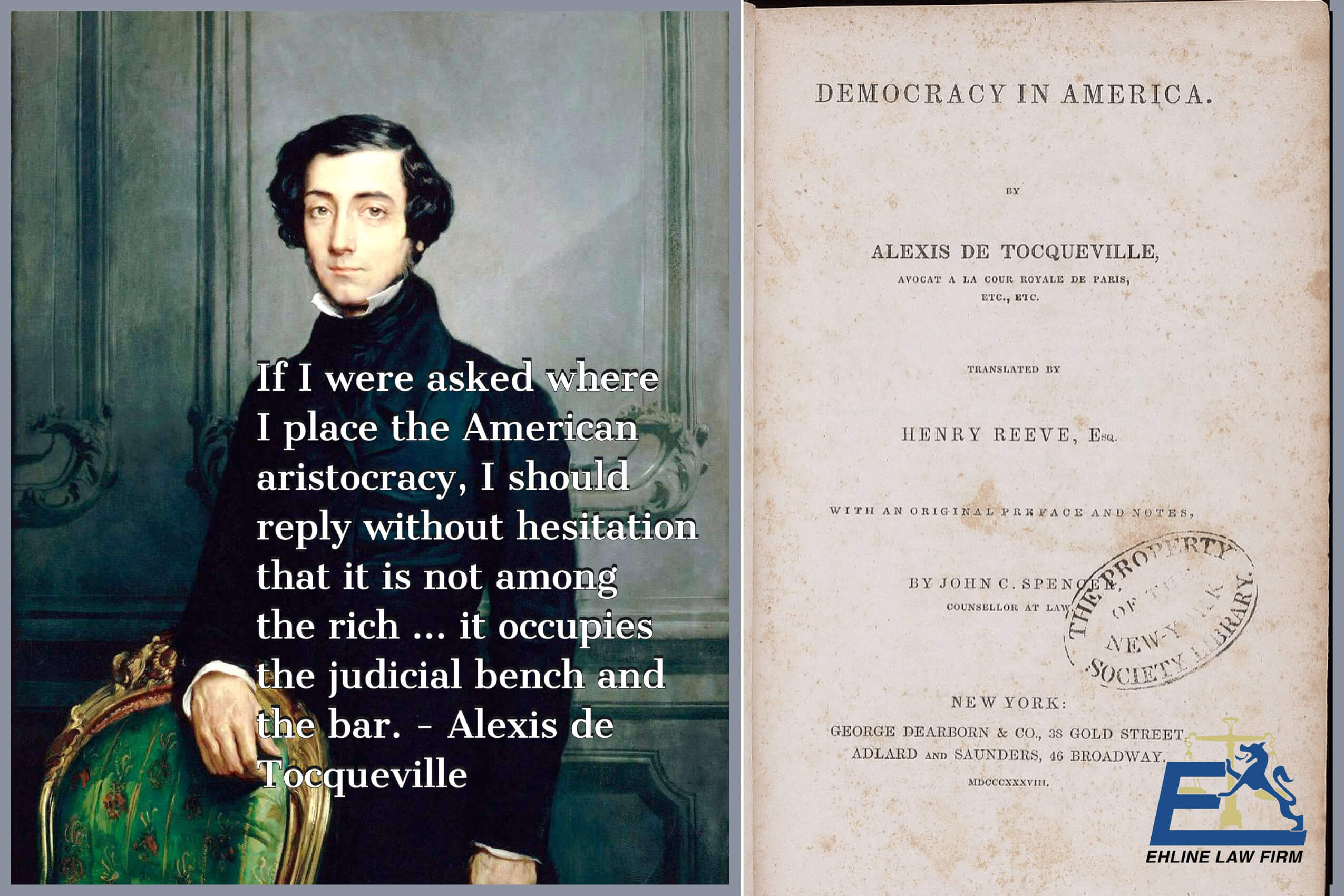 But the civil law territories of Louisiana and Puerto Rico use their own Roman civil law tests. Modernly, ABA students spend a ton of money, attend classes, take BARBRI, PMBR, and other courses to learn how to study for and pass their bar exam. Few people are on a law study program, and fewer of those will pass the bar exam at all.
---
Modern Allegations The Standardized Bar Exam Is "Racist"
At least one white lawyer argues modernly that since blacks have lower law Student Aptitude test scores (LSAT) and score lower on the bar exam, the test itself is racist. (Source). Modern law students and professors pushing such an argument seem to have confused the American Bar Association's (ABA) long gone past with the actual, modern state "Bar Exam" test, two distinct entities. Jews and Asians score higher than white people on both exams.
---

Is A Bar Exam TEST Itself Racist?
Jessica Williams: Senior Diversity Editor for the California Law Review and member of Berkeley Law Class of 2021, argues: "Many outside the legal profession believe abolishing the bar exam would render vulnerable future clients to predatory attorneys. This is unlikely." (Jessica Williams, Abolish the Bar Exam, Calif. L. Rev. Online. (Oct. 2020)).
Williams Goes On To Assert:
---
ALLEGATION: "There is no indication there were more shady lawyers preying upon innocent citizens before standardized bar exams, even though colonial-era lawyers did not have to receive law school training before practice.
Reply: It would be impossible to know for sure anything Williams says has merit, as her opinions remain unsupported by meritorious evidence. (Emotions don't equate with facts)
As discussed above, law school training in the 1700s-1800s was only possible in one or two counties in a few states, with no court recognizing academic training substitutes for apprenticing coupled with independent study.
True, no universal, standardized legal "test" existed. None does today unless the state adapts .
the bar was generally merit-based using a combination of independent study and typically apprenticeship.
With very, very few exceptions, the court did not let strangers pass the bar.
After the ABA was invented, some states allowed an academic "privilege" waiver to avoid some qualified student's taking the standardized exam.
historical to waive bar candidates.
Black people can and do pass the bar exam.
A candidate's original bar exam was usually oral, and their
"… commitment to social justice, cultural competency, a sense of fairness or equity, or any number of traits that range from useful to integral to success in the law, a service industry" was determined by character witnesses, usually, a supervising attorney. Sometimes a fellow lawyer they studied under or opposing counsel on a case would testify as to good character.
Legal Apprentices Did Not Receive Pay
"As with apprenticeships before bar examinations became standardized, applicants would be able to begin working for pay while learning real skills needed for their work." [Emphasis].
Reply: Willams historic law study reading with "" the student for? Again, law apprentices never received payment to learn a skill. Apprentices and their families paid the lawyers or a grandmaster to teach law. Back then, apprentices, could work for pay a part-time job.
---
Should We Throw The Baby Out With The Bathwater?
"If states abolish their bar exam, however, they can cast off a racist history that intentionally leaves out the diverse legal professionals they claim to want to draw in."
Reply Objection. Lacks foundation. Objection. Argumentative. Objection. Hearsay. Objection. Assumes facts, not in evidence. No evidence exists the bar exam is racist that we could locate.
'
---
Selective Outrage Is Not A Valid Basis For Canceling Tests
Selective outrage has become popular on our college campuses. Here are a few examples.
Ex: Walls protecting politicians and bureaucrats are good, but border walls protecting national sovereignty are "racist."
Ex: Saying all white people are racist is ok, but it's racist to describe another generalized group similarly.
Ex: Some ABA; therefore, the ABA is racist.
Ex: Greeks invented democracy, but they owned slaves; therefore, democracy should be abolished.
Written exams are hard, and I agree that apprenticeship programs should come back. Helping black people receive the lower education they need to pass the exam, as with all students, will require a motivated, dedicated teacher.
---
At Least One African Chief Blames Tribalism For Non-Merit Based Outcomes, Encouraging A MERIT-BASED System
In modern united Africa, pundit chiefs argue the AGAINST by William's piece the fair "merit-based" system. ("As a rule, ethnic or tribal affiliations should play no part in filling civil‐service posts in any country. The only workable basis of selection is individual merit."). (Source – NY Times, African Chief Explains Tribalism). I would venture to say far fewer legal malpractice claims would arise if students had a master who "made that mistake before." If anything, creating ABA law schools, treating law as an academic course rather than a profession, has kept minorities and poor people out of more affordable apprenticeships leading to a non-cookie cutter education while allowing for non-group think.
ABA Presidents Known To Support Segregation
(No. 9) Thomas Jenkins Semmes (1824-1899) He was the 9th president of the American Bar Association 1886-1887. (Law School Grad).
(No. 15) John Randolph Tucker (1823-1897) (Law School Grad).
Under the ABA System, Abe Lincoln Would Have Never Been A Lawyer??
True. U.S. president, Abe Lincoln, would have never been a lawyer under our current ABA (He would only be eligible under the California LOSP system). This is because Abe's family was destitute. In fact, Abe would have been ineligible under the English Inns system unless he was sponsored by someone or adopted by the gentry, perhaps.
---
Past ABA Presidents Who "Read" Law
(No. 1) *James Overton Broadhead (Term: 1878–1879 (Some College + Law Office Study) *First ABA president and Southerner opposed segregation.
(No. 2) Benjamin Helm Bristow (1879–1880) (Some college + Law Office Study)
(No. 3) Edward John Phelps (1880–1881) (Some Law School + Law Office Study)
(No. 4) Clarkson Nott Potter (1881–1882) (Some college + Law Office Study)
(No. 6) Cortlandt Parker (1883–1884) (Law Degree + Law Office Study)
(No. 7) John White Stevenson (1884–1885) (Some college + Law Office Study)
(No. 10) George Grover Wright (1820-1896) (No college + Law Office Study)
(No. 11) David Dudley Field II (1805-1894) (Undergrad + Law Office Study)
(No. 12) Henry Hitchcock (1829-1902) (Some college + Law Office Study)
(No. 13) Simeon Eben Baldwin (1840-1927) (Some Law School + Law Office Study)
(No. 14) John Forrest Dillon (1831-1914) (Medical Degree + Independent Law Study; Dillon didn't clerk or read law under an attorney or attend law school)
(No. 16) Thomas McIntyre Cooley (1824-1898) (Abolitionist) (Law Office Study)
(No. 19) James M. Woolworth (1896–1897) (Undergrad + Independent Study)
(No. 22) Charles Frederick Manderson (1899–1900) (Independent-Study)
(No. 27) Henry St. George Tucker, III (1904–1905) (Undergrad Law Courses + Law Office Study)
(No. 28) George R. Peck (1905–1906) (No Undergrad + Law Office Study)
(No. 30) Jacob M. Dickinson (1907-1908) (Masters + Some Law School + Independent Law Study)
(No. 31) Frederick William Lehmann (1908-1910) (Undergrad + Law Office Study)
(No. 32) Charles F. Libby (1909-1910) (Some Law School + Law Office Study)
(No. 35) Frank B. Kellogg (1912-1913) (Independent Study aka "Reading Law")
(No. 36) William Howard Taft (1913-1914) (Law Degree + Independent Study)
(No. 39) George Sutherland (1916-1917) (Some Law School + Independent Study)
(No. 44) Cordenio A. Severance (1921-1922) (Some Law School + Law Office Study)
(No. 45) John W. Davis (1922-1923) (Read Law then earned Law Degree)
(No. 48) Chester Isaiah Long (1926-1927) (No Undergrad + Independent Study)
(No. 50) Silas H. Strawn (1927-1928) (No Undergrad + Independent Study)
---
[More Citations Needed]
Can You Become An Attorney With No Undergrad Or Law School Today?
Yes. The truth is, few states allow applicants to skip any formal education. No states allow pure independent study like Abe Lincoln's days, and a handful of states, including California, allow you to completely skip higher legal education classes. Below, I will differentiate between state law reader/apprenticeship programs, starting with requiring no undergrad diploma or law school courses.
---
---
COMMON TIPS FOR ALL APPRENTICE APPLICANTS – FINDING A LAWYER/JUDGE SPONSOR
This is the number one question we receive at our personal injury law firm daily, much to my staff's consternation. How do I find a lawyer or judge to study law under? An established lawyer/judge or firm will not always be interested in training someone for free. So finding a sponsoring attorney for help with this time-consuming and distracting study-teaching process means offering these mentors something more to make yourself a valuable, indispensable, loyal, reliable commodity. Think of yourself as an ancient Knights Templar Squire receiving tutelage in the arts of war and religious laws! You carry your knight's lance for use in the joust.
As a legal apprentice, be prepared to carry your supervising judge or lawyer's briefcase, laptop, easel, movie projector screen, case notes, files, and boxes of evidence. Be prepared to field parlays with insurance adjusters seeking arbitration with your knight, as he does battle with opposing counsel on the other line in furtherance of his duties to his king (his client). I would look to my leadership example as a Marine or biker club.
When I sought a Knight to squire under, I humbled myself in fealty, for although I may have had superiorities to these masters in some areas, they were offering me the stuff of legend. To become a holy crusader for my client's rights and service before the bar, what greater calling can there be for those called? How you do that and remain in compliance with your state bar guidelines is up to you.
---
States Requiring No Undergrad or Law School Courses To Study Law In A Law Office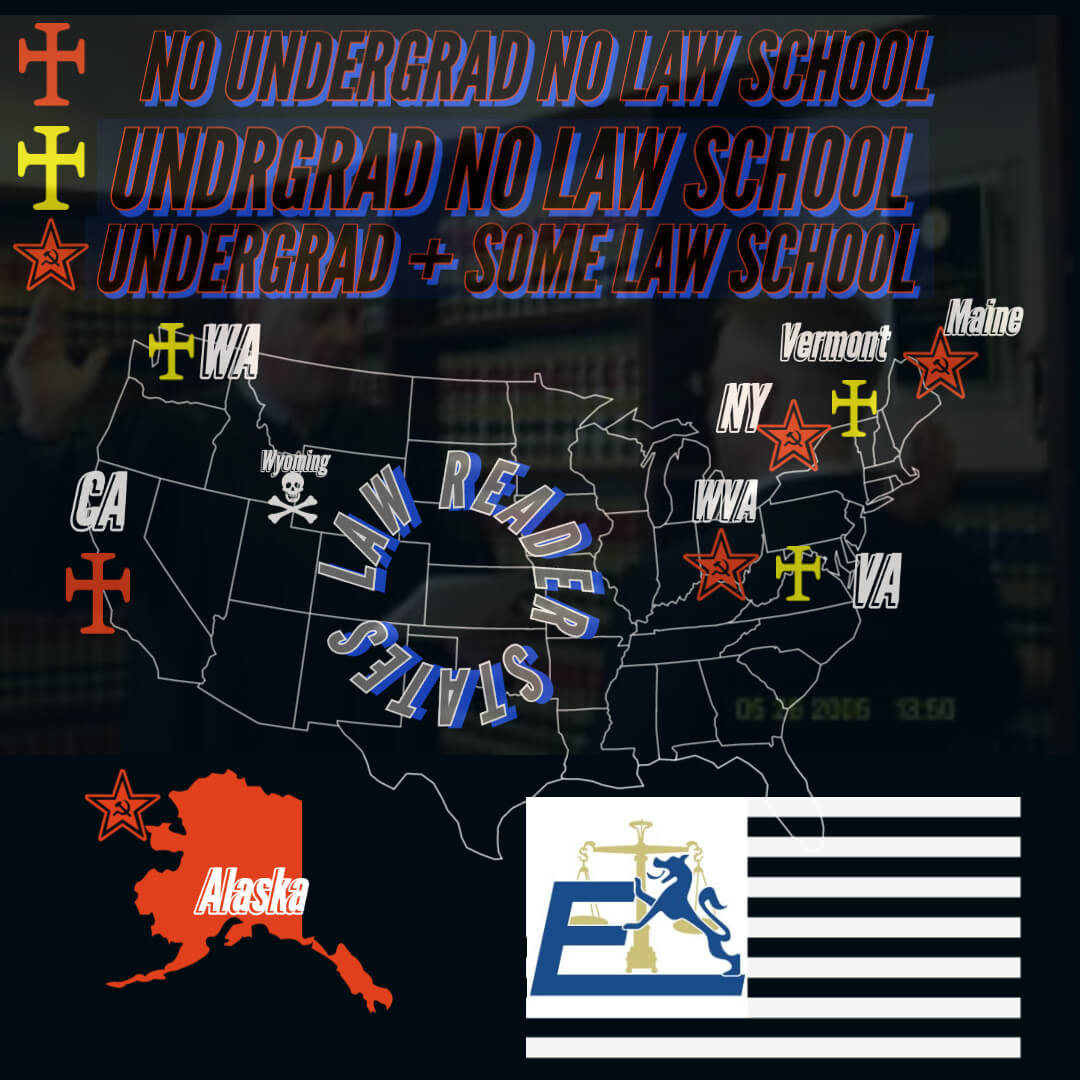 Only four U.S. states offer full lawyer apprenticeship programs (no law school required), including:
---
California (No undergrad required),
Vermont,
Virginia,
Washington.
California Is Particularly Gracious Towards Gifted Individuals With No Undergrad
Of those few "reading law" states, only one doesn't require an undergrad, California. However, California does waive this requirement; if the candidate demonstrates through a CLEP (Discussed below) test, they have the knowledge and skill to enroll. Contrary to misinformation online, West Virginia requires law school before entering their legal apprenticeship program.
California Requires Legal Apprentices to Take and Pass the Dreaded Baby Bar Exam!
True, California requires each pupil to pass a First-Year Law Student's Exam after a lawyer supervised study period. Even if you pass this "baby bar" exam, with its less than approximately 12% average pass rate, pundits claim you must attend an ABA law school. Or you'll risk failing the general bar examination, they say. Of all the programs, the only one Abe Lincoln and several other legal greats above could've studied law under is California's Law Office Study Program (LOSP).
California Law Office Study Program Admission Requirements For Students With No College – Four Year Program

Abe Lincoln would have taken the CLEP, as he had zero basics, let alone higher legal education to speak of. That means only California and definitely not Illinois would have been his only avenue to the presidency.
---
Open to tutoring judge and attorney supervisors, California's Law Office Study Program ("LOSP ") REQUIRES Several BASIC RULES For General Applicants With No College*
Residents ONLY: This program exists for California residents only. (See PDF On Residency Proof Here).
Pass The CLEP: California LOSP candidates must provide the Office of Admissions "Demonstrated equivalent intellectual achievement" proof of an AA or College Level Equivalency Program (CLEP) certification. For LOSP candidates possessing at least "Two years of college work" (Which includes an AA degree), or higher, no CLEP exam passage is needed.
---
Common California LOSP Steps For All Applicants With Or Without College?
LSAT: Not required.
Meet Minimum Age: [Citation needed]
Find Your Supervising Mentor: Applicants to LOSP must study under a lawyer or judge "admitted to the active practice of law in California and be in good standing for a minimum of five years."
Fee: $158 Registration fee. You must mail the State Bar your Notice of Intent to read law under your supervising attorney to the State Bar address indicated. A sometimes non-refundable $158 registration fee will be included with your Notice of Intent.
Curriculum: You must transmit your outline or proposed course of instruction to the State Bar.
18 Hour Weekly Minimum/4 Years Study Period: 18 hours per week study in a law office (or judge's chambers) during regular business hours for four years.
5 Hours Minimum Attorney Instruction Period: Of the above 18 hours, the attorney or judge must personally supervise the applicant at least five hours a week. (See Rules of the State Bar of California (Title 4, Division 1 Admissions Rules, Rule 4.29(A(1)(2)(3))(B)(1)(2)(3)(4)(5)(6)).
---
Whether or not virtual meetings/study/personal supervision count as supervisory or independent study in a law office or judges chambers apparently depends on whether the court or law firm conducts business regularly online. Clearly, students cannot be studying law in open court, for example. We have reached out to Nathalie Hope, and I Hope she has the answer.
Bi-Annual Reports and $105 Report Fees: You must submit bi-annual progress reports to the California State Bar along with a $105 fee per report. (detailing what you studied).
Monthy Attorney Exams: You must submit copies of your monthly exams to the State Bar. (Copies of attorney graded, written exams).
Baby Bar Exam Application: An application to take the First-Year Law Students' Examination in June must be submitted by April 1. An application to take the examination in October must be submitted by August 1. Applications received after these deadlines and May 15 or September 15 are subject to a late fee. Applications are not accepted after those dates. (See PDF)
Pass The Baby Bar Exam: California requires "law readers" to take and pass the First-Year Law Students Exam (FYLSX) (aka "Baby Bar Exam") within the first three (3) attempts. (known as the infamous "Baby Bar.") (covering contracts, torts, criminal law essays, and Multiple Choice questions. This test is given each year in June and October at test centers in California designated by the State Bar). Next, the Bar Candidate must, However, in that case, he or she will only receive credit for law office study for the first year and not for the study when retaking the Baby Bar the previous three (3) attempts.
General Bar Exam Application: Rule 4.61 Applications for the California Bar Examination: (A)Applications for the California Bar Examination are available March 1 for the July examination and October 1 for the February examination. An application must be submitted no later than April 1 for the July examination or November 1 for the February examination to avoid a late fee imposition. Applications received after these deadlines and by June 1 or January 1 are subject to late fees. Applications are not accepted after those dates.
Pass The General Bar Exam: The California Bar Examination is given each year in February and July at test centers in California designated by the State Bar. (See PDF)
CAVEAT! An applicant who must pass the First-Year Law Students' Examination (FYLSX) will not receive credit for any law study until the applicant passes the examination.
CAVEAT: Third Try Must pass baby Bar? An applicant ….does not pass … within three consecutive administrations . . . but … subsequently passes … will [only] receive credit for … first year. Pass The Baby Bar Exam: California requires "law readers" to take and pass the California First-Year Law Student's Exam (FYLSX), known as the infamous "Baby Bar," and CAVEAT: All reports must include the Law Office Study Report cover sheet and must be submitted by certified mail with return receipt requested or delivered in-person to either the Los Angeles or San Francisco Office of Admissions. (Source – California State Bar Admissions).
---
LOSP And CLEP?
LOSP applicants without proof of two years or more college work must satisfy the Cal Bar's general education requirements before officially commencing law study. Student hopefuls must attain 50 or higher test scores on three College Board administered CLEP examination topics. (See Rule 4.25(A) of Cal Bar Admissions Rules, including California Business and Professions Code Section 6060(c)(1) et seq.)
What CLEP Topics Must I Study And Pass To Gain LOSP Acceptance?
Under the Composition and Literature category, you must take and pass the:
---
College Composition, plus:
Two other examinations from the following subjects:
Composition and Literature. (Humanities examination only)
Foreign Languages.
History and Social Science.
Science and Mathematics.
Business.
Each exam corresponds to receiving full-year equivalent college courses (six semester hours each*) or four other examinations designed to correspond with semester courses (three semester hours each*)
Sending Your CLEP Scores to Cal Bar
Applicants seeking a general education evaluation to pursue law study under the Committee of Bar Examiners' Law Office Study Program must instruct the College Board to send official score reports to the State Bar's Office of Admissions in Los Angeles; 845 S. Figueroa St., Los Angeles, CA 90017-2515.
The score recipient code for the California State Bar Office of Admissions is 7165. Copies of informational brochures and registration forms are available at local colleges and universities or by contacting:
---
The College Board; P.O. Box 6600; Princeton, NJ 08541-6600; 800-257-9558; www.collegeboard.com.
Applicants should contact the College Board address above to receive their summary of credit recommendations for the CLEP Examinations and further information.
Follow the other steps above upon meeting the general education standards. Also, California offers a Certified Law Student Program (See below) (I co-chaired three trials doing this) and a Practical Training of Law Students (PTLS) program certifying law students to provide attorney-supervised legal services. Find out how to apply here.
---
Q: What Are Some Important California LOSP Rules For Lawyers And Supervising Judges?
Answer: Under 4.29(B)(6), a judge or supervising lawyer may "… not personally supervise more than two applicants simultaneously." (4.29(B)(6)).
Q: Certified Law Students – Different Rules For Different Supervising Lawyers?
A: "Practical Training of Law Students" Program. (PTLS).
---
LOSP students can register as certified law students after passing their FYLSX (amounting to 270 hours of study). But enrollees must provide satisfactory proof the supervising lawyer or judge has taught them or is teaching them "Evidence and Civil Procedure courses." Here is where you, the law-certified student, can play the role of attorney legally, with conditions.
---
Generally Permitted Student Student Activities:
General Attorney Supervision: Certified law students can "… negotiate for and on behalf of the client …" (Ex: Negotiate with the liability insurance adjusted and learn case intake.)
Direct Supervision: Appear on behalf of the client in depositions. (I learned evidence doing this kind of stuff).
Direct Supervision: Appear on behalf of the client in any public trial, hearing, arbitration, or proceeding, or before any arbitrator, court, public agency, referee, magistrate, commissioner, or hearing officer, to the extent approved by such arbitrator, court, public agency, referee, magistrate, commissioner, or hearing officer. (I co-chaired three civil law cases using this procedure).
No Attorney Supervision: Appear on behalf of a government agency in the prosecution of criminal actions classified as infractions or other such minor criminal offenses with a maximum penalty or a fine equal to the maximum fine for infractions in California, including any public trial: "(A) Subject to approval by the court … presiding at such public trial, and (B)  …  designated attorney has approved in writing …  and is immediately available to attend the proceeding." (No deputy, you can't go golfing with the presiding judge today!) (See California Rules of Court, Rule 9.42 (d)(4)(A)(2)).
Agencies have different rules. For example, non-government employed lawyers may supervise no more than 5 students law students. But criminal prosecutors may supervise up to 25 certified law students. (See attached "Practical Training of Law Students Program Declaration by Supervising Attorney").
---
Point of Special Interest: This rule may or may not abrogate State Bar Admissions Rule 4.29(B)(6), allowing only two students under attorney supervision concerning certain practical tasks beyond reading law.
What Are Some Tips For California LOSP Supervising Judges And Lawyers
How Do I Develop A Curriculum For My LOSP Pupil?
I receive calls from judges and lawyers constantly since Kim Kardashian made my LOSP famous. And these otherwise brilliant jurists are perplexed as to what they must do. I have many tips, which I will cover in later articles.
But if you are a serious mentor, you will provide lectures, send your student for any open lectures in law schools, like UWLA. For your PI lawyers, CAALA and CAOC is a great place to learn torts, evidence, and procedure. Immediately have your students reviewing PMBR audio lessons and order copies of released bar exams and baby bar exams.
That will make up the bulk of your testing materials. As far as testing goes, again, that will be up to the supervisor. My mentors preferred using released bar exams, including MCLEs, with me taking them over and over and over until I was smoking it! I also got my hands on some used BARBRI books.
---
What Are Some Important Learning Tips For California LOSP Apprentices?
Order copies of every released model bar exam you can get your hands on.
Obtain BARBI and PMBR materials.
Contact Paul Pfau at Cal Bar Tutorial Review.
Look for outlines of law students and learn to create outlines using these.
Learn how to tackle the problem-solving speed exam known as the FYLSX and General Bar Exam over the next four years.
---
Do Exempt FYLSX Takers Skew LOSP Pass Rates To Appear Lower?
Maybe. Under Rule 4.57, certain applicants exempt from taking the baby bar can still take the FYLSX with no adverse effect on their taking the General Exam, pass or fail. (There may be disparities between LOSP pass rates taking the FYLSX and exempt applicants taking the exam. So the actual pass rates of LOSP grads may never be publicly known)
---
Why would exempt law students want to take an exam they don't have to take?
Simple, the Baby bar actually covers contracts, torts, and criminal law. (to a lesser degree, it covers remedies and procedures). In other words, it can give you a good idea of your expected performance on the General Bar Exam and give you a small dry run.
What About Foreigners And LOSP?
Foreigners can also gain admission under certain conditions under Rule 4.30 (A),(B),(1),(2),(3) not personally supervise more than two applicants simultaneously.
2. Vermont Law Office Study (LOS) Admission Requirements For Students With No Law School (Bachelor's Degree Required)

Vermont's "Law Office Study Program" (LOS) generally requires four years apprenticing under a Vermont judge or attorney's supervision, licensed not less than 3 years before the LOS Registrant commencing studies. (Rules of Admission to the Bar of the Vermont Supreme Court Part II Rule 7, The Law Office Study Program).
"While formerly a Registrant was required to have completed three-fourths of the work required for a bachelor's degree, Registrants are now required to have a bachelor's degree. Registrants already in the program do not have to meet this new requirement, although the new rule will apply if a current Registrant leaves and reapplies to the program. The new rule also directs Registrants to study the subjects tested on the Uniform Bar Examination, as well as related Vermont law." (See Examiner's Notes – 900-000014 Rules of Admission p. 11 (09/2017)).
The Rules of Admission to the Bar of the Vermont Supreme Court, at Section 6(g) states that a registrant must study of law:
---
(1) for a period of not less than four years within this state under the supervision of an attorney in practice in the state who has been admitted to practice before this Court not less than three years before the commencement of that study,
(2) in any jurisdiction of the United States or common law jurisdiction in a law school approved by this Court which maintains a three-year course leading to a law degree. This means that one may become a practicing attorney in Vermont purely by apprenticeship and without setting foot in a law school.
LSAT: Not required.
Residents ONLY: [Citation needed]
Meet Minimum Age: [Citation needed]
Find Your Supervising Mentor: Registrants to LOS must study under a lawyer or judge "admitted to the active practice of law in California and be in good standing for a minimum of five years."
*Satisfy Minimum Education Requirements: Before enrollment in Vermont's LOS Program, a Registrant must possess a state-recognized bachelor's degree from a college or university within the United States.
Before 2017, Vermont's LOS was similar to California's, using equity instead of a hard and fast rule.
Registration
Registrants must file their "Commencement Notice" within 30 days after beginning the LOS or switching study offices that include:
(A) the date that study began;
(B) the judge's or attorney's representation they personally investigated registrant's moral character and fitness, and, that to the best of his or her knowledge, the Registrant meets good moral character and fitness requirements; and
(C) the supervising judge's or attorney's certification.
Registration Fees: [Citation needed]
Curriculum:  LOS Program is designed to prepare a Registrant for general law practice.
"To ensure this purpose is met:
Registrant must carefully arrange with the supervising judge or attorney a systematic course of study to prepare the Registrant for the general practice of law, including, but not limited to, the subjects tested on the Uniform Bar Examination and related Vermont law; and
The supervising judge or attorney may, and is encouraged to, enlist the assistance of other judges and attorneys to provide the greatest breadth of experience and instruction to the Registrant." [Emphasis].
Study:
Four Years,
Not less than 25 hours of study during a period of 7 consecutive days, or
Not less than 30 hours of study during a period of 14 consecutive days; and
A year of study means 12 calendar months and no less than 44 weeks of study pursued.
Reports:
Six-Month Report General Requirements must be:
In the form of an affidavit;
Filed with the Board within 30 days of the expiration of the current, six-month study period;
Signed by the Registrant/affiant;
Accompanied by the "supervising judge's or attorney's certification that to the best of his or her knowledge, the report is accurate; and (v) filed in duplicate."
Six Month Report Contents must:
Include the number of weeks dedicated to studying under the LOS Program;
Describe in detail the areas of study pursued, the tasks performed, and any other relevant study or work completed during the reporting period; and
Outline the Registrant's plan of study for the next reporting period.
Completion Notice
Within 30 days of completing the LOS Program, the Registrant must file with the Board a signed completion notice with their last six-month report. (See Vermont Court Rules, Rules of Admission to the Vermont Supreme Court Bar, Rule 7).
Vermont offers the ability to get law study credit towards LOS
Subject to Court approval, the Board has the discretion to award up to 2 years credit towards the 4-year term if the Registrant's prior legal studies satisfy the Board's prior study requirements as follows:
Satisfies the purpose of the LOS Program;
It is recent and not stale; and
Was acquired:
(A) from an Approved or non-Approved Law School, whether or not the Applicant has graduated;
(B) from a program in another U.S. jurisdiction, which the Registrant can demonstrate is substantially equivalent to the LOS Program; or
(C) through the study of law in a foreign, common-law jurisdiction if the Applicant has been admitted to the practice of law before a court of general jurisdiction.
3. Virginia Law Reader Program Admission Requirements For Students
With No Law School (Bachelor's Degree Required)
No doubt, Virginia is the least friendly to all future law readers. Virginia's official statements about law study can only be interpreted as disinterested and begrudging.
Enamored with the ABA's one size fits all approach, the Virginia Board of Bar Examiners states:
"[t]he law reader program is intended to provide alternative legal education for people who, although otherwise qualified for admission to law school, are, because of various circumstances [mainly hardship], unable to take or complete a law school course of study. The program is not intended for persons who cannot, because of academic, aptitude, or other deficiencies, to obtain admission to an approved law school. The program is designed to supply, in combination, a theoretical, scholastic, and clinical experience. If approved, successful candidates will undergo three years of intensive apprenticeship under the supervision of a Virginia attorney." [Emphasis] (Code of Virginia, 1950, as amended, Section 54.1-3926).
Virginia Patriots and Founding Fathers Who Would Be Likely Disqualified Modernly Under the Virginia Law Reader Program: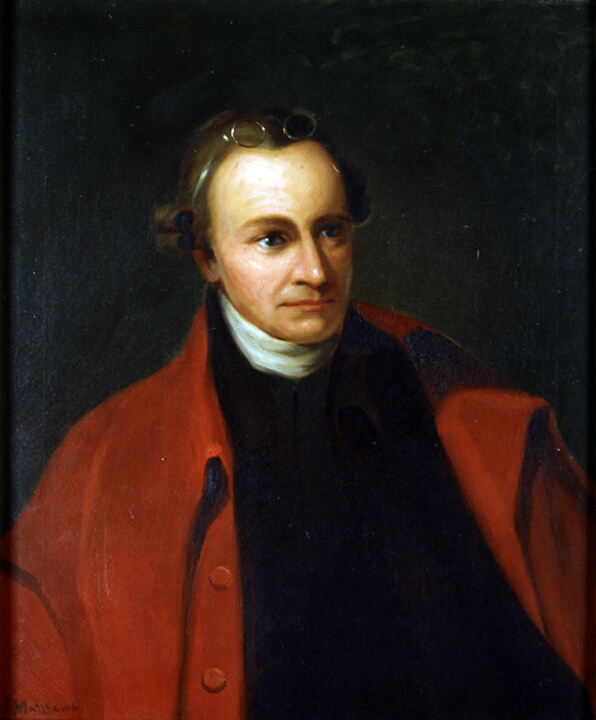 ---
Edmund Pendleton: (1721-1803) Even though he taught law to his nephews John Penn (signer of the Unanimous Declaration) and John Taylor (later U.S. Senator), modern VA would never allow Pendleton to enter their law reader program).
Patrick Henry: (1736-1799) (Read Law alone)
Thomas Jefferson: ( 1743-1826) Although Jefferson had an undergrad, he had no valid reason not to attend a law school based upon my understanding of the VA law reader guidelines.
John Marshall: (1755-1835) (Read law in Virginia patriot, George Wythe's law office)
William Wirt: (1772-1834) This Virginia patriot and lawyer had no undergrad or law school. (Attorney General of the United States (AG). (1817-1829).
Thomas Woodrow Wilson: (1856-1924) (Wilson dropped out of school. Virginia requires some form of hardship to avoid ABA controls).
LSAT: Required.
Yearly Exams:
---
First Year. Law readers must pass the "Basic Legal Skills" exam covering:
Basic Legal Skills.
Civil Procedure I.
Torts.
Contracts.
Criminal Law and Procedure.
Property, Real, and Personal. (1000 hours total work).
---
Second Year.
Conflict of Laws.
Constitutional Law.
Corporations and Limited Liability Companies.
Evidence.
Agency and Partnership.
Uniform Commercial Code.
Third Year.
Equity (Remedies) and Procedure.
Professional Responsibility.
Domestic Relations.
Wills, Estates, Trusts Probate.
Virginia Civil Procedure.
Personal Federal Income Tax. (Read More here).
Residents ONLY: [Citation needed] Meet Minimum Age: [Citation needed]
Find Your Supervising Mentor: No judges allowed, meaning Virginia hero Thomas Jefferson's (became a lawyer with no law school) mentor, Judge Wythe, would have been BARRED unless he went back into private practice! Supervising attorneys must have been practicing Commonwealth Virginia law for 10 years minimum.
---
*Satisfy Minimum Education Requirements: Must have a bachelor's degree.
Registration:
Send these items to the Board of Bar Examiners:
Application.
The supervising attorney's statement of eligibility.
Undergraduate transcript.
Proof of good moral character.
Appear for an interview by the VA Board of Bar Examiners.
---
Registration Fees: Non-refundable and a STEEP $2,500!

Curriculum: "The subjects to be studied, the sequence in which they are to be studied, and any other matters pertaining thereto shall be as prescribed by the Board of Bar Examiners."

Rules for Supervising Attorneys:

The supervising attorney must:

Not employ or provide apprentices compensation, but "The Supervising Attorney is not precluded from charging reasonable monetary compensation in return for instructing the reader; but … not to be used … to obtain inexpensive labor."
Prepare you well enough to take and pass the bar.
Provide diligent instruction.
Been practicing Virginia law for 10 years, minimum.
Practice enough general law to have a broad depth and understanding of bar topics.
Provide evidence of experience teaching at a law school or some continuing legal education classes.
Be an active bar member in good standing and no VA State Bar discipline the last 5 years.
Choose helpful course materials, and guide apprentices in their studies.
Submit graded curriculum and exams to the Board.
Appear at the Board with the apprentice for his/her oral evaluation.
Provide the legal apprentice with a law library workstation.
---
Study Guidelines:

25 hours/week min.
18 hours min study during regular business hours in the supervising attorney's office.
3 hours/week min personally supervised.
40 weeks per year min.
At least three years unless the applicant attended an approved law school. (You can seek a formal petition for some law school credits).

Abide by the Board's three-year plan outlining your study each year.
Pass the Virginia Bar Examiner's oral evaluation each year unless the Board unless otherwise dictated.
---
Examinations. All law readers shall:

After each course, complete a written examination prepared, administered, and graded by the Supervising Attorney. The examination shall be answered without research, assistance, or reference to source materials during the examination. The examination shall not be based, in whole or in part, on prior bar examination questions;
Annually, or at such other intervals as may be established by the Board, appear with the Supervising Attorney before the Board, or one or more of its members or designees, for an oral evaluation of the law reader's progress. In its discretion, the Board may require the Supervising Attorney and the law reader to submit a written report in addition to or instead of any oral examination.

---

Certificates. In addition to the Supervising Attorney's statement required by section (b)(5) of this rule, the Supervising Attorney shall submit, on forms provided by the Board of Bar Examiners:

A quarterly certificate stating the number of hours the law reader studied each week, the number of hours spent by the Supervising Attorney in personal supervision each week, that the written examinations were administered as required, and that, in the opinion of the Supervising Attorney, the law reader is progressing satisfactorily; and
After the law reader's course of study, a certificate stating that the law reader has completed the prescribed length and course of study and, in the Supervising Attorney's opinion, is qualified to take the bar examination and is competent to practice law. (Virginia Board of Bar Examiners Law Reader Program Rules and Regulations)

---

4. Washington State: (Clinical Law Program) [Undergrad Required]

Open to both judges and attorney supervisors; Law Office Study refers to Washington's Law Clerk Program (Admission and Practice Rule 6); an LLM is not required. Washington's program for apprentices identifies law readers as "clerks." This particular state, unlike Virginia, goes to extra mile for students seeking the traditional bar entry method. The WA Bar maintains a volunteer board that establishes study standards.

They even assign a supervising lawyer-student liaison to help monitor student-attorney progress. Law apprentices must also receive employment by the lawyer's Washington office they study law. I believe this extra guidance explains their high pass rate (67% last time, which is almost twice as high as ABA-accredited school graduates taking the bar exam).

---

Washington Rules for Admission:

Undergrad Required: Apprentices must possess a bachelor's degree.
Employment: Apprentices must work full-time 32 hours/week minimum in supervising attorney offices or judge's chambers. Applicants must do assignments covering practical law office work. (Applicants can seek a waiver requiring them to receive "employment")
Pay: I could find no rule about lawyers paying students, or vice versa.
Application
Fee: $2,000 annually.
Letters: two letters of recommendation.
Transcripts: Applicants must send in copies of their undergraduate transcripts.

Rules for Supervisors

Judges and Lawyers: These instructors must have been active and in good standing with the State Bar for 10 years, minimum having no discipline in the last 5 years.

---

Rules for Apprentices:

Study: 3 hours per week minimum under a direct judge or attorney supervision.
Courses: Finish six courses per year for at least four years for no longer than six years. (Students can petition to receive law school attendance credit if it was an approved law school).
Monthly Exams: Must be created by your supervising judge or attorney.
Monthly Reports: Provide monthly bar reports with your monthly exams. (Your attorney must certify you received supervision and true study hours).
Yearly Reports: Apprentices must provide the bar with book reports on jurisprudence annually.
Annual Supervisor Evaluations: Your attorney must create and send the bar an annual evaluation.

---

Rules Upon Program Completion: Your supervising judge or lawyer attorney must certify you have become qualified to sit for the bar exam and be competent to engage in law practice. (Washington State Court Rules, Admission and Practice Rules, Rule 6).

---

What Law Reader Programs Require At Least Some Law School?

Alaska: (Clerkship Program) (Bachelor's Degree + One Year Min Law School Required)

Judges and lawyers can apply to mentor. Alaska offers a three-year program for prospective legal apprentices. In a nutshell, you must generally already have a bachelor's degree, have completed law school in another state, or attended at least one year of law school. Alaska is a tough state to get law reader information. The information Alaska provides online remains confusing because Alaska has a paid Law Clerk Program (Must already be a lawyer), as well as a "Clerkship Program" for legal apprentices (Must have attended one year of law school in a state that recognized the school credentials or graduated from that law school). Alaska maintains a unified, centrally administered, state-funded judicial system.

---

Under Rules for Admissions at Rule 2 Section 3(b): "An individual shall also be eligible to take the bar examination as a general application if he/she (1) has … completed not less than one … year … at a law school … of the American Bar Association or the Association of American Law Schools, (2) has completed a clerkship program. . . ." Alaska maintains zero city, county, or borough courts. Alaska maintains four court levels, each having "differing powers, duties, and responsibilities." (See Alaska Court System Guide for Prospective Law Clerks, July 1, 2020).

The University of Alaska administers Alaska's law clerk study under AS 08.08.207.

Program Eligibility:

Age: Be 18 years or older.
Undergrad: Have four years Bachelor's degree other than Bachelor of Laws.
Took One Year Law School Classes: One year or more attending ABA or Association of American Law Schools (ALS), or alternative school approved by the University of Alaska.
Already Graduated A Non-Alaska Approved Law School.
Obtain regular and full-time employment as a law clerk in a law firm under a 5 or more years licensed Alaskan attorney or in the office of an Alaskan judge in a court of record.

---

Completion of Clerkship: Clerks must pursue a course of study for three calendar years of at least 44 weeks each year, with a minimum each week of 35 hours of study
Exams: Apprentices must be examined once per month
Reports: Apprentices must submit their monthly certificate of compliance from the tutor with originals of all written examinations and answers given during the period reported to the examiners. If the certificates, together with the required attachments, are not filed timely with the university, no credit may be given for any default period.

Maine (Law Clerk Program) (Bachelor's Degree + One Year Min Law School Required)

Judges need not apply to teach. Maine offers a twelve-month program for prospective legal apprentices. But don't be fooled by the short, one-year rule.

Maine Bar Admission Rules at Rule 10(c)(5) provides:

"[Each applicant must] . . . complete two thirds … for graduation from a law school … received … provisional or final accreditation from the [ABA] by … completion of those requirements and then within 12 months … completion … study of law in the law office of an attorney in the active practice of law in the state of Maine continuously on a full-time basis for at least one year …"

This will generally mean that you must have completed one year of full-time law study at an ABA-approved law school before starting your Maine lawyer apprenticeship program.

---

Compensation: [Citation needed]
Undergrad Education: Applicants must possess a bachelor's degree
Legal Education: Complete at least two-thirds of the requirements to graduate from an accredited law school.
Fees: Application fees vary from $600-$900 depending upon current legal education and bar status in other states.
Curriculum: Send a proposed course of study to the Maine Board of Bar Examiners. (Law Clerks; provided that the "attorney must, in advance, present the proposed course of study to the board for its approval and, at its conclusion, certify that the course, as approved, was completed.")
Study Period: Must begin studying law in the office of an active Maine attorney in good standing within 12 months of attending law school.
Study Guidelines: Applicants must study continuously for at least one year.
Course Completion: Your supervising attorney must certify you completed the course of study. (Maine Bar Admissions Rules, Rule 10(c))
Registration: Law Clerks must register with the Board of Overseers of the Bar.
CLEs: Law Clerks are exempt from complying with M. Bar R. 5 Continuing Legal Education (CLE) and fees until the clerkship is completed and applicants enter active practice or declared their inactive status. (See, e.g., Maine Bar Rule 4(c)(1).

---

New York: (Law Office Study) – [One Year Min Law School Required]

Judges need not apply to teach law in NY. New York is another one of those states that makes you wonder why the program exists at all. Like Alaska and Maine, New York requires that you complete one year of legal academic study at an ABA-approved law school before commencing a lawyer apprenticeship program. Like Maine, New York "Clerkship" applicants must already have attended an approved law school. Unlike Maine, this is a three-year or less program.

You must prove:

" . . . the applicant completed at least one academic year as a matriculated student in a full-time program or the equivalent in a part-time program at an approved law school and at the conclusion, thereof was eligible to continue in that school's degree program…";
". . . the applicant thereafter studied law in a law office or offices located within New York State under the supervision of one or more attorneys admitted to practice law in New York State, for such period of time as, together with the credit allowed according to this section for attendance in an approved law school, shall aggregate four years." (Rules of the Court of Appeals for the Admission of Attorneys and Counselors at Law §520.4 (Study of Law in Law Office))

Even if you are already a practicing lawyer in another state, you may use this program to gain NY bar entry unless you went to an ABA school. Basic Course Outline:

---

Compensation: [Citation needed]
Eligibility: Must prove you attended at least 28 credit hours at a law school and you were in good standing (equals one-year law school credit) within 36 months of beginning law office studies.
Age: NY bar applicants must be over 18 before beginning their law studies "clerkship."
Undergrad: [Citation needed] (We could find no rule requiring an undergrad).
Registration: Your supervising attorney must send a certificate of commencement to the NY Court of Appeals. (with a "copy of the determination of the State Board of Law Examiners of the credit to which the applicant is entitled under subdivision (c) of this section.")
Curriculum: Be taught law by your supervising attorney(s) that corresponds with law school taught subjects.
Study guidelines: Clerks must study law in New York. Clerks may only study in a law office under direct New York attorney supervision for three years, assuming you did one year only law school (during regular working hours). But if you attended more than one year of law school, your aggregate time will be shortened to correspond with four years total.

West Virginia: (Law Office Study) – (Non-ABA Law Degree + Three Years Apprenticing)

Judges need not apply to mentor pupils in WVA. West Virginia allows graduates of non-ABA-approved law schools to become members of the West Virginia Bar upon completing their three-year lawyer apprenticeship program.

---

"The applicant is a graduate of a non-ABA accredited law school . . ." (b) The applicant has completed three (3) years of law office and work in this state as a legal assistant or paralegal, under the supervision of an attorney or attorneys admitted to practice in West Virginia . . . ."

The key to taking advantage of this provision is that you must be eligible to take the bar examination in your particular law school's jurisdiction.

Eligibility: providing that all other requirements outlined in Rule 3.0, et seq., for admission to the bar examination are met, you must possess:

Law Degree: You must possess an L.L.B. or J.D., or their equivalent from an ABA-approved law school.
Undergrad: You must have a degree of A.B. or B.S., or higher from an accredited college or university, or ABA equivalent. ("… graduates of correspondence law courses, including law schools providing more than 50% of classes as Internet-based classes, shall not be eligible to take the West Virginia Bar Examination.")

You must have passed the bar examination of another state, District of Columbia, commonwealth, or U.S. territory of the United States, and be admitted to law practice, or

Be eligible to take the bar examination of the state your law school was located, and
In-state: Must have completed three (3) years of law office study and work as a legal assistant or paralegal under the supervision of a duly admitted lawyer.
Out of state: Applicant graduating from a non-ABA law school (approved by Examiners) may take the bar examination by completing 3 years of law office study in West Virginia. These applicants must become certified by at least 2 West Virginia attorneys; they possess the knowledge, competence, and good moral character. One of these two West Virginia attorneys must have actively supervised you for no less than six months.

Age: [Citation needed]

Fees: [Citation needed]

Every state bar will have its own moral character requirements, typically scrutinizing felonies and crimes of moral turpitude convictions. I would recommend contacting your local State Bar office of Admission. For questions concerning California, contact Nathalie Hope at the California State Bar Office of Admissions for further questions.

Are There Modern Benefits Of ABA-Accredited Law Schools?

Of course.

---

Many pundits argue that:

You must attend an ABA law school to get a job or practice law in another state.
Reading for the law generally restricts your legal practice to the state you received your law license.
ABA schools maintain reciprocal rights in many cases to become licensed in other ABA law school states. (Read more here).
You won't pass the Bar Exam unless you go to a tier-one law school, which is non-sense.

True, bar passage rates are lower for non-ABA schools, but ABA law school students will generally have parent-based financing, spending a lot of time taking Barbri and PMBR courses. Generally, these bar candidates don't have jobs, kids, or low-income issues. We have no accurate statistics on many apprenticeship pass rates. For example, in California, people can take the FYLSX even if they are not apprenticing.

California also doesn't publish Law Office Study pass rates anymore unless more than 11 test-takers exist. But I know first-hand that law school does little if anything to prepare students for the Bar Exam. Besides, ABA-accredited schools see more than their fair share of people failing the bar, with some never passing, EVER!

Can My Supervising Attorney Charge Me Money To Teach Me Law? Must I Work In Exchange For My Education?

Traditionally, students paid a fee to their Inn, and lawyers never paid law students. We must remember that apprenticeships evolved from trade "guilds" into an "inns" model. Law office study apprentices will likely never be as in demand as skilled labor, but as a whole, apprenticeships are trending up nationwide.

Can I Force My Supervising Attorney To Pay Me Teach Me The Law?

Why Should a Mentor Pay to Teach a Pupil?

I can see zero logical reasons to make a mentor pay their pupil. Your lawyers and judge mentors are doing the pupil a favor. I begged and volunteered to work for free just for a shot at this lawyer, agreeing to teach me the law.

---

What about Foundations and Grants?

I am all for certified apprenticeship programs where donors or others can donate money. Some people, including single moms or people who own small businesses, seem like good candidates for loans and grants. But in the end, paying someone to receive training negates a large part of the value of sacrifice. Free stuff is not the solution.

Does federal law generally require schools to pay students wages for their participation in vocational education programs?  No. The Fair Labor Standards Act (FLSA) is the federal law governing minimum wages and overtime compensation. The FLSA does not apply where there is no employment relationship between the school district and the student. (Source).
Marxist-View on Paying Legal Apprentices To Receive Legal Instruction: The modern leftist view is the legal apprentice must receive payment from their supervising master or tutoring scholar. Naturally, if this view takes hold, far fewer lawyers will be taking on an apprentice.

---

But what does the law say about being forced to pay someone and tutor them?

The ABA Interpretations On Paying Legal Apprentices: The ABA rules prohibit simultaneous award of academic credit and pay. (See ABA Standards for Accreditation of Law Schools, Interpretation 305-3).
Several State's Views On Paying Students to Receive Legal Training: Also, each state has varying legal apprentice educational training guidelines, with some states requiring the attorney to pay the student, such as Washington, and other States refusing to allow the student to receive payment from their supervising attorney for their legal educations.

The United States currently has no clear guidelines over who must pay for technical instruction at registered apprenticeship programs. An apprenticeship can be expensive for employers. Most trades and companies providing services fully recover investment costs spent training apprentices. But it's expensive, risky, and can take many years to know success or not. A U.S Department of Commerce study found apprenticeship programs may cost employers $250,000 per apprentice or more. (Costs changes based on program length and the apprentice's and mentor's wages, including tuition and equipment costs. Start-up costs are also heavy).

Growing a federally or state-recognized Law Study apprenticeship will require volunteerism, private and public investment. Our goal is to build a core of key stakeholding lawyers, judges, legislators, employers, and profession-based intermediaries. These will include high schools, colleges, universities, independent study programs, local, state, and federal agencies.

Are There Grants, Loans, Or Programs Legal Clerkship Apprentices?

Not that we could locate it. When using funds collected through the H-1B Visa Program, the U.S. Department of Labor is required by law to help American workers gain access to skills and high-quality jobs, but no mention is given to law study programs. Minorities, including low-income people studying law, could receive great aid, given the proven effectiveness of employment apprenticeship programs in the trades.

---

The Federal Registered Apprentice Program: There is also a federal program designed to train tradesmen and certain professions, paying these mentees during their training.
Registered apprentices can seek federal aid sources supporting classroom instruction, including:


G.I. bill benefits,
Training under the Workforce Innovation and Opportunity Act.
Title IV eligible certificate or degree programs (Ex: Pell grants, including direct loans. We were unable to locate any lawyers teaching students law on the program).

---

TAXES:

SECURE Act: Tax-free 529 college savings plan withdrawals may be used to pay for registered apprenticeship programs, including up to $10,000 in certain student loan repayments. (Source).

GENERAL TIPS FOR LEGAL APPRENTICES READING LAW

Being a Marine, I don't really consider this process difficult. It's you putting your mind over matter. Having a sales background is helpful because you must know how to deal with rejection and setbacks. The training I received working for Family Fitness, LA Fitness (top in sales), and Bally's Total Fitness helped me sell myself to supervising attorneys. It strengthened my knowledge of fitness and nutrition.

Staying healthy is crucial to studying and passing the Baby and General bar. And expect a drop in income, and beware just because fees and costs programs may be cheap compared to school, expect to put up to ten thousand into tutors (FYLSX in CA), study material, used and new books, bar review prep classes, and examination fees.

Besides having a mastery of the English language comprehension and a naturally inquisitive, analytical mind, you must:

Be self-disciplined: Developing study habits means doing things you will sometimes hate. My Senior Drill Instructor, a Force Reconnaissance Marine, once told us about the SAS and how they would have recruits stand at attention for a whole day. He then said instructors were merely seeing if these men had the discipline to not move or itch their nose for an entire day with no food, restroom, or water. Learning not only to ignore but embrace jet aircraft noise, your roommate blasting the radio, or TV is part of being self-motivated. In other words, I can study law during an artillery barrage and pass the bar because I won' wither under stress. Learning study methodology is far different than being motivated to study. Hiring an excellent tutor/life coach who can teach you time management and layering it on learning means passing the bar.

---

Learn to love reading and oratory: As discussed above, reading and comprehending English, including sentence structure, remains key to successful lawyering no matter your state's domicile. My wife being Latina, has a harder time with English academia than native speakers like me. ESL students tend to have a harder time passing the bar, especially illogical English, with its hodgepodge of German, ancient Latin, French, Welch, and Gaelic language conglomeration. Even more challenging, even for native speakers, is that older cases and Blackstone's works, for example, are almost impossible to understand or make sense of. Also, grab a law dictionary because you will need to learn complex legal terminology, not just concepts. The CLEP English reading composition with essay courses helped me a lot with comprehension. I am happy I did not waste time being politically brainwashed on a college campus run by flag burners.
Finding yourself a mentor to train you is no walk in the park either. You have to want it. I just faxed people, called firms, offered to do filing or anything to get my foot in the door. I was fortunate that my first of several legal mentors, Jeff Price, sternly explained this would be a period not to have a car payment, not have a girlfriend, not a party (ever), and live exactly like a monk!
Get your hands on bar study material: Check and see if your state releases model bar exams and answers. Grab every MBE book you can get. I went so far as to grab study aids, lecture notes from fellow students I knew in law school and their professors. (I found PMBR, audiotapes, BARBRI Big and Little Books, including Emanuel's Strategies & Tactics for the MBE excellent study resources).
Strength train at least three days per week and walk whenever you can. Muscle burns more than fat. Training like a bodybuilder will strengthen your joints, tendons, cartilage, and builds your upper rhomboids and trapezius, etc. The hours sitting, reading, and writing will take their toll unless you PT (Marinespeak for Physical Fitness). The confidence you feel from looking good is a bonus also. Staying healthy means being less exhausted when you study and maintaining the regimented life needed to develop the study habits to pass the bar exam.
Go Paleo: Stay away from insulin spikes. You will see fat bodies in law school drinking Cokes, eating garbage. Don't be that guy (or girl). Eat fruits, vegetables, protein, lots of fats, and snack on celery and peanut butter. No one wants to hire a fat body. Being overweight is a sign of laziness. People with self-confidence tend to stay in shape and be healthy. Make the time to take care of yourself physically and spiritually. You're hired within the first six seconds. Don't come out of law school a slob.
You should receive legal training in the field you wish to practice law: Eventually, due to my litigation paralegal background, I landed several cool lawyers to read law under, and I even got hired for side work due to the Inns like collegial relationships I developed for being a hard charger!
Ride The Bus If You're Poor and Build Character: I did not want to acquire debt to study law in a law office. So I sold my limousine business, pinched pennies, and worked the three to midnight shift at Home Depot, Marina del Rey, California, and rode the Santa Monica Big Blue Bus to get around town. I even slept on park Benches in Venice Beach, eating pork, beans and sometimes going hungry. I refused to seek any help from my family. My Marine Corps values dictated I *prove myself to myself. These are the places where you learn about the people you be representing once you pass the bar.

---

Don't Seek To Blame Others For Your Failure.

Don't enter the program if you are an excuse maker or have been programmed by others to blame others for your failure. If so, you'll use excuses you learned on campus or on TV as a crutch in life to fail. No, this is a program for people rejecting these excuses.

Don't Expect to Make Money as a Legal Researcher, Law Clerk, or Legal Secretary Right Away.

---

Some people think they will just get hired right away by their supervising lawyer for side work if you can. Great! Although I attended the American Institute of Paralegal Studies and worked as a paralegal, the lawyers I worked for were not interested in training me in the law. I am telling you this because most lawyers with paralegals need them sometimes 10-12 hours a day.

If you are used to working long hours making $30-$60 per hour doing paralegal work, and have overhead, expect a drop in income and incurring compensatory debt. I sold my car and had little overhead. I realized girls would be disinterested in a broke law student, but boy, was I wrong. I was happy with part-time receptionist or file clerk work, or making discovery responses, focused on my studies and not a law office job. Later, I quit my job at Home Depot after securing a reasonable schedule with my supervising attorney. Ultimately, I freelanced, sometimes making 15 grand a month, doing law and motion for lawyers I had met studying law in a law office.

My father used to say:

"I became wealthy even though I never finished school, not because I was educated in books, but because I was willing to do the manual labor and menial work no one else wanted to do." – Paul Ehline.

---

Don't Flip Out Over Time:

Law schools typically last three years, with exceptions for part-time classes/schools. Students graduate with their JD, typically around in May (California). Next, these students will sit for the July Bar Exam. After students receive their pass or fail notice in November, they will know whether they need to study for the next bar exam. However, under the LOSP in California, you must finish four years of tests, reports, supervised and independent study before receiving Bar Exam eligibility permission. You must bear in mind unless you start the program knowing ahead of time and pass the FYLSX per your plan, you won't be in the law school-bar-exam assembly line.

Meeting the Bar's test registration deadline means filing your papers at least about three months before the examination. If you are fortunate enough to avoid paying a late fee by completing your four years of law study in March, you can take the July bar exam. I personally did not care that it might take 12-18 months longer to practice law using LOSP. I was already making incredible amounts of money doing complex civil litigation.

---

CLEP: Especially It Takes Longer With No Bachelor's Degree, Deal With It: Studying for the CLEP and passing took me about 3 months. But it could take you longer.
First California First-Year Law Student's Exam (FYLSX): California apprentices reading law won't receive credit for their first year of LOPS until after they pass the FYLSX. Like the general bar, bi-yearly test administration means you can only take it once every six months. Because of the notoriously low baby Bar pas rate, you could be on this program for years. So don't rush into or gloss things over before considering the long-term implications.

How Do ABA Accredited Law School Pass Rates Compare With Non-ABA Accredited Schools?

I did not have time to sift through historic bar exam data for each state, but I did locate the nationwide bar pass rates for 2019. Below, I will make some passage rate comparisons between ABA students, non-ABA, and legal apprentice trained students.

---

What Are Some General Bar Exam Statistics?




2019 U.S. General Bar Exam Figure Totals
Total persons taking: 68,305

35% of 2019 examinees were repeaters
65% of 2019 examinees were first-time takers
Total persons passing: 58%
Total first-timers taking: 44,367

Percentage of first-timers passing: 73%

---

Total repeaters taking: 23,938

Percentage of repeaters passing: 32%

4% of 2019 examinees were non-ABA-approved law school grads

Total non-ABA-approved law schools grads taking: 2,788
Total percentage of non-ABA-approved law school graduates passing: 19%

ABA Repeaters 17,464 – 6,327 – 36% First-timers: 38,973 – 29,776 – 76% The above numbers show results for all bar test-takers (first time testers and others). These included figures for students attending ABA and non-ABA schools.

---

What Are The Available 2019 Law Reader Bar Exams Pass Rates?

Alaska: No takers, no passers.
California:
Maine: No takers, no passers.
NY: 7 took, 0 passed = 0% pass rate.
Washington: 20 took, 8 passed = 40% pass rate.
Virginia: 3 took, 0 passed = 0% pass rate.
West VA: No takers, no passers.
Vermont: 8 took, 4 passed = 50% pass rate.

---

LOSP Total for All Jurisdictions = 38 took, 12 passed = 32% pass rate. Of the 38 law readers/apprentices REPORTED having taken the 2019 bar exam, only 12 (32%) passed. Because California stopped reporting results with fewer than 11 test-takers in 2016, we can't provide accurate statistics comparing state-accredited, non-accredited, and ABA-accredited law schools. But pre-2014-2o15 numbers show California LOSP grads with a 37% general bar pass rate. California Law Study Grad Pass Rates:

2014: 10 tested, 3 passed = 30% pass rate
2105: 3 tested, 2 passed = 67% pass rate.

---

When I took and passed the Baby Bar in 2005, I believe it carried less than an approximately 12% pass rate. I could also not locate any verifiable data regarding law apprentices who took or passed the bar exam.

---

What Are The Available 2019 Law School Grad Bar Exam Pass Rates?

According to the Committee of Bar Examiners:

Non-ABA schools: 2,784 took, 514 passed = 18% pass rate.
ABA law school: 56,437 took, 36,103 passed = 64% pass rate.

What Are Some Differences Between Modern English and North American Lawyers?

First of all, Brittain does not have different states with different educational requirements on the U.S. scale. An English legal practitioner must have good moral character and undergo some law office work or study before practicing law. Most American lawyers must only graduate from law school, pass the bar exam and a moral character test. England and Wales have two types of lawyers modernly.

Barrister,
Solicitor,
Solicitor Advocate.

Scotland has its own:

Barristers,
Solicitors,
Advocates.

The united States only have:

Modern UK Barrister Defined:

Barristers in Scotland, Wales, and England evolved to handle court case representation in civil and criminal matters.

Can I Become An English Barrister With No Law School?

No. There is no do-it-yourself (DIY) law school in England. To enter law practice, Barristers in England and Wales and Scotland must graduate law school, complete and pass the Bar Course (formerly BPTC), complete one year of law office pupilage in a barristers' chambers or other legal practice employers.

---

A solicitor is similar to a barrister, but traditionally they don't advocate. These legal practitioners mostly try county court cases. Complex cases or higher value (£100,000 or above) are tried in the High Court, or appeals took on the Court of Appeal. Scottish solicitors and advocates have similarities and differences.

Can I Become A British Solicitor With No Law School?

Yes. Before 2021, you could become a solicitor several ways, with or without law school.

GDL: Like the California State Bar Law Office Study Program, England offers a crash law degree for solicitors, the GDL. This course helps bring you up to the required standard in the seven core legal subjects typically taught in the first two years of an LLB. (Solicitors are similar in function to a U.S. Paralegal, but not the same)
LPC: Internship: The most common way of qualifying is by undertaking a two-year training contract with a firm of solicitors.

---

In 2021 the Solicitors Qualifying Examination (SQE) "super exam" began, one exam taken at the start of a two-year work experience period and one upon completion, which replaced the GDL and LPC. Law students are no longer required to have a formal legal training contract to gain their required two years of legal work experience. Instead, students can paralegal under four different employers or seek work experience in a law clinic. Distinguish Solicitor-Advocates: Solicitor advocacy in higher courts has evolved past the Courts and Legal Services Act of 1990. True, only a handful of solicitors acquired higher advocacy rights in 1994; they included important, senior figures. Scotland has its own version of solicitor advocate. (Source). Lawyers from common law countries can also be U.S. lawyers, a tradition carried over from our history.

Conclusion – Law Office Study Is The New Way Of Honoring Tradition and Receiving a Superior Legal Education If We Can Defeat ABA Efforts To Centralize Legal Education

Above all, I am fearful the California State Bar and other State Bars will eliminate valuable legal apprenticeship programs. But for now, there is another path to success other than what we call "traditional" law school. As noted above, law school does little to prepare you for practicing law or passing the bar exam. Law school is great for some people. So don't knock it. But studying law under a lawyer already doing what you want to do, is the same modeling technique taught by high achievers, including the late Horatio Alger, Zig Zigglar, and Norman Vincent Peale.

So that way, you will always have work when you finally pass and get sworn. You should know enough practice and procedure without having to work in a sweatshop defense firm or something. Because of your practical training, you will be ready to practice law. In any event, this knowledge equals freedom! Most of all, Paul Pfau, the Legal-Guru Tutor (CBTR), is an excellent source. So contact Paul Pfau at Cal Bar Tutorial Review and learn how to write for the Bar Exam. Consequently, he is the master who taught me how to pass the FYLSX and the California general bar exam (easily the most challenging bar exam in the nation). Most importantly, please bookmark this page as your future legal training resource.

---

About the author: Michael Ehline runs Ehline Law Firm Personal Injury Attorneys, APLC. He works in Torrance, California, Downtown Los Angeles, and commutes to several other locations during the week. He began his LOSP apprenticeship in 2000 and became a sworn practicing attorney in 2005. Michael externed under an Appellate Court justice in 2004, studied law under Jeff Price (Real estate law, criminal defense, civil writs, and appeals), David Olan (Entertainment law and personal injury), Deputy City Attorney, Patrick Milne (Criminal Prosecution Division), and Otto Haselhoff (Complex tort litigation).

---

His American patriotism, love of country, brother Marines, and aggressiveness is legendary in the international legal community.

Michael has a long history of philanthropy and volunteerism. Michael lobbies the US senate and congress on behalf of tort victims and helped write portions of the Cruise Ship Safety Act under the late Kendall Carver. Michael dropped out of high school and went on the Independent Study Program in Orange County. Michael moved away from home at age 16 and worked full time as a painter's apprentice. Upon re-enrolling at Canyon High School, Michael was riding inside a bus to MCRD San Diego to stand tall on the Yellow Footprints upon high school graduation.

After receiving a severe knee injury during a training exercise during MCT (Infantry Marines did MCT and SOI) and moving on to SOI, Michael was honorably discharged in 1989 under medical conditions. After owning and operating several companies, and sales jobs, Michael entered into the California LOSP. Michael has no undergrad, and instead, as an introverted child, spent most of his days after school at the library, reading every history and science book he could grab. Michael is a rifle and pistol expert marksman with experience in CQB and distance fighting. Michael started Judo training when he was a boy and is an ardent fan of martial arts and the ancient Samurai.

---

Michael has helped recover over $100 million for his satisfied clients as a Los Angeles personal injury attorney. He presently lives in Palos Verdes, California, where he has a wife and two small children. You can contact Michael by email at michael@ehlinelaw.com.