If we don't win, you don't pay.
Speak to the Attorney.
Born to serve.
633 W 5th Street #2890
Los Angeles, CA 90071
(213) 596-9642.
2323 S. Voss Rd, Suite 244
Houston, TX 77057
(832) 592-1260.
Date Modified: March 2, 2023
Former U.S. Marine Motorcycle Lawyer and So Cal Personal Injury Attorney Partners. We Fight For Fallen Motorcycle Riders In Burbank, CA.
Are you seeking Burbank motorcycle accident lawyers after a Burbank motorcycle crash? A motorcyclist accident might result in catastrophic injuries and cost families a fortune. Common motorcycle accident injuries include anxiety, fatal accidents, traumatic brain injuries, spinal cord injuries, painful road rash, broken bones, mental health decline, and life-long physical/emotional pain.
In terms of real dollars, lost wages, expensive surgeries, repair bills, and unpaid medical expenses can bankrupt victims and families after a tragic motor vehicle accident. Since 2005, Ehline Law Firm has professionally helped injured clients with automobiles as a motorcycle accident law expert with thousands of motorcycle accident claims. Call us to discover your rights right away. Below, our best personal injury attorney will discuss how Burbank's top motorcycle accident attorney will custom-tailor legal representation for each motorcycle rider.
We'll also cover how you can secure compensation benefits from the at-fault driver. Call our Burbank personal injury law office at (833) LETS-SUE to speak with one of our attentive team members today.
Depend On Us For Your California Motorcycle Accident Claims
But what makes Ehline's team different and our client commitment better?
Our Burbank motorcycle accident lawyers stick by your side. (We provide consultations and explain applicable law and the potential risk).
We hold at-fault drivers accountable for compensation.
We help foster a communicative, cheerful, trustworthy environment to improve the attorney-client relationship level.
We use hard work and experience to overcome community and police bias.
We strategically employ our law group to navigate multiple local, state, and federal law areas.
We will handle all auto accident claims with dedication. We do business on a no recovery, no contingency fee basis. (No win, no fee promise)
We use our experience, impeccable reputation, and proven track record of success to further justice.
We generously support Southern California biker clubs and non-profit charity organization needs.
Burbank Insurance Company Negotiations
Your motorcycle law experts will negotiate with the insurance company to ensure you receive fairer indemnification. We won't let the insurers convince you to accept a lowball settlement offer as you struggle to get by after a serious auto collision.
If the insurance company fails to offer you a reasonably fair damages value calculation, our law offices can seek private mediation to break the stalemate. If negotiations fail, we can advance costs for filing a Burbank Superior Court lawsuit near you, seeking better results.
Common Negligent Parties And Causes of Burbank Motorcycle Collisions
California is an at-fault state. Identifying who and what caused your motorcycle accident claim remains a vital first step toward obtaining financial compensation. Unlike no-fault jurisdictions, the negligent defendant(s) must pay their share. Victims are entitled to money for medical bills, repair or replacement parts, lost earnings, intangible pain, and suffering damages and losses.
Here are some of the most common causes of motorcycle accidents and liable defendants:
An automobile driver.
Distractions. Inverse visibility issues occur when inattentive drivers only see negative space around motorcyclists instead of the actual riders. A distracted driver of a private or public bus, truck, or passenger car making a left turn could knock you off your bike at high speed. A rear-end crash can kill a biker also.
Illegal, reckless driving. Drivers must compensate you and your loved one for damages after breaking roadway rules. Texting, driving drunk, sudden stops or road raging are illegal. Wrong-way driving, excessive road speeds, abrupt lane changes, and refusing to honor a rider's right-of-way compound crashing risks. Negligent vehicle operators pulling into a cyclist's path are the deadliest because the automobile's point of impact is the front of your bike.
An employer. Companies and government agencies have vicarious liability for bad employee acts.
A poorly designed/defective road. Motorcyclists are susceptible to crashing on improperly maintained or defectively designed public roadways with poor road conditions. Hazards include potholes, scattered debris fields left in parallel roads, and traffic lanes from storm drain runoff. Oil, mud, rubble, loose gravel, grass clippings, fallen tree branches, and animal carcasses cause crashes. Other severe risks to two-wheeled vehicles include running over a loose nail, screw, litter from an unsafe construction zone, or an open utility hole cover grabbing your tire or wheel. You may have a negligent roadway maintenance dispute. Your lawyer may be able to pursue CalTrans, the County of Los Angeles, the City of Burbank, CA, or a private contractor.
A defective product. Motorcycle designs cover daily commuting, long-distance travel, commuting, cruising, sporting, or off-road use. Sometimes bad motorcycle parts or another type of defect can make the bike unfit for its use. The motorcycle manufacturer/equipment maker might be held accountable under product liability theories. (e.g., defective safety gear, bad helmets). Perhaps you crashed during motorcycle club (MC) formation riding? Maybe you experienced a brake failure, a pothole tire blowout, speed wobbles, or an electrical malfunction.
Compensation for motorcycle accidents is authorized by pursuing motorist negligence claims. (torts). But you will need a Burbank motorcycle accident attorney with experience.
You need lawyers giving dedicated service and holding people financially accountable for a motorcycle accident claim. Get a free consultation.
Common Injuries Our Motorcycle Accident Attorneys Firm Take
Motorcycling social activities like joining a motorcycle club and attending motorcycle rallies help teach road hazard injury avoidance. But you can't prevent all wrecks. But no one can predict a motorbike collision's severity, with its few safety features, offering zero roll cage protection.
The most frequent injuries sustained are to the toes, feet, legs, and ankles. Fatal injuries remain common after a motorcycle accident occurs.
The motorcycle crash lawyers at Ehline Law accept clients suffering all types of permanent, severe, catastrophic personal injuries:
Traumatic brain injury (TBI) and mild traumatic brain injury (MTBI), including CTE Brain injuries
Broken bones/fractures (a broken leg, hands, fingers, toes, ankles, etc.)
Spinal cord injuries, including tetraplegia/paralysis
Bruising, scarring, disfigurement
Abrasions, cuts/lacerations
Lower extremity damage
Road rash/friction burns
Internal organ damage
Wrongful death claim
Limb amputation
Fractured skulls
Rib fractures
Avulsions.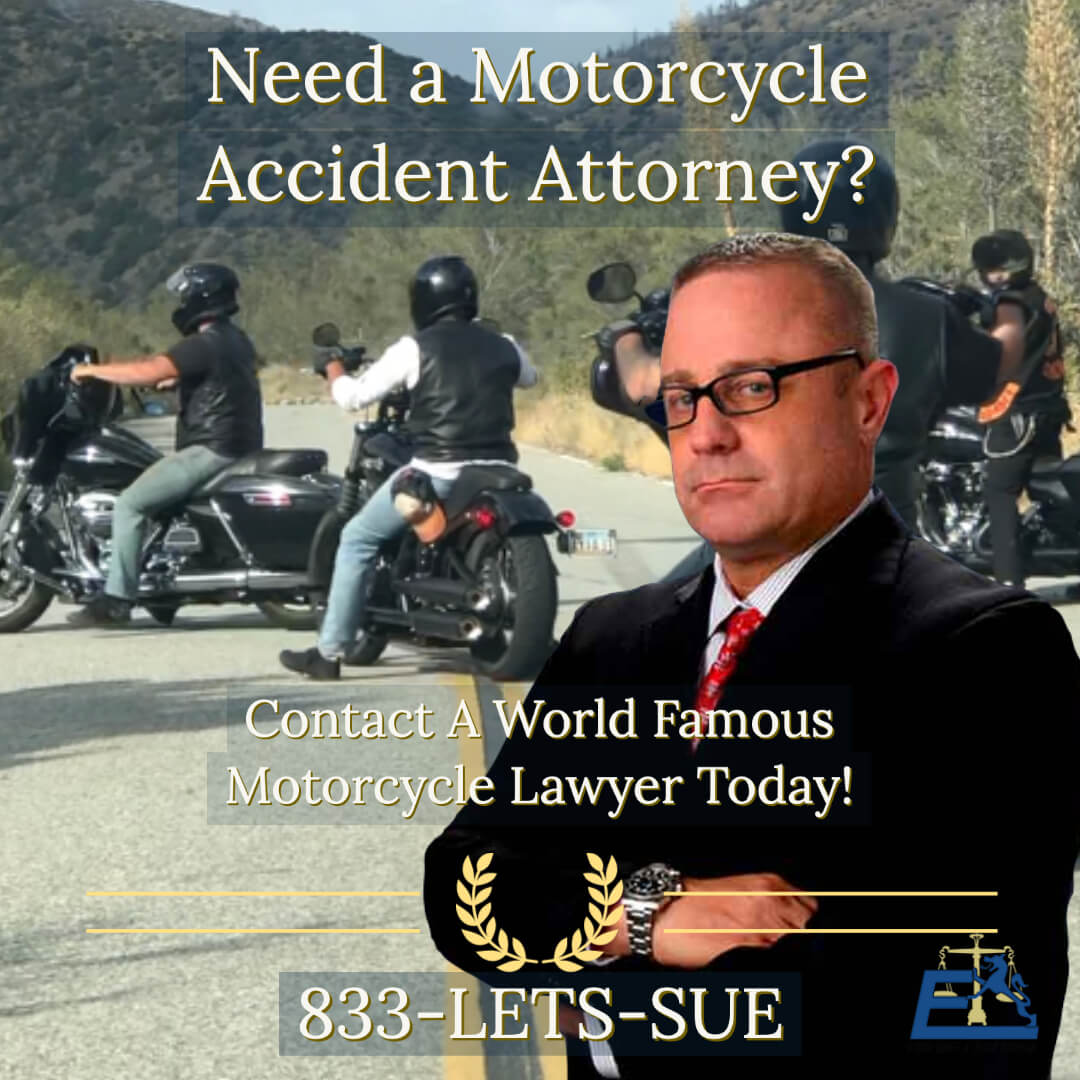 Survivors of serious accident motorcyclist wrecks may lose their careers since they can't work. Survivors ensure long-term physical and psychological injuries as a consequence of crashing. Did you crash, suffer severe brain damage, post-traumatic stress disorder, coma, etc.?
Have you experienced a motorcycle wreck that involved a Burbank-area motorist? Working with a local Burbank motorcycle accident lawyer from Ehline gets you an expert. During the complicated claims process, we pressure the defendant to pay more for the victim's injuries.
We'll help victims recover compensation, including money for physical pain and lost future earnings over the victim's life.
Speak With A Motorcycle Accident Lawyer in Burbank About Your Case
Speak confidently with a lawyer immediately for a motorcycle accident in Burbank about your unique accident claim problems. Victims of devastating motorcycle accidents in Burbank, CA, can request a free case review and free consultation with our law offices. Call us 24 hours per day. In addition, choosing our legal services means we will collect no payment unless we win your California contingency case.
Any injured motorcycle rider can use our online intake form for faster turnaround times. The answers you need for questions about all types of motorcycle wrecks are a phone call away. A listening, trustworthy advocate awaits your essential phone call at (833) LETS-SUE.
Michael Ehline is an inactive U.S. Marine and world-famous legal historian. Michael helped draft the Cruise Ship Safety Act and has won some of U.S. history's largest motorcycle accident settlements. Together with his legal team, Michael and the Ehline Law Firm collect damages on behalf of clients.
We pride ourselves on being available to answer your most pressing and difficult questions 24/7. We are proud sponsors of the Paul Ehline Memorial Motorcycle Ride and a Service Disabled Veteran Operated Business. (SDVOB.) We are ready to fight.