If we don't win, you don't pay.
Speak to the Attorney.
Born to serve.
633 W 5th Street #2890
Los Angeles, CA 90071
(213) 596-9642.
Date Modified: March 4, 2023
Former U.S. Marine Motorcycle Lawyer and SoCal Personal Injury Attorney Partners. We Fight For Fallen Riders In Rancho Palos Verdes, CA.
Are you seeking Rancho Palos Verdes motorcycle accident attorneys after a bad crash? A motorcyclist accident might result in catastrophic injuries and cost families a fortune.
Common motorcycle accident injuries include anxiety, fatal accidents, traumatic brain injuries, spinal cord injuries, painful road rash, broken bones, mental health decline, and life-long physical/emotional pain.
In terms of real dollars, lost wages, expensive surgeries, repair bills, and unpaid medical expenses can bankrupt victims and families after a tragic motor vehicle accident. Since 2005, Ehline Law Firm has professionally helped injured clients with automobiles as a motorcycle accident law expert with thousands of motorcycle accident claims. Call us to discover your rights right away.
Below our best personal injury attorney will discuss how our top motorcycle accident attorney in Rancho Palos Verdes will custom-tailor legal representation for each motorcycle rider.
We'll also cover how you can secure compensation benefits from the at-fault driver. Call our Rancho Palos Verdes personal injury law office at (833) LETS-SUE to speak with one of our attentive team members today.
Common Injuries Our Motorcycle Accident Attorneys Firm Take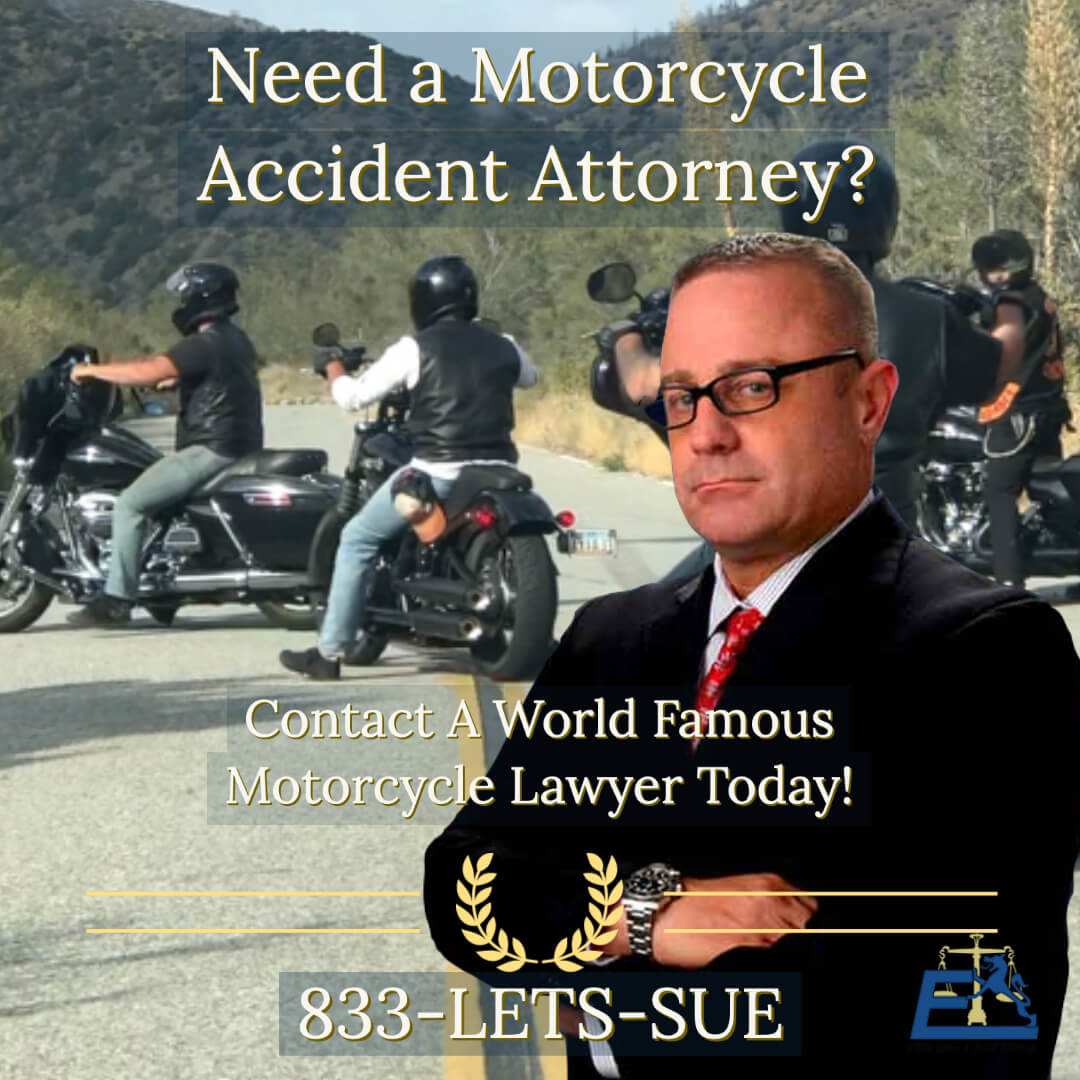 Motorcycling social activities like joining a motorcycle club and attending motorcycle rallies help teach road hazard injury avoidance. But you can't prevent all wrecks. But no one can predict a motorbike collision's severity, with its few safety features, offering zero roll cage protection.
The motorcycle crash lawyers at Ehline Law accept clients suffering all types of permanent, severe, catastrophic personal injuries:
Traumatic brain injury (TBI) and mild traumatic brain injury (MTBI), including CTE Brain injuries
Broken bones/fractures (a broken leg, hands, fingers, toes, ankles, etc.)
Spinal cord injuries, including tetraplegia/paralysis
Bruising, scarring, disfigurement
Abrasions, cuts/lacerations
Lower extremity damage
Road rash/friction burns
Internal organ damage
Wrongful death claim
Limb amputation
Fractured skulls
Rib fractures
Avulsions.
HIRE A Motorcycle Accident Lawyer in Rancho Palos Verdes to Handle Your Case
In addition, choosing our legal services means we will collect no payment unless we win your California contingency case. A listening, trustworthy advocate awaits your essential phone call at (833) LETS-SUE.
Any injured motorcycle rider can use our online intake form for faster turnaround times. The answers you need for questions about all types of motorcycle wrecks IN RPV are just a phone call away 24 hours per day, seven days per week.
Michael Ehline is an inactive U.S. Marine and world-famous legal historian. Michael helped draft the Cruise Ship Safety Act and has won some of U.S. history's largest motorcycle accident settlements. Together with his legal team, Michael and the Ehline Law Firm collect damages on behalf of clients.
We pride ourselves on being available to answer your most pressing and difficult questions 24/7. We are proud sponsors of the Paul Ehline Memorial Motorcycle Ride and a Service Disabled Veteran Operated Business. (SDVOB.) We are ready to fight.