Brain injuries most commonly occur after a fall and are usually caused by somebody's negligence.
Here are some common factors that cause brain injury:
Car accidents
Motorcycle accidents
Bicycle accidents
Truck accidents
Workplace accidents
Sports collisions.
How Will I Know I Have a Brain Injury?
Your doctor will usually know based on an examination of your skull and the severity of the actual head impact. A medical evaluation is the only recognized method to diagnose brain injuries like TBIs, so you must seek medical treatment immediately after an incident involving your head. This is important with TBIs because they often present no symptoms right away and can be subtle when they do appear.
Common symptoms may include dizziness, nausea and vomiting, sleep or behavior changes, headaches, and seizures. Medical rehabilitation is super essential to reduce brain bleeding and stabilize the concussion. So it would help if you got to the hospital to have a physical observe the signs and symptoms, and document everything in writing. Doing nothing only makes things worse and does nothing to help you heal, no matter how hard you pray or wish there was no trouble.
How Do I Recover Compensation for My Brain Injury?
After you have medical evidence of traumatic brain injury, a brain injury victim must prove that the other party's negligence caused their injuries. Once we establish negligence, the defendant is liable for all provable damages unless there is a valid legal defense.
What is My Riverside Brain Injury Case Worth?
After proving negligence, you must again prove your damages in court. By law, you have the right to compensatory damages for your injuries and quantifiable economic harms.
These damages are significant for brain injury victims because the unpredictable and enduring nature of these injuries means victims often incur astronomical medical expenses and may or may not be able to ever return to work (or have anywhere near their earning capacity before the injury).
Victims may recover financial compensation for the following: Medical bills lost wages and lost future earning capacity, funeral expenses, property damage, pain and suffering, loss of consortium, disability, scarring, or disfigurement.
Steps to Take After an Accident
Though it may seem overwhelming and the last thing you want to do right after an accident, being proactive and taking a few simple steps can significantly strengthen your claim for compensation and help you make the fullest possible physical and emotional recovery from your injuries.
Take the following proactive steps:
Get Medical Attention
Seek medical attention immediately following an accident. Medical professionals must evaluate your condition even if you believe you have no injuries, and they will treat you for any damages you sustained. This is especially important with head injuries because TBIs often delay presenting symptoms and can prove fatal if left untreated. Comply with all your treatment provider's recommendations and instructions, take medication as prescribed, and attend all scheduled follow-up appointments.
Collect Important Documents and Evidence Regarding Your Injuries and the Accident
If possible, take pictures of the accident scene and your injuries. These are your pieces of evidence. Get the contact information of any witnesses.
Contact a Riverside Brain Injury Attorney For a Free Consultation Over the Phone
Contact the highly qualified Riverside brain injury attorneys at Ehline Law today for legal advice and free consultation if an accident affects your head or brain. Our brain injury attorneys have spent years providing our clients with compassionate, dedicated, personalized representation and have emerged victorious by recovering millions in compensation for their injuries. Want to receive a free consultation to reduce or eliminate your financial burden? Contact us 24 hours a day, seven days a week at (213) 596-9642 or via our Contact Us page. Set up your no-risk, no-obligation initial case evaluation and free consultation today and pursue legal action and a reasonable settlement.
Let the experienced attorneys at Ehline Law review the unique facts of your case, present you with your options, and work to secure the best possible result in your case. We will fight tirelessly to get you the compensation you deserve so you can focus on your recovery while our office research, fight, and win and secure your vital legal rights.
Traumatic brain injuries can have life-threatening and damaging effects on all implicated, including the injured and all their loved ones, that can go on a lifetime. Deciding on the right traumatic brain injury lawyer for you will be indispensable for achieving the most significant outcomes from a party liable for the injury or related contusions caused to your broken body.
---
Michael Ehline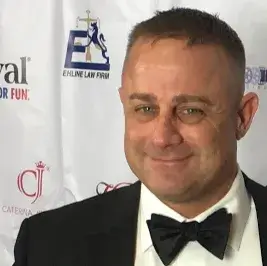 Michael is a managing partner at the nationwide Ehline Law Firm, Personal Injury Attorneys, APLC. He's an inactive Marine and became a lawyer in the California State Bar Law Office Study Program, later receiving his J.D. from UWLA School of Law. Michael has won some of the world's largest motorcycle accident settlements.
---
Recent Personal Injury News
Check out our most recent auto defects, accidents in Fremont and more, including the famous, infamous and everyday people wounded by at fault parties around the world.