If we don't win, you don't pay.
Speak to the Attorney.
Born to serve.
633 W 5th Street #2890
Los Angeles, CA 90071
(213) 596-9642.
2323 S. Voss Rd, Suite 244
Houston, TX 77057
(832) 592-1260.
Date Modified: August 18, 2023
You have the right to claim financial compensation if a truck accident injured you or a family. It is necessary to hold negligent persons responsible, especially an inexperienced trucker let loose by their greedy commercial trucking operation.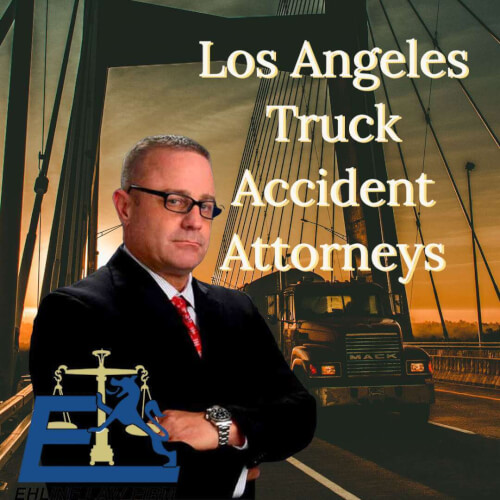 Paver Truck Crash? We Can Help $$
This is the Ultimate Guide to Compensation for Paver Truck Accident Injuries in Los Angeles County, CA. Even while trucking companies and their drivers are well-insured, you could not get a complete and just financial recovery if you go up against them alone. After a big rig collision, an experienced truck accident attorney at Ehline Law Firm in Los Angeles will assist you in getting the settlement you deserve.
Our personal injury law firm has years of experience. We have assisted numerous accident victims and families in obtaining compensation for severe injuries or the unjustifiable loss of a loved one. Our commitment to helping clients and seeking the best result in their cases has kept us in operation for decades.
Asphalt Paver Truck Accidents in Los Angeles
One in 10 construction workers is wounded each year while working on the nation's roads, buildings, and infrastructure, making it one of the most hazardous occupations in the US. This frequently entails using risky and powerful trucks and machinery, such as asphalt pavers.
Asphalt pavers also referred to as pavers, are large pieces of heavy trucks used to put asphalt on parking lots, roadways, bridges, and other sites where paving is necessary.
The asphalt is first laid level by the paver, followed by some light compaction, and finally, firmly compacted by a roller. Asphalt pavers are a very useful and significant element of the construction process, but they are not without problems.
Big rig accidents involving asphalt pavers can leave victims of careless drivers with potentially fatal bodily injuries, psychological distress, and financial loss. Truck accident victims must deal with high and unforeseen medical costs, pain and suffering, lost wages, and a reduction in quality of life. While caring for an injured family member, people may also experience mental anguish, financial loss, and loss of companionship.
Numerous personal injuries happen as a result of another party's negligence. When trucker negligence leads to an accident, you are entitled to financial compensation for your injuries, including medical bills and pain and suffering.
What Are the Common Causes of Truck Accidents in Los Angeles?
To enhance safety for the driver and other road users, the trucking industry is federally controlled. It would be negligent and even devastating to violate these rules. Making a truck driver drive for long periods may cause them to make reckless driving errors or become so exhausted that they fall asleep behind the wheel, for example. Cargo might become loose during transit if it is not loaded correctly or if weight limits are not followed. Additionally, it might force the vehicle to jackknife on congested roadways, seriously hurting anyone on the nearby routes. Other instances of trucker irresponsibility in large commercial truck accidents include texting or talking on the phone while driving, driving while intoxicated, or speeding to beat arbitrary deadlines.
Our thorough examination of the factors that led to the truck accident is the foundation of our success in truck accident cases. After a commercial truck accident, we examine all the evidence to establish whether the accident resulted from a careless driver or if there were additional variables, such as improper truck maintenance or faulty auto parts, for which trucking companies are held liable. An accident involving a semi-truck may occasionally include multiple parties. To ensure that everyone responsible for the accident is held accountable, our knowledgeable truck accident attorneys at our Los Angeles firm actively tackle each accident case.
Is a Large Trucking Accident Life-threatening and Serious?
Anyone who has been in a big rig accident understands that this isn't your typical mishap. Commercial trucks are unable to move or stop nearly as rapidly as a car, which leads to serious injury.
Out-of-control trucks have the ability to wreak far more damage than most other highway accidents due to their high speed, massive mass, and destructive combination. If you were injured in a truck accident, get in touch with one of our Los Angeles truck accident legal professionals for a free case evaluation.
What Are the Common Asphalt Paver Truck Accident Injuries?
Smaller vehicle occupants may suffer catastrophic injuries in large truck crashes. A passenger car involved in a collision with another passenger vehicle is likely to experience very different results from a truck accident. Large truck accidents frequently result in catastrophic injury or, worse yet, wrongful death, even while some accident injury victims may be able to escape from a semi-truck accident with minor wounds such as scrapes and bruises.
A few common truck accident injuries include:
Traumatic brain injuries
Back injuries
Neck injuries
Bone fractures
Burn injuries
Consult a knowledgeable Los Angeles truck accident lawyer if you or a loved one has sustained serious injuries in a collision to find out how to defend your legal rights. Call Ehline Law Firm at (833) LETS-SUE for a free consultation today!
Who Is Held Liable in Asphalt Paver Truck Accidents?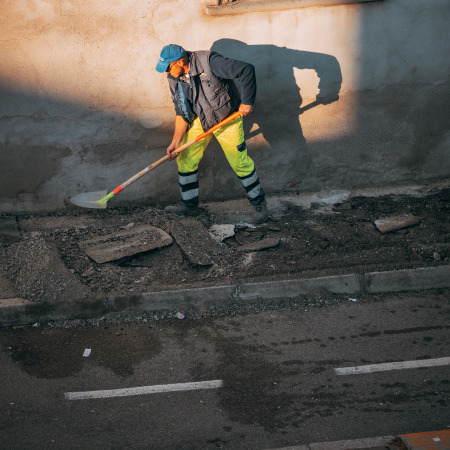 Employers are required to maintain a secure workplace and adhere to OSHA standards under the Occupational Safety and Health Act (OSH ACT). Suppose a third party – such as truck companies, subcontractors, or employees – fails to exercise reasonable care, and their acts or inactions result in a truck crash. In that case, they may be held accountable for the harm and losses they caused.
The majority of truck accidents in Los Angeles are the fault of the trucking business. The trucking companies responsible will be found liable for both their own acts and those of the large truck drivers it employs. Each trucking company must take reasonable precautions to avoid accidents. The company can achieve this by conducting routine vehicle inspections, following the right hiring and training practices, and adhering to all applicable federal transportation safety standards. The company may be held accountable for damages if it fails to uphold this duty of care, resulting in an accident that could have been avoided.
Furthermore, the truck company will also be accountable for the negligence of its employees, including independently hired truck drivers, under the vicarious liability rule. If a truck driver, ground controller, cargo loader, or another employee of the truck company was at fault for your recent accident and that employee was working for the company at the time of carelessness, then the trucking company will be held accountable. Holding the truck company accountable for your serious injuries will be preferable as it will have greater insurance coverage than the truck driver.
We have dealt with third-party defendants in truck accident cases in Los Angeles at Ehline Law Firm. A third party is someone who was not a direct participant in the truck crash but nonetheless caused the accident or injured the truck accident victims. The production of a harmful or flawed vehicle component by a truck manufacturing business is a typical example. Blown tires or defective brakes may indicate that a manufacturer is at fault.
Other instances include the City of Los Angeles (if a road fault such as a pothole contributed to the collision) or another driver. Injured clients can evaluate responsibility and assign blame for their particular truck accident case with the assistance of experienced Los Angeles truck accident lawyers from our law offices.
Maximum Compensation for Asphalt Truck Accident Victims in Los Angeles
How much is your bodily injury claim worth? Our aggressive legal teams will address this during your free consultation. The answer is different for each truck accident victim; however, the damages that can be awarded include punitive, economic, and non-economic damages. These remain largely the same from case to case. Depending on the specifics of your truck accident injury case, a judgment or settlement award may be able to compensate you for a wide range of losses. Lead Los Angeles personal injury attorneys from Ehline Law Firm will give you a free consultation to discuss the potential value of your particular accident case.
You can receive compensation for the following:
Pain and suffering
Medical expenses
Lost wages
Vehicle damages
Out-of-pocket expenses
Past and future losses
Life-changing disabilities.
Major instances involving catastrophic injuries will typically be compensated more than minor claims. A jury or judge may grant more compensation in cases of wrongful death or grave or severe physical injuries. Depending on the circumstances, you may be entitled to economic, non-economic, and punitive damages as a truck accident victim.
Punitive damages are an additional award you may get from a judge if the defendant caused your injury with gross negligence or recklessness. If we think going to court will get the client a better settlement, our Los Angeles truck accident attorneys are not afraid to do so.
Gathering Evidence to Support the Case
A traffic accident investigation is not an easy task. Our Los Angeles attorneys start a thorough inquiry as soon as they become aware that a client or someone in a passenger vehicle has been hurt to ascertain whether a driver or business broke any safety laws in Southern California.
Sending knowledgeable consultants and investigators to the accident scene to gather any evidence of carelessness or blame may be a part of these investigations.
In a Los Angeles truck accident, the evidence includes:
Truck Cameras
Several trucking companies are now mounting cameras facing the driver, ad, or both in the vehicles. If a truck had a camera, the footage could be used to assess whether the driver was being careless.
Electronic Control Modules (ECMs)
These devices, often known as event data recorders or "black boxes," collect details about the truck's speed, whether the driver engaged the brakes, and other details from moments right before an accident. Crash experts can retrieve and examine the truck's ECM data to help in accident reconstruction.
Witness Statements
Accident witnesses' testimonies can be very useful in supporting negligence claims. Witnesses can provide evidence regarding whether a truck driver was driving recklessly or aggressively, whether a truck component malfunctioned, or whether anything strange happened.
Trucking Company Records
Trucking businesses should maintain precise records when it comes to selecting and managing drivers. Data showing that a business neglected to conduct the required drug and alcohol testing before a drunk truck driver crashes can prove careless oversight, leading to a big rig accident, for example.
Electronic Logging Devices
The FMCSA requires truck drivers to record their hours using electronic logging equipment (ELDs). It is possible to tell whether a driver surpassed the allotted hours of service by looking at ELDs.
Can You Still File a Claim If You Were Partially Responsible?
Yes, in some circumstances, you may still be entitled to file personal injury cases if you contributed to the collision by being careless. However, this will depend on the state where your accident occurs, and your damages may also be diminished according to your degree of fault. A loading bay accident could involve a premises owner like Home Depot. Commonly known as a premises liability claim, Southern California sees many of these types of cases that can involve several insurance companies.
Due to the complexity of truck accidents, it's crucial to go over all the specifics with a knowledgeable Los Angeles truck accident attorney who can explain how negligence contributed to your collision.
What Is the Statute of Limitations for a Trucking Accident in the Los Angeles County?
As a victim of vehicular accidents, you must move swiftly to file your claim in order to satisfy California's filing deadline, also known as the statute of limitations. A truck or car accident victim in California has typically two years from the date of the car accident or the discovery of their injuries to initiate a civil lawsuit for injuries.
In most cases, the courts will dismiss a claim for wrongful death or personal injury if it is not filed within that time frame. After a big rig accident, don't hesitate to act. To protect your legal rights, speak with our national trial lawyers as soon as possible.
What to Do After a Commercial Truck Accident in Los Angeles?
Injured victims can feel overburdened following collisions with large commercial trucks. It may be challenging to think rationally when you're terrified and hurt.
As soon as possible, the following procedures should be taken:
Get Medical Attention
You might find yourself insistent that you don't require medical care. However, at the very least, you ought to get a quick medical checkup.
Obtain Evidence from the Accident Scene
Following a collision, it's crucial to keep track of both the proof of your medical condition and the evidence of what occurred at the accident scene. The truck company might send out a team of professionals and lawyers who can respond quickly and get to the scene. Before the scene is cleaned, the police typically take photos of the crash scene.
If not, kindly ask them to. Take your own photos if it's safe and appropriate for you to do so. The professionals working for your lawyer may be able to piece together crucial evidence from these pictures in order to explain precisely what happened when that tractor-trailer, 18-wheeler, or semi-truck caused the accident.
Preserve the Vehicle
You must keep your vehicle in working order until you hire counsel if anyone is seriously injured in the incident.
Contact a Personal Injury Lawyer
In order to avoid liability and reduce losses, trucking corporations retain skilled accident lawyers who focus on personal injury cases involving commercial vehicles.
If you or a family member has been injured in a truck accident, you should also have a Los Angeles truck accident lawyer to fight for your rights. Trial attorneys must be able to work with investigators, keep evidence records as necessary, and communicate clearly with witnesses, police, insurance companies, trucking companies, and medical professionals. Personal injury lawyers may even investigate a potential wrongful death case in the event of a tragedy.
Do You Need an Attorney for a Truck Accident Claim in Los Angeles, CA?
You'll need the assistance of a truck accident lawyer to defend you if you want to pursue the fair compensation you are entitled to under your truck accident claims.
Our Los Angeles truck accident lawyers at Ehline Law Firm are well-prepared to win your case. We are here to help you get the just compensation you deserve when you need legal advice or require assistance dealing with an insurance company.
Determining what caused the truck accident, who is at fault, and how to be reimbursed for your suffering are complex problems when delivery vehicles such as UPS trucks, FedEx trucks, and Amazon trucks, as well as commercial vehicles such as semi-trucks, big rigs, and 18-wheelers, are involved.
Lawsuits involving commercial trucking accidents may include a number of parties, including truck drivers, the owner of the involved truck, trucking companies, and the owner of the load being transported.
A knowledgeable Los Angeles truck accident lawyer will be able to analyze the accident details to assess your compensation eligibility. From motorcycle accidents to car accidents, we cover it all.
How a Los Angeles Truck Accident Attorney from Ehline Law Firm Can Help You
The major objective of a trucking company following an accident is to shield itself from responsibility. Despite having sufficient insurance, the majority of truck companies prefer not to assign blame for collisions. They will employ enormous legal services to avoid accountability and spend less money. Our truck accident attorneys can effectively employ complementary resources on your behalf.
Your attorney will use forceful legal tactics to develop a compelling case against the trucking company and assist you in establishing culpability. When negotiating with the insurance company, one of our Los Angeles truck accident lawyers won't allow you to settle for less than your case is worth. Whether it's a major trucking company or a single trucker, we will fight for the highest amount of compensation from all responsible parties.
If you're dealing with a big rig accident or a car accident, we can provide the legal representation you need in Los Angeles County. We work on a contingency fee basis; therefore, you don't have to worry about any up-front costs. Our legal team values the attorney-client relationship when representing clients, meaning that we aim to help you recover the maximum possible compensation.
Asphalt paver truck accidents often involve numerous parties and defendants and are complicated. This is why speaking with knowledgeable tractor-trailer truck accident attorneys is crucial to learn about your legal options under Los Angeles law. The attorneys at Ehline Law Firm can review your claim and determine whether potential violations of OHSA safety regulations, unsafe working conditions, or other hazards may have been present at the time of your truck crash if you or a loved one has been hurt in Los Angeles, CA.
Were you hurt as a result of carelessness on the job site or defective truck components? Our personal injury law firm will also assess who is responsible for your damages and losses and any compensation you might be entitled to.
Contact an Experienced Truck Accident Attorney from Ehline Law Firm Today!
Counseling, promoting causes, and finding solutions are all part of helping our clients. With years of expertise effectively advocating for the underdog, not the powerful, we will handle the insurance companies. This may involve retrieving money to cover your medical expenses, property damage, lost earning capacity, and medical treatment monitoring.
Because of this, you can concentrate on recovering and returning to your normal life. Our website has thousands of excellent client evaluations and five-star reviews because of our unique formula for putting our new clients first. Call (833) LETS-SUE or use the online form to arrange a free consultation with us.
Michael Ehline is an inactive U.S. Marine and world-famous legal historian. Michael helped draft the Cruise Ship Safety Act and has won some of U.S. history's largest motorcycle accident settlements. Together with his legal team, Michael and the Ehline Law Firm collect damages on behalf of clients.
We pride ourselves on being available to answer your most pressing and difficult questions 24/7. We are proud sponsors of the Paul Ehline Memorial Motorcycle Ride and a Service Disabled Veteran Operated Business. (SDVOB.) We are ready to fight.