Active Duty Soldier's Home Taken Over by Squatters- Bikers Say No!
---
Are 1%er Bikers a Silent Vanguard?
Turn on any television show or movie, and you will see some negative stereotypes about motorcyclists. Bikers often get described in a negative light. Mostly, it's for no other reason than a few bad apples.
The vast majority of bikers are law-abiding patriots. In many cases, these biker clubs go out of their way to protect U.S. veterans and keep our country just that little bit safer.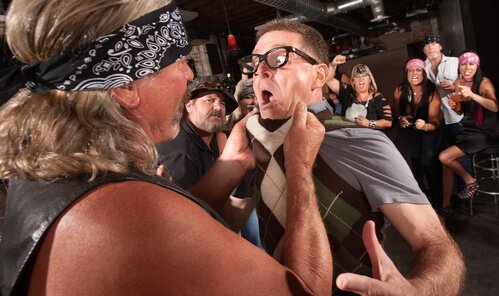 In many cases, bikers are responsible for protecting U.S. members of the armed forces and their families. Along with this, these bikers went out of their way to serve those that gave us so much. Most of all, this is a massive positive factor for all of us who support victims. This show of protection was reported by BuzzPro, which speaks of the situation in more detail.
Do Bikers Stand Up For Us?
Also, these are not isolated experiences. There are many cases where bikers rally for the country that they love. Just in January, they rode to Washington for the inauguration. Many bikers make a point to become honor guards for fallen soldiers at their funerals.
In some cases, motorcycle riders raised money for individuals who lost their houses in fires. Additionally, in others, the examples set by the bikers were key to community involvement. There are many good examples if you know where to look.
The Blaze also reported on a similar situation.
Additionally, in other cases, bikers help charities. They don't always let their gruff exterior show great kindness in their hearts. However, when it shows– does it ever! These men and women on hogs are not what we would consider your average hero, but they suit the bill sometimes. Keep this in mind next time you see a pack riding up the highway behind you. Channel 11 Alive had an eye-opening piece on the situation.
Michael Ehline is a Los Angeles biker's lawyer with Ehline Law Firm Personal Injury Attorneys, APLC, and can be reached for comment at (213) 596-9642—locations in Torrance, California, and Downtown Los Angeles to serve you.
Main Los Angeles Location
633 W 5th Street #2890 Los Angeles, CA 90071 (213) 596-9642.