Los Angeles Car Accidents / Practice / Lyft Ridesharing Company Accidents in Los Angeles, CA
Contact Us Quickly After Lyft Accidents
[Page Updated 06/11/2022] Did you use the Lyft rideshare app thinking you'd get there safe but ended up with car accident injuries in the emergency room? If you're looking to file a Lyft accident claim against rideshare drivers in Los Angeles, contact our superior rideshare accident attorney at (213) 596-9642. 
Get a free consultation with our Lyft accident attorneys on your rideshare vehicle accident case today. We can help you and your loved one level the playing field after forming an attorney-client relationship. You must call our phone number at (213) 596-9642 before the civil statute of limitations expires to file your Lyft accident claims.
Car Accident in Los Angeles as a Lyft Passenger or Other Driver
After the ridesharing service accident, it remains essential to move the vehicle to the side of the road to avoid further damage to other drivers. Contact the police immediately to the accident site to file a report and head to the hospital for your medical examination for any injuries caused by Lyft's rideshare drivers or their ridesharing company.
You will get contacted Lyft rideshare company. Typically a representative working for their rideshare services safety team will inquire about the rideshare vehicle incident and file an accident report.
However, just like insurance companies, the safety team's job is to limit any bodily injury coverage financial disbursements for your rideshare accident claim. Hence, you must not disclose too much information to rideshare companies, as it could kill your claims for property damage coverage, serious injuries, or wrongful death traffic fatalities under their auto insurance policy. Are you laid up? Injured, thinking that ridesharing apps were a safe option?
Get in touch with an experienced personal injury attorney in Los Angeles to discuss your case before talking to the safety team at Lyft. A top-notch car accident attorney in Los Angeles will hold your hand through the complex legal process and help get you back on your feet. We will do everything on a contingency fee basis, even brain injuries and other obscure, complex claims.
Our competent legal team will also pursue any at-fault third party to ensure you are made whole under any other liable driver's insurance policy. Call us today for some free legal advice to receive up to $1 million in coverage levels from insurance companies for each accident. We can even help victims in a truck accident or collision with a city bus.
Is a Lyft Driver Liable for the Accident?
The issue with lawsuits about ridesharing services is that these companies consider the Lyft drivers independent contractors, which means that the company is not directly responsible. However, California state law has made this complex situation a bit easier by determining the liability through whether or not the Lyft driver had logged into the app before the Lyft car accident.
According to state law, the driver will be responsible for the car accident and any damages following it if the driver did not log into the app and got into an accident. California law requires all ridesharing drivers to have insurance policies and uninsured motorist coverage of up to $50,000 for each person and a total of $100,000 under their auto insurance policy for each accident.
The situation is slightly different if the driver logged into the app before the accident but had not accepted any rides. In such cases, the company will be partially responsible for the damages caused. The insurance company has insurance policies coverage up to $50,000 for injuries and $25,000 in property, costing a total of $100,000 per accident.
However, the company will only pay for the damages not covered under the driver's personal insurance policies. Assuming you filed a police report and it finds Lyft at fault, you'll be in a stronger position to max your injury claim. The bottom line is that no one takes victims seriously without proper legal representation by the best personal injury lawyers.
Is a Lyft Driver Liable for the Accident If You're a Passenger?
Suppose you're on a Lyft ride, and the driver is taking you to your destination but ends up getting into a car accident that was their fault. In that case, the company takes full responsibility for the liability. In such cases, the company and the driver have uninsured motorist coverage and liability insurance coverage up to $1 million.
However, things are slightly different in California if the Lyft driver is in an accident due to the other driver's negligence or fault. In such cases, Lyft accident victims must file a lawsuit against the negligent driver before contacting Lyft.
To avoid large settlements and payouts, Lyft will try to pass the blame or liability on their drivers for any Lyft accidents by aggressively combating claims. The company has gone on to state that it is simply a middleman organizing rides rather than doing the rides itself, which removes the responsibility of anything occurring during the ride.
Get Legal Help to Deal with Insurance Companies
The laws and provisions for ridesharing services in California can often be complex. Having an experienced Lyft accident lawyer can help you get compensation after getting into a motor vehicle collision.
Whether an Uber or Lyft driver, our lawyers have the right experience to deal with the relevant insurance company and parties and get you the compensation you deserve. Our law firm has compensated clients for pain and suffering, lost wages, property damages, emotional trauma, and more. Our top Lyft accident lawyers can help you with it too.
Contact us at (213) 596-9642 for more information on your personal injury case. Call us before you blow your case. Our Lyft accident lawyers will stand by your side every step of the way.
---
Michael Ehline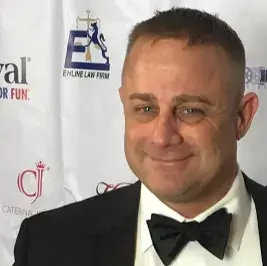 Michael is a managing partner at the nationwide Ehline Law Firm, Personal Injury Attorneys, APLC. He's an inactive Marine and became a lawyer in the California State Bar Law Office Study Program, later receiving his J.D. from UWLA School of Law. Michael is not just a Lyft accident attorney. Michael has won some of the world's largest motorcycle accident settlements.
---
Recent Personal Injury News
Check out our most recent car accident blog posts from celebrities crashing cars to everyday people getting run over, rear ended or otherwise colliding.