Los Angeles Bus Accident Injury Law Firm
[Updated Feb 16, 2021] – No person nearby or boarding a bus expects to suffer a LA Dash, Los Angeles Metro, or other bus accident. Yet, we see hundreds of bus accident victims experience severe injuries requiring hospitalization or causing deaths in the United States yearly. The City or County of LA or a private bus company like Greyhound could be legally liable to compensate the surviving, suffering bus accident victim's serious injury claims.
If you or your loved ones were freshly wounded in an LA bus crash, you must seek legal help by contacting an experienced Los Angeles bus accident lawyer at Ehline Law Firm, APLC. Our charismatic, caring, award-winning legal team provides injured victims and family members with a free consultation to evaluate their financial recovery award eligibility. If our personal injury attorney agrees to take your case, we refuse to accept a fee unless we win your case. We also help victims hurt by Los Angeles Autonomous Electric Transit Buses. But you must act before a government defendant time-related problems or Statute of Limitations issue ruins your case because if your lawsuit is not filed before the two-year time limit expires, you will forfeit your right to receive damages after your accident.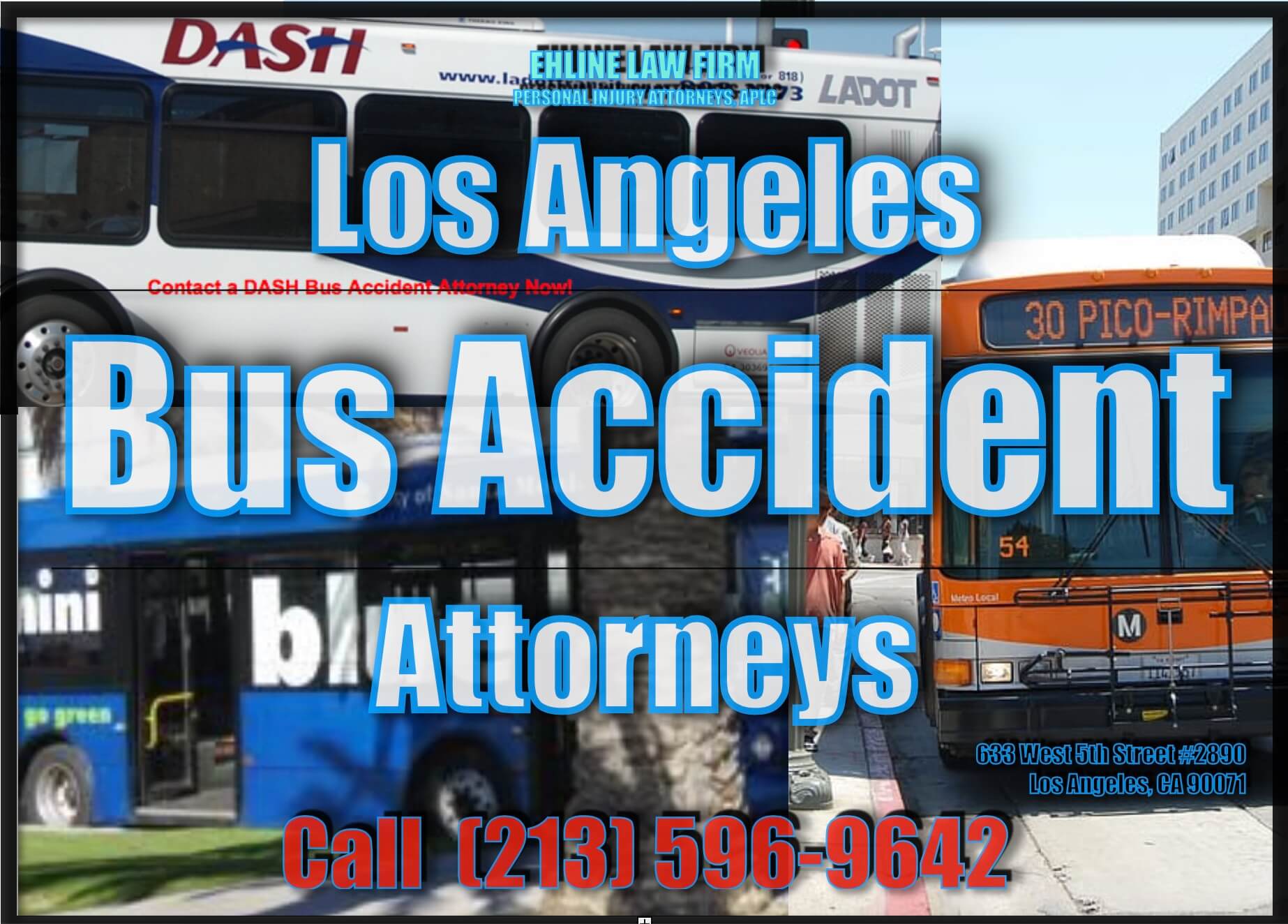 Table of Contents:
Back To Top.
Bus Defined
"A bus is a large, lumbering vehicle that could cause a variety of disasters."
"A bus, archaically also omnibus, multibus, motorbus, tour bus, or autobus, is a road vehicle designed to carry many passengers. Buses can have a capacity as high as 300 passengers. The most common type of bus is the single-decker rigid bus, with larger loads carried by double-decker and articulated buses, and smaller loads carried by midibuses and minibuses; coaches are used for longer-distance services. Many types of buses, such as city transit buses and inter-city coaches, charge a fare. Other types of bus, including elementary or secondary school buses, and fare free shuttle buses within a post-secondary education campus. In many jurisdictions, bus drivers require a special, commercial driver's license."
NHTSA statistics suggest large buses maintain poor right-side visibility, these vehicles often weighing well over 10,000 pounds.
How Will Your Los Angeles Bus Accident Lawyer Help Me?
When you retain a Los Angeles car accident attorney competent in handling bus accidents from Ehline Law Firm, we will take all aspects of your claim. Our record-setting, trailblazing lawyers will hold your hand as your serious injuries heal. Our services include connecting you with medical experts superbly trained in treating your injury. s
We will investigate your bus accident and seek all negligent bus drivers and operators responsible for causing your damages. We have the resources, training, and financial power to help you receive full compensation, giving you peace, placing your mind at ease after suffering a severe, terrifying accident.
Why Do Los Angeles Bus Accident Victims Trust Ehline Law Firm With Their Bus Accident Case?
Our lead counsel, Michael Ehline, began his civilian career in 1990 after suffering permanent US Marine-related injuries. After Michael's honorable discharge, he owned a construction company and limousine transport business, becoming a paralegal. He has been nominated and honored as a Super Lawyers Rising Star multiple times and helps military veteran organizations like the Marine Corps Assn.
Michael began practicing law in Greater Los Angeles and Orange County after passing the California State Bar in 2005, helping thousands of personal injury victims over his 16 years in service.
Ehline Law Firm has won clients over $100 Million in verdicts and settlements.
We focus 100% on personal injury law, including helping with workers' compensation claims, marking us as California's premier personal injury lawyers, equipped with vast, in-depth knowledge in handling civil negligence claims.
Our Los Angeles bus accident lawyers explain things to our clients and listen well, placing clients at ease with our hassle-free contingency fee basis contract.
We offer accident victims over 15 conveniently located law offices throughout Northern, Central, and Southern California, and we will take your call or come to your home, hospital, or workplace 24-hours a day.
Positive Client Review: 5/5 ★ ★ ★ ★ ★
I felt supremely confident after Ehline's staff and associates professionally explained the legal process to me, lessening my difficulties, getting me a fair financial award, helping me receive care for my injuries. Thank you, Ehline Law.
– Josey H.
Los Angeles Metro & DASH Bus Accidents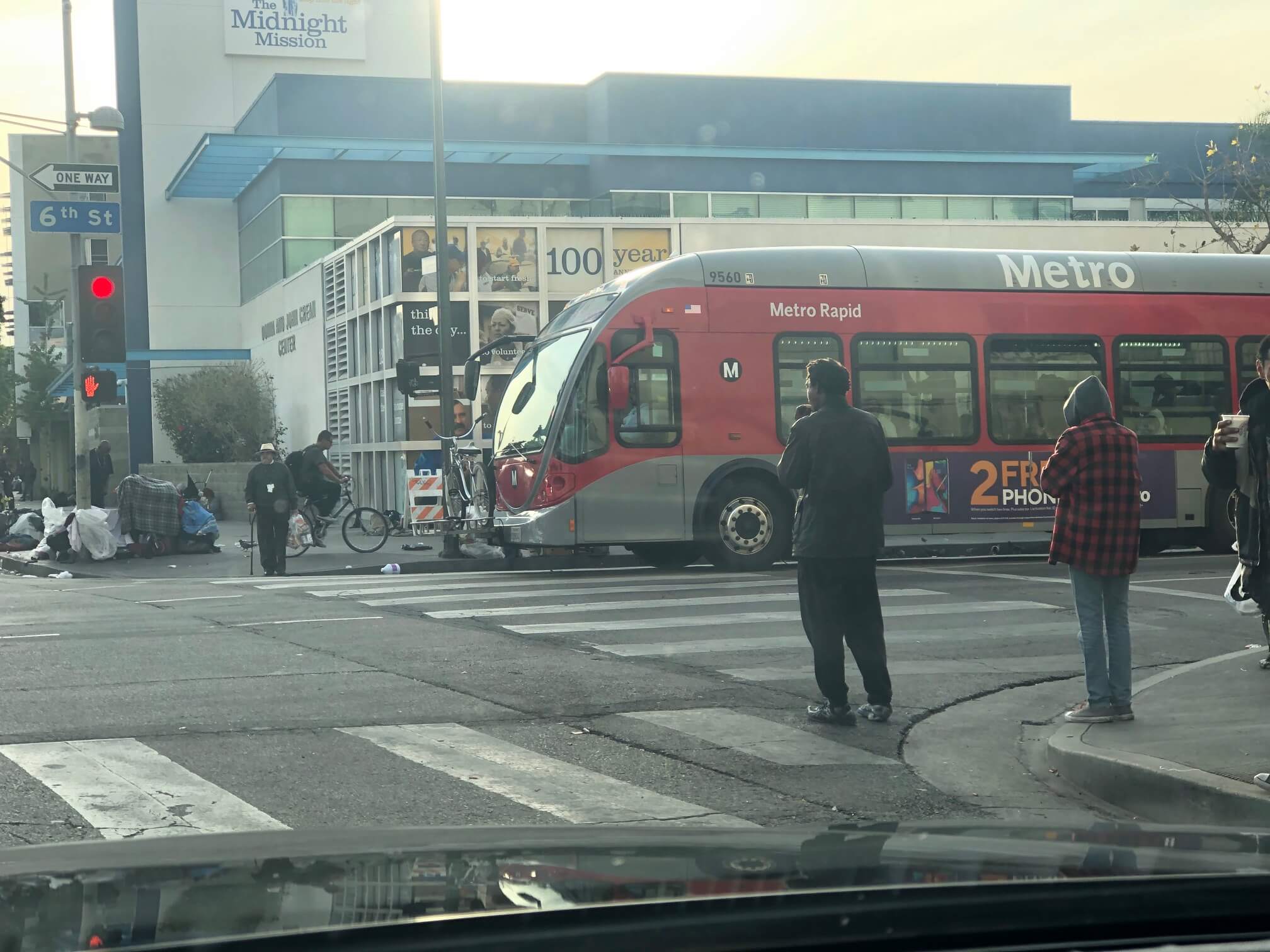 Los Angeles County Public transportation is a vast, expansive system with at least 18,500 active stops on 189 bus lines in the Metro Local system alone (Source).
Metro Bus: Metro buses are a familiar sight to residents due to their sheer number and bright orange color on southern Californian roadways. Our metro system serves, on average, 1.6 million people a day. Many commuters ride the Metro Rail System in addition to personal automobiles, with many riding the Metro Local Bus after departing their train.
DASH Bus: Many office workers, attorneys, and travelers use the DASH buses run by the Los Angeles Department of Transportation (LADOT)to quickly get around Downtown LA. These buses run all day during business hours, approximately every 6 minutes (Learn more here.)
LA Commuter Express and City Ride: These two bus programs help people with bikes get around this densely packed and populous area quickly. The Metro Bus and LADOT systems don't just kill or maim people; they also have a record of doling out poor treatment, like denying services based on race, gender, or other discrimination, possibly a reason for the driver causing them to be thrown about inside or hit while outside.
Also, bus passengers or bus stop bystanders could be run over or struck by a flying object or suffer another bus riding injury.
Take, for example, the below Metro Bus accidents:

"June 1, 2003, a 20-year-old woman pushing her bicycle died Saturday when she stepped off a curb and into the path of an MTA bus, police said. The bus was heading east on Adams Boulevard and making a right turn onto Figueroa Street about 4:40 p.m. when the unidentified woman was struck, said Jose Ubaldo, a spokesman for the Metropolitan Transportation Authority.

"May 27, 2007. A man was struck and killed today by a Metro bus in downtown [LA], authorities said. Paramedics sent to the 500 block of South Spring Street at 11:49 a.m. pronounced the man dead at the scene, said d'Lisa Davies of the [LA] Fire Department. The circumstances of the death were under investigation. June 7, 2007, a Metro bus and two other vehicles collided Thursday in the South Robertson area … two people with injuries, authorities said."

Regardless of your age, if your ride Metro Dash or Metro Local buses, you may suffer serious personal injuries, making Metro Bus or DASH responsible for paying your damages and exorbitant medical bills and expenses.
What Are The Los Angeles, California, And Nationwide Bus Accident Statistics?
In the City of Los Angeles, 5.74% of all passengers commute to and from work, primarily using public transit. (DOT 2017 Figures).
According to the publicly released Federal Motor Carrier Safety Administration (FMCSA)2009 Congressional bus crash study findings:
Over 9,000 bus accidents occur in the United States every year.
Most bus crashes occur near metropolitan areas.
Severe Injury Or Wrongful Death?
Although the number of large trucks and buses in fatal crashes has increased by 26 percent from its low of 3,432 in 2009, the 2015 number is still 18 percent lower than the 21st-century peak of 5,231 in 2005. (Source).
From 2005-2006, bus accidents tallied around 5.6% of nationwide fatalities. Approximately 50 passengers or bystanders suffer fatal bus accidents yearly.
Three hundred thirty people die yearly in U.S. bus accidents on average.
Two hundred thirty-two bus-related fatalities in 2017 represented a 1% decrease from 234 fatal bus collisions during 2016.
Intercity municipal buses accounted for 13% of the bus caused deaths from 2007 to 2017, with only 13 fatal traffic accidents in 2017, the lowest recorded number since the FMCSA has gathered bus crash data.
U.S. school bus incidents accounted for 40% of deaths.
Long-haul transit buses accounted for 35% of deaths.
The Center for National Truck and Bus Safety Statistics claims most common bus mishaps involve people walking, walking their dog, jogging, standing, or riding in another motor vehicle.
Annually, around 1,000 people riding or located near city buses will suffer injuries.
Approximately 12,000 victims will suffer bus-related severe injuries annually.
25% of bus crashes involve severe pedestrian injury or wrongful death.

Over 60% of bus-related deaths happened when another vehicle struck the bus.
Commercial Transportation Vehicle Mishaps Rising?
Yes. One thing is sure: more and more people get injured each year in commercial delivery vehicle and bus accidents, an uptick for the last 20-30 years. Buses and commercial road vehicles are everywhere in Long Beach, Torrance, and Culver City, their sheer size and speed place commuters and bystanders at risk during stop-and-go traffic. Pedestrians and bicyclists traveling Palos Verdes Estates and South Bay remain at significant risk for vehicle sideswipes.
Glendale's high traffic corridor is famous for municipal and charter bus wrecks, with higher speed inland areas on freeways like the 91 West seeing many buses flip and rollover. In Redondo Beach, California, two little girls riding bicycles were run over on Pacific Coast Highway. A Metro bus's rearview mirror almost ripped one of their heads off, killing both. The Creative Indulgence surveillance footage proved they never stood a chance.
Greyhound Bus Accident Lawyers – Basic Truths About Bus Accident Dangers
Greyhound and other private tour bus lines deliver many people and goods daily, all around the country, typically involving long trips during both intra and interstate transportation.
Records from Greyhound indicate that from October 3, 1997 – October 3, 2001, 42 bus occupants attacked or assaulted a driver, attempting to grab the vehicle steering wheel or push down on the brake. We just saw an example of a foreseeable event causing a bus accident that service operators should prevent.
When our Greyhound accident lawyers sue and win, we may prompt them to make important safety changes at Greyhound, with the entire transport industry following suit.

When private bus companies, including Greyhound bus, place profits over people, lives are lost and ruined. Ehline Law Firm heroically makes victims whole.
What Commonly Causes Private And Public Bus Accidents?
The reasons for bus accidents can be numerous and uncountable, with a human error causing most California bus accidents.
Typical human errors causing or contributing to bus accidents include:
Common causes of bus accidents include driver fatigue and distracted driving. The increased use of electronic devices by all drivers — including bus drivers — can lead to accidents.
Bus driver distraction or negligence (negligent drivers failing to pay attention or fails to set the bus' brakes) including:

DUI/DWI – Beer, and marijuana use, including the prescription drug use of Vicodin, or Valium, etc.
Speeding,
Failure to obey road and traffic signals,
Driver fatigue,
Road rage or misbehavior,

Bus companies poorly supervising or negligently training bus drivers.
Bus companies or municipalities failing to provide adequate security
Negligent or improper bus maintenance leading to brake failure and onboard fires
Bus manufacturers failing to properly design or construct a quality public transport vehicle causing mechanical failure. (Ex: Poor vehicle brakes, a person hurt by a low rise bus, etc.)
Negligent road construction or maintenance causing lousy road conditions (CalTrans, etc.)
Poor road lighting or weather causing poor or low visibility and loss of tire traction.
Typical bus incident types include:
A collision between a bus, passenger car, truck, motorcycle, bicycle, or stationary object. (Ex: your driver may turn the bus wheels close to the curb, sideswiping pedestrians with the side view bus mirrors),
Slip and Fall from sudden acceleration and deceleration (Read more),

Falling Luggage and flying objects like laptop computers,

Assault by a fellow passenger,
Lack of Seatbelts or restraining devices.
Do Common Carrier Bus Companies Have A Duty To Provide Bus Passengers With Seatbelts?
There are many fundamental differences between buses and passenger vehicles. The most glaring dissimilarity is buses, including school buses, generally are required under the Vehicle Code or federal law to have seat belts. But they may face common carrier liability.
Anciently, a common carrier was typically a stagecoach or stage wagon operator:
"One who undertakes for hire or reward to transport the goods of any who may choose to employ him, from place to place." Common carriers maintain unique trust positions beyond an ordinary person, owing passengers a heightened duty of care meeting scheduled routes beyond the ordinary, reasonable degree of skill. No statute or code requires buses or charter party vehicles of certain sizes to maintain restraint devices. But a jury could still find the owner negligent for failing to install seatbelts using the utmost care. (Greyhound Lines, Inc. v. Super. Ct. (Chisefski) (1970) 3 Cal.App.3d 356, 359-360.)
What Types Of Buses Are Liable For My Bus Accident?
Your Los Angeles bus accident lawyers will gather, research, itemize and analyze your bus accident and its causes, identifying the multiple parties jointly and severally responsible and duties owed. Your trial lawyer may file a lawsuit against:
Private Bus Lines (often paid by their private insurance company),
Public Transportation Lines
Any third party hired by either of the above to maintain bus facilities,
Third-party motorists who crashed into your bus must pay the bus accident victims,
Vehicle manufacturers.
Private Bus Company Liability

Private Buses: Greyhound coaches and other small charter bus companies, for example, serve specific tasks. Passengers in a private bus crash must understand the nuances between government entities and closely held companies. (Source). (EX: Casino Tours are like tourism/gambling excursions for retired folks involve longer road trips, making gambling casinos liable under vicarious liability theory.)
Public Transportation Agency Liability
The government: The government, including a public school district, must safely maintain their buses and routes, whereas a private school must maintain their buses. All owners, operators, and controllers of a bus must never allow inexperienced, fatigued, and medically unqualified drivers on our roads.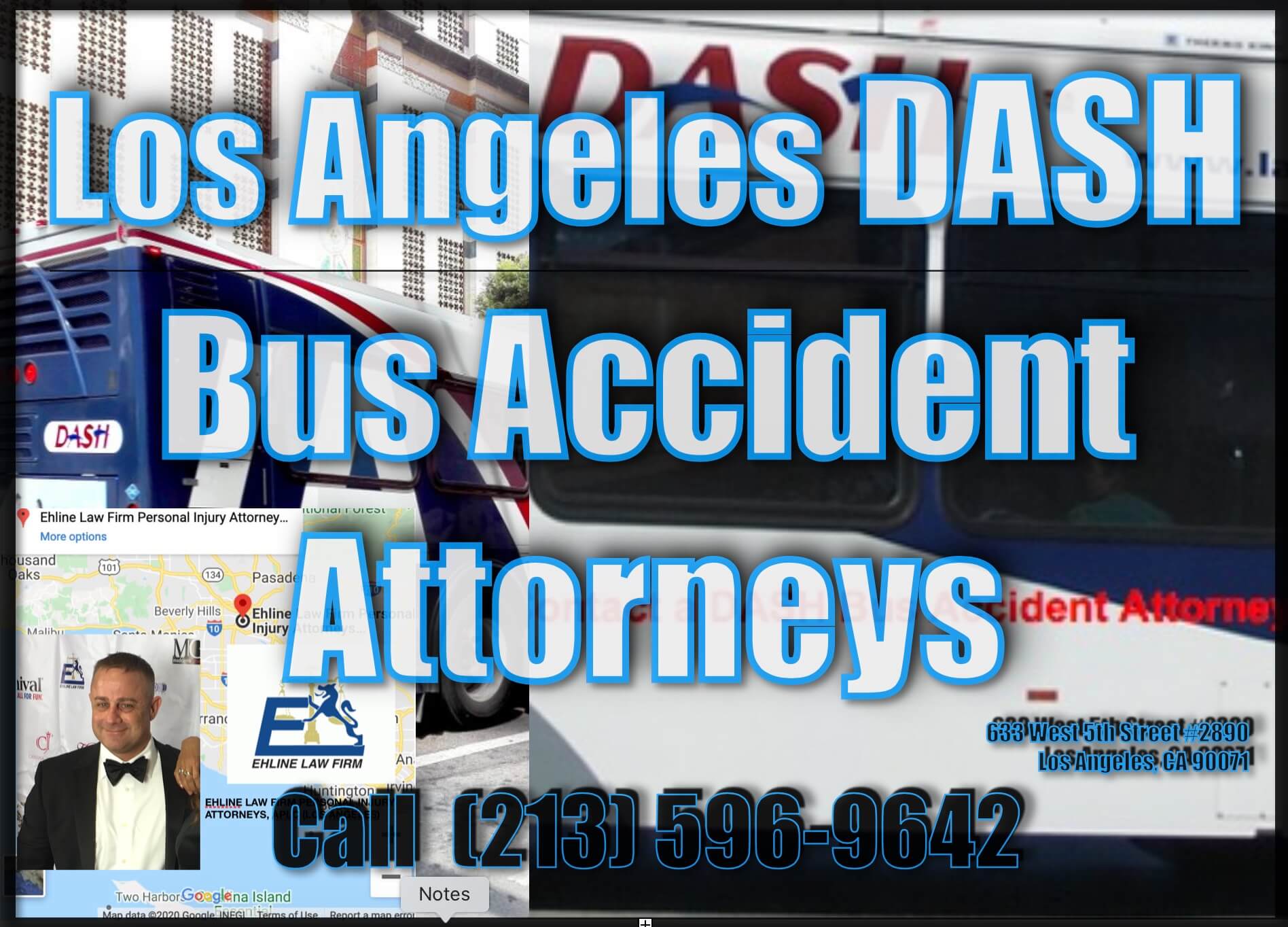 When a bus accident happens, the following common carriers will face liability for intercity and long haul bus accidents:
School districts have been in the news lately, with most states never requiring seat-belts for school bus accidents.
The LA Metro,
DASH Bus: Our DASH bus accident attorney also rides these convenient buses,
LAnow (SERVICES SUSPENDED EFFECTIVE MONDAY, MARCH 30, 2020 (COVID-19)),
Commuter Express,
Cityride,
Big Blue Bus,
Mass Transit Authority,
The City of LA or LA County will typically absorb public bus accident liability expenses caused by negligent employees and bus drivers. You must hire the best Los Angeles personal injury lawyer to identify primary bus accident causes before you can win.
Common Injuries From Greater LA Bus Accidents
Experts think the safest, most reliable means of road transport are buses. But when a crash happens, the injuries are pretty bad, including:
Burns, abrasions, and contusions
Bone or joint dislocation
Head injury (TBI)
Spinal cord damage
Broken bones
Dental injuries
Slipped disks
Whiplash
What Compensation Can Bus Accident Victims Win?
Special Economic Compensation for the injuries based on their severity and treatment costs, including the recovery of lost wages due to your injuries (lost capability to earn)
General Pain and Suffering Damages for your mental agony (i.e., the pain for your injuries)
Punitive damages to punish the defendant's reckless actions may be recoverable.

Get A Free Case Evaluation From Top-Notch Los Angeles Bus Accident Attorneys Today

Passenger safety and security come first. Passengers are entitled to arrive safely at their destinations. Drivers of these potential "steel coffins" must prevent bus accidents; if not, we will sue for errant bus drivers and negligent manufacturing companies for money damages recovery.

The Ehline Law Firm stands ready to help with passenger injury cases after a severe bus crash. Our Los Angeles bus accident lawyers will assist you through the government or insurance claims process, holding your hand every step of the way. We'll give you a free consultation24/7. To schedule your free consultation at one of our nearby law offices, call (213) 596-9642, use our online chat or online contact form today. We make liable parties pay bus accident victims!
Citations: