Bus Accident Attorney in L.A.
---
Call Today: (213) 596-9642
---
Los Angeles Bus Accident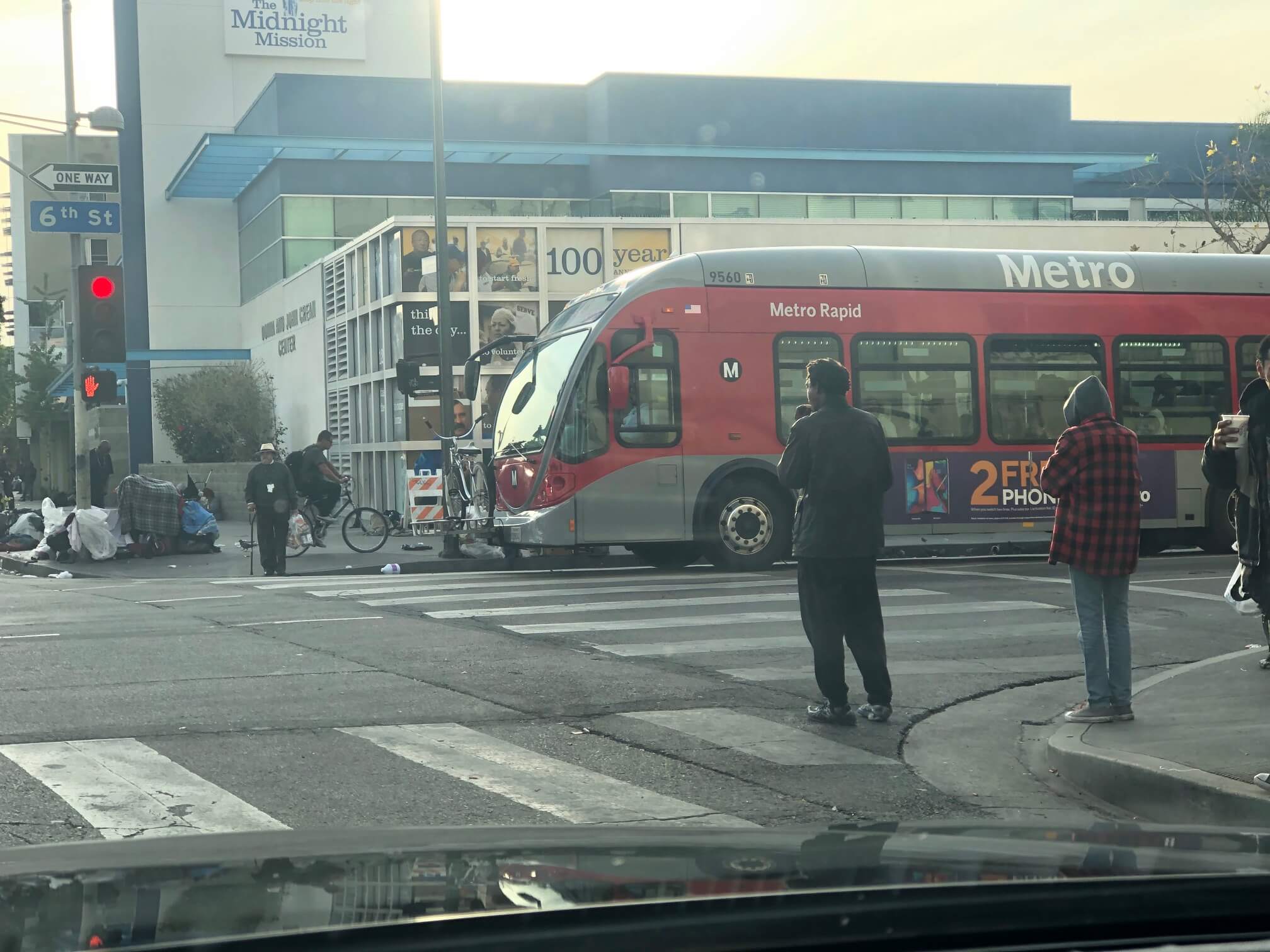 Understanding Los Angeles Bus Accidents
Understanding bus accidents from a legal perspective involve getting to know a little bit about personal injury law. According to the Federal Motor Carrier Safety Administration:
Although the number of large trucks and buses in fatal crashes has increased by 26 percent from its low of 3,432 in 2009, the 2015 number is still 18 percent lower than the 21st-century peak of 5,231 in 2005. (Source).
In any event, run over by a bus or hurt as a passenger on a bus remains one of the most devastating injuries. In Redondo Beach, a little girl suffered and died from a hit and run on the Pacific Coast Highway. This mishap occurred when the rearview mirror of and Metro Bus almost tore a little girl to pieces when it struck her head. These little girls were riding bicycles, thinking they were safe. But surveillance footage from the nearby Creative Indulgence building indicates the riders were not safe.
So what exactly is a bus?
A bus, archaically also omnibus, multibus, motorbus, or autobus) is a road vehicle designed to carry many passengers. Buses can have a capacity as high as 300 passengers. The most common type of bus is the single-decker rigid bus, with larger loads carried by double-decker and articulated buses, and smaller loads carried by midibuses and minibuses; coaches are used for longer-distance services. Many types of buses, such as city transit buses and inter-city coaches, charge a fare. Other types, such as elementary or secondary school buses or shuttle buses within a post-secondary education campus do not charge a fare. In many jurisdictions, bus drivers require a special license above and beyond a regular driver's license.
Understanding Bus Injuries
Irrespective of its use, sometimes a driver turns the wheels to the curb and sideswipes people. Others, the operator fails to set the brake. Other times people suffer from a failure in the design, construction, and quality of the public transport vehicle.
Buses can also involve road trips, like Casino Tours. These are like tourism gambling excursions for retired folks. So they are not all public city or county-run bus lines. School buses have been in the news a lot too. In most states, seat-belts are not required for children either.
For example, Greyhound coaches and other small charter bus companies all serve specific tasks. They are private, however. So injured passengers and survivors of bus wrecks understand the government entities' nuances and closely held companies they are pursuing. (Source).
Hence, if you need legal advice over an injury by a bus caused by negligence, a bus accident attorney will help you understand your rights. First of all, both public and chartered private transportation is a daily reality for Angelinos. Most people accept that automobile accidents are a regular event in Greater L.A. Some travelers hope to avoid these calamities and delays by using public transportation.
Every day, thousands take the subway, light rail, or bus systems to get where they need to go. With all its facilities and conveniences that it offers, the bus service can also have bad days, and accidents can occur on those days. A bus is a large, lumbering vehicle that could cause a variety of disasters.
Bus accidents can be of many different types. In some accidents, you are the bus passenger; in others, you are the pedestrian, and sometimes you are driving another vehicle that gets hit by the coach. Without someone there to protect you, you could be facing many years of consequences.
You may be facing a severe injury, loss of mobility, reduced working hours, or emotional trauma that cannot be quantified. Regardless of what the case is like, you are entitled to receive compensation for any damage done to you. And Ehline Law is here to protect and fight for that right.
The Different Types Of Accidents And Your Time-Frame To Sue?
First, we must understand that bus accidents happen for many reasons. So you might have incurred physical injuries due to the reckless driving of the bus driver. However, this is not the only way bus accidents take place. For example, the bus's poor construction holds the manufacturers of the bus liable for product liability.
Sometimes the bus can get hit by another vehicle. And if you get hurt due to that hit, you have a case against the other car's owner. No matter the reason and cause, if you get injured, you deserve compensation.
---
Bus Accidents – Shocking Statistics
If you live in Greater LA, you must know the statistics about bus accidents in the region. So this can be an excellent heads-up call for you concerning the protection and what actions you must take when a mishap takes place; in just 2009, 29 deaths resulted from bus accidents. More than 1100 people were severely injured. Go another year back on the calendar, and there were 39 deaths due to bus accidents.
Anyone who uses public transport as a regular means of transportation must take steps in preparation. So they must know what actions to take when an accident happens. Back in 2009, 23 people perished in bus accidents. During the same period, 1,140 people suffered bus-related injuries in the Golden State and its surrounding cities.
These places included Los Angeles, Long Beach, Torrance, and Culver City. In 2008, 39 people died in California due to fatal bus accidents, and 311 people passed away in other states. The sheer size and speed of the vehicle, coupled with several occupants, means commuters and bystanders are always at risk.
Cities with a history of lousy bus wrecks include:
Santa Monica
Glendale
Torrance
Long Beach
Marina del Rey
Newport Beach
San Francisco
San Bernardino
Rancho Cucamonga
Riverside
Huntington Beach
These areas all have different types of crash dangers. For example, the beach cities have more stop and go bus traffic. Pedestrians and bicyclists in areas like Palos Verdes Estates are often victims of sideswipes.
Glendale's location remains nestled along a high traffic corridor for municipal and charter buses. Inland areas usually involve higher speeds on freeways like the 91 West. These crashes lend themselves to being rollover cases.
Common Causes Of Bus Accidents
The reasons for bus accidents can be numerous and uncountable.
However, there are some common causes of why these accidents take place:
Little to no security and supervision
DUI/DWI – Includes prescription drugs like Vicodin, Valium. Beer, Marijuana, etc.
Faulty Roadway Construction Work – Includes Cal Trans worker negligence.
Inadequate maintenance of the bus
Bad conditions of roads
Errors from drivers
Poor visibility
Failure of brakes
Lack of driver training
Privately owned cars misbehaving on roads
Onboard fires
There could be other causes of bus accidents too. But all of them call for the same action from you – to speak with a lawyer promptly.
Bus Companies Have Big Time Lawyers, So Should You
There is a group in the United States that represents busing industry members. As a group, they will serve the busing industry members in their best financial interest.
But this is not in the best interest of injured passengers riding that bus. These machines are metal behemoths. Bus companies owe a special duty of care to bus passengers. In other words, drivers of potential "steel coffins" must take steps to avoid bus accidents.
Our experienced staff thinks that passenger safety and security comes first. Also, this should be the priority of the busing industry and bus operators. Thus, we push back against the sector's tactics and help shed light on the wrongdoing that led to injuries.
Local Firm With Vast Experience
The experienced Los Angeles bus accident attorneys at Ehline Law Firm Personal Injury Attorneys, APLC, and its co-counsel, like Michael P. Ehline, Esq., have an impressive history. Thus, their performance, instigation, execution, and disposition of cutting edge consumer law cases against private and public tour bus ventures is unrivaled. So from Fresno to Pasadena, Ehline wins bus accident cases.
We also have successfully represented clients in cases involving damaged or poor roads. So we can litigate government claims against entities like DASH bus, Big Blue Bus in Santa Monica, and Mass Transit Authority. Most of all, we will seek multiple defendants. We will also use our advanced expertise in more challenging situations involving buses and maritime and airline transport.
These cases include shore excursion cases related to the use of passenger buses and vans. So we fight hard to get you the maximum payment under the passage contract, the bus ticket, as well as the federal, state, and local laws.
Some of Our Verdicts And Settlements
Our firm has an extensive track record of huge verdicts and settlements (Click Here.)
Ehline Leads the Way
We are used to taking a leading role in multiparty and more significant, more complex cases like a charter church or school bus. Michael P. Ehline, Esq., is an inactive U.S. Marine and a fighter.
He has litigated significant injury claims, such as train accidents, and has resolved millions of dollars in insurance claims for motorists and other victims of transportation claims. We help in all forms of injury claims from aircraft, trains, boats, and their affiliated bus lines.
Our Promise To Injured Victims
We promise to fear no insurance company or defense firm. From a defective fighter jet to a poorly manufactured, unsafe commercial mega bus, to a claim for damages against the State or City, Ehline Law Firm's lawyers are ready.
Thus, we can gather critical evidence, go to trial, and do whatever it takes to "make it happen." We are the real leaders in complex consumer transport law.
Client And Peer Recognition?
Practitioner Michael P. Ehline, Esq., has consecutively been nominated and honored as a Super Lawyers Rising Star, is involved in bicycle safety and military veterans organizations like the Marine Corps Assn. He regularly speaks at the Circle of Legal Trust at Google+, was voted "best video" by Anthony Castelli; and is a strong presence in the local personal injury attorney scene.
What Is A Common Carrier?
A common carrier at common law was typically an operator of stagecoaches, stage wagons:
"One who undertakes for hire or reward to transport the goods of any who may choose to employ him, from place to place."
So these carriers are in a unique position of trust beyond that of an ordinary person. They owe you a heightened duty of care. And this means your case will be actionable regardless of whether it is a public or private entity that caused your harm. Meeting a scheduled route shouldn't mean shocking injuries to others.
Some Basic Truths About Bus Dangers
NHTSA statistics show that other vehicles are most likely to collide with the bus's right side, suggesting problems with visibility during lane changes. Greyhound and other bus lines deliver a lot of people and goods daily, all around the country. They are typically long trips that involve both intra and interstate transportation.
Records from Greyhound indicate that from October 3, 1997,- October 3, 2001, 42 reported incidents of a bus occupant attacking or assaulting a driver, wheel of the vehicle, or attempting to push on the brake occurred.
So this is an example of a foreseeable event; that service operators should be well aware of and take precautions to prevent. Next, there are no seat belts installed in most cases.
Do Bus Companies Have A Duty To Provide Passengers With Seatbelts?
Interestingly enough, there is no statute or code requiring buses or charter party vehicles of a certain size to maintain restraint devices, or even a rule for riders to wear them at all, for that matter. But a bus company could be found negligent for failing to install them on its own. (Greyhound Lines, Inc. v. Super. Ct. (Chisefski) (1970) 3 Cal.App.3d 356, 359-360.)
Bus mishaps are different on many levels from an ordinary passenger car accident. It can happen instantly; passengers are allowed to roam about and socialize, get up and stretch their legs, or use the restroom on larger buses.
Unsecured occupants and items can easily be flung about, causing terrible injuries. During a collision, head and torso strikes from heavy, unsecured overhead bags of luggage are everyday events. Also, passengers can get cut and scraped by sharp objects, loose laptop computers, and uprooted seats equipped with weak or sheared off anchor bolts, for example.
Sometimes alcohol is allowed for passengers. Sometimes parents let their kids run around the bus aisle with zero supervision. So there are many distractions aboard for a bus driver to overcome when driving. But external problems only add to the bus driver's dilemma. For example, it's hard to see out of the bus. NHTSA statistics suggest that large buses have poor right side visibility. Also, these vehicles weigh well over 10,000 pounds in many cases.
Furthermore, school buses may have a nervous driver, distracted by the noise of the kids. So the driver may want a smoke break and take a curb too fast.
A driver may not be looking in the blind spots for that car that failed to stop for the flashing red lights. All the above, coupled with a vehicle brake defect, can easily result in a dreadful roadside scene.
Our firm was involved in Vegas gaming halls subsidized California commercial bus companies to ship gamblers to the casinos cheaply in one tragic case. The allegations in Hemsley v. Davis demonstrated that the corporate defendants lacked adequate standard safety measures. And ultimately, lack of safety led to a sad event of herculean proportions while en route back to California. (Learn More).
Bus Crashes Study Data
The government has taken an active intervention in the prevention of bus collisions. There was a significant study conducted that was completed in 2009 by the Federal Motor Carrier Safety Administration. (Source Motor Carrier Study). After CSA presented the bus crash study findings to Congress it was publicly released.

Important snippets from the Study include the following facts:

Most bus crashes occur in a metropolitan area.
Approximately 1,000 people riding or near a city bus suffer injuries yearly.
From 2005-2006, bus accidents tallied around 5.6% of the nation's fatalities.
Approximately 50 passengers or bystanders suffer from fatal accidents yearly.
Commercial Vehicle Mishaps Rising?
Yes. One thing is sure: more and more people get injured each year in commercial vehicle accidents. And this has been at an uptick for the last 20-30 years. Also, there are more and more buses and commercial vehicles on the road than ever before.
Approximately 12,000 people suffer serious injuries
330 people die each year in bus accidents
Statistics show:
Over 9,000 bus accidents occur in the United States every year. The Center for National Truck and Bus Safety Statistics claims most common bus mishaps involve people walking,

walking their dog, jogging, standing, or riding in another motor vehicle.

25% of bus crashes involve pedestrians.
Over 60% of bus-related deaths are caused by accidents with another vehicle. Many of these alarming national and local statistics arose from Los Angeles area bus collisions.
Main Differences Between Bus & Car Accidents?
There are many fundamental differences between buses and passenger vehicles. The most glaring dissimilarity is that most buses, such as school buses, are not required to have seat belts. Besides what we have already discussed, bus construction is like a tank compared to a small car. When small vehicles collide with a coach, hands down, the bus wins the strength contest.
But the occupants on the bus do not fare so well. Not being strapped down means they can quickly be ejected or killed. The same goes for objects like suitcases flying around the cabin. Either way, the occupants of both vehicles are in for trouble if there is a crash.
Common Injuries From Greater LA Bus Accidents
Buses can be called the safest means of transport on the road, but even the most reliable transportation can be life-threatening when accidents happen. Whether you are traveling on a public bus or private, here are the common injuries resulting from an accident.
Burns, abrasions, and contusions
Dislocation of a bone
Serious head injuries
Spinal cord damage
Broken bones
Dental injuries
Slipped disks
Whiplash
Who Can You Hold Responsible For The Accident?
Who you can hold responsible for the accident depends entirely on the type of accident. At times the situation can get too complex to make an easy decision. However, someone needs to pay and maybe get punished for being irresponsible in doing their responsibilities.
If the bus driver receives sub-par training and the bus conditions are not safe, the bus company will be held responsible in court. At times, the bus companies hire third-party companies to maintain the bus facilities, so in case, you will file a lawsuit against the maintenance company. If your bus driver were an employee of a tour company, the company would be held responsible.
Sometimes it is not the lack of training but the driver's reckless behavior that causes the accident, so the driver is responsible for such a disaster. For city bus accidents, the government or any other local governing body can be held accountable.
For example, what if part manufacturers caused a wreck because their flimsily built part failed, resulting in injuries to the bus passengers? If so, there may be a product liability claim in addition to a suit against the city, for example.
What Compensation Can You Win?
First, you must always speak to an attorney if you have been injured in a bus accident to receive compensation before it's too late. Secondly, you don't only qualify for the medical expenses that you have conceded due to injuries. Still, many other factors are brought under consideration and for which you can receive compensation.
Here are these important factors:
Compensation for the injuries based on their severity
The costs incurred on the treatment of these injuries.
The mental agony (i.e., the pain for your injuries)
Compensation for lost wages due to your injuries
Recovery of loss of wages (lost capability to earn)
Not only are you entitled to receive the compensation in the form of money from the offending party, but you can also go for punitive damage compensation to punish the defendants for their actions in recklessly failing to avoid further negligence.
---
Los Angeles Metro & DASH Bus Accidents
Did you suffer a severe injury on a Metro, MTA, or DASH Bus while visiting or navigating L.A.? You are not alone. Ehline Law Firm has helped hundreds of people with allegations of injuries on publicly operated bus lines in Greater Los Angeles since 2005. We have recovered millions of dollars for downtrodden victims for these types of negligent injury claims and won big. It makes sense, too; after all, in addition to personal automobiles and the metro rail system, many nearby residents ride the Metro Local Bus to get from place to place.
So this means one of these passengers or bystanders is ripe for some calamity at the bus stop. Or they may get injured while riding on the bus itself, on any given day. Our rough and ready law firm stands by your side when you are under the weather, broke, and feel helpless. Call us now. If we cannot take your call instantly, we promise to call you or e-mail you back promptly. Speak with one of our proven advocates before speaking to any potential adversaries regarding your case.
---
All About the DASH And Metro Bus Transportation System
Public transportation is a vast, expansive system in Los Angeles County, and there are at least 18,500 active stops on 189 bus lines in the Metro Local system alone (Source). These Metro buses are a familiar sight to Los Angeles residents due to their sheer number and bright orange color on southern Californian roadways. Additionally, the metro system serves, on average, 1.6 million people a day. Also familiar to many office workers, attorneys, and other travelers, are the DASH buses run by the Los Angeles Department of Transportation.
These are buses that run all day during business hours, approximately every 6 minutes (Learn more here.) L.A. also has Commuter Express and City Ride Programs designed to get people and their bikes around town quickly in this densely packed and populous area. Sadly, these bus lines and their human administrations are imperfect and not without flaws. The Metro Bus and LADOT systems have caused many bus accidents and personal injuries. Multitudes of these tragic accidents were avoidable and sadly involved several injuries simultaneously.
Hence, they include whiplash, head injuries, and other personal harm that can even lead to coma cases. Especially relevant, it could also lead to wrongful death or paralyzation. Ehline Law Firm goes to work for the now laid up wage earner knocked out of commission. After all, the bus drivers or their masters at the government caused the negligent error, which was avoidable. These defendants should have acted with reasonable care.
If you are dissatisfied with the poor treatment you received, like denial of services due to racial, gender, or other discrimination, we can help. We can also help if you were thrown about inside or hit while outside by one of these steel behemoths.
Take, for example, the following Metro Bus Accidents Below:
June 1, 2003, a 20-year-old woman pushing her bicycle died Saturday when she stepped off a curb and into the path of an MTA bus, police said. The bus was heading east on Adams Boulevard and making a right turn onto Figueroa Street about 4:40 p.m. when the unidentified woman was struck, said Jose Ubaldo, a spokesman for the Metropolitan Transportation Authority.

MTA bus kills man. May 27, 2007. A fatal accident in the heart of downtown has caused some traffic troubles: A man was struck and killed today by a Metro bus in downtown Los Angeles, authorities said. Paramedics sent to the 500 block of South Spring Street at 11:49 a.m. pronounced the man dead at the scene, said d'Lisa Davies of the Los Angeles Fire Department.

The circumstances of the death were under investigation. June 7, 2007, a Metro bus and two other vehicles collided Thursday in the South Robertson area of Los Angeles, leaving two people with injuries, authorities said.
Regardless of if you are young or old, ride Metro Dash or Metro Local buses; you may be at risk for serious personal injuries. So Metro Bus or DASH may be held responsible for your damages and exorbitant medical expenses, as discussed above.
Ehline Law Firm specializes in suing and recovering money for victims of errant bus drivers and negligent manufacturing companies who release defective buses into the stream of commerce. Even if you were a disabled person hurt on a low rise bus, we could help.
Ehline Law Will Handle Your Bus Accident Case Responsibly
At Ehline Law Firm, we work with the help of a team that knows everything about Los Angeles and has gained decades of experience fighting the numerous types of accident cases (e.g., bus, bicycle, motorbike, car, train, plane accidents, etc.) We know what the proper course of action is in these cases. You must also understand your responsibility and limitations. When you are up against big corporate companies and government employee unions, your chances are non-existent if you decide to fight the case independently.
Let us be your guide and players here. Let Ehline Law get the compensation for every bit of harm done to you. Call and speak with our bus accident attorneys based in Los Angeles for an amicable consultation. Deal with a proven fighter to evaluate and execute your public and private lawsuits. We can examine your potential basis for recovery right now at (213) 596-9642.