Dedicated To Representing Injured Los Angeles, California Bikers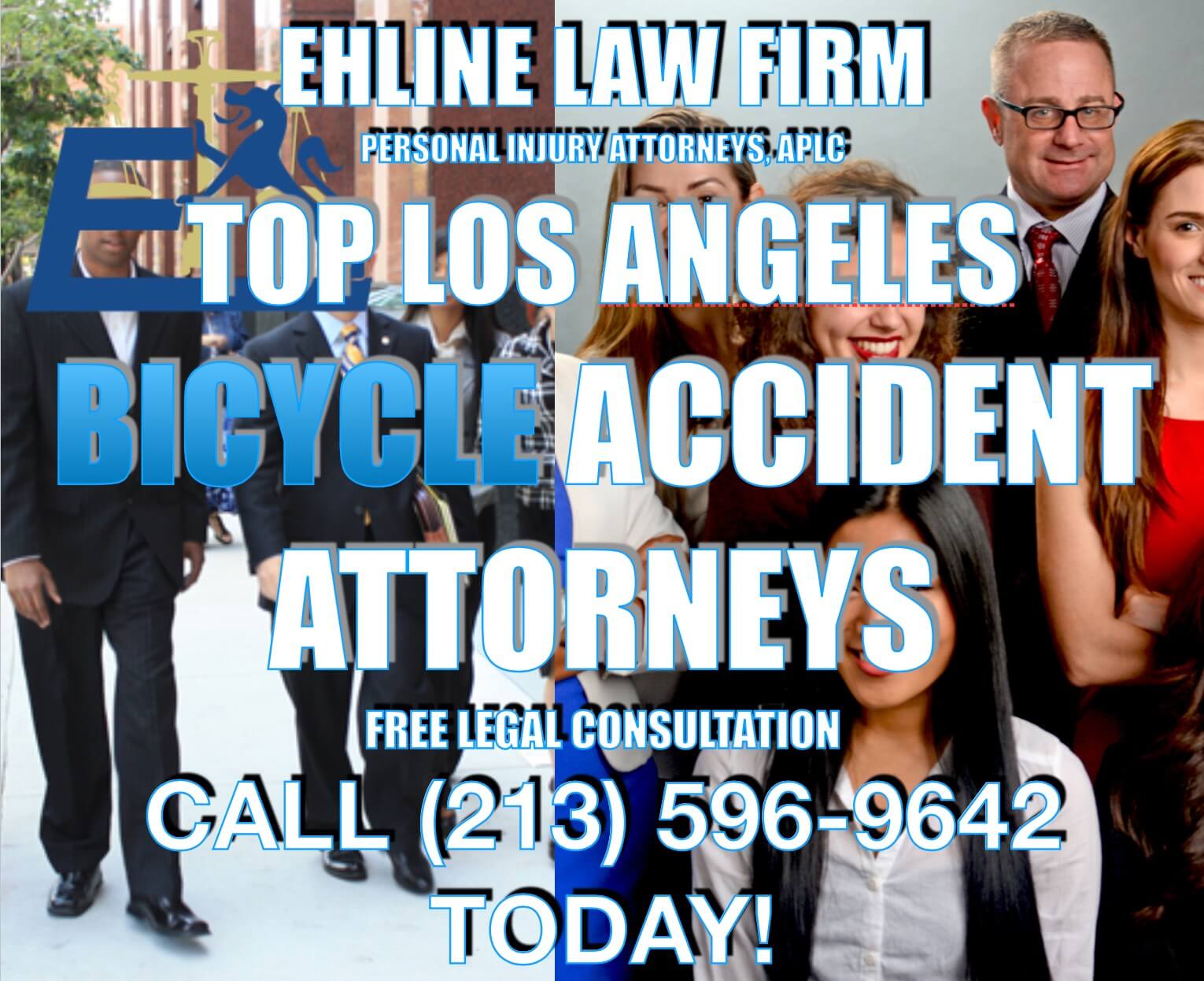 [Page Updated Feb 16, 2021] – Most healthy bicyclists see Greater Los Angeles, California, as a beautiful place for recreational cycling. But cyclists here risk sustaining catastrophic bicycling accident-related injuries or death more than compared to other United States cities. LA's breezy Pacific Ocean areas see yearly increases in vehicle traffic congestion hazards and bodily injuries. LA public officials prompted workers and their loved ones to ride eco-friendly bikes, convincing them to navigate LA's dangerous road conditions and dense population on "green" bikes.
But motorists can be inattentive, sideswiping cyclists bicycling in bike lanes. Many drivers fail to respect California's arm's length bicycle riding rules (Three Feet for Safety ACT). Many serious injury factors distinguish bicycle accidents and typical motor vehicle collisions. For one, bicycle riders, similar to motorcyclists, receive little or no protection from severe injuries than occupants riding in a car's sheet-metal cocoon and roll cage.
At Ehline Law Firm, our dedicated Los Angeles bicycle accident attorneys refuse to balk at tough challenges, erecting an unassailable, 5-star reputation over the years. Our Tier-One Los Angeles personal injury lawyers have successfully protected the rights of thousands of car accident victims since 2005, winning over 12,000 complex civil law cases. So we bear substantial experience when compared with typical bicycle injury lawyers. 
Back To Top
 Do you want to receive some free legal advice about your bicycle accident insurance company claim? Happily, bicycle accident victims can receive legal help by calling our 24/7 injury hotline (213) 596-9642, or you can schedule your free case review online.
---
California Bicycle Accident Attorney Resources
Back To Top
---
Why Hire Our Bicycle Accident Law Firm?
We dedicate challenging injury cases to our portfolio. We let clients heal knowing we have the toe to toe financial ability and expertise to battle any insurance company.
In 2012, Ehline was awarded the "Trial Lawyer of the Year" award by Personal Injury Warriors International. Michael was awarded by Best Lawyers in America, including Newsweek Magazine's personal injury litigator.
The Los Angeles County Bicycle Coalition (LACBC), San Francisco Bicycle Coalition (SFBC), are included among our lead counsel's memberships. (Learn More).
We have been committed to obtaining the victim's maximum compensation in personal injury cases, our combined experience equaling over 30 years.
We offer multiple veteran lawyers conveniently stretched across over 15 law offices throughout Northern, Central, and Southern California, including Orange County and San Diego.
We have specifically devoted our careers to the personal injury compensation law field, having deep practice area knowledge.
Our bicycle accident lawyers think severely injured victims deserve access to the best legal representation in LA; we offer our legal services on a contingency fee basis.
---
The Grim U.S. & Los Angeles Bicycle Accident Statistics
Every road user has a duty to exercise reasonable care to prevent bicycle accidents. Here are some roadway negligence facts and figures.
Most Bike Crashes are Caused By Cars, According To The NHSTA
In 2011, the NHTSA reported that of 677 deaths and 48,000 in bicycle-related accidents, blaming most cases on negligent motor vehicle operators.
In 2015 over 1,000 victims died in collisions, with almost 467,000 bicycle-related injuries, according to the CDC.
---
From 2016-2019, 5.8% of Los Angeles Auto Accidents Involved Bicycles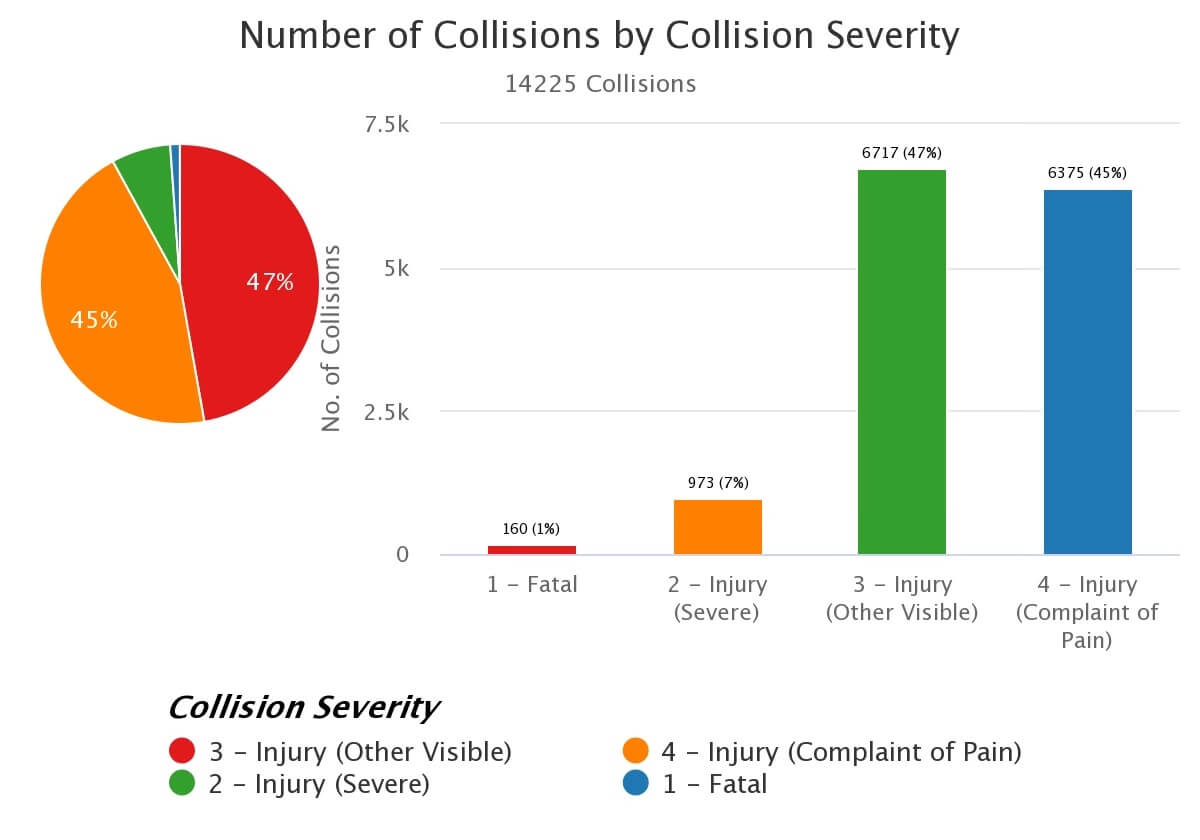 Back To Top
Out of these numbers:
There were 14,464 TOTAL bike accidents involving 14,225 bicyclists suffering moderate to severe injuries.
Killed: 161 total victims died.
Injured: 14,508 people total, including cyclists, vehicle occupants, and bystanders, received serious injuries.
Victims 1,4318, or 3.94% of bicyclists were considered victims, leaving 2% likely at fault for the collision.
Compare Total Auto Accidents In Los Angeles (249,788)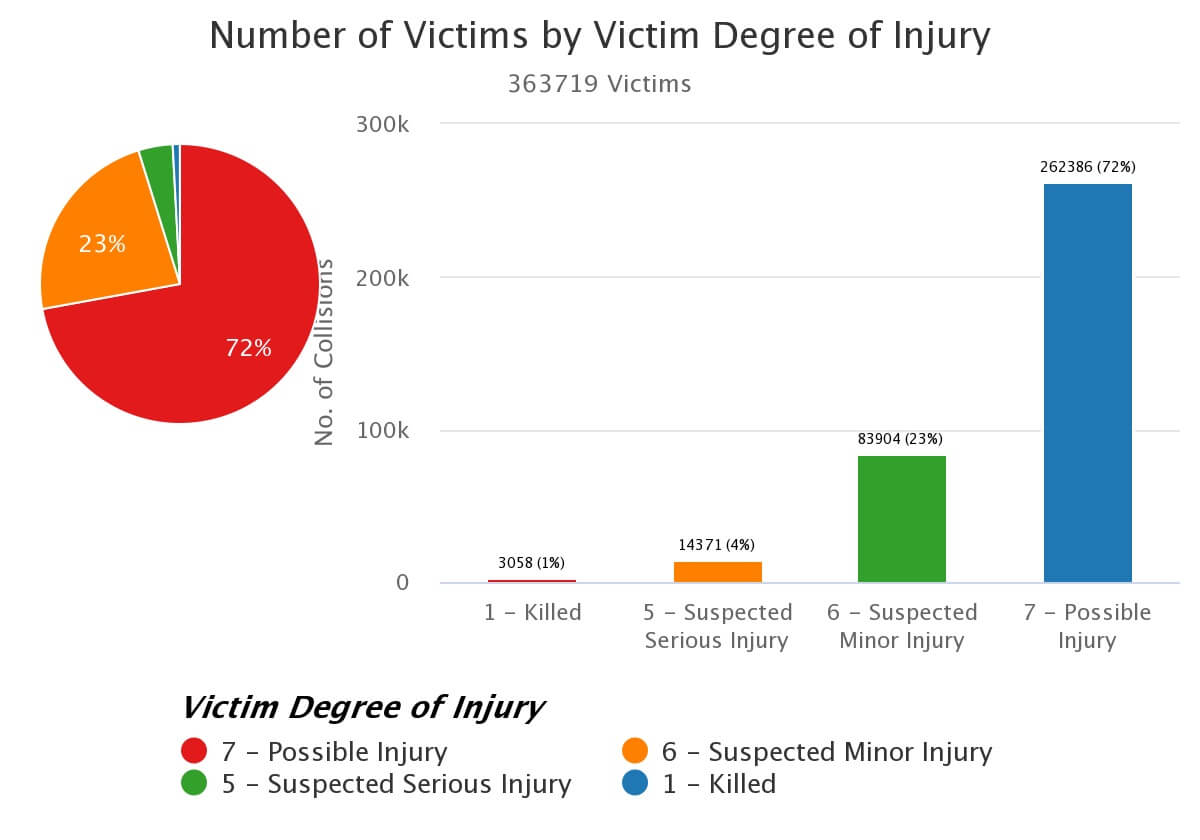 2016-2019 SWITRS and CHP calculations show LA underwent
249,788 traffic collisions,
363,719 victims,
3,058 victims killed.

360,661 victims suffering serious injuries.  
---
Back To Top
What Are The Top 5 Vehicle Code Violations Contributing To Los Angeles Bicycle Crashes?

Unless the law states otherwise, "(a) (1) A person riding a bicycle or operating a pedicab upon a highway has all the rights and is subject to all the provisions applicable to the driver of a vehicle …" (California Vehicle Code (CVC) §21202 (a)). 
City and County of Los Angeles bicycle accident cases are mainly caused when careless, inattentive motorists violate traffic laws, often overestimating safe passing space.
The most common *reported causes of bicycle crash in L.A. include:
Automobile Right of Way 36,422 – 6.04%,
Wrong Side of Road 2,818 – 20.15%,
Improper Turning 1,680 – 12.01%,
Traffic Signals and Signs -1,589 – 11.36%,
Unsafe Speed 942 – 6.74%.
---
I.
Failure To Yield The Bicycle Right Of Way CVC §21200(a)
Failing to yield is a massive collision factor associated mainly with improper turning wrecks. Most bicycle-car accidents are road intersection, driveway, or vehicle exit related, usually caused when a motorist fails to yield or makes an unsafe turn. Most broadside and rear-end crash cases are associated with following too closely, with the car operator being unable to brake in time. 
However, bicycle riders may bear some or all blame for the accident. Bicycle delivery people in Downtown LA are notorious reckless riders. Faster traffic is confined to the left side of the roadway. Discovering who was legally at fault for causing your bike crash will require expert legal help.
---
II.
Wrong Side of Road – CVC §21650.1
Experts suggest wrong-way riding is a major cause of bicycle accidents. According to CVC §530, a  roadway is defined as "a portion of a highway improved, designed or ordinarily used for vehicular traffic" Motorists are forbidden to oppose oncoming traffic under CVC §21650.1, but bicycle riders have some wiggle room. Bicyclists legally riding on sidewalks will face zero quasi-criminal consequences for wrong-way riding.
*TIP: Experts suggest pedestrians on roads should walk facing vehicle traffic, asserting that cyclists should bike with traffic direction and flow. (with their backs to car drivers).
---
III. 
Improper Turning CVC §21202 (a)(2)(3)(4)(b)
Motorists can get angry or fail to see bicycle operators entering turn lanes and run them over.
"(2) When preparing for a left turn at an intersection or into a private road or driveway [a bicyclist will be excused from remaining to the far right of the road]." [Emphasis].
Three primary unsafe turns exist in bicycle collision cases:
Left-hand turn collisions cut off a biker's path when car drivers make an un-telegraphed left-hand turn, often throwing startled riders into intersection traffic after they slam into the front (Head on) or side of the car (T-bone).
Right-hand turn collisions, commonly known as a "right hook," happen when a bicyclist (on the far right near the curb) enters the intersection headed straight. A motorist typically makes a right turn, crossing the rider's path, striking them.
U-Turns: When motorists turn around to travel with oncoming traffic, their risks of striking bikers in the middle of the street will increase significantly. Some U-turns causing bicycle accidents are illegal under CVC §22100.5. Even when legal under CVC §21801, "the driver of a vehicle intending to turn to the left or to complete a U-turn upon a highway, or to turn left into public or private property, or an alley, shall yield the right-of-way to all vehicles approaching from the opposite direction…and shall continue to yield the right-of-way…," even when crosswalk riding remains barred by local ordinance!
If you or someone close to you was injured in part by a driver failing to obey the Vehicle Code, you might have a negligence per se claim above your ordinary reckless or negligence motorist claims. Our bicycle accident attorneys will listen to your side, giving you free legal advice.
Back To Top
IV.
Traffic Signals CVC §38300

Drivers must not disobey any official traffic sign, signal, or control device. If so, they may receive a traffic ticket, with the infraction causing one point on their DMV driver's record according to CVC §38280. 
California Stop: The infamous "California Stop" happens when a car slowly rolls, blowing through the stop sign. 
V.
Unsafe Speed – Vehicle Code §22350

Speed is often a factor in moving violations causing accidents. No person shall drive a vehicle on state highways at speeds more significant than a reasonably prudent person considering weather, visibility, road traffic, and the road surface, including highway width, while never endangering public safety by speeding.
Bicycles have no duty for riders to travel as fast as cars or motorcycles. But under CVC §21202 "(a) Any person operating a bicycle upon a roadway at speed less than the normal speed of traffic moving in the same direction at that time shall ride as close as practicable to the right-hand curb or edge of the roadway … " (Exceptions exist).
---
What Are The Top 5 Collision Factors In Los Angeles Bicycle Crash Accidents?
The most common causes of bicycle crash in L.A. include: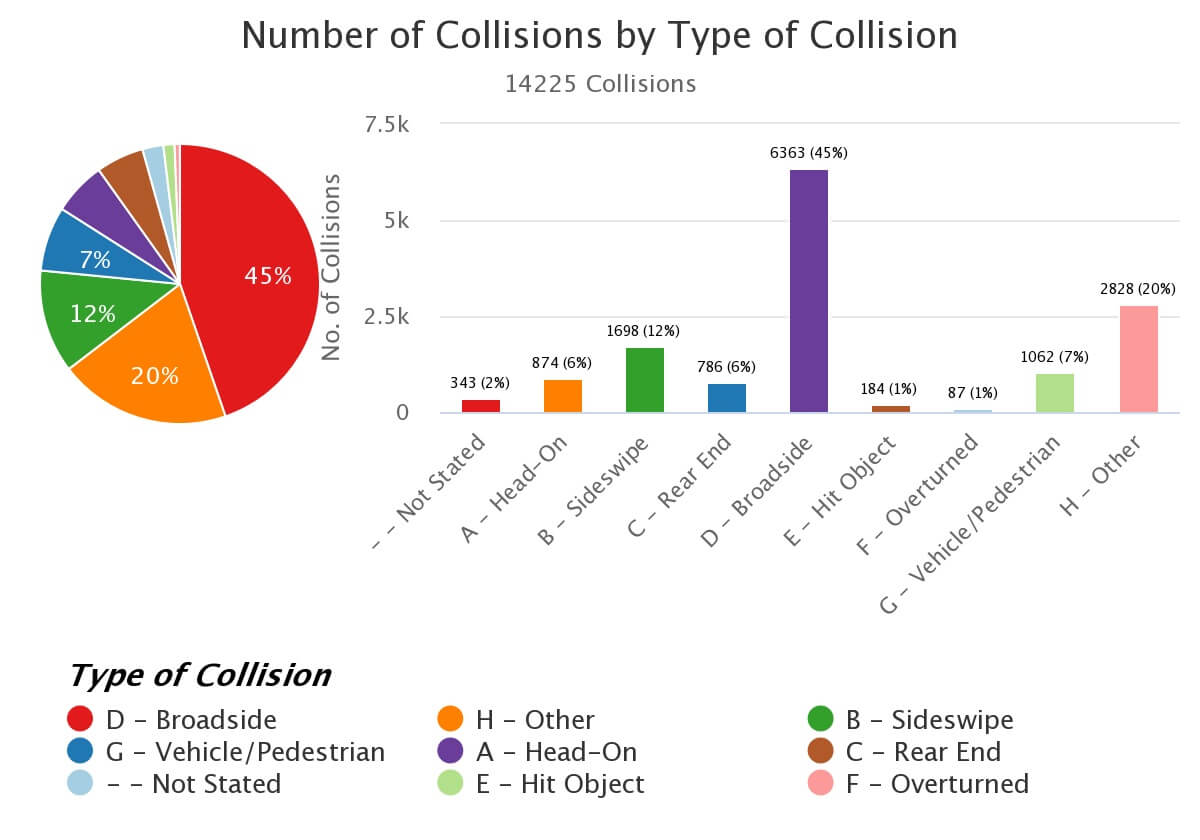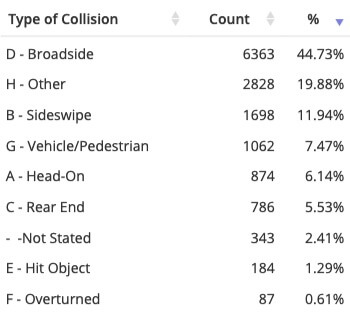 Broadside: 6,363 collisions, totaling 44.73% of bicycle road accidents.
Other: 2,828 wrecks with bikes totaled 19.88% of collisions, including collisions with open vehicle doors. California Vehicle Code §22517 prohibits opening a vehicle door into moving traffic unless "reasonably safe to do so and can be done without interfering with the movement of such traffic." Checking your rearview mirrors for approaching bicyclists will help prevent the cyclist from slamming into you, keeping them from veering into an oncoming municipal bus or delivery vehicle's path while taking evasive action.
Sideswipe: 1,698 collisions made up 11.94% of bicycle accidents. Sometimes drivers will brush or sideswipe riders off the road, knocking them into another vehicle or person on foot.
Vehicle/Pedestrian: 1,062 bike crashes totaled 7.47% of LA bicycle accidents,
Head-On Collisions: 874 bicycle accidents totaled 6.14% of bicycle wrecks.
---
Back To Top
Most Dangerous Times To Ride Bikes In LA
Riding your bike is most dangerous between the hours of 3:00 pm to 6 pm.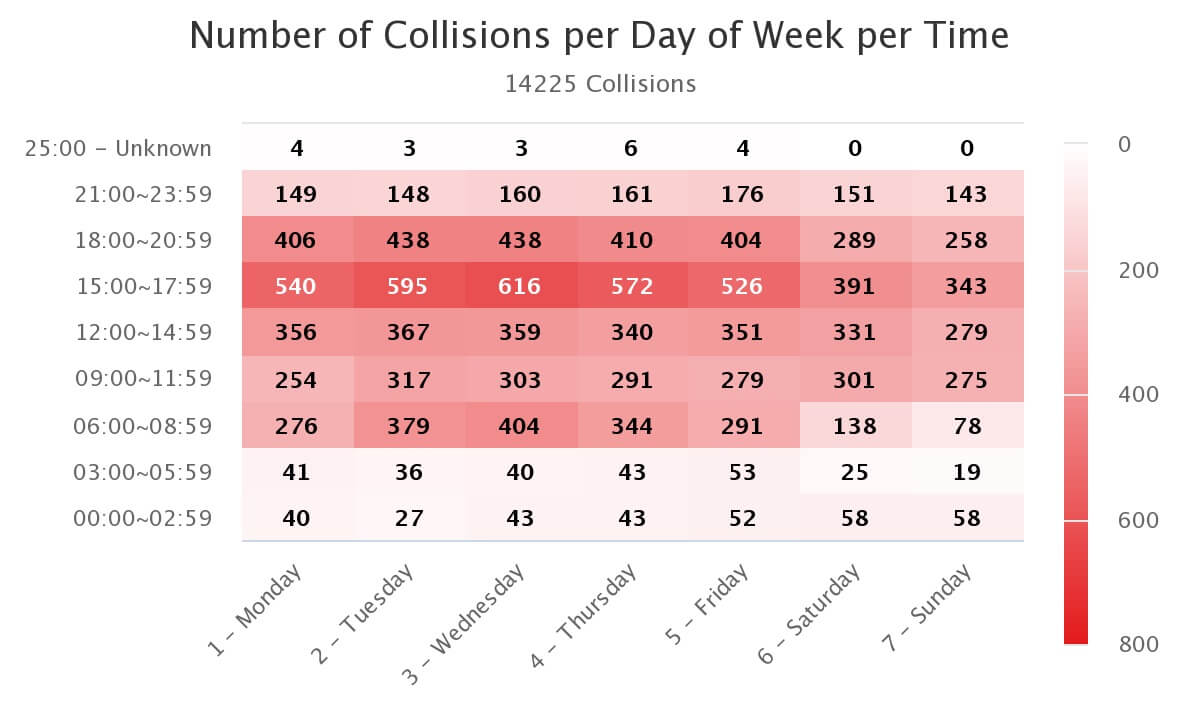 Top 7 Most Dangerous Days To Ride Bicycles In Los Angeles By Number Of Collisions
From 2016-2019 the Top 7 Most dangerous times to ride your bicycle in LA was:
Wednesdays, 616,
Tuesdays, 595,
Thursdays, 572,
Mondays, 540,
Fridays, 526,
Saturdays, 391,
Sundays, 343.
---
Primary LA Bicycle Victims By Age And Gender
11,535 riders suffering bicycle accidents were males, with 1,545 victims ages 19 and under. Roadway accidents are tragically more serious among less visible, smaller, school-aged children.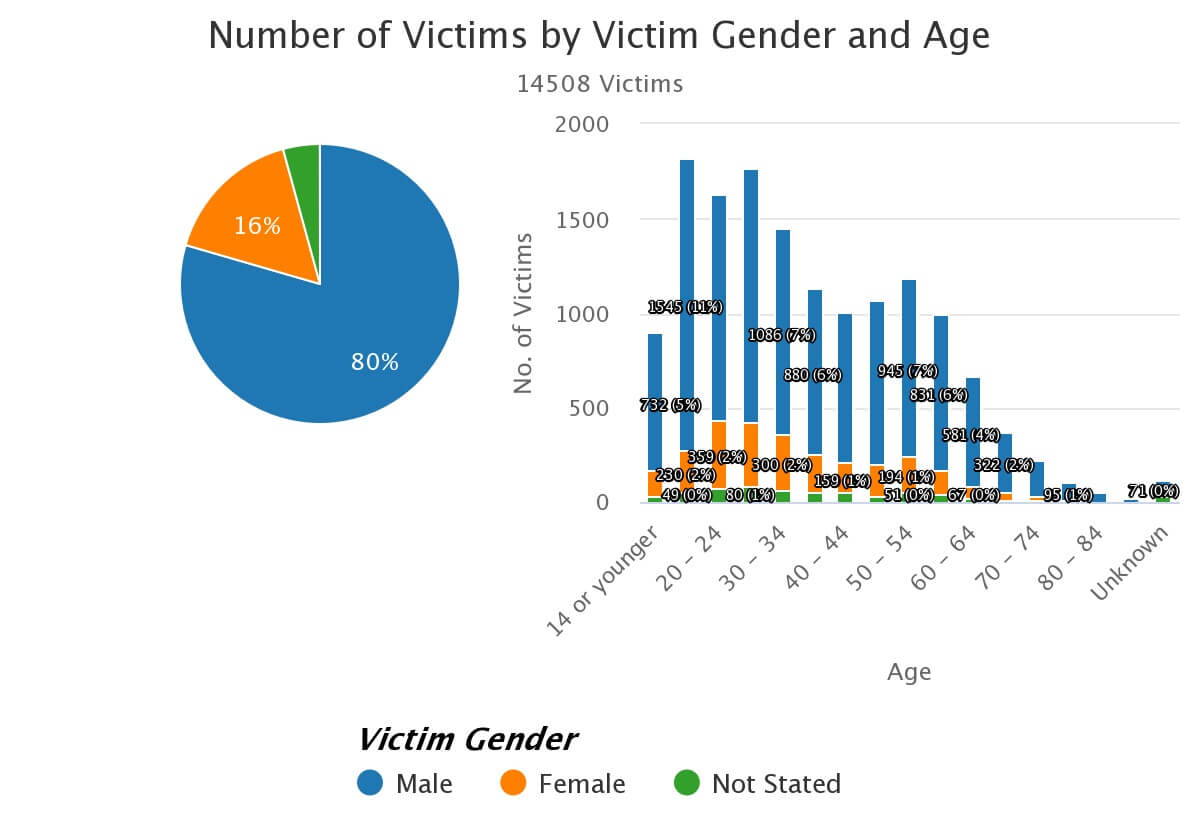 Child Bicycle Helmet Law: Bicyclists 18 years old or less must wear DOT-approved helmets. (codified under CVC §21212).
Child Bicycle Passenger Law: Children securely seated, four-years-old or less, or weighing 40 pounds or less may ride as bicycle passengers, but they must receive protection from moving parts. (Source C.H.P. "Common Causes of Bicycle Accidents.").
Back To Top
---
Top Coincidental Factors Contributing to Los Angeles Bike Accidents?
Bad Weather: A motorist's vision will impair poor road conditions, including rain, sleet, snow, or sandstorms, increasing crash risks.
Poor signage: including traffic light signal phasing issues, can cause intersection accidents.
Poor roads, poorly lit bike lanes, or dangerous road conditions: Departments of Transportation must design and maintain safe streets, bike lanes, and paths. When hazards substantially change road design over time, responsible government agencies must be held accountable, with CalTrans or LA City DOT facing liability for negligent road repair or maintenance problems. (Ex: Loose gravel, trash, oil spills, potholes, roadway debris, and obstructions can create slippery, unstable conditions).
Poorly Manufactured Bicycles and Helmets: Bicycle and helmet manufacturers are under a duty to sell safe products. You already know bicycles are less secure than a car, being a pedal-driven, human-powered, single-track vehicle, "bi" denoting two wheels, one after the next, welded by a metal frame. Bicycles being less stable than four-wheeled vehicles, see more brain injuries. A Helmet worn during a 15 to 20 mile per hour bicycle crash will reduce head injury risks.
Rider Inexperience: Riders, known as cyclists or bicyclists, have varying levels of experience. Inexperienced and younger riders face a greater risk of causing their own accident.
Dog Attacks: Free dogs target riders, with many fallen riders attacked by dog packs, pulling them down, tearing innocent victims apart.
Road ragers include motorists failing to share roads with bicyclists equitably, usually out of rage or anger, coined in Los Angeles, the world's road rage capital. (Read more).

Alcohol and Drugs: (CVC §21200.5). Bicycling under alcohol or drug influence is illegal. 
Hit and Run: There are also hit and run speeding cases, even high-speed police pursuits where drivers are DUI or driving under drugs, or pulling out backward and forwards from driveways and alleys too fast, failing to look in both directions, endangering others.
DUI/DWI: Amounted to 87 collision cases from 2106-2019 in LA.
What About the Blind Spots of Big Rigs and Bicycle Accidents?
From 2016-2019, trucks caused 149 bIn particular, larger vehicles can kill anything that remains unseen in their blind spots. This failure to see the bike has forced many a rider into a curb, onto a sidewalk, or into a fixed object. (Ex: big rig trucks turning right at a traffic signal). From 2016-2019, trucks caused 149 bike collisions in LA County, making up 1.8% of traffic crashes.
TIP: Bike riders should avoid buses and big rigs like the plague.
Back To Top
Common Bicycle Accident Related Bodily Injuries
Throughout LA County, bikers face serious injuries or wrongful death, including:
Ehline Law Firm Personal Injury Attorneys, APLC will help you secure fair and full financial compensation for your moderate to serious bicycle accident injuries.
---
Pure Comparative Negligence Law And Cycling Collisions

Our pure Comparative negligence system allows both parties in a bicycle accident to receive a damages award, reduced by their percentage of fault. The state will not reduce your insurance claim through your employer based on your fault, but worker's injury insurance won't compensate everything. 
Ex: A bicycle delivery person, process server, legal messenger, or rider delivering food could collide with a distracted motorist or pedestrian, receiving the statutory amount due from work comp, seeing their civil damages claim against third parties reduced by rider fault.
Ex: bicycle delivery service using speedy, brakeless bikes must bear their fault percentage).
Failing to Wear Bicycle Safety Gear. Bicycle injuries happen no matter how many layers of safety gear you wear. 
Negligence Per Se (Read more).
Ehline is an expert on negligence per se, including local municipal codes and "bicycle" Vehicle Code. We use our knowledge by gaining leverage, trying to establish a negligence presumption.
*Riders must obey most road rules applying to automobiles. (See safety tips here). 
*No law exists requiring bicycle rider liability insurance. (Read more about Pure Comparative Negligence).
Back To Top
Time Is Always Of The Essence For Three Main Reasons
Evidence Gathering,
Statute of Limitations Problems,
Insurance Settlement Negotiations.
I.
Evidence Gathering
You must immediately retain a lawyer, so you can protect your case and safeguard evidence. Your lawyer will be able to gather vital evidence, including Traffic Collision Investigation Reports (police report), ambulance and medical records, witness statements, surveillance video, and they can mail parties a demand for preservation of evidence. 
---
II.
Statute Of Limitations Problems 
The law also limits your amount of time to bring a lawsuit.
If you must sue the government, you usually have six months to make your claim from the accident.
If you must sue a private citizen, you usually get two years. (Read more).
III.
Insurance Negotiations
A Los Angeles-based bicycle accident attorney can deal directly handle insurance company negotiations. Insurance adjusters and big, self-insured corporations will lowball victims or play games. Their goal is to run the statute of limitations. 
Unrepresented parties must refuse insurance representative negotiations. 
Minors may require legal power of attorney documents, conservatorships, or guardianship assistance, including special needs trusts. Third-party creditors will often be interested parties during survival action claims. The superior, compassionate Ehline Law Firm's personal injury attorneys can help guide this technical process.
---
Other Insurance Potentially Covering Your Bike Accident
Homeowners, UM, UIM, Comp/Collision, or workers comp insurance coverage may cover your bicycle injury case. Your lawyer must review your policies quickly.
Back To Top
Money Damages Recovery For Bicycle Accident Victims
Everyone, including bicyclists, owes others a duty of reasonable care. When citizens, residents, or foreigners breach their duty and cause someone to suffer severe injuries, including death or property damage, they are "negligent." (Read more). These careless parties will be held accountable by a judge, mediator, or insurance company. (Read more).
Calculating High-Value Financial Compensation Claims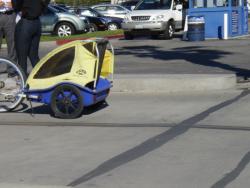 Rider awareness means staying safe. Because your bike accident injuries can be severe and astounding, even when liable parties offer payment, you will experience difficulty calculating, barring fair settlement.
Our Los Angeles bicycle lawyers have in-depth knowledge of calculating high-value insurance claims worth tens of millions of dollars. Our team's veteran experience comes to bear, working with expert witnesses to ensure catastrophic injury victims recover maximum compensation.
Our clients deserve lifetime disability justice, paying financial, tangible losses like medical care, lost income, intangible and other losses including pain, suffering, and inconvenience.
---
How Can I Receive A Free Consultation From A Los Angeles Bicycle Lawyer Today?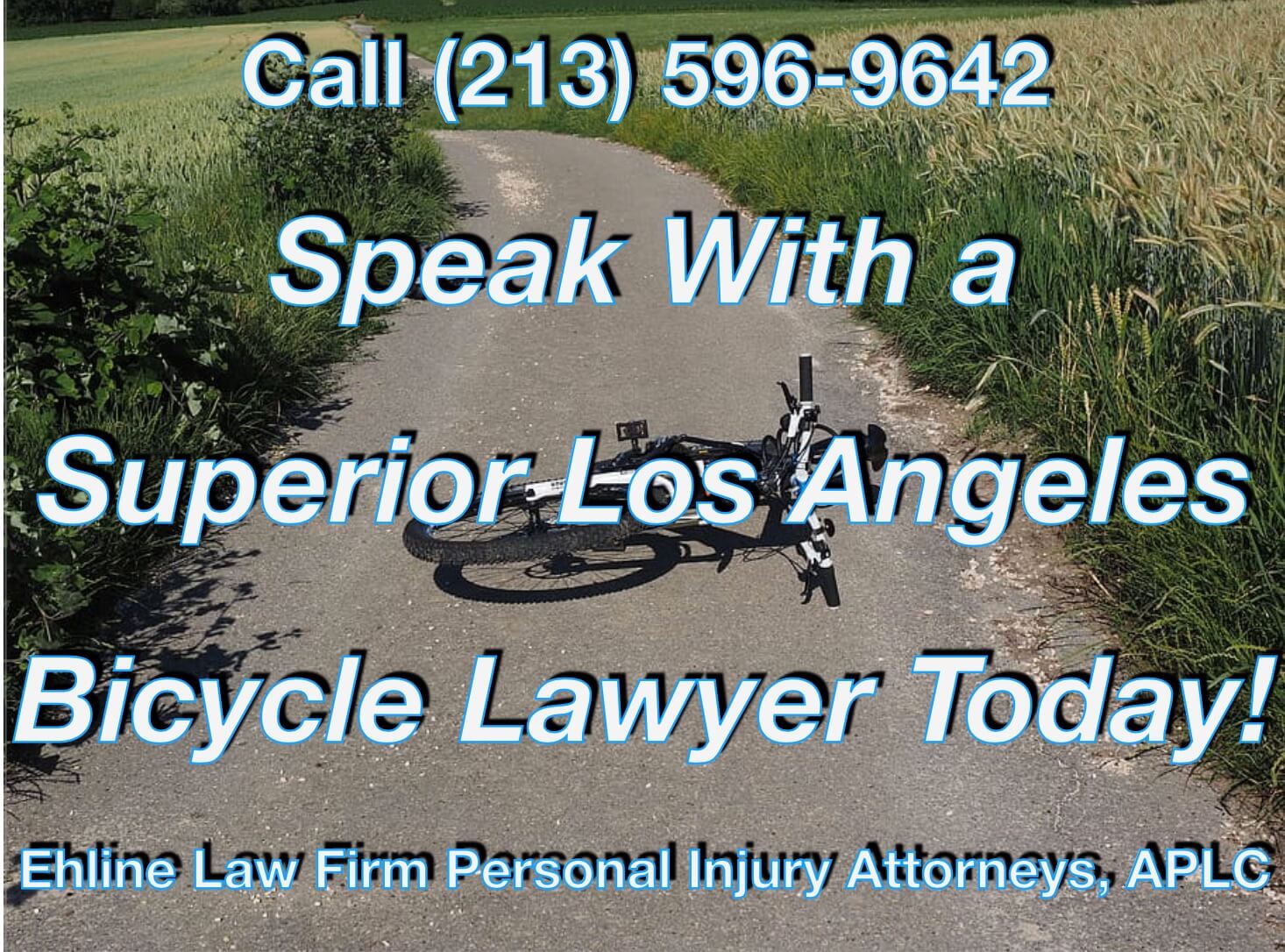 We offer potential clients a free case review and never charge upfront personal injury attorneys-fees. Ehline Law's outstanding lawyers will valiantly seek your trust, instilling hope for better days, despite your perilous situation. Our highly professional, skilled, and dedicated Los Angeles bicycle accident lawyers will help you win just compensation for your gargantuan losses no matter what. 
We regularly obtain landmark settlements and verdicts for our clients. We won't yield to the insurance company, never hesitating to file your lawsuit if they lowball you. For assistance with a bicycle accident claim in Southern California or nationwide, call (213) 596-9642 or contact us online.
*Figures equal three-year SWITRS study period provided by TIMS, Safe Trec (2016-2019).
(See also, "A Case-Control Study of the Effectiveness of Bicycle Safety Helmets," Robert S. Thompson, M.D., Frederick P. Rivara, M.D., M.P.H., and Diane C. Thompson, M.S. N Engl J Med 1989; 320:1361-1367, May 25, 1989).
Back To Top