If we don't win, you don't pay.
Speak to the Attorney.
Born to serve.
633 W 5th Street #2890
Los Angeles, CA 90071
(213) 596-9642.
2323 S. Voss Rd, Suite 244
Houston, TX 77057
(832) 592-1260.
Date Modified: September 8, 2023
Former U.S. Marine Trial Lawyer and Los Angeles, CA Personal Injury Firm. We Fight For Bicycle Collision Victims In L.A. County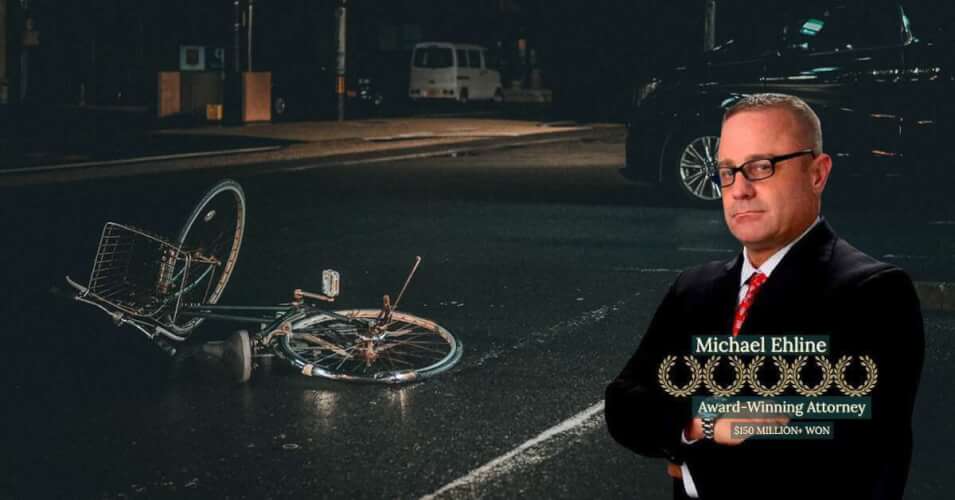 Legal Support for Bike Accident Victims Across Los Angeles County, California.
Riding in bike lanes or the shoulder and even wearing safety gear won't prevent inattentive motorists from crashing into bicyclists. Bicycle riders remain at a disadvantage in an accident with a larger, more powerful vehicle.
The driver of a crashed motorized vehicle often escapes unscathed for their role in a bicycle accident claim. But the latter will sustain severe personal injuries or suffer a fatality after a bike crash. Bike accidents will require legal assistance.
At Ehline Law Firm, our superior Los Angeles bicycle accident lawyer will hold at-fault drivers and insurance companies accountable to the wounded LA bike rider. We offer personal injury protection experience to riders injured on bicycles and pedestrians throughout California.
Our very best personal injury attorney fights aggressively for clients during settlement negotiations through court trials. Fact, we aggressively advocate for fair compensation in every bicycle accident claim. We always keep clients' rights, traffic laws, and best interests in mind. We'll sue everyone contributing to bicycle accident cases in the cycling community.
If you're involved in a bicyclist accident caused by a negligent driver or other parties like your work, or Caltrans, contact our Los Angeles lawyers. Our bike accident lawyers will give you the services, attention, assistance, and compassion necessary to meet your individual case challenges through trial.
Why Should I Retain Your Trial Lawyers for My Los Angeles, California Bicycle Accident Claims?
In many cities, those who ride bikes on the streets are often treated as second-class citizens by other motorists. Ironically, this trend is even more true in Los Angeles than it is elsewhere.
The result is usually a crash. If you or your family member was hurt, when you call for Los Angeles bicycle accident attorney advice, we don't stop there.
Our lawyers are committed to obtaining maximum compensation for clients in personal injury cases with over 30 years of experience combined.
Our local law office provides any plaintiff with free initial consultations with a bicycle accident lawyer to answer questions about bicycle crashes 24/7.
Our local bicycle accident attorney can come to your home, hospital, or work-place to discuss your situation and description of your bicycle accident cases with any narratives.
We offer dozens of experienced attorneys and options of over more than 20 convenient meeting places and California office locations.
We will seek out eyewitness testimony and emergency room bills as evidence of your bicycle injuries.
Our careers remain dedicated to helping wounded negligence victims.
In addition, we'll help clients receive third-party and workers' compensation justice.
We know these practice areas and possess skills and results few lawyers will obtain on behalf of the wounded bicycle rider.
We are accessible to any injured bicyclist in L.A. County.
We take nothing unless we win your cycling crash on a contingency fee basis through settlement or a bicycle accident lawsuit.
Our exceptional legal team will cover everything you need to know about bicycles, bicycle laws, and transportation collision injuries. Call us today. Our Los Angeles bicycle accident lawyer is waiting at the phone number (213) 596-9642.
What Makes Us Better For Your Bicycle Accident Case?
Our superior plaintiff's attorneys care about your needs. We will assist injured bicyclists with insurance claims and lawsuits after any life-changing cyclist accident like bicycle fatalities. Our proven results and stellar reputation remain second to none in bicycle accidents for a reason.
After victims form a retainer with us:
We'll stay in touch with the bicycle accident victim about their needs and share recent bicycle crash case information.
We'll handle insurance company settlement negotiations and investigate bicycle laws, any drivers, other cyclists, or their employers involved in a Los Angeles bicycle accident.
Evidence: We'll order and advance costs for copies of police reports (Ex: California Highway Patrol (C.H.P.), L.A.P.D.), medical records, medical bills, and other documentation memorializing the tragic events after a terrible Los Angeles bicycle accident.
Our team will work to investigate the intersection or crash scene for evidence of government and third-party neglect. (Ex: work to interview eyewitnesses, look at traffic laws, bike path engineering plans, history of bike lane fatalities, failing traffic lights, a missing or obscured stop sign, poor road conditions, impaired driving, and speeding motor vehicles).
Our best accident lawyer will demand fair compensation for your financial and health-related losses after suffering a bicycle accident.
If your rights get ignored, our team will take steps to file a bicycle lawsuit in court and name all careless, at-fault parties. Our Los Angeles bicycle accident trial lawyers will sue everyone who caused your California damages claims arising from a bicycle accident.
We advance all costs from start to finish.
Our caring staff will honor our competitive, no-win-no-fee promise.
We can help with all types of bicycle crashes. Were you attacked by a dog riding a bike through the Venice Beach, California, homeless encampment community? Did you crash into a pile of human feces on the sidewalk or bike path?
Did an automobile driver with road rage strike you and not wearing a bicycle helmet crossing a sidewalk? Did someone you care for suffer fatalities in a bicycle accident?
Our passion is providing legal representation on behalf of those in need after crashing a bicycle. If you recently suffered severe and painful injuries, expensive property damage, or the loss of a loved one in a bike accident, you'll need the right lawyers who won't take any fees upfront.
Otherwise, the at-fault driver's insurance company may try to use your naivety to take advantage of you or try convincing you to settle for an unfair amount (lowballing). Our Los Angeles personal injury attorneys have the power to protect any wounded person during bicycle accident insurance negotiations.
The very best injury lawyer at our law offices will send a clear message to the judge, jury, and careless person's insurer.
Educated Californians know our attorneys get fair compensation results for injured cyclists on their road to physical, emotional, and monetary recovery from their Los Angeles bicycle collisions. Let our dutiful, smart trial lawyers start the liability investigation right away!
Bicyclist Accident Injuries – Statistical Data
Fatalities and property damage remain quite common when a cyclist collides with cars or other motorized vehicles. According to statistics from the City of Los Angeles, in 2016 alone, there were 1,980 bicyclists injured and 74 killed in traffic accidents. Around 70% of these victims are teenagers aged 15 and under.
A bike accident is one of the most common types of collisions in Los Angeles. Despite wearing safety gear and riding in the same direction as traffic, bikers remain vulnerable to severe injuries.
According to a recent MIT study, reckless drivers are the most common risk causing bicycle accidents.
But bikers riding for work or recreation can be harmed by someone in any number of ways. The result of such carelessness could be lifelong trauma or death.
Examples include:
Distractions: Death at the hands of distracted, inattentive car drivers (texting, playing with GPS or radio dials, etc.)
Drugs/DUI: Less than a quarter of Americans killed in bicycle accidents were legally drunk in the past decade. However, it is still a considerable number. 26% of bicyclists killed had some blood alcohol content (BAC) level. Only 7% of children under age 18 were involved in alcohol-related collisions.
Wrong-way drivers: Wrong-way driving (also, a bicyclist riding against traffic moving in a different direction causes about 1/4 of bicycle wrecks)
Safe Space: Car drivers failing to keep vehicle spaces far enough from the bike rider's lane, clipping one or more cyclists while driving
Swinging doors open: Opening car doors in front of a group of oncoming bikes
Unsafe Turns: Automobiles and vehicles like motorcycles make a dangerous turn into a cyclist's path, and other careless mistakes
Negligent maintenance: Municipality maintenance issues (Dangerous intersections and failing responsibility to clean up road debris/repair potholes, broken, uneven pavement, and cracks in sidewalks/asphalt)
Children Bicycle Riders?
Children riding bicycles remain at far greater risk of being involved in a bicycle collision. For one, little ones are harder for us to see compared to adults.
Children have less skill and riding experience. This lack of talent makes it difficult for them to predict movement like an abrupt turn. Hence, children don't always know when to take evasive action to avoid being injured in a bicycle crash. Our top bicycle accident lawyer in Los Angeles will take time to get to know the family and hear about how their children suffered and whether to file a bicycle accident claim.
Elderly Bicyclists And Wrongful Death?
Unfortunately, California roads see thousands seriously injured or killed in bicycle accidents yearly in Los Angeles County, CA—accidental deaths in the 45-64 age group account for a significant proportion of rider fatalities. So yes, age does play a factor in these matters.
In Los Angeles County in 2016, the number of fatal bike accidents was 3,904, with 934 injuries. All riders should exercise due care at all times to prevent bicycle collisions.
Common Injuries From Bicycle Accidents?
An impact with another motorist or pavement may cause varying injuries. Harm from bicycle accidents can range from road rash to wrongful death, paralysis, brain trauma, catastrophic head injuries, skull and spinal cord injuries.
We accept clients with all types of severe injuries, including:
Injured bike riders can find out more with a free case review from a Los Angeles bicycle accident attorney. Call us at (213) 596-9642 24/7 for traffic accidents anywhere in LA County or the United States.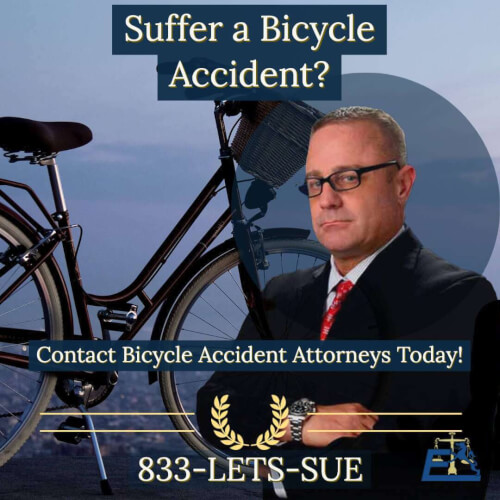 What Are Some Safe Southern California Bike Riding Tips?
Los Angeles bicycle accident lawyer, Michael Ehline, is not just a legal advocate. Michael regularly rides his mountain bike through Santa Ana, Venice Beach, Marina del Rey, and Long Beach, California.
Here are some bicycle accident lawyer tips from a lawyer who rides:
Be alert when cycling.
Carry information with your first name, last name, and emergency phone message contact.
Always wear a helmet.
At night use head-lights that can be seen from at least 300 feet away on each side.
Install red reflector visible from at least 500 feet away to help prevent bicycle accidents.
Equip your pedals on each side with white or yellow reflectors.
Film your ride with a GoPro-type camera.
How Do Bicycle Accident Trial Lawyers Prove Negligence?
The essential element of a personal injury claim in California is negligence, proven by evidence. Your bicycle accident lawyers must prove the at-fault party's acts of carelessness caused you or your loved one's bodily injuries, including pain and suffering from bicycle accidents. You may have grounds for a lawsuit, but what do you do next?
It would be best to have a skilled Los Angeles bike accident lawyer who can investigate your collision case and hold defendants financially responsible for your serious injuries.
The driver will be legally responsible in most cases, but other factors could have also contributed to your incident. Were bike lanes roped off, or did a pothole or a bicycle defect may cause a single-vehicle collision? Once your bicycle accident attorney identifies the correct defendant(s), they are experts at helping bicyclists prove fault.
Our Los Angeles bicycle accident attorneys remain prepared to help you collect evidence and interview witnesses material to your case. The advocate will know to order a copy of the police report and gather the history of bicycle accidents at that location and any road rage driver involved.
Bicycle Crash Statute of Limitations?
In California, cyclists have a duty to file a claim for compensation within two years of sustaining riding injuries caused by others. But if the person filing wasn't mentally competent at the time or unaware of their damage till later, the statute may extend the time frame for your legal team to sue.
Get A Free Consultation From A Bicycle Accident Lawyer in Los Angeles County, CA
Bicycle accident injury cases need the best lawyers in L.A. If the at-fault party's insurance company or government agency disputes liability, call an Ehline Law Firm attorney to receive higher settlements and verdicts.
If you live in or around Los Angeles and suffer injuries, schedule a free consultation with our Southern California law office at (833) LETS-SUE. Call us to discuss your case or referral with a bicycle accident lawyer during your case evaluation. Form an attorney-client relationship for your serious injuries today.
Michael Ehline is an inactive U.S. Marine and world-famous legal historian. Michael helped draft the Cruise Ship Safety Act and has won some of U.S. history's largest motorcycle accident settlements. Together with his legal team, Michael and the Ehline Law Firm collect damages on behalf of clients.
We pride ourselves on being available to answer your most pressing and difficult questions 24/7. We are proud sponsors of the Paul Ehline Memorial Motorcycle Ride and a Service Disabled Veteran Operated Business. (SDVOB.) We are ready to fight.