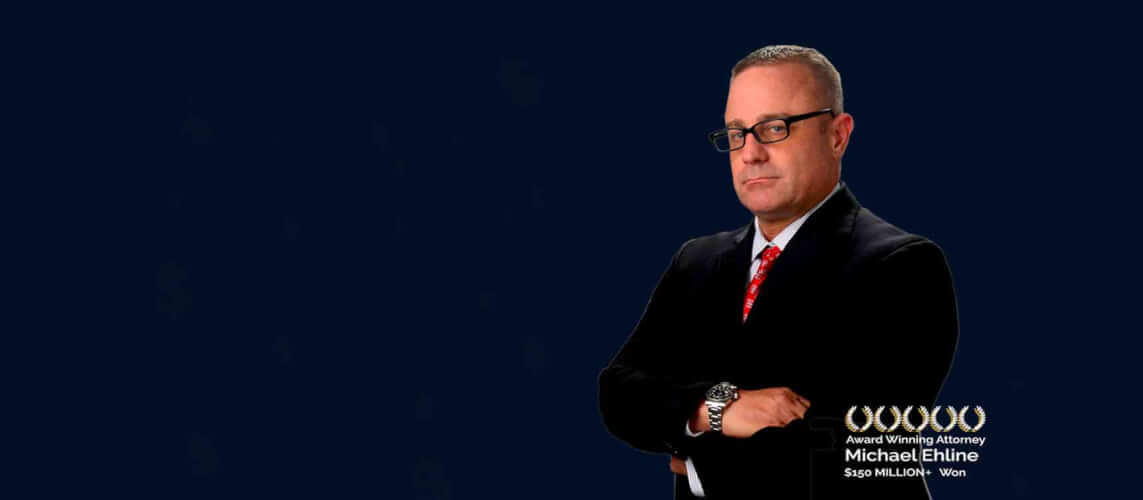 Even though motorcycle riding is overwhelmingly popular in Southern California, riding can be risky business for older and new riders. Sadly, experience is the best teacher for novice riders, and getting hit while riding can end up claiming the rider's life before they have enough training under their belt.
While more experienced motorcyclists can meet the challenges of navigating our roads better, unforeseen conditions can lead to the morgue. For example, you are riding in cold weather, making a sharp turn, and heavy traffic, including stop-and-go requirements, places all riders at greater risk of being embroiled in motorcyclist accidents. If you or someone you love has been involved in a motorcycle rider accident, acquiring legal representation from a non-disabled representative on your side is vital.
Ehline Law handles all types of motorcycle accident cases in Northern, Central, and Southern California as regular as clockwork. Irrespective of the police and civilian bias against motorcyclists as a nuisance, we have a robust, well-received reputation for helping our clients receive consequential compensation after crashing their bikes. Obviously, whether you need to form an attorney-client relationship for a motorcycle riding injury depends largely on whether you choose to avoid riding.
Is the Risk Involved in Riding Still Worth It?
Are motorcycles worth the risk? Let's find out. Riding can be an exciting thing. Few people understand the feeling of liberation that riding a motorcycle provides or the rush of adrenaline that comes with drifting down a country road. But with more risk comes the need for more than just good judgment.
The truth is that because of their two wheels, open design, and high speeds, motorcycling is regarded as a more dangerous form of transportation than cars. This is because they don't have a body to shield occupants during a collision. However, this openness and the feeling of the wind in your hair as you lane split through traffic congestion and even finding a parking space is what makes a motorcycle worth risking many accidents over the life of the rider.
If you consider a motorcycle a means of travel, you may ask, "How safe is a motorcycle?" or "Is riding a motorcycle worth the risk?" This article discusses everything you need to know before hitting the open road on two wheels.
Should you need more information about the safety of motorcycles or contact a personal injury lawyer, you can get in touch with Ehline Law Firm to book a free consultation and case review.
What Affects Driver Safety When Riding Motorcycles?
The majority of riders will assure you that riding a motorcycle is no more dangerous than driving any other type of motor vehicle. While it is undeniable that the distinctive design of a motorcycle increases the chance of significant injuries compared to a car, your experience as a biker will add to your road safety.
If you follow biker safety rules, wear safety gear, and stick to the speed limit, you can prevent motorcycle accidents. The section below discusses the conditions that can affect a motorcyclist's safety.
Motorcycle Riding Experience
Many motorbike riders' first encounters with a motorcycle occurred during their early years. However, that does not imply that they are in a better position than someone who began riding later in life.
The truth is that you are much less likely to be irresponsible on your motorcycle as an adult. Experience aids in responding more quickly to changes in road conditions, but attentiveness aids in avoiding scenarios that may lead to motorcycle accidents.
Motorcycle Design Versus Motor Vehicle Design
Cars are protected by the body that forms a protective structure around the driver and passengers. They also include protective gear such as seatbelts, crumple zones, and airbags that serve to protect the car driver in the event of a collision.
On the other hand, a motorcycle has an open design, and the motorcycle rider only has his riding gear, such as a helmet, to shield him in the event of a motorcycle accident.
A car also has four wheels, which gives it more stability than a motorbike. Therefore, riding a motorcycle requires more work than driving a motor vehicle.
Other Motorists
One of the leading reasons why motorcycle accidents are so prevalent is the inattentiveness of other drivers. The reality is that car drivers tend to be distracted drivers compared to motorcycle riders.
Head-on collisions with cars traveling at 25 mph are almost always lethal for bikers. It would help if you also were mindful that a motorcycle isn't easy to see on the road and that you may stand to lose more in a collision than a motorist. As a result, it is critical to maintaining constant awareness of other drivers.
According to national statistics, more than half of motorcycle accidents in the United States occur because of car drivers colliding with motorcycles. However, this is not a factor that motorcycle riders have any control over, which is something to keep in mind before you start riding.
Riding Recklessly Leads to Motorcycle Accidents
According to the National Highway Traffic Safety Administration, speed was a factor in 32 percent of all deadly motorcycle crashes, making it one of the most significant contributors to motorcycle accident statistics. Particularly in the case of inexperienced motorcycle riders, smaller and more powerful motorcycles can promote dangerous conduct.
Although you could have a high-performance motorcycle, you should know your limitations and skill level as a motorcyclist.
Keep to the speed restrictions and slow down in congested areas where conditions may become unfavorable. It is also helpful to practice defensive driving, which involves responding swiftly to changing situations that you may encounter on the road.
Lane-splitting Can Be Dangerous for Motorcycle Riders
When motorcycle rider rides between two traffic lanes, they are said to be lane-splitting. While this practice may be safe if performed at a reasonable speed in traffic, it can cause an accident.
Many cars do not expect to be passed this way in slow-moving traffic, so they do not look for motorcycles. While lane splitting, you would be close to the vehicles, and if a car driver decides to move into another lane abruptly, you may have very little opportunity to move out of the way.
While it is not illegal to practice lane-splitting in most states, if an accident does occur, the blame is often placed on the motorcyclist unless it can be proved that the motorist was inattentive.
If you have been involved in such an accident, you need an experienced personal injury attorney at your side. The seasoned lawyers at Ehline Law Firm are here to help! Contact us today to discuss your case.
Left Turns
Motorcycles are especially vulnerable to vehicles and trucks performing left-hand turns at junctions. According to national statistics, left turns account for 42% of fatal motorcycle-car accidents. Many collisions occur when a biker is heading straight ahead or passing another car.
As previously said, motorbikes are challenging to spot, and many drivers will be looking for other vehicles rather than motorcycles at the crossroads, potentially endangering the lives of those who ride motorcycles.
Reasons for Riding Motorcycles
According to the Insurance Institute for Highway Safety, motorcycle riders' number of road users doubled from 4.2 million in 2002 to 8.3 million in 2018. This info means that even though motorcycles are potentially hazardous, they are still a widely used and much-loved form of transportation. What makes motorcycle riding so attractive? Here are a few reasons why motorcycle riding is a good idea.
A Love for Motorcycles or Motorcycle Riding
Motorcycle riding is for you if you have a genuine passion for motorcycles and street riding on the open road. Whether dirt bikes or sports bikes, the reality is that most riders travel on motorcycles because of their love and appreciation for these machines.
Many riders enjoy motorcycle riding because it makes them feel powerful, exhilarated, and happy. It is also a great stress reliever and offers a fun alternative to the mundane task of traveling in a motor vehicle.
A Sense of Freedom
The sensation of freedom and confidence accompanying riding a motorcycle is undoubtedly one of the most attractive aspects.
Every time the pace quickens, the motorbike provides you with more liberty, freedom, and enjoyment than no car or motor vehicle can provide because money cannot purchase this kind of freedom or pleasure. No different mode of transportation can provide you with a great sense of freedom as a motorcycle can.
It Improves Your Social Skills
Although adorning your safety gear and riding a motorcycle may seem like an act of individuality, it can improve your social skills.
This is because riding a motorcycle can bring people together uniquely. Motorcyclists become part of groups and associations when they ride a bike and have unique gestures to greet and acknowledge each other on the road.
They, therefore, make acquaintances on the highway, and at stop streets, by waving farewell to each other, and some riders even come up to talk to you, forming a bond that does not happen with car drivers.
Furthermore, in virtually every city, there is a club of bikers who get together for night rides, meals, trips, and other activities. If you are a new rider, you can get the support and companionship you need to gain skills and expertise by forming these special bonds.
Riding a Motorcycle Can Help You Deal with Mental Health Issues
The exhilaration you get when traveling on a motorbike has proven beneficial in dealing with mental health issues such as anxiety and depression. Motorbike riding is the best way to deal with mental illnesses because it keeps you focused and allows your mind to be more creative.
Several individuals have been capable of coping with their mental difficulties by riding a motorcycle. You seldom see a biker seeking psychiatric help, and riding a motorcycle is the most cost-effective way to maintain good mental health.
Physical Benefits
Because motorcycle riding requires more physical effort than operating a car, it can improve your physical health by making you stronger. Because you need your entire body to operate a motorbike, the act of riding one enhances your agility.
It boosts your hand and arm strength, particularly when riding a large motorcycle, and can burn an average of 150 and 600 calories an hour. This depends on numerous factors, including the weight of the motorcycle, your weight, and the effort used in riding.
It Can Save You Time
Motorbikes are faster and more efficient than cars. Therefore, they help you get to your destination a lot faster. You can split between lanes to get through traffic a lot faster in most states. Even if the rules, highways, and traffic laws are the same for vehicles and motorcycles, motorcyclists are always faster.
However, it is essential to note that traveling fast, practicing lane-splitting, and other maneuvers to help you reduce travel time does take a certain level of experience and skill.
A Cheaper Way to Travel
Motorcycles are substantially less expensive to acquire and maintain than cars. With the exception of high-end motorcycles, several less expensive options are available. You can also buy a used motorcycle at a lower price to save money.
You get better gas mileage and more affordable maintenance with a motorbike than with a car. Purchasing motorbike insurance is also less expensive than you might think, and many first-time riders are unaware of this.
Is Riding a Motorcycle Worth the Risk?
The reality is that a motorcycle, compared to a car, is a riskier form of transportation. However, by wearing the appropriate safety gear and adhering to the rules of the road, you can reduce your risk of injury. Whether riding a motorcycle machine is worth facing road rash or other types of injuries is solely your choice. The risk is entirely up to you.
Put on Your Safety Gear and Hit the Road!
Visibility is the main tenet of staying safe. Suppose you have a strong passion for riding, need an outlet to help you deal with stress, wish to make new friends, or enjoy the thrill of the ride while cruising around town. In that case, you should undoubtedly consider riding a motorcycle worth the risk involved.
Here are some simple steps to take to develop safer riding habits and avoid potential fear and survive unexpected fatalities:
Never ingest drugs like cannabis or drink alcohol while riding
Avoid hard braking or popping your clutch too fast
Wear riding gloves
Wear riding boots
Don't race or act reckless
Weare head and face protection like a full face helmet (protect your brain.).
Park and garage your bike in a well-lit area where cars and truck can see you
Avoid riding with your girlfriend in the back of your cruiser.
Even with body armor, kitted-up riders are no match for the other car drivers hitting them. Overreliance on protective clothing while riding motorcycles can easily lead to a fatal accident or serious injury.
Have You Been Injured in a Motorcycle Crash? Contact Ehline Law Firm Today!
We hope you have enjoyed reading this article. Now that you know the risks of riding accidents in Los Angeles and other parts of California, you can take the necessary steps to protect against riding risks. As noted above, whether riding a motorcycle is worth the risk depends in large part on whether you use common sense and reasonably obey the California DMV's motorcycle safety rules. Be safe while lane splitting, and always wear your helmet.
Throughout their ride, bikers must keep their heads on a swivel like a combat infantry Marine. Riders should be especially alert approaching and departing intersections so they can be fully aware of approaching motorists, especially other drivers navigating left-hand turns. If you or a family member has sustained motorcycle accident injuries, Ehline Law Firm can help. While receiving compensation cannot bring back your loved one or help you deal with the physical pain you may be experiencing following a motorcycle collision, it can help relieve some of the financial strain.
With our charisma, compassion, and proven track record at your beckon call, clients know they will receive high-quality, aggressive legal representation. Our paralegals, legal secretaries, and lawyers remain dedicated to holding reckless, negligent drivers accountable to all victims of road accidents. Call our local law office today or fill out the contact form on our website to schedule a risk-free consultation today.
Main Los Angeles Location
633 W 5th Street #2890 Los Angeles, CA 90071 (213) 596-9642.