If we don't win, you don't pay.
Speak to the Attorney.
Born to serve.
633 W 5th Street #2890
Los Angeles, CA 90071
(213) 596-9642.
Date Modified: July 29, 2023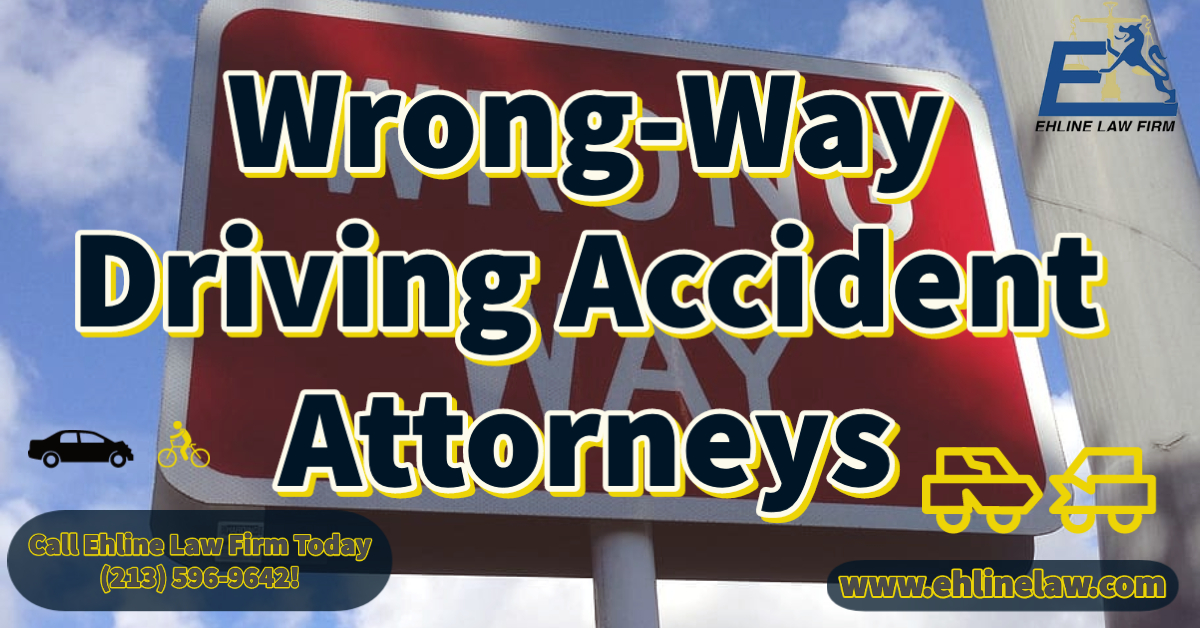 Wrong Way Accident?
From California to Florida, a head-on traffic crash (also known as a "frontal" crash) is defined as a collision in which the front ends of two or more vehicles are traveling head-on in opposite directions, colliding front to front.
Wrong-way collisions, usually caused when a driver confuses the entrance ramps and exit ramps on a highway, are some of the most severe car accidents possible.
According to the National Transportation Safety Board, these kinds of accidents only account for about 3% of all highway accidents. Still, they're also probably more severe or fatal than other accidents. That's large because wrong-way accidents are usually head-on. More than half of those accidents also involve alcohol.
These are among the most violent of all traffic-related accidents due to the G-Forces, vehicle weights, and speeds airbags are likely to deploy. But these safety devices won't stop you from being thrown into traffic out of your windshield. The award-winning wrong-way driving accident attorneys at Ehline Law Firm have a proven track record for helping thousands of seriously injured motorists. We help head-on collision accident victims receive full and fair compensation under California tort law.
Unlike rear-end collisions, vehicle ejections are not uncommon in a head-on crash. In these types of accidents, banging your face, shoulders, and head-on objects inside the vehicle's cab becomes more likely. A head-on crash in a car is distinguishable from a head-on motorcycle collision because an enclosed vehicle affords its occupants more protection than a motorcycle.
But still, these auto accidents are often like two rams charging each other. Two vehicles coming head-on at 25 miles per hour is more like hitting a stationary object at 50 mph. Get it?! Motorcycle or not, these accidents are deadly, and scary, and often involve the terrible spinal cord and head injuries or wrongful death.
Head-on crashes differ from broadside collisions (side-impact collisions) or rear-ender accidents in many ways. For example, the full force of both vehicles gets transferred to the car and its occupants. Receiving a free case evaluation from our best wrong-way accident lawyer could be the first step toward getting your house back in order.
Would You Like To Speak To A Car Accident Lawyer?
Our superior car accident lawyers take local cases on a contingency fee basis, and we take calls 24-7. After establishing an attorney-client relationship by jointly signing a retainer agreement, our mission is to help seriously injured victims in a wrong-way collision case. Accidents recover maximum compensation from those negligent parties responsible. If you were just in an accident, call 9-1-1. After you get done at the hospital, pick up your cell phone and call (213) 596-9642.
What Are the Local Los Angeles And Nationwide Head-on Collision Statistics?
NHTSA, For that matter, any statistics can never be exact because not all crashes become public records. Let's start with reported collisions in L.A.
What Are the Los Angeles, California Head-on Collision Statistics?
The below Los Angeles head-on collision statistics are gathered from the CHP Traffic Integrated Mapping System. The time frame studied is 2017-2019. During this period, incorporated and unincorporated areas of Los Angeles reported 13,543 head-on collisions.
Breakdown of Los Angeles' Serious and Fatal Head-On Car Crash Cases By Percentage:
1.35% or 183 deaths arose from motor vehicle head-on collisions.
7.55% equaled 1,023 serious injuries like the spine and brain injuries during the reported periods.
34.08% equating to 4,615 people in L.A., suffered visible head-on car accident injuries, according to an EMT or law enforcement officer from 2017-2019.
57.02%, amounting to 7,722 people who lodged personal complaints of head-on injuries after crashing.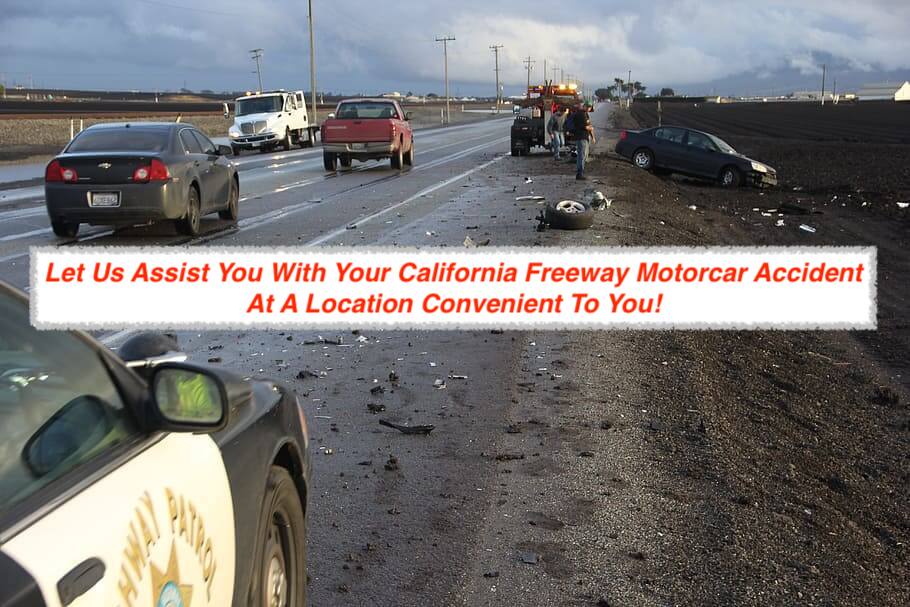 Of these above CHP statistics, a staggering 5,490 causes of wrecks were caused by another driver's failure to yield the right of way to oncoming traffic. Percentage-wise, these accounted for the majority of head-on collisions, or 40.79%.
The U.S. Head On Stats For Auto Accident Cases
What is the upside for car accident claims and victims?
Merely 2% of reported crashes nationwide are head-on collisions.
The downside for wrong-way car wreck victims?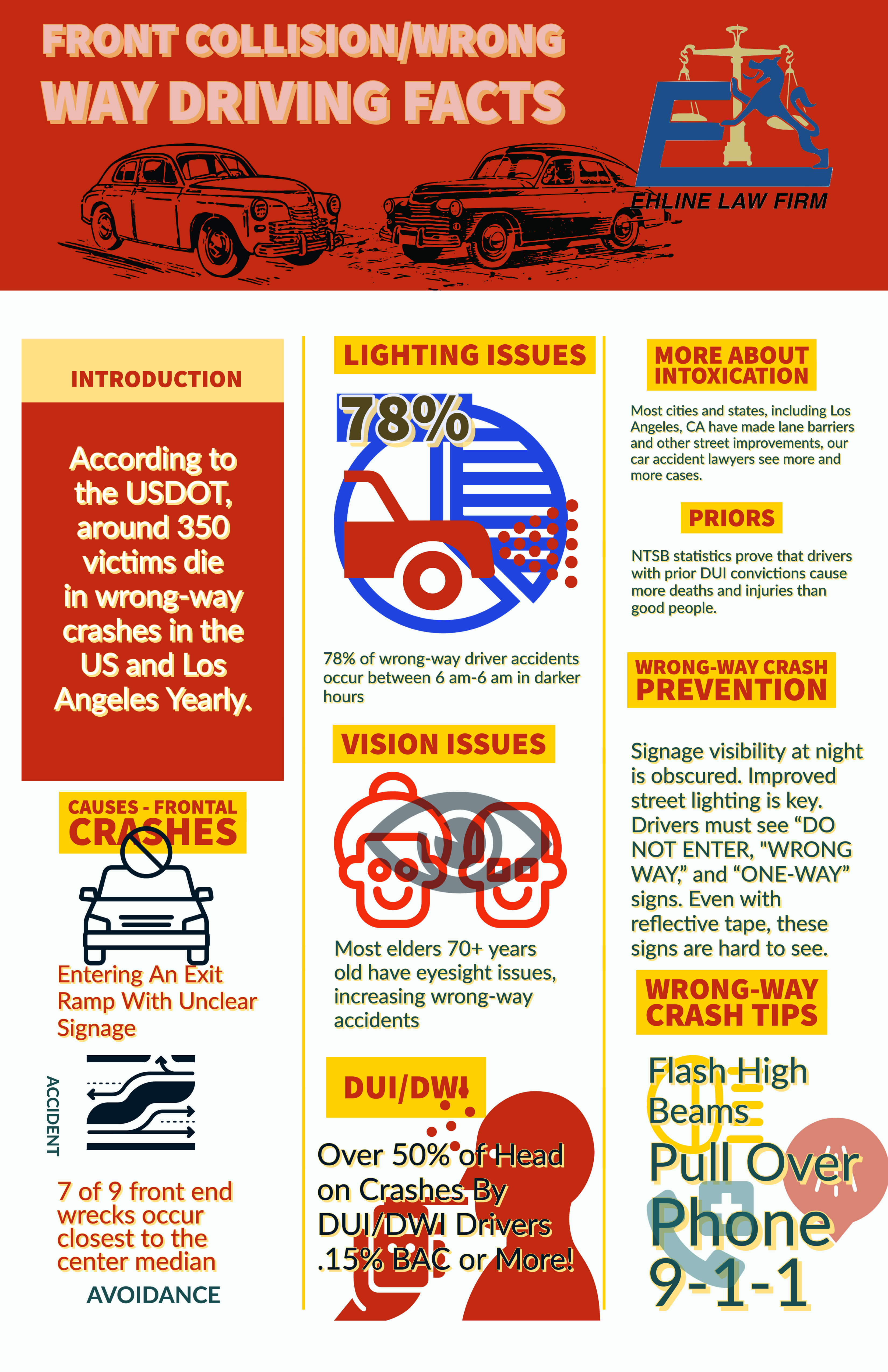 In 2017, the Insurance Institute for Highway Safety reported that frontal impact crashes come with a 58% fatality rate for vehicle occupants.
Frontal collisions exceeded 10% of all driving accident victim deaths.
Based on police reports, head-on crashes reportedly account for 13% of all reported rural fatalities.
Less than 7% of fatal car wrecks in urban locations are head-ons.
Only SUV rollover cases have similar fatality rates.
Your lawyer or estate representative may need to file a survival action or wrongful death lawsuit against the other driver or their estate for things like loss of love, affection, and familial support.
Common Causes Of Head-On Collision Injury-Accidents?
The causes of head-on collisions are many. The other driver's negligence, recklessness, or intentional conduct remains the most prevalent of all causes of serious injury in wrong-way crashes. We know that many frontal crashes arise from DUIs and other forms of distracted driving. Wrong-way collisions will often result in fatalities or cause serious injuries. Because all wrong-way crashes are caused by one motorist driving in the wrong direction, there are primarily preventable accidents. Our Los Angeles car accident lawyer has seen some common patterns in wrong-way vehicle strikes.
Motorists can avoid/lower wrong-way crash risks most of the time by reducing speeds, constantly paying careful attention to traffic signals, driving sober, and remaining in their designated traffic lane or intersection.
Common wrong-way driving accident causes include:
Distracted/Reckless Driving: These wrong-way driver accidents are typical of distracted driving claims. Distracted driving, including texting and playing with dash dials, is no less gross negligence and reckless. Imagine if someone got into their van high on Fentanyl. This is a reckless person. This defendant, assuming they survive, is someone who has a death wish.
DUI Drivers: Drunk or drugged drivers entering the wrong way offramp or onramp are thought by many experts to be potential ghost riders or "suicide drivers." One similarity wrong-way car accidents have with T-bone crashes (sideswipe collisions) is hit and run, drugged, and drunk driving (also a reckless act). This means you may be stuck paying the bills if law enforcement can't ID the perp.
Excessive or High-Speed Driving: Speeding, especially during COVID-19, has led to a deadly collision increase.
Erroneous, Astray, or Marred Signage.
Poor or Improper Roadway Lighting.
Roadway Design Defects.
Driver Fatigue.
It is much easier for an inattentive or occupied driver to drift into an oncoming lane. And voila, we have a violent crash with injuries and maybe fatalities. Whether you can make a financial recovery will depend largely on what you and your head-on collision attorney do right this second!
Why Must I Retain The Best Los Angeles Car Accident Attorney?
Don't expect the other party to roll over and go submissive in our modern-day society of "oppressor" and "victim." Fewer people accept personal responsibility and look to blame another person's race or "privilege." for their own shortcomings to justify their failure/poor performance. So now more than ever, car crash victims suffering terrible injuries from wrong-way driving crashes will have many reasons to consider hiring the best car accident attorneys.
Even if you think you caused the accident or you only suffered minor injuries, you could be wrong. Once your shock and adrenaline wear off, you could be facing a lifetime of pain and torment with no money to cover it without aggressive, experienced, zealous legal counsel.
Only the most highly qualified injury attorneys know how to litigate, apparently minor claims that go severe. And when you have multiple parties entangled in the claim, including novel legal theories and complex negotiations with savvy insurers, a greenhorn lawyer, or self-representation means losing big.
Example: What Happens When The Person Who Hit Me Lies On The Police Accident Investigation Report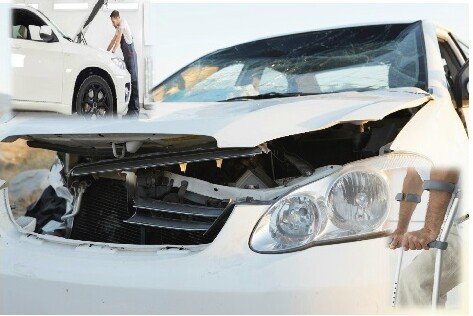 As noted above, it has become popular to blame others and gaslight innocent people, to justify mediocrity. What if you were driving and had the right of way, but the other driver was coming down a one-way street after blowing a stop sign? If you ended up hitting the driver head-on, he or she could lie and tell the police you were the wrong-way driver, or they had the right of way. Unless you can find surveillance video from a local store, or you used a dashcam, you now face a disputed liability case.
If you fail to hire a severe injury lawyer early in the insurance claims process, you could make irreversible, costly mistakes. Although our Los Angeles car accident law firm can help you at any point in the process, it is much easier to help from the start. Also, novel issues, including self-driving car crashes, Uber, Lyft, or other rideshare claims, may rear their heads.
We have even seen cruise ship shore excursions, and commercial truck crash claims with multiple potential parties liable to pay motorcycles for a hit-and-run action, for example. But you will have no way to know who or how to sue without receiving specific, expert auto accident legal advice as you recover from your injuries.
Getting A Free Legal Consultation Remains Key To Winning A Wrong Way Driving Case
During the shock and excitement of a head-on crash, your first instinct may immediately be filing an auto insurance claim. However, giving a recorded statement could destroy your case if done improperly, without lawyer supervision. And until you have stabilized medically, you won't know your full lifetime damages.
Don't assume insurance will pay for everything: California and other states require personal injury protection (PIP) insurance to operate a motorized vehicle. Sadly, California's 15/30/5 liability insurance limits set up in the late 80s and early 90s haven't kept up with the costs of medical bills and cost of living increases.
So you can't expect an insurance payout to cover your wrong-way driving accident in call cases. Your lawyer will need to find alternative sources of coverage in many cases just to get your basic expenses reimbursed.
Why Should You Hire A Wrong Way Car Accident Lawyer At Ehline Law Firm?
The experienced head-on collision lawyers at Ehline Law Firm are committed to holding wrongdoers who drive inappropriately accountable under negligence law. Your lost wages, medical expenses, and unpaid basic bills may stack up after your collision. Our automobile accident attorneys are well versed in Vehicle codes, negligence actions, safety doctrines, and more.
Also, we have vast experience handling personal injury claims like yours. Getting your life and finances back on track may be as easy as hiring an experienced car accident lawyer at Ehline Law Firm if you are serious about receiving full and fair compensation for your accident damages.
We Will:
Motivate You: Our legal team's insurance claims experts will push you to receive proper medical care and document your injuries. Everything we do during pre-litigation is designed to pressure the insurer to accept liability for your medical expenses, pain, suffering, and other losses.
Gather Hot Evidence Before It Goes COLD!: Many lawyers mistake signing up several great cases and leaving the client file in a corner, doing little to build its value. We believe in quality over quantity. Even a mediocre case can yield a client more many than a great case sent into mothballs by a crappy lawyer. Our superb injury lawyers will treat your case like it's going out of style. Memories fade, witnesses die, and cases go cold. Only a lawyer with tenacity and drive can rescue your case from the jaws of defeat.
Starting with your initial free case evaluation to begin building a strong attorney-client relationship, we will:
Give you a free case evaluation, confidentially
Deal with the insurance adjuster and settlement discussions while you heal and get your life back together again
Gather important medical records
Advance costs for things like police reports
Seek out, find and interview eyewitnesses
Locate other evidence we need for building a powerful personal injury action on your behalf
Locate and acquire available surveillance tapes and accident scene photos
Advance costs and obtain medical records, repair cost receipts, etc.
Help your find, obtain and treat with the finest local physicians and surgeons on a lien basis
Receive no attorney's fee unless we retrieve full and fair compensation on your behalf.
Our charismatic lawyers will support you and your family every step of the way.
Here is how you know you might need to hire a personal injury attorney for your head-on collision claim:
The person who caused the accident is blaming you.
Your insurer and the other driver's insurance companies are playing games, dragging their feet.
You suffered permanent or severe injuries.
You have lost time from work, school classes, a planned vacation, or another important event in your life.
The at-fault motorist is under criminal investigation for DWI or hit and run.
The driver that smashed into your grill had no valid proof of financial responsibility. (Our superhuman staff will seek out uninsured motorist (UM) or underinsured motorist (UIM) coverages from your own insurance policy and seek out other deep-pocket defendants).
A product maker or manufacturer played a role in causing some defect on your vehicle, causing or increasing the likelihood of the accident or injury.
Government agencies such as CalTrans allowed road debris or other road conditions, including malfunctioning traffic signals, to cause death or severe injuries to your loved ones. You must not file your government claim with the wrong agency or use the wrong form!
You want to file a negligence lawsuit to recapture some of your personal injury losses.
Hiring a car accident attorney allows you to rest and hopefully recover. You can transfer all your financial stress to your well-trained, objective lawyer. He or she will deal with the back and forth negotiations and insurance company gamesmanship. We already know how precious our time is, and we assume yours is just as valuable. You hire us, so you don't waste efforts and time fighting with two or more insurance companies over something that wasn't your fault.
Our Carrot and Stick Approach Wins Hit & Run Claims
Our charismatic, trustworthy Los Angeles car accident attorneys will use a velvet hammer during tough negotiations. Where insurance adjusters are accustomed to bowling over many billboard ad lawyers "mills," our negotiators have a history of working up personal injury claims to place you in the strongest settlement position obtainable. We can also help you prove you innocent if the other insurance company places liability on your shoulders or refuses to pay you in full.
Our position is simple; if you suffered auto accident losses, you shouldn't be liable for anything! We don't want you to pay your deductible or any out-of-pocket losses because of some lousy driver's mistakes. We empathize with you when the insurance company takes too long to determine your case's liability or damages. And this is why we work so hard initially to gather everything we need to win big! Our carrot and stick approach may not make the insurance company's CEO or investors happy, but it gets you paid!
Car Accident Costs
You will have more to worry over than your bodily injuries after a head-on collision. Your property damage alone could burn up the other party's insurance, leaving you with no money to repair or replace your vehicle, let alone cover your replacement rental vehicle.
No matter what, these cases can be expensive. Victims are often left responsible for paying heavy, padded medical bills, lost income, and hidden expenses, including deductibles and even parking fees for doctor treatment visits. Costs add up remarkably fast. This presents a double whammy for most California families when you aren't working.
Various factors may impact the overall cost of your accident, including;
The grimness of your accident: (Ex: A head-on crash erupting in a fire will present issues including smoke inhalation, first, second, or third-degree burns, facial and bodily disfigurement, or death).
Accident Location: (Ex: A Beverly Hills wrong-way car crash on Rodeo Drive could result in more mass casualties and storefront damages than a head-on accident in a Rancho Palos Verdes parking lot at Target, for example. Because of this, exceeding the property damages coverage of most auto insurance policies remains a real threat to your full and just financial recovery).
The number of parties involved: As noted above, the more parties in the crash, means everyone gets a smaller piece of the insurance company's pie. There could be multiple vehicle passengers, pedestrians, and vehicles involved.
Your total property loss value: Even if you are the only accident victim, if you drove a Maserati, Ferarri, Porsche, Rolls Royce, Lexus, or some other high-end vehicle may not get repaired or replaced without adequate insurance protection.
Types of injuries suffered: A wrongful death or survival action after a high-speed front-end collision will be far more costly to families than a fender bender with whiplash.
Here Are Some Head-On Collision Costs Victims Potentially Face
Physical, personal items are considered special, tangible economic losses, whereas intangible, non-economic losses are general damages.
Property Damage
The costs of a car accident start piling up on day one. The moment your vehicle is towed from the scene, it could start costing you time and money. It's important to our lawyers that you receive adequate property damage compensation.
Your property damage costs could include:
Personal Items: Damaged or destroyed laptop computers or other personal property in your car. (Ex: Small, everyday items, including cheap cell phones, custom wheels, and handicap vehicle lifts.
Towing Fees: If your vehicle was so damaged you can't drive it, the police or your AAA will order it transported away to a vehicle tow yard. If you have to move the vehicle's carcass multiple times, leaving owing numerous towing charges.
Vehicle Storage Fees: If you fail to move your destroyed car home or send it to your body-repair shop or junkyard, you could end up paying thousands in storage fees awaiting vehicle inspection and payout. Los Angeles salvage yards are notorious for charging fees until the insurance company coaxes the DMV to issue a salvaged title. Some tow yards will tack on hidden, extra fees not previously disclosed to you. A great lawyer can try and negotiate these storage fees lower, but it's best not to have them at all.
Rental Car Reimbursement: You will need a replacement vehicle to get around town while your other car is being fixed or replaced. Sometimes clients don't want to use their insurance (they hate paying their deductible), or they failed to purchase rental reimbursement coverage. So unless the other driver accepts liability, car crash victims are often left with no vehicle after an auto accident. Remember, the insurer is allowed to investigate even if their insured carries most, if not all, fault. So you must wait for your car to be inspected, repaired, or replaced before you get a temporary vehicle unless you or your lawyers can finagle a loaner car from someone.
Loss of Use: Another excellent theory is seeking loss of use payments for your vehicle's commercial unavailability to help you earn your living. An attorney could help get you paid for loss of use if you could not drive due to your injuries. A genuinely great lawyer would help you if you were denied a rental vehicle while waiting for the other insurance company to accept responsibility.
Diminished Value Costs: In a nutshell, a diminished value claim is when a car owner or their lawyer demands the difference between their model's current market value. These cases arise primarily with exotic vehicles, but sometimes owners think their Subaru warrants more money since it's not cherry anymore. And we agree. We will help you understand and explore this option.

Repair Costs: You may receive the traditional three estimates from multiple repair shops. But no matter who you select to fix your car, these overhaulers may need to wait on replacement auto parts. The body repair guy may also discover additional vehicle frames or structural damage after their initial vehicle teardown and beginning repairs. So don't expect the standard $5 thousand in insurance company property damage liability coverage to handle complete vehicle repair work or replacement charges.
Replacement Vehicle Estimates: In a head-on crash, insurers declare most vehicles a total loss. But how do you get the most for your special wagon? Our superior car accident lawyers will take a look at your insurance estimate report and cross-reference them with your vehicle's type, accessories, features, and upgrades. We will hold the adjuster's feet to the fire to get you paid in full to replace your unique vehicle.
Medical Expenses
Although you may have been lucky to escape with minor scrapes and bruises, some head-on accidents will result in the victims suffering life-long debilitating injuries. After you're in a traffic accident, your medical bills will start piling up. These costs will include your ambulance or helicopter ride, urgent care/emergency room charges, follow-up doctor, and physical therapy visits. You will also need to travel to receive check-ups, see your chiropractor/physical therapist for ongoing care and injury treatment, etc. The inconvenience alone is enough to make a grown man cry!
Lost Income
Your loss of income or wages remains an essential factor. You didn't wake up planning on losing your wife or kids in a car crash. She didn't wake up this morning thinking he would lose her breadwinner from a head-on car accident. Even if you survive after suffering severe, debilitating harm, you may not have the option to continue employment at all. Your inability to work may leave your family struggling to cover necessities, including food, housing, and medical treatment. But we don't think you should be held responsible for paying for these forfeitures during your recuperation period, even after permanent diagnosis.
If you remain a vegetable or remain unable to work due to some auto accident complications, your lifetime wages and productivity will be questioned by jurors. Your experienced staff and advocates at Ehline Law Firm will work with medical and other economic experts to calculate the financial loss numbers and help you get compensated for missing past, present, and future work.
Out-Of-Pocket Costs
We don't often think about this if we live in Riverside or San Bernardino County. But here in In Los Angeles, in addition to waiting in traffic for hours to get a few miles, we have to pay for metered or monitored parking. Getting to and from your doctor means you are paying for more gas, parking, and lost, precious time you'll never get back. These are all compensable damages, but without records, you can't. Your lawyer will guide you in evidence gathering and record-keeping methods.
Permanent Crippling
When you become permanently disabled after suffering a head-on collision, you can no longer do the ordinary and necessary things you did before. You won't be able to work at your old job, assuming experts can retrain you for something else. No longer will you be able to enjoy your love life, head to Disneyland with the kids and run around, or enjoy other personal activities. No, this is cataclysmic. If you suffered long-term injuries after a wrong-way car accident, we would help you receive a settlement offer to help you pay for your related losses and more.
Pain And Suffering Damages
One of the essential components of your injury claims is for pain and suffering damages. Most jurors understand the hidden costs associated with emotional pain caused by physical harm suffered after a collision. All of this undue suffering will impact your ability to focus, perform employment-related tasks, or enjoy a decent quality of life. You may experience fear, grieving, and anger as you journey into your new, crippled state.
Wrongful Death
Losing your close family member or loved one from natural causes is difficult enough. But a wrongful death is negligently caused by another person from an auto accident, our feelings of significant personal loss can become magnified. Our Los Angeles wrongful death attorneys will help you file your damages and compensation claims and shield you from grieving while we seek financial compensation on your behalf.
We seek this compensation as a form of civil financial restitution while the prosecutor decides the criminal fate of the person who killed your loved one. (Typically, these are hit ad run drivers who were drinking and driving or high on drugs) Our actions are designed to hold evil-doers like this accountable for causing a wrongful death.
Our Personal Injury Attorneys Can Help You Get Compensation For Severe Injury Costs
The financial effects of car accident cases can be devastating. After you suffer even a mild injury, you can face a small pile of medical bills. Can you imagine surviving a crash with a drunk driver head-on? Regardless of how your wrong-way collisions happened, you can file a personal injury lawsuit or government claims against the negligent vehicle operator(s) or those responsible for contributing to the damages.
For you to recover the compensation, your lawyer must determine the type and severity of your injuries, including how the injuries have adversely affected your life and if you will medically recover.
Who Can I Sue For My Wrong-Way Accident?
If you've suffered a serious injury after a wrong-way accident, many potential defendants may exist in your anticipated claim. Unfortunately, some wrong-way drivers are driving without insurance (often because they have previous drunk-driving convictions). They may not have any assets or income to pay you without insurance coverage. Even those drivers with insurance may not have policies large enough to cover your anticipated injury needs.
That makes it wise for you to look at other parties potentially responsible for commanding, controlling, loaning, entrusting, directing, or intoxicating the other vehicle, the driver who crashed into your car.
Here's who you can sue, why you should sue, and what you must know about settling first:
The Driver of the Wrong-Way Vehicle: Naturally, the wrong-way vehicle driver should be held responsible for their own errors. Hopefully, the wrong-way driver has car insurance that will cover at least a portion of your damages.
The Employer of the Wrong-Way Vehicle Operator: Your lawyer will seek evidence to determine if the other driver was delivering items for a company, or engaged in work-related activities, even if they didn't cause the crash. If so, we may be able to get you more money under the doctrine of respondeat superior or "vicarious liability."
The Parent of the Head-On-Vehicle Driver: A parent can be held vicariously liable for a wrong-way driving accident caused by their minor child under California Vehicle Code Section 17707. Courts will consider parents and children jointly and severally liable, meaning victims are authorized to file lawsuits against the minor, their parent, or both of them.

The Bar or Host Serving the Wrong-Way Driver Liquor or Drugs: Anyone caught selling or providing alcohol in any way "to a habitual or common drunkard or any obviously intoxicated person" is guilty of committing a misdemeanor crime. If so, you may have a civil remedy against the club, homeowner, bar, or host that provided the driver with drugs or alcohol. Most states have Dramshop social liability laws like this to hold businesses accountable for sending obviously intoxicated people out onto our roads and sidewalks. Similarly, any business selling alcohol to a minor, drunk or not, can be held civilly accountable by survivors.
The Estate of the Wrong-Way Driver: You already know that head-on crashes have a high death rate. As a surviving victim, you must rapidly make wrongful death and survival action claims against the deceased driver's estate to place a brake on estate asset depletion. You can sue the estate as if it were the living person but inherits often act like vultures to hide and sell off assets before you get justice. A great lawyer knows how to file the right paperwork to end this travesty. This is another reason victims must rapidly hire a well-established, local Los Angeles wrongful death attorney. Only this can ease your troubles and give you a shot at claiming against those assets.
Your Local, State, Local, or Federal Government: Highway Department You may be authorized to make a government claim against certain public agencies under the California Government Code and Federal statutes. For example, when CalTrans fails to repair or replace the wrong way, or no U-turn signs, or when a condition substantially changes, leading to wrong-way driving. You may have a legitimate case against their private contractors, maintenance people, and others for causing road debris or some other dangerous condition causing a car to veer into your path! Perhaps all you needed for accident prevention was better signs or accounting for substantially changed highway conditions. Your lawyer can make a discovery, and public records requests to determine if wrong-way driving accident history exists at that location and the reasons are given for the collisions over time. It could have been something as simple as a missing center divider to prevent lane jumping that could have solved this problem.
The sooner you muster into action, the better chances you will have at protecting your rights to receive a fair and just damages award.
What Are The Most Common Wrong-Way Driving Collision Injuries?
The most common injuries from head-on collisions include:
Brain and Head Injuries: Our Los Angeles brain injury attorneys help clients with concussions, traumatic brain injury (TBI), mild traumatic brain injury. (MTBI).
Psychological and Emotional Damage: These types of injuries include grief, anger, depression, sadness, anxiety, and post-traumatic stress disorder (PTSD), among others.
Spinal Cord Injuries: (Back injuries include disc injuries but can be simple neck injuries like whiplash. However, these symptoms can lead to quadriplegia, paraplegia, and death).
Broken bones:
Crushed skull:
Disfigurement: These injuries include facial injuries caused by lacerations, deep bruising, compound, and other fractures, typically from being ejected through vehicle safety glass during a head-on crash.
Paralysis and nerve damage:
Blindness:
Amputation:
Wrongful death:
Car Accident Settlement Insurance Negotiation Process?
Once you are as healed as possible or before two years expiring (in most cases unless against the government or cruise ship defendants), your next step is engaging in insurance company settlement negotiations.
What Will Your Lawyer Do?
Prepare a settlement demand letter: (This letter includes copies of medical reports, incidental expenses, and other receipts, including records of out-of-pocket expenses. Your lawyer will also include copies of the police report, along with a statement telling the adjuster about the collision's negative lifetime impact).
Demand Money: In the end, your lawyer will wrap it up by demanding a policy limits disclosure or a certain dollar settlement amount. Once the adjuster receives your settlement demand package, they usually take 30 days to decide whether to honor your demand, counteroffer or deny liability outright after evaluation. An experienced Los Angeles car accident law firm's team will develop enough evidence to overcome most settlement negotiation setbacks. Ultimately, Ehline's method of frontloading and working hard upfront pays off during this crucial period. Like always, if the insurer wants to play games, we can take your case to trial and let the jury decide.
Your insurance settlement process isn't over till the fat lady sings. Unless State Farm, Allstate, Mercury, Geico, USAA, or some other outfit pay us, we aren't going anywhere. Once you receive your final settlement amount check from the attorney-client trust account, only then will you have received proper compensation.
Be Patient – Rome Wasn't Built In A Day.
Once your current and future anticipated financial needs are covered, it's over. But you must be patient. Rome wasn't built in a day, nor is it a foundation of good evidence. What you do immediately after crashing will help speed along with this complicated and lengthy negotiation and fact-finding process. Studies prove represented parties end up with more money in their pockets, even after paying the attorney's fee.
You will benefit significantly from speaking with and hiring local, compassionate, top-notch legal representation from an accident attorney at Ehline Law Firm. Our leading staff and attorneys are familiar with the claims negotiations process, local Los Angeles ordinances, and municipal codes, including California state laws.
What Should I Do After Being Hit In A Wrong-Way Driving Accident?
The first 24 hours after an auto accident will typically be the most overwhelming. Your insurance settlement process begins with your car accident scene investigation. After your auto accident, if you are not in shock or suffering too badly from your catastrophic injuries, you must try and get it together and begin the information gathering process. We have documented some steps victims can take to protect their case, in addition to snapping smartphone photos of motor vehicle accident injuries and damages.
Our head-on collision accident lawyer understands you won't be thinking clearly, which is why reading this article today will help you with your next accident. Breathe deeply and exhale. It's time to start thinking clearly. Your kids and others are relying on you.
Follow these important tips from a charismatic, competent wrong way accident lawyer today:
1. Move Off The Road And Call 9-1-1
Number one, don't leave the accident scene. If possible, move your car and help other victims away from oncoming traffic. Some property damage may be so bad you can't get debris or vehicles from blocking traffic and creating jams. This is one of many reasons you should dial 9-1-1 and sit tight for fire, ambulance, and police help. The last thing you want is angry victims arguing as traffic backs up, causing another crash, right?
2. Contact Medical Care For Your Head-On Collision Injuries
Even if you think you are ok, you could be seriously injured and in shock. You must receive medical care right away after crashing your vehicle. Your medical record on file with the hospital is direct evidence tying your severe injuries to your accident. Besides, your MRI or CT scan could reveal a disc burst fracture with radiating pain between your shoulder blades that was masked by your post-accident adrenaline.
We know that some people won't notice how bad their injuries are for hours or days after colliding. Some injuries, especially people struck riding mopeds, bicycles, or pedestrians walking in traffic, will be readily visible. When you receive medical care, you are being responsible and helping mitigate further worsening, isolating undiscovered, "masked." harm. Finally, that minor injury you think you have may turn out to be life-threatening. Find out before it's too late.
3. Get The Car Accident Details Documented In A Police Report
California Vehicle Code Section 20008 mandates all vehicle operators to file a report with the CHP ("Traffic Collision Investigation Report.") or local police within 24 hours of crashing if injuries or death resulted. Keep in mind, if the police come to the accident scene and prepare a written report, your reporting duty to the police is extinguished. So you won't have to file your own, separate written report.
SR-1: Under California law, the accident report YOU must file within 10 days after crashing is called an SR-1. Motorists will file these on their own with the local police department their the accident occurred. You can also file your report with the California Highway Patrol.
Filing a police report will be an essential asset before pursuing a wrong-way driving injury claim. One report can be filed directly by you with the police if they don't appear at an accident scene, for example.
Law enforcement officers generally hate taking police reports. Their position is that unless you have bad injuries, there is no reason to show up.
"If there are not any injuries and all parties have a driver's license, exchange information. This involves exchanging driver's license information, registration, insurance information, and driver's telephone number. The LAPD will complete no report for this type of collision." – LAPD Website.
We all know that is the wrong reason. Police officers can help keep order, clear roads, and evacuate people unaware that they are hurt.
A quality police officer will create notes of each motorist's details, including their name, address, phone number, and other relevant information about debris fields, tire tread marks, and witness information.
But you can't count on the officers to do their job, so at a minimum, you must:
Obtain the other person's insurance company info, including their insurance policy number,
Snap images of their vehicle license plate number with your Android or iPhone!
If you can't do any of the above due to incapacity, try and get someone at the accident scene to help you take down this information. Now you will have the information you will need when you need it.
Can I Still Sue Someone If There's No Police Report?
Just because the CHP or local cops don't appear at what you initially thought was a minor car crash scene doesn't mean you can't sue. A police report is just that, a report. It's a written accounting of a police officer's notes reflecting witnesses info and statements, drivers, and passengers at the scene. The officer will also document his observations of the vehicle and stationary object damage. The report also includes the existing weather conditions, victim's injury complaints, and other information.
Other than the cop's direct observations, these statements are usually hearsay, but they are used during discovery to obtain evidence that is not hearsay. And sometimes courts all the reports under the business records exception to the rules of evidence. Police reports can also impeach witnesses and police, not to prove the truth of matters asserted within. Most injury lawyers and insurance companies expect less compensation in cases without a documentary police report. Sometimes statements like admissions in these reports can prove vital to establishing liability upfront.
What If Information In My Police Report Is Wrong?
If you think some facts or information was documented or not documented, you can appeal with the desk sergeant at the stationhouse to have the report amended. And just because a police officer didn't show at your accident scene doesn't mean you can't file her over-the-counter incident report after the fact.
In addition to establishing you as a party, these reports can help avoid the post-car accident games of "he said, she said." Witness credibility, damages documentation, including sharp, favorable testimony, wins injury trials. Your jury will ultimately decide who to believe if the adjuster won't fairly compensate your damages.
4. Maintain A Personal Injury Journal
It's essential to keep a diary of daily events your injuries have affected from a personal injury perspective. Keeping a personal injury journal to document your medical treatment, conversations with your rehab specialists, including pain and suffering post-accident, will support a greater payout of your injury claim at trial.
5. Contact Car Accident Attorneys
Hiring car accident attorneys at Ehline Law Firm will ensure you are doing everything you can to get squared away!
Statute of Limitations Problems In A California Head-On Collision Case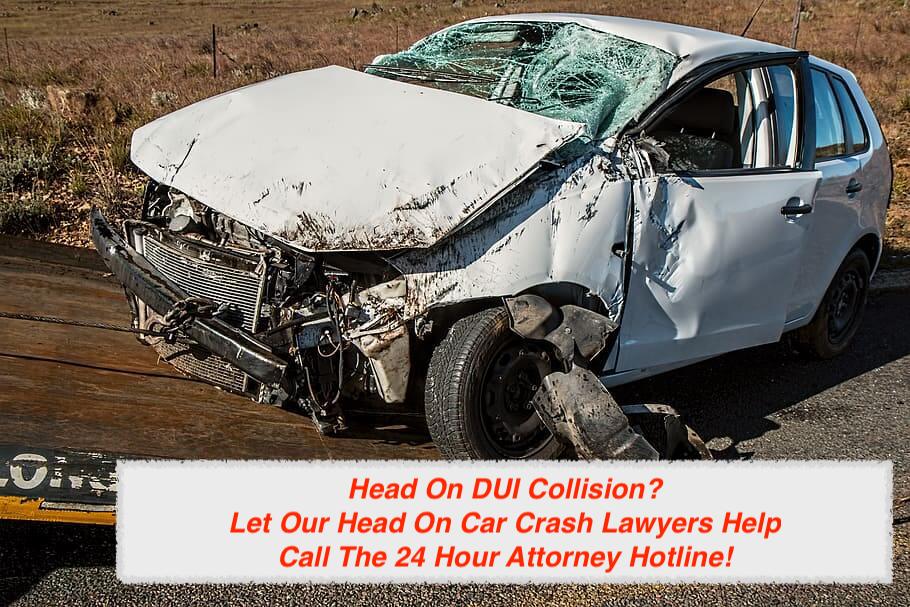 Don't sleep on your rights while the general statute of limitations expires (24 months). Suppose you wait too long to file your government claim (generally within six months) or auto accident lawsuit. In that case, you may surrender your right to pursue future bodily injury, money damages compensation. If you wait longer than 36 months to seek property damages compensation, you waive your right to receive that as well.
We Will Give You A Free Consultation Anywhere In The State of California
As discussed, a head-on collision remains one of the most gruesome, devastating distracted driving accidents you or your family members could endure. Our experienced Los Angeles personal injury lawyers can leverage our knowledge, skill, and training on your behalf. We are the most dedicated and aggressive insurance company adversary you will meet.
Schedule a Free Consultation With Los Angeles, a Superior Head-on Collision Accident Lawyer
Our advocates negotiate personal injury cases from a position of strength. Legal pros at Ehline Law Firm use our swagger and technique to place your case in the pole position. So if you or your loved one suffered a frontal crash in an auto accident, call our office today for a free consultation or fill out the contact form and enter your contact information today. You can also phone us at (213) 596-9642 – 24 hours per day, seven days per week, at no charge.
The Ehline Law Firm Southern California personal injury law firm represents Clients In Greater Los Angeles. Places our aggressive attorneys serve include San Bernardino County, Marina del Rey, El Segundo, and Torrance.
Michael Ehline is an inactive U.S. Marine and world-famous legal historian. Michael helped draft the Cruise Ship Safety Act and has won some of U.S. history's largest motorcycle accident settlements. Together with his legal team, Michael and the Ehline Law Firm collect damages on behalf of clients.
We pride ourselves on being available to answer your most pressing and difficult questions 24/7. We are proud sponsors of the Paul Ehline Memorial Motorcycle Ride and a Service Disabled Veteran Operated Business. (SDVOB.) We are ready to fight.