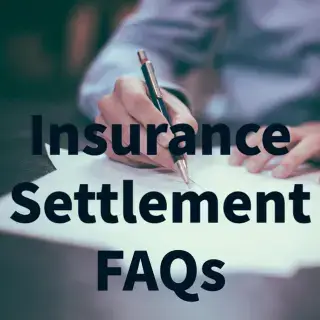 How Much Time Will It Take To Turn a Wreck Into a Check?
Ultimate Guide to Turning Your Wreck Into a Check. Normally, in a minor injury case, receiving a favorable settlement will take between three and six months from start to finish. In a serious injury case, it can take several years from start to finish on average. California insurance companies must treat you fairly. Insurers must adhere to strict deadlines after they receive your initial claims. They must conduct and complete investigations quickly and reasonably. They must decide whether to approve or deny the claim or risk an insurance commissioner's complaint and investigation.
Ultimately, they must mail checks for property damage rapidly, and once they know your bodily injury damages, they mail you a check for that also. Below, our superior Los Angeles auto accident lawyers share the information you'll need to get compensated for your losses.
When a victim of an auto accident files a claim, compensation is in order if they win the claim and settle with the insurance company without going to trial.
You Don't Have to Wait on the Insurance Companies
The condition for a settlement is the agreement by both parties. The plaintiff and the defendant must agree on a monetary compensation amount as a condition precedent to settle the case.
Settlement Check Process
A personal injury claims process can be hectic, to say the least, with the constant going back and forth with the insurance companies over the monetary amounts you wish to receive as a final settlement.
If you're having trouble settling, contact Ehline Law and our personal injury lawyers for a free consultation. It would help if you did not accept the first offer from an insurer, as these tend to be lowball offers, and getting in touch with an experienced attorney can help protect your rights.
Reasons for Delay in Your Personal Injury Claim
You may wonder how long it takes to settle claims or get a check. However, the claims process is the main issue you need to clear before heading to that stage. An insurer will use delay tactics during claims by requiring documents or details.
Here are some reasons insurers delay your personal injury claim:
Still treating for your injuries
Done treating but waiting on medical bills
Waiting on medical reports, etc.
You should know how to fill the forms perfectly and compile all the details to avoid any details or need for unnecessary documents down the line. If you feel the insurer is wasting time, you must contact our attorneys immediately for legal advice.
The Facts of the Case
Before even getting to the compensation part, all the parties must research and decide which party is at fault. Whenever it is difficult to determine the defendant's culpability, insurers will always offer a low settlement in such situations.
Having a personal injury lawyer can help you better assess the situation and how to move forward when an insurer offers a low settlement. You would also need a doctor's testimony to prove the damages done to you and get an estimate of current and future medical bills.
Maximum Medical improvement
A personal injury claim can not get processed until the victim receives a go-ahead from their doctor or sees medical improvement. If a victim tries to settle when the treatment is still ongoing, this can lead to a forfeit of any further compensation the plaintiff can get from the defendant.
Greater Settlement Amount
If settlements are in six figures, the personal injury settlement process will take considerable time as the defendant's insurer will not want to pay a higher amount and will conduct further investigations.
Discuss your personal injury case with your lawyer or doctor to ensure that you have everything needed to file for claims and increase your chances of a quick settlement release.
Settlement Release Process of an Insurance Company?
Once both parties have agreed on the settlement money, the plaintiff must sign the settlement release form and send it to the insurance company for processing. After processing the claim, the insurer will send the check over to your attorney. Your attorney then transfers the money to an escrow account, where any liable payments at your end will get deducted from the escrow account.
How Long Does Till Settlement Check In Car Accident Cases?
Car accidents can be fatal in some cases, prolonging the process of getting a car accident claim. However, having an experienced lawyer on your side can help expedite the claims process. Once you've filled out the forms, handed all the evidence in, including medical records, and filed for a car accident lawsuit, the insurers will do their bit on their end.
If both parties agree on a settlement, a personal injury settlement check can take about four to six weeks after the insurance company receives the settlement release form. However, if you don't hear from the insurers on the settlement, you must contact your attorneys and get an update on your car accident case.
Contact Our Superior Car Accident Lawyer Today!
At Ehline Law, our attorneys maintain a solid attorney-client relationship allowing personal injury victims to recover and relax while our lawyers take on their battles. If you've gotten hurt in a car accident or having a tough time dealing with the insurers, contact us at (213) 596-9642 and get a free case evaluation on your car accident case.
Our law firm has retrieved over $150 million on personal injury cases for our clients. We can also help you recover compensation for the damages to you in the auto accident. Contact our injury lawyers for more information on how we can help.
Citations:
Main Los Angeles Location
633 W 5th Street #2890 Los Angeles, CA 90071 (213) 596-9642.