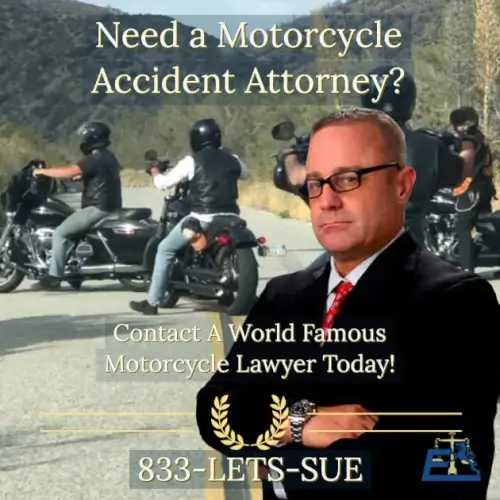 If you were injured in a motorcycle crash with another vehicle, the chances are that it wasn't your fault. Most motorcycle accidents occur because of negligence on the vehicle driver's part. You need to find the best motorcycle accident attorney in Los Angeles to represent you when this happens.
You risk losing the legal edge of hiring a professional motorcycle accident attorney if you don't. However, choosing the right legal representative isn't always easy.
California is subject to the pure comparative negligence law, which means that you can recover compensation regardless of whether you were partially to blame for the accident. However, the truth is that motorcyclists tend to be stereotyped, so if you were involved in a motorcycle accident, you should get a lawyer to prevent the accident from being blamed on you.
Motorcycle accident injuries also tend to be more serious than those sustained in a car accident. Therefore, you must hire an attorney who can fight for your right to fair compensation. Here is what you should look for in a Los Angeles motorcycle accident lawyer.
How Can Motorcycle Accident Attorneys Help?
After a major motorcycle accident, an insurance company may try to persuade you to accept a meager settlement offer. Often, insurers attempt to avoid liability by pressuring clients to settle for far less than what their cases are worth.
Instead, contact an Ehline Law personal injury attorney specializing in motorcycle crashes to analyze your case and determine its worth. Our team of attorneys in Los Angeles can establish a reliable estimation and then negotiate on your behalf with that value in mind.
Should the insurance company decline a reasonable settlement, our team can take your case to court. With this in mind, here are seven steps that you can take to find the best motorcycle accident lawyer in Los Angeles.
1. Choose an Experienced Motorcycle Accident Lawyer
An attorney who has just completed law school could help you with your motorcycle accident case. However, their lack of experience means you may not always get the best advice. The reality is that the best personal injury lawyers are the ones with experience.
Experience with Motorcycle Accidents
Before you hire a motorcycle accident lawyer, you should ask how many motorcycle accident claims they have dealt with. Often, lawyers display years of experience in personal injury law. However, because there are so many different types of personal injury accidents, you should choose a Los Angeles motorcycle accident lawyer who has experience fighting for motorcyclists.
Ehline Law Attorneys Have Decades of Experience
Fortunately, Ehline Law Firm has some of the best lawyers in the country with years of experience dealing with motorcycle accident cases. We have been assisting clients in obtaining the proper compensation they deserve following a motorcycle accident in Los Angeles for several years, so you can rest assured that you are receiving the best legal representation.
2. Look at the Fee Structure
While most personal injury attorneys work on a contingency fee basis, some lawyers may require you to pay legal fees upfront. It is essential to ensure that the law firm you choose is affordable and isn't going to put a financial strain on you following your motorcycle accident.
The reality is that motorcycle accidents lead to catastrophic injuries such as traumatic brain injury and even permanent disability, and medical bills can pile up quickly. Your motorcycle accident lawyer should be there to help relieve your financial strain by getting you the maximum compensation rather than adding more bills to your growing pile.
At Ehline Law Firm, our personal injury lawyers work on a contingency basis, which means that they only get paid when you do. You can discuss the amount that your attorney is going to be paid before you receive your settlement to avoid any nasty surprises.
3. Try a Lawyer on for Size
Filing a Los Angeles motorcycle accident claim can be emotionally, mentally, and physically taxing for a motorcycle rider. It is often a lot more challenging to receive fair compensation for motorcycle injuries than it is for auto accident injuries. The insurance company may also try to pin the blame on you for the accident or may try to offer you a low settlement.
Book a Free Consultation
This is why choosing the best motorcycle accident lawyer is so important. Before committing, you can book a free consultation with a few law firms you are interested in to discuss the specifics of your case.
4. Read Client Reviews
One of the best ways to tell whether a Los Angeles motorcycle accident lawyer is for you is by talking to previous clients. Other people involved in motorcycle accidents and who hired a motorcycle accident attorney to handle their case can provide vital information on whether the attorney was responsive and provided the best legal advice.
Be Wary of Endorsed Legal Websites
Be wary of the numerous legal websites that endorse attorneys in order to persuade you to choose them. These companies provide attorneys with recognition on their websites as well as badges that they can use to attract potential clients.
Find Real Legal Reviews
Real client testimonials can be found on Yelp, Facebook, and Google+ sites. These genuine testimonials provide a much more accurate image of who an attorney is, what they can achieve for you, and how well this attorney treated their previous clients.
5. Choose a Responsive Lawyer
Motorcycle collisions can be quite traumatic, and having the support of a legal representative who has your best interests at heart can make a world of difference. When insurance companies contact you, you should be able to reach your lawyer quickly to discuss a way forward.
This is why the best motorcycle accident lawyer is a responsive one. When you choose Ehline Law attorneys in Los Angeles, you choose lawyers who are available 24/7.
We implemented this service because we know that legal matters can cause concern at any time of the day or night, which is why we have a 24/7 call service that puts you in touch with a personal injury lawyer.
6. Your Attorney Should Be Licensed
The truth is that there are many scam artists out there who do whatever it takes to make a quick buck. Posing as a lawyer is one way to accomplish this. To avoid falling prey to such scams or hiring an attorney who isn't licensed to practice law, you should check whether they are licensed.
You can do this by visiting the California State Bar website. Check to see if their license is up to date as well. Specific laws differ depending on where you live, so it is advisable to select an attorney familiar with your area's laws.
7. Check Your Lawyer's Track Record
You don't hire motorcycle accident lawyers to get legal advice. The truth is that a lawyer is meant to help you win your case and get you a settlement award. One of the best ways to tell whether your attorney can win your case is by checking their previous track record.
While experience is essential, it isn't helpful if it doesn't result in a settlement. You should check how many cases they won and how many they lost to get a good idea of their success rate.
Choosing a Motorcycle Attorney in Los Angeles? How to Make the Right Choice Is Easy
If you are a motorcycle accident victim, you may be able to claim compensation for your damages.
If you are wondering why you should choose an Ehline Law attorney in Los Angeles, here are a few reasons:
Our firm has been awarded numerous awards and accolades, which is a testament to our performance, customer service, and success rate. Among these awards are the Southern California Super Lawyers Rising Stars award and the Premier Personal Injury Attorneys award from Newsweek Magazine
You receive personal attention from one of our experienced attorneys
We offer a 24/7 service line, so you can speak to an attorney whenever the need arises
Ehline Law attorneys work on a contingency fee basis, so you never have to pay upfront legal fees
Our team has attained more than $150 million in settlement awards for our clients.
Contact us to book your free consultation to discuss a motorcycle accident claim with a friendly and approachable lawyer at (213) 596-9642 or by completing our online contact form.