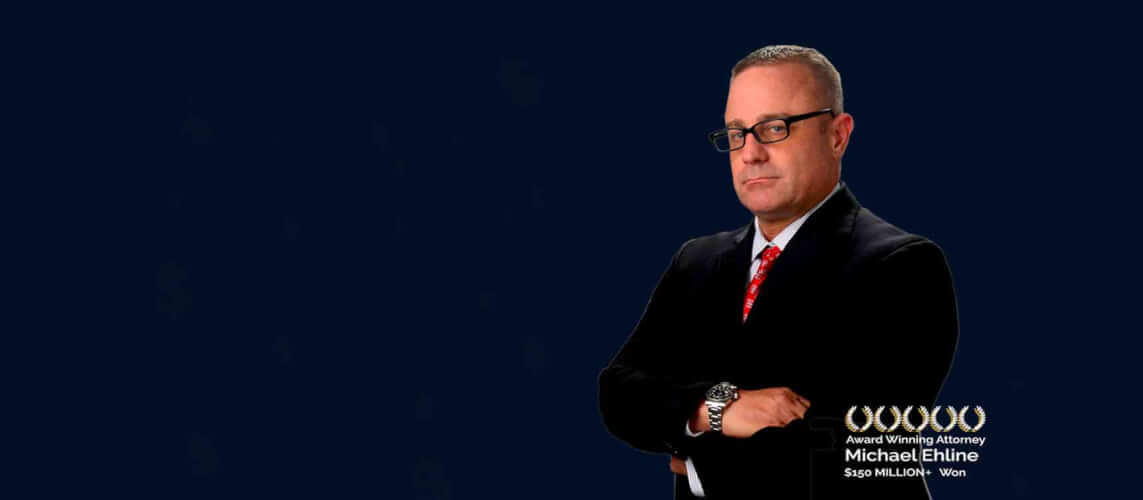 Whenever you ride a motorcycle or drive one, you're more at risk of getting hurt in a crash than driving a car. However, you probably wonder by how much. What are the odds of surviving a motorcycle accident? First, let's discuss our background as legal experts and then go over some statistics and essential steps you can take to increase your chances of surviving and thriving after a motorcycle crash.
Ehline Law is dedicated to protecting the rights of motorcycle injury victims throughout the State of California. True, any injury caused by another party's negligent, reckless, or intentional conduct is appalling. But a motorcycle accident-injury may be a life-altering event for your or your close loved one. Recovering from a motorcycle collision can be long, drawn out, and painful.
The Aftermath
Motorcycle accident victims should expect surgery, physical therapy, and emotional rehabilitation. Some motorcycle riding crash victims may need permanent in-home nursing care and other lifelong medical assistance. Still, others may pass away as a result of riding injury complications. Many motorcycle injury cases are settled through labyrinthine and meticulous insurance company negotiations. But the victim's expectations often fall apart quickly after trying to handle the case solo by negotiating with crafty, sneaky insurance adjusters.
Besides, many motorcycle cases often rise to the level of legal action to the often permanent and severe nature of the injuries sustained in a road crash. If you or a family member has been afflicted with an injury or wrongful death riding a motorcycle, Ehline can help you receive consequential compensation.
You can count on our legal team to hold your hand every step of the way and fight relentlessly for your rights, inside the courtroom or on the courthouse steps. We maintain an excellent reputation as faithful advocates of the wounded and will furnish you with bold representation during your time of need. It's essential to look at the data and figure out what it can tell you about your odds of surviving a single-vehicle accident or one where other drivers are involved.
When you find out how a motorcycle accident lawyer like the ones at Ehline Law Firm can help if you're in a wreck, request a free consultation by calling (213) 596-9642.
Your Odds for Surviving a Motorcycle Crash – The Good, Bad, and Unforeseen
Our disclaimer here is that we can only deal with broad generalities when calculating the odds of surviving motorcycle crashes. Each motorcycle crash features unique factors like the manner of collision, speed, number of vehicles involved, road conditions, and safety gear the rider was wearing. These vastly influence how probable it is for the motorcyclist to suffer fatal injuries.
Given the mixture of situations, the odds of surviving some crashes could be close to 100 percent, but the odds of making it through other scenarios trend toward nothing. Here's what we know. Overall, the National Highway Traffic Safety Administration publishes yearly data on motorcycle accidents and those involving other motor vehicles in the United States.
According to the most recent data, this is what we know about survival rates for motorcycle accidents by type:
Motorcycle crashes occur about 111,000 times nationwide (per year), with 5,114 being fatal and motorcyclists being the most victims.
When you divide the fatalities by the total number of wrecks, you see that about 4.6% were fatal.
Roughly 64,000 crashes included collisions with other vehicles (light trucks, etc.), causing 2,811 fatalities. This translates into riders surviving their crashes 95% of the time.
With that, about 12,000 more crashes involved the motorcycle colliding with a fixed object. This could be from distracted driving or other reasons. The fatality rate of motorcyclists killed includes 1,159 in those wrecks, or about 10 percent. Therefore, the survival rate for fixed-object collision is roughly 90%.
Bikers also survived crashes not involving a collision roughly 96%t of the time. The vehicle miles traveled played no part in the data provided.
Overall, the good news is that your odds of surviving a generic motorcycle accident (one without information about speed, helmet use, manner of collision, etc.) are more than 90% throughout. These odds might seem reasonable, but that's no reason to celebrate.
Fatalities Compared to Other Modes of Transporation
The bad news here is that motorcycle fatalities outpace the fatalities from other accidents. In that same year, according to National Highway Traffic Safety, about 0.3 percent of passenger car crashes were fatal. Therefore, motorcycle accident deaths occurred 15 times more frequently than car accidents.
The Insurance Information Institute reviewed the data, showing the fatality rate for motorcycles based on 100 vehicle miles traveled annually was 29 times higher than for passenger cars. Where does this leave you? Overall, the odds of surviving are decent, but they're worse for motorcyclists than for other vehicular accidents.
Injury Odds on Motorcycle Accidents
Until now, we've only focused on people dying in motorcycle crashes. That's only half the story! To paint a complete picture, you must think about the odds of being hurt in a motorcycle wreck. The NHTSA says that about 77% of motorcycle accidents that don't cause fatalities still have injuries, most of which were suffered by motorcycle passengers or motorcycle riders. In other words, motorcyclists don't die or get hurt in just 23% of all accidents. In comparison, passenger vehicle occupants escape death and injury in roughly 70% of car accidents.
Overall, many motorcycle accidents occur because of distracted drivers and reckless driving. With that, you may have riders wearing inappropriate gear. Regardless, surviving a motorcycle accident might be decent, but you may still have injuries, and this is a one-in-four shot for generic accidents.
At Ehline Law, our talented team has the experience, knowledge, and skill to prove negligence and damages in motorcycle injury cases. Above all, we will work in a fabulous, calculated fashion to help you obtain the just compensation you deserve.
Motorcycle Riders Tip the Survival Odds in Their Favor
As you learned earlier, the odds reviewed only focus on generic cases. The specific factors absent or present in a given accident substantially influence how likely the biker is to be hurt, walk away, or die.
Motorcyclists can improve their odds of surviving a motorcycle accident by taking preventive measures. Such actions might not permanently save you from injury or an accident, but they reduce your overall risk of suffering a fatal trauma during a crash.
Motorcycle Helmets
Overall, the most significant step you can take to reduce your odds of dying in a motorcycle accident is to wear a motorcycle helmet that fits well and is part of the industry standard.
The information about wearing helmets demonstrates that they save lives. The CDC and traffic safety administration (NHTSA) report that wearing a helmet reduces a person's risk of dying in an accident by up to 37%, and the risk of a head injury is lowered by 69%
With that, the NHTSA estimates that helmet use saved about 1,872 lives; roughly 749 riders could have survived their accidents if they had worn a motorcycle helmet.
Universal helmet laws are in place, but the helmet laws in each state vary. Right now, 18 states require passengers and riders to wear helmets, three don't require helmet use, and 29 require helmets for specific riders (under 18).
While not required, protective gear like a helmet can reduce the risk of head injuries and medical expenses. If every injured person had worn helmets, they might be alive and have lower injury rates.
Motorcycle Safety Courses
Safe motorcycle riding takes practice and knowledge. You can't hop on a bike and figure it all out as you go without risking severe injury or death. The MSF (Motorcycle Safety Foundation) shows that motorcyclists who don't have the skill or knowledge to operate their bike are at a far greater times chance of being injured or killed than riders with veteran riding skills.
A reliable way to learn about safe riding is to take and pass a motorcycle safety course. Most states require this, at least for some people, such as California. Therefore, you must take it anyway and can get ideas about proper helmet usage, protective clothing, and how to reduce your risk of having an accident.
Those with registered motorcycles may still take a safety refresher to help them be better riders. If the responsible party's conduct was particularly egregious or unlawful (e.g., drunk driving, assault), you might also be awarded punitive damages. Such damages punish the responsible party and deter others from engaging in similar misconduct.
At Ehline Law, we know that a motorcycle injury can have lasting repercussions. Some patients may need regular medical care and rehabilitation to regain mobility, motor skills, and sensory perception. Some victims may never be able to work or enjoy everyday life again. When you become our client, we will work hard to help you receive compensation that includes all your future corrective and financial needs.
Making Good Choices
You've got choices to make about what risks you should take while on the bike. Avoiding certain behaviors can improve your chances of surviving fatal motorcycle accidents.
For example:
Speeding contributes to many fatal motorcycle crashes each year. If you go over the speed limit, you have less reaction time and can't maneuver the bike as easily. There is also the risk of having long stopping distances or a higher force during a collision, which heightens the risk of death.
Drug and alcohol use also play a role in multiple fatal crashes. If you drive under the influence of any substance, you risk getting catastrophic injuries.
If you don't maintain your motorcycle, it could affect the safety and performance of your bike. Therefore, you must focus on brake servicing, oil changes, and routine upkeep to reduce your risk of fatal crashes based on vehicle miles traveled.
Distracted drivers text or watch other people in vehicles around them. While you know your surroundings, you should focus primarily on the road ahead.
It's also wise to stay home and not ride in bad weather conditions. For example, an icy or slick road could cause your bike to go out of control.
How an Attorney Helps Motorcycle Accident Victims
Even responsible, skillful, and knowledgeable riders can't eliminate the risk of motorcyclist injuries. That's because most motorcycle accidents happen when you do nothing wrong. Someone else was negligent and performed unsafe behaviors. In those cases, you require a lawyer who understands the issues faced with motorcycle accidents.
Ehline Law Firm can help victims receive fair and total compensation for their losses and injuries. Please call (213) 596-9642 for a free consultation.
Finding the Parties At-Fault
People go to personal injury attorneys to hold the at-fault parties accountable for their actions. The lawyer must investigate all details of the motorcycle accident to determine who caused it and the nature of the suffering.
We often find fault for crashes lies with:
Public or private road owners may not build or maintain roads safe for motorcycles. Sometimes, they don't warn motorcyclists of unsafe conditions, such as loose gravel or grooved pavement.
Automotive and motorcycle manufacturers – Sometimes, these entities produce defective components and parts that fail at the wrong moment, causing the accident.
Car and truck drivers – While sharing the road with a motorcyclist, these drivers may make poor decisions. They don't know how to watch for motorcycles, putting the motorcyclist at risk by making dangerous maneuvers, lane changes, or untimely turns.
Pursuing Financial Compensation
If you've suffered a severe injury that you didn't cause, you have a right to pursue financial compensation.
Ehline Law firm can help you get restitution after a severe motorcycle accident, including payment for:
Medical expenses
Lost income
Non-economic damages
Pain and suffering
Other expenses.
We wish that motorcycle crashes never happened, but the odds say something different. As a motorcycle rider, you are prone to suffer severe motorcycle injuries or death because of someone's negligence. If you or a loved one has been injured in a motorcycle catastrophe, you may be fearful and not know who to seek out for help.
When you consult Ehline Law, we will provide you with education, benevolence, and continuous service. We have a proven reputation for achieving lucrative outcomes in motorcycle crash cases. We won millions of dollars for clients in record-breaking settlements and jury awards.
Our energetic, competent personal injury lawyers will administer a wide-ranging investigation to determine the cause of the collision resulting in the calamity. Next, we work to hold the liable party accountable for the incident.
We may advance costs to engage medical experts to testify to the mortifying effects of road injuries and how they were caused beyond a reasonable degree of scientific certainty. We may rely on these experts later to explain your pain and suffering and inability to perform your old employment activities.
Call a Motorcycle Lawyer if You Didn't Beat the Odds
We sincerely comprehend the tests ahead and will fight hard to help you obtain the total and fair compensation you deserve. If someone died due to a crash, we would work intimately with you to determine whether to pursue a wrongful death claim or file a survival action. t Ehline Law, we will fight for your rights and handle everything on a contingency basis. This means that you will never pay attorneys' fees to our law firm unless you receive compensation. Please get in touch with our team today for a free evaluation of your case.
Suppose your chances of surviving and thriving after a crash have been reduced, and you were unlucky enough to be part of the statistics on auto accidents. In that case, you have the legal right to obtain financial compensation. The best way to do so is by calling us at (213) 596-9642 or using our website contact form for a free consultation.