If we don't win, you don't pay.
Speak to the Attorney.
Born to serve.
633 W 5th Street #2890
Los Angeles, CA 90071
(213) 596-9642.
2323 S. Voss Rd, Suite 244
Houston, TX 77057
(832) 592-1260.
Date Modified: June 17, 2023
This is the Ultimate Guide to Compensation with help from the Best Calaveras County Personal Injuries attorney.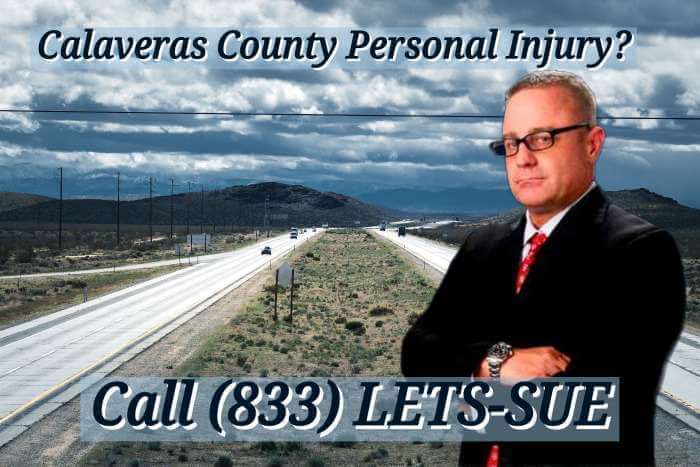 Calaveras County Personal Injury?
Did you suffer a serious injury or lose a loved one to wrongful death in the bustling transportation network of Calaveras County along one of its many state routes to or from Sacramento?
Are you facing a divorce or bankruptcy after having your finances gutted from lost wages after being confined to a bed or losing a loved one after an accident? Maybe you had to hire a criminal defense attorney after you lost your temper from all the stress and couldn't pay your bills and stay out of jail.
Are you seeking a straightforward consultation with a Central Valley personal injury lawyer to review your case's facts in a confidential setting? A sudden personal injury can significantly disadvantage you in dealing with your health and finances. And it's not just mass transit injuries in the City of Sutter Creek people face here.
Agricultural injuries from being run over by a tractor or getting your arm or leg sucked into a combine harvester are just a few work and employment-related injury claims victims face in Calaveras County, CA. Some injuries can be so severe that no money can compensate for the pain, suffering, and emotional distress you would have experienced. No one would consent to this type of trial or tribulation.
Professional Help Will Create Comfort
Despite being injured, life still has to go on, and you will need to find a way to get by. Hiring the right professional person to help you with advice and legal representation is more important than ever. After you've consulted with us, you will see the value and comfort of having a good personal injury lawyer. Once you accept us, we will provide honest, excellent service designed to compensate you with enough accuracy to cover all your losses after a Calaveras County accident.
Suppose you suffered the loss of a husband, wife, or child in a car accident or other mishap near Stockton, Angels Camp, Pine Grove, or some other nearby city in Calaveras County, CA. In that case, we can help you get back on your feet and assist you in pursuing economic recovery from those responsible. It could be a business, or it could be a DUI driver.
Service, Dedication, and Commitment
Either way, once you sign with us, we serve your interests with the goal of obtaining clients the financial compensation they and their grieving families deserve when accidents happen. We will seek insurance settlement money to cover your medical bills, property damage, lost wages, as well as other services.
Why Else Do Clients Choose Ehline Law?
At Ehline Law Firm, our helpful injury lawyers make it our duty to fight for the rights of all personal injury victims in Calaveras County, CA. Our reputation of winning big personal injury lawsuits in Northern California cities has put us head and shoulders above other law firms across the entire state. We win big, get you paid, or receive no attorney's fee for our legal services.
We have received the following:
Multiple Super Lawyers Rising Star Awards
Cruise Ship Attorney of the Year Award
Personal Injury Warrior of the Year Award
Martindale Hubbel Peer Rated Award and more.
Other Successes Include:
Over $150 Million was Recovered in total for Thousands of Injured Clients
The Highest AVVO Personal Injury Lawyer Rating Available.
If you or your loved one has been the victim of a personal injury or wrongful death, visit our law office in Northern California for a free consultation. Michael Ehline and his stellar team of million-dollar advocates are here to assist with legal issues concerning personal injury claims and related practice areas. Call us at (833) LETS-SUE and learn about the next steps, or continue reading more for a better understanding.
What Does a Personal Injury Lawyer Do?
A personal injury attorney is your straightforward route to getting the compensation you deserve after being hurt due to the action or negligence of someone else. Typically, our personable lawyers will build the value of an auto accident or slip-and-fall claim beyond what an unrepresented party can achieve without forming an attorney-client relationship.
Regardless of where the incident happened or how minor or severe the injuries are, a personal injury lawyer can help with any of the following:
Offers Legal Advice and Answers to Questions
Even though you are well within your rights to try and handle a personal injury claim on your own, there are a lot of future legal issues and details that you may not be familiar with in our experience. Handling your case with a condescending insurance adjuster will significantly disadvantage you.
Deplorable Insurance Companies
You need the documents and other evidence to win when going up against large insurance companies and the defense lawyers they've hired. Experienced personal injury attorneys, such as the team at Ehline Law Firm, will be able to help you navigate the intricacies of Calaveras County law.
There is no way you can quickly learn what our State Bar Licensed attorney took over twenty years to become knowledgeable. Many cases are lost daily when an unrepresented party tries to negotiate with a deplorable insurance company in California.
Does Research for the Personal Injury Claim
Much of the work done by personal injury lawyers is behind the scenes and takes place long before the actual court date. Our law offices hire some of the best, most eligible private investigators in Calaveras County, CA, who are dedicated to providing you with the necessary tools and information to win a personal injury case.
Represent You in Court
When the lawsuit finally has its day in court, chances are that the responsible party and their insurer will fight tooth and nail to get out of compensating you for your medical bills and lost wages.
You will need an excellent personal injury attorney to fight for you at times like these. You'll be treated respectfully. The Calaveras County lawyer population doesn't come with any better quality than the Super Lawyers of Ehline Law Firm. Request a free consultation and find out why today at (833) LETS-SUE.
Fights for Your Rights to Fair Compensation
The legal help you get from personal injury attorneys goes beyond simply winning the case. They also need to ensure you receive the best compensation for your injuries and time wasted in the hospital. The amount of damages you may be entitled to should be thoroughly discussed during the initial consultation so that you are well-informed about what you are fighting for. As you browse our site, you will begin to see the Ehline difference and trust what we are saying is true. When you meet with us, you will know why past clients are impressed with our consumer attorneys.
Six Common Personal Injury Cases
Over the years, we have dealt with many personal injury cases.
We have seen a pattern emerge of some of the most common causes of injuries and lawsuits in Calaveras County, such as:
Car Accident Claims
Personal injury attorneys are regularly called upon to represent car accident victims in compensation claims. There has been a significant rise in auto accidents in our backyard and other parts of California, such as San Joaquin County, Sacramento County, Valley Springs, Amador County, Angels Camp, Folsom, Roseville, and San Andreas.
As the authority in personal injury cases regarding auto accidents throughout California, we invite you for a free consultation at our law office to discuss all your options. Other lawyers also refer us, patients when they want to file a winning point. We will even come to your house for a risk-free consultation on our dime!
Trips, Slips, and Fall Accidents
It usually surprises most people that slip and fall accidents are among the leading causes of personal injury lawsuits in Calaveras County.
Although it usually results in relatively minor injuries, falling can be fatal when it happens to elderly victims.
Victims who are injured at work are also entitled to receive a settlement. In such circumstances, particular emphasis is usually placed on the time lost from work and the financial impact of paying medical bills, especially if the victims were the leading providers of the family.
Some of the most significant settlements won in California by personal injury attorneys are for wrongful death cases.
If you have lost a loved one due to the actions of others, then you should approach our wrongful death attorneys for a free consultation as quickly as possible. The time frame for submitting a claim is very limited in these cases.
Sometimes victims may be injured after purchasing a defective product. Although it is far from the leading cause of personal injury lawsuits in Calaveras County, it happens occasionally, and our experienced personal injury attorneys can help.
Assault covers many circumstances and can be so severe that the victim will require hospitalization or as minor as being spat on or pushed.
Regardless of what causes it, the law takes assault very seriously, and with the right personal injury attorneys, you can walk away with substantial damages.
Types of Injuries We Have Come Across
As personal injury lawyers who have served Calaveras County for quite some time now.
We have routinely handled cases that feature the following types of injuries:
Internal injuries, including bleeding and rapture of vital organs
Whiplash injuries to the neck, shoulders, and back
Head injuries, including traumatic brain injury
Partial or complete paralysis
Minor cuts and bruises
Facial disfigurement
Deep Lacerations
Broken bones
Road rash.
A Closer Look at the Three Important Types of Personal Injuries That Can Be Compensated
Not all injuries are the same or require the same amount of compensation. When deciding how much to award a victim, a judge will look at the severity of the injury and determine what constitutes fair compensation.
The following are some of the most common types of injuries in Calaveras County:
Head injuries are among the most dangerous types of personal damage that you can suffer. If left untreated, they can quickly develop into more severe injuries, such as traumatic brain injury, which has the potential to be very devastating to the victim and their family.
Personal injury attorneys can win huge damages in spinal cord injuries due to their life-threatening nature and how they usually affect the victim for the rest of their lives.
If you feel that your spinal cord injuries are affecting your ability to make a living, schedule a free consultation with our lawyers to discuss what kind of compensation you may be entitled to.
At times victims can walk away from, for example, a car accident, without noticing that they have been injured, such as in internal organs injuries.
Even though this complicates the legal issues, experienced personal injury attorneys can still win damages for their clients.
What You Need To Know About Calaveras County Personal Injury Claims
The time frame for submitting personal injury lawsuits in Calaveras County is two years from the date of the incident.
Failing to submit your claim within this time frame will result in you forfeiting the entire lawsuit. You must contact personal injury attorneys as soon as possible to schedule a free consultation.
Most accident victims are unaware of how much compensation they are entitled to. They risk receiving a much lower settlement than they would have been given if they had approached the right personal injury attorneys.
In Calaveras County and all other places in Northern California, victims can receive damages for:
Lost wages
Medical bills
Property damage
Rehabilitation
Lost employment
Pain and suffering
Permanent disability or paralysis.
Your initial free consultation will provide further clarity regarding your particular case.
Ehline Law Is One of the Best in Calaveras County, CA
In Calaveras County, the law can be very much on your side as a personal injury victim. But the only way to take advantage of it is by choosing the right, professional local city attorney to fight for you.
At Ehline Law, we pride ourselves on being one of the go-to teams concerning personal injury law and related practice areas. In addition, we have plenty of detailed legal articles on our website to assist all prospective clients with large and small cases.
The following are some of the reasons why we are considered the best personal injury attorneys in Calaveras County:
Free Consultation
Most law firms do not offer a free consultation to their clients, but at Ehline Law, we do things differently. We understand that legal issues that are the bread and butter for personal injury lawyers may confuse our clients. We recommend a free consultation to discuss all the problems without worrying about lawyers' fees. Once you retain our legal services, we will ensure the defendants are held liable for your un-bargained medical condition.
The Reputation of Being Million Dollar Advocates
Winning enormous settlements for our clients regularly has earned us the reputation of being top-tier million-dollar advocates. If you have suffered an injury and want the best chance to win maximum compensation, visit the law offices of Ehline Law.
Awesome Attorney-Client Relationship
When you contact our personal injury lawyers, you can rest assured that everything we discuss will remain confidential because our attorney-client relationship is something we take very seriously. Getting top results is our forte. So are you ready to get started?
Schedule a Free Consultation With an Award-Winning Personal Injury Lawyer in Calaveras County Today!
You found the right attorney if you made it this far. If you are unwilling to settle for anything but the best legal representation in Calaveras County, California, take the next step. Give the friendly staff at Ehline Law a call and schedule a free consultation to get the care you deserve provided by happy, caring lawyers at Ehline Law.
Michael Ehline and his team of personal injury attorneys are waiting to provide you with all the assistance you need to win the case. Give our highly professional multi-million dollar, award-winning attorneys a call at (833) LETS-SUE or email us using our convenient online contact form before your case gets stale and becomes worthless.
Michael Ehline is an inactive U.S. Marine and world-famous legal historian. Michael helped draft the Cruise Ship Safety Act and has won some of U.S. history's largest motorcycle accident settlements. Together with his legal team, Michael and the Ehline Law Firm collect damages on behalf of clients.
We pride ourselves on being available to answer your most pressing and difficult questions 24/7. We are proud sponsors of the Paul Ehline Memorial Motorcycle Ride and a Service Disabled Veteran Operated Business. (SDVOB.) We are ready to fight.