If we don't win, you don't pay.
Speak to the Attorney.
Born to serve.
633 W 5th Street #2890
Los Angeles, CA 90071
(213) 596-9642.
Date Modified: June 9, 2023
Did you get injured in a catastrophic accident or lose a loved one to wrongful death in Sa Joaquin County, California, due to another person's negligent or intentional act?
Suffer Injuries in San Joaquin County, CA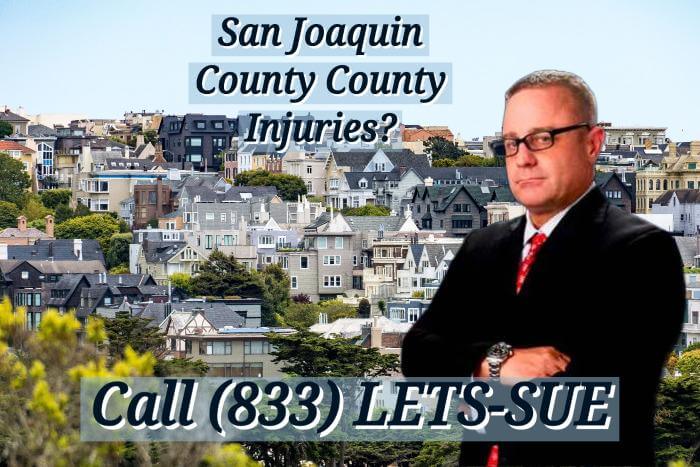 If you suffered injuries like this, you would likely be out of work, on your back in ill health, and may even be facing bankruptcy or divorce with many unresolved questions. The answer is a top-notch California injury lawyer. We can swiftly protect your rights to compensation from the at-fault parties in all NorCal cities and explain the legal process with expertise.
Our professional team has the knowledge to win and has been dedicated to helping accident victims since 2005. We understand the problem and the losses you face. Clients trust our dedication; we have won them over $150 Million in verdicts and settlements as recovery for the harm suffered.
Dealing with injuries caused by another person's recklessness or carelessness is almost as frustrating as the costs you incur:
If this is a serious injury, you will have many expensive medical bills to pay for your treatment.
Unable to go to work also means you will lose wages and employment and have great debt stress.
As the breadwinner, your family members will be left with no life or financial support while you recover.
Our personal injury lawyers help such injury victims to hold the party at fault accountable for their actions and get appropriate compensation. (hit by a DU driver, etc.) If you are in such a situation, contact an experienced personal injury attorney from Ehline Law. We will come to your aid and review your documents anywhere in San Joaquin County, CA.
Our hard work and fight to defend and protect your rights will be available 24/7. Schedule a free consultation with us and speak to a personal injury lawyer about your case for legal representation in the county seat and beyond the San Joaquin River.
Please get what you are entitled to by speaking with one of our passionate, responsive lawyers by calling (833) LETS-SUE to learn more.
How Can The Best Personal Injury Lawyers in San Joaquin County, California, Help You?
Our legal team has some of the best personal injury lawyers in San Joaquin County, California, and 14 other locations in California. Our best personal injury lawyer will dedicate our efforts and resources to helping personal injury victims. Ehline Law promises to treat everyone with courtesy, compassion, and respect. All you should do is reach out to an award-winning California lawyer via our 24-hour free consultation line to speak to an attorney in San Joaquin County, CA.
Get Compensation for Your Personal Injury in San Joaquin County, CA
Accident victims often wish they could have avoided the serious injuries and emotional distress from accidents they are involved in. Unfortunately, it is impossible to determine when another person, business, or institution will be negligent. This is why our personal injury attorneys are always ready to help clients.
Our team brings together professionals from different domains, such as researchers and insurance experts, to collaborate with our personal injury lawyers in San Joaquin, CA. Efficient legal machinery helps you get a fair settlement after an accident. Contact our tier-one Northern California personal injury attorneys today at Ehline Law for more answers. You can also message us using our convenient online website contact form.
You can receive a free consultation regarding the kind of compensation an at-fault party owes you for your injuries, including:
Current and future medical expenses (doctors, surgeons, chiropractors, etc.)
Wages you lose while you recover and those in the future if your personal injury causes a disability in Northern California
Vehicle or property damage repair
Pain and suffering.
Will the Case Require a California Trial?
Though several claims reach an out-of-court settlement, our law firm is always ready for the situation where we go to trial. An insurance company that tries to minimize a settlement indirectly denies you your claims.
It takes an aggressive personal injury attorney to show them that you won't back down:
We have a reputation for taking on such companies and getting our clients the appropriate compensation.
Since 2005 we have retrieved over $150,000,000 for victims who have suffered catastrophic injuries. These are citizens of San Joaquin County, Fresno County, San Jose, San Francisco, Pacific Avenue, Stockton, CA, and other parts of Northern California.
Contact us and get a free evaluation from an attorney about your rights under the personal injury law.
Types of Personal Injury Cases Our Law Firm Handles
Ehline Law deals with all types of personal injury cases. When a person has sustained injuries due to the negligence of another, we believe that the one responsible for the injury should bear the costs that come with it. The event that causes the injury doesn't really matter. It could be a car accident or medical malpractice; as long as we establish that you got hurt by the actions or inactions of the other party, you are entitled to benefits by law. Get in touch as soon as possible for a free consultation. San Joaquin County categorizes personal injury as follows:
Your employee is supposed to ensure that you have the safest conditions at the workplace. If you get injured due to their negligence, you deserve benefits from their compensation policies. Many people don't know they are entitled to additional compensation when they get hurt through the recklessness or carelessness of another person who qualifies as a third party. Get a personal injury attorney for such situations to ensure you get the maximum settlement. Reach out to our firm for a free consultation in San Joaquin County, CA. We take great pride in helping you people with their legal issues.
San Joaquin County, CA, has one of the highest fatalities and injuries from car accidents in Northern California's central valley. In 2016, serious accidents in the county led to the death or injury of 6,074 people, especially in Stockton. To put this in perspective, San Fransisco County has a higher population but about a thousand accidents than San Joaquin County, CA. The numbers also show that insurance adjusters in this area have a lot of experience and know how to handle accident cases to minimize settlements on behalf of their companies.
That is why you need the best lawyers in your corner if you are involved in a crash. Our firm has some of the county's best Stockton personal injury attorneys to help accident victims in the biggest city in San Joaquin County, CA.
Ehline Law's personal injury attorney can get you the necessary compensation if you are hurt in a motor vehicle collision. This will help you pay for medical treatment, repair or replace your damaged car, and recover lost wages. Reach out to Ehline Law for a free consultation with a personal injury lawyer. We help you to know the best course of action when you are involved in car accidents in San Joaquin County, CA.
A personal injury lawyer is not only for cases that involve injuries. Sometimes negligence and recklessness can lead to the death of a loved one.
The surviving family members of these victims have to deal with the loss on several levels.
Apart from the emotional hurt, there is also the loss of income and funeral expenses.
At Ehline Law, we can get you a premium personal injury lawyer if you lose someone and want to make a wrongful death claim. Call us for a free consultation in San Joaquin County, CA.
California's laws require property owners to repair damages or notify guests of the hazard if they haven't done that yet. You can hold the owner or occupant liable if suffering a personal injury on such a property. Contact us for a free consultation with a personal injury lawyer to help you make your case in San Joaquin County, CA.
Nursing Home Abuse and Neglect
Ehline Law holds courtesy, respect, and compassion in high esteem. Service is one of our core values as a firm that helps people get what they deserve in personal injury cases. It is the reason why we take on nursing homes that don't treat the elderly placed in their care with respect and dignity. Contact us if you need a personal injury attorney to represent your family in such a case in San Joaquin County, CA. You don't have to worry about charges under our free consultation.
Hiring a Personal Injury Attorney in San Joaquin County, CA
Skilled representation from a premium personal injury lawyer goes a long way to help your case in a United States district court. Most personal injury cases don't get to the trial stage, but you should consider that when hiring a lawyer. A personal injury attorney makes a significant difference to the outcome of your case. Insurers also take you more seriously if you hire a personal injury lawyer. We offer a free consultation for clients in San Joaquin County, CA. A personal injury attorney from our firm is always available to listen to your issues.
The background of your personal injury attorney is critical to your case. Attorneys have different specialties in law. Even among personal injury attorneys, there are experts in medical malpractice, family law, etc. Check out the area of expertise of your personal injury attorney and confirm if they are the right for your case. Ehline Law offers a free consultation for any potential client to not only seek answers to legal questions but also allow them to assess the experience of our personal injury attorney. We have the best San Joaquin County, CA attorneys in different practice areas.
Apart from the experience of your personal injury attorney, look at their case records. The verdict information is available in any United States district court or on the website of some firms. Every personal injury attorney in our firm has an exceptional record with cases in San Joaquin County, CA, and other parts of Northern California. Our free consultation business policy means you can call us to speak to a personal injury lawyer at no cost.
San Joaquin County, CA, has several personal injury cases that require legal representation. Our firm has realized that most people shy away from contacting a personal injury attorney when the situation calls for it. This is because of the fear that they have to pay something first. An initial consultation with our firm's premium personal injury lawyer is free. The free consultation is to help personal injury victims in San Joaquin County, CA, get the best counsel available. Contact us as early as possible to talk to a personal injury attorney.
Our free consultation policy means you will receive adequate attention from a personal injury lawyer when you call Ehline Law. Fees and charges differ based on the claims. Our attorneys rarely take upfront payment for personal injury issues. A contingency fee is a better option for the injured victim. All these discussions take place during the free consultation. Come to us immediately with any personal injury case in San Joaquin County, CA.
Search the San Joaquin County, CA Directory
Information about every personal injury attorney is in a United States district court database. Check out the attorneys in San Joaquin County, CA, to know which ones are the right fit and advantage for your case.
Why Ehline Law in California Should Handle Your Personal Injury Case
Our law firm has been handling personal injury cases and related practice areas for years in California. The firm's Northern California lawyers pay personal attention to each patient to ensure clients seeking help receive maximum compensation for their CA personal injury.
Call our swift, decisive lawyers after any accident in the following places:
San Joaquin County, CA
Stockton, CA
Sacramento
Many other areas in California.
During the free consultation with Ehline Law, a premium personal injury lawyer will guide you through your legal rights.
Call a Personal injury Lawyer For a San Joaquin, California Free Consultation Today
The free consultation exists to help you seek representation and obtain the best legal services as early as possible. You will get to discuss your concerns with a personal injury in San Joaquin County, CA. Northern California lawyers at Ehline Law Lawyers can offer insight and help you sue for personal injuries.
The superb lawyers at our office consult over car accidents, dog bites, medical malpractice, or any negligent behavior in San Joaquin County, CA. Call (833) LETS-SUE to speak to a personal injury attorney located in California and get the justice you deserve.
Michael Ehline is an inactive U.S. Marine and world-famous legal historian. Michael helped draft the Cruise Ship Safety Act and has won some of U.S. history's largest motorcycle accident settlements. Together with his legal team, Michael and the Ehline Law Firm collect damages on behalf of clients.
We pride ourselves on being available to answer your most pressing and difficult questions 24/7. We are proud sponsors of the Paul Ehline Memorial Motorcycle Ride and a Service Disabled Veteran Operated Business. (SDVOB.) We are ready to fight.