If we don't win, you don't pay.
Speak to the Attorney.
Born to serve.
633 W 5th Street #2890
Los Angeles, CA 90071
(213) 596-9642.
Date Modified: June 7, 2023
Sierra County derives its name from its location. This beautiful Northern California County is situated in Northern California near the Nevada border and inside the Sierra Nevada. It is the second-least populous county in California, with over 3,000 residents. However, Sierra County's sparse population does not imply there is nothing to see.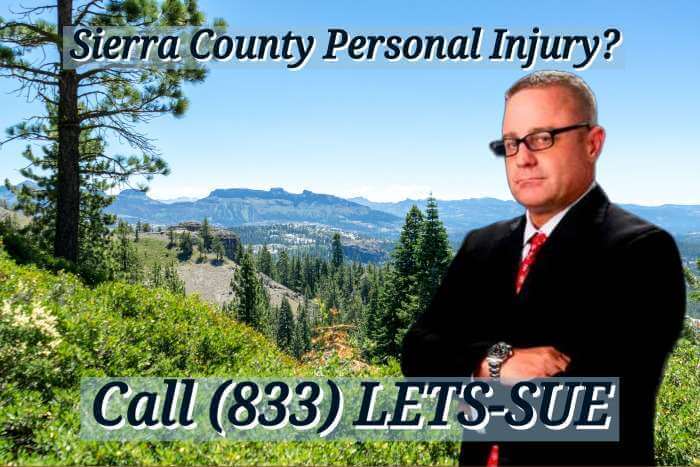 Sierra County, California Personal Injury?
Suppose you have an elder law issue or lose a close loved one in a motorcycle run-over by a delivery vehicle accident in Sierra County. In that case, you should consider contacting an experienced attorney who can effectively lead you through even the most complicated situations for victims.
Financial Fraudsters Attacking Our Most Vulnerable Loved Ones
The Ehline Law Firm assists in defending our senior citizens against various different types of elder abuse.
These ailments may consist of:
Neglect
Physical abuse
Sexual abuse
Verbal abuse.
Forms of Financial Abuse
However, financial abuse is one of the most common types of elder abuse that our compassionate, charismatic attorneys have helped prevent.
Numerous forms of financial abuse include:
Mail fraud
Telemarketing scams
Being sold bogus items
A caretaker receiving unauthorized access to funds
A caretaker receiving funds through influence or fraudulent means
The use of fraudulent legal documents
Being charged excessive money for a product or service
Offering false prizes.
Additionally, it is not unusual for elderly people still living at home to be subjected to unlawful, fraudulent house repairs that they are pressured to pay for. Our attorneys hate these lowlifes, and we will go after them with extreme prejudice on behalf of you or your close loved one injured by their skulduggery.
Insurance Company Claims
Insurance companies are not on your side; let's face it. They make more money when they give you less money. If an adjuster betrays your trust, if they "lowball" a settlement offer to you, if they rub salt in your wounds, they don't get reprimanded.
Their defense lawyer or team of insurance defense attorneys could care less about you. Don't forget that our lawyers have the legal skill and understanding to hold these deplorable companies and defense lawyers accountable.
Should You Let Them Pay You Out?
No matter what the advertisements claim or how friendly the insurance adjuster on the phone may sound, they are responsible for underpaying you, no matter the facts or the city involved. That's how their lawyers earn their legal fees from the owner or chairman of the insurance business they represent.
The Ehline Law Firm offices treat its customers like family rather than claim numbers because we are on their side. We are skilled and competent in advocating on behalf of clients injured in auto accidents, assisting them in securing full and just compensation for their injuries.
If you'd like to discuss your case with an attorney, call us now for a free consultation. No matter what city you suffered in, our services extend across the entire State of California.
Our legal services to clients and legal fees are based on a contingency fee contract, no win, no fee to us. Why not call us today? The call is also cost-free; our injury lawyers are available 24/7 to protect your rights.
Sierra County Personal Injury Lawyer
Being in a car accident is terrifying. People often leave the scene hurt, without safe transportation, unable to get medical treatment from a proper doctor, and in financial danger if they do go to the doctor's office for a diagnosis and prognosis.
Additionally, dealing with insurance companies and their adjusters can be confusing and difficult. Here is where we step in to talk you through the complex, often scary process. We recognize the difficulties you're facing and the questions you may have: "What is my claim worth?" "How long will it take to get a fair settlement?" Connect with us, and learn more about the consequences and protecting your rights from our superior, attentive team of experts today. You can also fill out our online website contact us form.
Ehline Law Firm
Call us, and we'll provide you with clear, straightforward answers regarding medical expenses, insurance coverage, and property damage, as well as help you with any needed paperwork.
We're here to help, whether you need help getting money for medical bills and auto repairs or someone to step in and deal with the insurance company that is delaying you. Please get in touch with us at 213-596-9642 for a free consultation.
Is Hiring a Sierra County Personal Injury Attorney Necessary?
In a car accident, the incident itself is only the start of your problems. Handling an insurance claim independently can be challenging, especially if the accident's cause is in dispute.
Furthermore, insurance providers might attempt to settle your personal injury claim for less money than it is actually worth.
After an accident, having a Sierra County personal injury attorney on your side gives you someone knowledgeable about the laws of your state and the sleights that insurance companies could use against you.
How Much Do We Charge?
You only pay Ehline Law Firm if and when we win your case since we work on a contingency fee basis. Our fee would be a percentage of the settlement or verdict amount we win. You have nothing to lose by speaking with a personal injury lawyer today to get your questions answered because we provide a free consultation with no strings attached.
Hire a Personal Injury Attorney for Legal Malpractice | Free Consultation
Knowing the relevant standard of care in depth is necessary to decide if you have a case for legal malpractice against the lawyer who blew your chance or for fraud against their doctor or physician for overcharging you for services you never received.
What Should You Do?
The first step in assessing a claim against a medical provider or doctor for negligence is speaking with a qualified Sierra County personal injury lawyer who will go the distance to win and ensure your rights are protected.
Our knowledgeable legal team at Ehline Law Firm can put you in touch with medical professionals and other individuals who can assess your claim. We invite you to contact us now for a free consultation. After we form an attorney-client relationship, we will handle all matters and meet all filing deadlines. Our legal team will take all necessary steps and provide prompt legal advice during these tenuous times.
Wrongful Death in California | Free Consultation
Family members experience tremendous emotional stress and a lot of unforeseen financial hardships when a loved one dies due to wrongful death. You deserve justice if your loved one's death might have —and ought to have— been avoided.
Our lawyers can assist you in seeking a just financial recovery to help with the unexpected costs of your loss by helping you file a wrongful death claim.
What Else Can Ehline Law Firm Offer?
We know that nothing will ever be able to compensate you for the suffering you have experienced fully. Still, a successful lawsuit may give you the resources to manage certain expenses and hardships, such as funeral costs and lost income, and give you the sense of justice you sorely need.
Our firm can offer each of our clients attentive, individualized service and continuous availability because we are selective about the cases we accept. Every day of the week, at any moment, we are available to help. Contact our firm for a free consultation.
Statute of Limitations for a California Personal Injury Case
Simply speaking, the statute of limitations is the period you have following an injury; it is a window of opportunity that you have to file a lawsuit. California's law of rules for general personal injury and negligence claims is two years.
What Are the Exceptions?
Furthermore, the SOL does not apply until the damage or illness has been discovered or would have reasonably been discovered. As for wrongful death cases, there is a one-year SOL; however, instances involving asbestos or medical malpractice are exempt from this rule. It is three years for medical malpractice.
How Do I Know I Have Grounds to Claim a Personal Injury Case?
After an accident in Sierra County, you might be uncertain about your legal options and who is liable for any damage you or a loved one may have suffered.
Generally, strict liability, intentional wrongdoing, or negligence must have been the cause of the incident for it to fall under Los Angeles personal injury law.
In these situations, the defendant (the person in charge of your injuries) must have done something, or not have done something, that contributed to your injuries.
In the case of an assault, the actions may have been intentional; in most motor vehicle accidents, they may have been unintentional.
What Types of Claims May Qualify for Personal Injury Law?
A wide variety of accidents and injuries connected to or resulting from negligent or intentional behavior or strict liability are covered under the personal injury law in Sierra County. Most of these legal issues are based on auto accidents, which are also generally protected under personal injury law. Additional practice areas could include hazardous exposure, poisoning, dog attacks, slip-and-fall accidents, defective products, and medical negligence.
Who Can Be Held Responsible for Such Legal Issues in Sierra County?
Depending on the circumstances, whoever caused your injury may be held accountable. This might be the other driver in a car accident and even a government agency like CalTrans.
A doctor might have made a mistake or acted irresponsibly when providing medical care in a case alleging medical malpractice. A product manufacturer may be held accountable if a defective drug or product caused you harm.
Who Can Help?
An experienced and licensed personal injury lawyer will investigate your specific case and the circumstances surrounding your physical injuries to determine who you may be able to file a lawsuit against in Sierra County.
Reach Out to an Experienced Personal Injury Lawyer in Sierra County Today!
Essentially, not all injuries require the services of an attorney. It is crucial to speak with a legal adviser to determine whether hiring a personal injury attorney is the best course of action in your particular situation.
Suppose you have sustained long-term or permanently disabling injuries preventing you from working for an extended or indefinite period. In that case, you might consider contacting an attorney in personal injury law.
Also, you should hire injury attorneys at our law offices if you have suffered severe injuries accompanied by high medical bills or a prolonged healing time.
Multiple Parties
There may also be cases where there are multiple parties to the occurrence or where it is unclear who is to blame. There may be various conflicts or controversies regarding who is responsible for a personal injury. A top-rated lawyer can represent you and work towards a fair resolution for your legal issues.
Go Through the Insurance Provider
You might have to go through the insurance company to get compensation for damages if you were in a car accident or suffered property damage, as well as the injured parties.
However, the insurance provider can decline to pay, or you might accept a lowball offer. You should immediately retain a personal injury lawyer if the insurance company refuses to make a reasonable settlement offer, so our injury law firm can take them to court if you so choose.
Contact A Superior Personal Injury Attorney in Sierra County and Receive a Free Consultation
As mentioned before, the statute of limitations for personal injury claims in California is two years from the accident's date, depending on the type of case and the defendant. Taking immediate action and making informed decisions is essential if you have suffered a personal injury.
Contact an Ehline Law Firm injury-accident attorney today for a free consultation with a personal injury lawyer or other related practice areas. Dial (833) LETS-SUE. We can deal with your overwhelming situation contingently and answer all your questions during your free consultation. Put our proven results to work for you.
Michael Ehline is an inactive U.S. Marine and world-famous legal historian. Michael helped draft the Cruise Ship Safety Act and has won some of U.S. history's largest motorcycle accident settlements. Together with his legal team, Michael and the Ehline Law Firm collect damages on behalf of clients.
We pride ourselves on being available to answer your most pressing and difficult questions 24/7. We are proud sponsors of the Paul Ehline Memorial Motorcycle Ride and a Service Disabled Veteran Operated Business. (SDVOB.) We are ready to fight.