Our team of Dana Point, CA personal lawyers has over 15 years of experience. Our legal advice is sound and you can trust us to have your best interests at heart. While our compassionate style is attentive to you, we are aggressive on your behalf when your legal rights are up for question.
We even investigate negligence in the form of medical malpractice throughout our comprehensive process. Let us stand with you in Dana Point. There is no other personal injury lawyer that can mirror our approach to handling back injury settlements.
Litigation can be a scary thing, but we have gone to trial so many times, we have become adept and professional.
Injury Victims Deserve Compensation Following an Auto Accident, Pedestrian Accidents, or Other Incident
So, if you or any of your family members were on the unfortunate end of a spinal injury caused by someone else, reach out to a qualified and assertive personal injury lawyer in Dana Point, today!
Is There a Free Consultation for Dana Point Spine Injury Victims?
Our policy on fees is very simple and states "no win, no fee." It gives clients a sense of financial security when they use our services. Additionally, we are willing to risk our funds to ensure that we can do a thorough investigation to build a solid case against the negligent party.
You are likely to receive a much better settlement than you would have if you went the route of hiring an insurance company for the task.
Our stipulated charge is contingent on your win.
Which Causes of Spinal Cord Injury Can You Receive Compensation for?
Cause and effect sit at the center of the answer to this question. The idea of compensation implies that you are owed something and the court makes a ruling ensuring that you receive it in the future.
If your spinal injury was the direct result of another party, then it almost does not matter how the said party caused it. People may think of a bus, truck, car, or even a motorcycle accident as "probable" causes for spinal cord injury. While they are not wrong, if someone on a bicycle were to cause you spinal trauma, the price would be just as steep. This is, of course, assuming that you were not in the wrong.
Anyone unsure about the legitimacy of a case should reach out to one of our personal injury lawyers on the matter. The inclusion of a free case review means that there is nothing for you to lose.
Getting each claim honored is a part of our practice, but the injured victim must call us for a free consultation with a personal injury attorney so we can at least collect the relevant details and let you know what your situation is.
How Does a Personal Injury Law Firm Evaluate a Potential Claim?
Information is where this all comes together. All our clients need to worry about is facilitating our process to gather the relevant data. While evidence of physical trauma can be useful, it is not required to have a claim honored. So, if you feel the injury more than you see it, that should not pose a problem so long as we have the necessary insights.
We review all applicable policies to ascertain how available coverage or any other such benefits may fit into the picture. Additionally, we request and review police and other reports, witness examinations, and any other documentation that a Dana Point injury attorney could use.
What Is the Ehline Law Approach to Spinal Cord Injury Cases in Dana Point, California Courts
We firmly believe that an aggressive and charismatic approach is the one that works best for a personal injury lawyer. We must stand on the facts that are present and we have no plans on compromising where the settlement is concerned. Our job is to secure that maximum possible yield for you, and we go the extra mile to do so.
Modern processes and specialized software help us to a tremendous degree. When we are done, what we have is a stellar case presentation that is hard to ignore or refute. Your personal injury attorney in Dana Point is meant to be an advocate for your interests and we embody that behavior in this and other practice areas.
Who May Be at Fault?
In our years of providing legal services in Dana Point and the surrounding areas, we have noted potentially responsible parties for spinal cord injuries. Much of it depends on the location and the circumstances leading up to the event that ended with the injury. Rogue drivers, your boss, or even a premises owner could be on the other side for wrongful death or personal injury cases.
This is among the information that we provide you with when you contact us or visit our offices. If you or your loved ones have been injured, trust in a dedicated team that has years of successful experience. Call us now at (833) LETS-SUE to set up a free consultation with a personal injury attorney in Dana Point.
---
Michael Ehline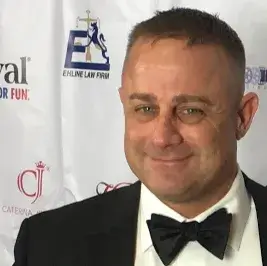 Michael is a managing partner at the nationwide Ehline Law Firm, Personal Injury Attorneys, APLC. He's an inactive Marine and became a lawyer in the California State Bar Law Office Study Program, later receiving his J.D. from UWLA School of Law. Michael has won some of the world's largest motorcycle accident settlements.
---
Recent Personal Injury News
Check out our most recent Dana Point, CA spine injury blog posts about the famous, infamous and everyday people wounded by at fault parties around the world.