Orange County Injuries / Southern California / Dana Point Injury Lawyers
What Personal Injury Cases Can We Handle in Dana Point, CA?
At Ehline Law Firm, we focus on representing accident victims. The firm's founder, Michael Ehline, has been able to create special case tactics that have worked in 99% of the personal injury cases we handle. There are countless circumstances that can result in personal injury claims. A personal injury lawyer at Ehline Law Firm has years of experience addressing a range of challenging situations, such as those that involve:
Car and Other Motor Vehicle Accidents
A car accident is one of the most common reasons for personal injury cases. Motor vehicles pose a threat to drivers, cyclists, passengers, motorcyclists, pedestrians, and others due to their fast speeds and massive weights. California has some of the most hazardous roads in the country, and it experiences more fatal car accidents than any other state. From truck accidents to motorcycle accidents, a personal injury lawyer from Ehline Law Firm can do it all!
Medical Malpractice
Patients are entitled to the best care available from healthcare institutions and their workers. A doctor or other healthcare provider may be negligent if they fail to diagnose a patient, diagnose the patient incorrectly, provide the incorrect prescription, etc. Call our Dana Point personal injury lawyers if you believe you are the victim of medical negligence to go over the specifics of your case.
Slip and Fall Injuries
Proprietors and property owners bear a duty of care to their invitees regardless of whether it is a retail establishment, a governmental structure, or office space. If you were hurt while on someone else's property, you might have a case. Before important evidence is lost, contact our personal injury accident attorneys today to improve your chances of receiving the maximum compensation.
Product Liability
Consumers who use items have a duty of care from their manufacturers. This means that every product must function as intended, be safe, and include instructions that are simple to follow. A personal injury attorney from Ehline Law Firm can handle product liability lawsuits, including poor design, poor manufacturing, and inadequate instruction.
Wrongful Death
The accidental loss of a loved one can ruin your entire future in addition to being emotionally distressing. If you've lost a loved one as a result of someone else's carelessness, we can assist you in pursuing justice through the court system. This might also apply in criminal situations when someone was killed either knowingly or unknowingly.
Workers' Compensation Claims
According to California law, if you were hurt in a workplace accident, you are entitled to workers' compensation benefits. Your company is obligated to hold workers' compensation insurance, which will provide you with set benefits, unlike other forms of personal injury lawsuits.
Burn Injuries
Burn injuries are painful and serious, and they can be fatal. Complications from burn injuries may have an impact on the victim's general health and quality of life. Burn-damaged skin is more susceptible to bacterial infections, such as sepsis, a potentially fatal condition. Furthermore, b Burns can result in severe scarring and long-term deformity of the area that was burned. In addition to being unsightly, severe scarring can cause muscles and tendons to tighten, which can alter how joints move and where they are located. A burn injury may need ongoing care in the most extreme circumstances, including physical therapy, reconstructive surgery, and psychiatric counseling.
A few other cases we deal with in Dana Point, CA, include:
Lemon law litigation
Lyft and Uber accidents
Plane crashes
Boat accidents
Traumatic brain injuries
Spinal cord injuries
Animal attacks and dog bites
Pedestrian accidents
Other person injuries
Spine injures in Dana Point are often heavy in bike accidents. This is why you must take an ambulance to the hospital. We handle all aspects of personal injury cases. Additionally, you can contact us for a free initial consultation if you're looking for legal representation.
What Damages Can You Recover for Personal Injury Cases in Dana Point?
We've managed to recover fair compensation for personal injury clients regarding many types of damages, such as:
Long-term care
Medical bills
Lost wages
Occupational or physical therapy
Pain and suffering
Lost earning capacity
Emotional distress
Scarring or disfigurement
Punitive damages
Wrongful death
How Can We Help You?
No matter what kind of accident you were in, a personal injury attorney from Ehline Law Firm will thoroughly examine your case. If we're the team for you, we will start gathering medical records, finding witnesses, and seeking advice from physicians and other legal professionals.
Once we fully comprehend your losses, we will speak with your insurance company or the at-fault party and offer a settlement sum. We'll do everything we can to make sure you can receive the medical treatment you need in the meantime.
In Dana Point, our personal injury lawyers work with a network of compassionate medical professionals, including therapists and chiropractors, who are ready to treat our patients.
However you choose to access your healthcare providers, we will collaborate closely with them to ensure that your personal injuries are accurately recorded. By doing this, you can prevent delays and ensure that you are promptly and properly compensated for all your losses.
What to Do Immediately After an Accident?
Get medical attention immediately if you are injured in a car accident or another catastrophe. Next, give a personal injury attorney a call as soon as you can.
The lawsuit can then be handled by a personal injury law firm, allowing you to focus on getting better. Additionally, a personal injury lawyer from Ehline Law Firm can put you in touch with healthcare professionals who accept liens.
If it involved a motor vehicle collision, the personal injury lawyer can explain your legal responsibilities to you. These could involve speaking with the other driver and submitting an insurance claim.
Take pictures of the accident if you can. Document the injuries and the aftermath through pictures or videos. Record every memory you can. In order to maximize your settlement, evidence is essential.
Do You Need to Hire a Personal Injury Attorney?
Having legal representation for your personal injury claim in Dana Point is strongly advised.
The sole goal of insurance companies is to deny compensation to victims. Therefore, insurance companies favor denying legal representation to accident victims. In this manner, they might profit from their lack of legal expertise. They can attempt to win the case on a technicality that can only be fought by a personal injury lawyer.
Insurance companies also charge by the hour. Hence, they have nothing to lose by continuously placing obstacles in the victims' paths.
However, skilled personal injury lawyers are unfazed by these delay and intimidation strategies. Insurance defense companies are aware of this. As a result, when plaintiffs are represented by counsel, the opposite party is considerably more likely to quickly and generously settle the case.
How Much Money Is Your Person Injury Case Worth?
Every situation is unique. The details of your case will determine how much it is worth. In order to determine the amount the insurance company must pay in order to appropriately compensate you for your injuries, we carefully consider all the relevant information.
The lawyers at our personal injury law firm in Dana Point, CA, are exclusively responsible for determining the worth of your claim. When you work with us, you can be confident that your legal representative is as knowledgeable as the insurance provider.
Due to the fact that most people have never had a claim before, in our experience, most people are unaware of the value of their claims. Although the insurance adjuster on the opposing side of your claim is aware of its exact value, they will make every effort to pay you as little as possible.
FAQs: Personal Injury Law in Dana Point, CA
What Damages Are You Entitled to?
The answer to this varies depending on the specifics of each case; however, in the majority of personal injury cases, the plaintiff is often entitled to compensation for any lost wages, related medical costs, and property damage. Additionally, depending on the severity of the event, they might receive compensation for pain and suffering.
What's the Statute of Limitations for a Personal Injury Claim in Dana Point?
In California, the statute of limitations for personal injury cases expires two years from the date of death in a wrongful death claim or after the date on which the accident occurred.
How do Personal Injury Attorneys Get Paid?
California compensates personal injury attorneys on a contingency basis. The client incurs no out-of-pocket expenses as a result. The contingency fee guidelines established by the California State Bar govern the compensation that personal injury attorneys get. Hence, the attorney fee is deducted after your case has been resolved before you get paid.
How Long Does it Take to Reach a Settlement if You Hire a Personal Injury Lawyer in Dana Point, CA?
It depends on the circumstances. Since they are compensated by the hour, insurance defense law firms enjoy dragging out negotiations. However, personal injury lawyers work as quickly as we can to obtain the highest settlement amount.
Some insurance companies will make an offer upfront in an effort to "put an end" to a dispute, but these offers are generally much lower than what injured clients are entitled to. A good personal injury attorney would never settle for less than they are worth just to end the matter. Therefore, even though we work as rapidly as we can, we take our time to optimize our clients' earnings.
Will the Case Settle or Go to Trial?
Most personal injury cases settle. In this manner, plaintiffs receive some money while avoiding a potential trial loss.
However, there are situations when it makes sense to demand a trial. Furthermore, if they prevail, the plaintiffs could be awarded hefty punitive damages.
A personal injury lawyer can assist plaintiffs in determining whether the risks of a trial are worthwhile.
Contact Ehline Law Firm Today to Speak to a Personal Injury Lawyer in Dana Point!
Personal injury lawyers vary greatly from one another. Turn to Ehline Law Firm if you want tenacious counsel from a knowledgeable personal injury law firm that is respected and recognized by insurance companies all over Dana Point, California.
In difficult, high-stakes situations, we have successfully recovered more than millions for personal injury victims. To schedule a free consultation today with a Dana Point personal injury lawyer, contact our law offices at (833) LETS-SUE any time of day or night. Our online contact form is another way to get in touch with us for a personal injury trial attorney. 
---
Michael Ehline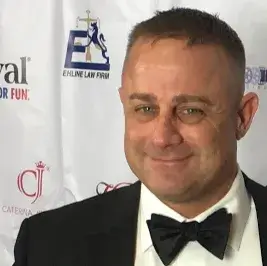 Michael is a managing partner at the nationwide Ehline Law Firm, Personal Injury Attorneys, APLC. He's an inactive Marine and became a lawyer in the California State Bar Law Office Study Program, later receiving his J.D. from UWLA School of Law. Michael has won some of the world's largest motorcycle accident settlements.
---
Recent Personal Injury News
Check out our most recent Dana Point accident news blog posts about the famous, infamous and everyday people wounded by at fault parties around the world.