If we don't win, you don't pay.
Speak to the Attorney.
Born to serve.
633 W 5th Street #2890
Los Angeles, CA 90071
(213) 596-9642.
2323 S. Voss Rd, Suite 244
Houston, TX 77057
(832) 592-1260.
Date Modified: March 22, 2023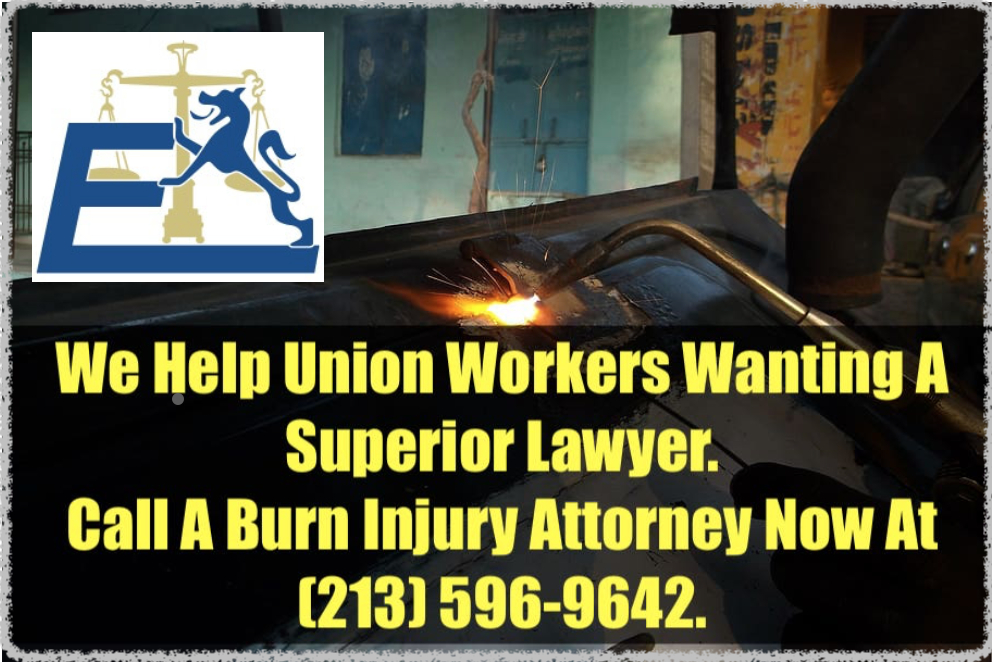 Burn Injury Compensation Claim?
Ultimate Guide to Compensation for Work Burns. According to reports from the Occupational Safety and Health Organization (OSHA), more than 5,000 workers are hospitalized, and 200 deaths after they succumb to work burn injuries annually.
There are millions of burn victims and varying degrees of complications worldwide. Centers for Disease Control, on the other hand, suggest the cost of medical care for burn injuries can strain the burned victims' finances.
Burn injuries range from minor to severe burns, which may require surgeries, physical therapy, and rehabilitation. Los Angeles burn injury victims are entitled to worker's compensation benefits as a result of the hazard suffered. If an employee is burned at work, he'll need super lawyers from Ehline Law Firm to help them secure compensation for their pain and suffering.
Contact Ehline Law Firm to speak to an experienced burn injury lawyer in a free consultation or call their valid phone number – (213) 596 9642. Once the lawyers evaluate the case, the two parties can sign a free agreement to foster an attorney-client relationship to protect families.
Types of Burn Injuries
Depending on the workplace, the equipment involved, and Job descriptions, workers may experience the following types of burns:
Chemical burns: It occurs when a worker's eyes, skin, ears, or lungs come in contact with a synthetic corrosive substance. Employees can suffer from chemical burns when handling paint thinners, gasoline, drain cleaners, and other harmful substances. Symptoms may include; redness, physical pain, blackened skin, dizziness, loss of vision, headache, and shortness of breath.
Cryogenic burns: Workers working in low temperatures or handling low-temperature substances are susceptible to cryogenic burns. Cold burns result from liquefied gases like liquid nitrogen and other coolants used in engines and refrigerators. Low temperatures can cause the skin and other tissues to freeze. It can cause hypothermia and amputation.
Electrical burns: Electrical burn injury cases happen when an electrical current is traveling through the body. This burn injury causes internal injuries, including ligaments, which can be difficult to treat.
Thermal burns: These injuries are caused by hot liquids, fires, explosions, and other hot substances. This burn injury happens in industrial plants and the food service industry. The injuries are superficial to deep, depending on the gravity of the burn.
Severe Burn Injuries
The types of burn injuries can be further divided into three categories, showcasing the degree of severity.
They include:
First-degree burns: Only the outer layer of skin is damaged and characterized by redness, inflammations, and other additional injuries. A first-degree burn has minimal damage and can heal within a week. One can use aloe Vera gel and cold water to treat the injured part.
Second-degree burns: Here, burn injuries go beyond the top layer of skin. Second-degree burns are characterized by highly red blistered skin. These devastating injuries from a second-degree burn should be properly bandaged and may require ongoing care to heal.
Third-degree burns are the most catastrophic burn injury, where damage will extend to all skin and underlying tissue layers, affecting internal organs and bones. White and black wounds or charring characterize third-degree burns, causing serious burn injuries where victims can sustain permanent scars, hypothermia, damage to nerve endings, or even death. Its imperative workers seek immediate medical attention when they sustain a third-degree burn. These victims may need an epidermis skin graft or physical therapy. But to pay for it, the property owner or other parties must be held liable for the injuries and disfigurement.
Workers' Compensation Insurance
Various states in the USA, including California, require employers to have some sort of insurance cover in cases of burn injuries. This way, employees can recover financial compensation from severe burns regardless of who's at fault. Workers' rules, plus at-fault liability, exist to protect employees. Call us for legal advice before the flames of an accident consume your life.
These covers are implemented to lessen financial strains for employers and employees during catastrophic injuries. Therefore, an employer must get compensation coverage to protect the firm from first-party liability. Usually, an employee can't sue to protect their legal rights under these circumstances, except for severe burn injuries, perhaps caused by an explosion.
Property owners of the employer paying for workers' comp are protected from workplace injury lawsuits against the person if they worked there. Employees with catastrophic burn injuries will receive worker's compensation benefits. While seeking such insurance claims, an employee who has suffered a burn injury must call award-winning burn injury attorneys to help them get a fair settlement over defective products.
Contact the professionals at Ehline Law Firm using its contact information or phone number at (213) 596 9642, and schedule a free consultation. We've assisted victims for decades and can help relieve your discomfort.
Proving Negligence in Burn Injury Claims
In some cases, an employee can experience the most severe burn injuries caused by someone's negligence. A good example is when employees use a defective product in their operation, which causes injuries in their individual cases. The plaintiff has a burden to prove the defendant is legally responsible.
Burn injury lawyers in Los Angeles practicing personal injury lawyer must prove four elements to win a case:
Care of Duty
A personal injury attorney has to prove the defendant's duty of care to the injured party (was it careless or reckless? Was it a landlord or your boss?).
Breach of Duty of Case
Once the duty of care is established, an injury lawyer has to show a Los Angeles law court that the defendant breached the duty owed to the plaintiff.
Causation
After establishing a breach of duty of care, an injury lawyer must show a defendant's dangerous, negligent action caused serious injury.
Damages
To recover damages, California lawyers must show their client suffered minor to the most severe burns. The injury attorney must also show the victim suffered losses from the accident. Plaintiffs must, therefore, contact a burn injury lawyer for a free case evaluation to determine whether or not their case is viable to seek compensation. Call Ehline Law Firm at (833) LETS-SUE, and schedule a free consultation.
Comparative Negligence
The two parties often disagree on who's at fault and how much. In some situations, the plaintiff and the defendant are responsible for the accident. In California, plaintiffs may receive a partial award if the defendant is found at least one percent at fault in pure comparative negligence.
In contrast, in modified comparative negligence, plaintiffs recover zero compensation if they were 50% or more responsible for the accidents. If the defendant is proven to be at fault more than the plaintiff, the compensation will be reduced by the share of the plaintiff's.
Burn Injury Damages and Compensation Claims
The workers' comp act was enacted to shelter workers from work-related burn injuries. It grants benefits to employees that have been hurt on the job.
While seeking compensation through a workers' insurance claim or litigation, workers can potentially secure the following damages through a workers' compensation claim.
Economic damages: These are easily proven by direct monetary losses. They include medical expenses or medical bills and lost wages, and the income you expect to lose in the future, which is referred to as loss of earning potential. It also caters to out-of-pocket expenses like property damage.
Non-economic damages: They're not directly related to monetary loss but losses injury victims experience due to a burn injury. Burn injury cases are particularly important since the victims usually have an extended and incredibly painful recovery process. They include pain and suffering, emotional anguish, and loss of consortium.
Experienced Los Angeles burn injury attorneys from Ehline Law Firm will help burn victims recover compensation from their personal injury claims. Therefore, workers involved in a burn accident should contact burn injury lawyers as soon as possible. Reputable personal injury lawyers from an awarding-winning Los Angeles law firm are in a position to offer the best service. Call Ehline Law Firm at (833) LETS-SUE and schedule a free consultation.
Burn Injury Settlements
The best lawyers from reputable law firms aim to ensure that new clients get the maximum compensation possible. Often, they do this through burn injury settlements. There are instances where the insurance company doesn't want to pay up; in such cases, Ehline Law Office lawyers will file a lawsuit.
Making a Demand
The first step to settling is making a demand to the insurance company. An injury attorney will help you attain a reasonable demand. The process will require investigations to acquire evidence of life-threatening injuries and maximum compensation. Evidence your attorney will look for includes medical reports from a claimant's medical treatment, witnesses available, and incident reports, among other things.
Settlement Negotiation
The insurance company may reject a claimant's demands, which makes the process enter the settlement negotiation stage. Both parties will attempt to reach an agreement to forego going to trial. Most burn injury claims are settled this way, but if not, the matter will move to trial.
Burn Injuries Lawsuits and Trials
When an insurance company rejects your demands, and the two parties fail to agree on a fair settlement, it will prompt the claimant's side to move to court.
While preparing for a job site burn injuries lawsuit, the process will take the following steps:
Discovery: Finding additional evidence to support a claimant's case is critical.
Expert opinion: The best lawyers usually use expert opinions during discovery. They're accident re-constructionists who can give expert opinions in court.
Drafting and filing legal documents: One must file a lawsuit in detail, showcasing how the at-fault party was negligent.
Appearing in court hearing and trial: A claimant's attorney will appear in court in Southern California during a hearing and trial on behalf of his new client.
Constant communication: The lawyer will keep the communication lines open and constantly keep their client in the loop about certain aspects of the personal injury claim.
Speak to Reputable Lawyers from Ehline Law Firm
Partnering with award-winning burn injuries attorneys will increase a plaintiff's chance of winning the case. These experts are knowledgeable in collecting facts to determine the causes of burn injuries, dealing with insurance companies, and having litigation laws at their fingertips. Call them immediately on their phone number (833) LETS-SUE, or visit them at their local office to secure one's legal options through free consultations.
California injury law firm with locations in Northern, Southern, and Central California.
Michael Ehline is an inactive U.S. Marine and world-famous legal historian. Michael helped draft the Cruise Ship Safety Act and has won some of U.S. history's largest motorcycle accident settlements. Together with his legal team, Michael and the Ehline Law Firm collect damages on behalf of clients.
We pride ourselves on being available to answer your most pressing and difficult questions 24/7. We are proud sponsors of the Paul Ehline Memorial Motorcycle Ride and a Service Disabled Veteran Operated Business. (SDVOB.) We are ready to fight.