If we don't win, you don't pay.
Speak to the Attorney.
Born to serve.
633 W 5th Street #2890
Los Angeles, CA 90071
(213) 596-9642.
Date Modified: March 5, 2023
Are you seeking West Hollywood motorcycle accident attorneys after a bad crash? A motorcyclist accident might result in catastrophic injuries and cost families a fortune. Legal Support for Motorcycle Accident Victims Across California is a mere convent call away 24/7.
Common motorcycle accident injuries include anxiety, fatal motorcycle accidents, traumatic brain injuries, a spinal cord injury, painful road rash, broken bones, mental health decline, and life-long physical/emotional pain.
In terms of real dollars, lost wages, expensive surgeries, repair bills, and unpaid medical expenses can bankrupt victims and families after a tragic motor vehicle accident. Since 2005, Ehline Law Firm has professionally helped injured clients with automobiles as a motorcycle accident law expert with thousands of motorcycle accident claims. Call us to discover your rights right away.
Below our best personal injury attorney will discuss how our top motorcycle accident attorney in West Hollywood will custom-tailor legal representation for each motorcycle rider.
We'll also cover how you can secure compensation benefits from the at-fault driver. Call our West Hollywood personal injury lawyer office at (213) 596-9642 to speak with one of our attentive team members today.
Depend On Us For Your California Motorcycle Accident Claims
But what makes Ehline's team different and our client commitment better?
Our West Hollywood motorcycle accident lawyers stick by your side. (We provide consultations, explain applicable law and the potential risk).
We hold at-fault drivers accountable for compensation.
We help foster a communicative, cheerful, trustworthy environment to improve the attorney-client relationship level.
We use hard work and experience to overcome community and police bias.
We strategically employ our law group to navigate multiple local, state, and federal law areas.
We will handle all auto accident claims with dedication. We do business on a no recovery, no contingency fee basis. (No win, no fee promise)
We use our experience, impeccable reputation, and proven track record of success to further justice.
We generously support Southern California biker clubs, non-profit charity organization needs.
How Can Our Aggressive Motorcycle Accident Lawyers For West Hollywood Help You?
You and your loved one must understand no average settlement value exists, especially after suffering a head injury or fatalities. The best method of receiving accurate settlements for West Hollywood motorcycle accidents is hiring a talented, aggressive lawyer.
Here's some information explaining how we offer help to fallen motorcycle riders build verdicts and settlements after motorcycle accidents with cars:
Case Evaluations And Evidence Gathering
Insurance companies escape liability for auto accidents by lulling claimants into not hiring help. They'll run out the clock, hoping the motorcycle rider won't locate witnesses, receive medical care or legal assistance.
These villains promise you money if you're patient. But how much is your case worth? Will your case yield a healthy verdict/result?
We want to provide you with things like a free case evaluation. Assuming you retain our legal services, we will put our investigators to work to assist the wounded rider, proving their burden of fault.
Our Experienced Personal Injury Attorneys Investigate Motorcycle Accidents in West Hollywood
Our motorcycle lawyers will look for evidence of speeding automobiles, tailgating, lane splitting, unsafe lane changes, drugs, or alcohol consumption. Was someone texting, talking on a cell phone, eating, and weaving in and out of traffic? We will seek out info about dangerous road conditions.
Our Experienced Motorcycle Accident Lawyer Gathers Evidence
Our office will gather data for the motorcycle accident victims, including available police reports from the police officer(s), witness statements, and weather reports. We'll hunt down valuable surveillance tapes identifying debris patterns, loose motorcycle parts.
This information will help us pinpoint a defective part, an at-fault driver, threats, and more liable people, including their degree(s) of fault. After, our legal team can perform a proper motorcyclist v. car crash case evaluation. We'll identify people financially responsible for paying your personal injury claim.
Insurance Company Negotiations
Your motorcycle law experts will negotiate with the insurance company to ensure you receive fairer indemnification. We won't let the insurers convince you to accept a lowball settlement offer as you struggle to get by after a serious auto collision.
If the insurance company fails to offer you a reasonably fair damages value calculation, our law offices can seek private mediation to break the stalemate. If negotiations fail, we can advance costs for filing a West Hollywood Superior Court lawsuit near you, seeking better results.
Common Injuries Our Motorcycle Accident Attorneys Firm Take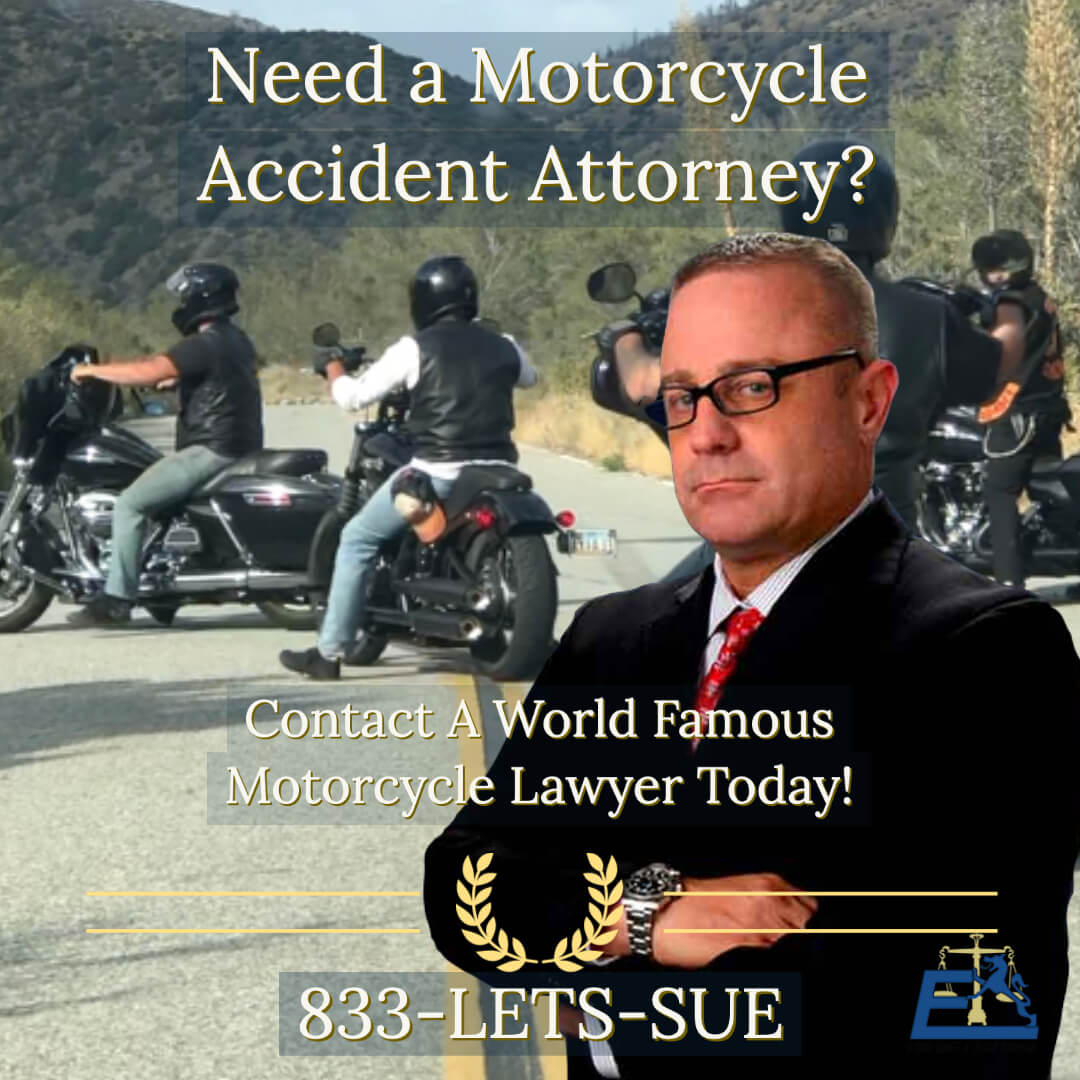 Motorcycling social activities like joining a motorcycle club and attending motorcycle rallies help teach road hazard injury avoidance. But you can't prevent all wrecks. But no one can predict a motorbike collision's severity, with its few safety features, offering zero roll cage protection.
The most frequent injuries sustained are to the toes, feet, legs, and ankles. Fatal injuries remain common after a motorcycle accident occurs.
The motorcycle crash lawyers at Ehline Law accept clients suffering all types of permanent, severe, catastrophic personal injuries:
Traumatic brain injury (TBI) and mild traumatic brain injury (MTBI), including CTE Brain injuries
Broken bones/fractures (a broken leg, hands, fingers, toes, ankles, etc.)
Spinal cord injuries, including tetraplegia/paralysis
Bruising, scarring, disfigurement
Abrasions, cuts/lacerations
Lower extremity damage
Road rash/friction burns
Internal organ damage
Wrongful death claim
Limb amputation
Fractured skulls
Rib fractures
Avulsions.
Survivors of serious accident motorcyclist wrecks may lose careers since they can't work. Survivors ensure long-term physical and psychological injuries as a consequence of crashing. Did you crash, suffer severe brain damage, post-traumatic stress disorder, coma, etc.?
Have you experienced a motorcycle wreck that involved a West Hollywood-area motorist? Working with a local West Hollywood motorcycle accident lawyer from Ehline gets you an expert. We pressure the defendant to pay more for the victim's injuries during the complicated claims process.
We'll help victims recover compensation, including money for physical pain and lost future earnings over the victim's life.
Compensation For All Your West Hollywood Motorcycle Accident Claims?
Depending on the party at fault or the types of injury claims, we can get you money for a motorcycle accident injury claim. Did you suffer a catastrophic injury? Maybe you have a less extreme wound-like road rash?
Did factors out of your control cause your partial or full impairment? Clients are entitled to totally fair compensation. Clients deserve to know their property repairs along with medical expenses get covered.
Some Important Things About Motorcycle Injuries
The smartest way to understand your rights after a motorcycle accident depends on asking counsel questions during your consultation. When you receive your free consultation our West Hollywood motorcycle accident attorneys will thoughtfully answer your questions after such injuries.
A well-trained West Hollywood personal injury attorney from our office will assist the wounded motorcyclist. We will investigate, documenting the following damages:
Special Damages
Disability-linked expenses (nursing care, specialized transport, etc.)
Attorney's fees, including out-of-pocket costs
Past, present, future medical bills
Past, present, future lost income
Rental car/Uber-Lyft charges
Bike repairs or replacement
General Damages
Mental-emotional issues
Pain and suffering
Lost quality of life
Punitive damages are awarded rarely. Although a minor motorcycle accident case doesn't always cause severe, catastrophic injuries, it can cost more than a major collision. A fatal accident tends to impact life more, making it worth more.
Talented motorcycle attorneys in West Hollywood find ways to settle your case after gathering reparations evidence, or they can let a qualified jury evaluate case information during the trial.
A jury will decide on intangible/tangible harm by determining the plaintiff's nature and extent of your serious injuries during the trial. We will help you receive a maximum financial recovery value for your severe motorcycle crash using proven negotiation tactics.
Speak With A Motorcycle Accident Lawyer in West Hollywood About Your Case
Speak confidentially with a lawyer right away for a motorcycle accident in West Hollywood from Ehline's offices about your unique accident claim problems today for help. Victims of devastating motorcycle accidents in West Hollywood, CA, can request a free case review and free consultation with our law offices, call us 24 hours per day.
In addition, choosing our legal services means we will collect no payment unless we win your California contingency case. A listening, trustworthy advocate awaits your essential phone call at (833) LETS-SUE.
Any injured motorcycle rider can use our online intake form for faster turnaround times. The answers you need for questions about all types of motorcycle wrecks are a phone call away.
Michael Ehline is an inactive U.S. Marine and world-famous legal historian. Michael helped draft the Cruise Ship Safety Act and has won some of U.S. history's largest motorcycle accident settlements. Together with his legal team, Michael and the Ehline Law Firm collect damages on behalf of clients.
We pride ourselves on being available to answer your most pressing and difficult questions 24/7. We are proud sponsors of the Paul Ehline Memorial Motorcycle Ride and a Service Disabled Veteran Operated Business. (SDVOB.) We are ready to fight.