Can You File Claims Against a Distracted Driver?
According to the code of civil procedure, California victims of personal injury from car accidents can file claims against a distracted driver as long as they have the right evidence to back their claims up.
Besides this, an important thing to note is that the law allows personal injury victims to file claims within two years following the car accident. Failure to do so will result in no claims and even denial of the case. Call the Los Angeles distracted driving accident lawyers at our personal injury law firm to learn more.
How do Distracted Driving Accidents Occur?
Any behavior that diverts your attention or takes your eyes of the road fall under distracted driving, and there are many different causes of distraction while driving.
Here are some common examples of distracted driving cases while operating a motor vehicle:
Singing along with songs and changing radio stations knobs or buttons
Talking on cell phones
Texting while driving (Cellphone use while driving is legal for adults in hands-free mode but remains  a massive distraction for any age group)
Eating or drinking and driving
Applying makeup
Looking at billboards
And more
According to the National Distracted Driving Statistics, the United States sees over 2.5 million injuries from car accidents by distracted drivers and one death every 15 minutes. (Cell phone use tops the list) These are alarming figures for all the drivers on the road who must ensure vigilance at all times.
The personal injury lawyers at our law office have seen their fair share of distracted driving behaviors leading to severe injuries and wrongful death.
Our car accident attorneys believe that staying off your phone while operating a motor vehicle probably remains the best way to stay safe while driving and avoid a car accident claim showing up on your DMV printout.
When a no-fault accident occurs, victims may be entitled to receive compensation in money damages from the wrongdoer for their accident claim.
Car Accidents FAQ
How Can a Distracted Driving Accident Lawyer Help You?
Depending on the severity of the accident by a distracted driver, you might be at your lowest point in life. You may be depressed, which means you could blow the statute of limitations and even allow witnesses and evidence to disappear while you grieve and heal.
Our lead distracted driving attorney at Ehline Law Firm can help shoulder that burden. We can ensure you receive the right legal representation and compensation from the insurance company for your case. And we represent personal injury victims on a no win no attorney's fee – contingency fee basis. (Standard contingency fee agreement)
California is a no-fault state, meaning that according to California Civil Jury Instructions, you might also be liable for damages. However, the percentage of fault plays a major role in which the party is mostly responsible and has to bear most of the damages.
Having an expert car accident attorney can help establish both party liabilities with strong evidence ensuring that you get the maximum compensation you deserve for your auto accident claims.
All accident victims can call us for a free case review when their loved one or other close family member is in dire financial straights. Accident victims rely on our personal injury warriors when someone needs a legal champion to fight on their behalf. Would you like a free call with a Los Angeles auto accident lawyer to learn more?
Establish Proof of Fault and Damages In Your Case
First, our firm's attorneys offer innocent victims a free initial consultation and free legal advice. An expert distracted driving accidents lawyer can help you understand accidents caused by distracted drivers and other motorists and who pays what.
If we form an attorney-client relationship, our Southern California-based legal professionals will file a distracted driving claim on you or your loved one's behalf.
But before that, during your free legal consultation, they must establish the facts surrounding your personal injury case. Our most charismatic distracted driving accident lawyer maintains a thriving, record track record dealing with greedy insurance companies.
Our car accident lawyers specialize in helping clients prove negligence surrounding distracted driving behaviors. It all starts with a thorough investigation, helping you collect evidence establishing fault and liability for your permanent disability, pain, suffering, medical expenses, and lost income.
The goal of our top car accident lawyer is to help you recover compensation and rule out comparative fault.
Our law firm's best injury attorney will help you with the following:
Offer a free case evaluation to discuss property damage, physical pain, and suffering damages with the innocent victim.
Determine the value of claims by assessing current and future medical bills, lost wages, and other types of damages
Analyzing insurance claims by both the parties
Collecting evidence of driver negligence, including police reports, video footage, and reaching out to car accident witnesses over distracted behaviors of the at-fault drivers

Insurance Settlement Negotiations
After getting into a car accident, you might notice that insurers are calling you more often, which can put a lot of stress on a victim who is already putting their energy towards recovery.
We will help you by taking over your case and dealing with the insurers on your behalf. Our lawyers maintain a tremendous and positive attorney-client relationship. We will keep you updated on your case and your legal options through trial verdict or settlement proceedings during the negotiation phase.
Schedule a Free Consultation With a Los Angeles Distracted Driving Lawyer Today!
The Los Angeles distracted driving accident attorneys at Ehline Law Firm empathize over the frustration accident victims face from knowing a negligent person is responsible for their suffering. As we advocate, we always keep in mind you want swift and reliable service.

We understand that compensation does not heal your wounds and injuries from a car accident, but it can help you pay your bills and get back up. We are available 24/7 to discuss your essential car accident claim.
Contact us at (213) 596-9642 and get a free consultation on your case with our highly decorated, accomplished distracted driving accident lawyer today.
---
Michael Ehline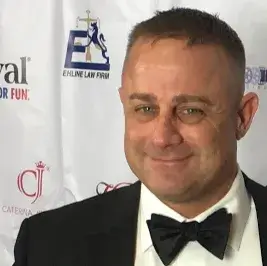 Michael is a managing partner at the nationwide Ehline Law Firm, Personal Injury Attorneys, APLC. He's an inactive Marine and became a lawyer in the California State Bar Law Office Study Program, later receiving his J.D. from UWLA School of Law. Michael has won some of the world's largest motorcycle accident settlements.
---
Recent Personal Injury News
Check out our most recent distracted driving accidents news and more, including the famous, infamous and everyday people wounded by at fault parties around the world.